Below are some of the current systems / hardware / plans I recommend. These are constantly changing, so check back often.
Affiliate links help support my site!
SeaBits is reader-supported and I only recommend products I would use myself. When you buy through links on the site, I may earn an affiliate commission.
Cellular Plans
T-Mobile
T-Mobile has a $55/month plan that provides 100GB of data. This plan has come and gone over the last 7 months or so, and the price has gone from $50 to $55. It has a lot of great features which you can read about in the article below, although some may have changed since the plan was retired and then brought back again at least once.
Recent reports indicate you have to call or go into a T-Mobile store to get this plan – it does not appear to be available online. It also appears to be available primarily via pre-paid plan, not as an additional line on an existing account.
I've used multiple versions of this plan / SIM in Peplink, Teltonika, CradlePoint, and Verizon branded hotspots without any issues.
Verizon
Verizon has a range of data-only postpaid plans that were announced in late July 2021 available at https://www.verizon.com/plans/devices/hotspots/.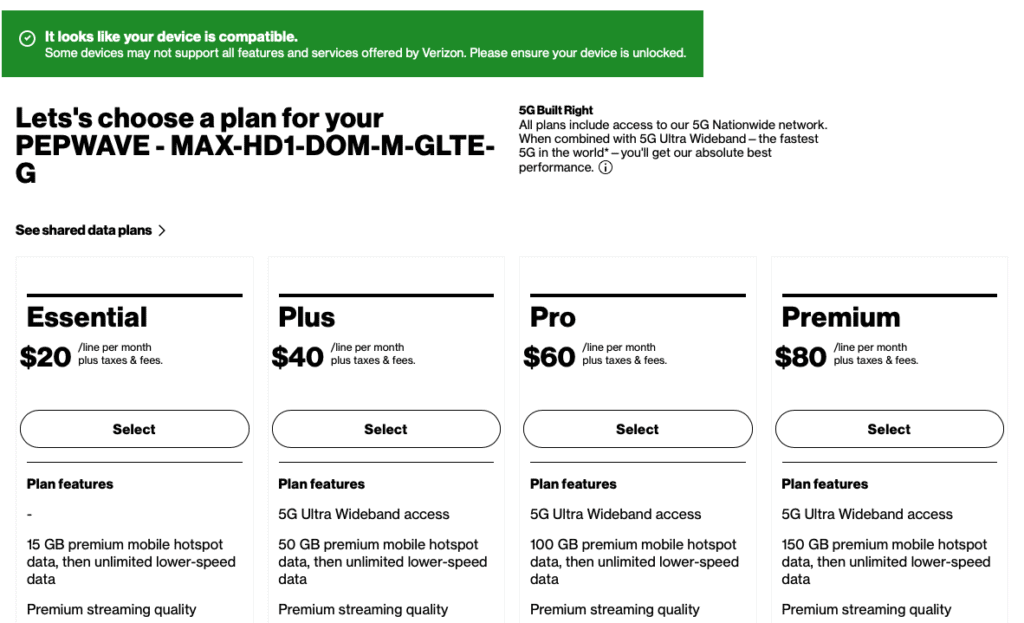 The plans include 15, 50, 100, or 150GB of monthly data.
All plans are available to existing Verizon customers, and the Pro and Premium plans appear to be available standalone as well, although their prices are higher at $90 and $110 respectively. These are postpaid plans, not pre-paid like the AT&T and T-Mobile one above/below.
Pro and Premium also include access to Verizon's 5G Ultra Wideband network with 4K streaming, while the Essential plan has 720p streaming only and no 5G access.
The plans are capped at the monthly data allowance, similar to the T-Mobile plan above. This means once you pass your data allowance amount, speeds are throttled down quite a bit. On 5G Ultra Wideband (hard to get with current mobile routers) things will slow to around 3Mbps, and any LTE will slow down to about 600Kbps, which is pretty slow.
So far I have tested this in a handful of Peplink and CradlePoint products without any issues. I have not tested it with the newer 5G versions, nor have I tested it with other hardware from MikroTik, Amarok, Teltonika, etc. Please post your test notes in the comments below.

AT&T
AT&T has a pre-paid 100GB a month plan for $55 which is a fantastic value. There are some caveats – you have to pre-pay for it monthly, versus having it on an existing AT&T account (post paid), you have to sign up in store, and there are some known issues with drop outs or data problems that are still being resolved.
If you need a good plan from AT&T, check it out at https://www.att.com/prepaid/mobile-hotspot-tablet/
Finding a Plan
Make sure to check out my article on Finding a cellular data plan for the boat for recommendations on the types of plans, how to set up the plan, and details behind 3rd party vendors, among other things.
Cellular Systems
There are a lot of choices for systems, so many that this could be a very exhaustive list. I've only listed the most popular ones I've recommended or installed in three tiers – good, better, and best.
Good
Netgear Hotspot
My favorite hotspot right now is the Netgear Nighthawk M1 which is a very powerful hotspot that also includes an ethernet port. It has great battery life and is very easy to use.
I highly recommend getting the Netgear MIMO antenna with it – it plugs in to small ports on the side of the router and will really help increase your signal and performance.
Teltonika RUTX11
The Teltonika RUTX11 is a single cellular radio router with 2.4/5Ghz local WiFi, multiple LAN and WAN ports, and other great features. You can read my review on it below.
Why this is in the "Good" category and not the "Better" category is that it does not have as many easy-to-use features as the Pepwave MAX BR1 MK2 below. It's a very powerful router, and has a similar CAT6 modem, and for those looking for a good option, this is a great choice.
Better
Pepwave MAX BR1 MK2 Category 6 router
The BR1 series was what launched Pepwave into the market and has been popular with boaters for years, and the BR1 MK2 is the latest version of that line. It has a single category 6 cellular radio, runs off of DC power, has a LAN and WAN ethernet port, and creates a local 2.4/5Ghz WiFi network.
I don't recommend it as much as some of the other Peplink products because of two main reasons. First, it is a category 6 modem which is quite old and does not support the newer bands that many providers are using in longer reach situations, which is where you'll be with a boat. Second, it is a single radio system which means that you have no redundancy and cannot use features like SpeedFusion to provide better performance and redundancy when working remote.
However, it is still a major upgrade from a hotspot or other system, and especially on power limited boats it can be a great system.
If you need better connectivity than a hotspot, and do not need redundancy, the BR1 MK2 is a good choice. Pair it with a Peplink Puma 221 LTE + WIFI + GPS antenna that is mounted outside, and you have a very powerful setup.
Best
Pepwave MAX Transit series
There are two flavors to choose from – the MAX Transit CAT18 and the MAX Transit DUO.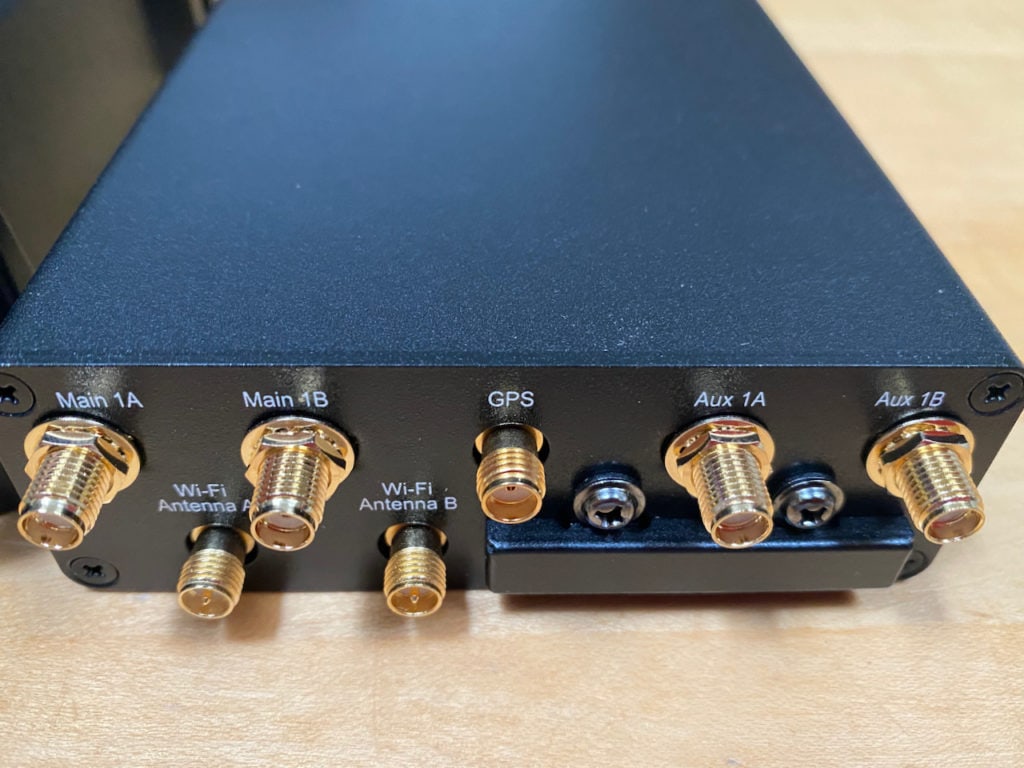 Both MAX Transit products create a powerful local 2.4/5Ghz WiFi network, have a WAN port that can be used to connect to a WiFi extender or other device, a LAN port to connect to a computer or a switch, run off of DC power, and have a wealth of software features that are too much to go into detail here.
MAX Transit DUO CAT12 – this is a full featured router with two cellular radios operating at category 12. This is the most popular device I recommend because it provides redundancy – you can be connected to two cellular providers at once. Combine that with SpeedFusion, and you have an enterprise-grade redundant connection that is optimized for remote work, Zoom, etc. Choose this if you need the best portable dual-radio router on the market with decent speed and excellent redundancy.
MAX Transit CAT18 – this is the latest and greatest from Peplink and has a very fast CAT18 modem in it. It has 4 LTE antennas just for that modem, and two antennas for WiFi along with a WAN ethernet port (for a MikroTik or other device) and a single LAN ethernet port to connect to a computer or switch. The only down-side to this product is that it has only one cellular radio / connection, so if you need redundancy or more throughput, look at the MAX Transit DUO above. Choose this if you need the best band support available and higher download speeds.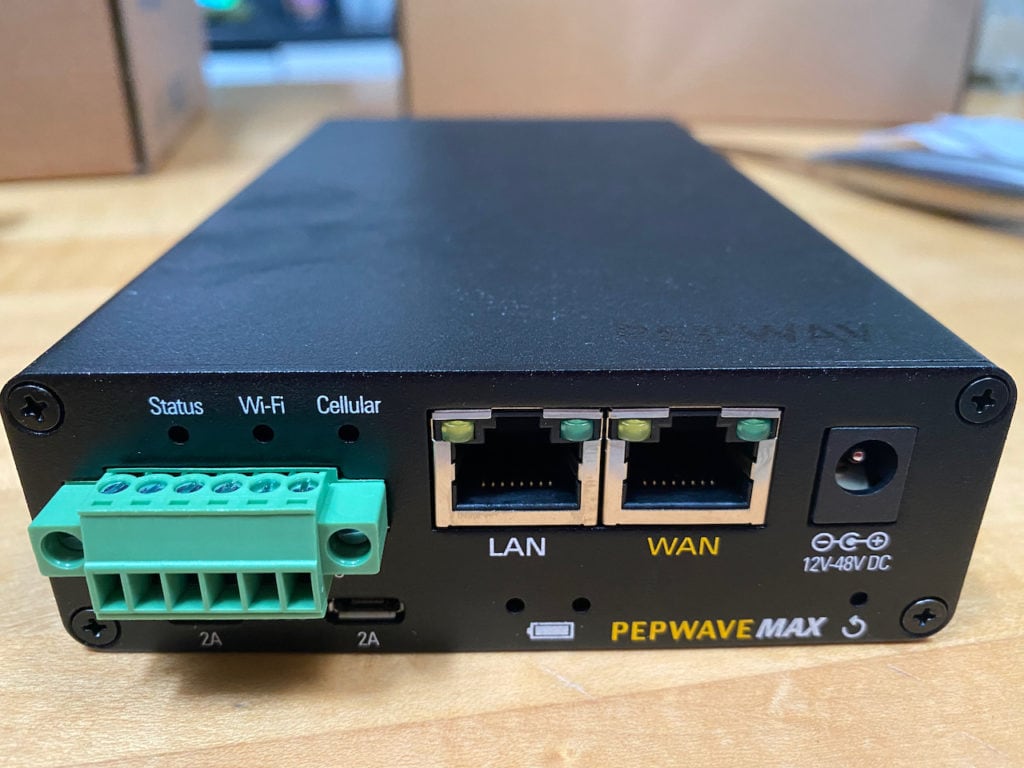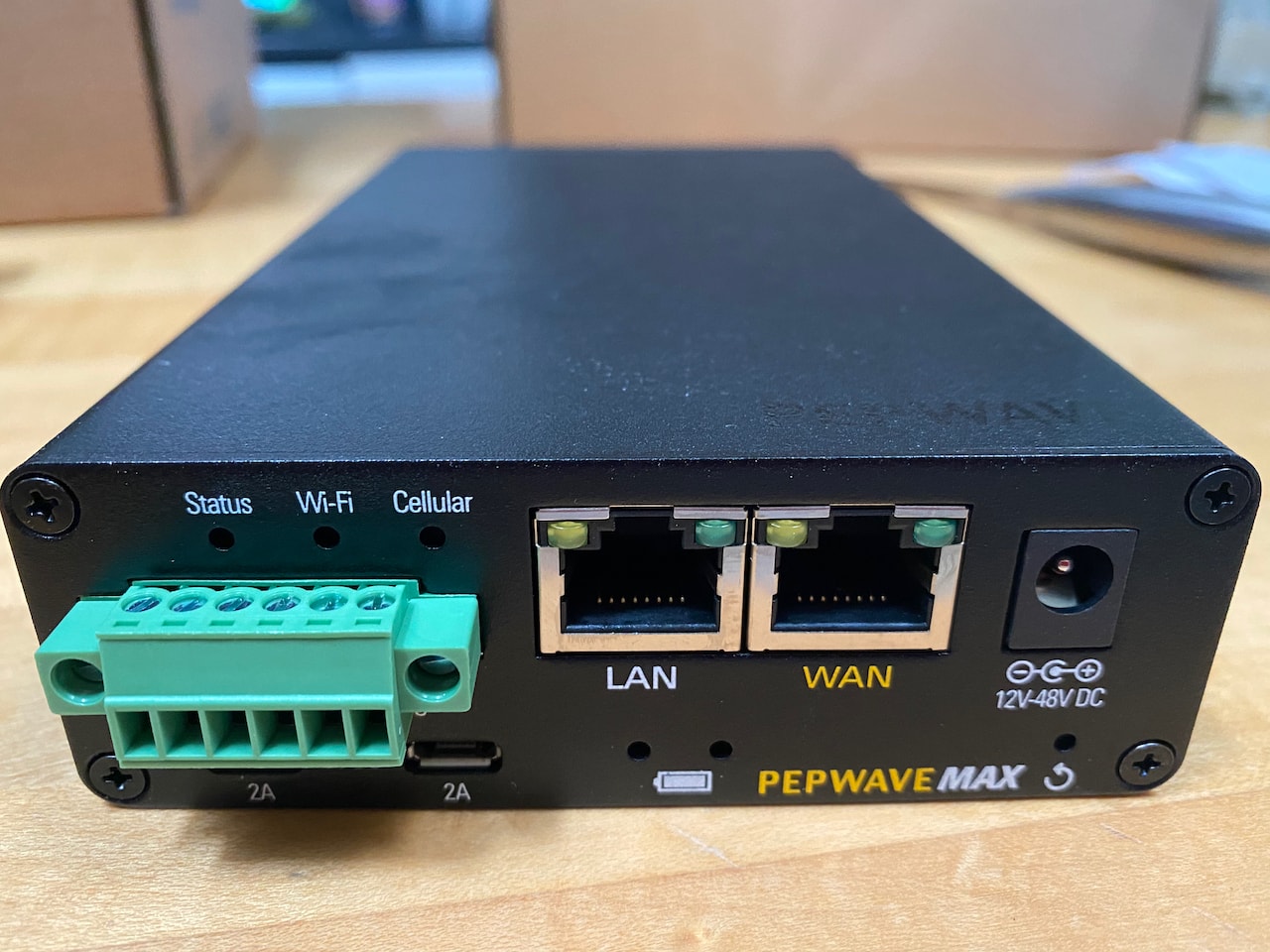 With both of these products I recommend 2x Poynting OMNI-402 antennas mounted outside. If real-estate is an issue, you can try 1x of the antennas and use two of the factory indoor antennas, two Peplink Puma 221 antennas, or a single Peplink Puma 401 antenna.
Pepwave MAX Dome series
This is a very compact and powerful router contained in an outdoor dome. The big benefit is that the antennas and radios are all within the dome, so there is very little signal loss compared to an antenna and cable in the traditional routers. They have almost all of the features of a normal Pepwave router, but they do not create a local WiFi network – you'll need an access point like the AP One Rugged to create that inside the boat.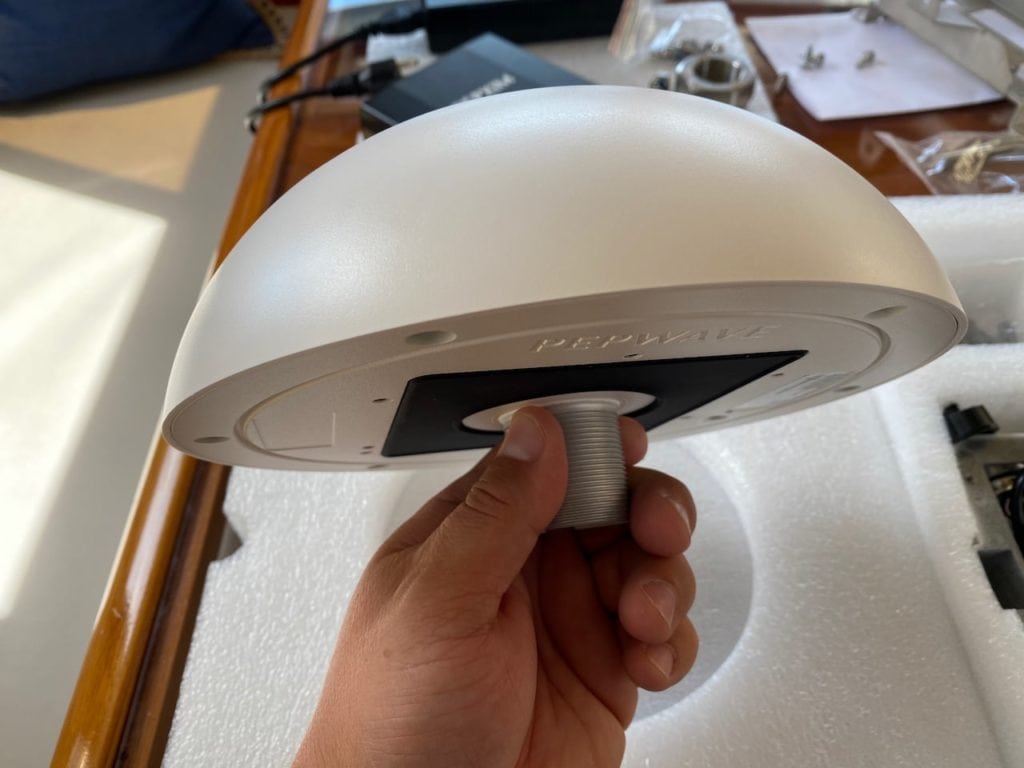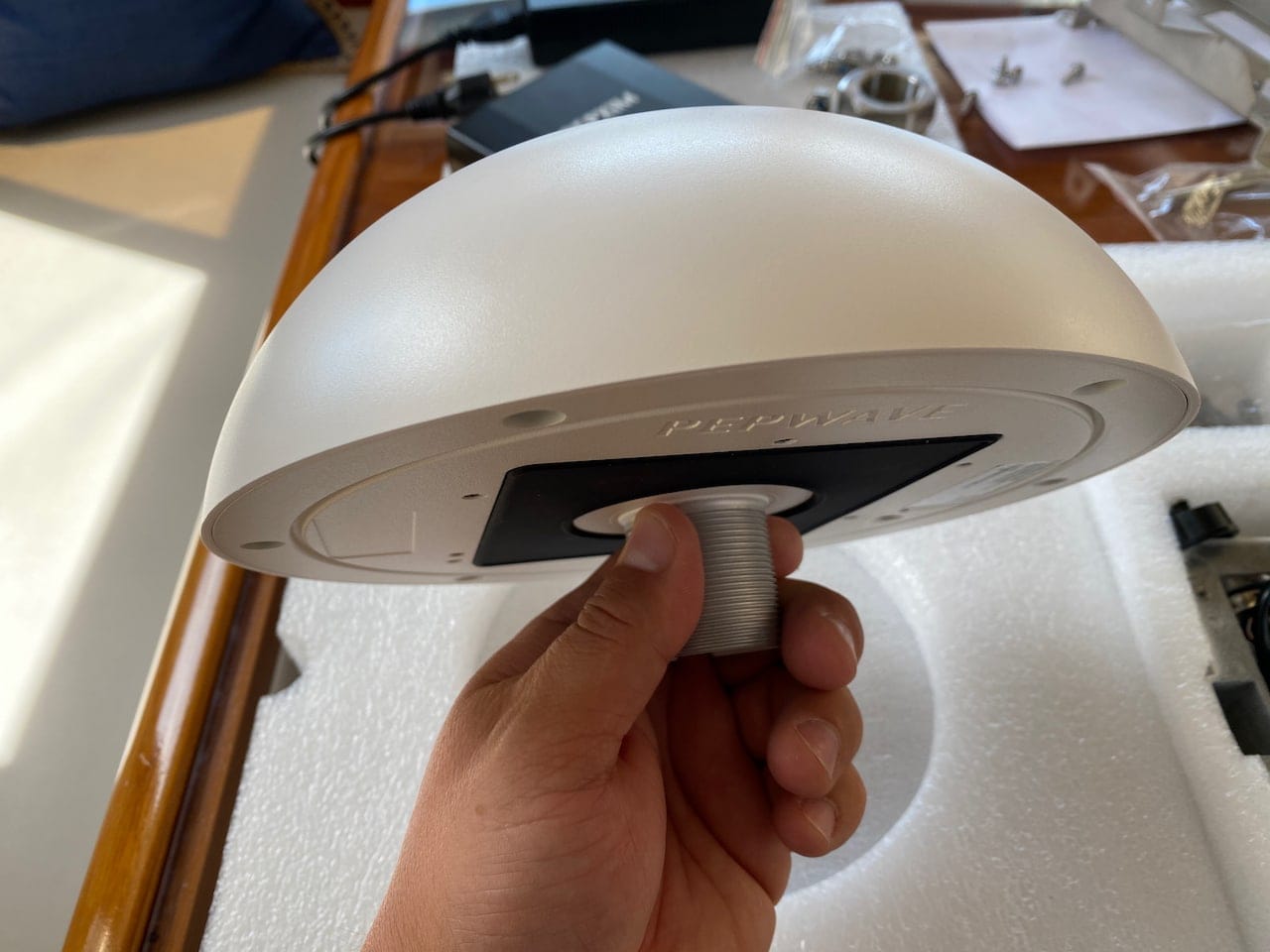 You will also need the SIM injector which will power the domes and hold your SIM cards. You can use the domes without this and leverage a PoE adapter, but that requires changing the SIM cards in the dome itself, which could be difficult.
HD1 Dome – single cellular CAT18 radio. This is the best of the two products because of the performance and bands it supports. It is only a single radio, which is a limit if you want to use SpeedFusion.
HD2 Dome – dual cellular radio – one is CAT12 and one is CAT6. I actually rarely recommend this product because the radios are quite old – CAT6 in particular. However if you need dual radios for redundancy or SpeedFusion, then this could be a good choice.
You can read my review of this equipment below.
With this product you will need to add a WiFi access point inside the boat, as the dome goes outside and does not have WiFi capability. I recommend the AP One Rugged as the indoor access point.
Antennas & Cabling
You can find specific antenna / router combos above, but here are the antennas and cabling I recommend if you already have something.
Poynting OMNI-400 / 402 / 496
The best marine-grade antennas right now are the Poynting OMNI 400 series. They have wonderful marine mounts, easy to install, and excellent performance in almost all conditions. In particular, they are great in very low signal situations given their size.
The OMNI-400 is a single cellular antenna with an N-type connection, and while the best performer, is probably best paired with a booster. Any modern cellular router is going to require at least 2x cellular antennas, so the OMNI-402 might be a better choice if you don't have unlimited real estate.
The OMNI-402 is a dual cellular antenna (2×2 MIMO) which is great for any single cellular router like the BR1, or use two of these with a dual cellular or category 18 router.
The OMNI-496 is specifically tuned for WiFi frequencies and is a good choice if WiFi as WAN or connecting to a remote WiFi network is important to you. You could also use a WiFi booster (see below) which is cheaper, but requires a lot more technical know-how. The 496 can be connected to WiFi ports on Peplink and Teltonika equipment and allow them to have a much higher performing antenna to grab remote WiFi networks.
Peplink Puma 221 / 401
Peplink came out with the Puma line about a year ago and they are fantastic performing antennas. In the lower bands/frequencies, they actually beat the Poynting antennas. They're quite a bit smaller form factor, but are a bit more work to mount on a boat.
I've seen excellent performance if you do not extend the factory cables that come with them (about 6 feet) which means potentially mounting the router near an outside location.
The Puma 221 is 2x cellular, 2x WiFi and 1x GPS antenna all in the one dome. This is great for a single cellular router like the BR1, or you can get two of them for a MAX Transit, and have WiFi as WAN amplified as well.
The Puma 401 is a 4x cellular antenna, so a good choice for the MAX Transit CAT18.
LMR-400 ultra flex cabling
I always recommend using the highest quality cable possible, and as short as possible, to any antenna. My cabling of choice is LMR-400 ultraflex, and I buy it pre-made to the right lengths, with the right connectors from ShowMeCables.com.
WiFi Booster
There is really only one booster I recommend, and it is the MikroTik Groove. It is very inexpensive, quite powerful, but it is difficult to setup and use.
It requires power via the included power over ethernet adapter, or a separate DC adapter. The output from the booster is an ethernet cable which will need to be connected to a router or computer inside the boat.
If you are non-technical, I recommend buying a Peplink router along with external WiFi antennas and using the WiFi as WAN feature. It is quite a bit more expensive ($400 for the antennas alone) but if you cannot deal with technical issues, this is your only choice. Other manufacturers sell simplified WiFi extenders for $500 and up.
Cellular Booster
I rarely recommend boosters anymore because they don't provide as big a benefit as a really high quality outdoor antenna connected to a router. They only really work in areas with very, very low signal levels.
If you are interested in a booster, the weBoost Drive Reach is one of the best out there. You can combine this with a Poynting OMNI-400 for a very robust marine-grade booster setup. More info in my review below.
Subscribe to SeaBits News
Get all the latest & greatest posts delivered straight to your inbox
Please check your inbox for a confirmation email!
Something went wrong.