There are a lot of bits of equipment aboard a boat that seem to require voltages and types of power that aren't as easy generate. In particular, power over ethernet devices and voltage sensitive items require a bit of special attention when using them aboard. This article covers some of the converters and devices I regularly use.
Power Stabilization
If you have devices that are sensitive to voltage fluctuations, there are a number of devices that are available to help. I've had the most experience with Victron's Orion-Tr series of isolated DC/DC converters. These allow you to connect your DC power source on one side, and output a stable 12 volt (or up to 15 volts in the case of the model below) signal for sensitive electronics.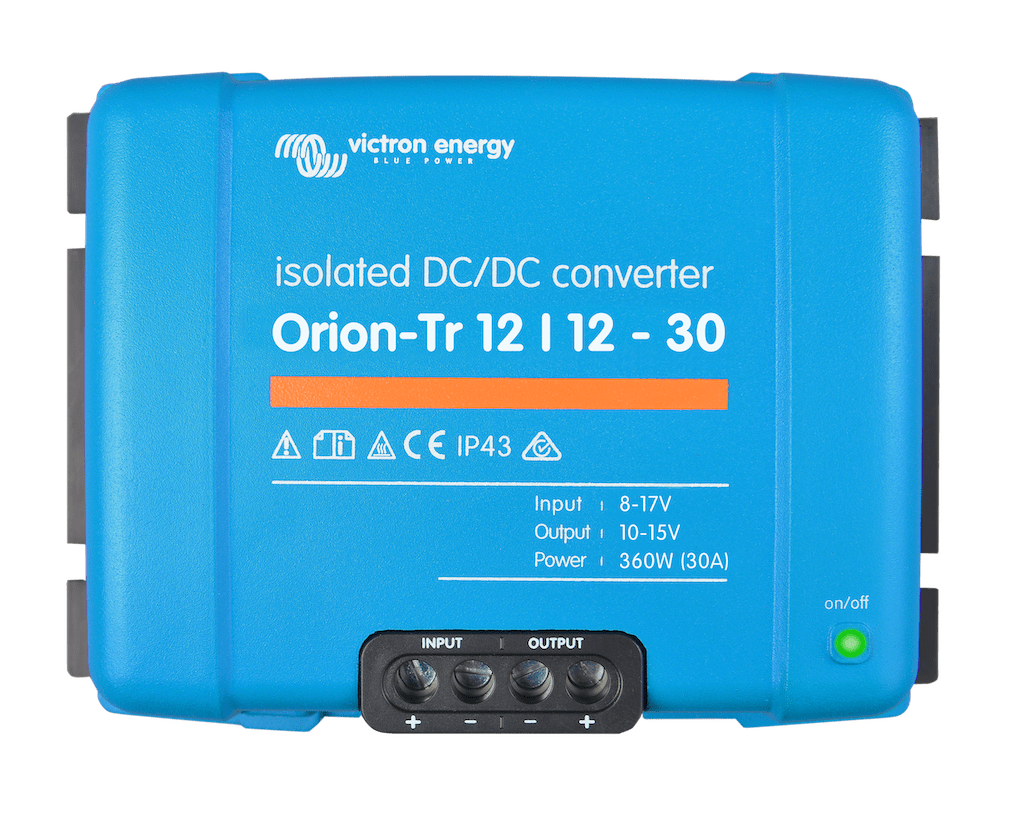 Believe it or not, even on my boat with it's LiFePO4 power system, updated wiring, and all the other bells and whistles, I have to use these for two pieces of equipment aboard – my AXIS docking and engine room cameras, and my Furuno MFDs. Whenever I kick on the windlass to retrieve it after being anchored, or when it is just coming up into the bow roller and can cause a big spike in amps, the voltage sag causes these devices to either get flaky, or outright reboot. Adding a Victron Orion-Tr for both of these has stopped that behavior, and I've expanded the use of the one in my flybridge to other 12 volt devices related to navigation just to give them nicer voltage that is always stable.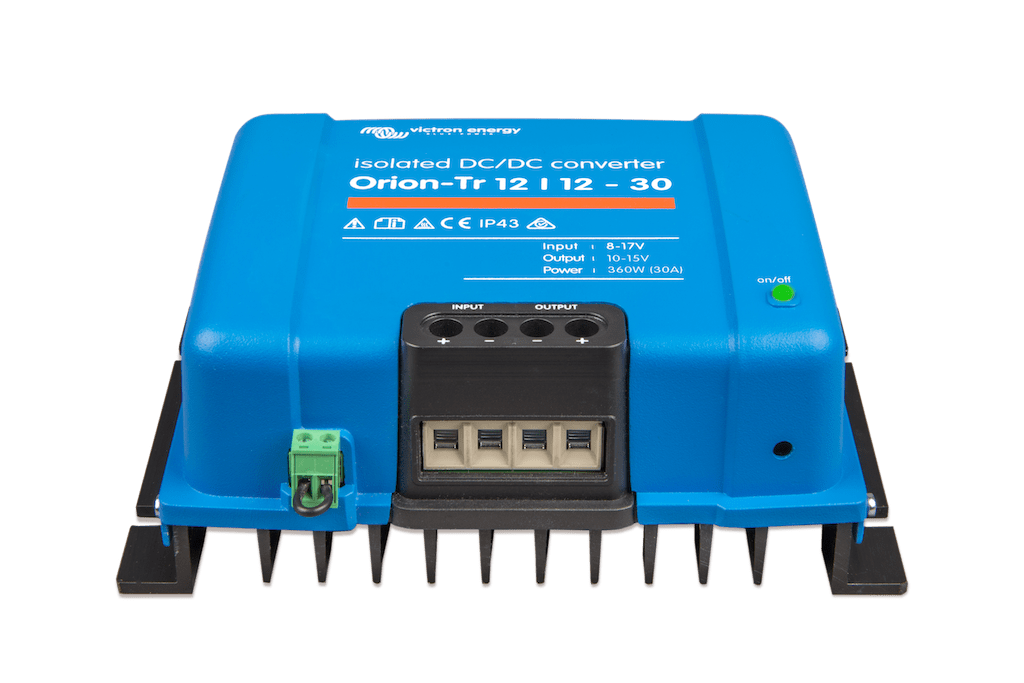 As with all of these devices in this article, while converting things provides a better result to the devices attached, it comes at a cost. This conversion is not a free activity, and it will cost more power to do it, so keep that in mind if you decide you want to add this to your system. Adding it everywhere, or to an entire DC system, is not likely cost-effective nor practical.
In the case of the Victron Orion-Tr products, there are overall limits for the amount of amperage you can run through them, with the same voltage versions topping out at about 30 amps. That's usually enough for most things, but if you wanted to run your entire DC power system through something like this, it would be a bit challenging.
You can get the Orion-Tr in boost versions as well where it will take ~12 volts and convert it into 24 and 48 volts, but I cover some of those below.
Boost/Buck Converters
There are a lot of devices that require more power than your standard battery bank voltage can provide, and in some cases with internet devices, quite a bit more. You can use some of the stabilizing voltage converters above to go from 12 volts to 24 volts, but what can you use when you need to make a bigger jump?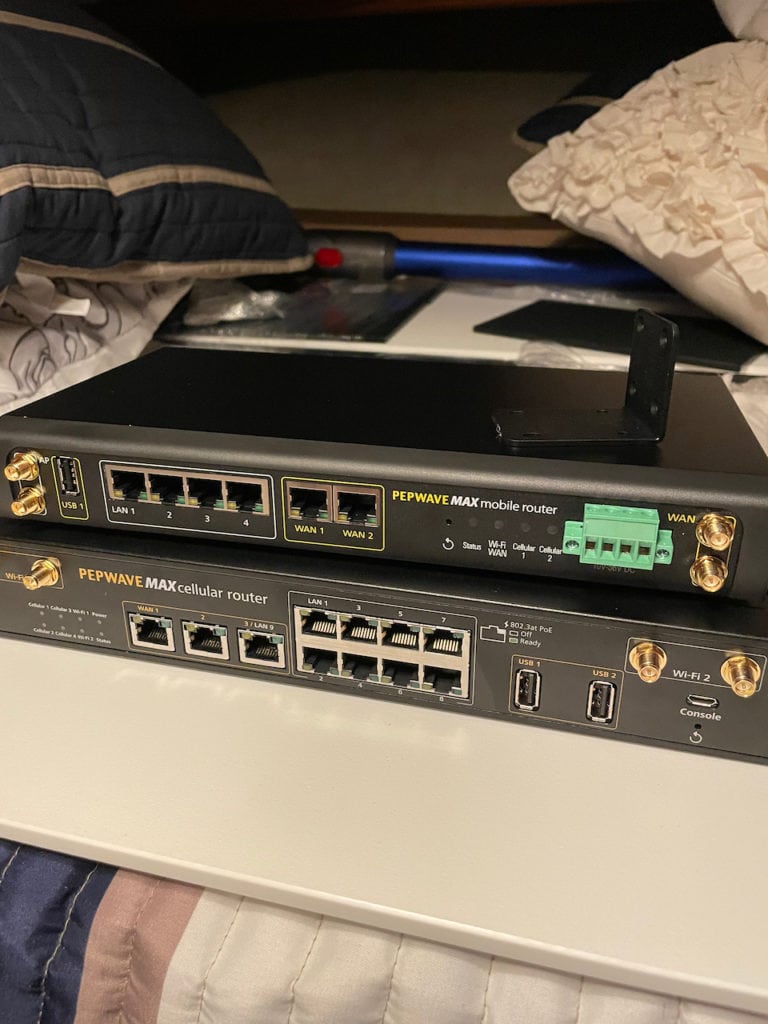 Most Peplink routers that support power over ethernet require 56 volts as does their SIM injector. Where is this voltage requirement coming from? Well, it's common in the service provider/carrier/cell phone industry. However, it's pretty hard to find marine solutions for this.
I've used two solutions – one with mixed results (and cheaper), and one with a much better outcome. The first has been voltage converters, commonly called buck-boost converters, from Amazon. They are inexpensive, usually are just a big heatsink with wires coming out of them, and generally do the job. I've had about a 20% failure rate with these, and they tend to get hot and have some voltage variations on output, so be aware that you get what you pay for. The one above I've used to power the Peplink SIM injector as well as several Peplink routers that have PoE ports and is the SMAKN Waterproof DC/DC converter.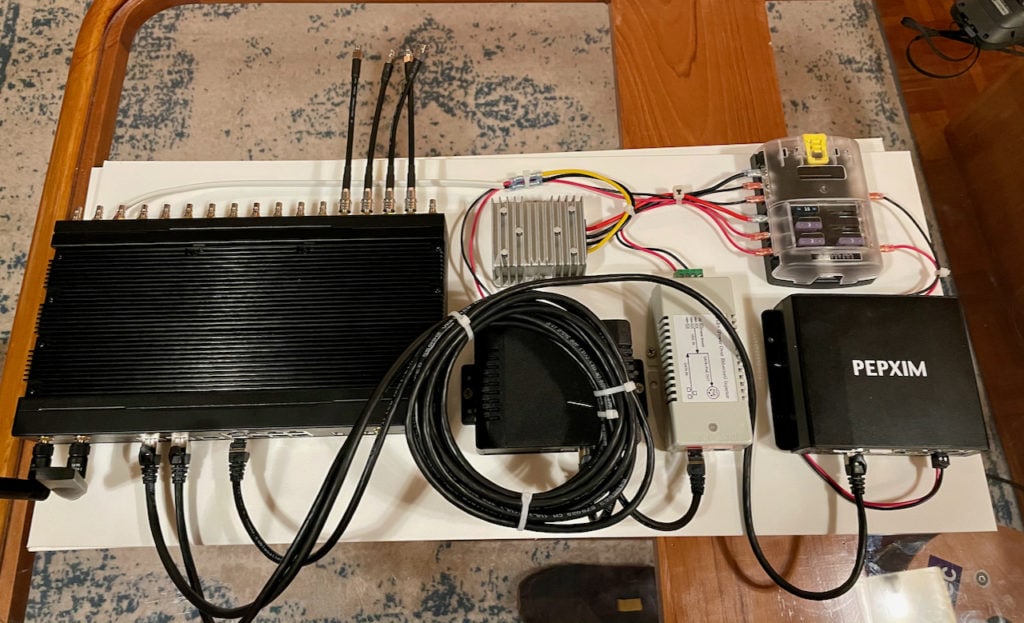 I've also used the Victron Orion-Tr for this purpose, but they only convert from 12v to 48v, and I'd like to get to 56v so I can get the true full output.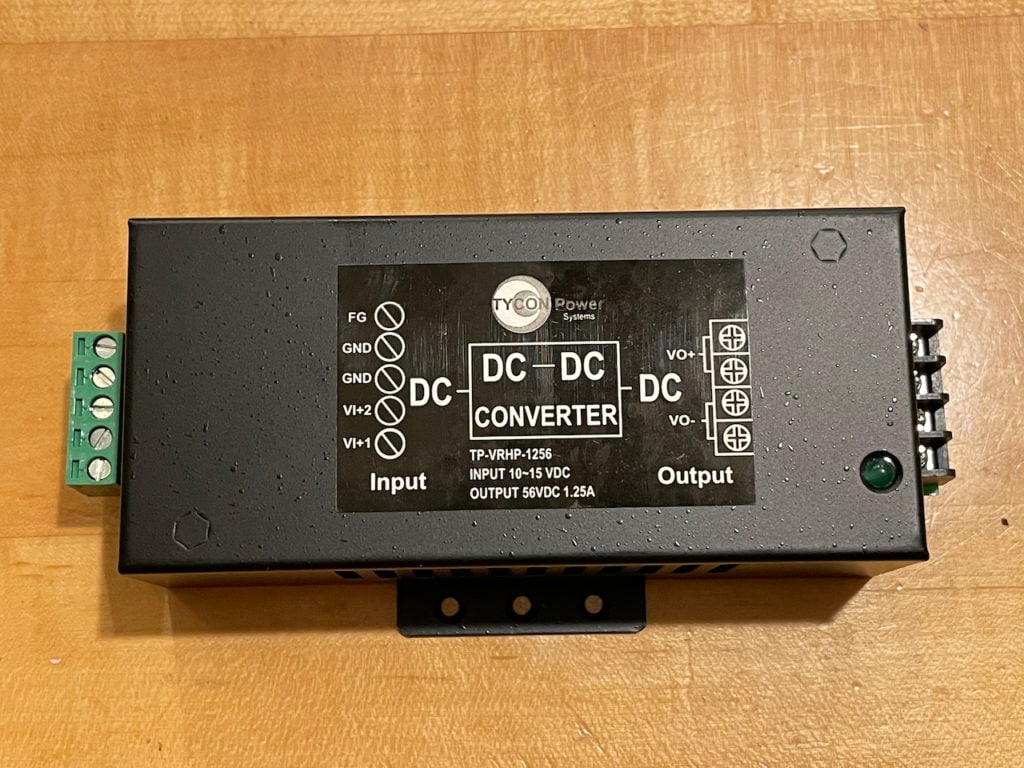 My preferred solution is from Tycon, who have been around a long time in the solar and carrier world – I've used products from Tycon in my solar experimentation back into the 1990s. Their TP-VRHP-1256 is perfect to convert 12v to 56v for the various devices that need it. It's a very well built unit with decent output, a big indicator light, and clear labeling.
Check voltages and amp draw
As with anything electrical, and in particular with voltage converters, make sure you carefully consider the voltage you're converting to, and the overall draw at that voltage that your device(s) require. Many of these devices will tell you what they draw at the higher voltage, but you will want a proper fuse for the lower voltage side, and know how much it could potentially draw.
Example: the Tycon converter above indicates 1.25 amps at 56 volts, which is actually about 5.8 amps at 12 volts.
Make sure you consider both voltages, both amp draw levels, and what your device actually requires when sizing a converter.
Power Over Ethernet
Power over ethernet, or PoE, is common for modern networking equipment, cameras, and more. It's an easy way to provide both power and data to a device without having to run two cables, and is delivered over a single ethernet cable. Many devices I've reviewed can use PoE including the MikroTik, Peplink HD1 Dome, and Peplink AP One Rugged access point.
If you have a router that supports PoE and has ports that it can provide power out of, see above for choosing an appropriate voltage or boost converter. Most routers will need a higher voltage provided to them to generate PoE. Some in the MikroTik family do not, but they're running a much older version of PoE that can power other MikroTik stuff, and not much else.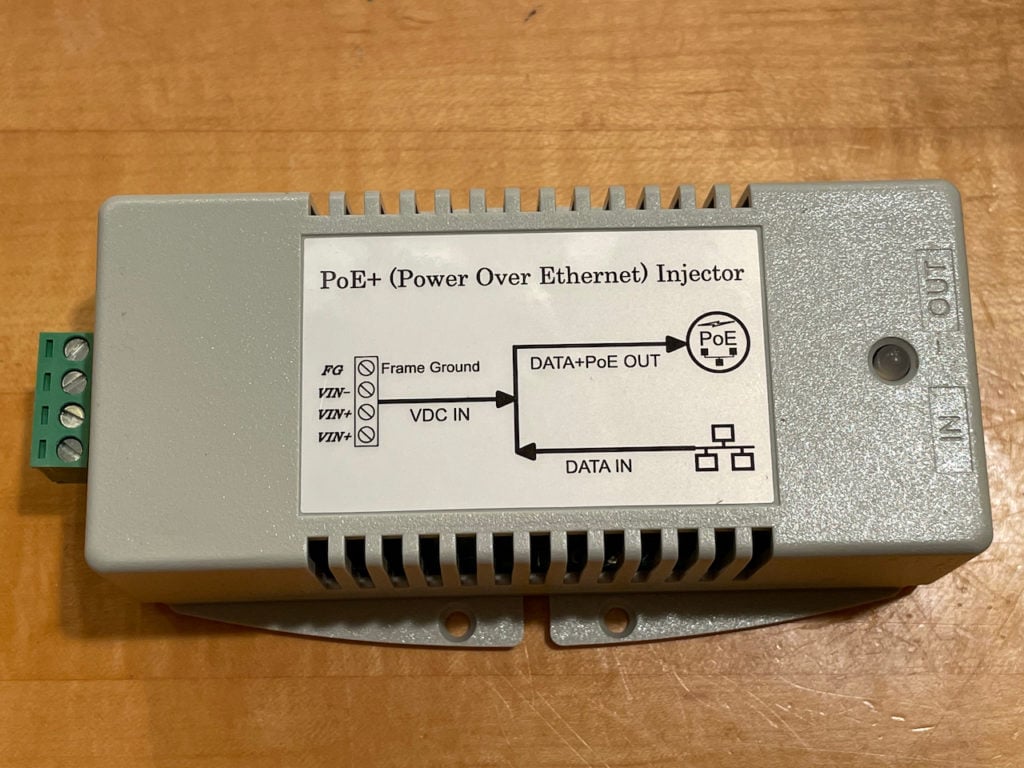 If you don't have a router that does PoE, and need to power a standalone device such as a MikroTik, Peplink HD1 Dome, or the like, you can use what is called a PoE injector. These take your DC battery bank voltage in one side, and produce a PoE signal out the other side to your device. They deliver this out an ethernet port, and have a secondary ethernet port to connect to your router or switch.
I have used Tycon's PoE injectors for years and have had extremely good results from them with little failures. They come in just about every flavor you could imagine – 12v to 24/48v and all of the different variations.
One caution is that there are a number of different types of PoE and each one has limitations in terms of the voltage they are running at, the wiring of the cable, and the overall power (usually in watts) that you can use. Carefully review the specifications of the thing you're trying to power before buying an injector, as it may not be compatible.
For instance, the MikroTik Groove requires only passive PoE anywhere from 9-30 volts and would only consume 6 watts, while the Peplink HD1 Dome requires PoE 802.3at from 42-50 volts and can consume 20 watts. You could theoretically run the MikroTik (and I have many times) directly off of your DC battery bank with no conversion of voltage, while the Peplink HD1 Dome will require an 802.3at converter like the Tycon TP-DCDC-1248GD-HP.
These injectors have a wire block to connect to your DC power source (make sure you add a fuse!) and two ethernet ports on the other end. One ethernet port goes to the device to be powered, and has PoE power coming out of it, and the other port is to go to your router, switch, or other device that the device is attempting to connect to network-wise.
Wrap Up
Powering modern electronics on a boat requires a bit more thought than in the past. Some things require more stable voltage, which can be solved by products from Victron and others. If you're trying to run bigger routers or power over ethernet devices, there are a lot of good solutions from the solar and carrier world that work well on a boat too.
Whatever you are trying to power, make sure to carefully consider amperages and overall power requirements before selecting a solution.
Subscribe to SeaBits News
Get all the latest & greatest posts delivered straight to your inbox
Please check your inbox for a confirmation email!
Something went wrong.