Peplink came out with the Maritime series of antennas in the tail end of 2021. This was the first real competition that Poynting, my favorite antenna vendor for a number of years, has had in this space, and I was eager to get them up and running.
The Lineup
In the Maritime lineup, we have two different models to choose from:
In the Box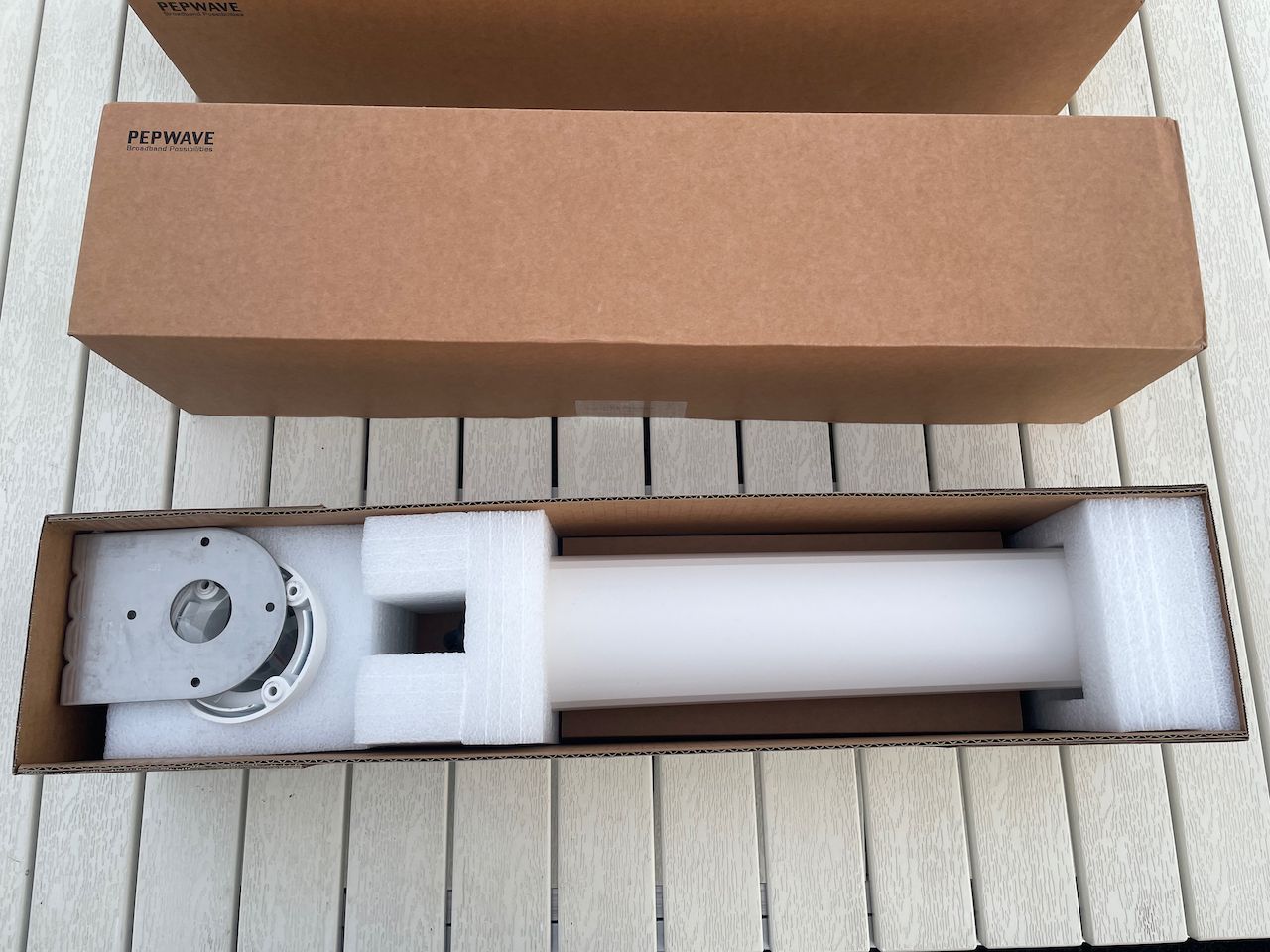 Both antennas come with:
Marine mount base & seal
Entrance hole and plug for side cable entry
L-bracket with hardware to mount on a vertical surface
Pole mount hardware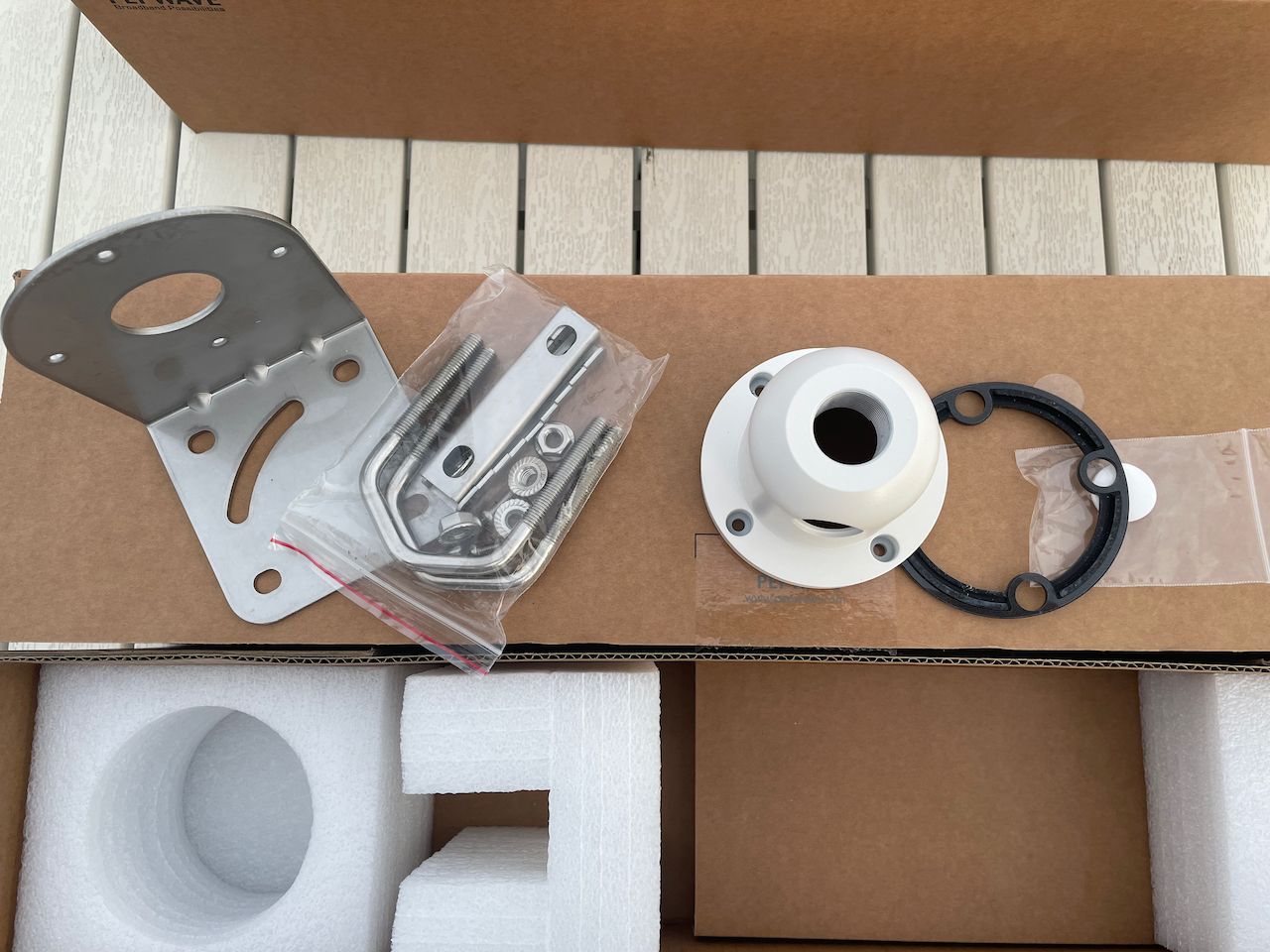 Interestingly, the 40G comes with the rather expensive $99 Peplink marine stainless steel mounting base, but the 20G does not. It would be nice to see that for both antennas....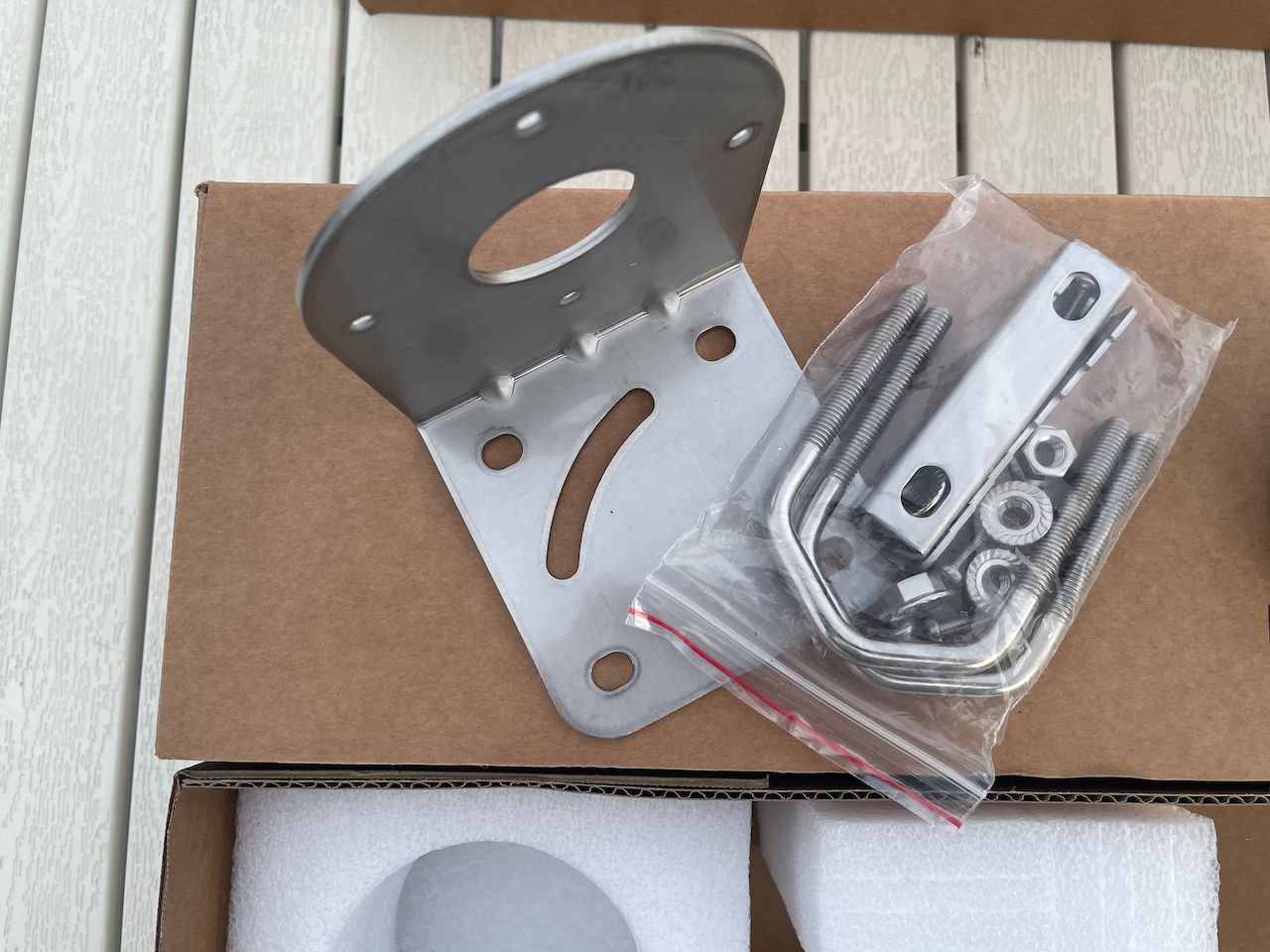 Specifications
Maritime 20G

Maritime 40G
Both antennas cover a wide range of frequencies making them ideal for 4G LTE, 5G and WiFi uses. In particular, I was impressed with the lower frequency gain claims particularly in the 617-960MHz range, as this has been an area that other antenna manufacturers have struggled with.
It's also interesting to note that the 20G has much better gain numbers of 5.4dBi in that range over the 40G's 3.8dBi. There are other variances as well, but the rest are much smaller.
In terms of general specifications, the Maritime series looks extremely good on paper.
Physical
The antenna is well built and feels hefty in the hand. The entire setup is similar to the Poynting OMNI series of antennas I've reviewed before, specifically around it being purpose designed for the marine world, which is excellent. This includes a removable base that can be screwed on to a standard 1-1/4" marine mount with options to pass the cables through the mount, or out through a hole in the base of the antenna mount. This saves having to deal with twisting cables or other machinations that always compromise the quality of the install.
It should be mentioned that the Maritime 40G antenna is a big, hefty antenna. It is by far the biggest cellular antenna I've ever seen. It's overall length is 35" which is 6" longer than the comparable Poynting OMNI-414 at 29". However, it feels quite a bit heavier (Peplink does not publish a weight) and it is quite a bit wider than other antennas a 3.78". Antenna size usually helps with performance, but just be aware that the Maritime 40G is bigger than what you might have seen before, and will require a proper mounting setup.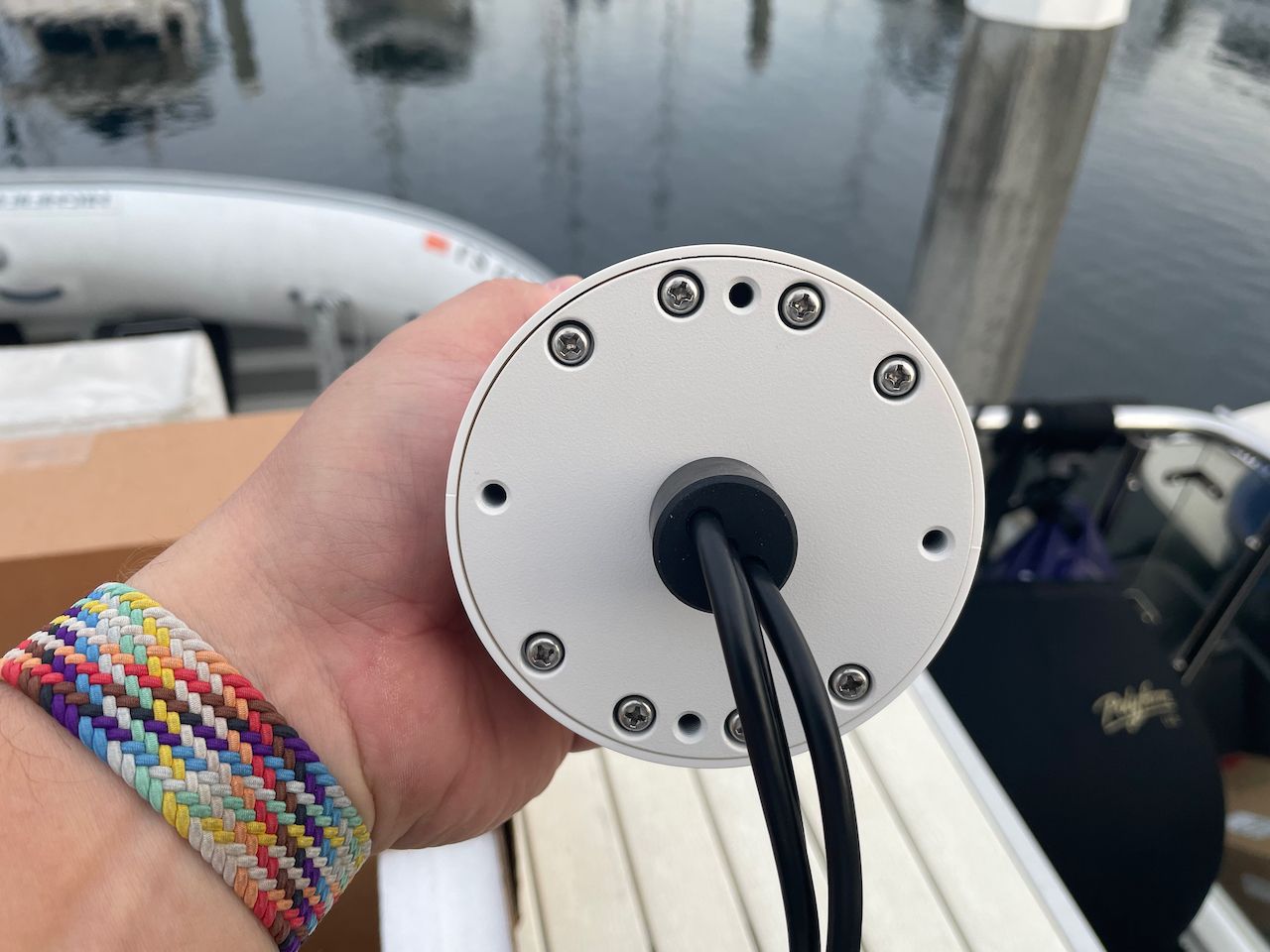 The antenna cables come out of the bottom of the unit and are about 6 feet in length. Both the 20G and 40G have both cellular antenna leads and a single GPS antenna lead.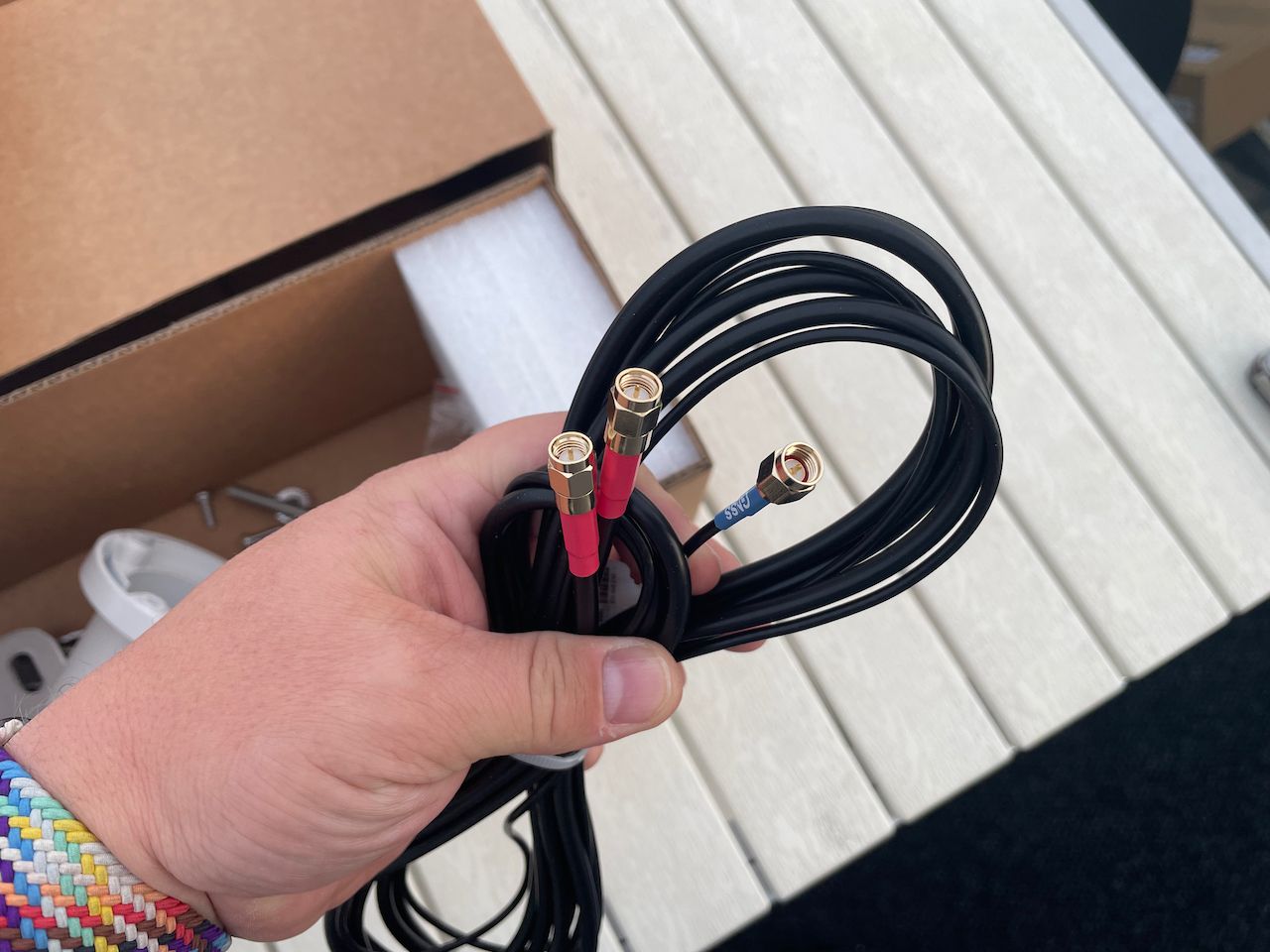 The connectors and cabling feel well built and are clearly labeled with nice shrink wrap coverings that survive being pulled through conduit and other places.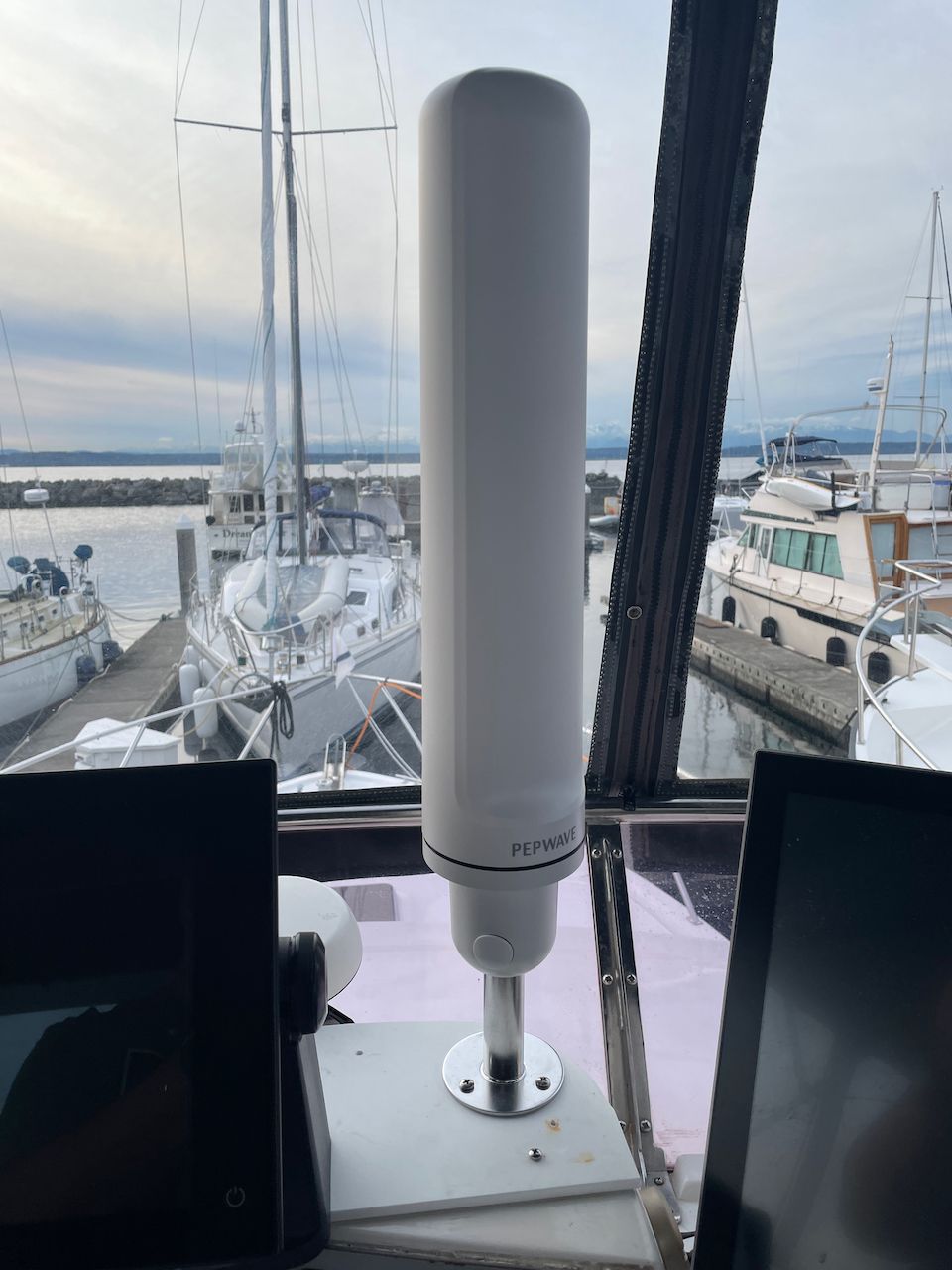 The antenna isn't circular - it is sort of cricket bat shaped and has some bevels and angles. It is quite a bit thicker around than a Poynting OMNI-series as well.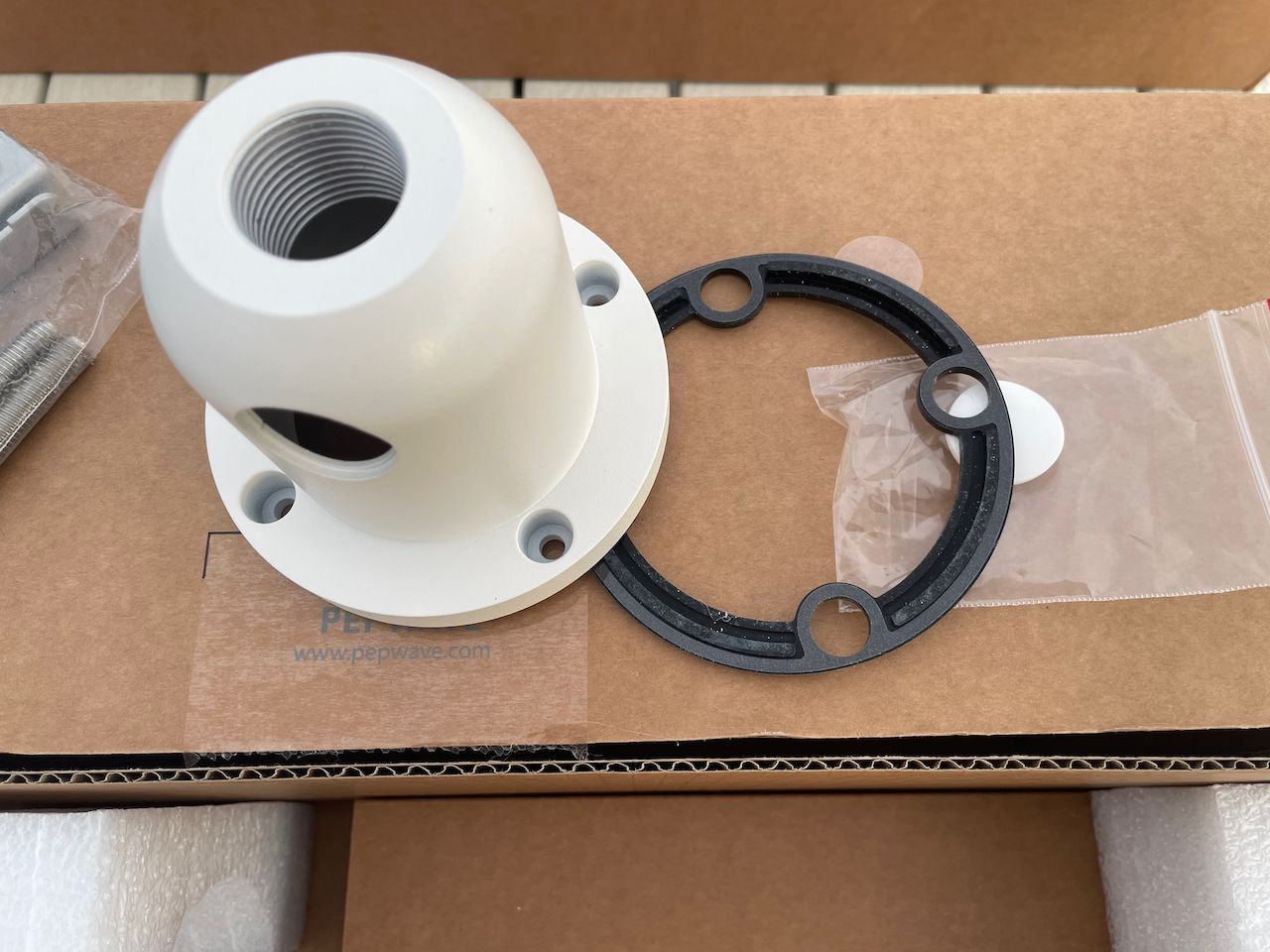 The mounting base is well thought out and includes a rubber weather seal, cable pass through hole, and a set screw!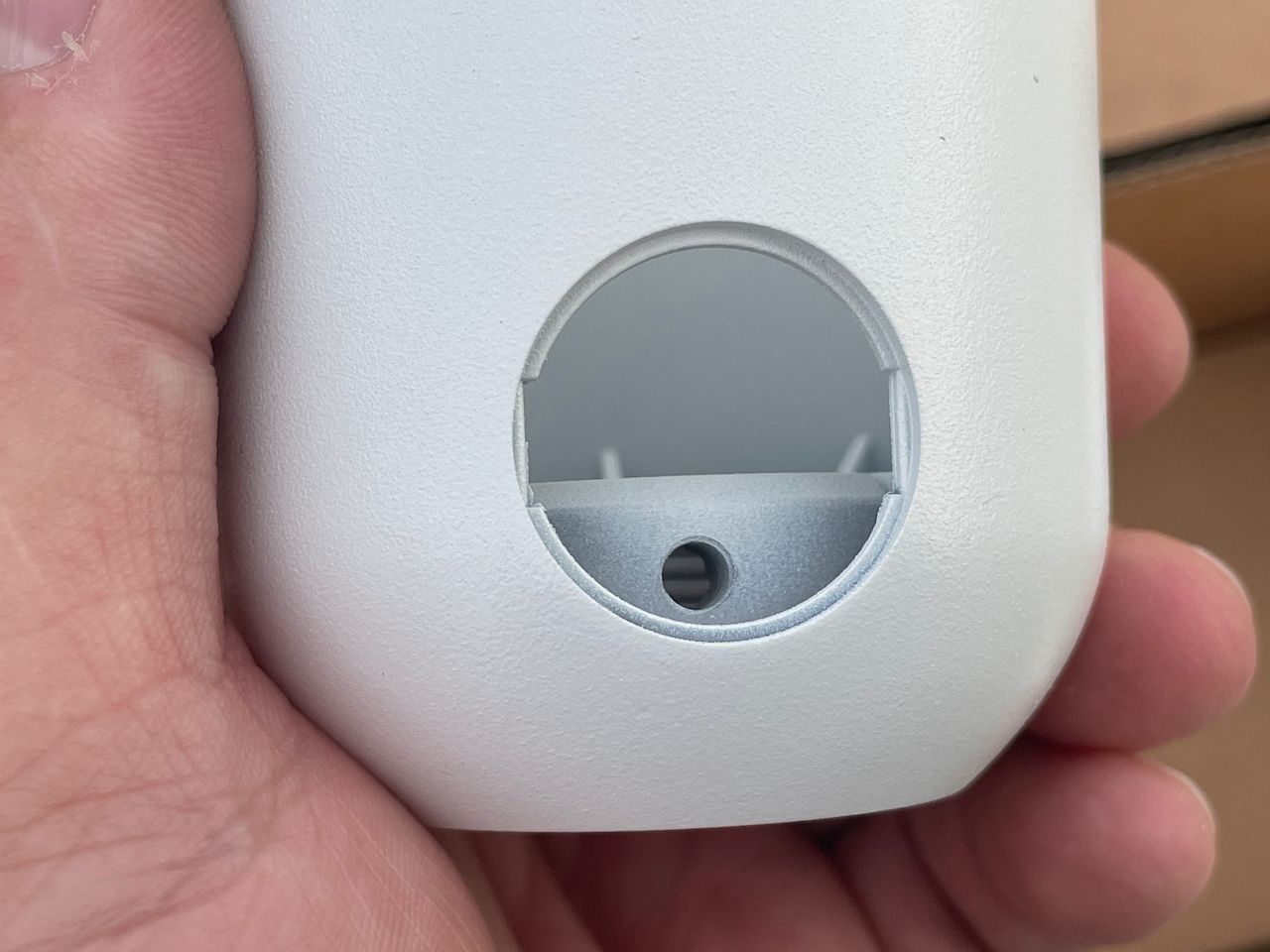 The set screw is super nice so that you can orient the entire antenna the way you want without having to use a jam nut (another purchase) from somewhere else, or just be stuck with the antenna facing some random direction.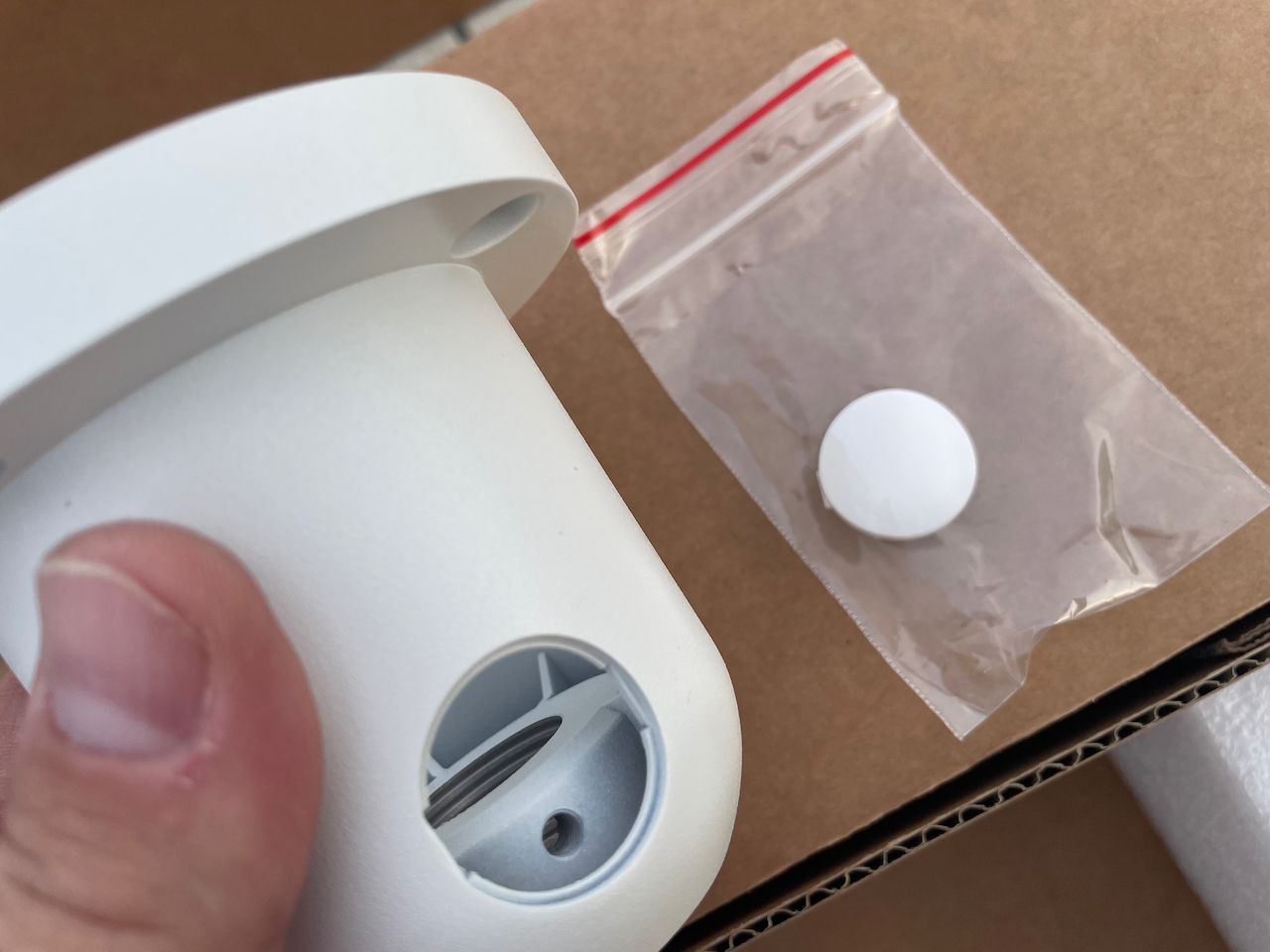 The biggest disappointment is the plug for the cable pass through. If I am using a standard 1-1/4 marine mount, like you see above, I don't want this hole to be open or exposed. The way this was solved for the Maritime series was a very cheap, fiddly plastic plug that does not provide a weather tight seal, and is difficult to even get into the hole. After all of the other weatherproofing put into this antenna, this is a clear miss in the design department. Using some sort of sealant is an option, but a bit of a mess will likely result.
Performance & Usage
I've been using both antennas for a number of months now with CAT-18 and 5G modems from multiple manufacturers. In addition, I've used the 20G as a WiFi as WAN antenna connected to Peplink routers.

In general I have been very pleased with the overall performance. In metro areas where the signal is strong, I have seen excellent performance and good signal strength. In remote areas with known challenges, I've seen good performance as well.

The lower band performance has been very good specifically in the 617-960MHz range. This is where the all-important Band 71 lives which is useful mostly for T-Mobile. Lower frequencies with longer wavelengths travel farther, and this means more coverage further away in isolated areas, which is perfect for the boat.
5G performance has also been very good in all of my testing with the Maritime antennas pulling in a signal in many places where I hadn't had 5G before.
Compared to the Peplink Mobility 42G, the 20G and 40G do much better with lower signal areas, which I would expect given the sheer size difference. The 42G has better gain numbers for some frequencies on paper, but the overall size, design, and radiation pattern of the Maritime series will be better for a boat setup because of the constant movement and tendency to be further away from towers.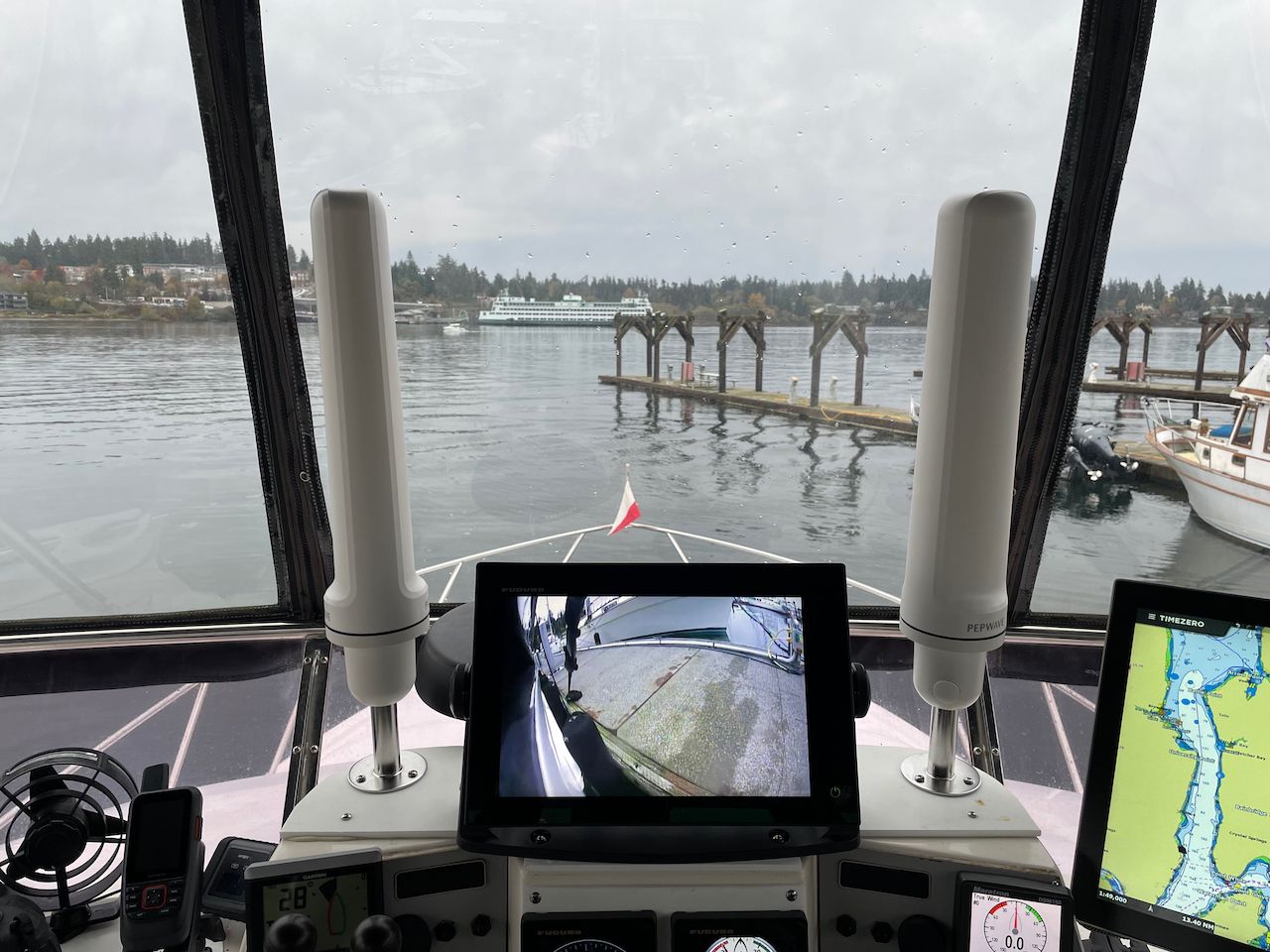 I also used the Peplink Maritime 20G as a WiFi as WAN antenna connected to various Peplink devices. In particular, I wanted to see how it did compared to the venerable Poynting OMNI-496 which I've recommended for a number of years. The OMNI-496 is a single element antenna, whereas the Maritime 20G is a 2x2 or dual element antenna, so it's not an exact 1:1 comparison.
In my testing, I've seen great performance from the Maritime 20G as a WiFi as WAN antenna - very similar to the OMNI-496. You will need some RP-SMA adapters if you decide to use the 20G with WiFi ports on a router.
Competition
Poynting is the obvious major competitor to these antennas, and while they have several offerings that are new, there are still some gaps.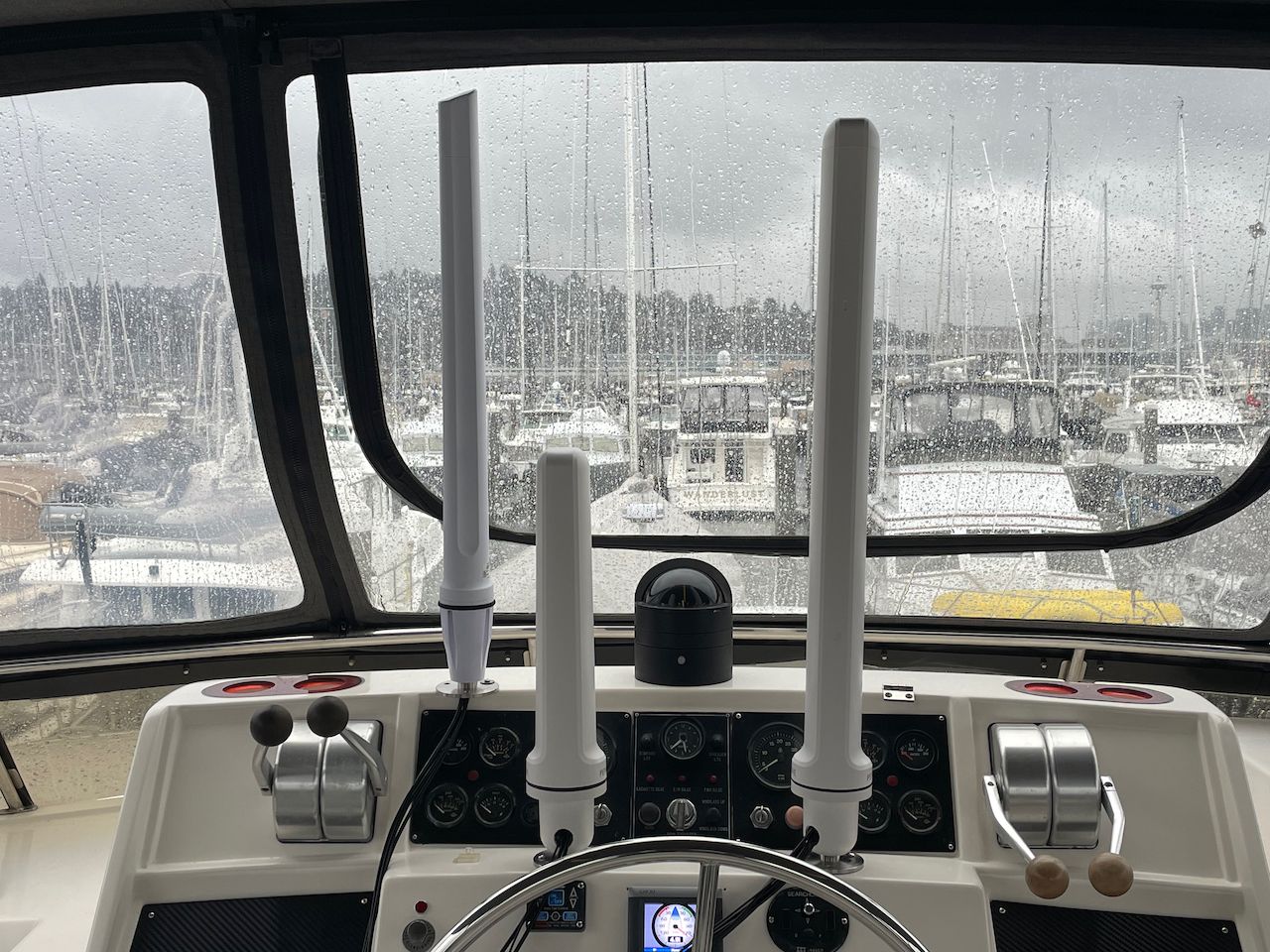 The Maritime 40G has a good competitor in the Poynting OMNI-414 which I am also testing. The major differences are that the Poynting does not cover as many frequencies as the Maritime 40G, is quite a bit smaller (not a bad thing!), and is white in color instead of cream.
This means for a 5G + WiFi as WAN system you'd need different antennas specifically for WiFi. I do like the smaller form factor of the Poynting, and I prefer the white color over the Peplink cream color. The lack of some frequencies or bands with the Poynting antennas will be an area of focus in my testing as well.
In my initial testing of the Poynting OMNI-414 versus the Peplink Maritime 40G, I see very similar results in many areas. I will still reserve my opinion on which one is ultimately the best choice until I have a bit more time with the OMNI-414.
Wrap Up
If you're looking for a high quality marine-grade cellular or WiFi antenna, the Peplink Maritime series definitely fits that bill. Quality mounting options, excellent performance, and lots of flexibility with the number of connections make it an easy antenna to pair with a good router.
Pros
Excellent marine antenna features
Well built hardware, cabling, etc.
Performs extremely well with 4G LTE and 5G
Can be used for WiFi or cellular
Cons
The 40G is enormous - this may be a concern for mounting, windage, and space.
The 40G comes with a 1-1/4"  mount, the 20G does not
The color is off-white which doesn't match most boats
Weatherproofing for cable pass through is not as waterproof as I'd like