I've been searching for a long time for a dual-band, high performance, marine-grade WiFi antenna that I could use for grabbing remote WiFi signals while on the boat. The Poynting OMNI-496 has proven to be a great performer for this exact purpose.
If you want to see where I used these in my full internet setup for 2020, check out the article below.
While I generally use LTE to stay connected on the water, I still prefer when at anchor or in a marina to use a local WiFi network if it is available. This saves using precious LTE data, and it can have lower latency which is better for video calls and many other things.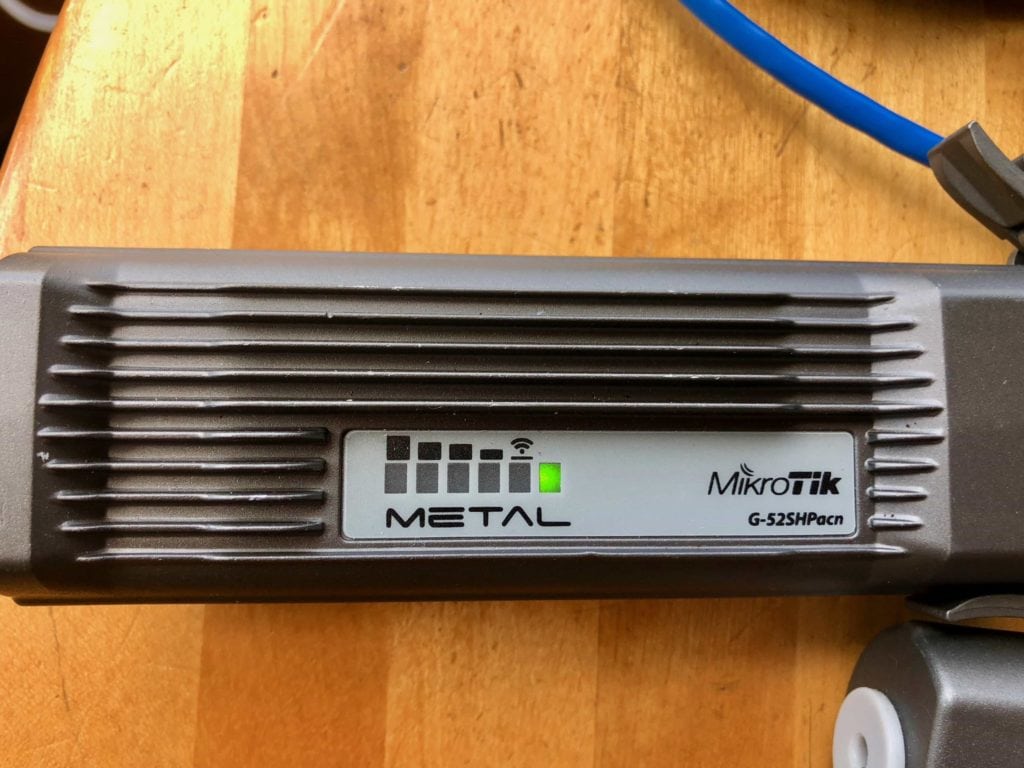 My go-to solution for the last few years has been a MikroTik Groove, which is essentially a small outdoor router with an antenna, connected to an indoor router via an ethernet cable. This has been an excellent way to grab remote WiFi signals, but the MikroTik operating system, RouterOS, is very hard to use. In addition, I could only use one frequency at a time without adding a second Groove, which would require more ports on my main router or a switch. It also wasn't integrated with the Peplink MAX Transit I was using, which caused some interesting catch 22 situations where configuring it required some workarounds when a WiFi network wasn't connected.
Recently, there also have been more reports of the Groove not working with various WiFi networks, but I have not been able to trace down the full reason why. I've had several incidents where all sorts of other devices could connect, but the Groove refused to. Several other readers have reported this as well. That's made it less of a good choice when trying to connect to marina WiFi signals.
I had used several other WiFi antennas in various installs both on my own boats and others including some from Comrod and Altelix, but they were all single band, and almost all of them were 2.4Ghz. In fact, I only found one manufacturer of an outdoor 5Ghz WiFi antenna that was even close to marine grade and decent performance.
There are plenty of multi-element antenna choices from MobileMark, Poynting, and others, but I have never seen great performance from those solutions with boats. These antennas typically are called "pucks" and are very small, and usually used on vehicles in urban areas. The size of the elements and antennas just don't seem to perform as well as a larger antenna when you're looking for a quality signal in marginal areas, and they also seem to be a lot more directional than they should be.
Unboxing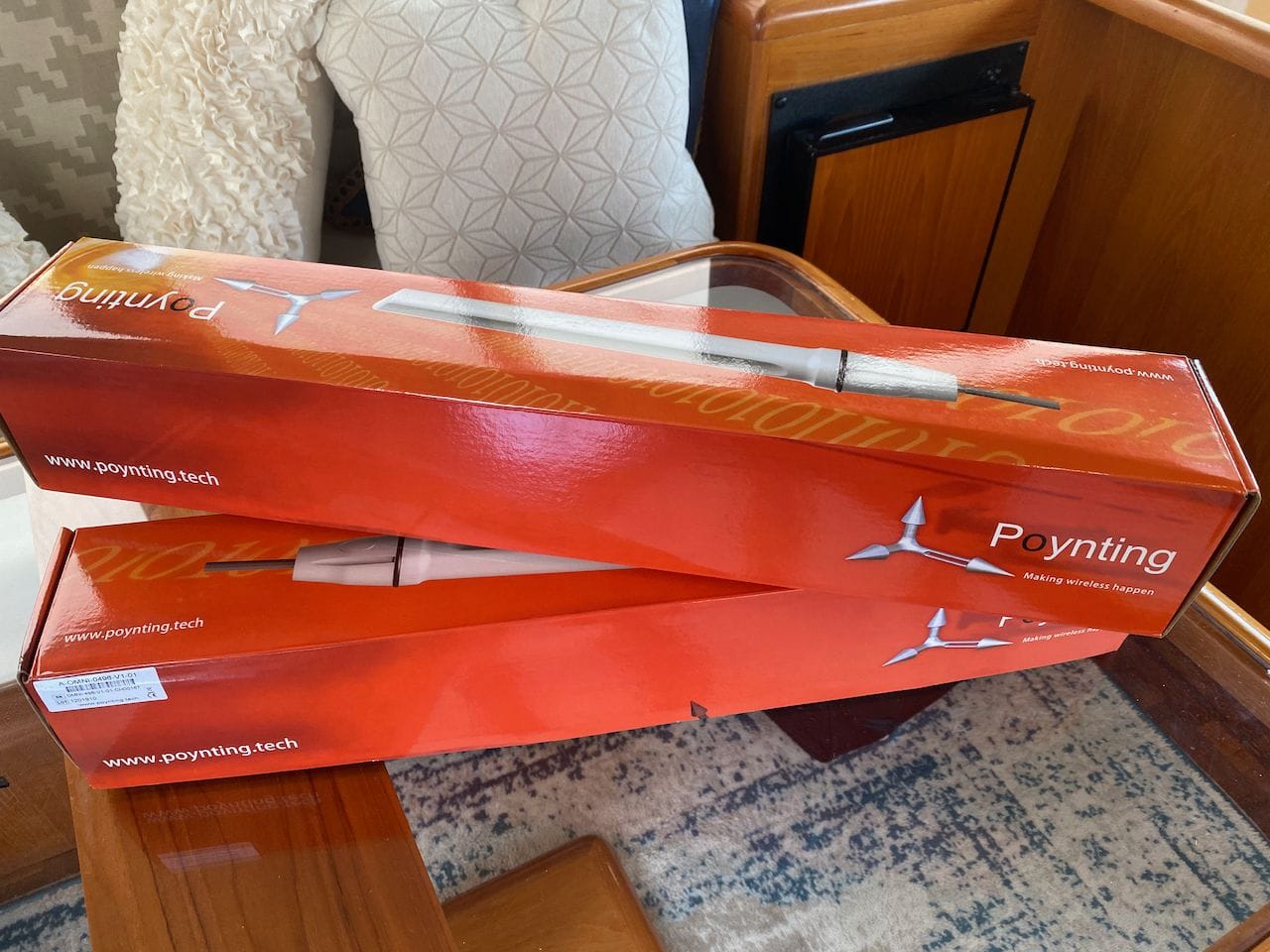 I purchased two OMNI-496's so that I could connect one to each port of a Peplink MAX Transit and a Peplink MAX HD4 MBX. This would allow me to use them to simultaneously grab 2.4Ghz and 5Ghz WiFi signals, or I could also broadcast my WiFi network outdoors on both bands. I also used them standalone with the MikroTik Groove and some other random products.
You can purchase the OMNI-496 from Milltech Marine and help support this site.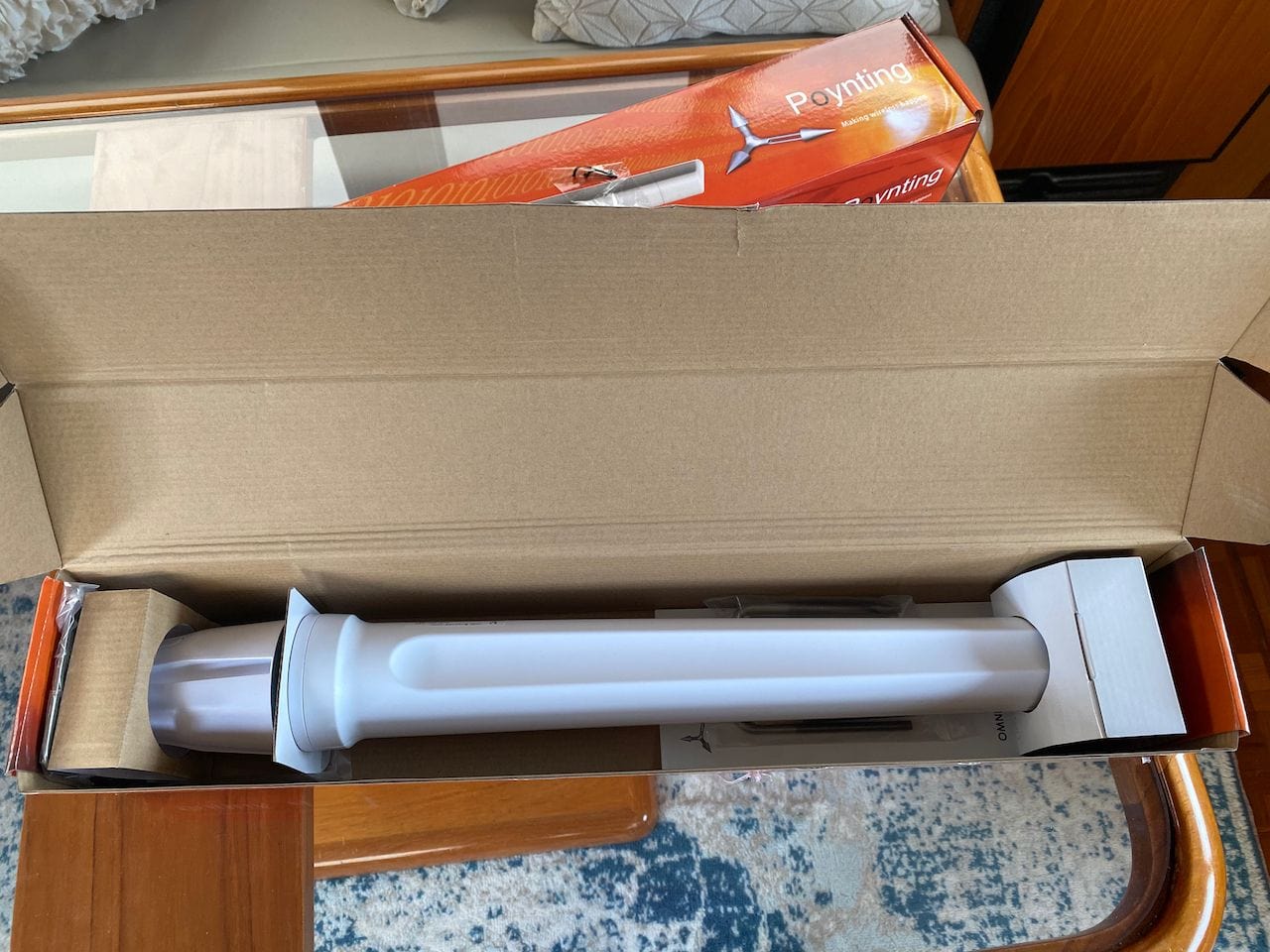 As with the other Poynting antennas I've had, this model comes packed in a box with proper protection, mounting options, manual, and the like.
You will need to provide a cable to connect to the antenna, and either a pole to mount it to with the included hardware, or a marine mount.
Installation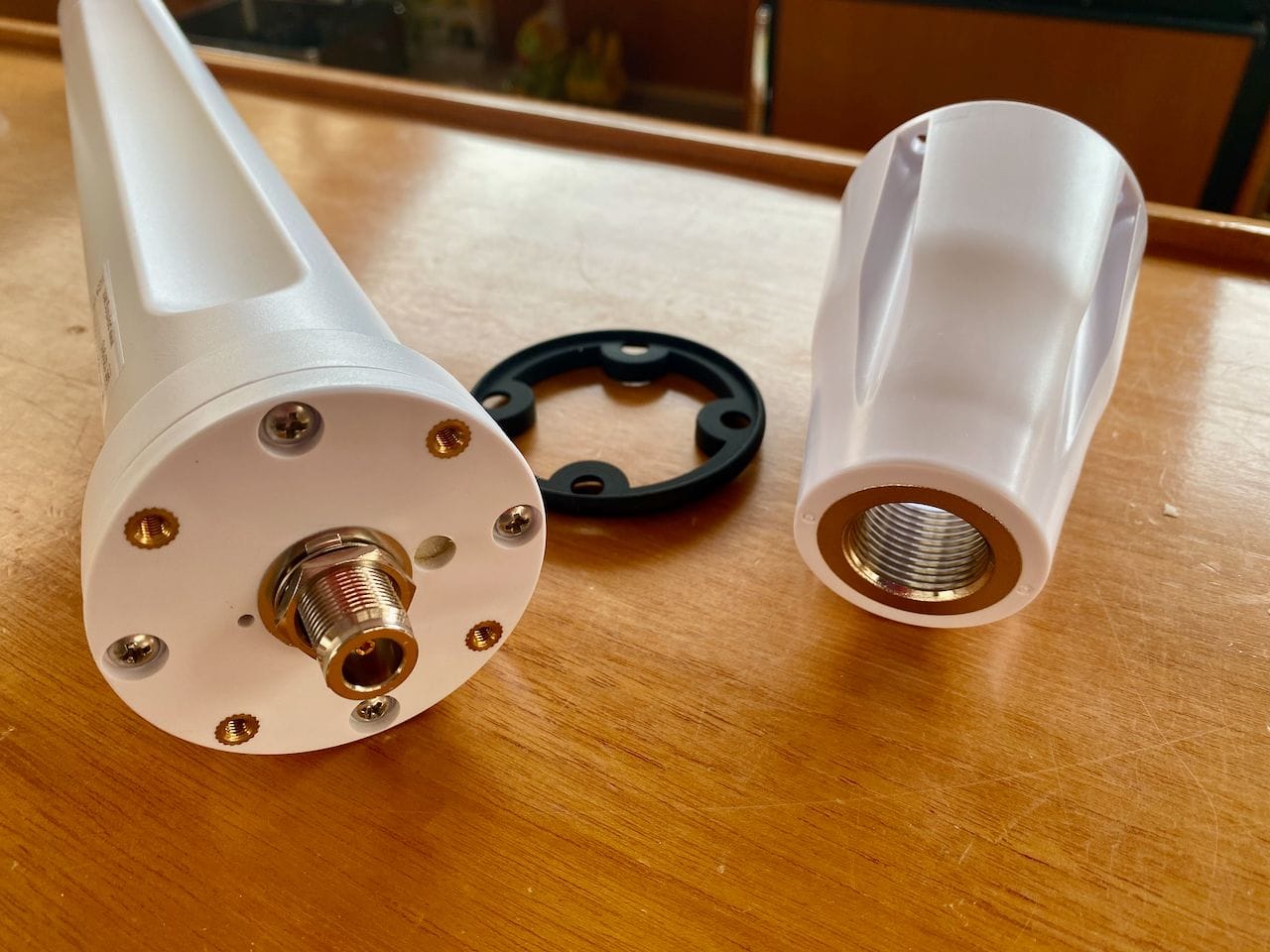 One of the reasons I love Poynting antennas is their well thought out marine mount. For the 496, you have the piece on the right which will screw onto a standard 1-1/4″ marine mount. Then, you can feed the cable up through it, attach that to the antenna, and using the rubber washer in the middle, screw up into the bottom of the antenna to firmly attach it in a waterproof manner. Their LTE antennas have the same mounting setup. This prevents you from having to rotate an antenna with a cable connected to it, or some other nonsense that invariably puts strain on the cable, or worse.
I used LMR-400 UltraFlex cables from ShowMeCables with an N male end for the antenna, and an RP-SMA end for the Peplink side. I also had standard N male to N male and female cables while testing with the MikroTik Groove.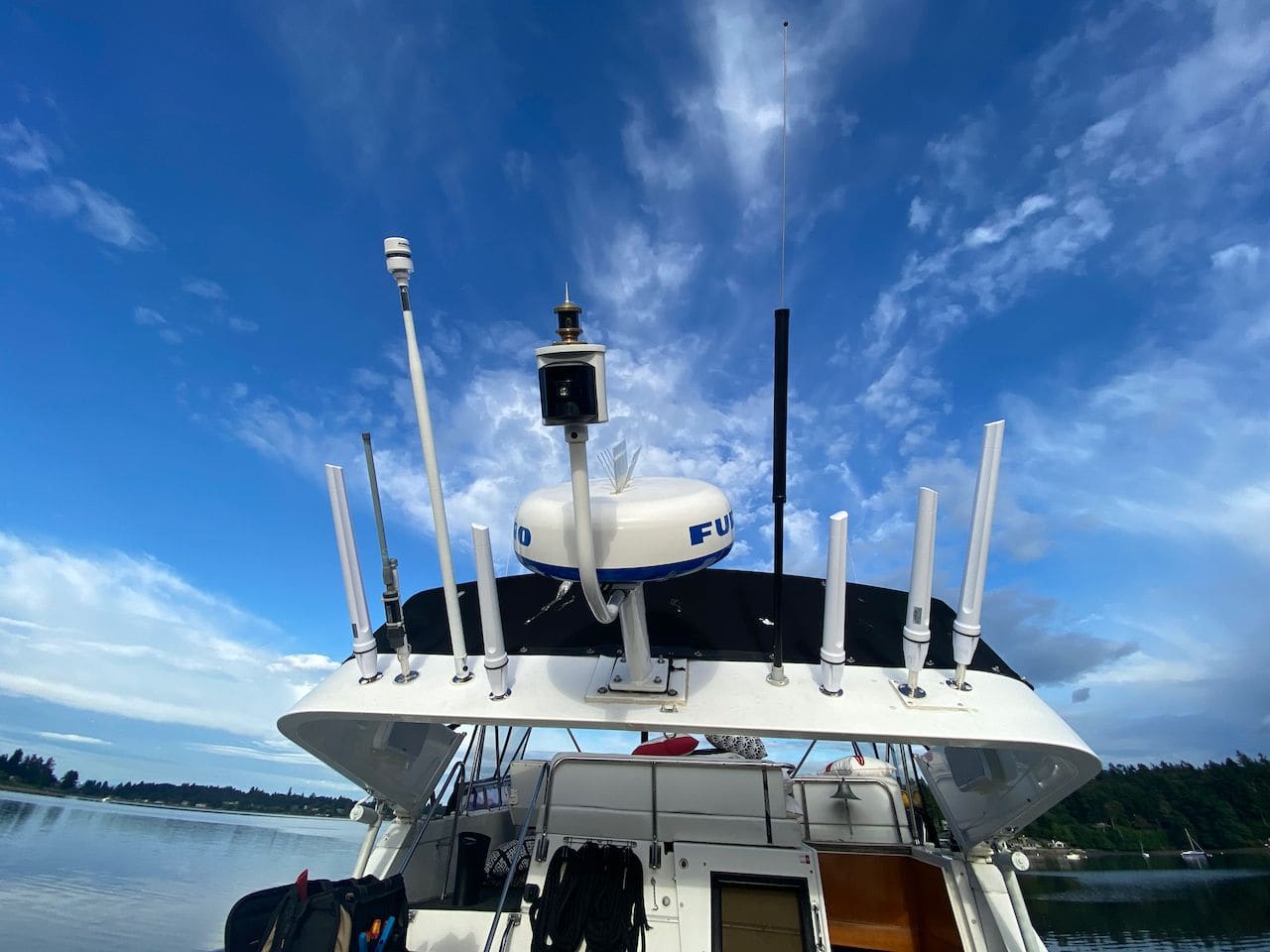 The arch on Rendezvous tips down, originally to allow the boat into a covered slip, but it comes in handy when needing to access all of my antennas. I chose to mount the OMNI-496's on either side of the radar nearer the center of the boat.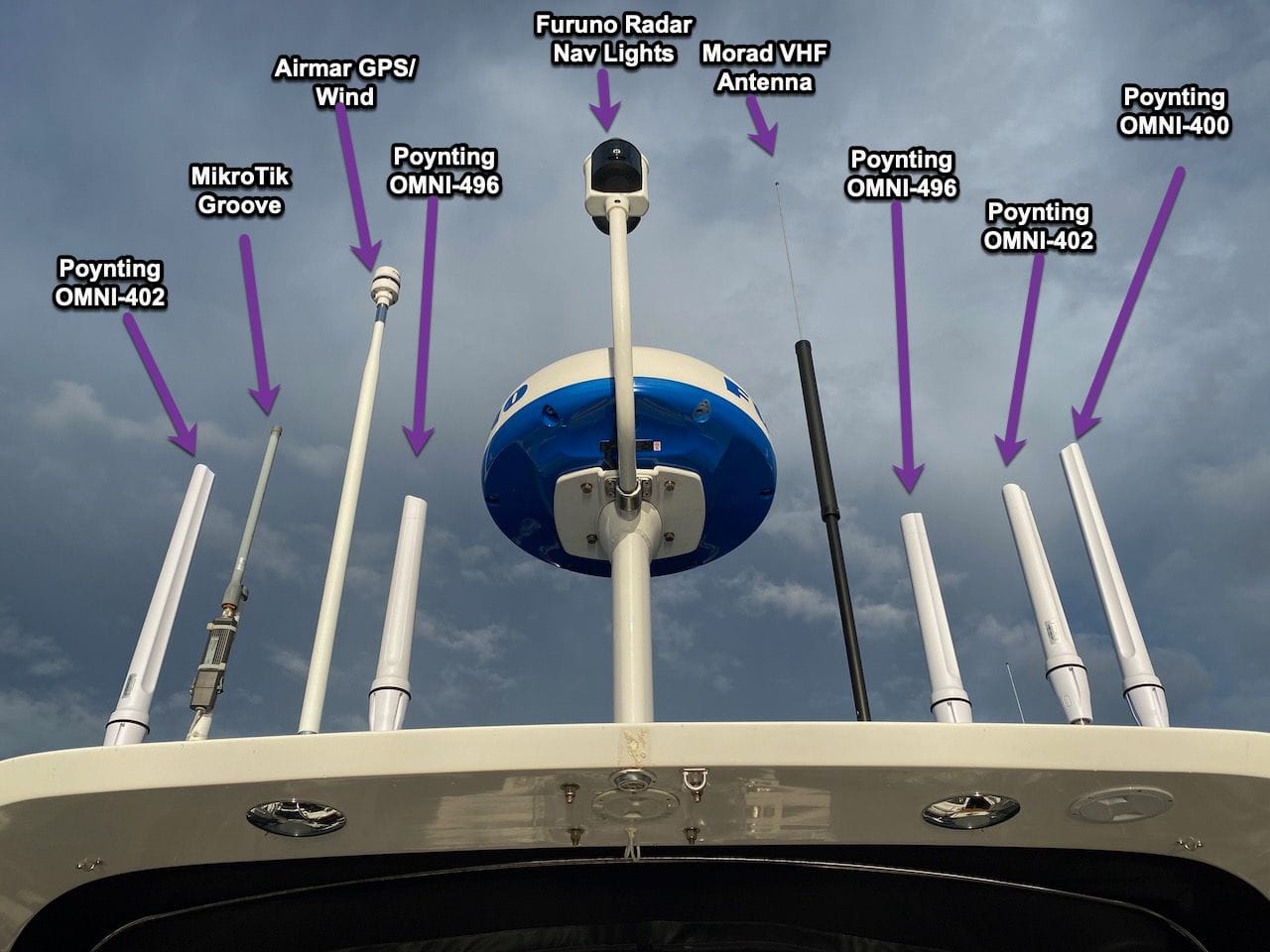 Here are all of the antennas on the arch labeled so you can see what's what.
Performance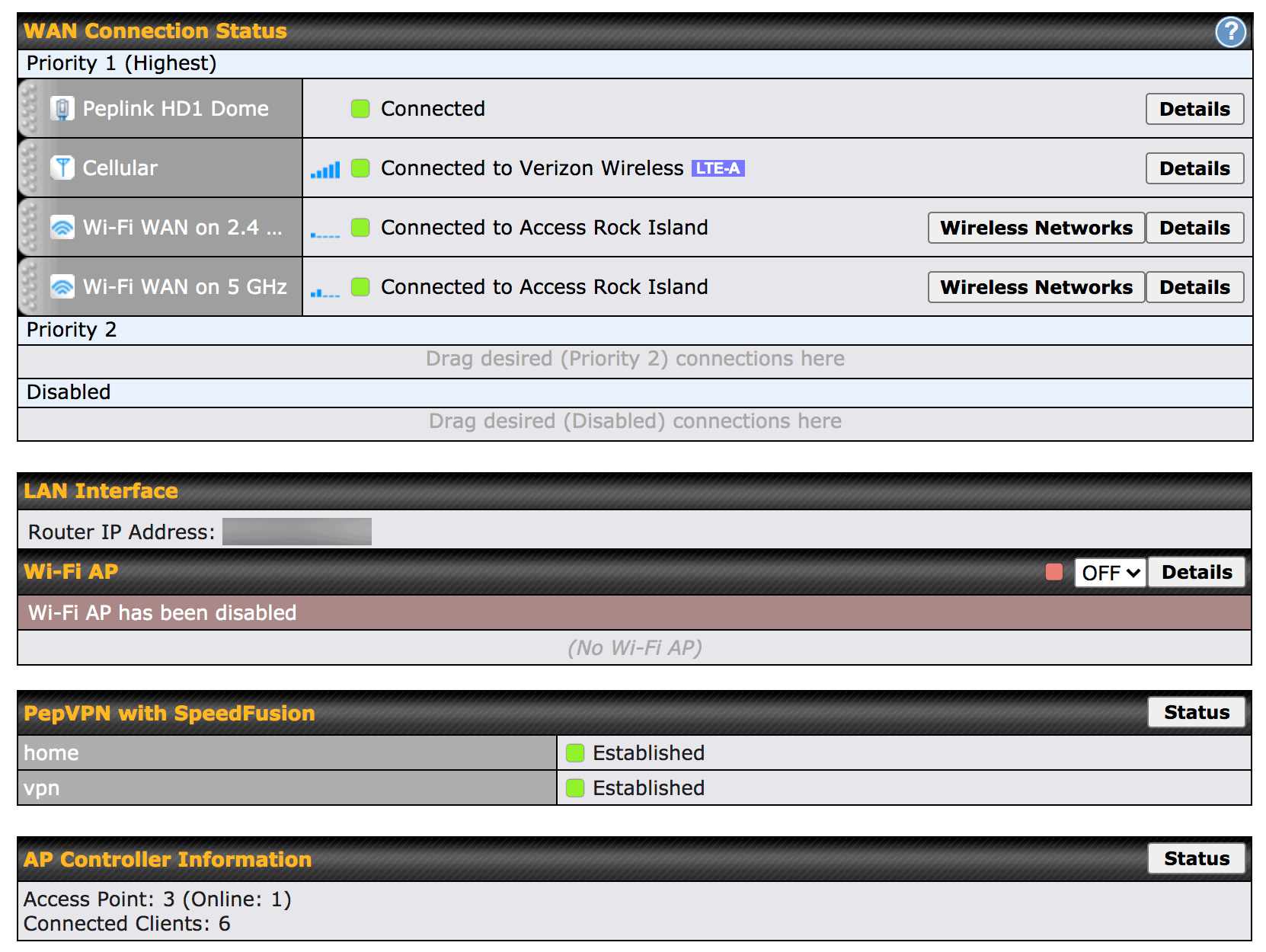 Above in the WAN Connection Status you can see the dual OMNI-496's in use as WiFi as WAN with both 2.4Ghz and 5Ghz bands. I was in Blind Bay near Lopez Island in the San Juan Islands, and somewhere on shore in the bay there was an open public WiFi network.
You'll also notice that under Wi-Fi AP that I have the local AP off on the MAX Transit. That increases the performance of the WiFi radios being used for WiFi for WAN. When I am not connected to a WiFi source, I often turn this on so that my local WiFi network is being broadcast around the boat, and the WiFi range outside the boat is pretty impressive. I've been on shore while anchored and been able to still use my WiFi network over 1000′ away.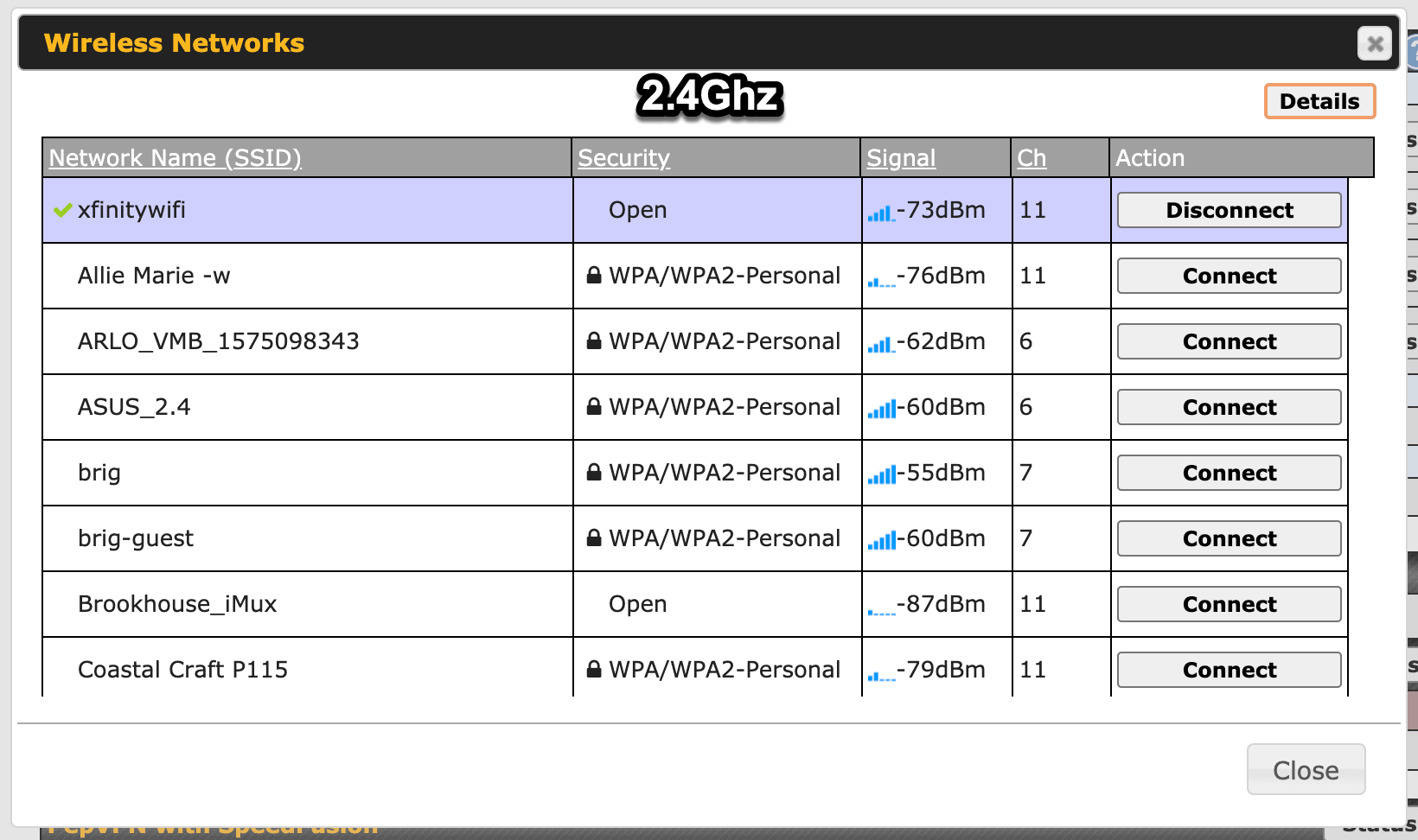 The most surprising thing is the performance with 5Ghz networks. Traditionally with the MikroTik, I would get OK performance from a 5Ghz network if I were in a marina and not moving much. 5Ghz is really important when you're in a marina – I even wrote a whole article on it that has been a popular one – link below.
Not only did the OMNI-496 give better performance in a marina, but I was seeing and retaining connections to 5Ghz networks while at anchor, rotating around and moving far more than in a marina. That is pretty impressive.
Conclusions
Overall, I am very pleased with the OMNI-496 antenna, in particular, in using it to grab remote WiFi signals with a Peplink product that supports WiFi as WAN. I've used these antennas with 3 different Peplink products and several other products as well. In all cases, the antennas have performed well in acquiring remote WiFi signals and staying connected while the boat moves and rotates at anchor.

Compared to the MikroTik Groove, it is pretty close to the same performance as long as you use a short, high quality cable. Longer cables will reduce the effectiveness. The other big difference is being able to use easier to use software/hardware than the MikroTik Groove, such as Peplink, and manage it all from a single dashboard, which is worth quite a lot in terms of ease of use. Both 2.4 and 5Ghz performance are excellent.
If you are looking for a marine-grade outdoor WiFi antenna, I can't recommend the Poynting OMNI-496 enough.
Subscribe to SeaBits News
Get all the latest & greatest posts delivered straight to your inbox
Please check your inbox for a confirmation email!
Something went wrong.