The Netgear Nighthawk 5G is the newest version of the venerable Nighthawk hotspot line. I've had one for a bit over a month, and have some first impressions and thoughts.
I'm a big fan of the Nighthawk series, having used them for a number of years. They are very powerful, have great battery life, and a good set of features. Their cellular radios are usually some of the first to market with the newest band support, and the 5G version continues that trend...sort of...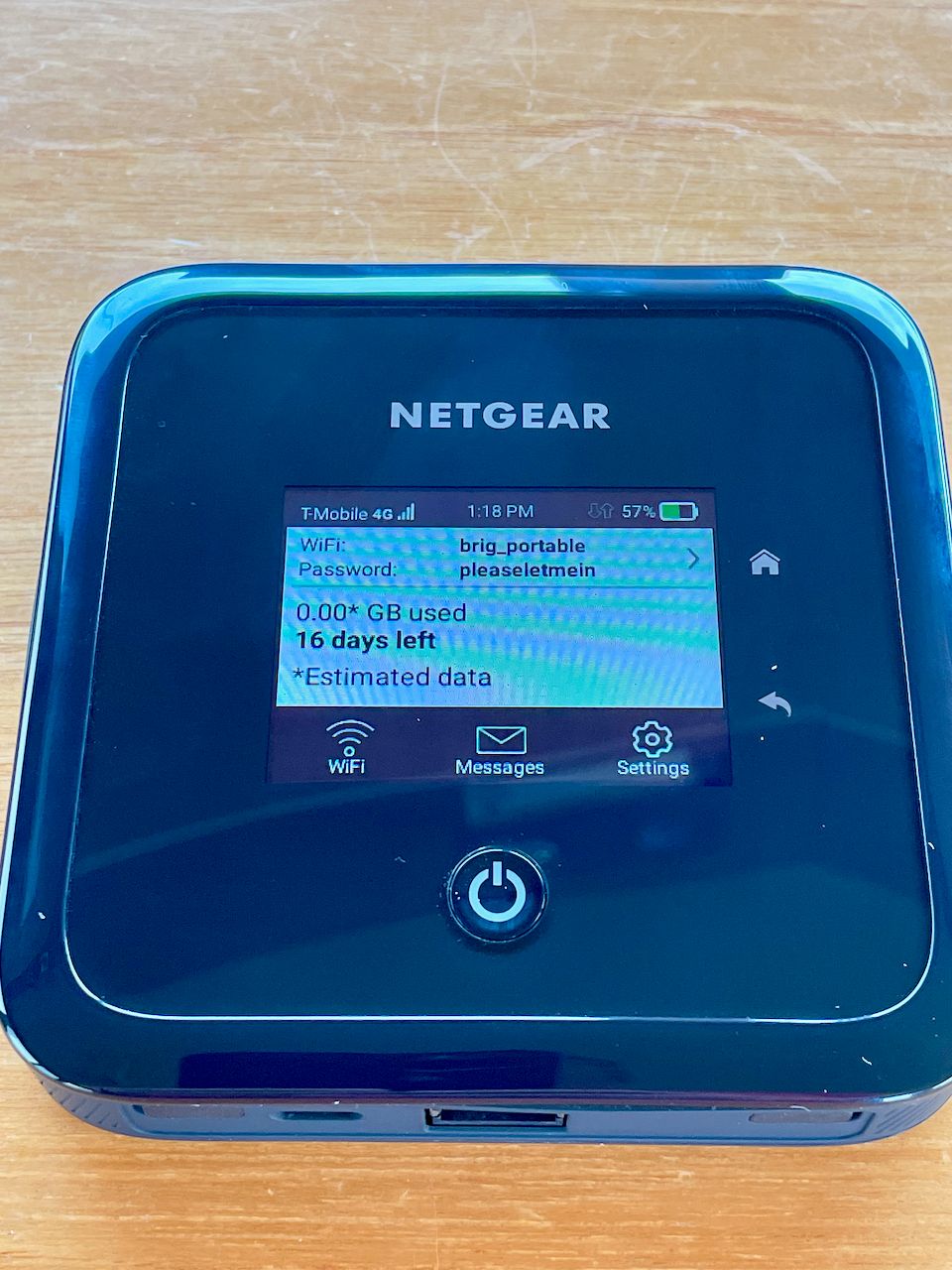 There are currently two versions of the Nighthawk 5G in the US market at the time of this article - one that is unlocked, and one that is locked to AT&T. I'm using the unlocked one. I purchased mine directly from Netgear at a cost of $699.99. It was only available from them at the time of purchase, but may be available elsewhere now.
This is probably my biggest concern with the product if you purchase it outright, and not through a carrier with a discount. Previous Nighthawk hotspots at full retail price were around the $299 price tag. 5G is definitely the newest technology, and with delays and shortages in the supply chain, I expect some things to increase in price, but at more than double the price, it's hard to understand where that increase comes from. Even if you purchase it from AT&T, locked to their network, they still charge you $509.99, which isn't a big discount.
General Specs & Battery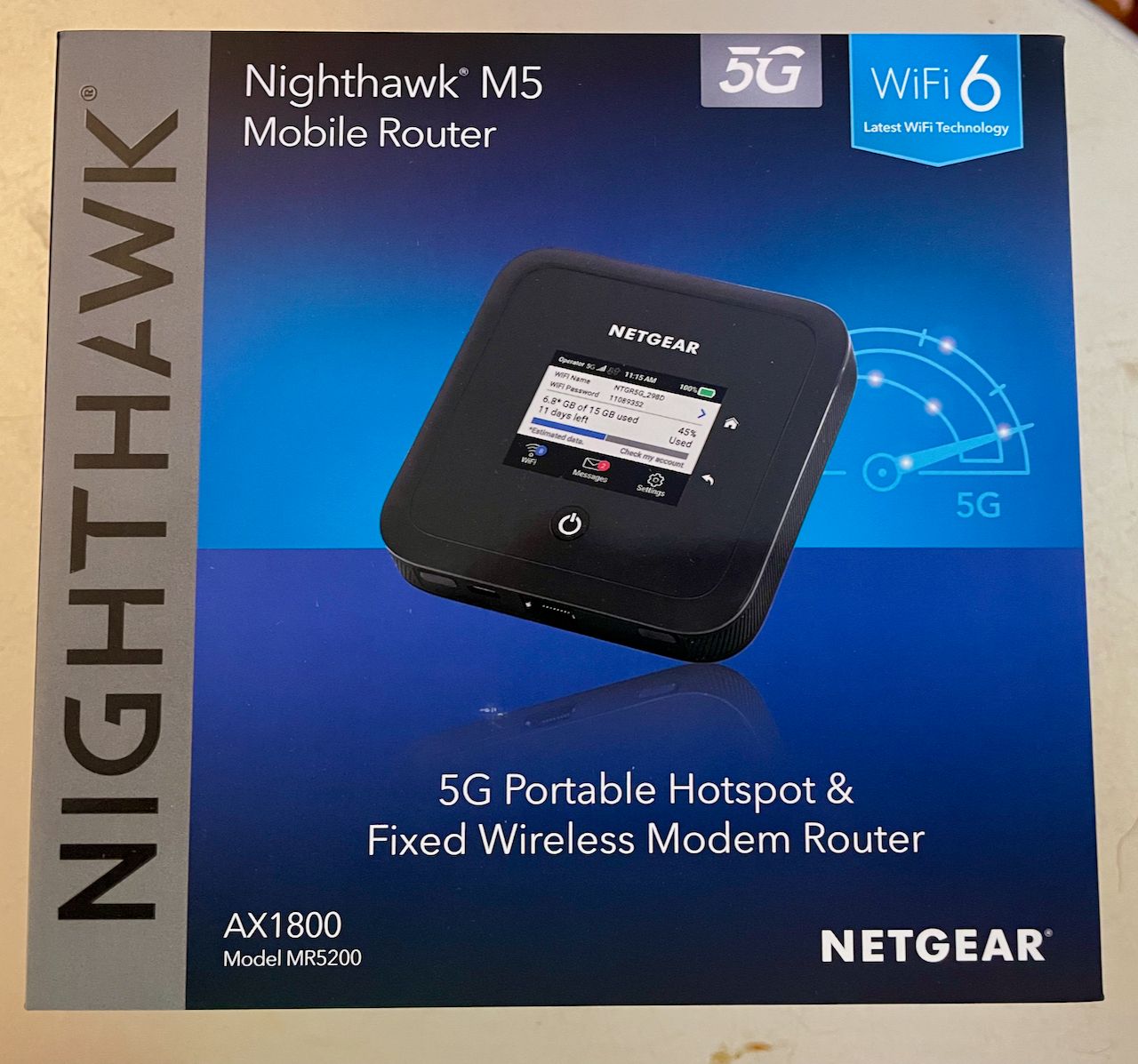 The Nighthawk 5G supports WiFi 6 and, of course, 5G. For 5G, it sports an LTE CAT 20 radio which is 4x4 MIMO and 6X carrier aggregation. Here are the bands that it supports:
5G: n2/n5/n25/n41/n66/n71/n78
LTE: B1/B2/B3/B4/B5/B7/B12/B13/B14/B25/B29/ B30/B38/B41/B46/B48/B66/B71
3G: B1/B2/B5/B8
Compare this to Peplink's soon to be available MAX BR1 Pro 5G or even the MAX Transit 5G, and there are a few bands missing both in the 5G and LTE/4G range. However, many of the top used ones are there, and that bodes well for general use. If you are looking for better band support across both 4G and 5G bands, I would look elsewhere.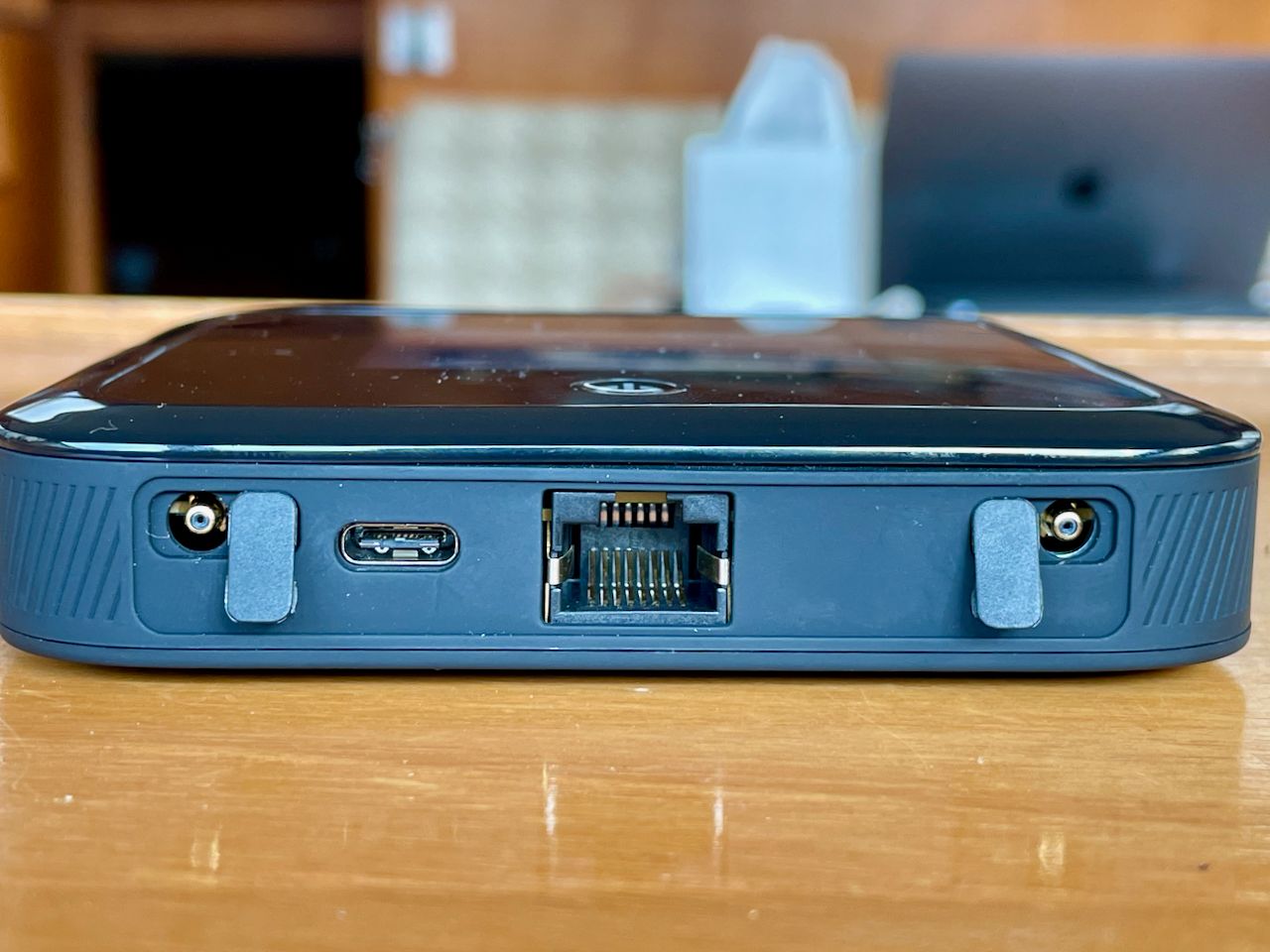 In addition to the updated WiFi and LTE hardware, the Nighthawk has the same TS9 antenna ports in the event you want to use an external antenna, and it also has an ethernet port for connecting a computer, or in my case, connecting it to a downstream router. I love this about the last few Nighthawk hotspots, as I am not interested in connecting to their WiFi network to use them, and would rather have them as an additional LTE source connected to a Peplink router.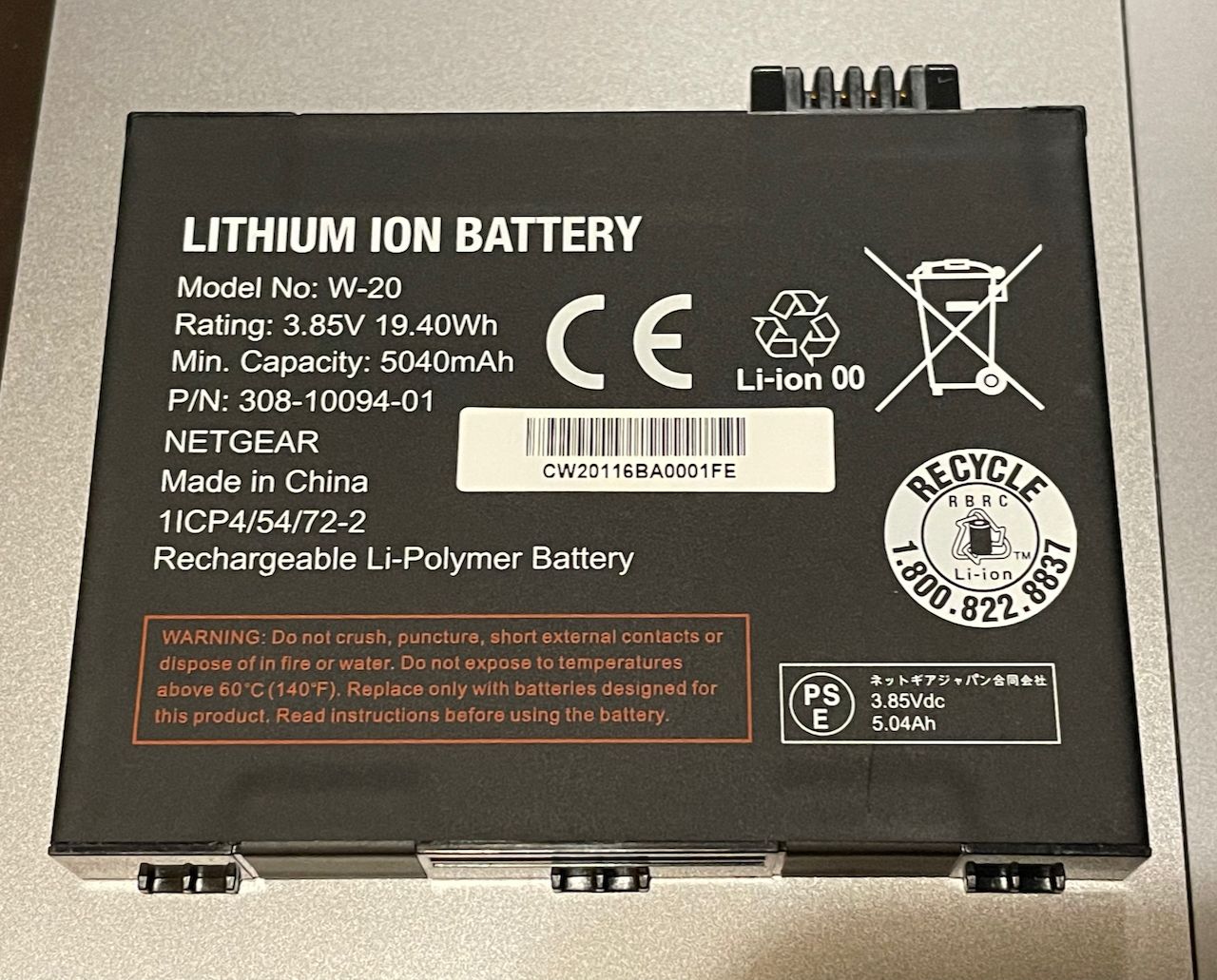 The whole thing is powered by a USB-C power brick and has a decent sized 19.40Wh battery. One of the best parts of the Nighthawk series is the ability to run the hotspot without the battery and just using the power supply, and the 5G model works the same way. Many hotspots have had issues being plugged in 24x7 and have had shutdown or battery failure issues. Being able to run the Nighthawk without the battery is a great option for a permanent hotspot.
Features & Administration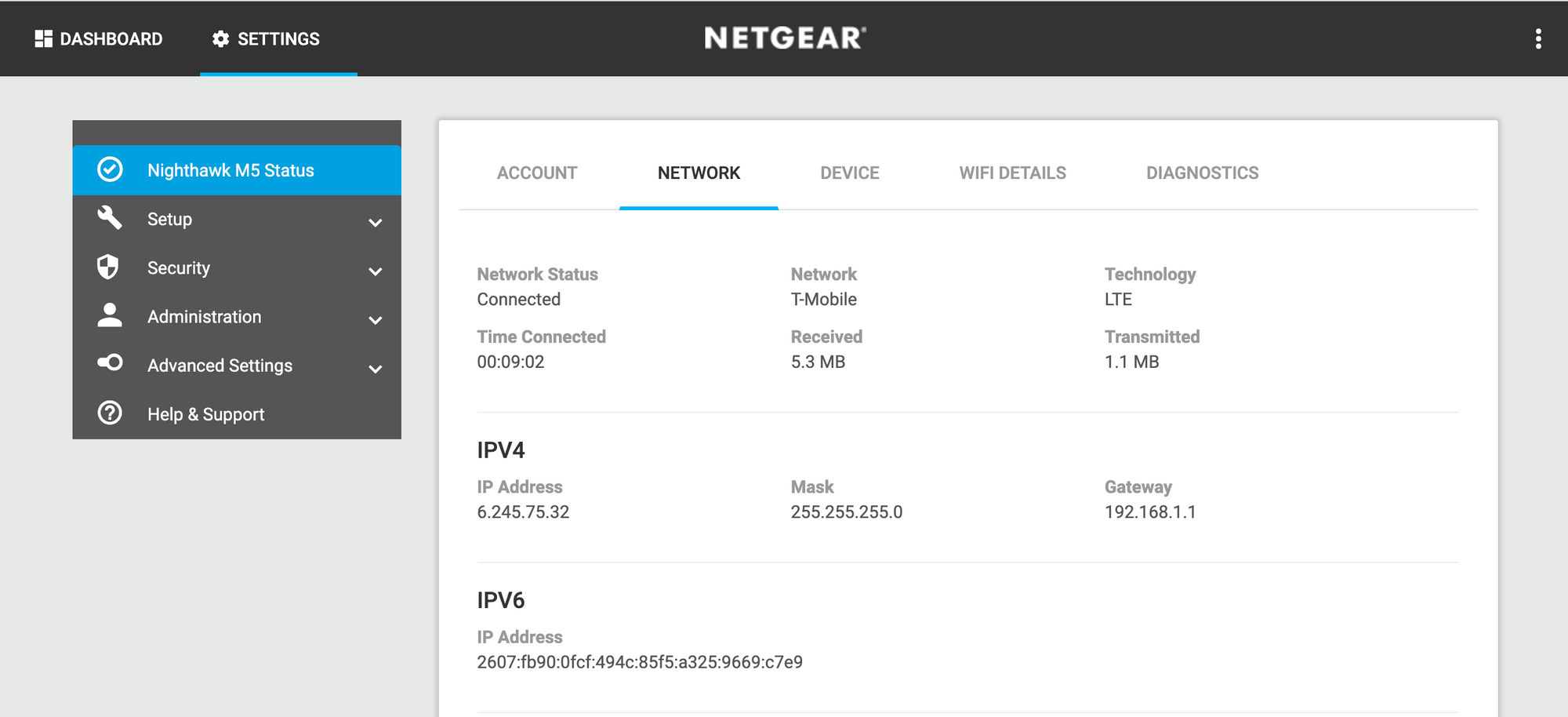 The web interface is quite good and has lots of options and status screens.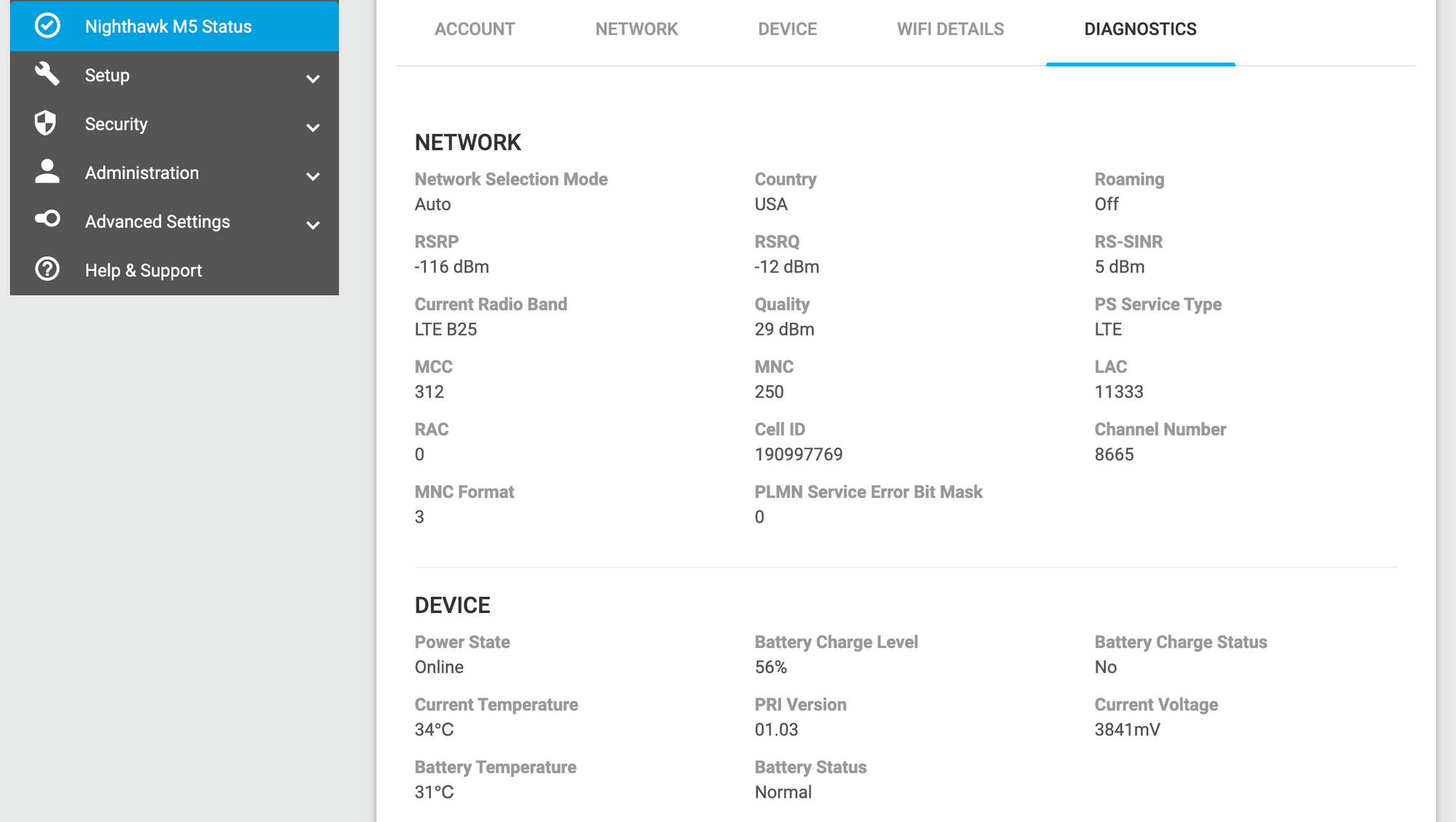 The Diagnostics page under Status shows a lot of useful info on the LTE connection as well as the battery, and was helpful in determining the signal strength and band information, but only for 4G LTE. 5G connection information did not seem to work on this firmware version.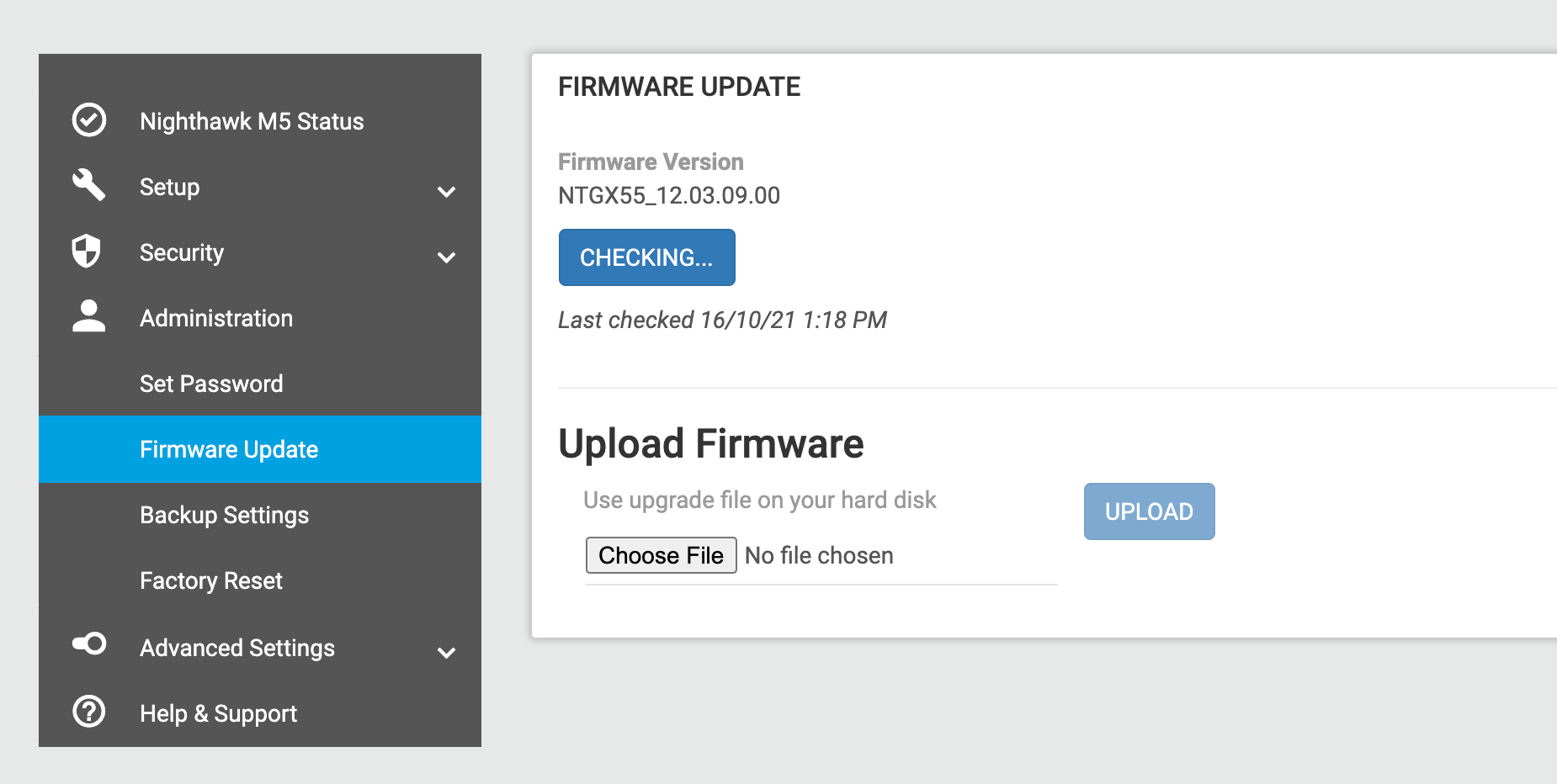 I did get one firmware update very soon after I booted the unit up the first time, but did not see any updates in the month or so I tested with it.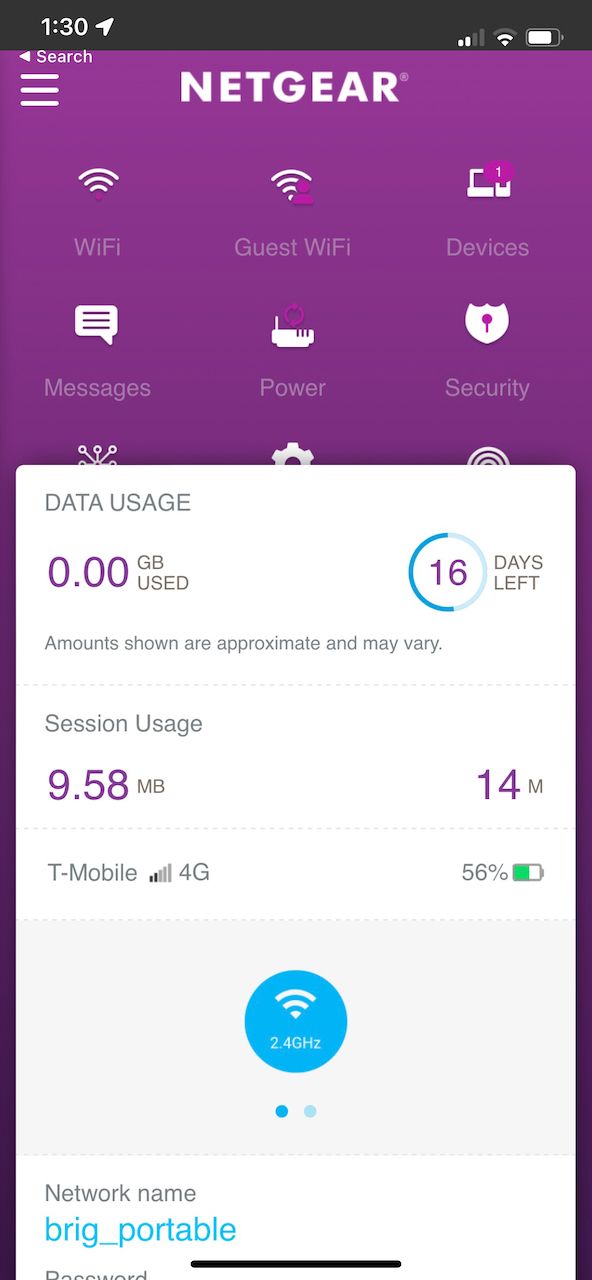 There is a great mobile app for both iOS and Android and provides a streamlined way to manage the device that is similar to the web interface. This has been around a while and works with other Netgear products.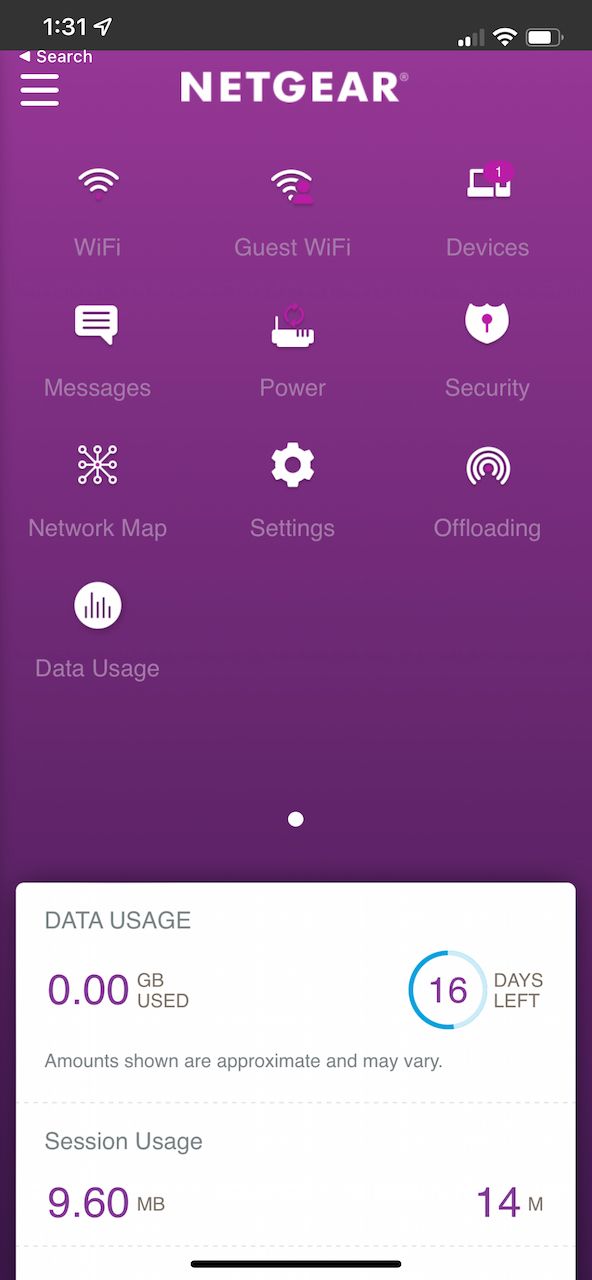 The touch screen is nice and works reasonably well. Not all items that are in the web interface or app are available on the touch screen, but it can be useful for quick status info and simple changes.
The WiFi setup is pretty easy, and the performance of the 5Ghz network in particular is quite nice with WiFi 6 support. There are various options for guest networks, 2.4Ghz vs 5Ghz and many other settings that you can customize.
The WiFi signal was pretty strong, at least similar to previous Nighthawks, and I didn't have any issues from most places on the boat with the router in a central location.

One set of neat features is the Always On WiFi and Data Offload functions. They are mutually exclusive, so you have to choose one. Always On WiFi allows you to use the Ethernet port on the router for your primary internet connection, and the router will fail over to LTE when Ethernet is unavailable. Data Offloading allows you to use the WiFi radio to connect to another WiFi source for internet, saving LTE until that connection fails.
These features could be used to leverage the Nighthawk as a backup to an existing connection. Similar features have existed in other Nighthawk variants, and even the older MR1100 modem I wrote about a few years ago.
Performance
This is where things get a bit interesting. I'll break things down by the three US carriers I used for testing. In all cases, I am using hotspot or router plans with no restrictions other than a monthly data limit, and all have 5G support enabled. I used a cabled computer directly connected to the Ethernet port on the router.
In general, it was difficult to determine signal strength, particular bands and other important information to determine the various carriers and performance. The web interface doesn't include all of the information that is available on the display screen, and the info on the screen is sometimes mysteriously blank.
T-Mobile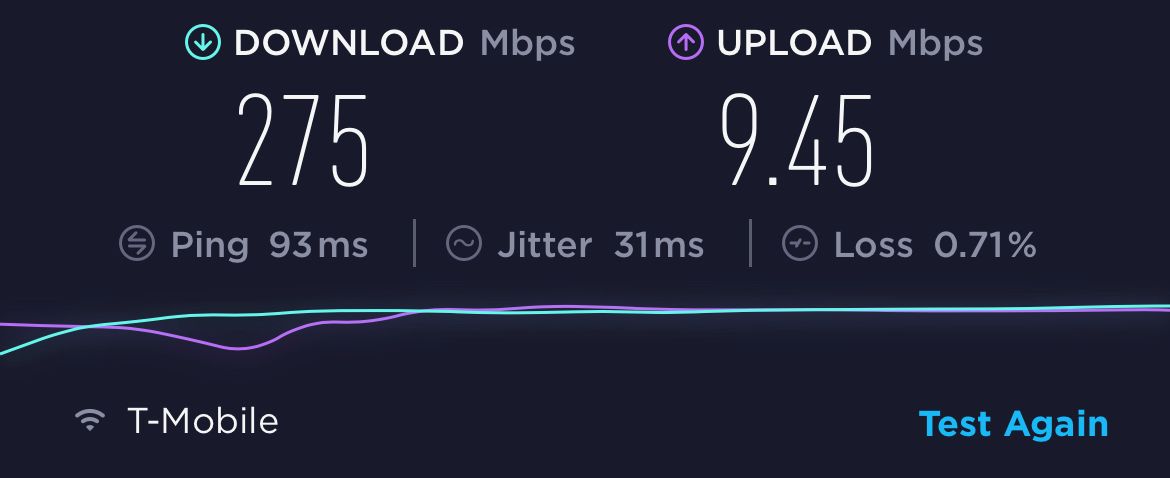 T-Mobile outperformed all other carriers in my testing. In the central Puget Sound area, I was able to get a strong 5G signal and excellent performance. This ranged from 150Mbps-275Mbps download speeds, and around 10Mbps upload speeds.
The concerning items include much higher latency, which is somewhat expected on transitional 5G networks, and a much smaller upload bandwidth than similar 4G LTE networks on T-Mobile. I assume over time this may improve as T-Mobile improves their backend network.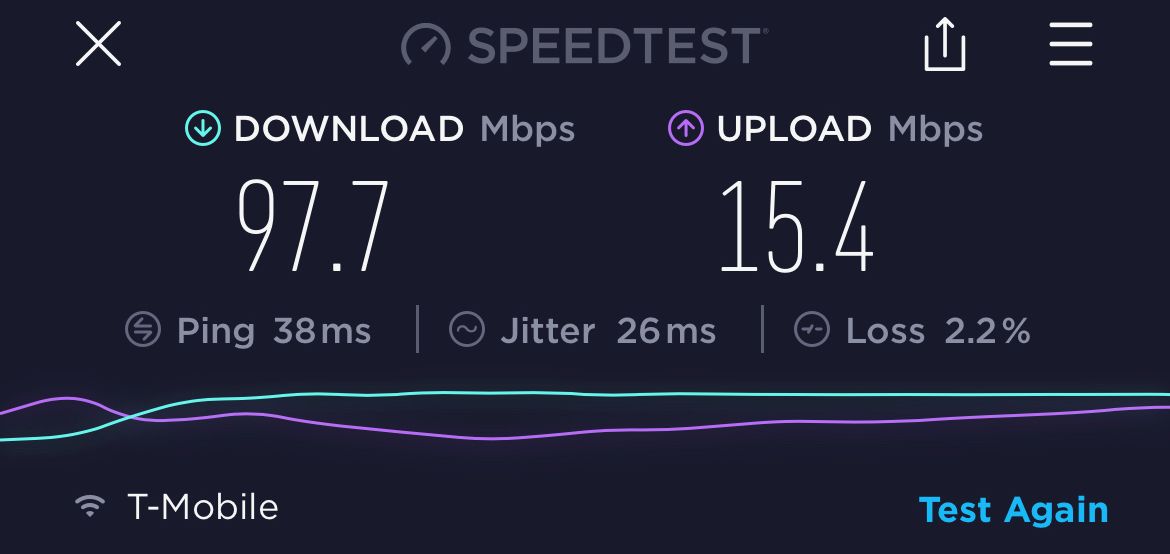 When the 5G signal is very strong, you get excellent download speeds. Even with a slight decrease in that signal, I noticed significant performance decreases, dropping the download throughput much lower. Strangely, at some of these points the upload bandwidth would increase.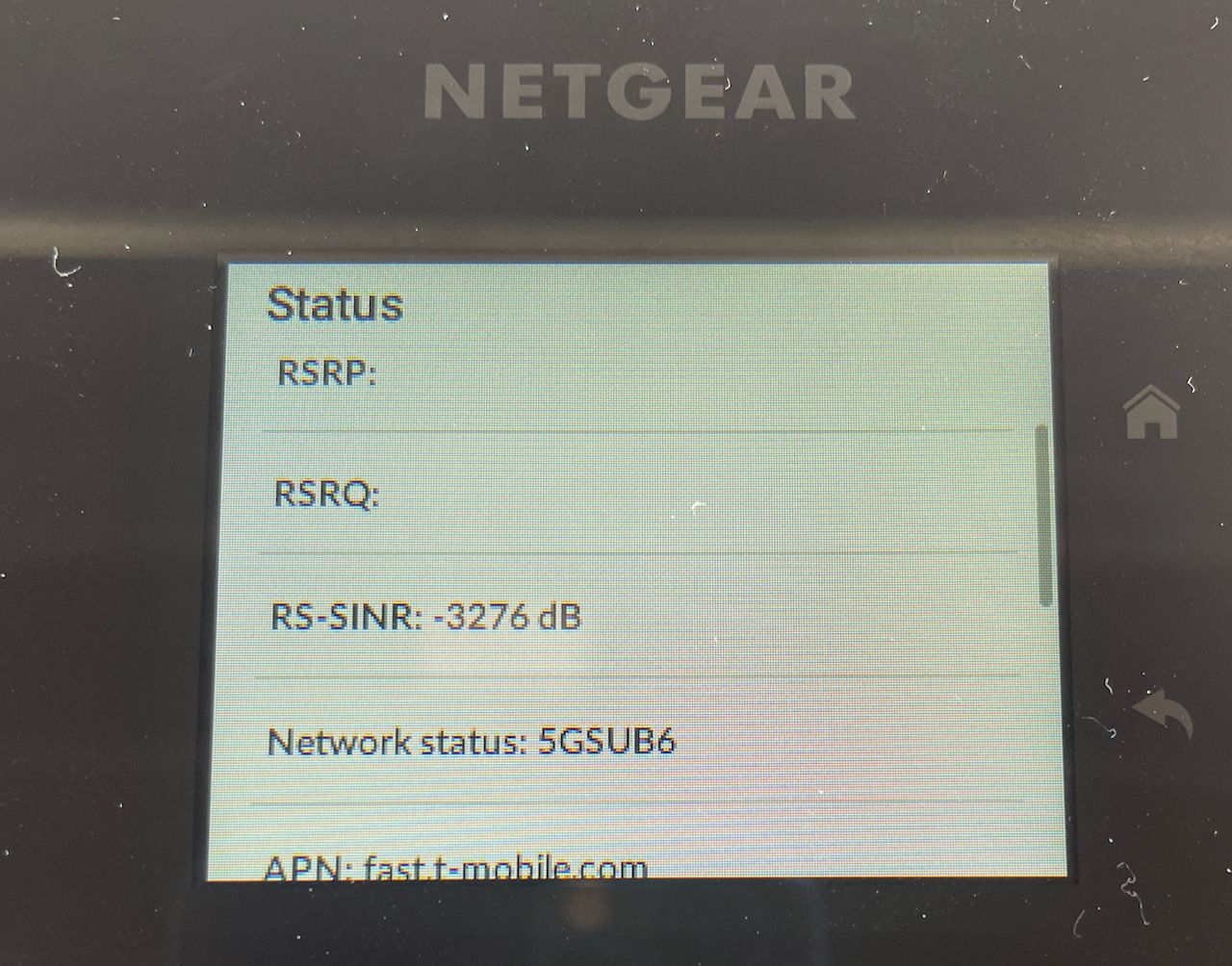 You can see from the status pages that I was connected to a 5G network (5GSUB6) but at the time, there was no connection quality information (RSRP/RSRQ) and only RS-SINR data. I'm using LTE Band 66 according to the second screen.
Keep in mind that this is a 5G network using frequencies below 6Ghz (5G Sub 6) and is not the type of 5G network (mmWave) you'd see in a metro area with amazing speeds. It's unlikely you will ever see mmWave with any frequency on a boat because of how short that type of 5G network will travel. This is a subject for another article that I have planned soon.
There were also many times when I saw a 5G signal on the hotspot, but only observed 4G performance. This was very common in the San Juan Islands and other more remote areas.
Verizon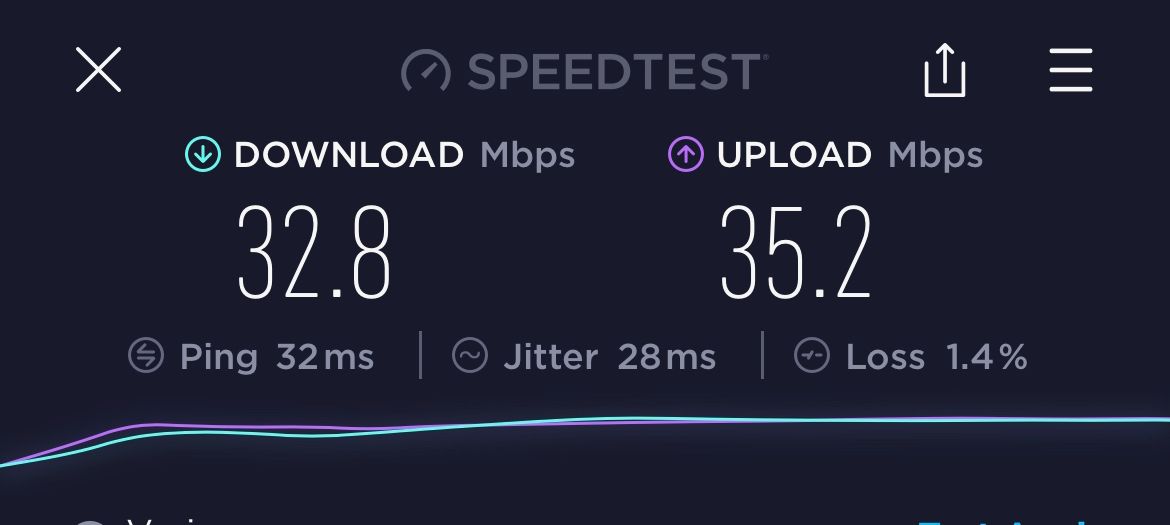 With Verizon I was able to get a 5G signal, but the overall performance paled in comparison to T-Mobile. As you can see above, even with a very strong signal, I was not getting anywhere near what you would expect with 5G.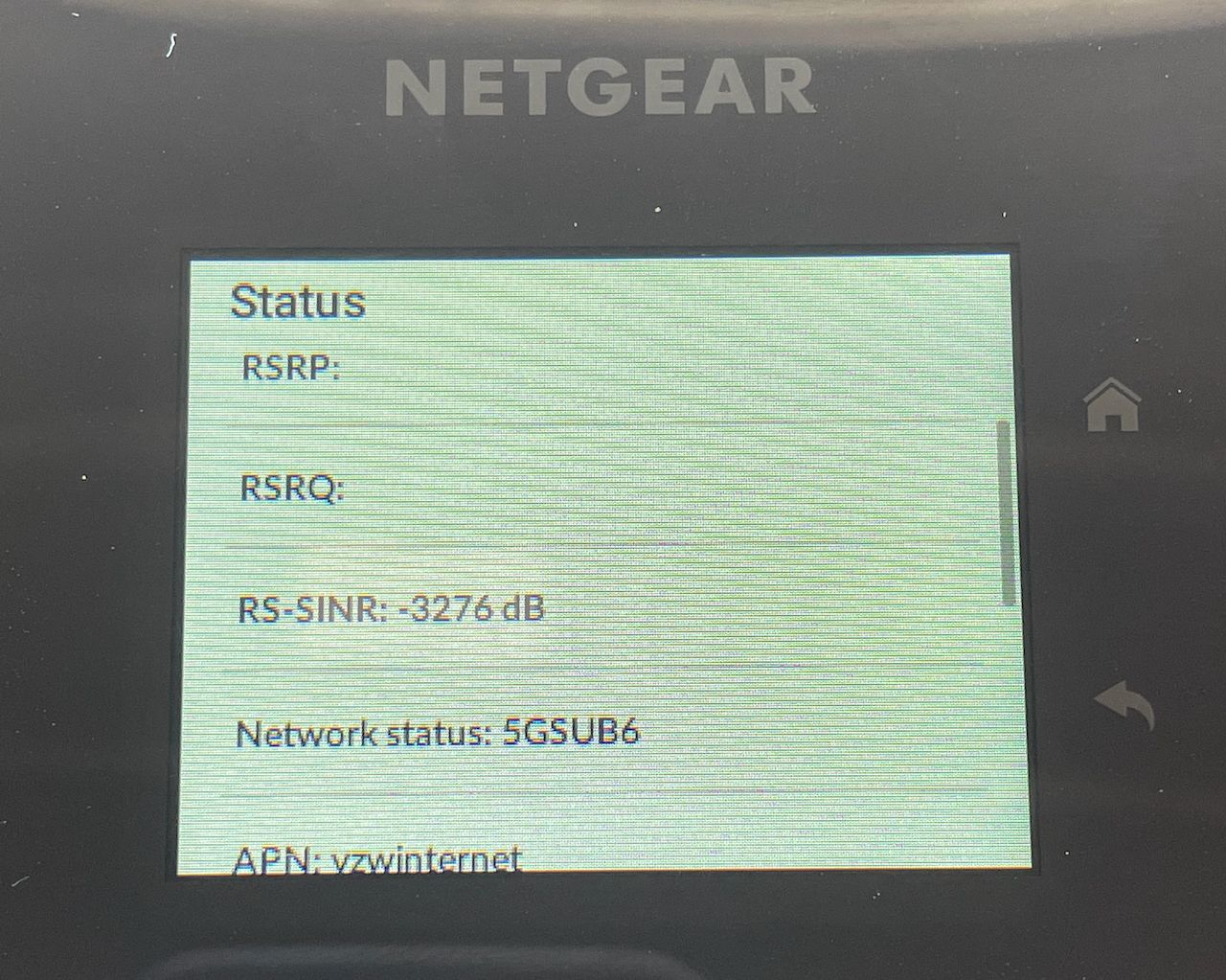 The same status issues existed while testing Verizon with RSRP and RSRQ showing blank, and RS-SINR showing an obviously wrong bit of data. Again I am connected to Band 66 using a 5G Sub 6 connection.
AT&T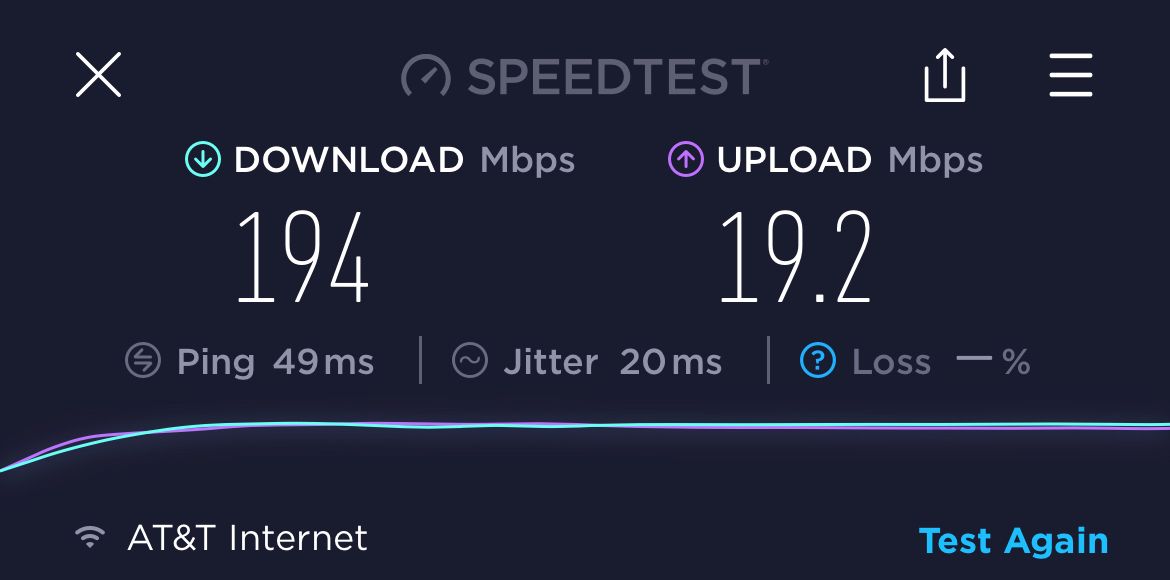 AT&T was the weirdest of all of the carriers, mainly because I was never able to get a stable 5G signal. In most cases, I never saw anything more than 4G LTE, which is similar to what I've seen in testing the Peplink MAX Transit 5G. I've heard from some other users having the same issues.
However, as you can see from above, the download performance is still quite good, and far beyond what I've seen with a CAT12 or CAT18 LTE modem on any other platform using 4G LTE. I suspect this is due to the CAT20 modem and 6x carrier aggregation.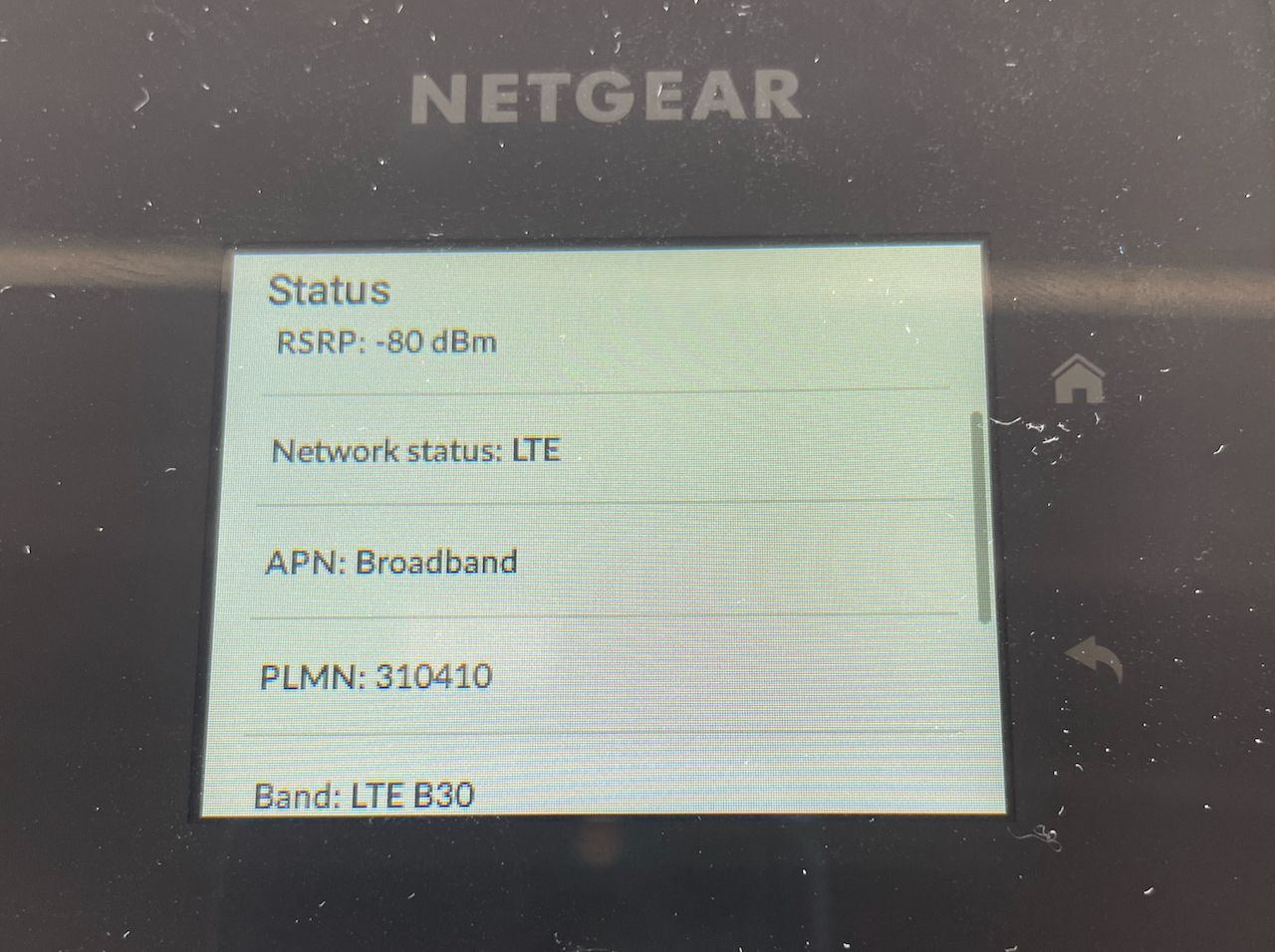 I've also noticed that the signal strength indicators seem to work when connected to LTE versus 5G. Above you can see I have a good connection to LTE Band 30 on AT&T's network. The other example shows a test in the San Juan Islands where I was connecting using a more traditional Band 12.
This is one of the frustrating things with the Nighthawk 5G - the lack of clear and detailed information on bands and connection quality. I'm hoping this will be fixed in a future firmware update, but for now it can be somewhat limiting.
External Antennas
Using the venerable Netgear MIMO antenna provided better performance for both 4G and 5G, but given the frequencies it covers, I suspect that 5G might not benefit as much depending on the bands in use. The benefit was between 10-20% when used.
I also used connectors from the TS9 antenna ports on the unit to both Poynting and Peplink external antennas. Both of these antennas provided significant benefits to both performance and range in situations with low signal levels.
I'm not 100% sure, but I suspect that the two TS9 ports are only 2 of the 4 antennas inside the unit. This could mean that the secondary bands aren't getting the benefit of the external antenna. That might affect carrier aggregation and overall throughput, but not affect general connectivity in low signal areas. Regardless, the unit performs better with an external antenna.
Pros
5G speeds - when you can get them
Excellent WiFi performance + WiFi 6
Good management and other useful features
Can be run without the battery
Cons
Price
Less 5G and 4G band support than other mobile routers
Broken status information for 5G
AT&T 5G is hard to find
Conclusion
The Netgear Nighthawk 5G is a good hotspot, and the next evolution of a venerable line of Nighthawks before it, but I can't really recommend it right now. Not only is it overpriced, but for a boat, 5G just isn't the game changer yet that folks are hoping for. For the $699 price, you can spend a bit more and get a more usable and feature-packed Peplink router, or buy two cheaper hotspots and have redundancy. The limited antenna ports mean that longer term use with external antennas is better suited to mobile specific routers.
If you are in a metro area with prevalent 5G connectivity, the Nighthawk 5G could be useful for you if you require higher performance than 4G LTE and have the cash to spend.