I've been testing a lot lately with the newer category 18 versions of the Peplink MAX Transit and Peplink MAX HD1 Dome. Those devices use the newer Telit LM960 modem, which is a data-only modem.
After a week or so of problems with connections using my T-Mobile SIM, I have been able to determine by working with Peplink that T-Mobile has blocked access to their network for this modem if you are using a T-Mobile One plan, as I am. Read on for details…
Update December 2020
There is a new plan available that provides 100GB of data/month for $50 which works with the Peplink CAT18 modems and others. You can read more below: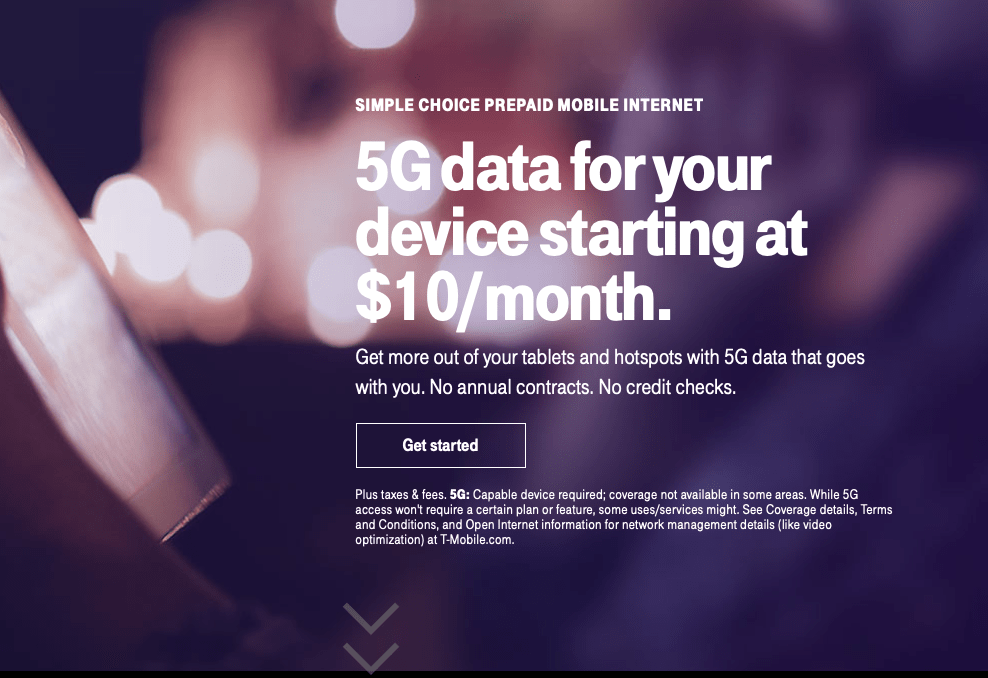 Update August 5th
After filing an FCC complaint, and working with T-Mobile for 2 weeks, I have decided not only to cancel my line of service for the hotspot plan, but also all of my personal lines, phones, tablets, and everything else. I have been a loyal T-Mobile customer for 10+ years.
Not only did they put me on a hotspot plan that essentially stops working at 22GB (3G speeds), but they are charging me $60 more per month for that privilege. They have no plans to reverse this stance, and it appears that most of their newer hotspot plans are this restrictive as well.
Their customer service, even when working with someone from the Office of the President, was unhelpful and unwilling to consider any alternative.
Given that Band 71 support requires newer routers, like the CAT18 ones from Peplink, this is a very shortsighted move by T-Mobile. Those of us who are on boats or other mobile platforms were looking forward to this new band given its abilities to travel further, yet the very technology we need to use for this is being hamstrung by these policies.
I also no longer recommend T-Mobile hotspot plans of any kind if you are purchasing a new line of service.
Peplink are maintaining a forum post of working plans and providers on CAT18 modems here: https://forum.peplink.com/t/us-data-plan-on-lte-cat-18-models/29820
Background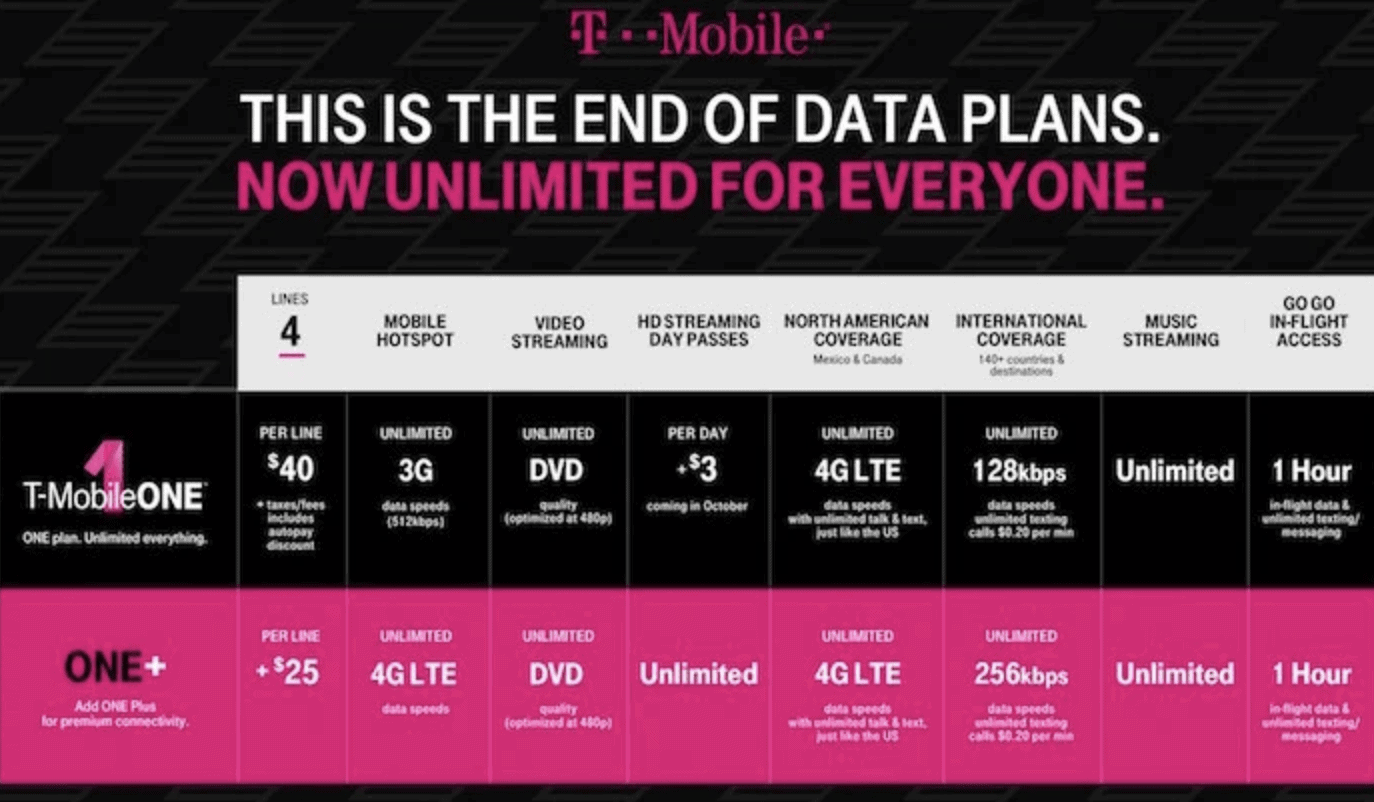 T-Mobile One was a big deal when it came out in 2016 – it was their way of offering a single plan, no other nonsense, for a flat fee, with unlimited data. It really made them stand out as the "Un-carrier" at the time.
Back in 2017, I wrote about a change to the T-Mobile One plan specifically around the reduction of bandwidth they were going to give you if roaming internationally. This was a big deal, because many of us in Washington State used this plan while we were in Canada for the summer on our boats. It was a lifesaver to still be able to be connected without massive roaming fees.
Last year I used mine a lot while cruising Desolation Sound and the Sunshine Coast, and was very glad to still be able to check weather and browse websites for information. While the roaming data amounts were reduced, I was still able to use it for 3 weeks without too much slowdown or issues, which I was very thankful for.
When I purchased the T-Mobile One plan, I had four devices total on the plan – two phones, and two tablets. All of them add "add ons" for the Plus feature they came out with about a year after, adding more "unlimited" data (how can you add something to something that is unlimited – don't ask) and other features.
One of the tablet lines was what I used on the boat, and what T-Mobile sold me to use in the router after speaking with their tech support and many others for hours and hours. This line actually had one extra feature on it which allowed the international roaming feature – the entire name of the line was T-Mobile One Plus International.
This line was what I had been using for the boat in tons of different routers, hotspots and other devices, never without any issues for the last 3+ years.
What has changed?
T-Mobile have apparently blocked the T-Mobile One lines that have both data and voice from using a Peplink CAT18 router. They considered this a "loophole" even though they sold this very line to me for this purpose – to use in a hotspot/router. Admittedly, that was in 2017, and I've had a few upgrades in routers, but still…
I can only confirm that it is blocked on the CAT18 MAX Transit and CAT18 MAX HD1 Dome, both which use the Telit LM960 modem. Other products or even manufacturers who use this modem may also be blocked, but I can't confirm that.
In addition, I can only confirm that T-Mobile One lines are blocked, but I am going to guess that all data+voice lines that you try to use with a CAT18 Peplink + Telit LM960 modem will be blocked.
Just to make this clear: this is not a Peplink problem – this is a change that T-Mobile has deliberately made – to block devices with the newer CAT18 modems from using their network unless they have a data only or "IoT" line of service.
What are the symptoms?
The modem will attempt to connect over and over again, sometimes via 3G, sometimes via LTE, and will always get stuck on "Obtaining an IP Address". Eventually it will fail enough times that it will switch to another SIM (if you have one) or hard fail and reset the modem, trying again with the same SIM.
What can I do?
I spoke with T-Mobile for a couple of hours and was able to convert my line of service to a hotspot, data-only line. This solved the problem, but it now costs $80 a month instead of $20, which is a disappointment for sure.
The resulting hotspot plan is supposed to provide 22GB/month of high speed, 4G LTE data, and 5GB of international data when roaming in Canada / Mexico, which is exactly what I had before with the T-Mobile One Plus International plan.
The only solution is to make sure the line being used is data-only, no  voice – a hotspot, data-only line works so far for me….
What I do not know is if after 22GB they will immediately slow me down, or if, like the old plan, I could still get high speed data unless I was in a congested area. Only time will tell….
I can confirm this new plan is not the same as the previous plan. Not only are they citing a higher cost, but it has a hard 22GB cap and then goes to 3G (unusable) speeds.
I've escalated this with my contact at T-Mobile – hopefully they can at least change the hard cap at 22GB – it originally was "unlimited" and didn't slow down until 30-40GB a month and only in congested areas.
As I have mentioned at the top of this article, as of August 5th, T-Mobile are now actually charging me $60/more a month for this plan, and has a hard cap at 22GB of 4G LTE data, and then reverts to 3G speeds, which are mostly unusable.
As a result, I am cancelling this plan with them, as well as all of my other business. I also cannot recommend T-Mobile for any new hotspot plans given this severe limitation on data.
Why is it so hard to get a SIM or plan for my router?
I get asked this question literally every day, and there is really no easy answer. The boating market represents very little in overall revenue for the carriers, and as such, they don't have pre-defined ways to deal with these types of devices.
Even if you expand it to the RV or car/truck market, it's still not a significant amount of money compared to the masses, so they don't spend much time on it. There are pages on some of their sites customized for RV folks, like this one on AT&T for WiFiRanger, but take a look at it – $300 a month for 100GB of data? Are you kidding me? That's more than my entire phone bill from T-Mobile for 6 lines, and 2 phones under contract.
Mobile operators need to realize that we'd pay a decent amount for a good, quality unlimited plan to use in these devices. Not everyone wants to buy a hotspot device that a carrier provides. They are too underpowered, and they don't work anywhere near as well as a Peplink device when you are trying to grab a signal in the middle of nowhere. They also have less than 10% of the features that a Peplink devices does, some of which are critical on a boat.
$300/month for 100GB is way too expensive – I'd pay half that for sure, though, to have an unlimited connection aboard from AT&T. In fact, I do – but through a 3rd party reseller, because AT&T doesn't have any decent plans they'll sell me directly. I have a similar plan through Verizon, and it has worked well for almost 2 years.
It's disappointing that T-Mobile have decided to make this change, but they can do whatever they want with new devices especially. What I have learned in my years of testing and working with this technology is that the carriers control all aspects of your plan and connectivity, so if you need a reliable solution, get a plan from two different carriers minimum, and don't be surprised if they change one right from underneath you. If you can't get it resolved, ask to speak to technical support, post in the community for the provider, or the forums for the hardware you're trying to use.
If all else fails, get another plan from someone else, and move on!
Please post your findings
If you have a T-Mobile plan and are using one of the newer Peplink CAT18 devices, please leave a comment below if you have seen something different.
---
Archived Comments
These are read only comments from the old system. Scroll down to participate in SeaBits Discussions, our new interactive forum attached to each article.

David Geller
July 25, 2020 at 3:12 pm
I guess we are all hoping Elon saves us with StarLink. Maybe that'll be the match under the carrier's ass that forces them to get more competitive. 22GB gets used up really quickly after a few Netflix movies and if you forget to turn off auto-updating on your iOS devices!
Steve Mitchell
July 25, 2020 at 5:27 pm
It's a nice thought, but I think it will be a while before StarLink will be viable. From what I've heard, a mobile base station for these services has not even been created yet, so we're at least a year away before anything would be usable. Pricing for the non-mobile base stations are still a bit unreliable, but it still seems like it would be 10x what a Peplink or other router would cost – in the $10k range and up.
I would imagine a mobile one would be more, so I'm not sure it will be in the reasonable range budget-wise for a while yet. Which is a shame, because it could solve all of our problems!!!!
Jeff Few
July 26, 2020 at 6:16 pm
I suppose they're cracking down similarly on other similar routers like my new GL.iNet Amarok. Was about to install my T-Mobile SIM today, so I guess I'll find out soon.
Jason
July 28, 2020 at 7:45 pm
HI Steve,
Does the LB1120 still work on the T-mobile "one" plan?
I'm looking for a "LTE for Dummies" modem/router to add to my Marine Trader to do my classes when on the hook–web-conferencing and such.
Thanks in advance!
Jason
Jeremy
August 13, 2020 at 3:12 pm
It took me a few calls to T-Mobile to get the Netgear LB1120 to work last summer. Once I hit the high speed data cap it throttles to 3G speeds.
Zach
March 30, 2021 at 8:30 am
Still blocked in 2021!
I just placed an order for their 100GB $50/mo hotspot plan. We'll see if that's unblocked. Should have it by the end of the week.