I have been testing a lot of different router and antenna combinations this year, some of which I covered in New routers & antennas under test. There are more choices for routers and antennas than ever before, which is a good thing. Here's a quick update on some existing and new testing.
Testing Continues….
Testing continues on a couple of routers with some quick updates:
MikroTik wAP ac LTE6 – great little router with powerful APs for a local WiFi network, single SIM slot and two ethernet ports. Performance of the local WiFi network is on par with all of the other powerful MikroTik devices, and the CAT6 LTE modem has worked well. I've tried it mounted inside and outside, with the preference being outside for the stronger LTE signal, at the cost of a little local WiFi performance.
If you want an outdoor router with a single LTE radio, this is a good option. Just be ready to spend some time with MikroTik's RouterOS, which is not for the faint of heart.
Peplink MAX Transit CAT18 – this is turning out to be my favorite because of how well the CAT18 radio is performing combined with OMNI-402 antennas. I've had amazing throughput numbers combined with good signal capture even in bad areas. I've used Peplink products for a long time, but this one has been consistently outperforming the CAT6/CAT12 versions – not just in download/upload speeds, which you would expect, but in pulling in remote signals.
This is compared to my favorite configuration for most of 2019/early 2020 which was the previous MAX Transit paired with a single Poynting OMNI-400. I can safely say that the CAT18 + dual OMNI-402s is my new favorite choice.
I have it setup with the WiFi AP disabled most of the time (read below on the OMNI-496 to see why) and two AP One Rugged WiFi access points spitting out my local WiFi network. I will be publishing an article soon on my current primary network on Rendezvous, as I have had a lot of people ask, and it includes this router. You can't go wrong with the CAT18, but know that you will need a lot of antennas to make it perform at 100%.
Testing Ended….
Cradlepoint IBR1700 CAT18 – The 1200-MB CAT18 modem does not appear to work with T-Mobile as you can read in a thread I participated in here. I also opened a support case, and was told to talk to T-Mobile to have them "change the plan" to get it to work, but that didn't work, nor did I want to muck up my grandfathered plan.
Given that one of the motivating factors for people purchasing CAT18 is Band 71 support on T-Mobile, this seems like a big glaring hole. I'm sure eventually they will get it working, but I would steer clear of this product until they do.
I was also not impressed with CradlePoint's restrictive software and EULA, which is not new, but hasn't changed. It requires you pay for support, or the product neuters itself and various features stop working. I hate software models like this, especially for a piece of hardware this expensive! This restrictiveness also crosses over to their forums, which you cannot access without a support contract. Open models of support and collaboration are important for any product I would recommend or use myself.
GL-X1200 Amarok Dual LTE router – I finished my review on this product, and was quite impressed. There have been a number of folks who have contacted me about it, and I look forward to feedback as they are implemented.
Testing Now….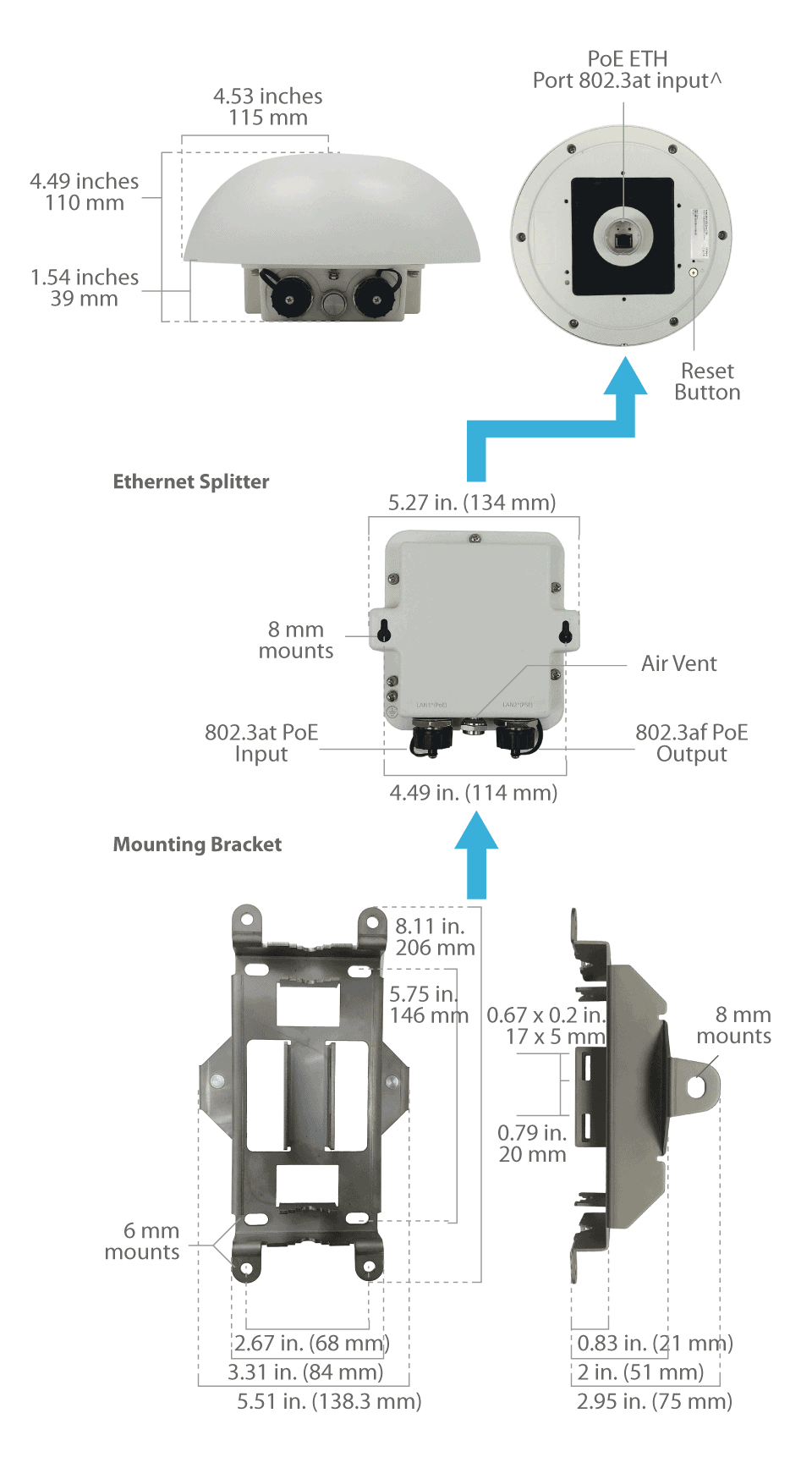 Peplink HD1 Dome CAT18 + SIM Injector – Peplink came out with this a year or so ago, and has been recommending it for boats. There was even a conversation recently in the comments about using it on a sailboat. It has some very interesting benefits, but it will also require more hardware around it to work like a MAX Transit or other all-in-one router/AP device. It is also a lot more expensive ($2500 and up) and has some mounting challenges.
So far the performance has been pretty even with the Peplink MAX Transit CAT18 and external Poynting antennas, but in some situations it performs better. I'm hoping to finish testing this in July since a number of folks have asked about it. Having to only run ethernet cabling to it is very, very nice, I must say….
It is not a 1 for 1 replacement of a MAX Transit and will require, at a minimum, an AP One Rugged or other indoor AP, plus potentially a switch or router depending on network topology. The ethernet splitter could be an interesting thing to combine with a MikroTik Groove, allowing a single device to power both the HD1 Dome and the MikroTik. We'll see….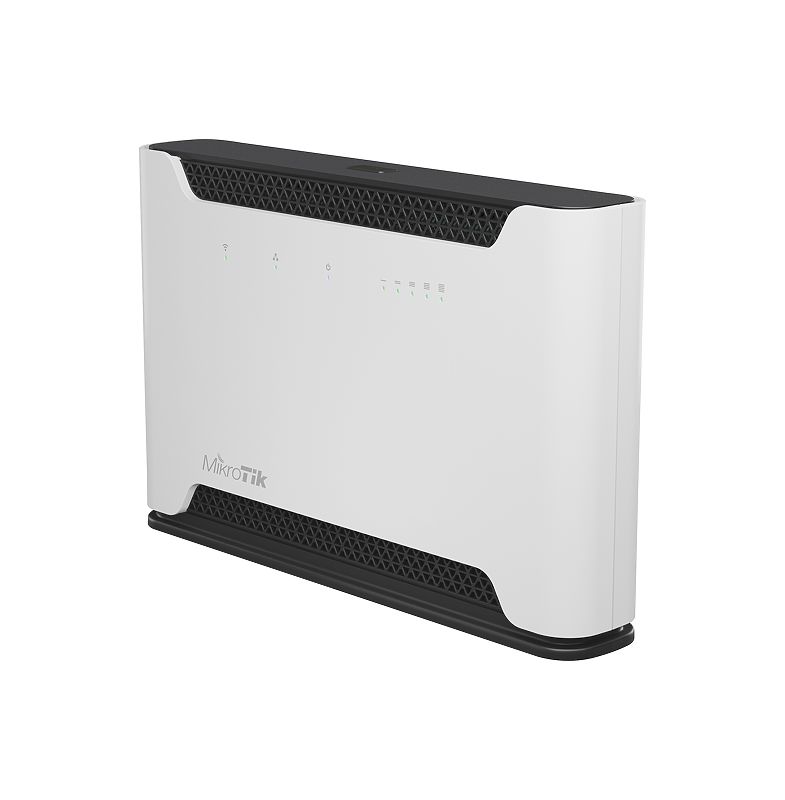 MikroTik Chateaux – this is another new entry from MikroTik that has a lot of promise, even potentially more than the wAP ac LTE6. It has a CAT12 Quectel EG12 LTE modem in it, a way to attach external antennas, 5 ethernet ports, and a dual band 2.4Ghz/5Ghz WiFi access point with included external antennas.
The Chateau has the potential to be a powerful local wireless router with extra ethernet ports for wired devices, accepts a wide range of DC power, as most MikroTik products do, and has a very modern CAT12 modem in it for LTE. Even more important is the ability to connect pigtails from the LTE modem to the open expansion points you see above on the top of the picture, and then connect external antennas. So far my testing has just started, but I have not seen anything big missing other than PoE, which is a bit disappointing. If it had that, it could power your outdoor MikroTik Groove to use for grabbing remote WiFi signals, and you'd have a single power source, all MikroTik solution.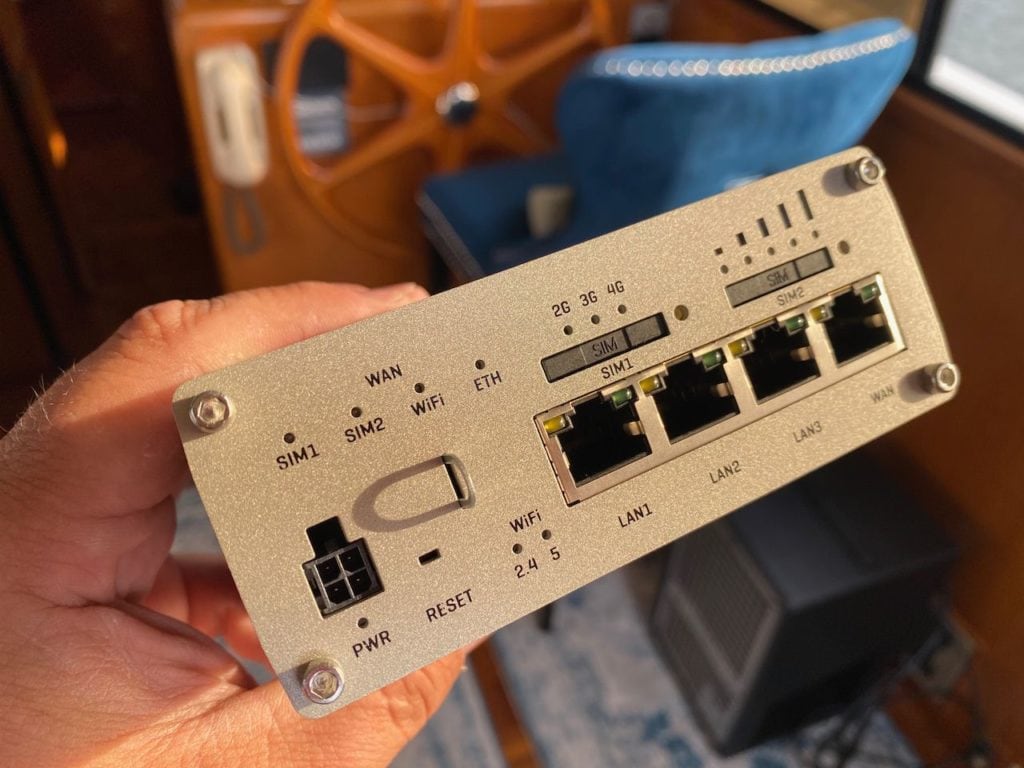 Teltonika RUTX11 – I've been trying to get my hands on one of these ever since I heard about it earlier this year, and reader Tom Henderson mentioned he was installing one. Streakwave finally started carrying it, even though it is not 100% certified on all US carriers, and I have it in my hands and have barely begun testing.
It has a CAT6 LTE radio, dual SIM slots, 4 ethernet ports, dual band 2.4Ghz and 5Ghz WiFi AP, and runs RutOS, which is based on OpenWRT, like the GL-X1200 Amarok. I'm interested to see how their operating system compares to the one GL.iNet has, and what level of access you have to OpenWRT. It could prove to be a very nice single radio, small form factor choice.
Poynting OMNI-496 WiFi antenna preliminary results
I've tested the OMNI-400 and 402, but I also wanted to get my hands on the OMNI-496, a similar form-factor marine-grade WiFi antenna that handles both 2.4Ghz and 5Ghz. I've been on the lookout for a good dual band WiFi antenna for a long time, and haven't found any that have performed well. In fact, most absolutely suck at one band or the other, or have no marine mounts, which put them at risk of corrosion.
Comrod makes a good 2.4Ghz antenna, but it is for that band only – I know several people who have this antenna and like it, and I dug one out for my testing. Altelix and other cheap manufacturers make dual band antennas, but my experience with them has been mediocre in most cases.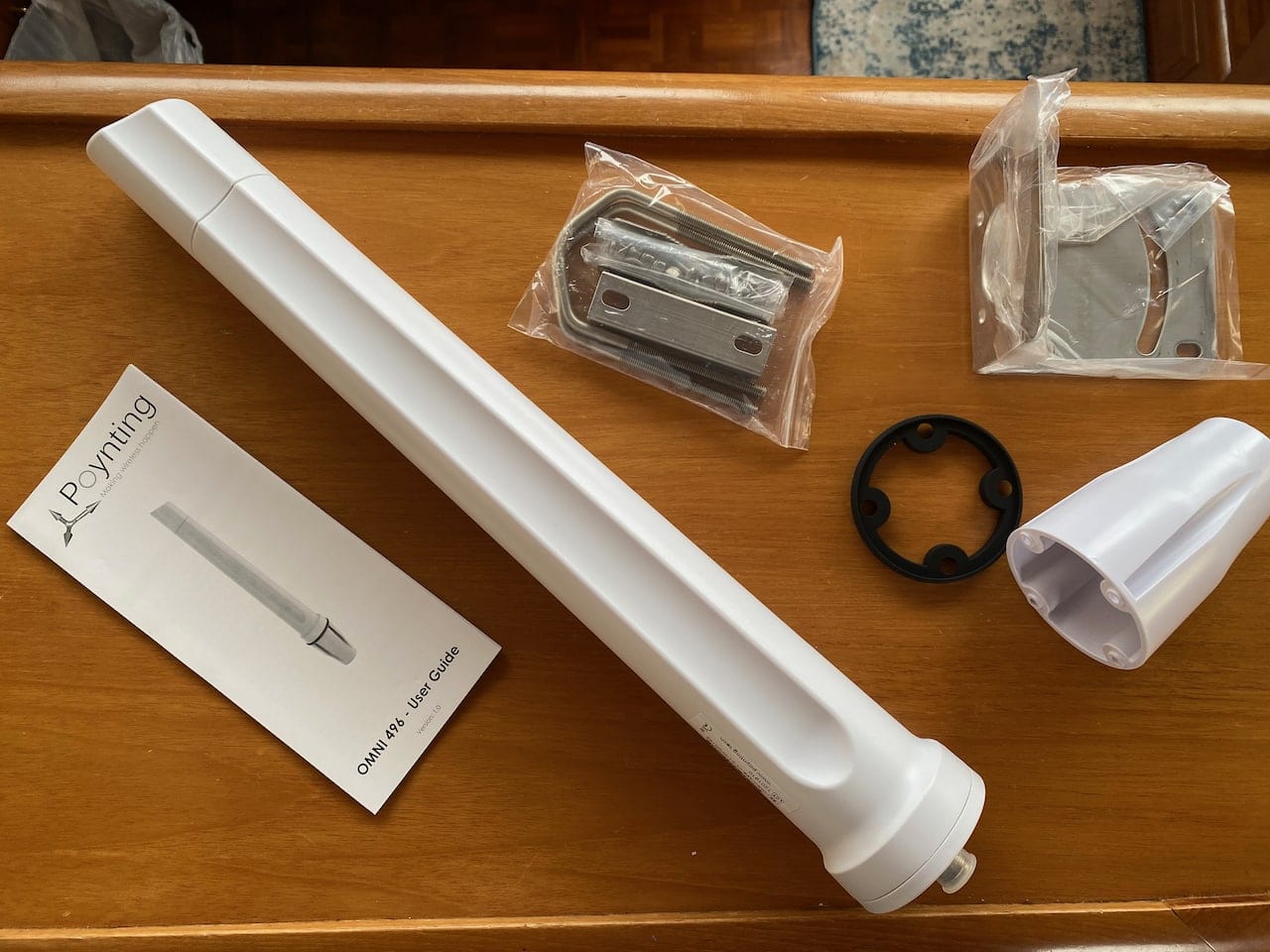 For my configuration, I am using two OMNI-496 antennas, both connected to the WiFi ports on my Peplink MAX Transit CAT18. I also have several Peplink AP One Rugged WiFi access points that are connected to the MAX Transit, providing the local WiFi networks on the boat. I'm not relying on the access points built into the MAX Transit locally. The idea is that I want to be able to use the antennas in two configurations:
WiFi capture configuration – turning the integrated WiFi access point off in the MAX Transit, and using the WiFi as WAN functionality to have 2.4Ghz and 5Ghz sources for a remote WiFi signal. The goal with this testing is to see if having the MAX Transit as a central nexus for everything is a good solution, and whether it performs better than a dedicated MikroTik Groove. This would mean you could have one product to manage all of your WiFi sources, do not need to learn MikroTik and deal with connecting to it in various situations.
Long range local WiFi AP configuration – this is a bit more interesting use case where I do have the access point turned on in the MAX Transit, and am not using WiFi as WAN. In this case, I want the OMNI-496s to broadcast my local WiFi network out around the boat as far as possible. This could be useful for folks who are outside the cabin areas, but more importantly, I want to see how far away I can still pick up the signal. I often times have other cruising boat friends near me, and they have in the past been able to glom off my WiFi network for access if they have an inferior system. Will this help them? Also, how far will it reach – could I go ashore near the boat and still be connected?
Results so far….
The results so far are very promising. When used in the WiFi capture configuration, where I'm using WiFi as WAN, the 2.4Ghz side performs just as well as the MikroTik and as well or better than the Comrod 2.4Ghz antenna.

Where it is outperforming everything else is in the 5Ghz range, which shouldn't be a surprise given Poynting's data sheet and test results on the OMNI-496. In the screen shot above, I am roughly 1200 feet from the houses on shore, and am connected to a 5Ghz WiFi source. You can see below it that the 2.4Ghz signal is slightly better, but whenever possible, I always try to use 5Ghz given how much less interference there is with that spectrum.
1200 feet is a very long way for 5Ghz, and I have never consistently gotten this sort of performance on that band out of any antenna/combo/MikroTik. I've been using this for 2 weeks straight in the South Puget Sound, connecting to all manner of WiFi sources – from home routers to marina WiFi, and have seen consistently amazing performance on 5Ghz.
Even though the 2.4Ghz signal is stronger, I am only getting about 2-3Mbps up/down from it. The 5Ghz connection is giving me around 10Mbps download and 4Mbps upload. I'm using that connection to write this article, and it is very reliable. I've used that same setup in various places for multiple Zoom meetings as well, and even though I'm rotating on anchor and moving around, I've maintained that signal enough for it to be viable. Very impressive for 5Ghz.
The second configuration is still being tested, although preliminary results are also good. Near the boat, the outdoor WiFi signal is extremely strong. Further away is very subjective depending on the time of day, conditions, device I am using, etc. I have also been able to stay on WiFi longer when leaving in the dinghy, and even hung on a few times while on shore.
I can already say that if you are looking for a dual-band WiFi antenna, the OMNI-496 is probably the best, if not the only marine-grade one, out there. If you plan on using it for grabbing remote WiFi signals, and don't have a 5Ghz antenna, this is the one you should get. If you already have a 2.4Ghz antenna, I wouldn't necessarily replace it unless you are unsatisfied with it.
More data in a full review here in July. Same goes for all of the other routers, plus some of the ones I mentioned in the original article!
Subscribe to SeaBits News
Get all the latest & greatest posts delivered straight to your inbox
Please check your inbox for a confirmation email!
Something went wrong.