GL.iNet is a company that has made a number of OpenWRT based routers that seem to be very popular. Commenter Owen Anderson suggested I check out some of their newer hardware, and I have been testing the GL-X1200 "Amarok" router and am pretty pleased with the results.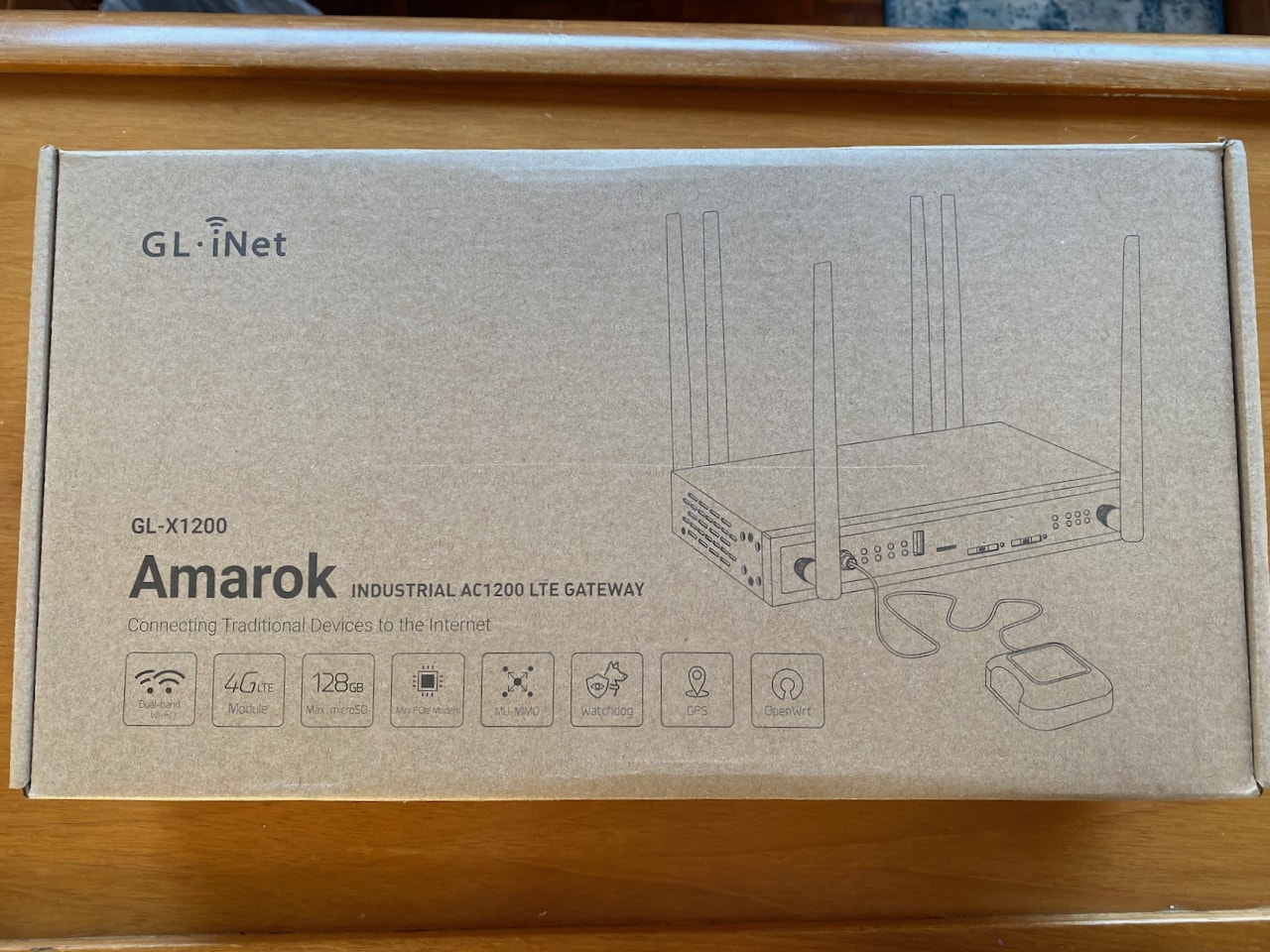 I ordered the unit from GL.iNet's online store and it took about a week for it to be shipped to me via Hong Kong. I did not have to pay any customs duties, but depending on where you live, you could have to deal with this, so do your research.
Hardware
The GL-X1200 has the following specs:
1x WAN ethernet ports
4x LAN ethernet ports
USB port
SD card slot
2x SIM slots
2x LTE module slots
2.4Ghz + 5Ghz WiFi AP using 802.11b/g/n/ac
Industrial design
All of this for about $420 which is a fantastic value. You're getting dual LTE radios, 2.4+5Ghz dual band WiFi, built in switch with LAN and WAN ports, and USB and SD card slots. That's a lot of hardware for the money…. A somewhat comparable Peplink device would be double the cost, and not have any switch ports, USB port, or SD card slot. An almost direct apples-to-apples comparison would be anywhere between $2000-6000 depending on the LTE radios, so you can understand why I'm excited by the hardware.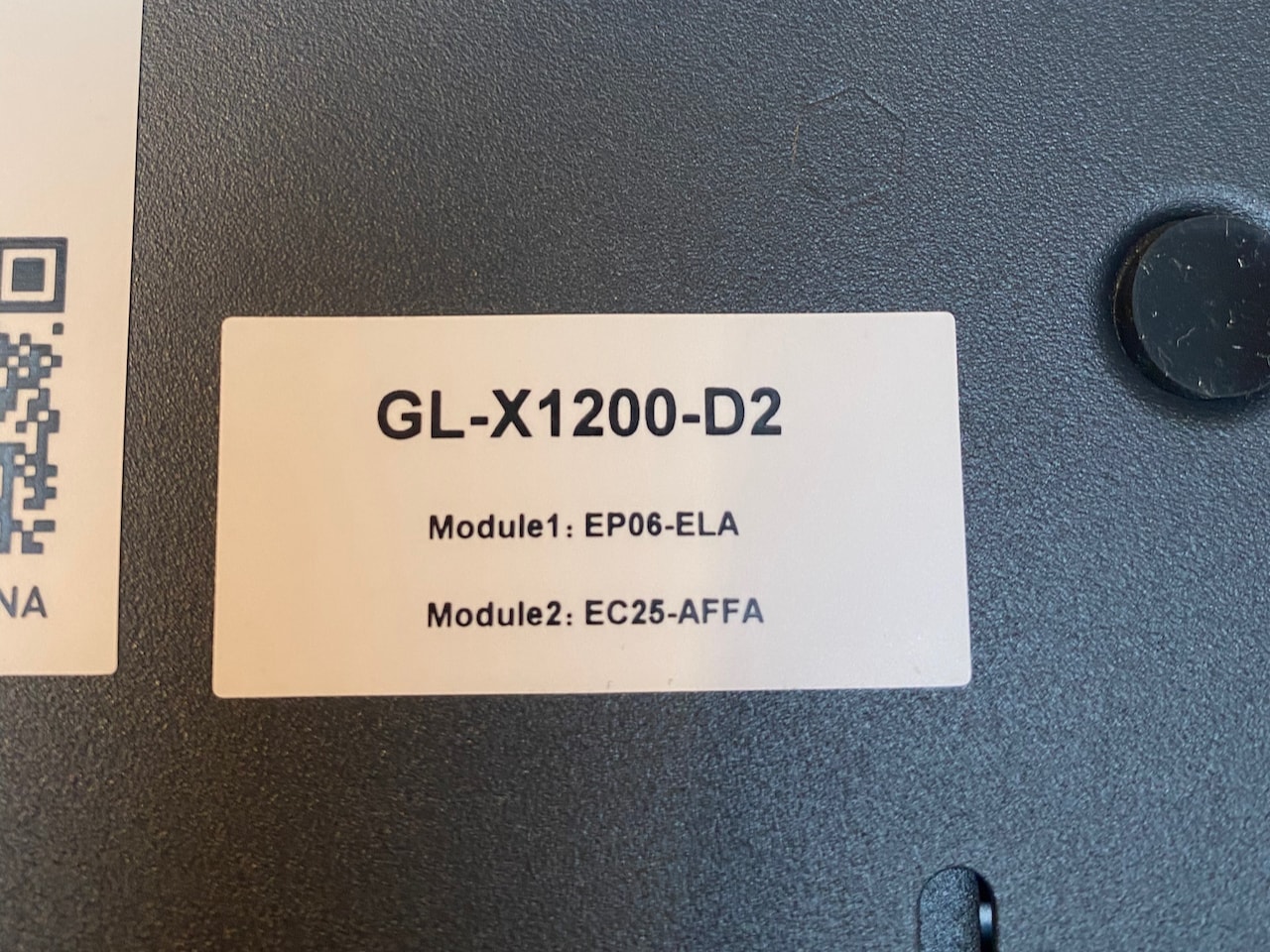 I chose two different LTE modules, each with their own benefits. This is another nice thing to be able to choose, rather than getting two of the same (or one) or two different combos that might not work for you. The two modules I chose were both made by Quectel and are below:
EP06-A – CAT6 modem that supports LTE-A and carrier aggregation. It does not support T-Mobile, but does have higher bandwidth than the EC25 modem below.
Bands: B2/B4/B5/B7/B12/B13/B25/B26/B29/B30/B66
Carriers: Verizon/AT&T/Sprint/Rogers
EC25-AF – CAT4 modem that supports FirstNet and Band 71, which could be very useful for longer distance connections to T-Mobile in areas where that is available.
Bands: B2/B4/B5/B12/B13/B14/B66/B71
Carriers: Verizon/AT&T/T-Mobile/Rogers/U.S. Cellular/Telus/Bell.
Both modules were installed by the factory before the unit was shipped.
Besides the modules above, you can order versions of both of the EP06 and the EC25 for various countries and carriers around the world, and there's also an EC20 for China.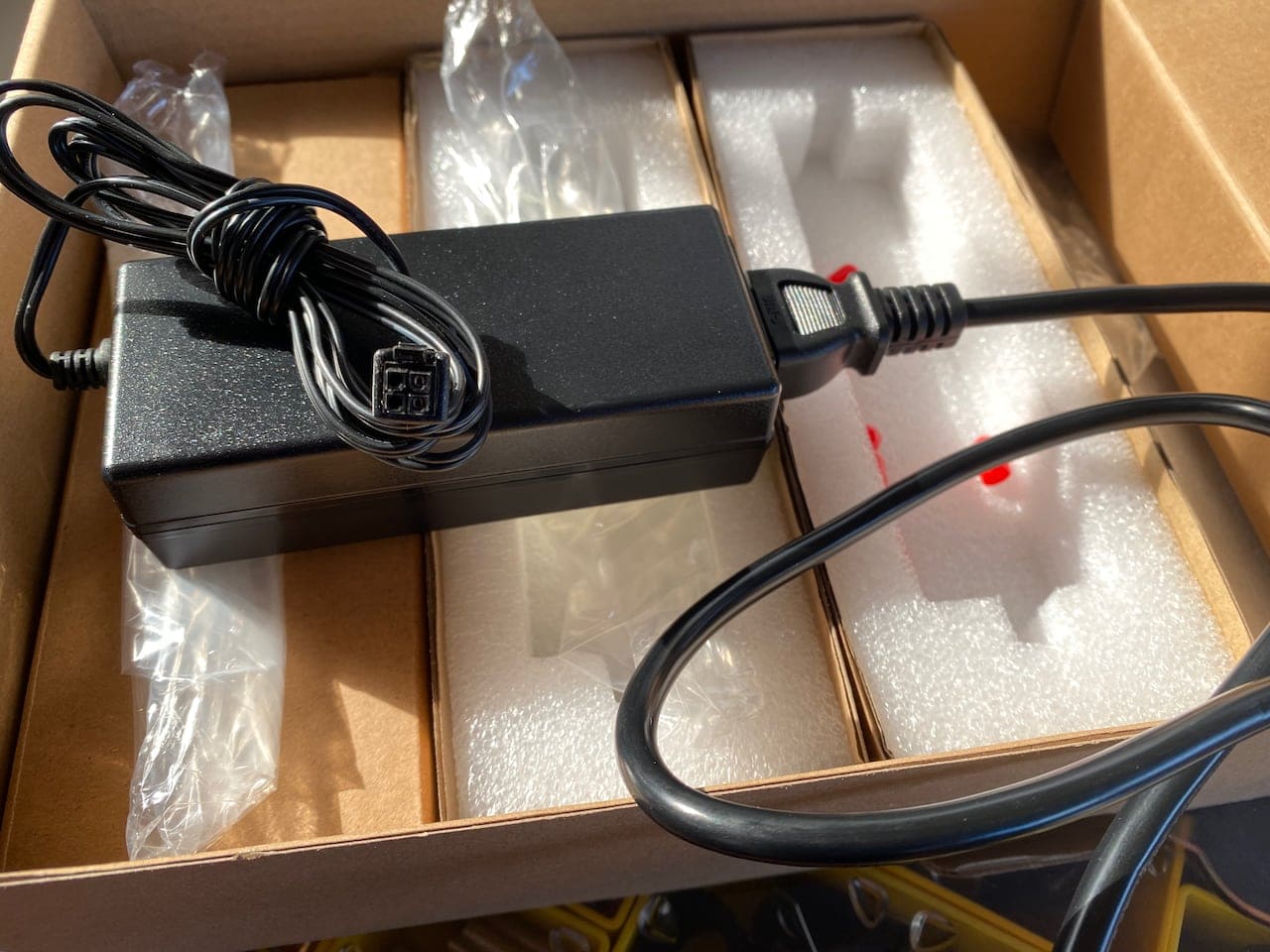 The included power supply is 48V and has a 4 pin connector and allows some level of power over ethernet, although I did not test that. You can also run it off of 12V directly although PoE is not available then. A power connector is not included to wire it directly into 12V, but you could lop off the one from the power supply.
You can also power the whole thing via PoE but that has to be connected to the WAN port, and it limits you from using PoE out on the switch itself too.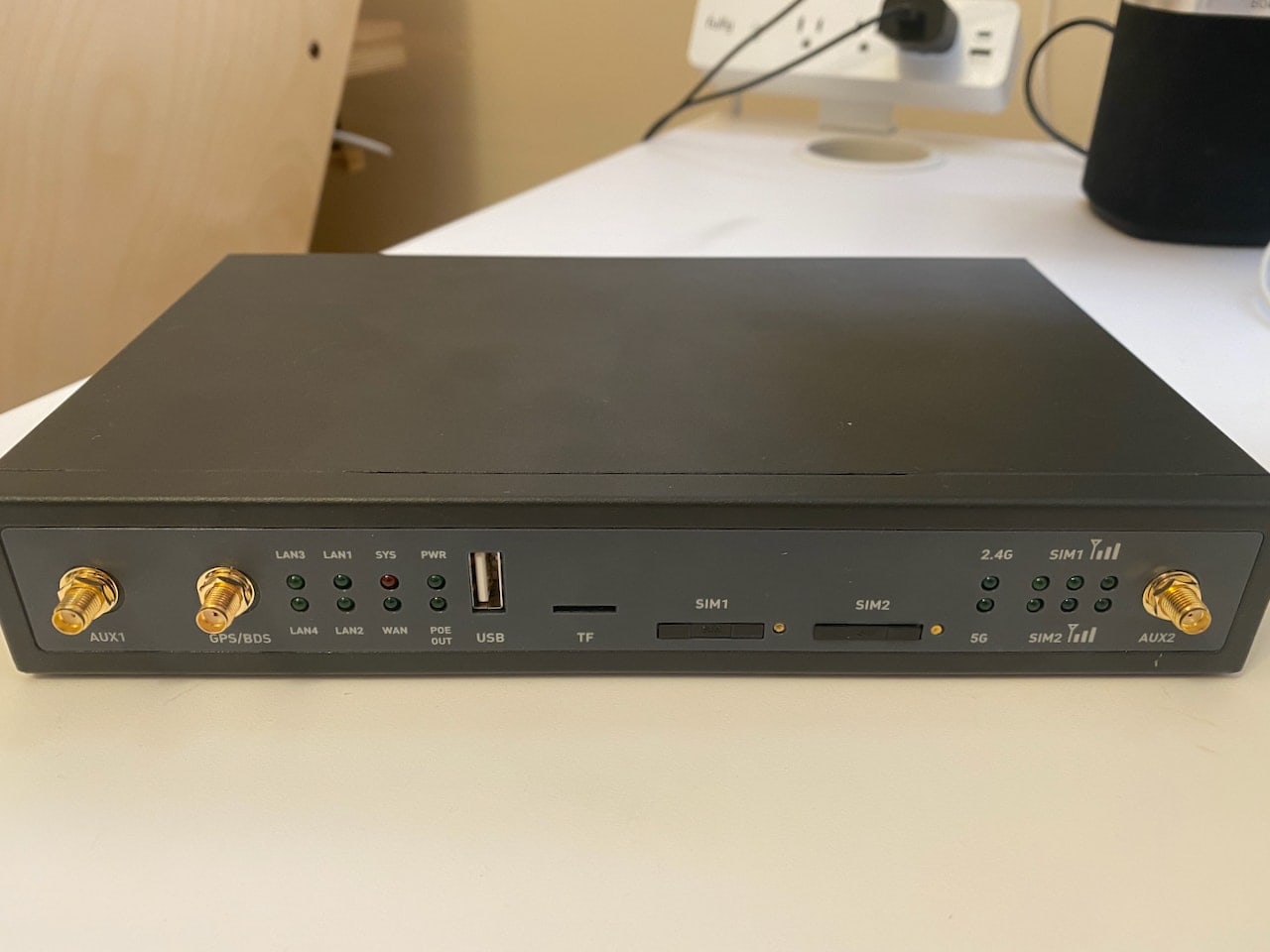 The front of the unit has connections for the secondary LTE module, a GPS antenna connector, and LEDs for everything. In addition, it has the USB port, SD card slot, and the SIM slots.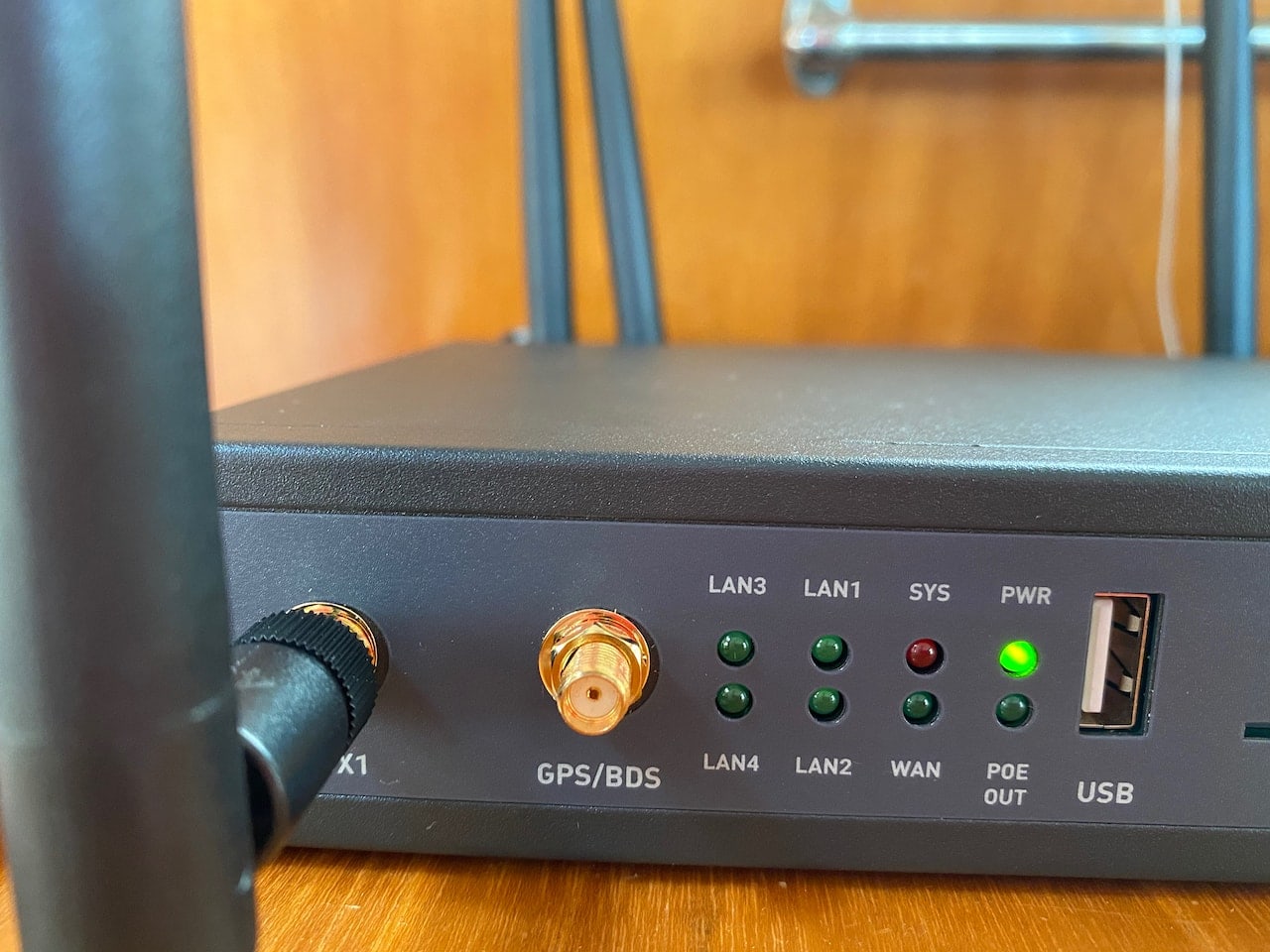 The USB port can be used for storage or an LTE connected device. You can use the USB port or SD card slot to share files and hard drives on the network.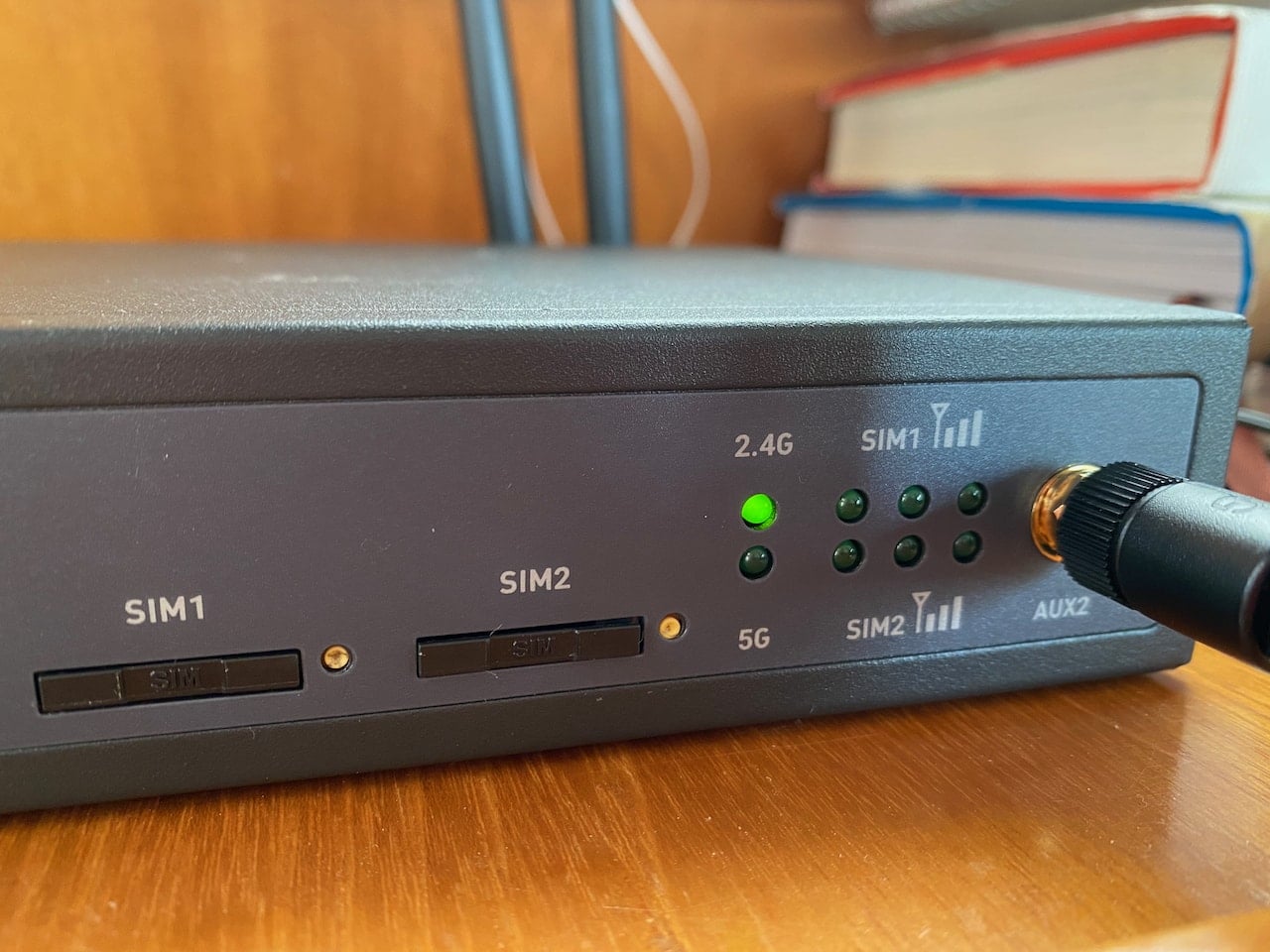 The SIM slots are some of the nicest I've seen on a router lately – easy to eject using a pencil or paperclip, and they come with a tray that you can put your full size SIM (or adapter) into. They slide in and out easily, and don't require any special tool to remove. Right next to them are the LEDs for WiFi and LTE radios so you know if there is traffic and on what. They blink based on activity which is an interesting choice but somewhat useful. Most routers I've seen don't include LTE signal level LEDs or indicate activity.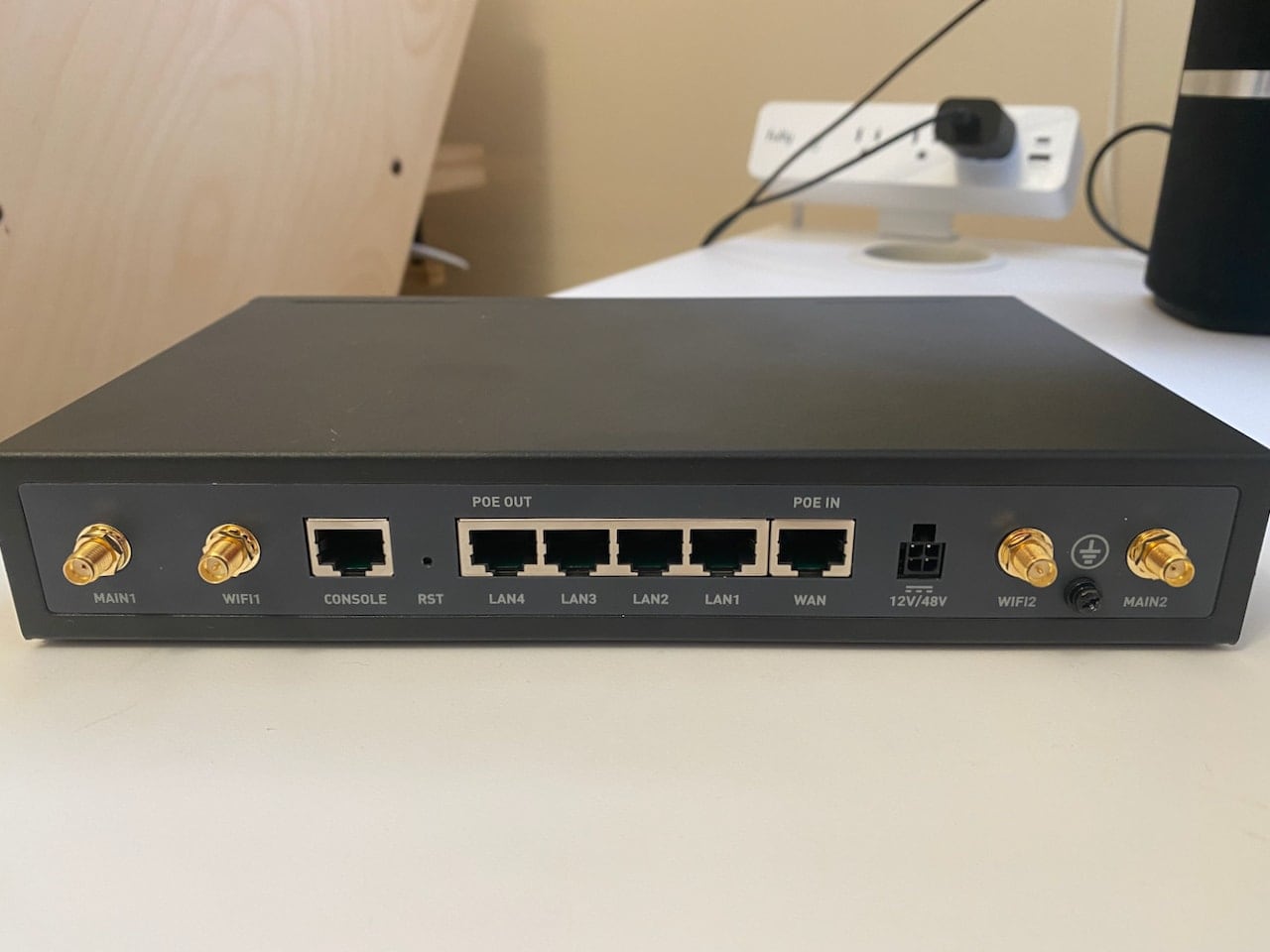 The back of the unit has antenna ports for the primary LTE module and 2.4/5Ghz WiFi. In addition, there is a serial console port, reset button, LAN and WAN ports, ground screw, and the power connector.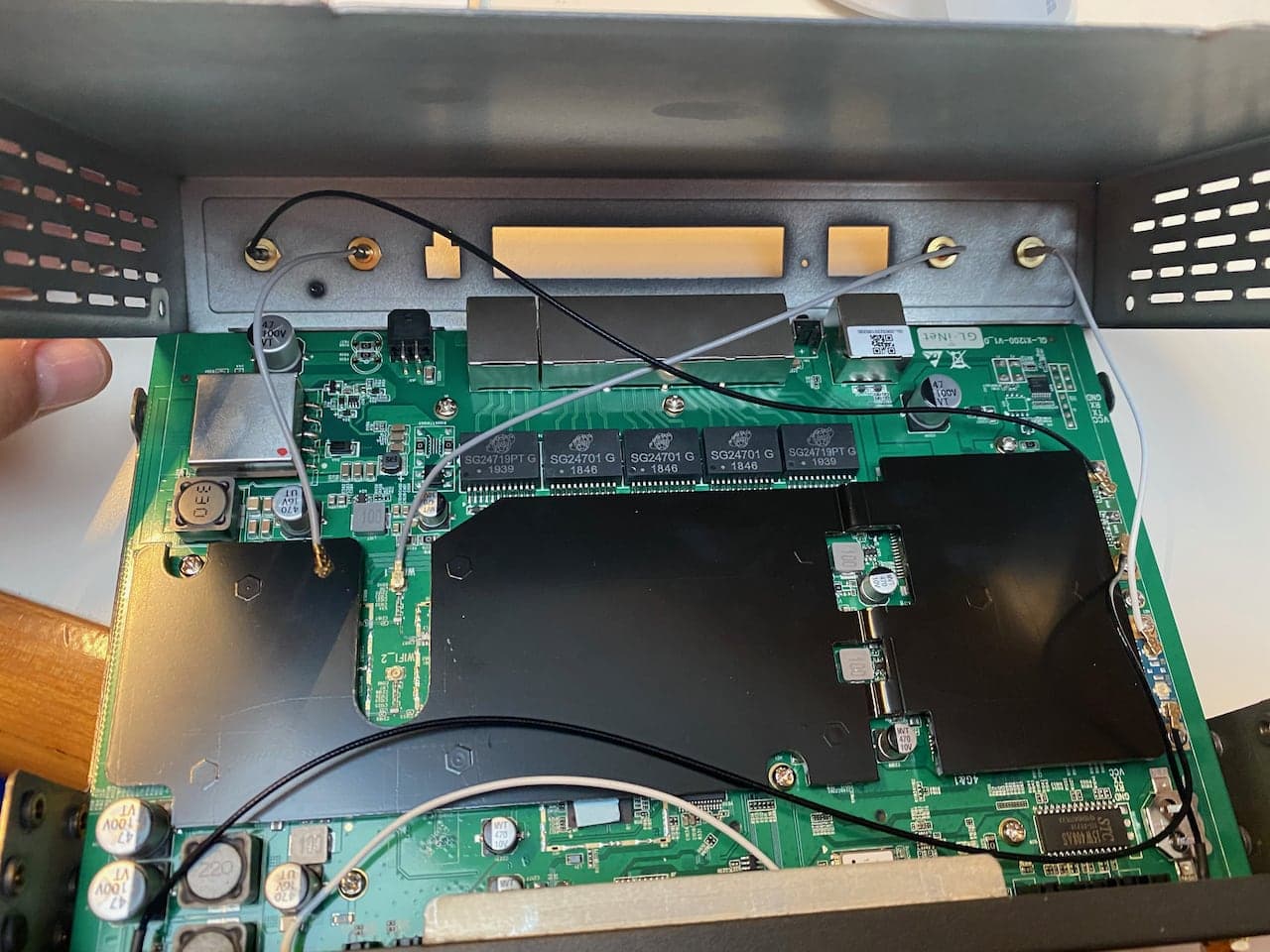 Inside looks pretty well organized with antenna wiring going back and forth. The big black item is a set of heatsinks on the CPUs and the LTE and WiFi radios. The LTE radios are on the right.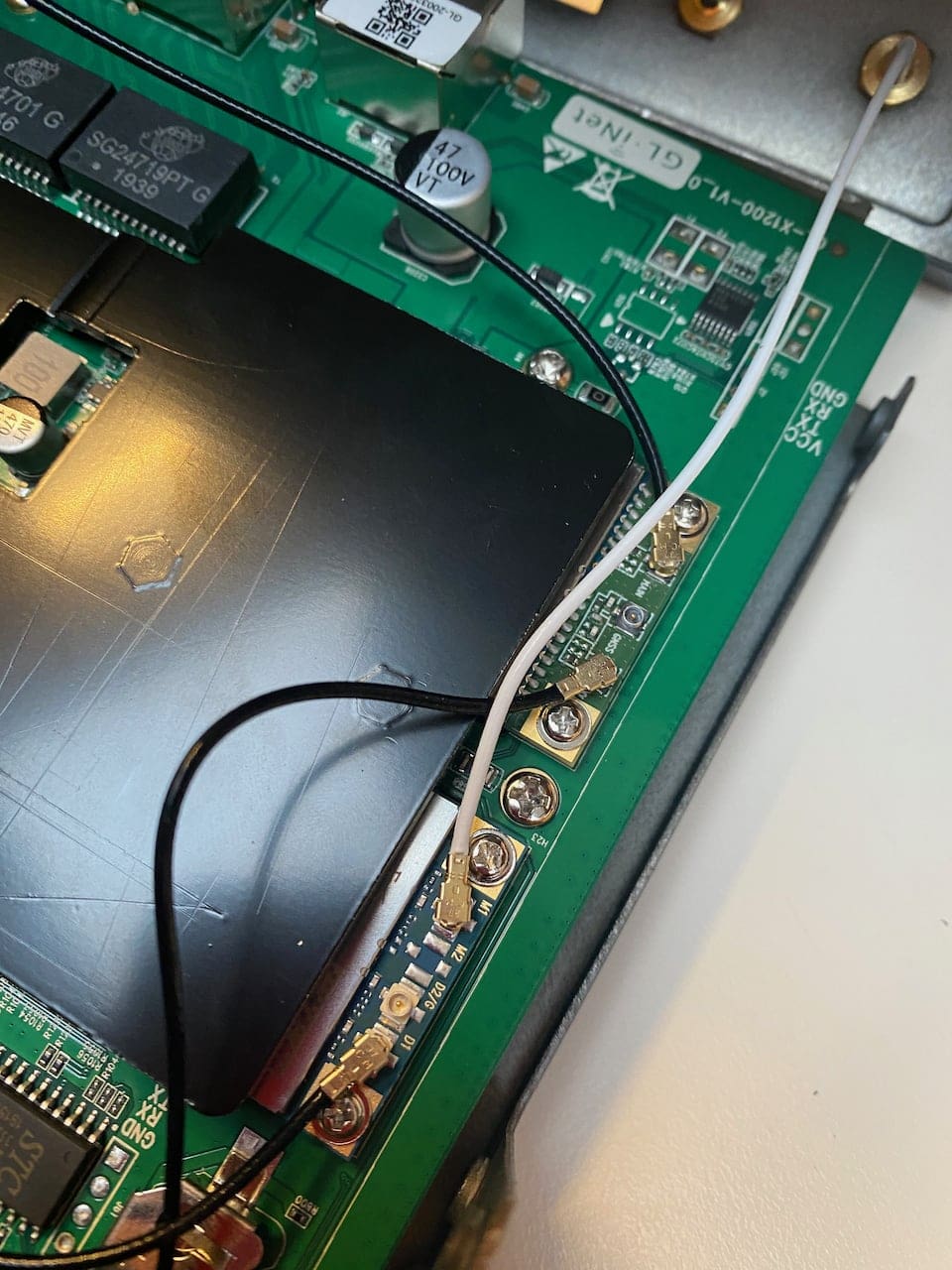 Here you can see the two LTE modules and related antenna connections.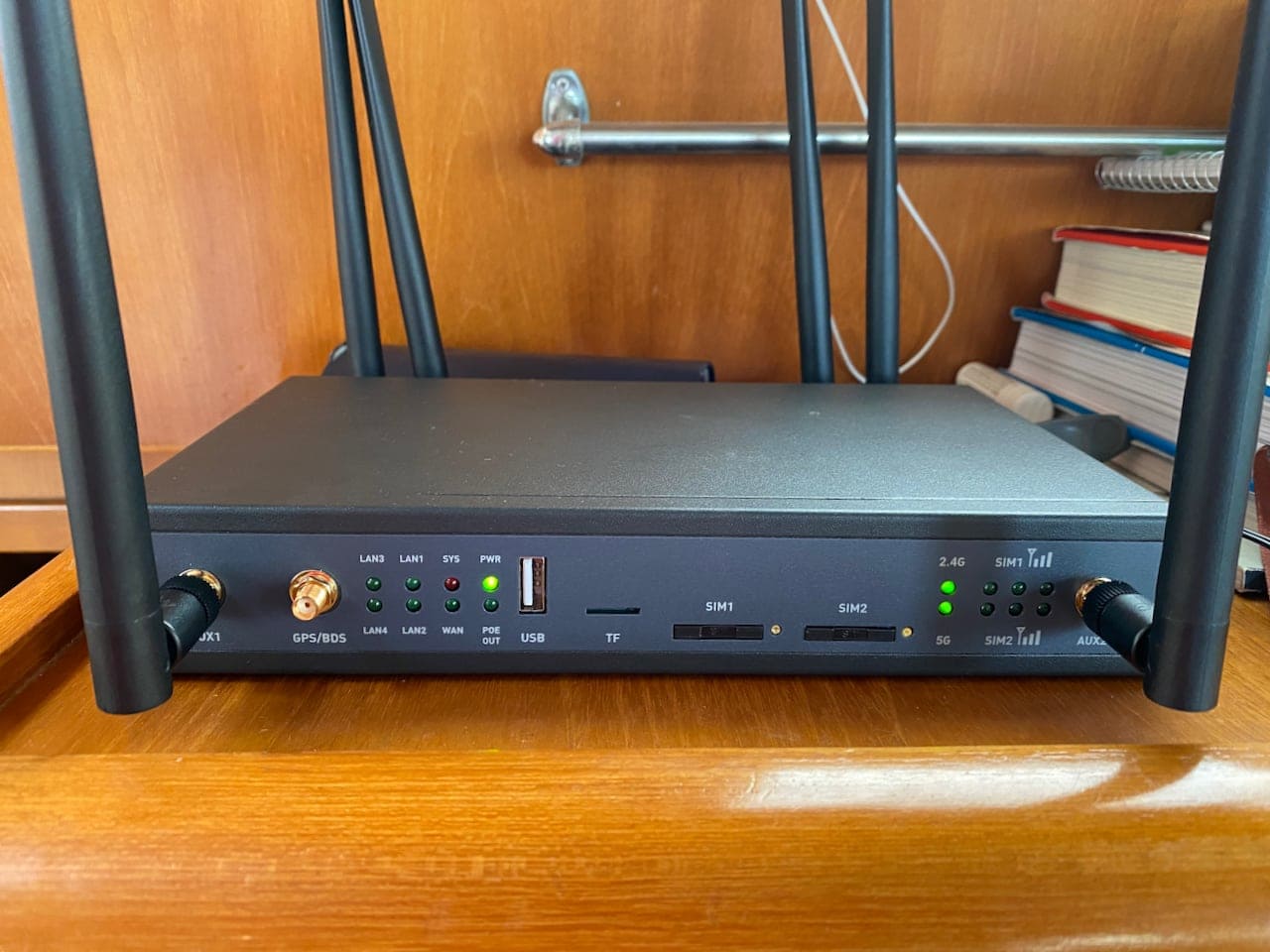 In general, the hardware appears to be well designed, industrial quality and is designed to handle pretty extreme temperatures from -4 to +131 F (-20~55 C). It has a heft to it – quite heavy actually compared to other similar products – and can be mounted on a wall using the slots on the back of the unit.
The CPU is Qualcomm's QCA9531 and was always speedy while I used the unit. It also has 128MB of memory and a combo 16MB flash + 128MB storage for the operating system and such.
The fact that you get a switch with gigabit ports, 2x LTE radios, 2.4+5Ghz WiFi, dual SIM slots, and all in a nice hardened package is quite a good value for the price.
Software
This is where some of the savings in cost is apparent. That's not to say the software isn't usable or doesn't have features similar to Peplink or Cradlepoint, it's just not as polished as those vendors. There are some features that are missing or are very limited compared to those other vendors – I can't think of a particular feature in the GL-X1200 Amarok that is better than the competitors, but that could be OK for your use case depending on what you're looking for.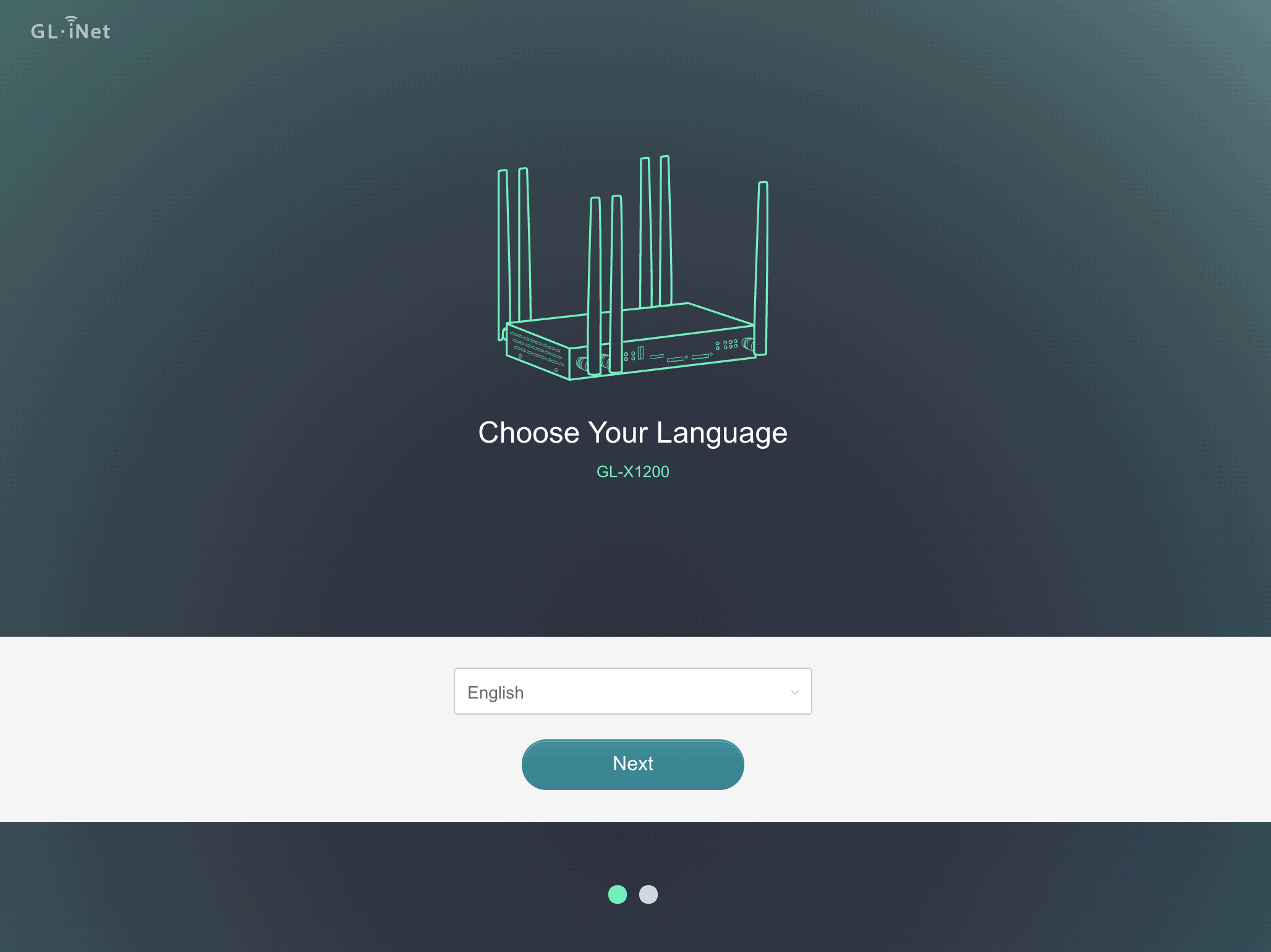 The software is built off of an open source router project called OpenWRT which has been around a long time. It is usually used by more tech-focused folks who want full control over their hardware and don't want a vendors extra UI and bloat in their devices. In this case, GL.iNet has added their own UI elements to OpenWRT, but under the covers it is still using the base packages. You can even reload this with OpenWRT or build your own firmware version, although I haven't had time to play with that.
You can find the manual at https://static.gl-inet.com/www/images/products/gl-x1200/GL-X1200_user-manual.pdf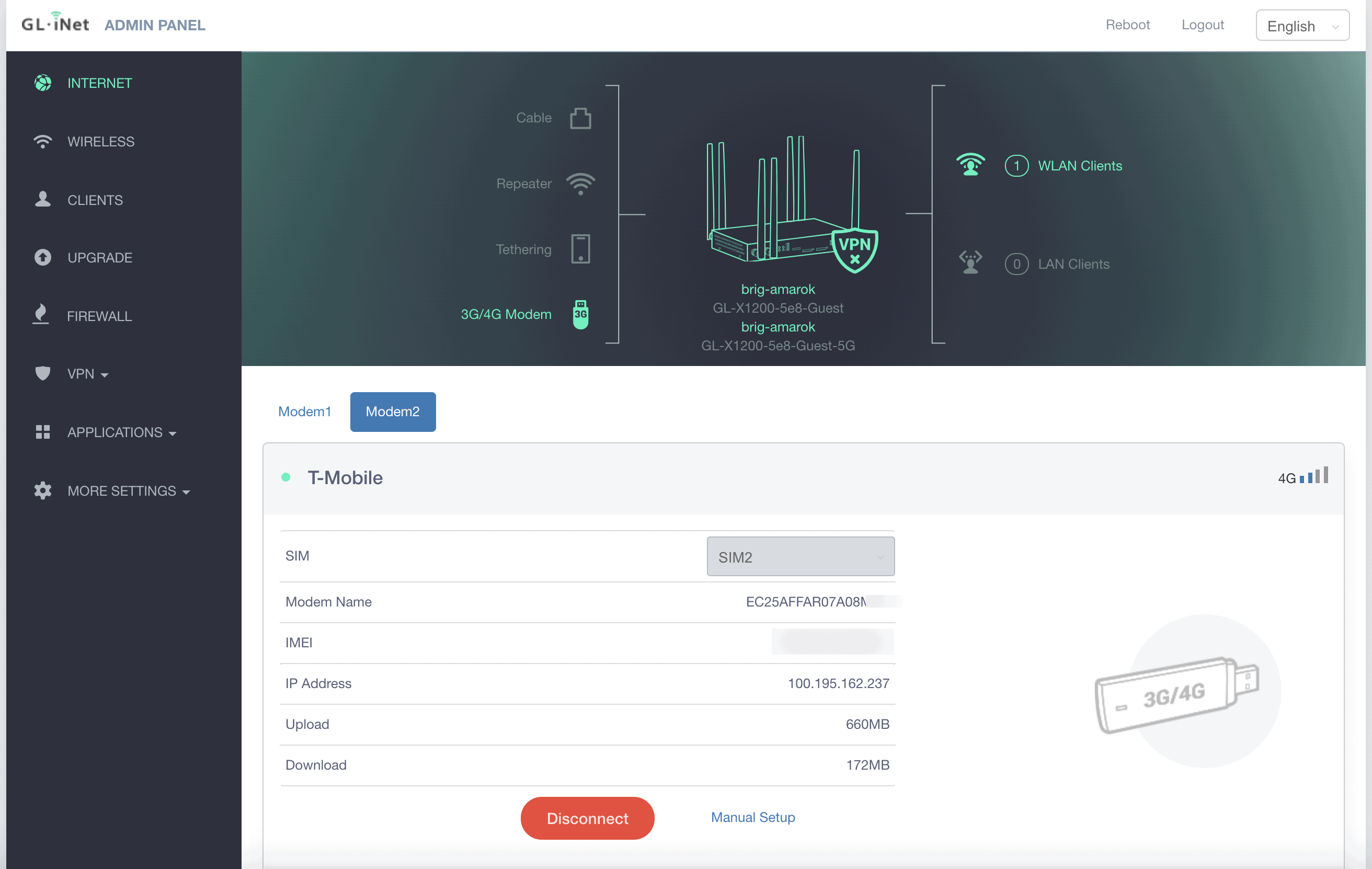 The dashboard is well made and shows all of the different devices and connectivity options and their status. Above you can see I am connected via T-Mobile using SIM slot 2 and LTE modem 2, although (surprisingly) you can use either SIM from either modem. You can also see there is one WiFi client. The details about the connection are a bit sparse, which is the case with most of the UI for many elements.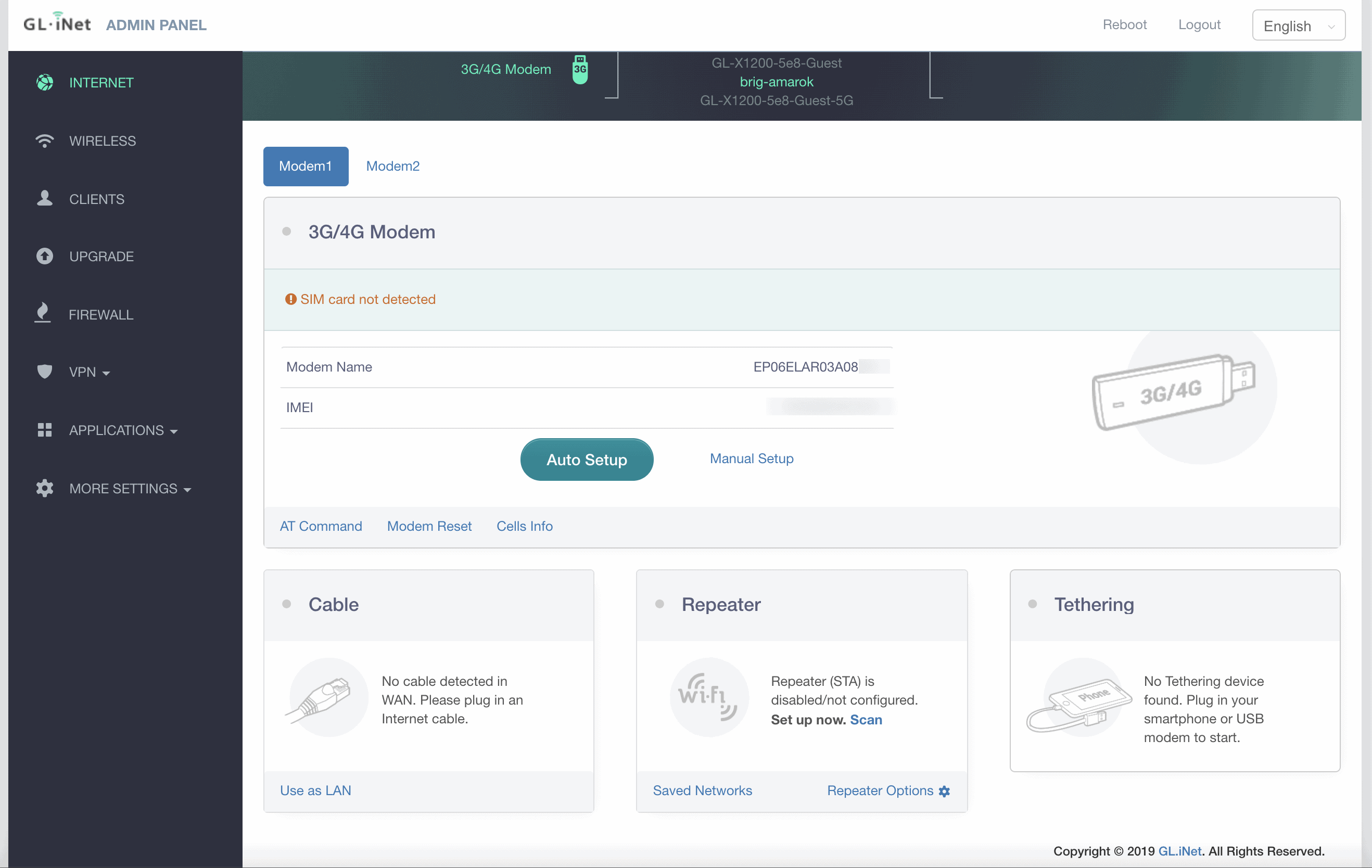 If I scroll down a bit more, you can see setup wizards for a WAN cabled connection, turning the WiFi radios into a repeater/bridge, and for connecting an LTE device via USB.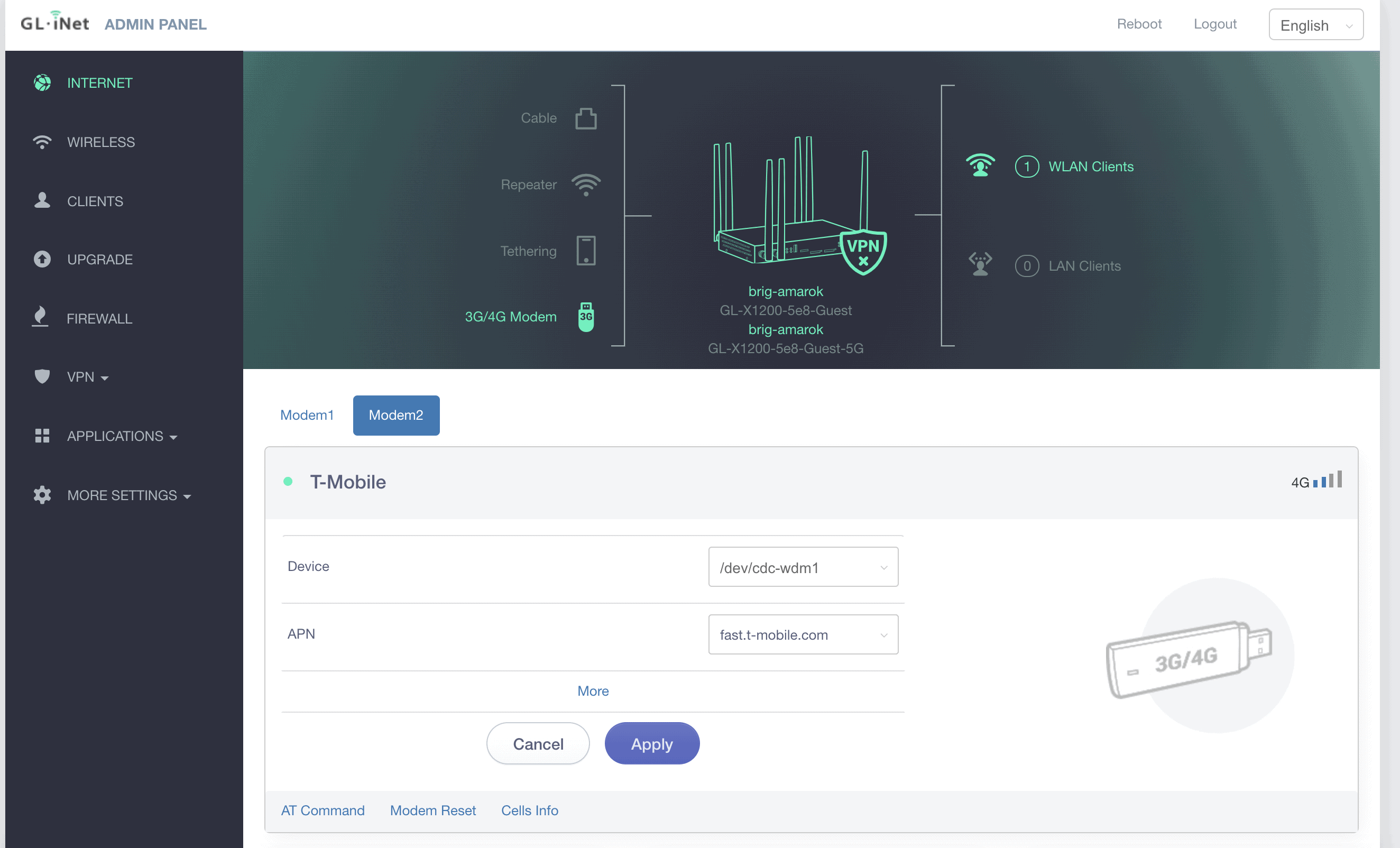 Setting up the LTE modems and SIMs is not automatic. You have to click the Automatic button (didn't work for me) or click Manual Setup and enter your provider APN and potentially change the modem raw device. You can also issue AT commands directly to the modem, reset it, and get even deeper at the command line. This is where things start to show some rough edges, as you definitely need to know a bit about OpenWRT if you have an odd provider who needs the modem to operate a particular way, use logins, different APNs or other settings. This is mostly automated for you in Peplink or Cradlepoint.
I'm not saying this is a bad thing, and as a tech nerd myself, I prefer it this way so I have absolute control over things. But if you are expecting to plug and play with this router, this particular part definitely requires some research.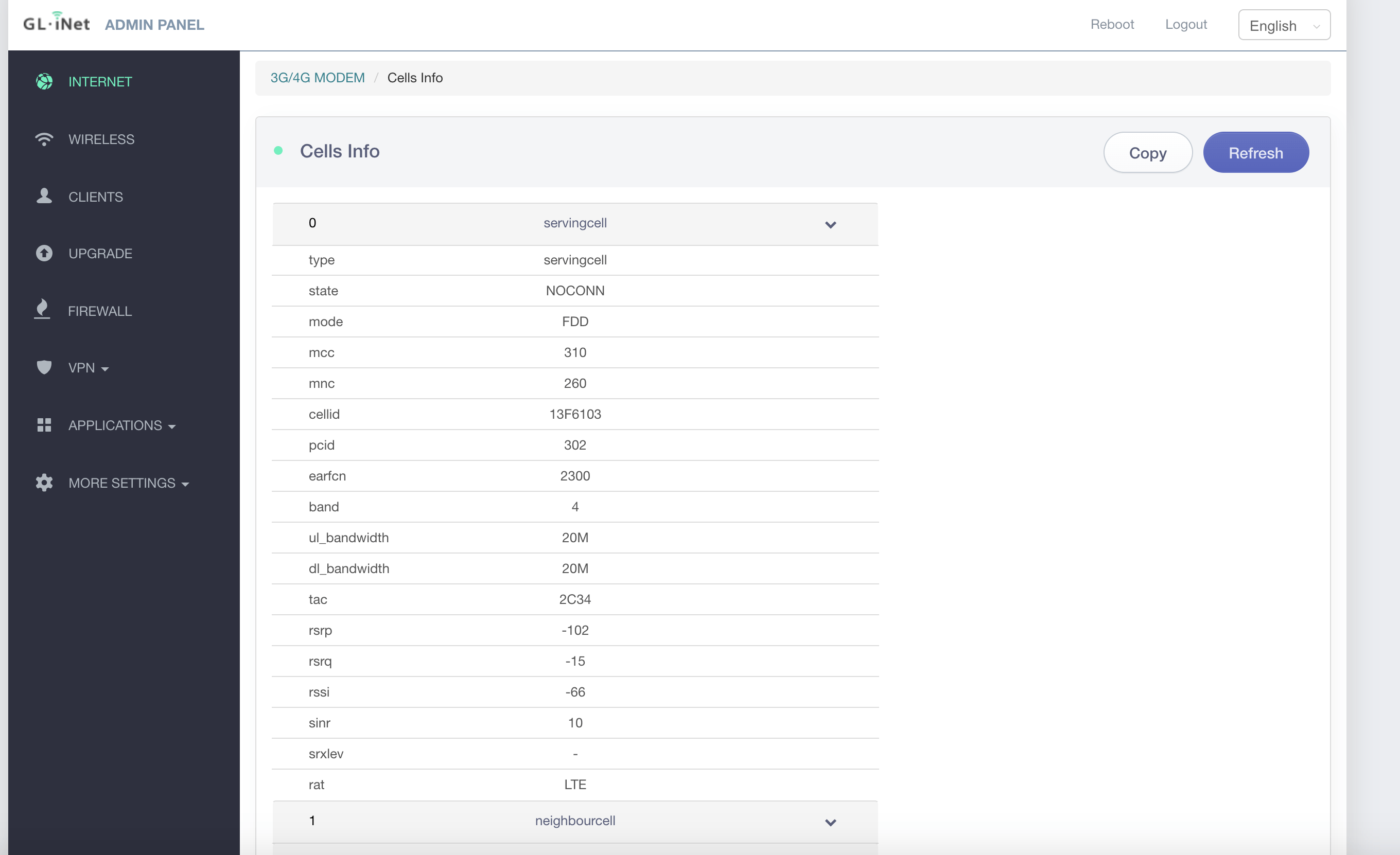 Once your LTE connection comes up, you can look at the "Cells Info" which shows details on how the radio is connected. In this case, I was using the EC25 modem with T-Mobile, and it connected with a full LTE connection. You can see the offered upload/download bandwdith, cell IDs and lots of other fun info on signal levels in case you want to geek out.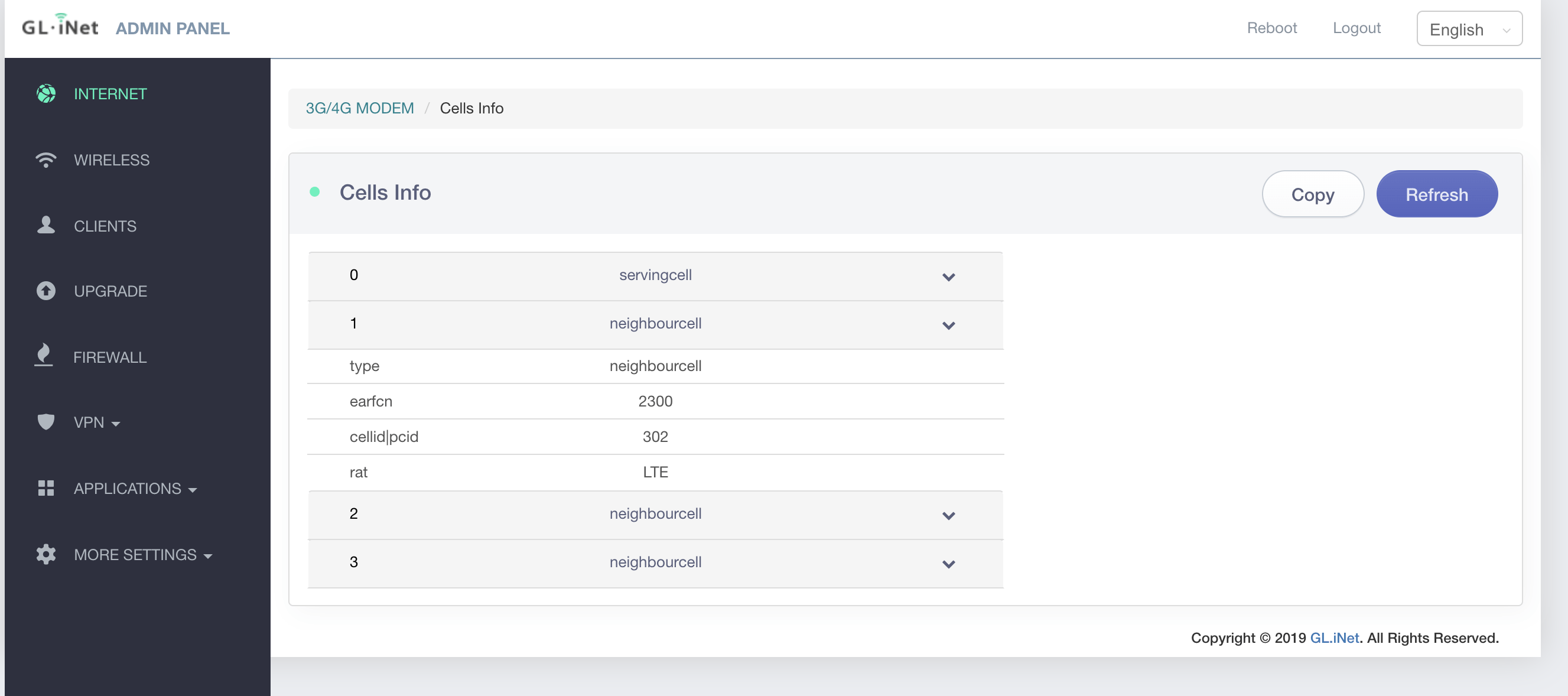 You can also see the aggregated connections in the case where multiple channels are being bonded.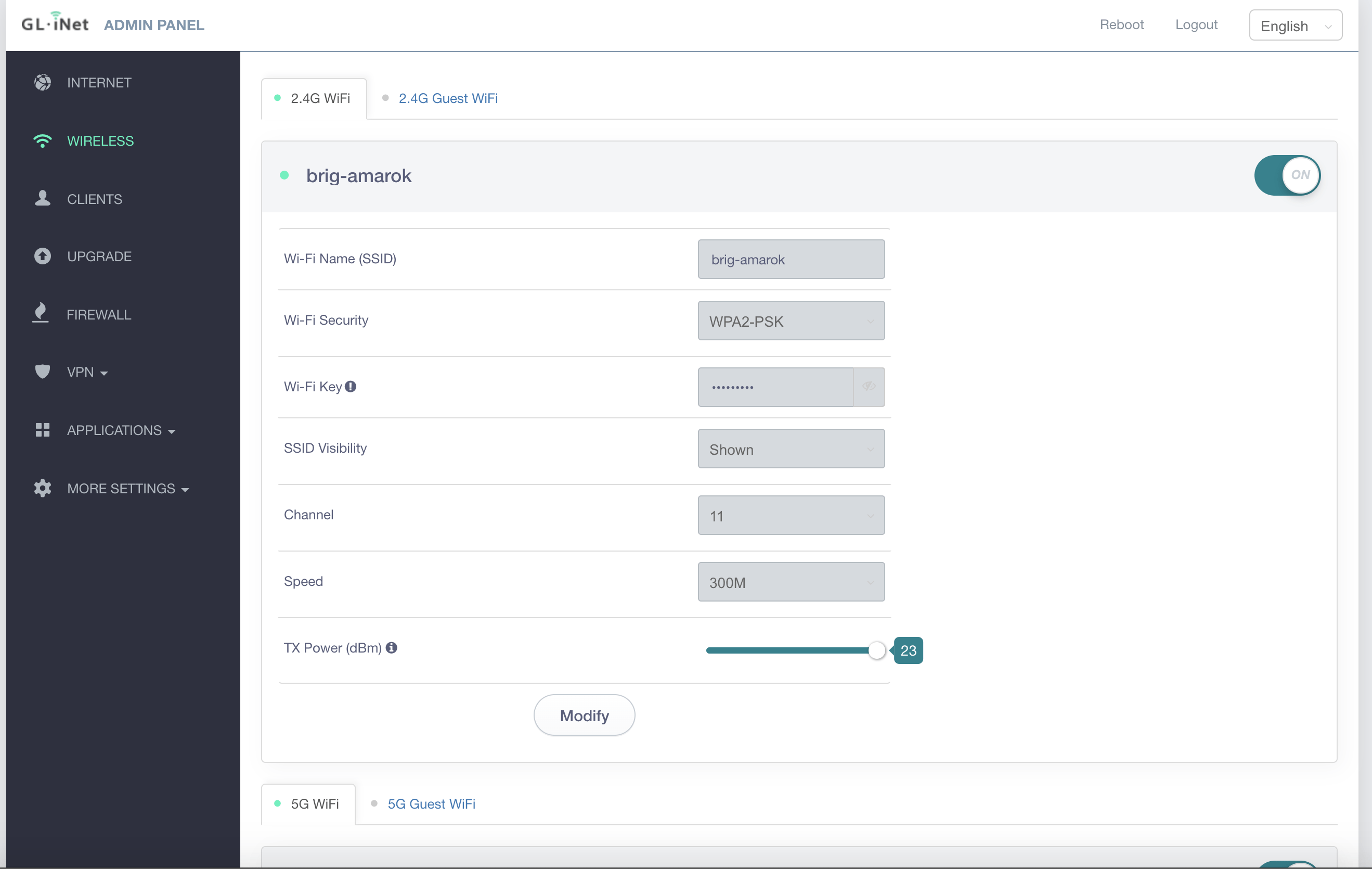 Setting up the WiFi radios is very easy. The software allows you to setup two networks on each frequency, one for normal traffic, and one as a guest network complete with an optional portal and other features. You can input your own network names, choose security, passwords, whether the network is hidden, a channel (or auto, which I didn't see work all the time) a speed, and transmit power. In all, this part of the web interface is really streamlined and offers everything basic to moderate users should need. You can go to the command line (later below) and do even more damage if you want.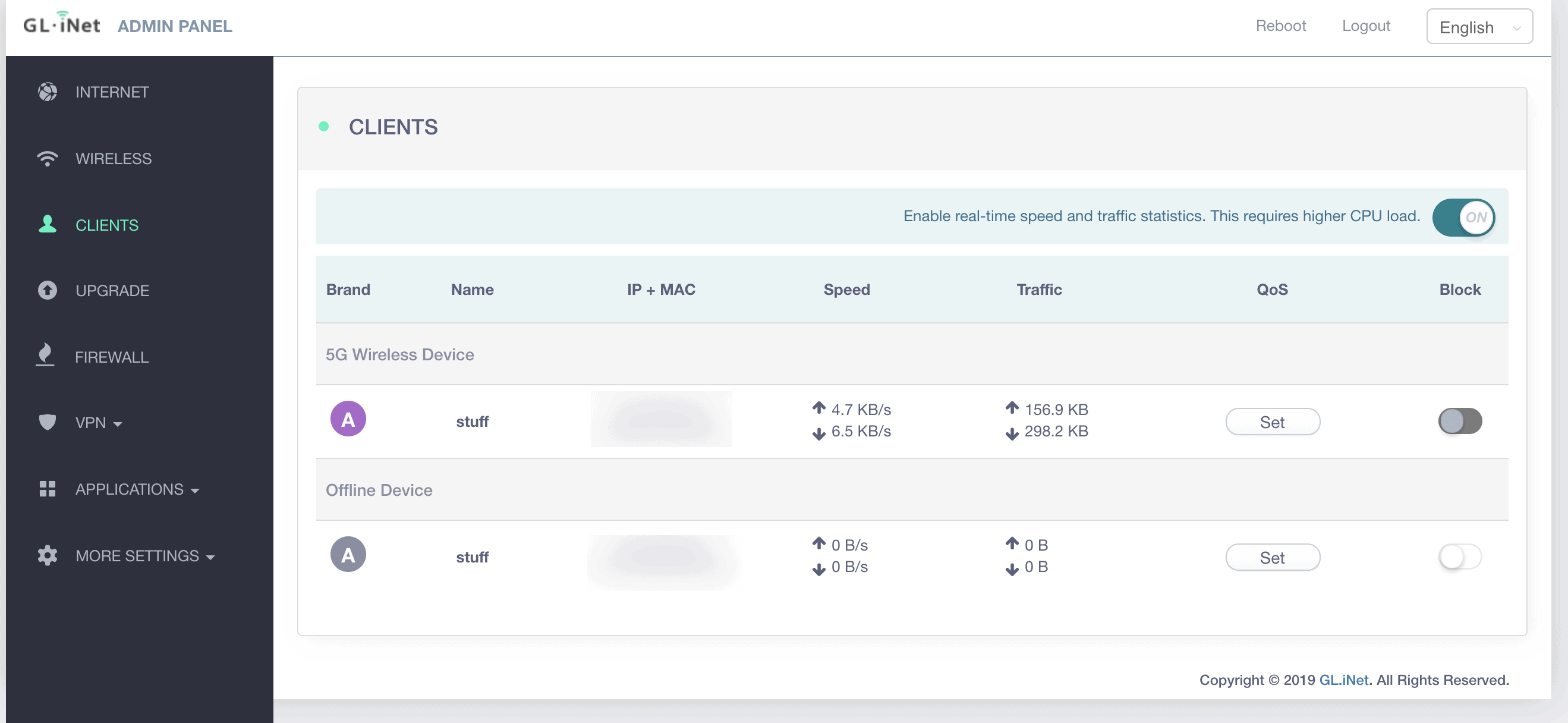 You can see a list of all of the connected clients, and if you enable the radio button at the top right, you can see more details about the clients, and even put in traffic limits, what is commonly called QoS or Quality of Service.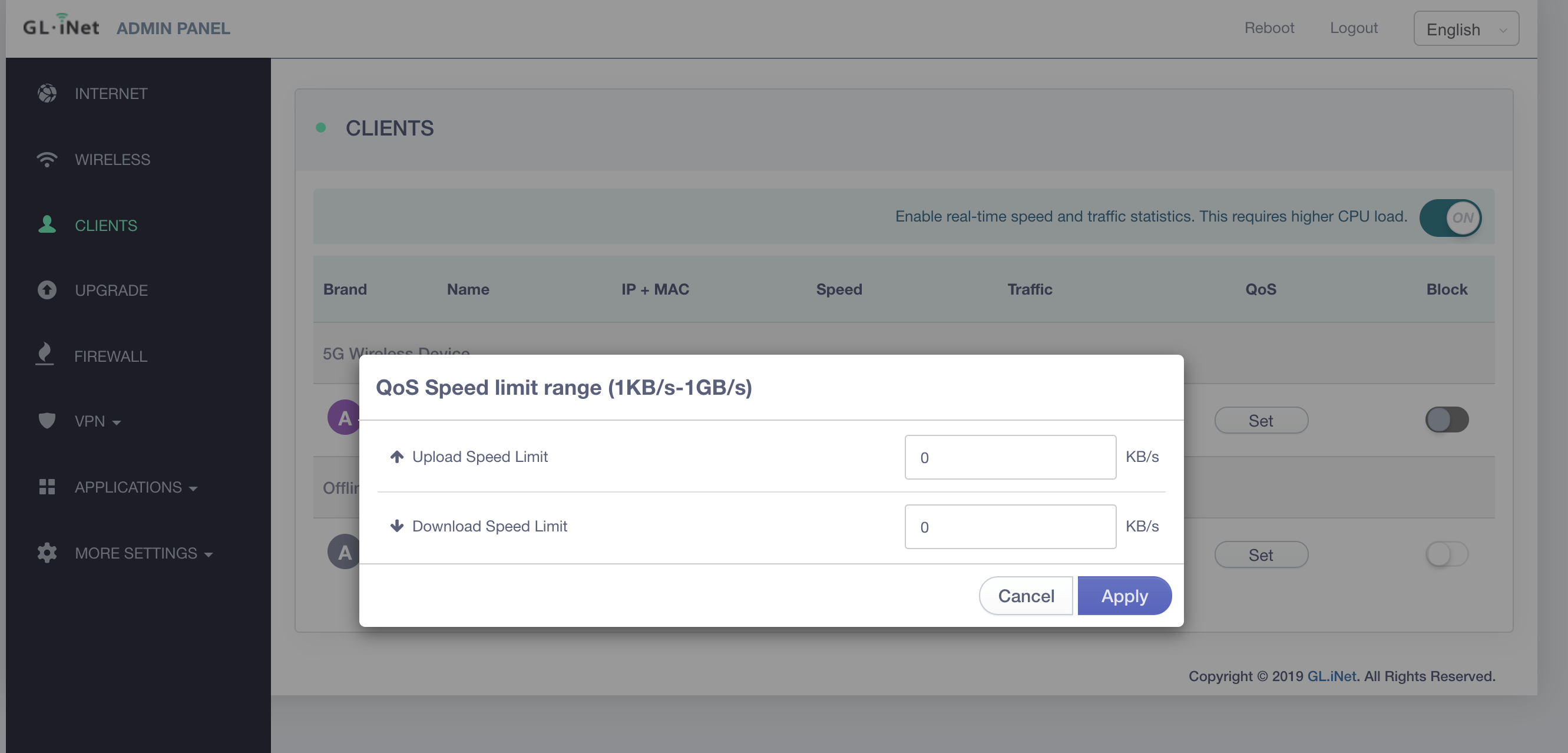 For instance, I could set overall limits on this client and ensure they don't take too much bandwidth. I cover a lot of options for doing this in Managing Internet Usage on your Boat, where I go into more depth on how you can identify and control things that will kill your limited LTE connection when you're out and about. This feature is the basic version, and requires that you set these limits on each client manually, which isn't as good as some of the more advanced methods, but it is nice to see the option.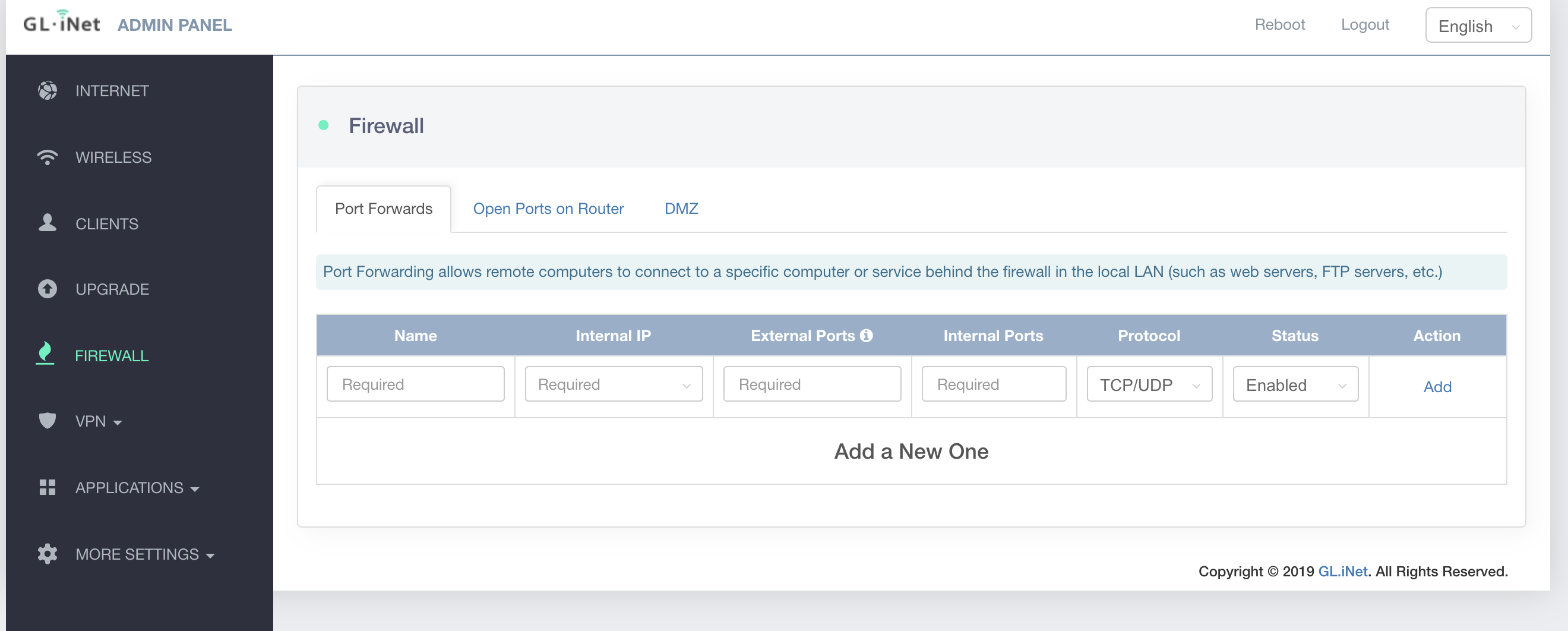 There's a nice firewall, although it likely won't be used that much if you only ever use an LTE connection for your internet source. LTE providers hide the network addresses you're issued behind so many devices, you really can't open up a port or a service for remote devices. VPNs are better for that nowadays anyhow, and more safe in many ways. However, there is a full firewall that you can add rules to if needed.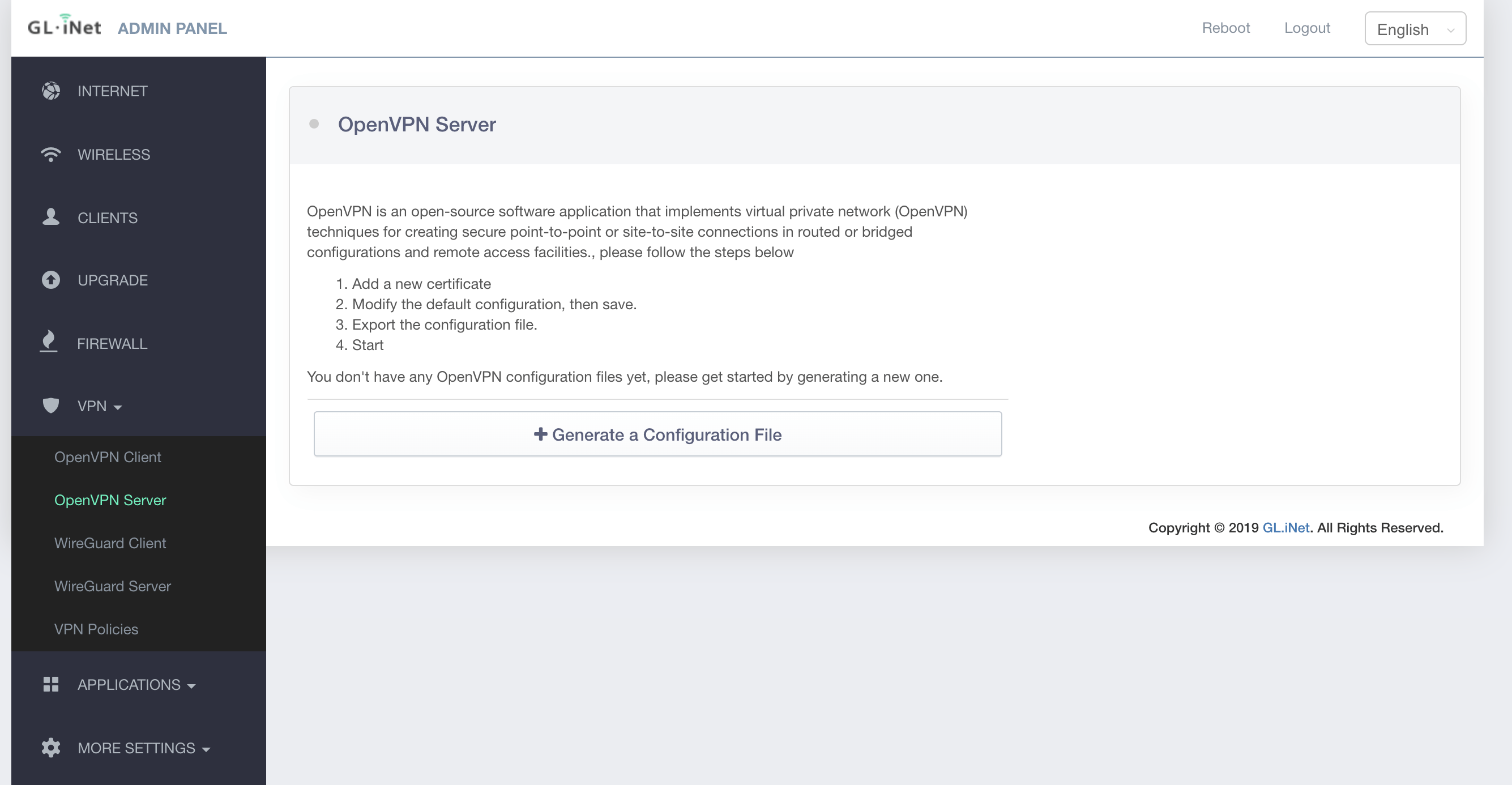 Speaking of VPNs – the Amarok has a number of them available, which is really nice to see. My personal favorite is OpenVPN because it is open source and available for just about anything out there. I use it to VPN in remotely to my network from my Mac, iPhone, Android phone and Windows PCs. They also include WireGuard, another VPN service that I have not used before, but looks very simple to setup. Both of these VPN solutions could allow you to have this router connect to your home or to a cloud server so you could always access your boat network remotely.
Under Applications are all of the various OpenWRT packages that are installed, and you can manage them from there, although I wouldn't imagine many people would mess with this. There's also an Upgrade item in the menu that allows you to get new firmware versions from GL.iNet if you're online, or upload new ones manually.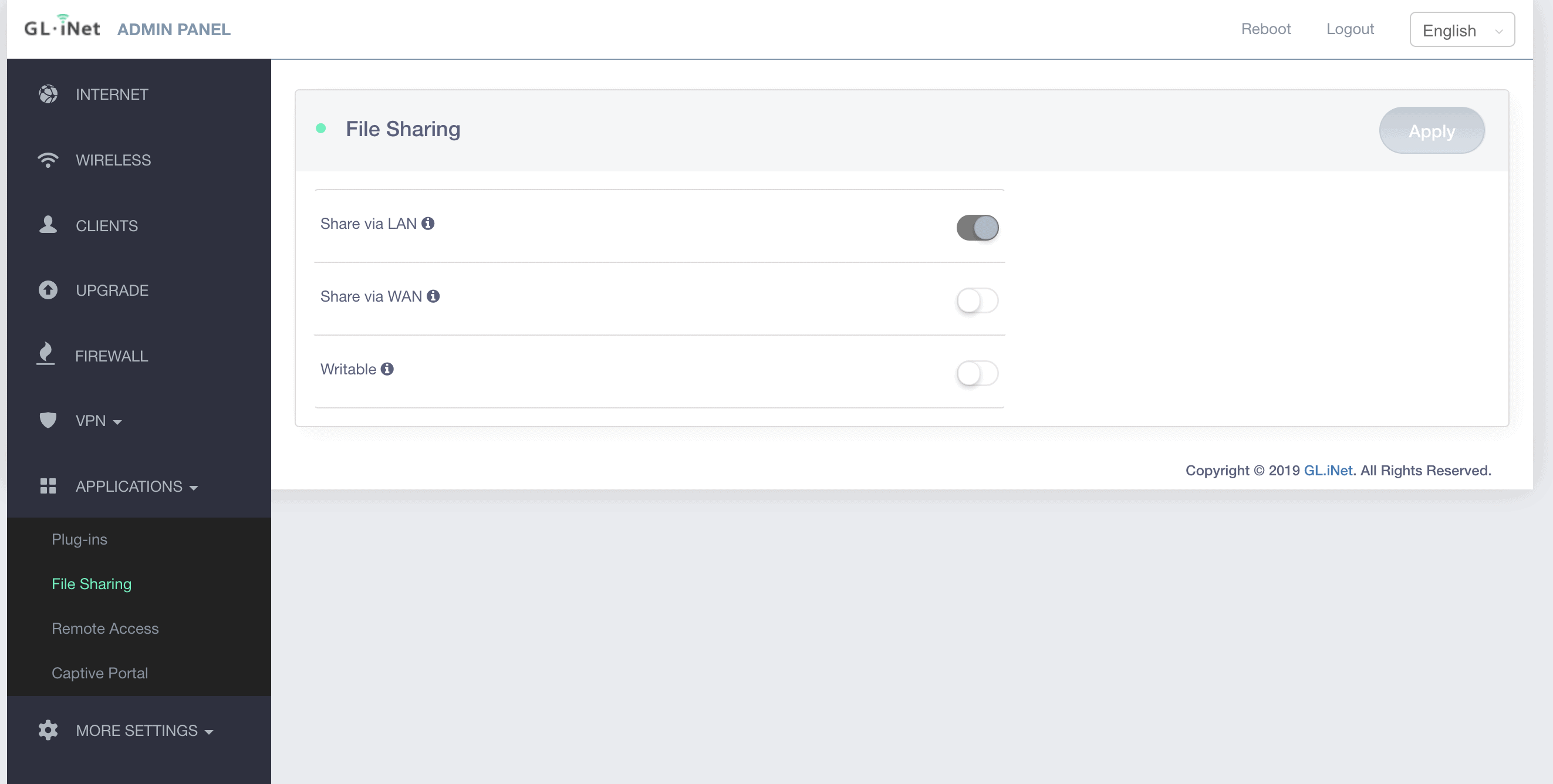 I've never had good luck using a router to do file sharing – their performance always suffers with large files or anything intensive. However, on a boat, it might be nice to have a central place to back up critical PDFs, boat records, and other things like that.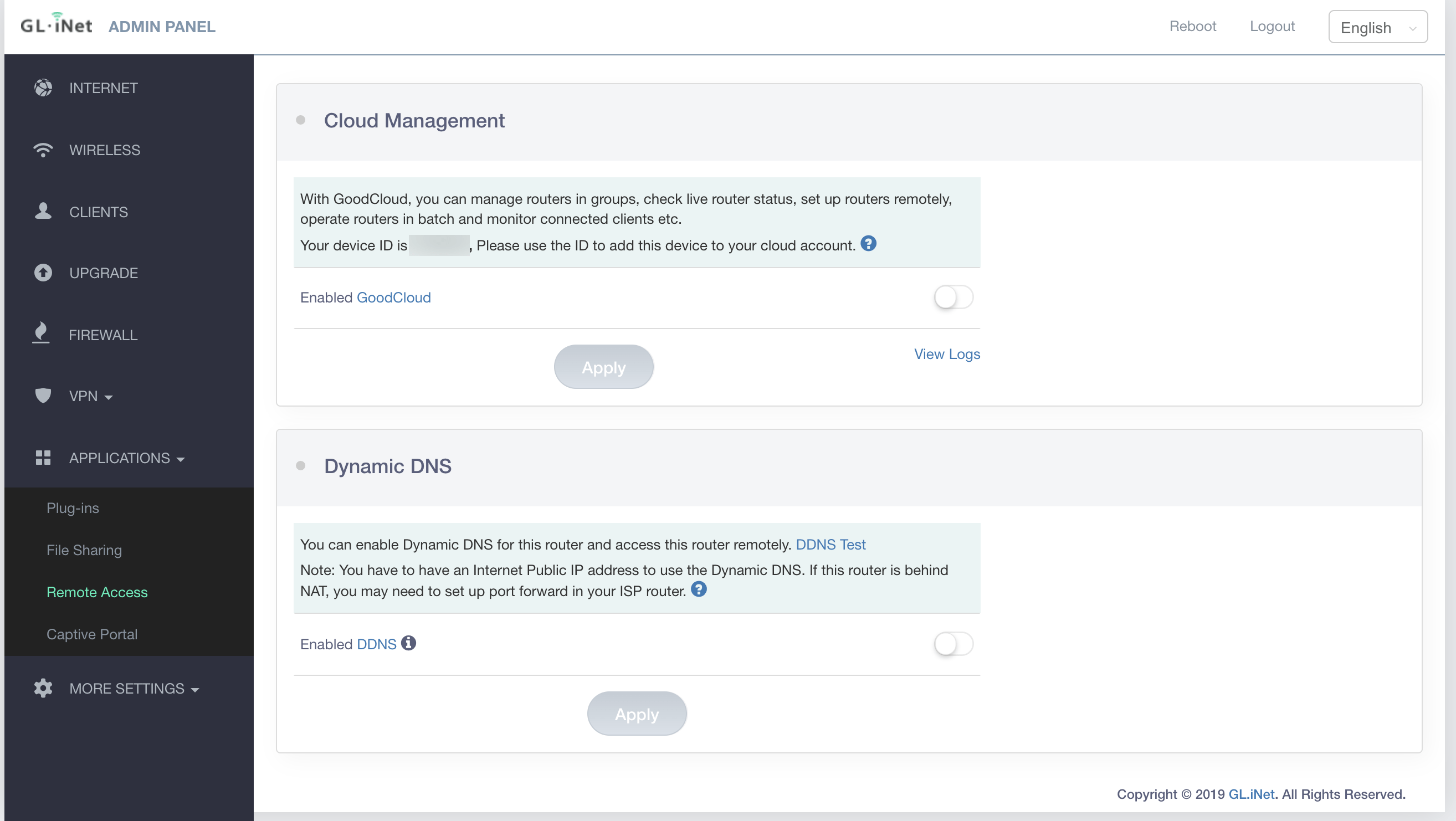 Remote access allows you to use GL.iNet's GoodCloud remote management system (more below) and/or Dynamic DNS so your router always has a hostname you can use to reach it remotely. Dynamic DNS won't work with most LTE providers, or it won't really be useful rather – same reason as above with public IPs, etc.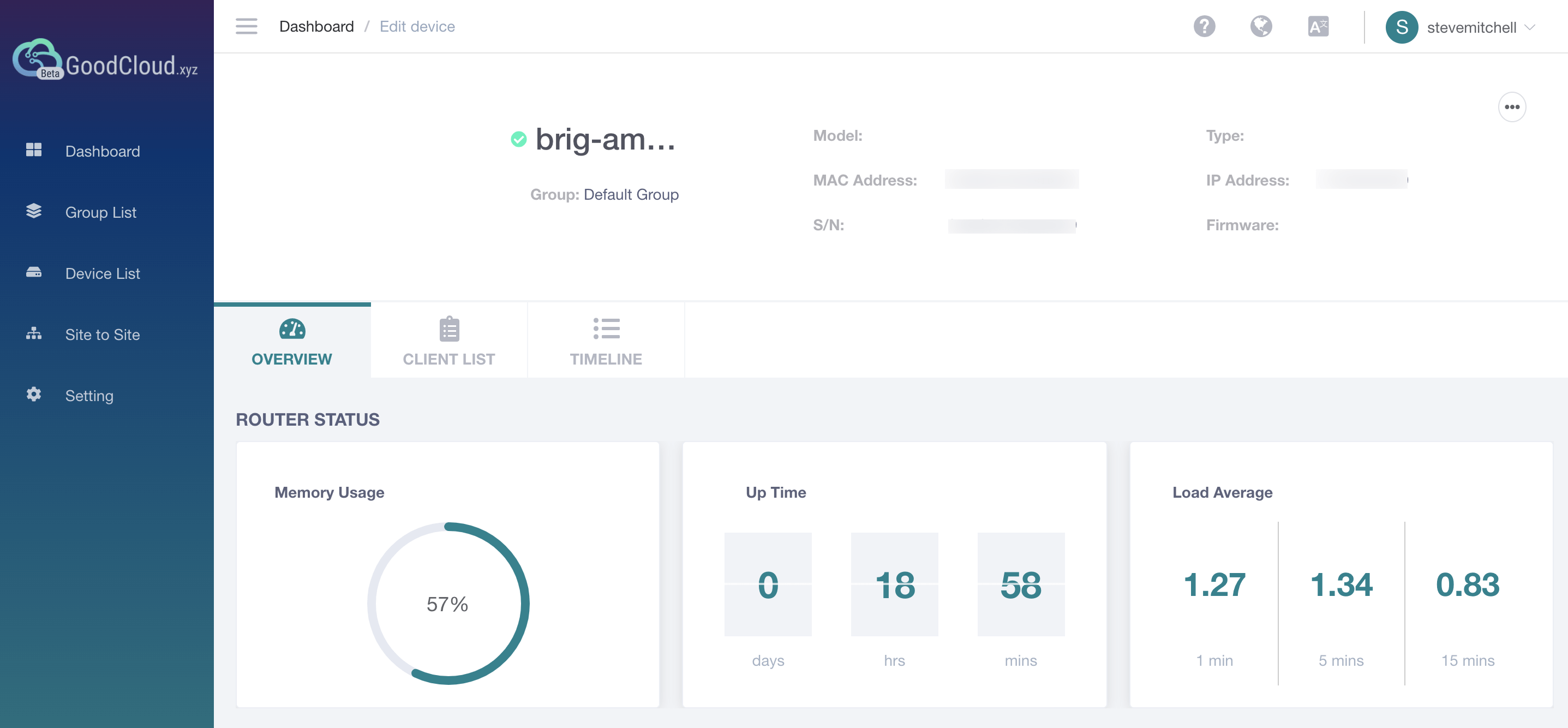 GoodCloud is a cloud service where you can login to their system and see your router(s) all in one dashboard. This allows you to see information about uptime, performance, who is connected, etc.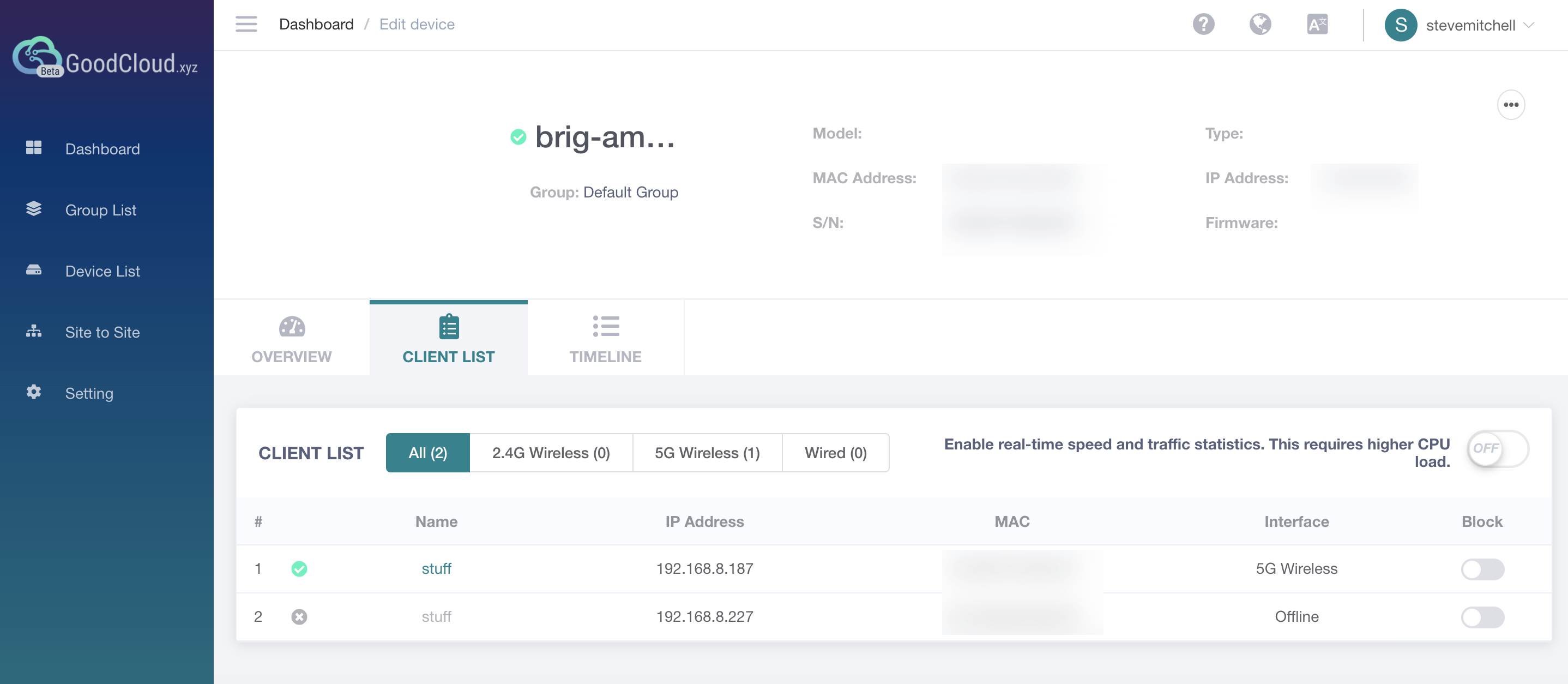 You have to opt in to this service, sign up for a free account, and add the router using some of the details on the sticker on the bottom of the unit. The information that is sent up to GoodCloud is pretty simple, and it won't allow you to connect to the router remotely and manage it. It's pretty basic at this point, but I would not be surprised if they are adding to it.
Peplink and Cradlepoint have extensive cloud management systems which allow you to manage almost all aspects of the router remotely, and are great for managing multiple devices. The best feature though is being able to remotely connect to the router in the event of a catastrophic issue both by you and by support. It would be great to see GoodCloud add this.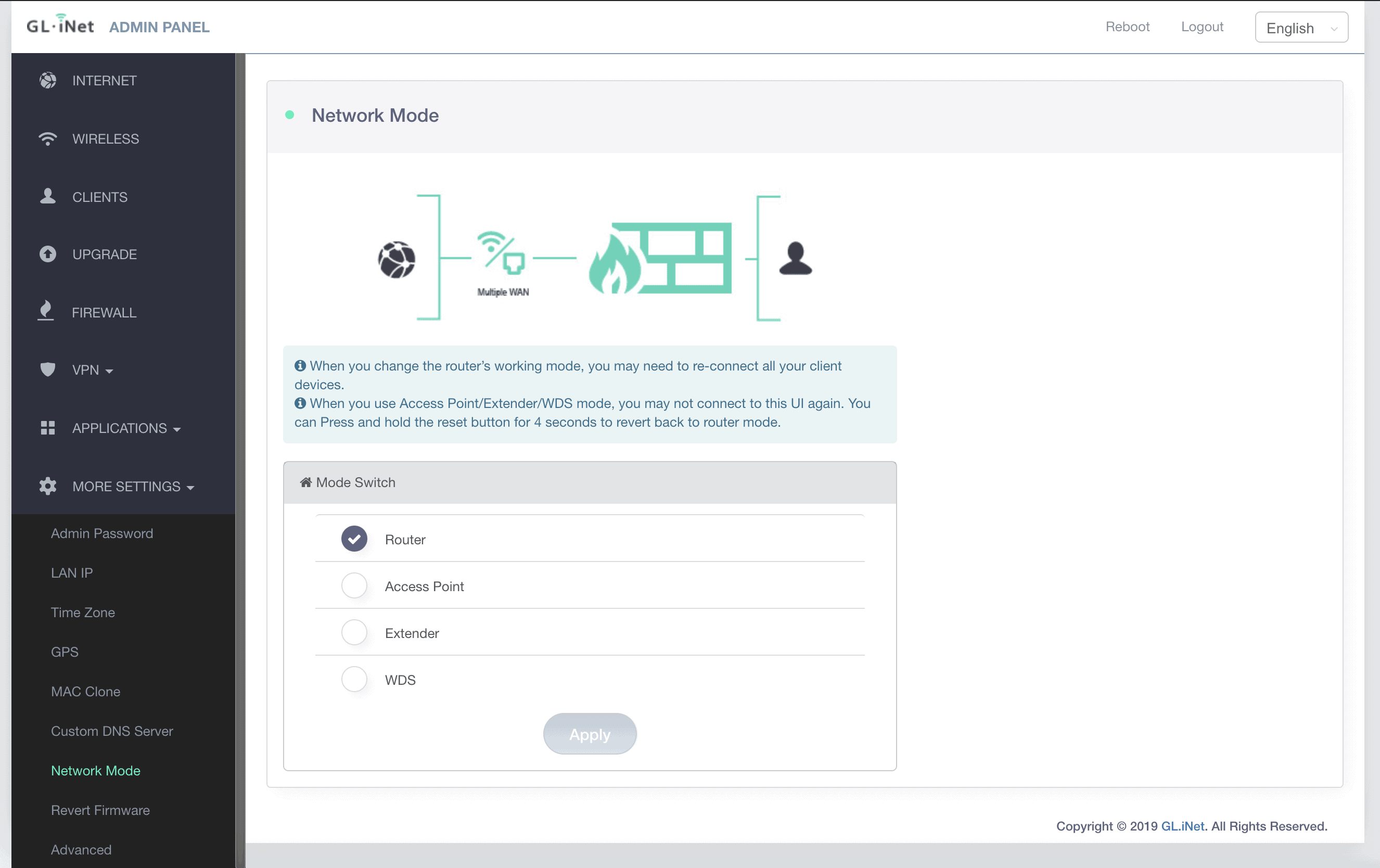 There are a ton of other settings including admin passwords, changing the local LAN IP, timezones, and more. You can also change the network mode, which was part of one of the wizards on the dashboard as well.
If you click on Advanced, you're taken to LuCI, which is the OpenWRT web interface. I've had hit or miss performance with this – sometimes taking several minutes to load. It doesn't provide much functionality, but if you prefer OpenWRT, you know what you can do with it.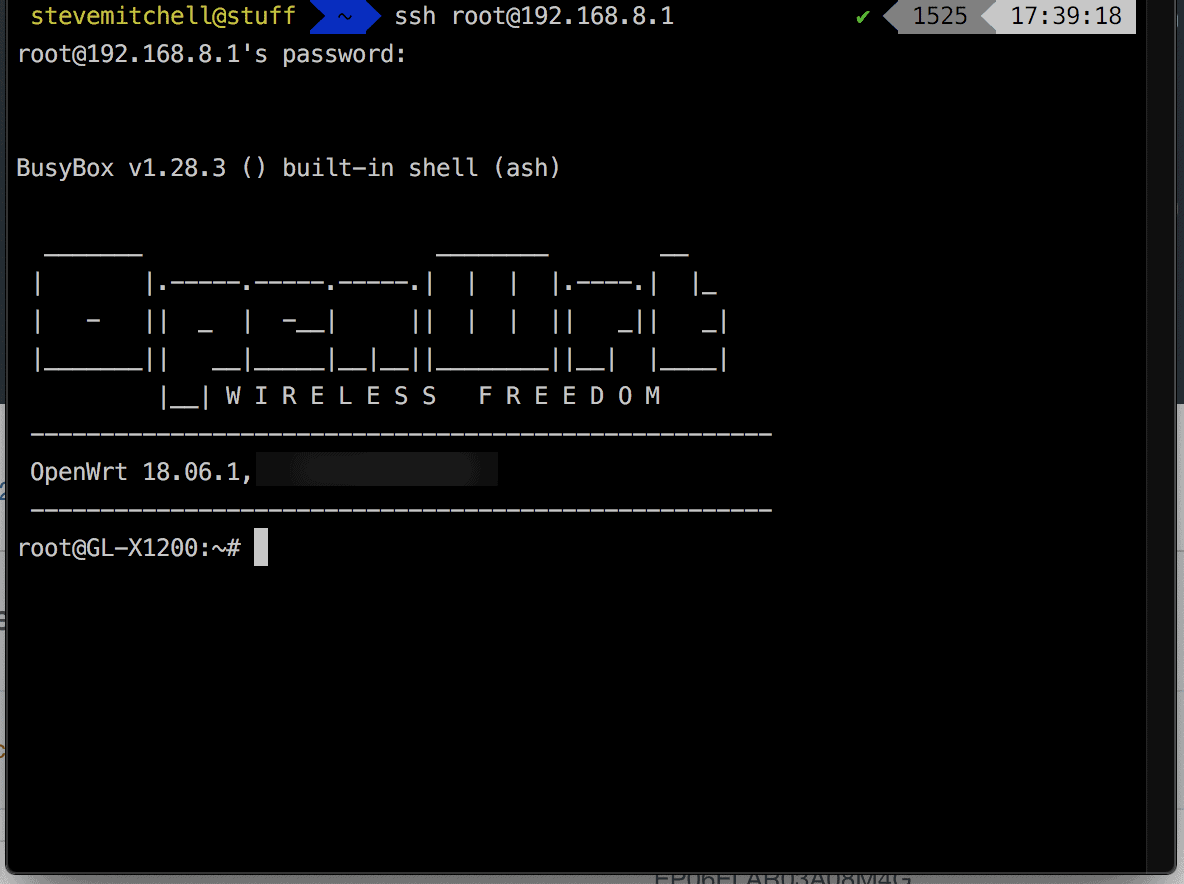 The other method of managing the router is via SSH. Using the username "root" and the admin password you setup, you can connect directly in.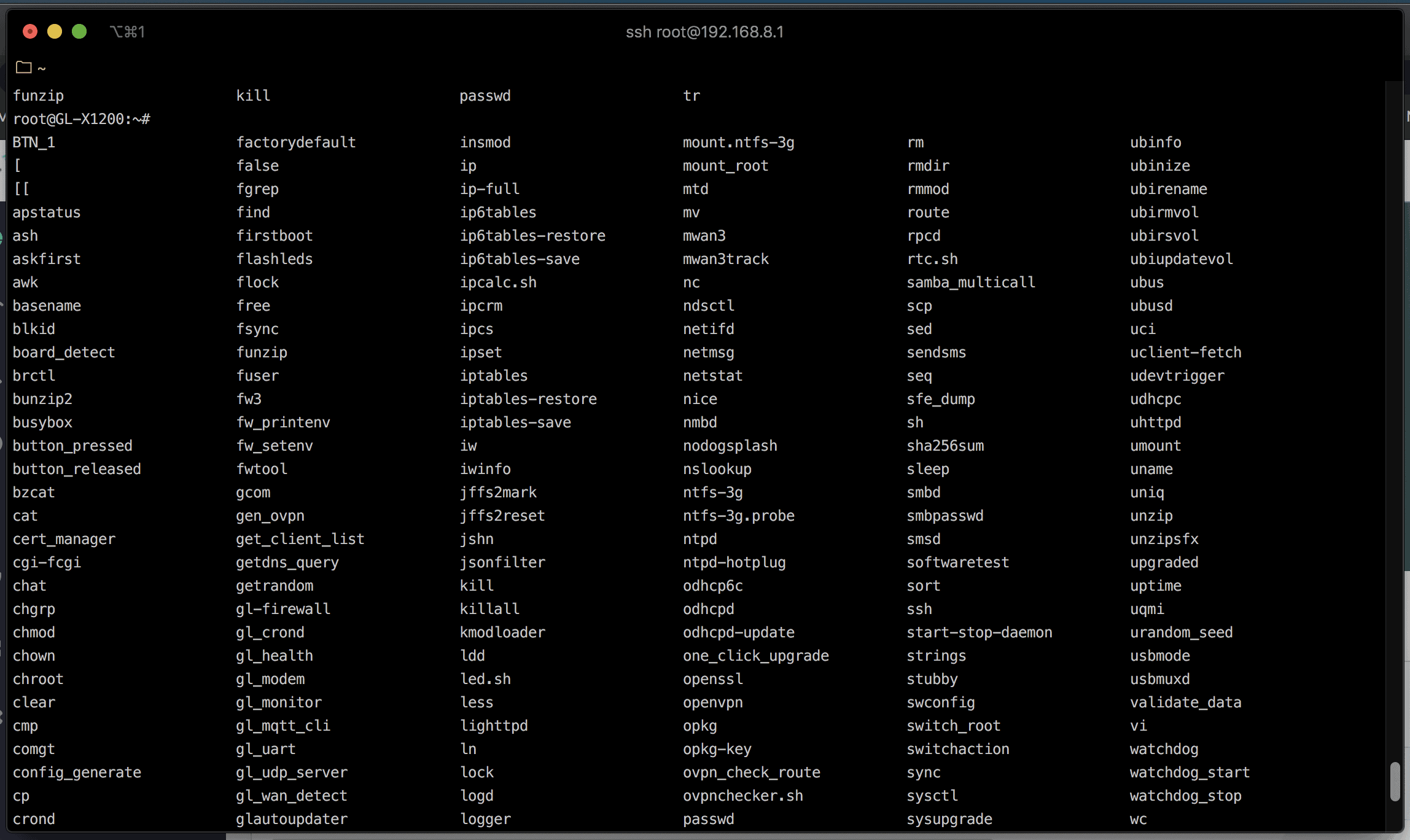 Just like in OpenWRT, there are ton of commands you can use to do everything you saw in the web interface, and even more.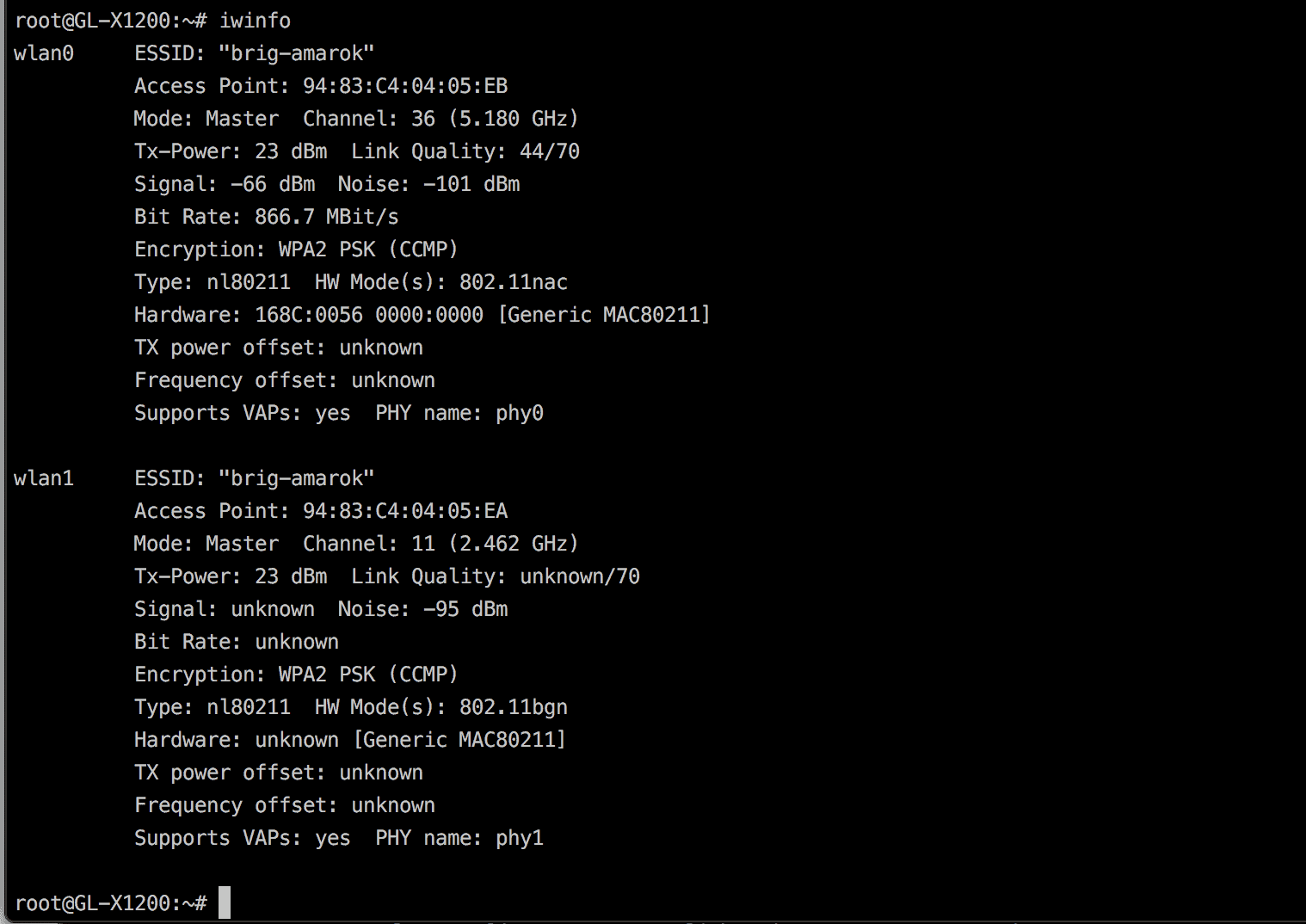 For instance, you can query the WiFi radios and see how they're setup, what transmit power they're broadcasting at, and a lot more.

You could use a more complicated query like the above to ask the modem what the signal level was.  This opens up a lot of opportunities for automation and data gathering that aren't as easy to do on other products.  You could use a script to record the signal information every few minutes to build a picture of how a particular antenna was performing, or change WAN/LTE devices based on SignalK things happening on your boat. If you're an automation or command line nerd, this router is definitely something to look at.
Testing
I used the GL-X1200 for a couple of weeks as my primary device on the boat, as well as at home for a while just to test different locations. I used both the provided antennas for the LTE connection as well as the OMNI-400 and OMNI-402 external antennas from Poynting.
I had no issues, disconnects, or problems with the local WiFi radios. 2.4Ghz devices connected and were stable, which can sometimes be a problem for OpenWRT devices. 5Ghz devices had no issue either.  I had the guest network running as well (without a portal or captive page – that's just rude to my guests!) and it worked great too.
I used my MikroTik Groove on the WAN port to connect to remote WiFi networks which worked flawlessly, as expected.
I tested the LTE radios with T-Mobile and Verizon and had no issues, other than getting the configuration right initially with the APNs and modem info. I wasn't able to figure out the exact logic of failover.
Conclusion
I was really pleased with the quality of the hardware and the amount of ports, options and connectivity you get for the money. Being able to have dual LTE radios, both 2.4 and 5Ghz WiFi along with physical ethernet ports is quite a good deal considering the overall price. This could be the hub of an entire boat network with quite a bit of redundancy in terms of how you get internet connectivity.
The software does not have as many features or options as the other bigger vendors out there, but for many people it will be more than enough. Configuring WiFi is dead simple, setting up the LTE connection takes a bit longer, but once both are done, you would not really need to mess with it. It's nice to see features for file sharing, and lots of options for VPNs.
The other weird thing that I still want to figure more out about is failover
For someone who wants an all-in-one, industrial grade router with dual LTE modems, good WiFi, switch, and doesn't need lots of failover or bells and whistles in the software features, this is a great choice.
For an automation or command line nerd, this is an excellent solution that could really open up some fun options for connectivity aboard.
---
Archived Comments
These are read only comments from the old system. Scroll down to participate in SeaBits Discussions, our new interactive forum attached to each article.

Owen Anderson
June 7, 2020 at 12:03 am
Glad to hear it worked reasonably well for you!
I've been trying out its smaller cousin, the GL-X750. For what it's worth, the "Automatic" setup has worked fine for me with both my Verizon and my T-Mobile SIMs. I did install the latest firmware before testing, so maybe that made a difference.
David Geller
June 7, 2020 at 5:11 am
Another awesome post!
Gavin Gee
June 18, 2020 at 4:15 am
Oh dear Steve. you have me reaching for my credit card again!
Gavin Gee
June 18, 2020 at 4:17 am
Do you have any recommendations for content to read to learn more about the modems for US cell service providers?
Jeff Few
June 24, 2020 at 10:02 pm
Thanks for this immensely thoughtful and detailed review. I'm tempted to buy one of these to build out a network on my 38′ Tollycraft Mariner! (OpenWRT, FTW!)
But is there a different router you'd recommend if dual LTE isn't a requirement (only planning on using a single T-Mobile SIM for opportunistic LTE connectivity) and I need PoE support via the WAN port to connect/power a Mikrotik Groove?
Also, I noticed the manufacturer offers the EC25 in A and AF flavors (the latter supporting "North America FirstNet" for "first responders"?) as well as an EP06-A that supports T-Mobile (your article suggests EP06 is a no-go on TMO).
If I go for a GL-X1200, I assume I want an EC25-AF and EP06-A? Or does it make sense to equip with the two NA flavors of EC25 as a T-Mobile only subscriber?
Chris H
July 8, 2020 at 10:27 pm
Want to add that with an EP06-ALA module, my AT&T SIM card worked like a charm using Auto Setup. Also, for tech support https://forum.gl-inet.com/ is pretty active and has 4+ years of history to dig into.
Pretty solid system.
Eric H
July 23, 2021 at 1:46 pm
Really? I have an AT&T SIM in the same module and it will not configure at all no matter what I try. Weird..
Jeff Few
July 31, 2020 at 8:57 pm
Just going to leave this here for anyone else encountering Wi-Fi connectivity issues with the June 2020 X1200 firmware:
I found maintaining reliable connectivity between router and Wi-Fi devices over both 2.4 GHz and 5GHz networks to be extremely fragile. DHCP leases would be issued to devices able to connect to the Wi-Fi network, but requests to any host (including the router's management console) consistently fail after about 15-30 minutes of router uptime.
GL.iNet quickly responded with access to their beta firmware for X1200 Amarok, which seems very stable. I've had reliable and uninterrupted connectivity from every part of my boat since upgrading earlier today:
http://download.gl-inet.com/firmware/x1200/testing/
Nashi Nash
September 2, 2020 at 11:20 pm
Hello EP06 would work with Tmobile but jut not connect to 71 band. Is that what they mean by saying Tmobile not supported? Can you confirm this by switching sim card? if that's the case then we may well be using it for LTE A for the other bands. Band 71 is may not be necessary for some of us.
Diana Moorehouse
July 22, 2021 at 9:37 am
Thanks for the review! Did you test with a voice+data sim from T-Mobile? Wonder if this modem will work with my One Plus account as it's just a cat 4 modem.