Furuno released the FM-4800 VHF in late 2018, and since I was building out a new mostly-Furuno system on Rendezvous,  I decided to add one to my flybridge. I've been using it now for the whole season, and have found it to be one of the best radios I have had in a long time.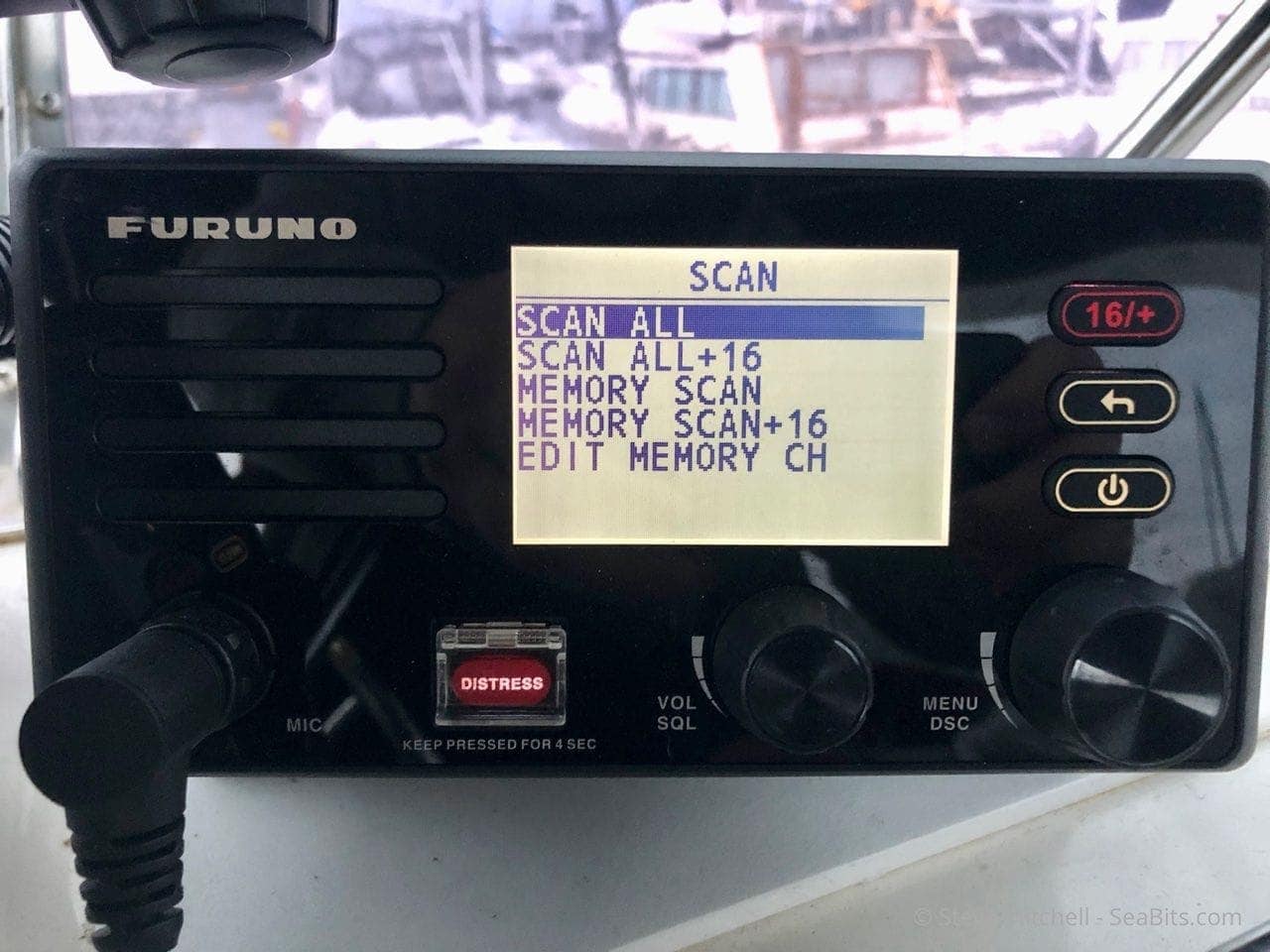 The FM-4800 is a Class D DSC VHF radio that also has a built in 72 channel GPS and a high quality AIS receiver. I use both of these – the GPS as a backup source to the other (many) GPS sources I have on board, and the AIS data is dumped onto the NMEA 2000 network and made available to the chart plotters, TimeZero on the PC, SignalK, and other devices.
You can add a second station wired handset (HS-4800) and use it like an intercom between locations, add an external speaker (SP-4800) and it has loud hailer with listen back capability as well. You can delve into the full specs at Furuno USA's website or on Furuno.com (Furuno USA's Japanese parent site).
There is also a black-box version of this radio, the FM-4850, which uses the HS-4800 handset as the primary interface. You can have up to three handsets connected to the base unit.
Furuno did a nice video overview of the radio on YouTube which was helpful to me before purchasing.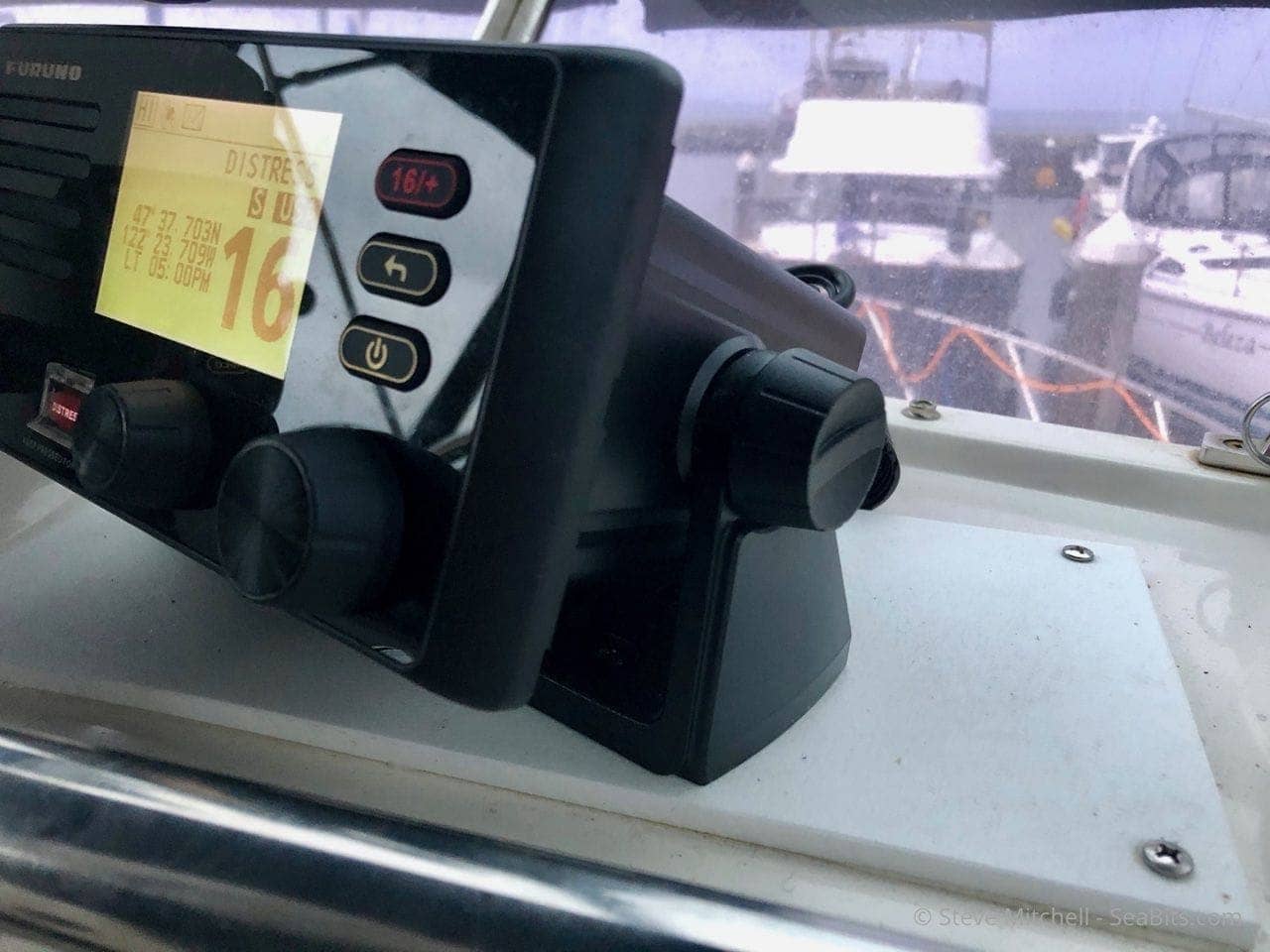 The case itself is very well built, and matches the current line of Furuno products. It comes with a bail mount and hardware to flush mount as well.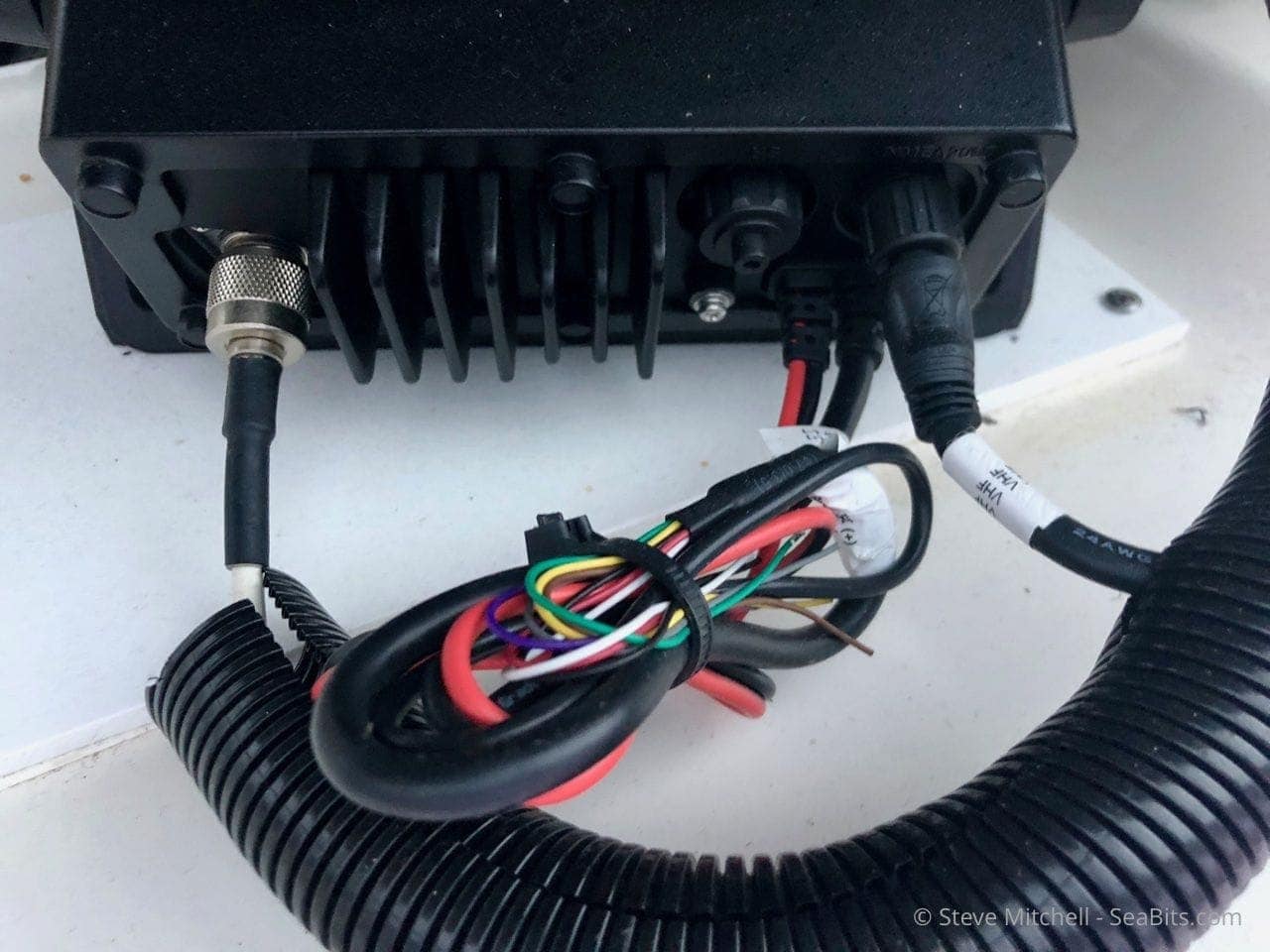 The back of the radio has a number of wires / connectors including:
VHF antenna
NMEA 2000
DC power connectors
NMEA 0183 in/out
Ground connector
External speaker wires
Horn / loudhailer wires
Extension connector for wired HS-4800 handset / SP-4800 speaker
I used the VHF antenna, NMEA 2000 and DC power connectors.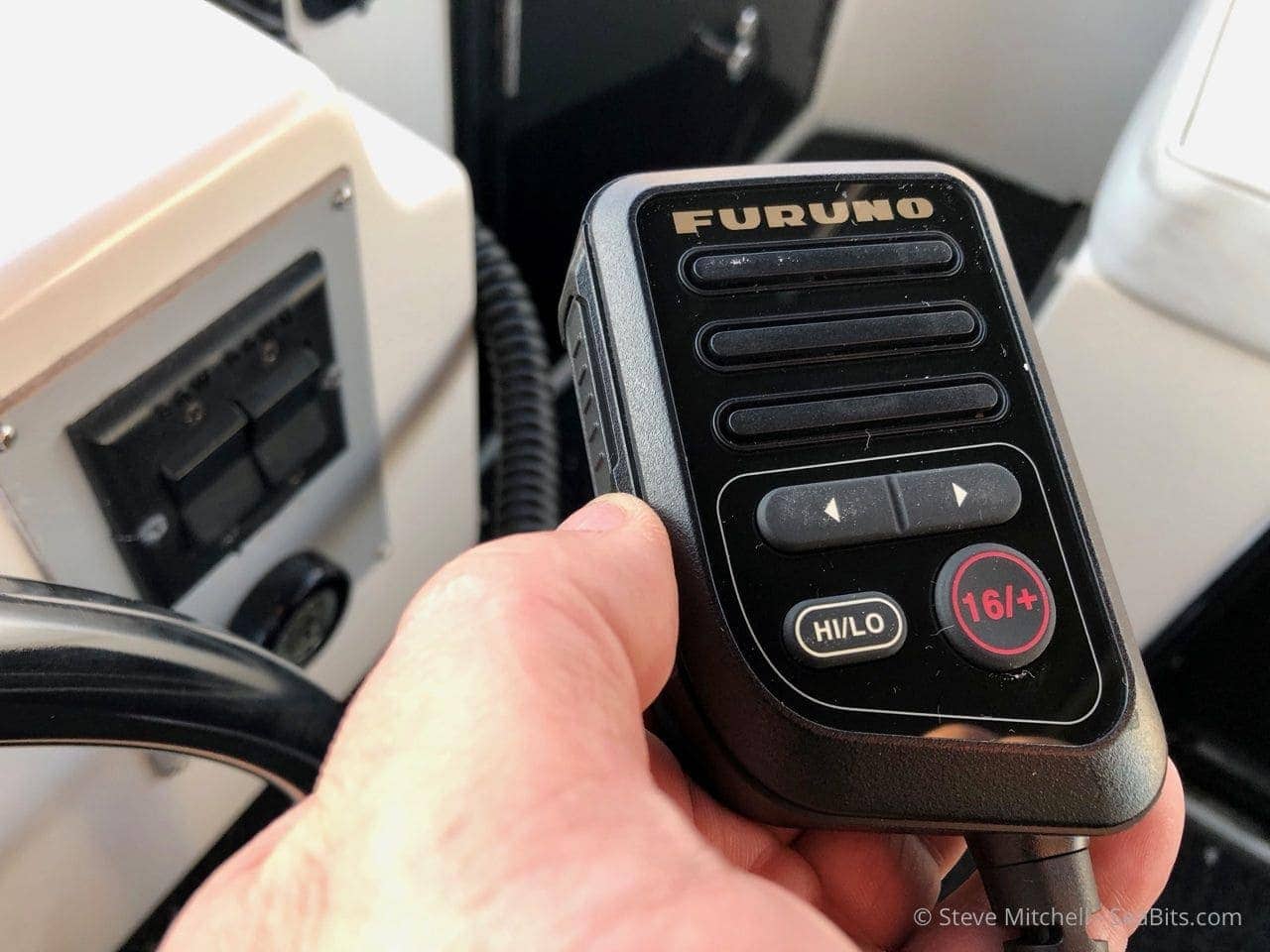 The microphone is a cool shape, and I really like how well machined and heavy it feels in the hand. In particular, I really like the nub on the back that slides into the retainer to hold the mic – that is some nice metal work there!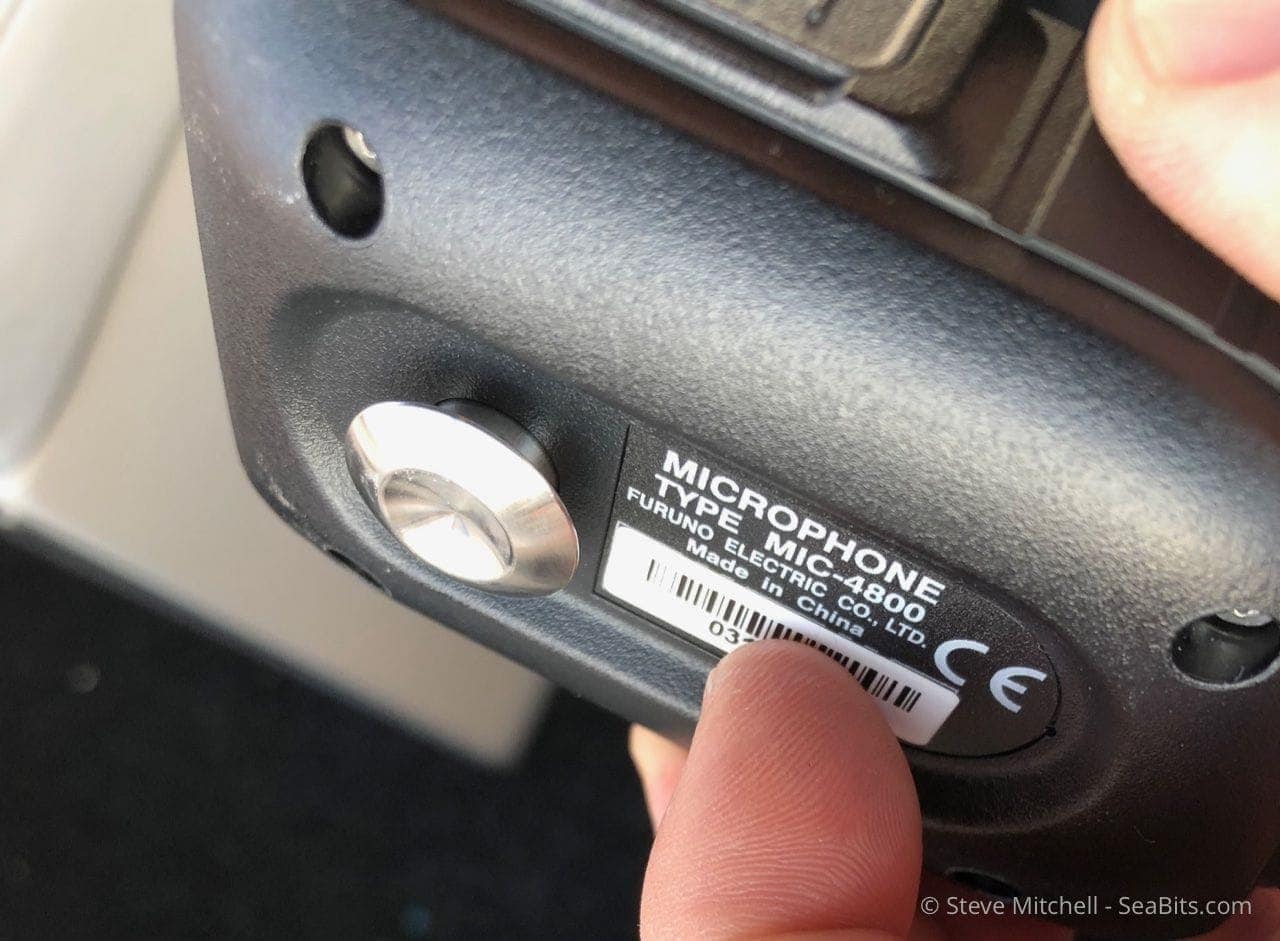 It can be a little difficult to get the mic out of the holder, and I have accidentally hit the transmit key a few times as a result.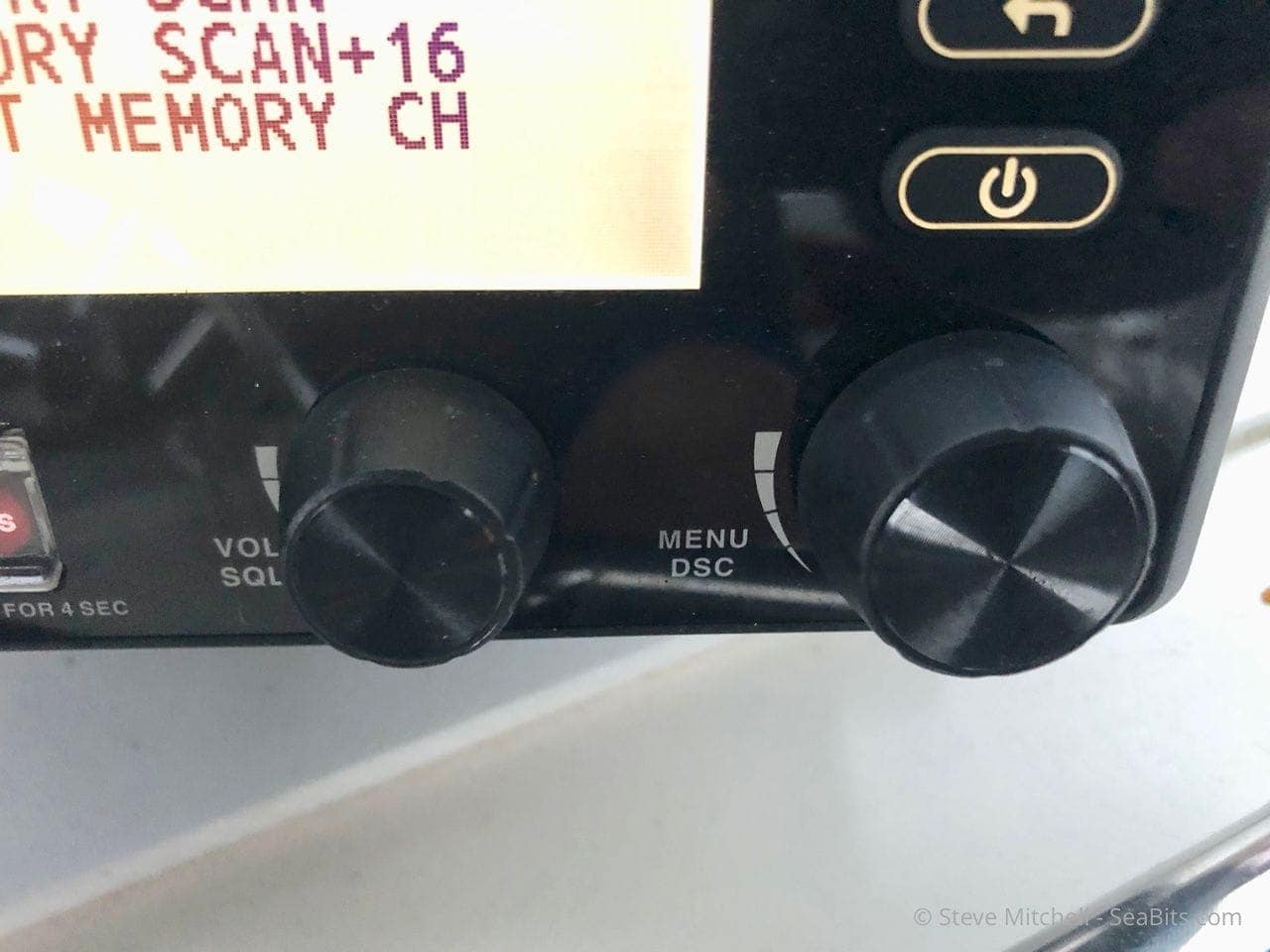 One of my favorite things about the radio is the robustness of the buttons and wheels. They're big, so you aren't searching around or bumping in to other dials, and they click and push very firmly and feel like they are well built.
The other thing I really like is their size and function – the smaller one is only for volume and squelch. Twist it right away, and you're adjusting volume. Press it in, and you're adjusting squelch. Nothing else, no soft keys, just quick and easy. The right one is noticeably bigger, and you can twist it to change channels or choose menu items, and press it in to get to the main menu.
It's really nice to not have to look down at the radio to identify which soft key I'm pressing – you get used to the size of the buttons and know exactly what you're doing by touch. I also really like the big back button that allows you to get out of wherever you happen to be.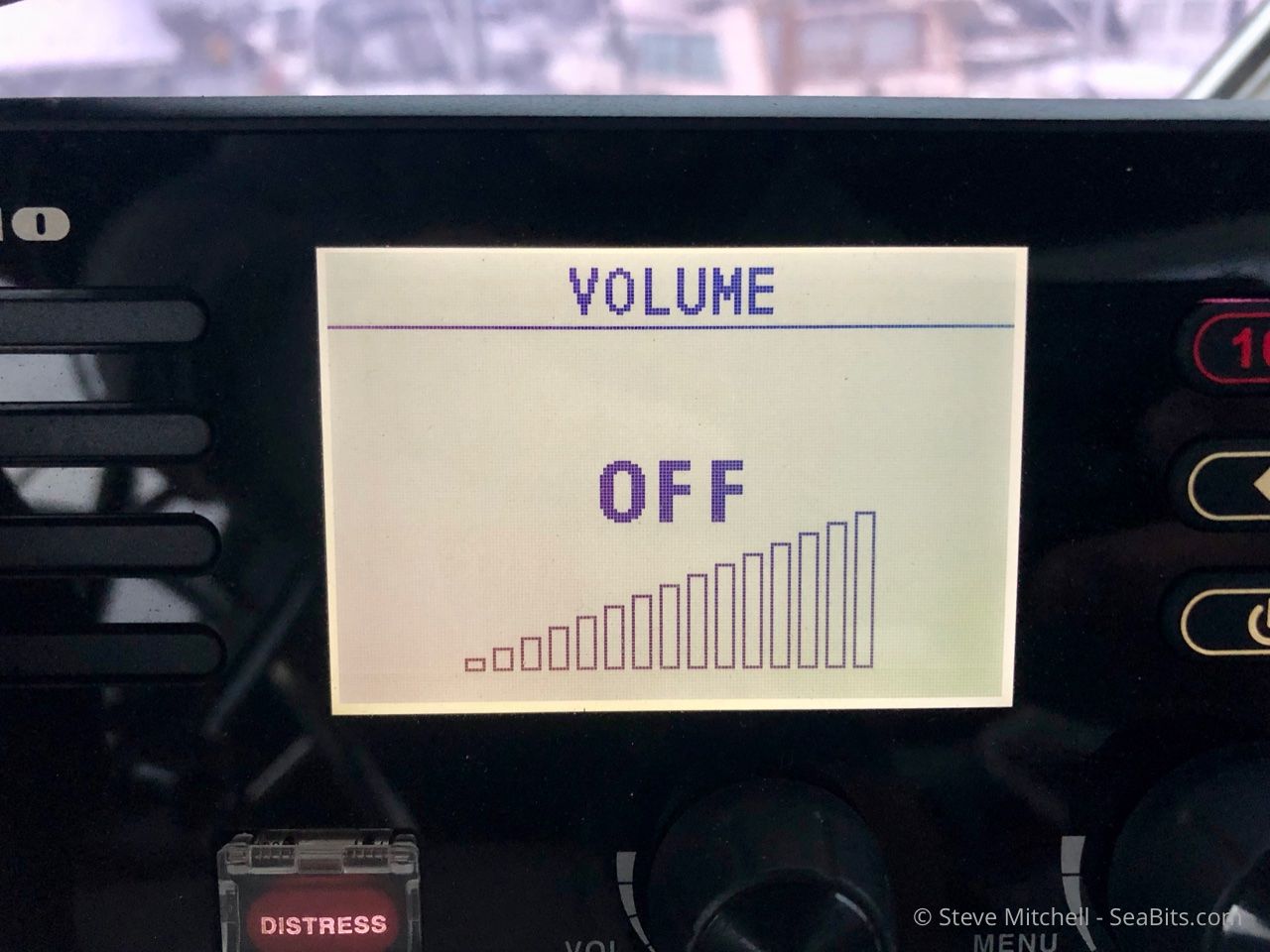 The speaker volume is also a nice surprise – while at the dock or at anchor, I can never go higher than a 4 without it being too loud.  Underway is usually a problem for most radios, especially with loud engines or music, but not for the FM-4800. It has volume to spare – I usually have it at 10 while playing music and underway, and can hear very clearly. It goes even further up – I believe to 15 – which is super loud. It also has a very clear sound, where many other radios I've had have distorted at higher volumes, or just pass the treble through, making it painful or hard to hear details.
Software / Menus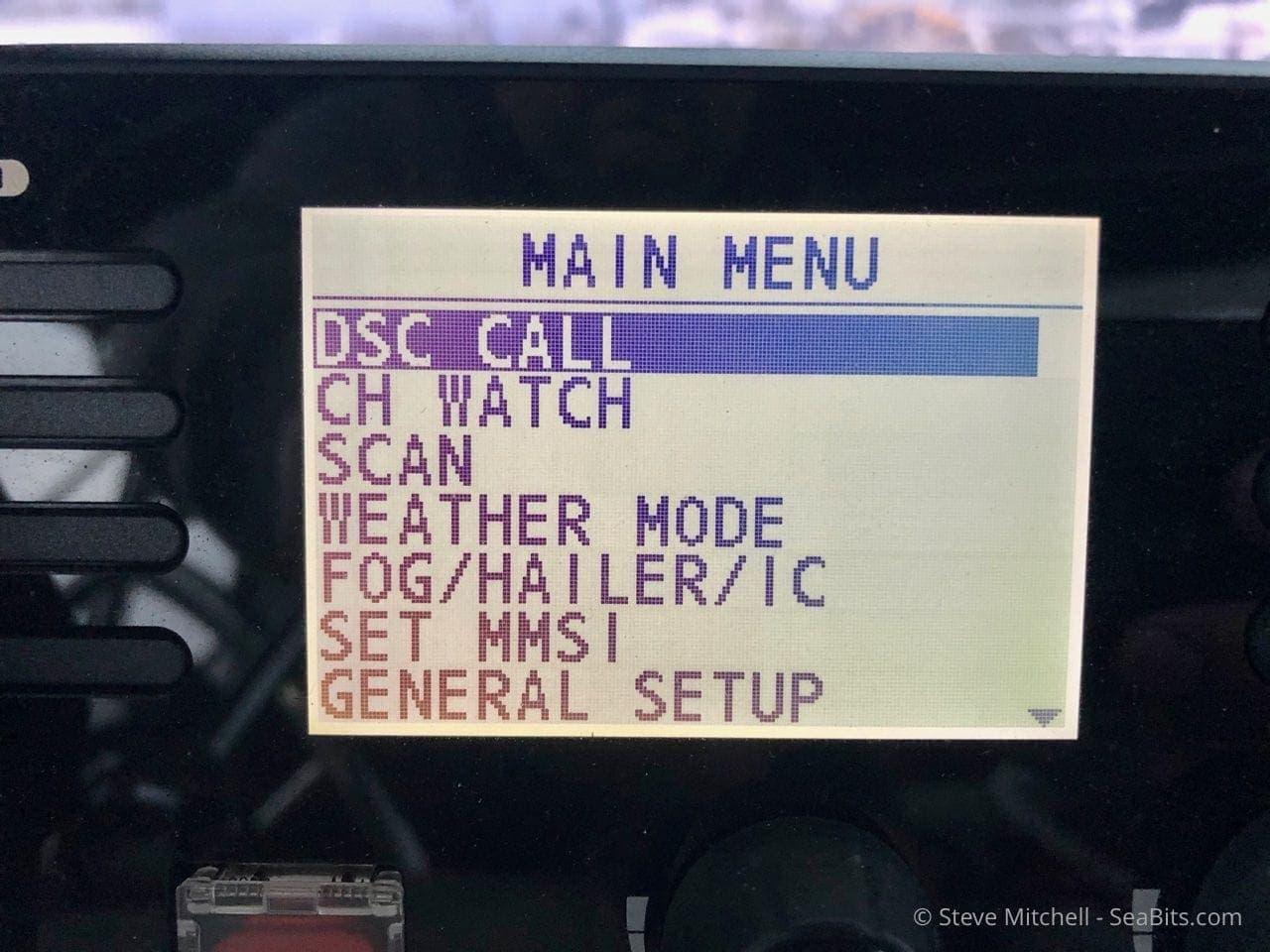 The menus within the FM-4800 are easy to use, and organized in a pretty logical way. There are bunches of options for the various settings around DSC calls, beeps, screen contrast, and lots more.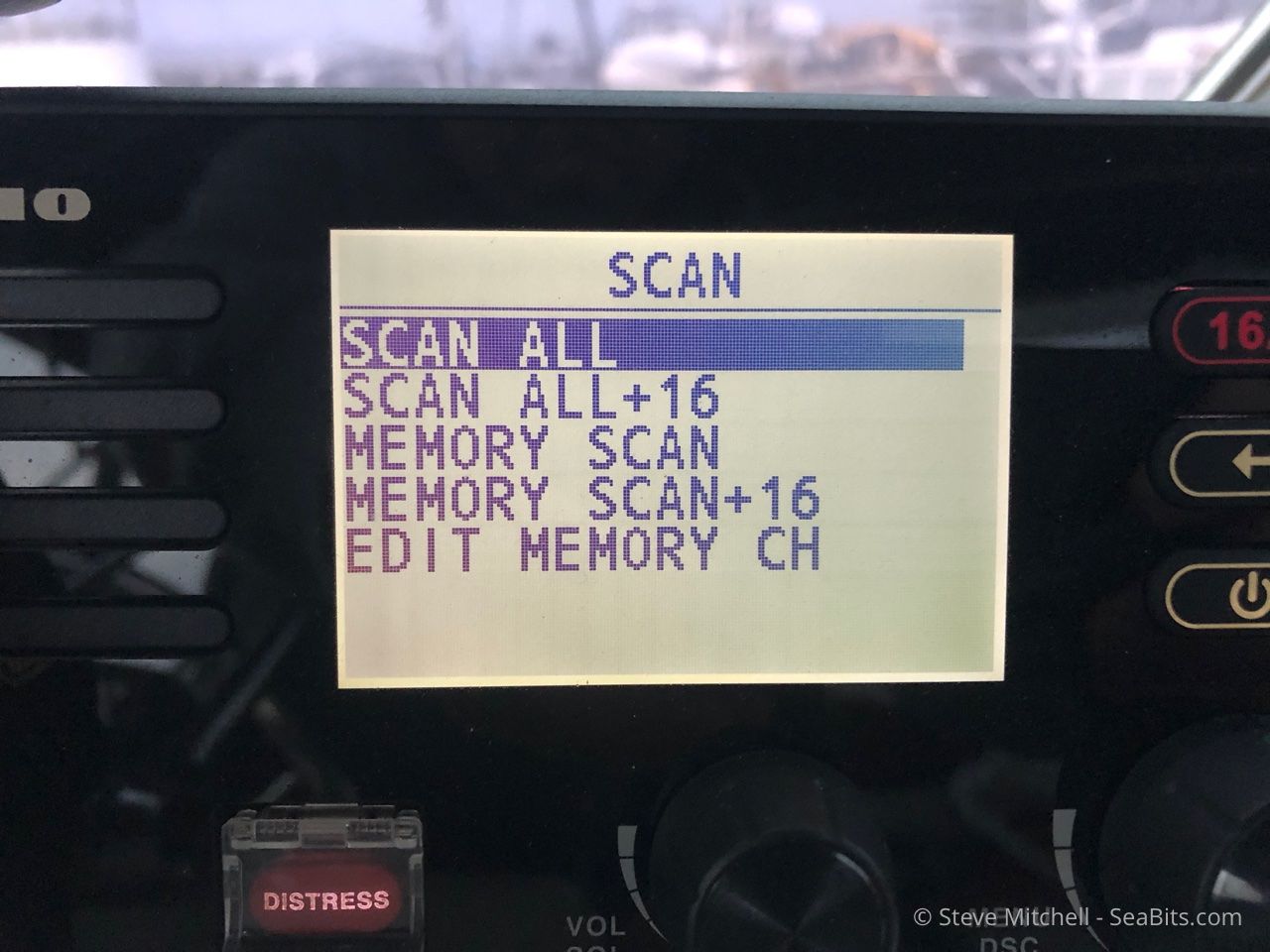 The scan behavior is very important to me on a radio. A few years ago, I had a B&G V50 radio with wireless handset which I reviewed at the time, and really liked a lot of the features. I grew to hate it because of it's weird scan behavior – while listening to a channel with active traffic, it would still flip through the other watched channels very briefly, causing a gap in the transmission I was listening to.  Annoying.
The scan behavior of the FM-4800 works for me very well. You can choose very quickly what you want from the menu above. I usually have a pre-programmed list of memory channels for the area I'm in. In my home area, that is channel 13 (ship-to-ship for the big stuff moving around in the bay/channels), 14 (vessel traffic services for Puget Sound), and one working channel – 68 or 69. So I choose Memory Scan + 16 and off I go. This is probably the most used menu item that I click into every day.
Other radios have similar setups, and they all work about the same – I find that this one is quick to start, although there is no dedicated "scan" button from the home menu – you have to hit the menu key, then choose Scan, then Memory Scan +16. It would be great to have it on the main screen for quick access.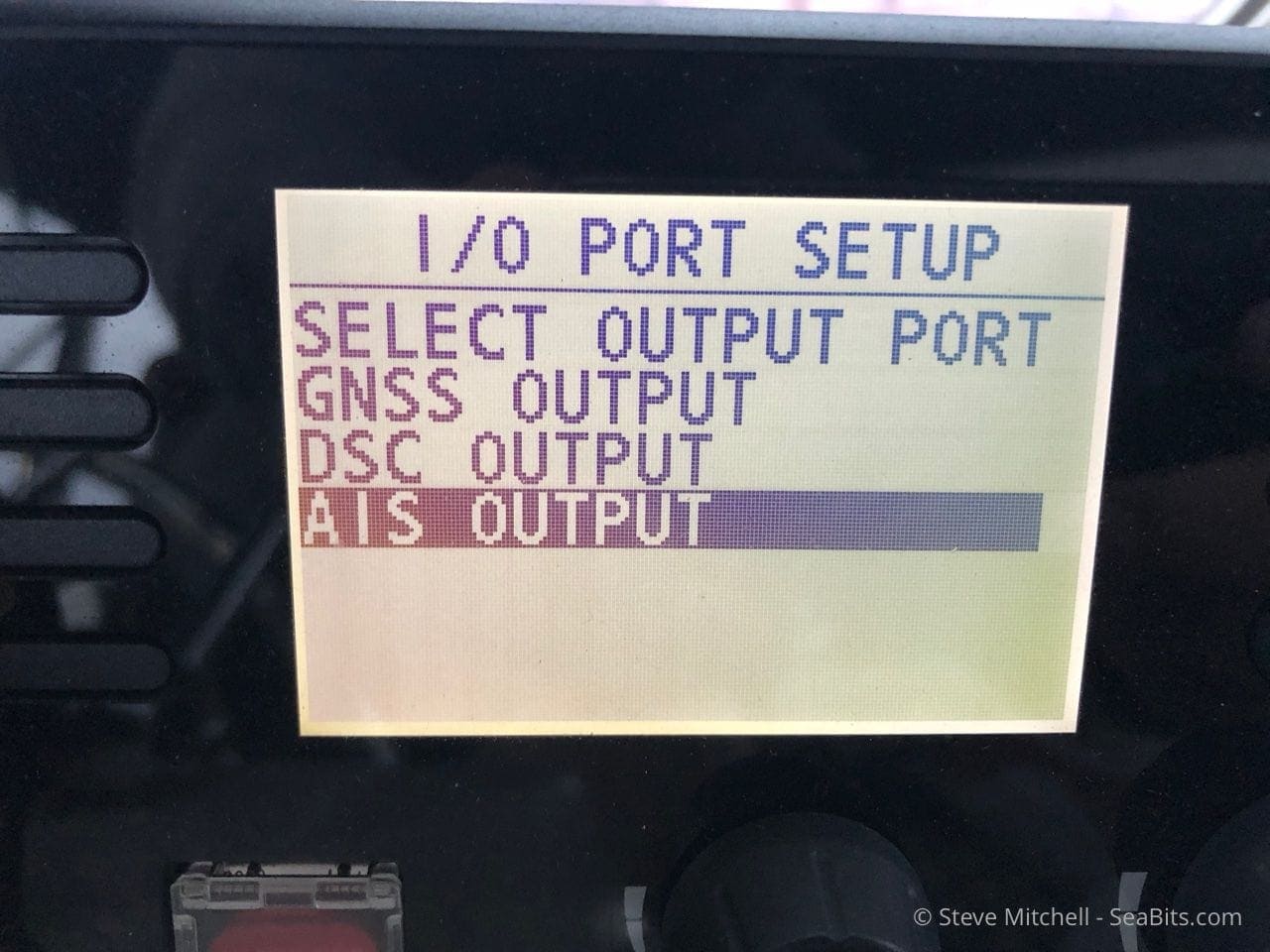 The radio has a lot of nice config options for how you want to handle data going in/out of the radio. You can turn on/off the GPS, DSC, and AIS separately, which is very granular. Several other radios I've used in the past have a less specific approach, so it is nice to see all of the options here.
In general, I am not disappointed with any of the menus or configuration options. Everything that I wanted to tweak, turn on/off, or otherwise adjust had options to do so, and were pretty easy to find.
Chart plotter integration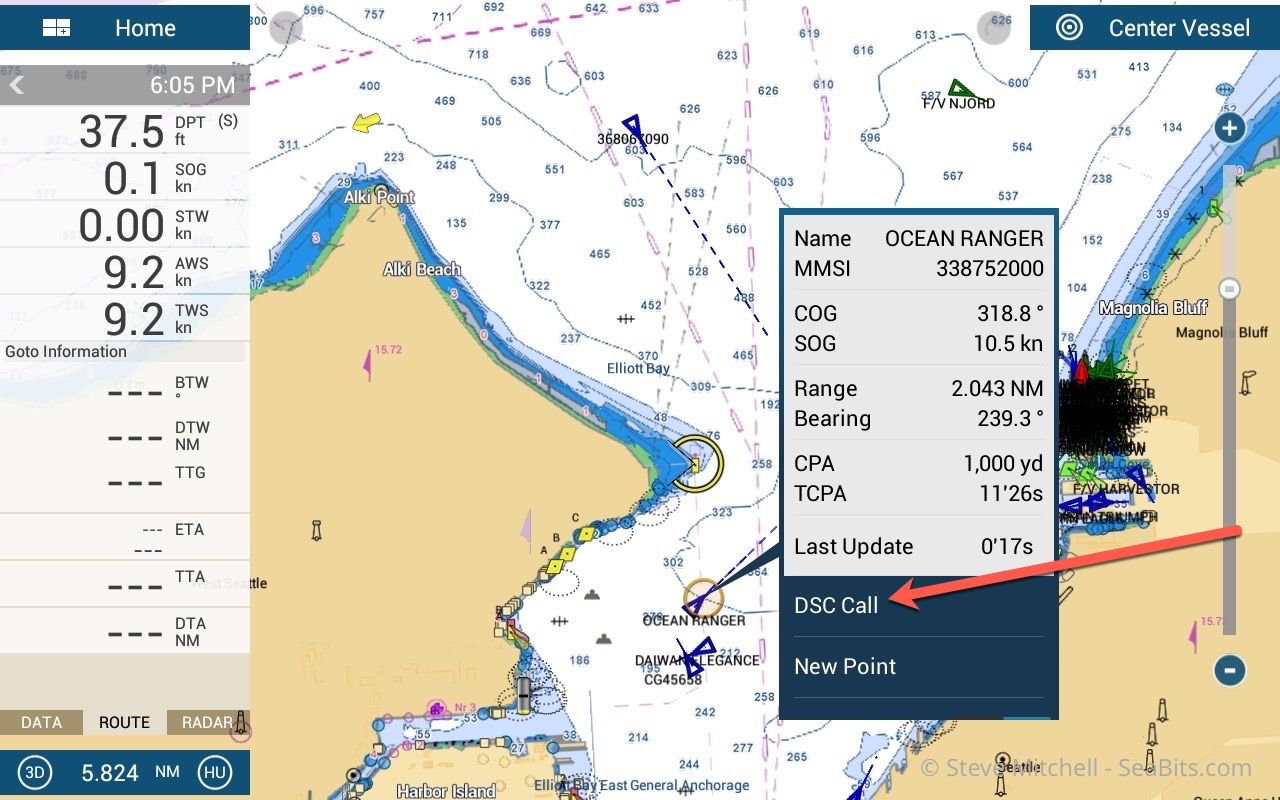 There has been a long history of radios trying to work with chart plotters for DSC calls, many fraught with bugs, integration stumbling blocks, or weird setups. I'm happy to report that if you use a Furuno TZT2 series chart plotter, the FM-4800 will integrate without any additional configuration, provided you have them both on the same NMEA 2000 network.
In the screen shot above, you can see that clicking on an AIS target has a new menu item right at the top of the list – DSC Call. Clicking this immediately sends the info to the radio, where you can hit OK and initiate a call. I like that there is a pause so you can fumble around for the mic and get ready to stay something meaningful.
I actually haven't tested someone making a DSC call to me with the chart plotter on. I know the radio works fine for incoming DSC calls, but I don't think there is any integration where the chart plotter does anything with an inbound call.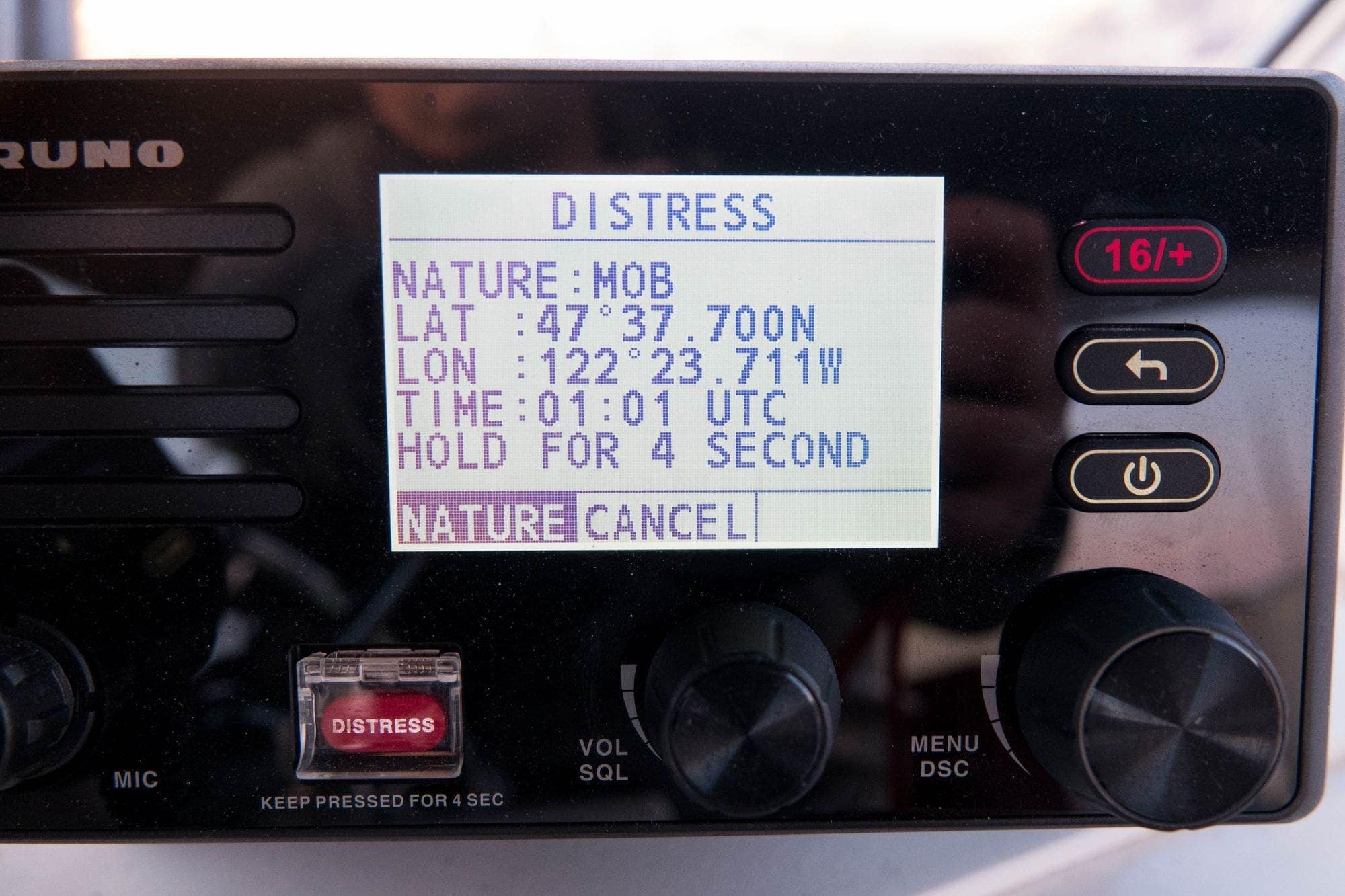 If you hit Man Overboard on the TZT2, you'll also get an automatic distress message on the FM-4800. The message pops up immediately on the radio, and includes the nature of the distress (MOB – man overboard), lat/long, time, and a prompt for you to hold the menu button for 4 seconds to activate this DSC alert. At that point, it would be transmitted out as a legitimate DSC distress call, and answered by the various authorities, if you're in range, and set off all other nearby DSC radios.
General Use
This radio is installed in my flybridge next to two Furuno TZT2 MFDs,  a NavPilot 300, FI-70, and a few other instruments. This is my primary driving  location, and as such, I use the radio at this location most of the time.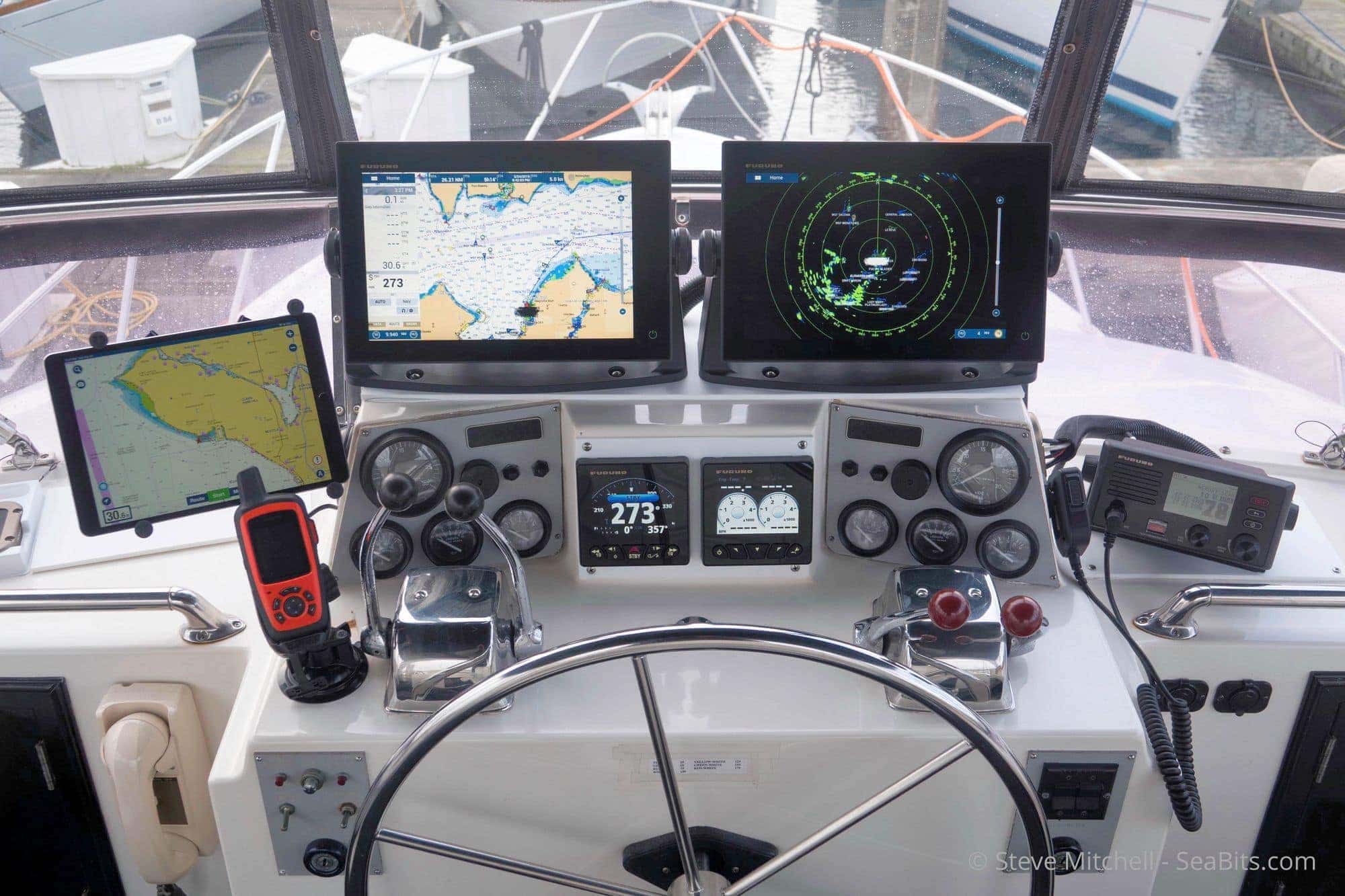 With the FM-4800, I have been able to hear everything I needed, adjust things quickly with the big knobs, and generally not think about it or be frustrated by it. Crew have used it extensively while helming and have been able to use it easily, and hear things very well.
I can't understate that last point – crew usually have difficulties hearing any VHF radio I've used in the past, mainly because they're just not as used to how quickly people speak, or some of their terms. This radio has really high quality audio, and it can get very loud without distortion.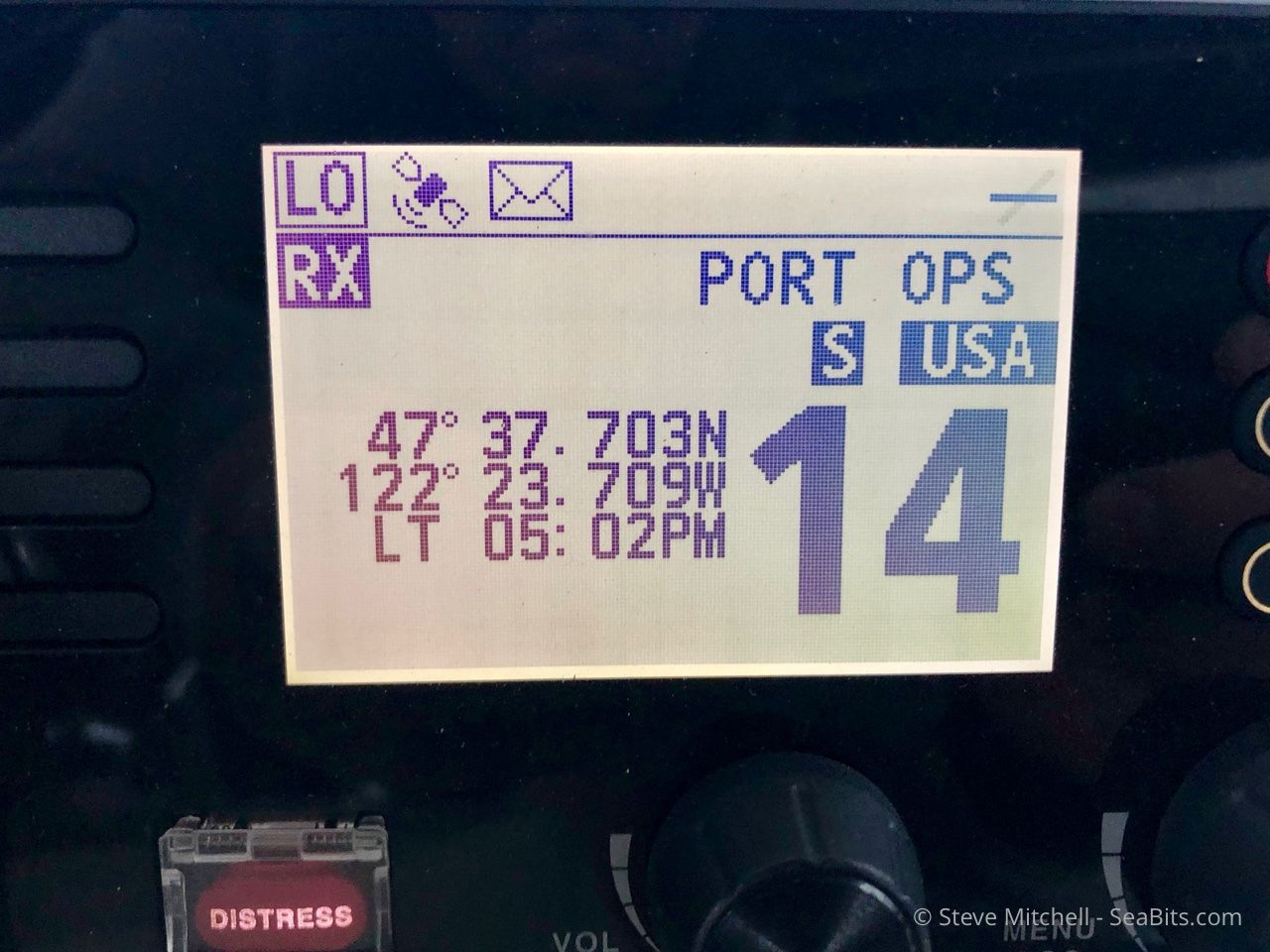 The GPS lock on speed for this radio is amazing. Even without being connected to NMEA 2000, it can go from cold to having a GPS signal in less than 30 seconds. With it connected to NMEA 2000 it is even faster, as I assume it augments its startup process with existing GPS data on the network.
Wrap Up
Overall, I am very pleased with this radio. I've used it for around 9 months now throughout the majority of my boating season. It has been in use in very busy areas (Seattle) and longer distances (Desolation Sound) and I have not had any major issues. People can hear me well, I can hear them too, and I can control and configure the radio quickly without too much fuss.
If you have Furuno TZT2 chart plotters, this is a great addition to have. Even if you don't, the robustness of the speaker, quick GPS time, and AIS receiver are all great things to have in a new radio.
Favorite Features
Clicky, easily identifiable  buttons
Amazingly loud speaker
GPS startup time
DSC integration with Furuno TZT2 MFDs
Room for Improvement
Tightness of mic mount
Quicker access to Scan menu
---
Archived Comments
These are read only comments from the old system. Scroll down to participate in SeaBits Discussions, our new interactive forum attached to each article.

disqus_oJTSIquwGx
January 4, 2020 at 8:48 pm
Hello, Great article, thanks. We are just installing our Furuno FM 4800 VHF and are not getting any power. We were hoping to test before soldering. Did you have to solder first to get power? Thank you.
Wallace Grommet
October 3, 2020 at 11:57 pm
Just a general question. How much range should we expect from a marine vhf radio??? Are some channels/frequency bands better at distance transmissions? Since installing a new sailboat masthead antenna 5 years ago I have lacked the ways and means to conduct a thorough field test, until now. Anchored out in Padilla bay for a few days near Cap Sante marina, I realized that a fellow boater had relocated recently to Blaine, so I called him up, and hashed out a plan for a radio check. I would transmit starting on channel one, and repeat the process ascending the channels. The distance between our stations is 34.2 miles, with significant topography obstacles so I didn't have high hopes at all. Surprise! Good reception was achieved on channel one, but on successive transmissions on higher channels the signal became weaker and noisy. Now I am faced with summarizing the results and deriving some rules of thumb etc. for effective vhf radio operation at long distances.
ilham
February 22, 2021 at 11:40 pm
Thanks for the helpful video, I purchased the FM-4800, I try to connect with Furuno radar 1945 series with NMEA 0183, and then radar 1945 can't show up target AIS
so what can I do about this situation?