B&G V50 VHF radio and H50 wireless handset
I needed to replace a non-DSC VHF radio on my sailboat, and needed a helm station too. B&G offers a state of the art VHF radio with wireless handset that worked out perfectly.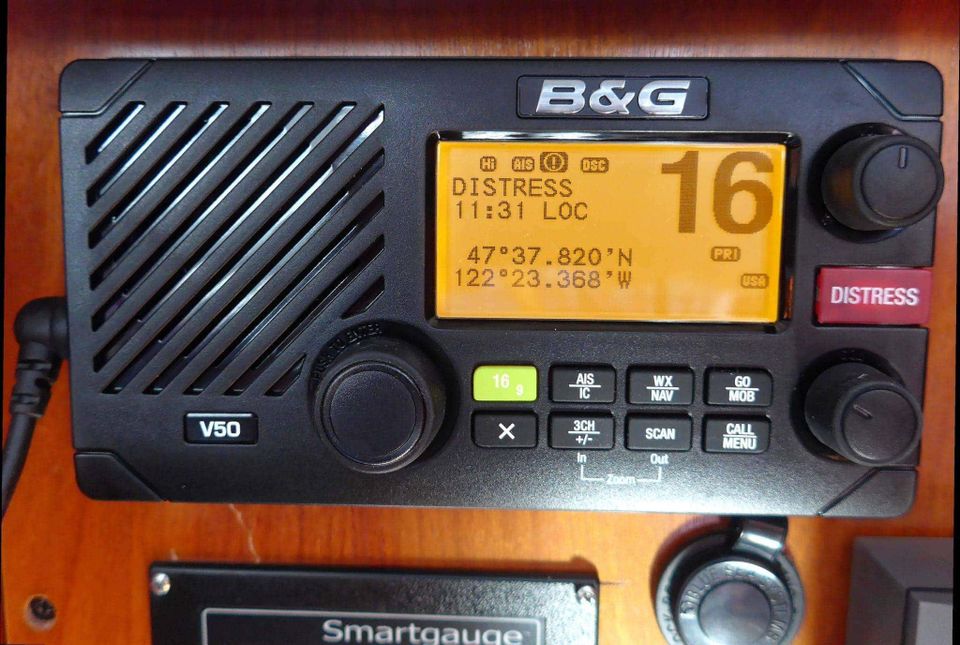 After last year's first official trip and a rescue where I spent almost 2 hours on the VHF radio with the Coast Guard, I made it a priority to upgrade Grace's capabilities to be more safe and usable. That experience was early on in Grace's life with me, and the VHF radio, cabling, and antenna were absolutely abysmal. I also wanted a DSC capable radio for my crew to use in case of an emergency because of it's ease of use.
Note: I no longer recommend this radio after having major issues with the wireless handset and scanning.
After a lot of thinking and considering, I ended up going with B&G's V50 base along with an H50 wireless handset, a VHF splitter, and updated VHF antenna from Vesper.
The VHF radio is extremely important on the boat. Besides being an important safety device, I also listen to it religiously when in Elliott Bay because of the sheer amount traffic going back and forth. Not being able to hear when the Washington State Ferries are departing various places around the bay makes me nervous. Grace had a functional VHF, but I couldn't hear it from the cockpit at all.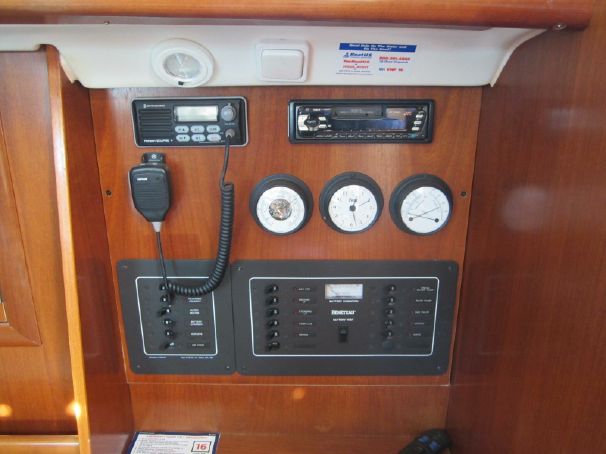 Original VHF radio
My first order of business was to check the VHF cabling from the radio to the mast itself. I found poorly installed push-on connectors at both ends which I immediately replaced with soldered connectors. That alone improved the quality of the transmissions on the existing VHF radio dramatically.
Then I began my search for a replacement VHF radio and remote station. My primary criteria were:
Strong & powerful base unit
Wireless or thin wire remote station for cockpit
Easy to use – mainly for crew members in case of emergency
DSC capable (as if you can buy anything that isn't nowadays)
Secondary "nice to have" criteria were:
NMEA 2000 connectivity or stand alone GPS
AIS display / support
iCOM is the favorite of my radio-geek friends, but it had features I didn't need, and required a pretty thick cable run between the nav station and the cockpit, something that was really quite difficult with the current layout. I also have found their user interface to be somewhat confusing for a non-technical person – a concern when you have a crew member using the radio.
I spent a number of hours in my local marine stores playing around with all of the different models available, trying their features, annoying the sales people, and generally learning as much about each one from a user experience perspective. If you go read spec sheets online for all of the major manufacturers, you won't find that there's much that differentiates one radio over another – the basic feature set is pretty similar for everyone. It's the smaller user experience and design features that seem to set each apart.
Jammy had a Simrad RS35 VHF at one point, which is similar to the B&G model, but I ended up returning it after having a failed unit on initial install. After reading a bunch of reviews on the B&G solution, and talking to others who had the V50, I took the plunge and ordered the B&G V50 base station with the H50 handset. One of the key things that convinced me was that many people had said the B&G version had all of the bugs worked out of it that were present a few years ago in the Simrad offering.
Equipment List
The full equipment list is below:
VHF Splitter
While I would prefer to have a dedicated AIS antenna, real estate and cable runs don't allow me to at this time. I also chose to use a matched antenna that is compatible not only with the splitter, but my existing Vesper XB-8000 AIS Class B transponder that I moved over from Jammy to Grace.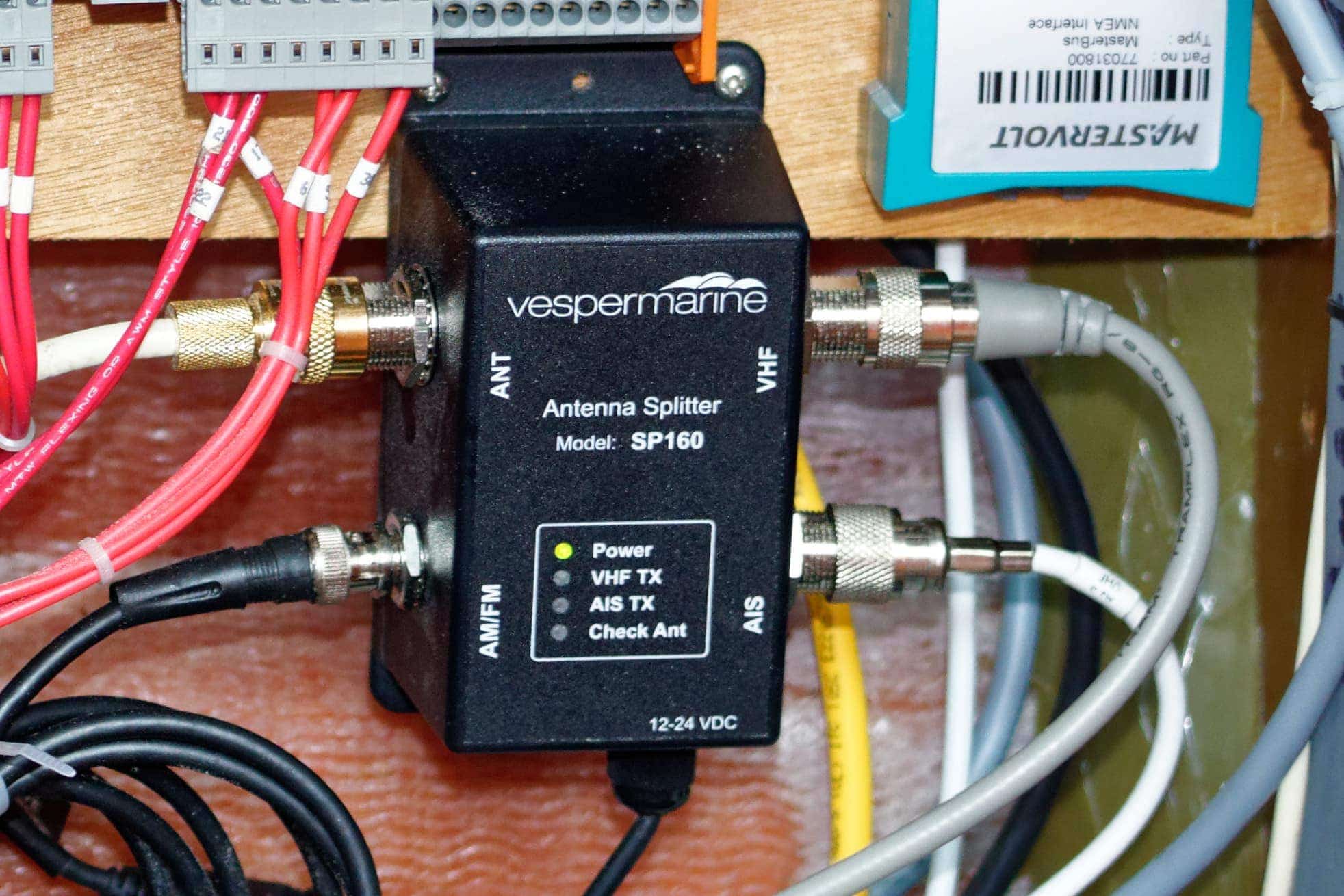 The splitter and antenna were easy parts of the install, and didn't require much effort. Of course, I paid to have someone shimmy up the mast and swap out the old VHF antenna as I am terrified of heights!  Longer term I would like to move the splitter away from some of the power wires in my nav station area, but for right now, the existing cable going to the mast is not long enough.
Base Unit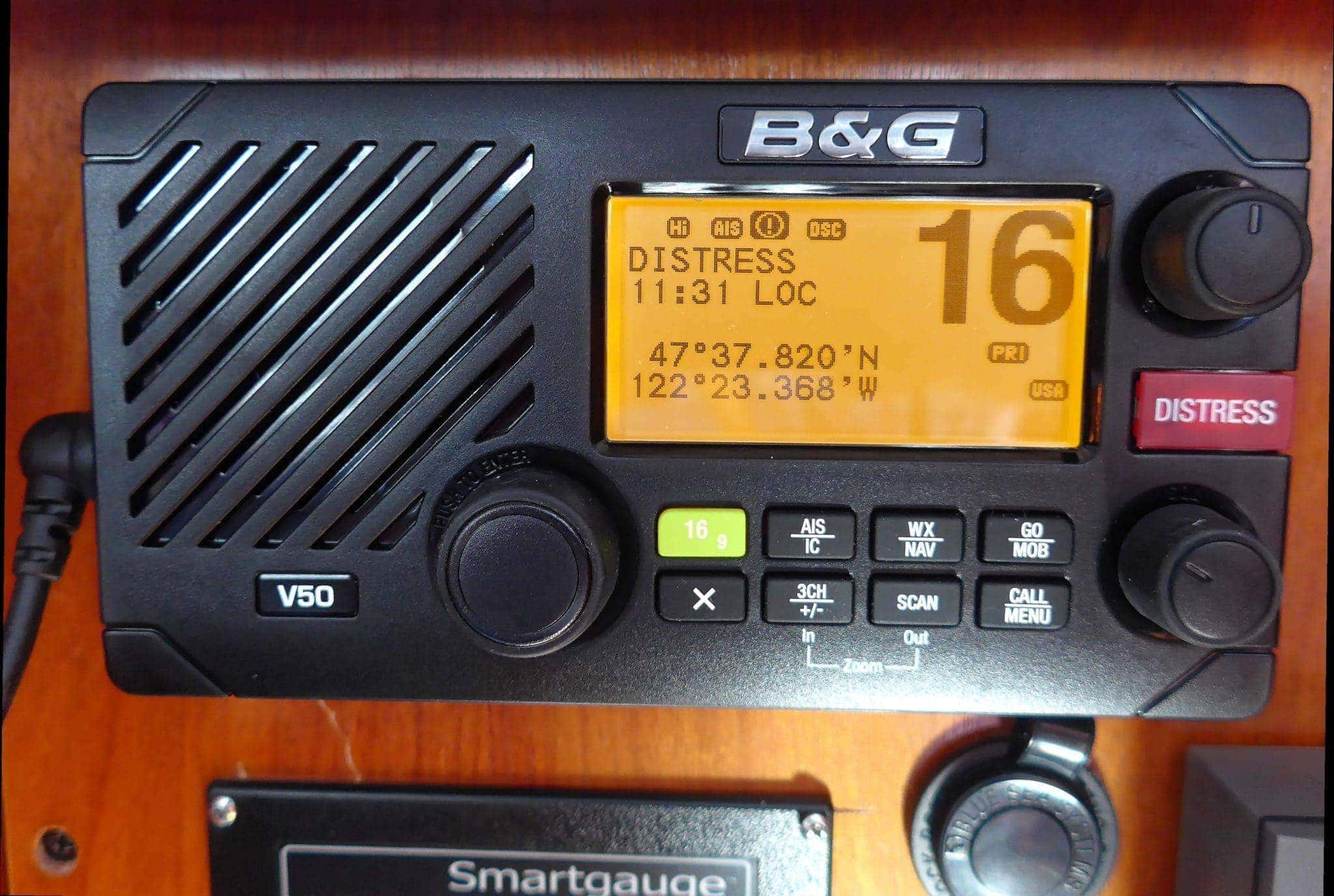 The V50 base unit is extremely well made with a huge, clear display, clearly labeled and easy to use buttons, and lots of nice twisty dials. I've had some VHF radios in recent years where to change channels it required push buttons – the old-school twisty dials for selecting channels, squelch, and volume are a nice thing to have.
Buttons are clearly labeled, and not annoyingly used as "soft buttons" like many other manufacturers. This is when the function of a button changes depending on the screen you're in. I'm fine with that sort of technology on complex devices that have tons of functions, but this is a VHF radio – it shouldn't have a million options! I had a Standard Horizon radio on Jammy at one point, and the soft buttons always caused me one or two additional seconds of reading to ensure I was pressing the right thing. I'm glad B&G didn't do that. Faster, quicker, easier user experience!
The speaker is loud and clear, even at high volumes, and mounting the unit is easy. On the rear of the unit are the usual connectivity wires such as power, VHF antenna, NMEA 0183, external speaker, and a NMEA 2000 port.  I connected power, VHF antenna, and NMEA 2000.
I mentioned it above, but man is the screen a thing of beauty! Not only is the channel number super big and bold, but the quality of the display rivals every other unit I looked at. The resolution of the text and icons is really fine, and that means it's easier to read from across the salon.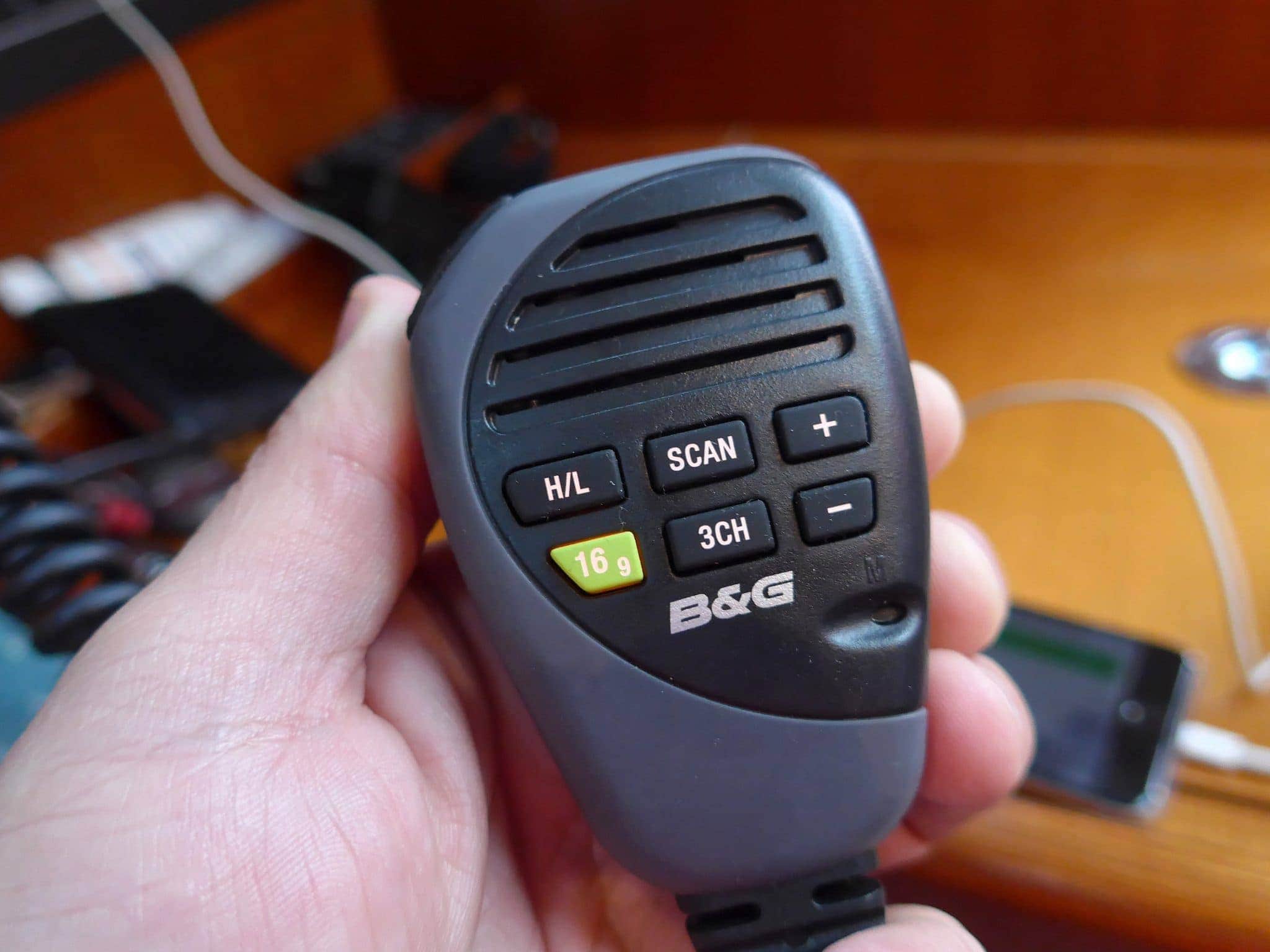 The mic for the main unit includes buttons to control volume and change channels or scan mode, and all are backlit, so they are easily identifiable at night.
Wireless Remote Unit
I can't lie – one of the main reasons I went with this setup is the wireless H50 unit. Having the ability to hear and interact with the radio in the cockpit was the primary goal, but being able to move around anywhere on the boat with the wireless unit made it even more functional.
The handset is extremely well built, sits in your hand naturally, and looks to be extremely weatherproof. The screen is very easy to read, and although there are no twisty dials, the buttons allow you to control everything remotely fairly easily.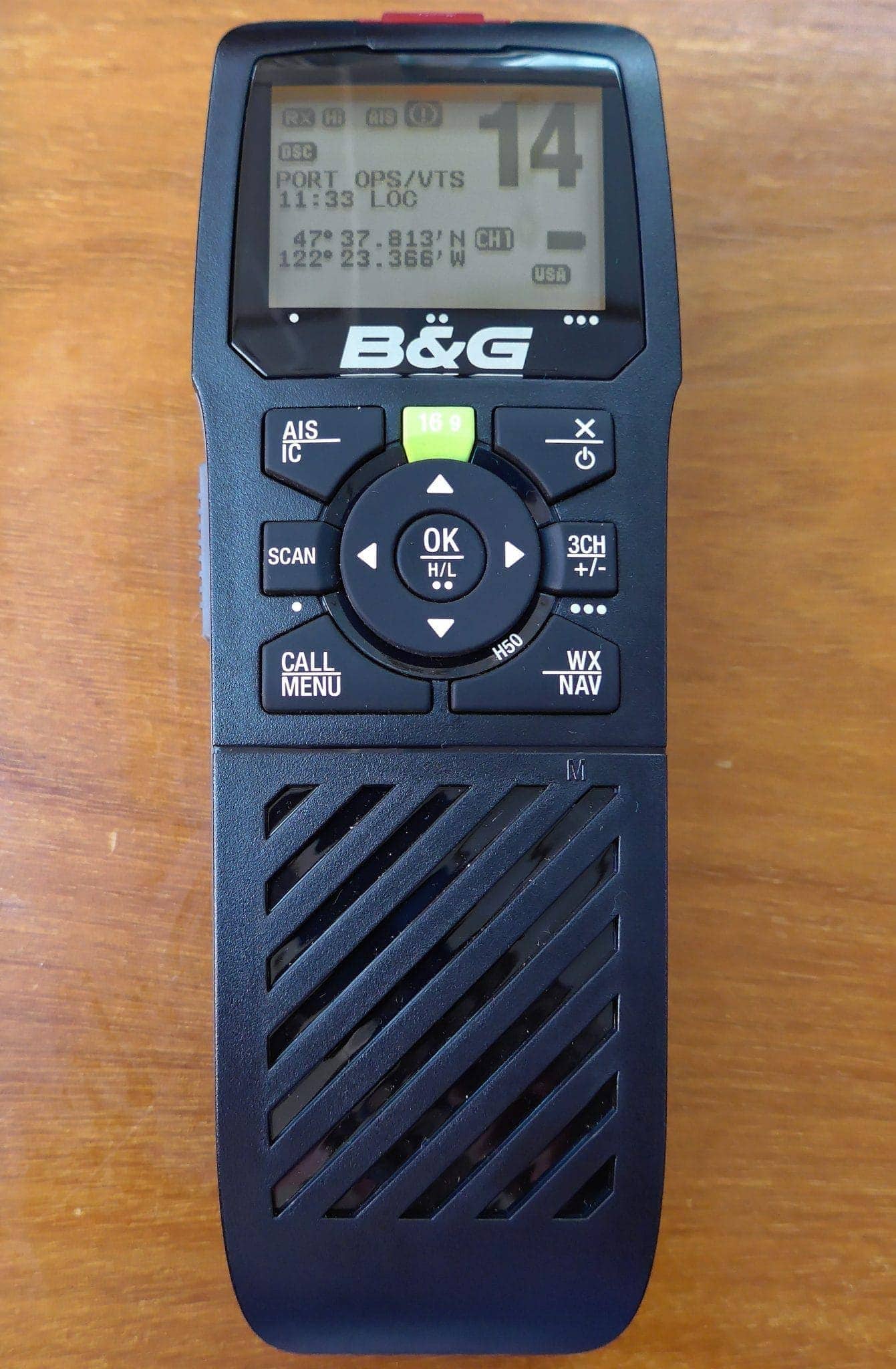 The speaker has proven to be more than loud enough even while we're under motor and with the stereo on. There's a big clip on the back so you can keep it secure while moving around, and a headphone port if you are in a super-noisy environment – I haven't seen another VHF remote that has that feature. Some more detailed photos of the unit itself are below.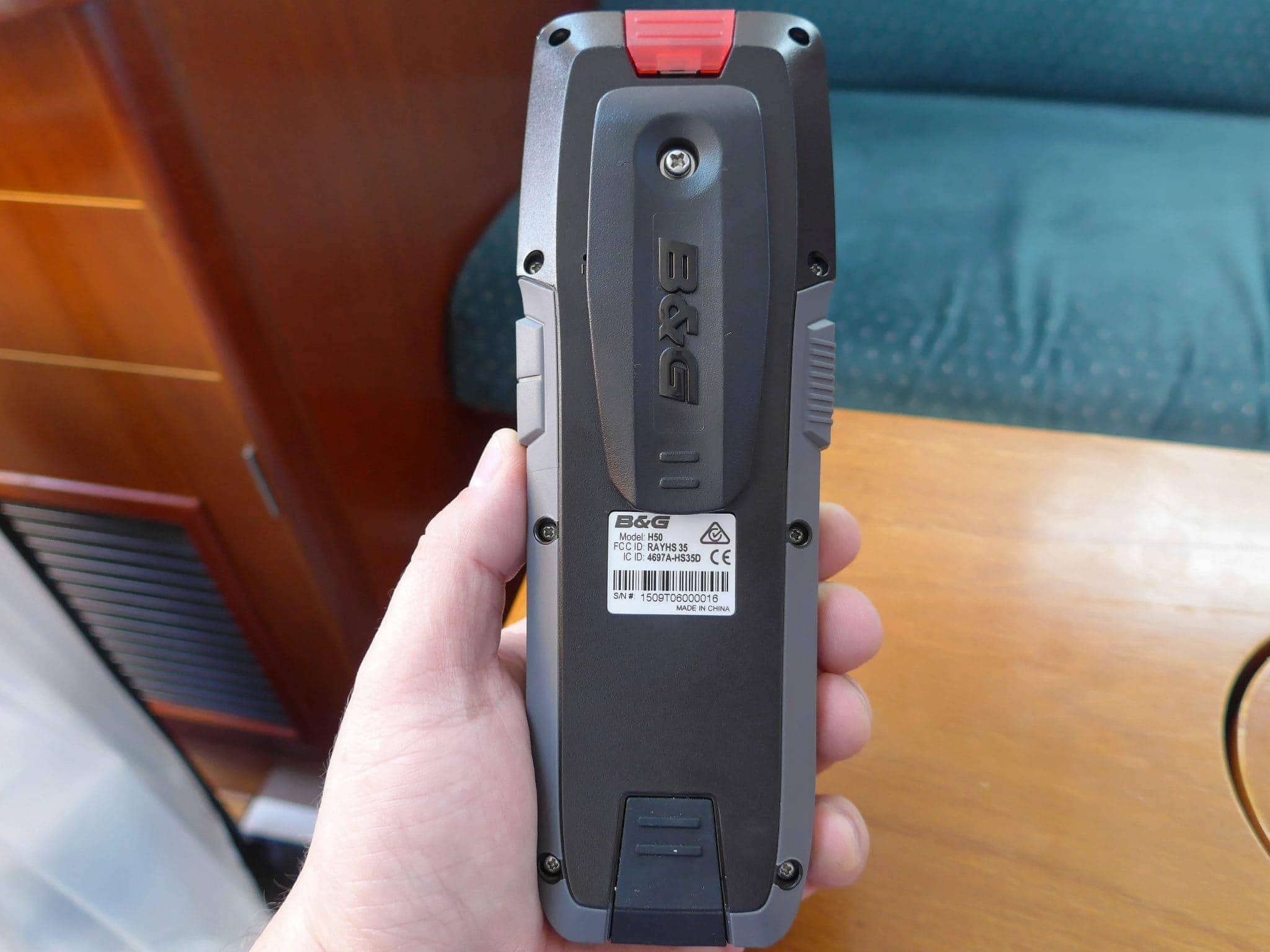 Back of unit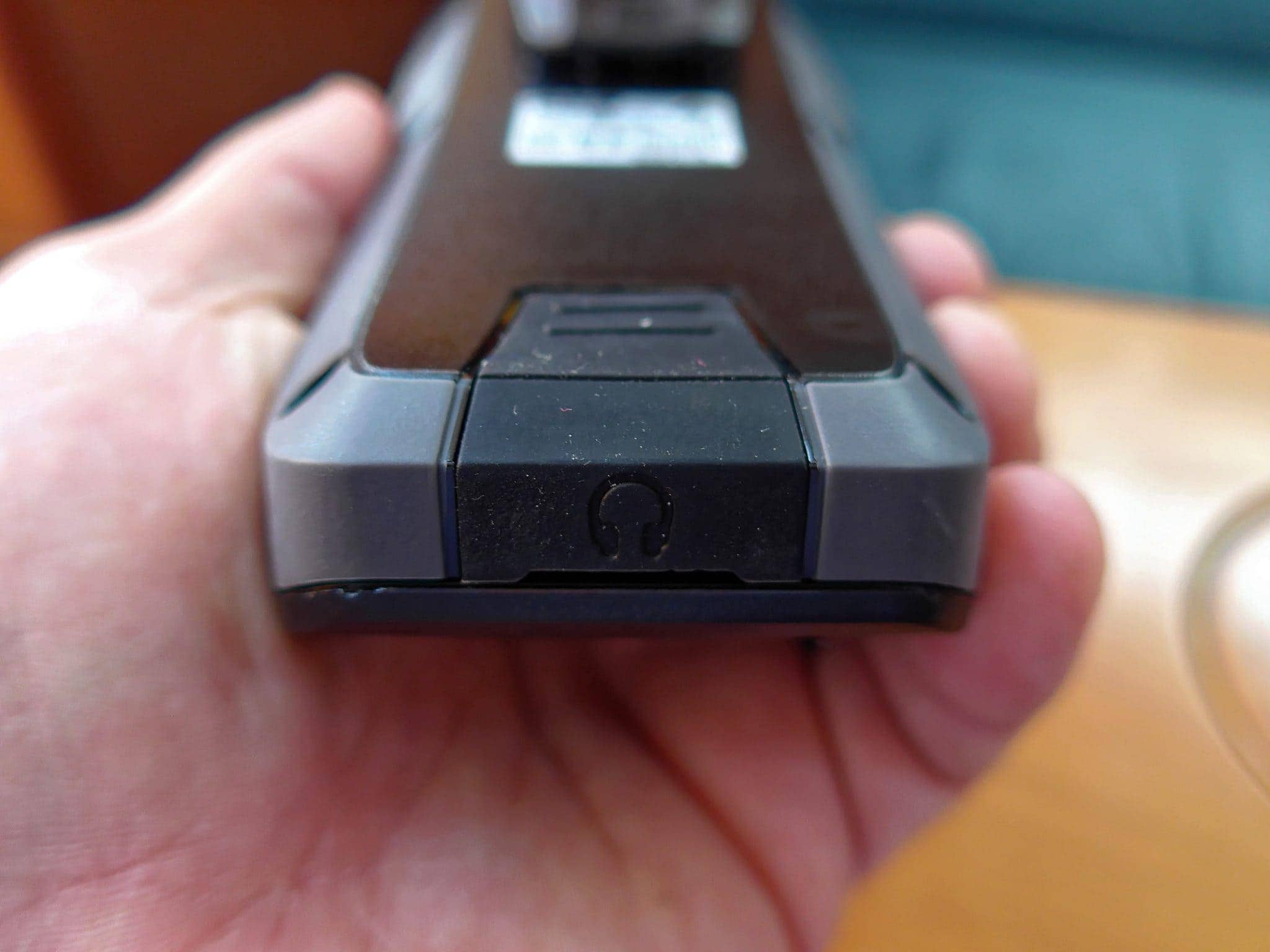 Bottom showing headphone port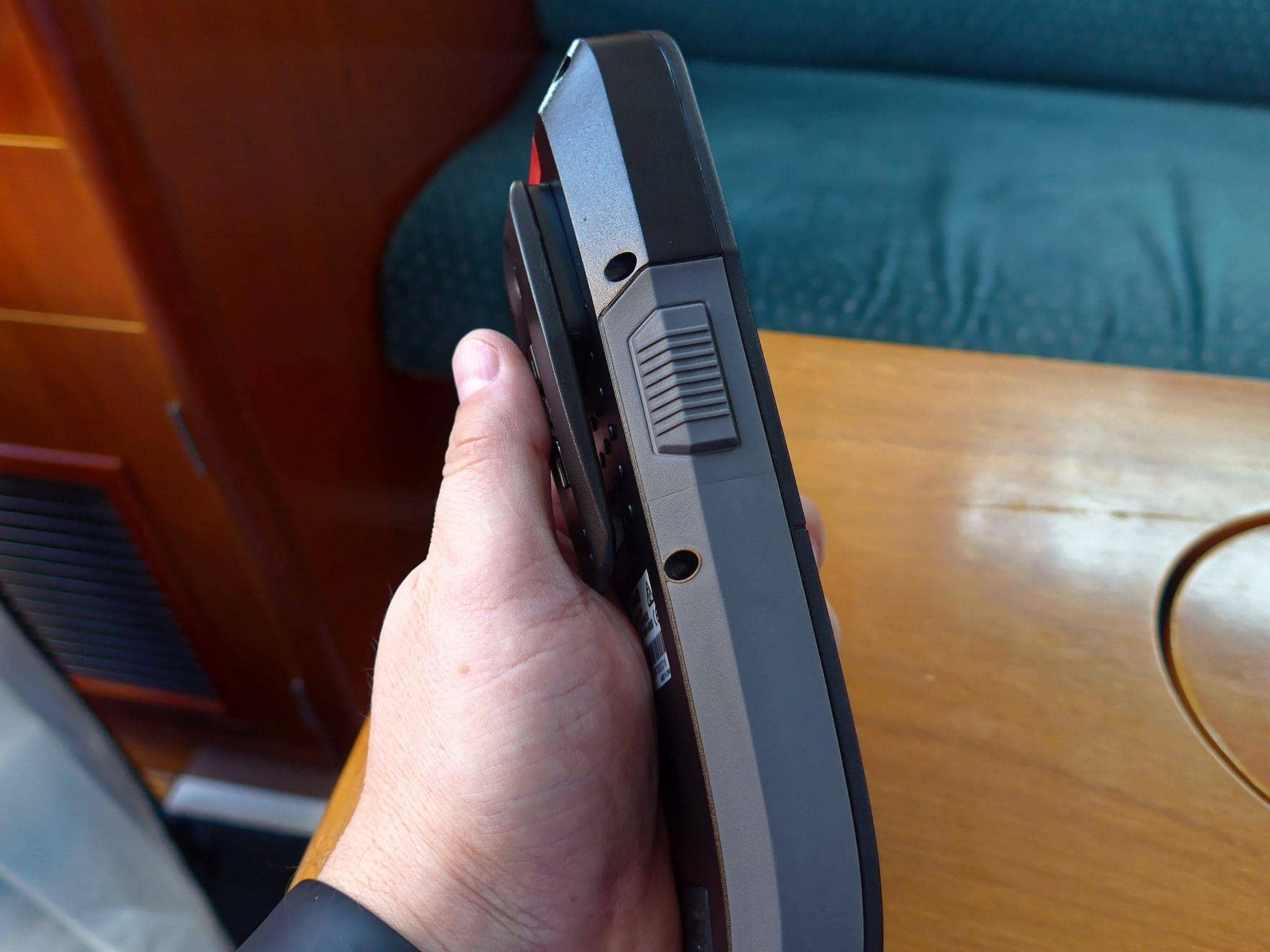 Left side showing PTT button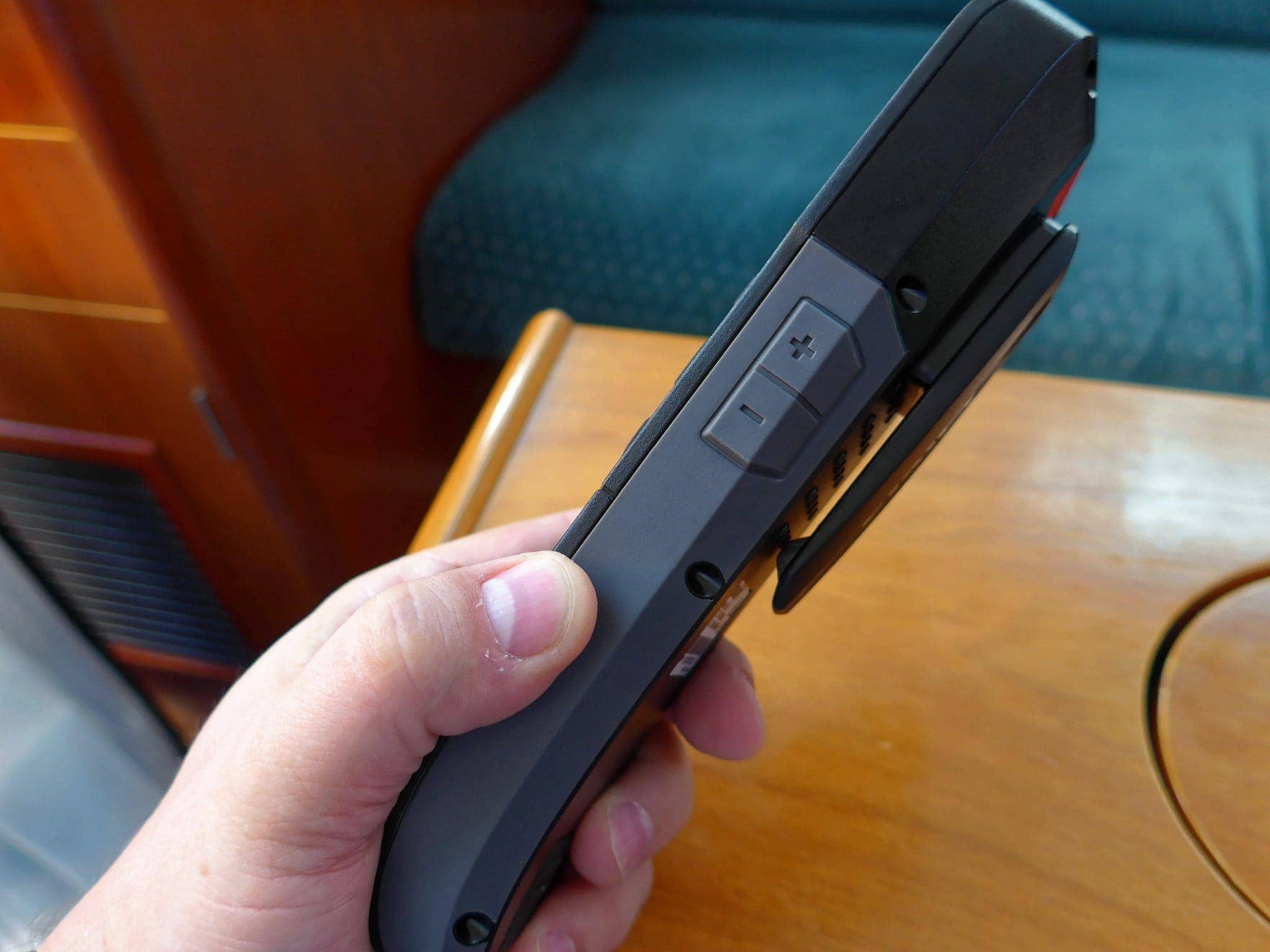 Right side showing volume buttons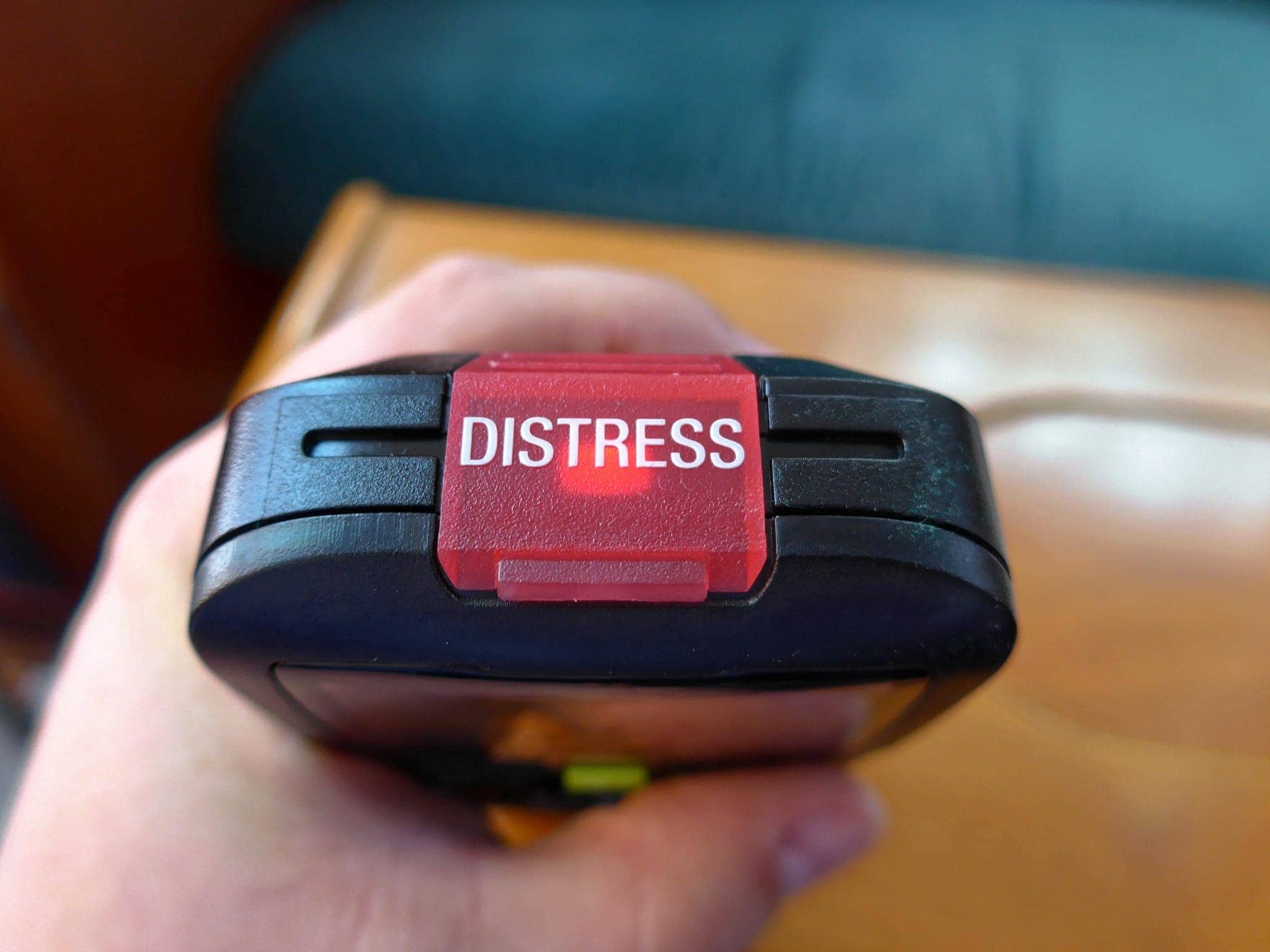 Top showing lit distress button
I chose to mount the H50 on my recently installed NavPod right next to my chartplotter since I would mostly be using the unit docked in it's charging cradle, and wanted it close to where I usually am sitting so I could hear and interact with it.
The mounting base is an ingenious inductive charger as well as holder for the remote.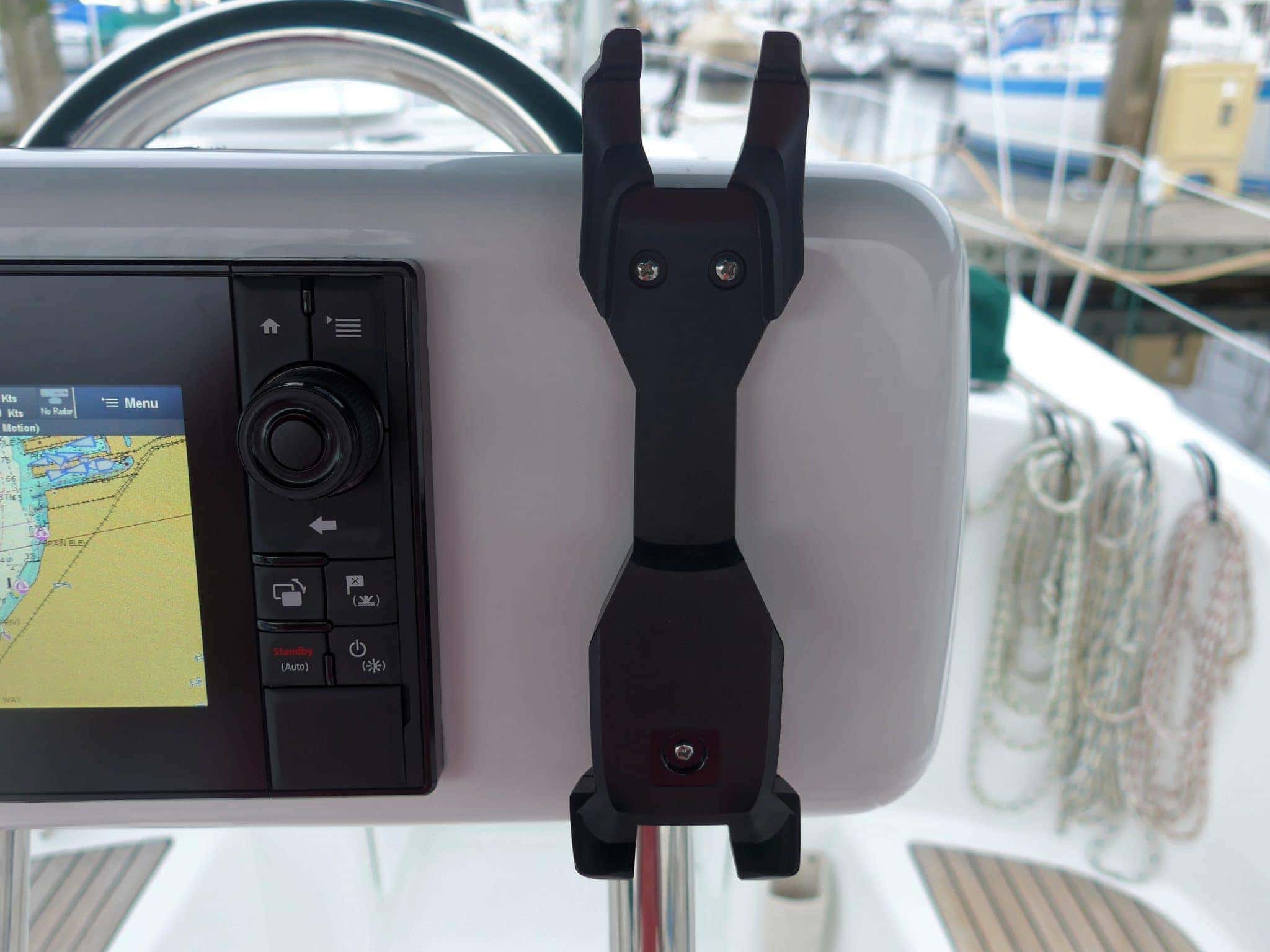 Charging base
Three screws and a small hole for the power cable, and I had a cockpit VHF remote!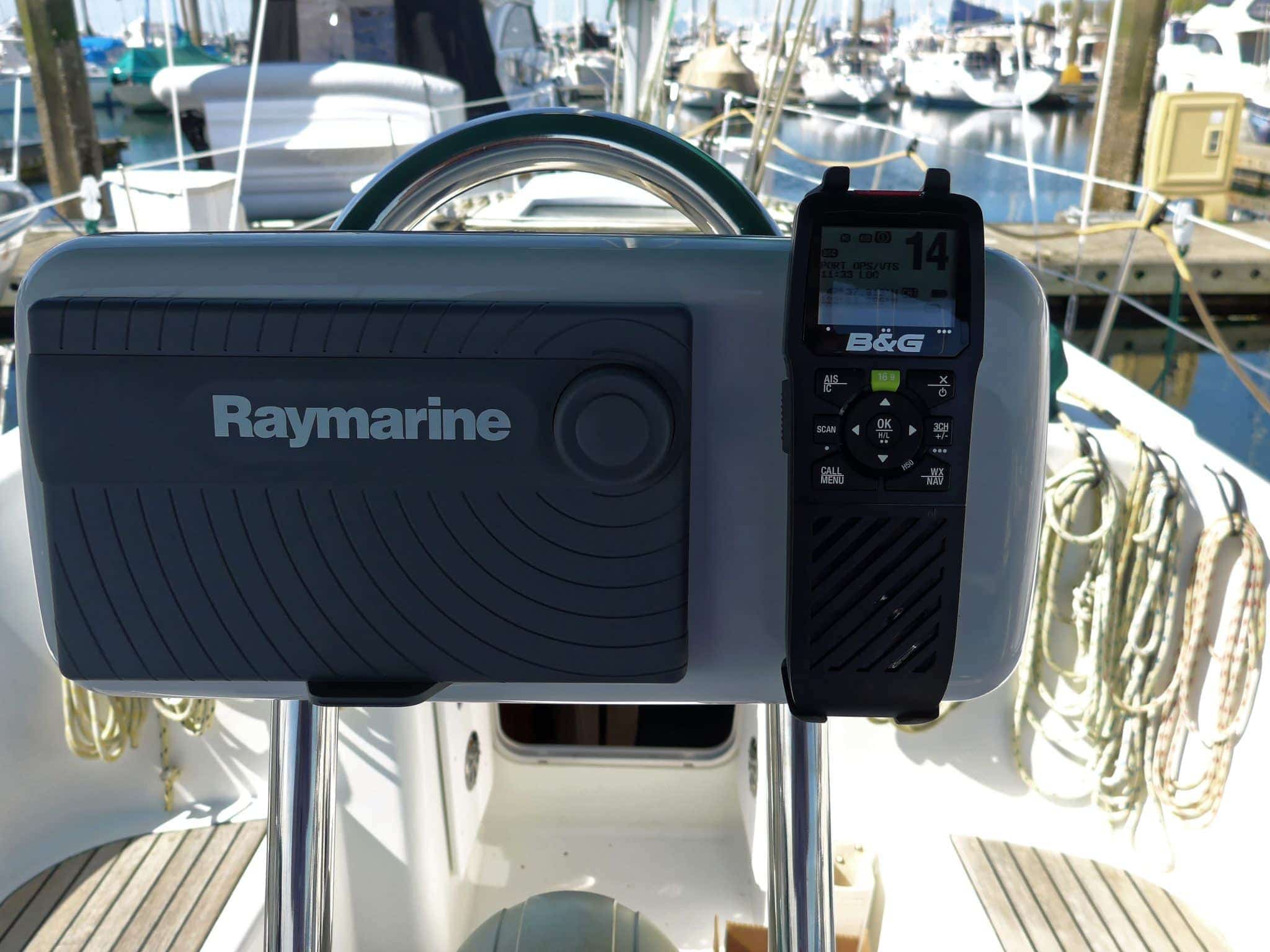 While the base unit is a pretty cool piece of technology, the inductive charger seems to emit a high pitched squeal at certain times when it is charging. I can hear it pretty well if things are quiet, and it is annoying. Moving the handset around a bit in the cradle sometimes stops it, but not always.
The other challenge with the wireless handset is the fact that it's, well, wireless. There are delays in key presses on the handset for changing menu items that are small, but enough to bother me. Sometimes when channel scan is on, it's hard to see the channel numbers scrolling by because it's too fast for it to keep up with. My wired setup on Jammy (iCOM) had no delay at all. I suspect this is an artifact of the wireless side of things, and while slightly annoying, doesn't compromise the ability to talk or receive communications.
General Features
Pretty much all DSC-capable VHF radios out there have a similar feature set, and B&G is no exception. All of the DSC options are available from individual station calling to broadcasts and the like.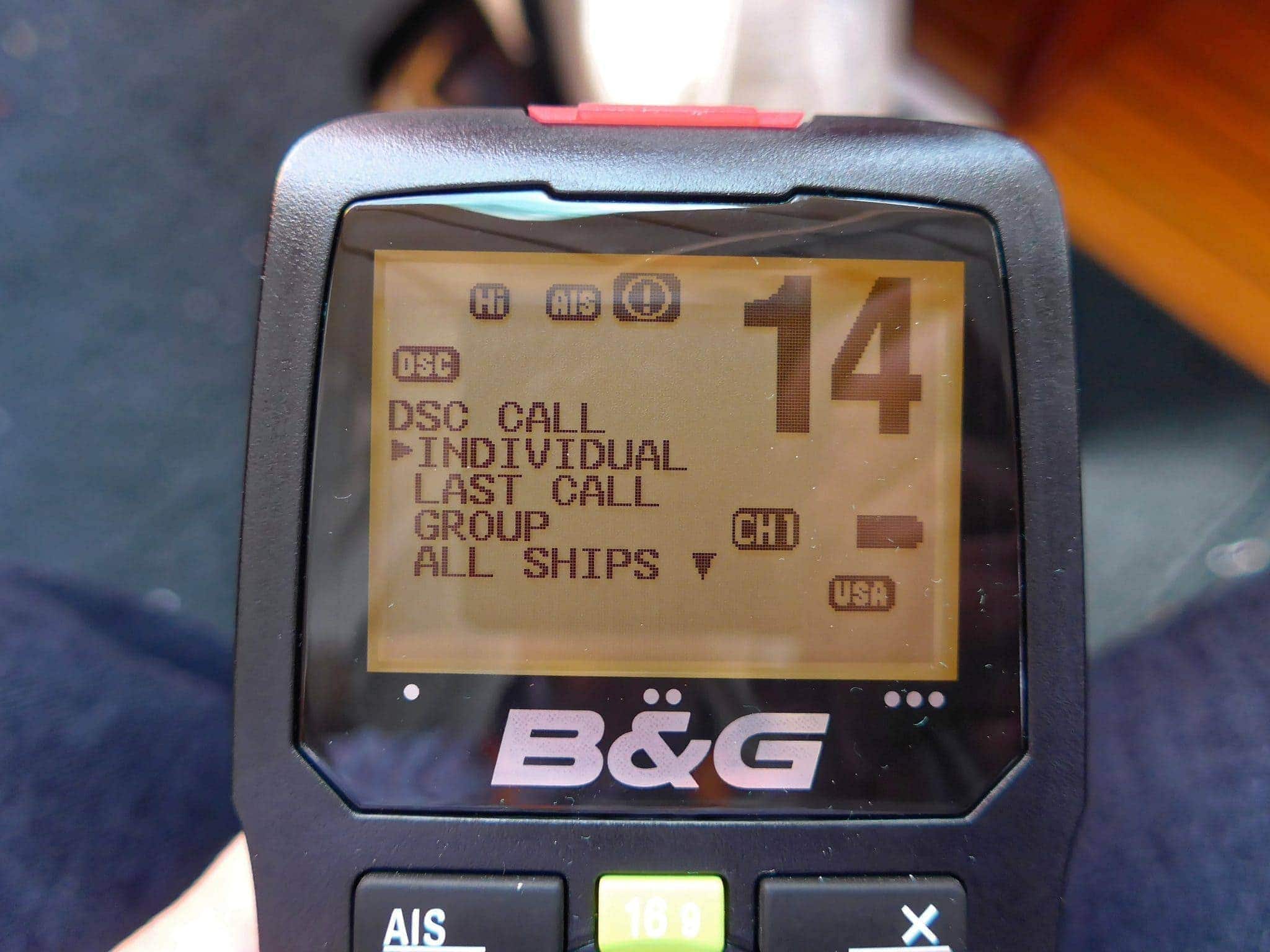 Beyond the DSC-specific features, the system has a decent amount of customizability. You can enable/disable AIS options, change the way it alerts you, pick your favorite channels (see below for limits here) and much more. Coming from the king of options (iCOM) I didn't feel that I was missing anything at all, and actually liked some of the options that B&G provided.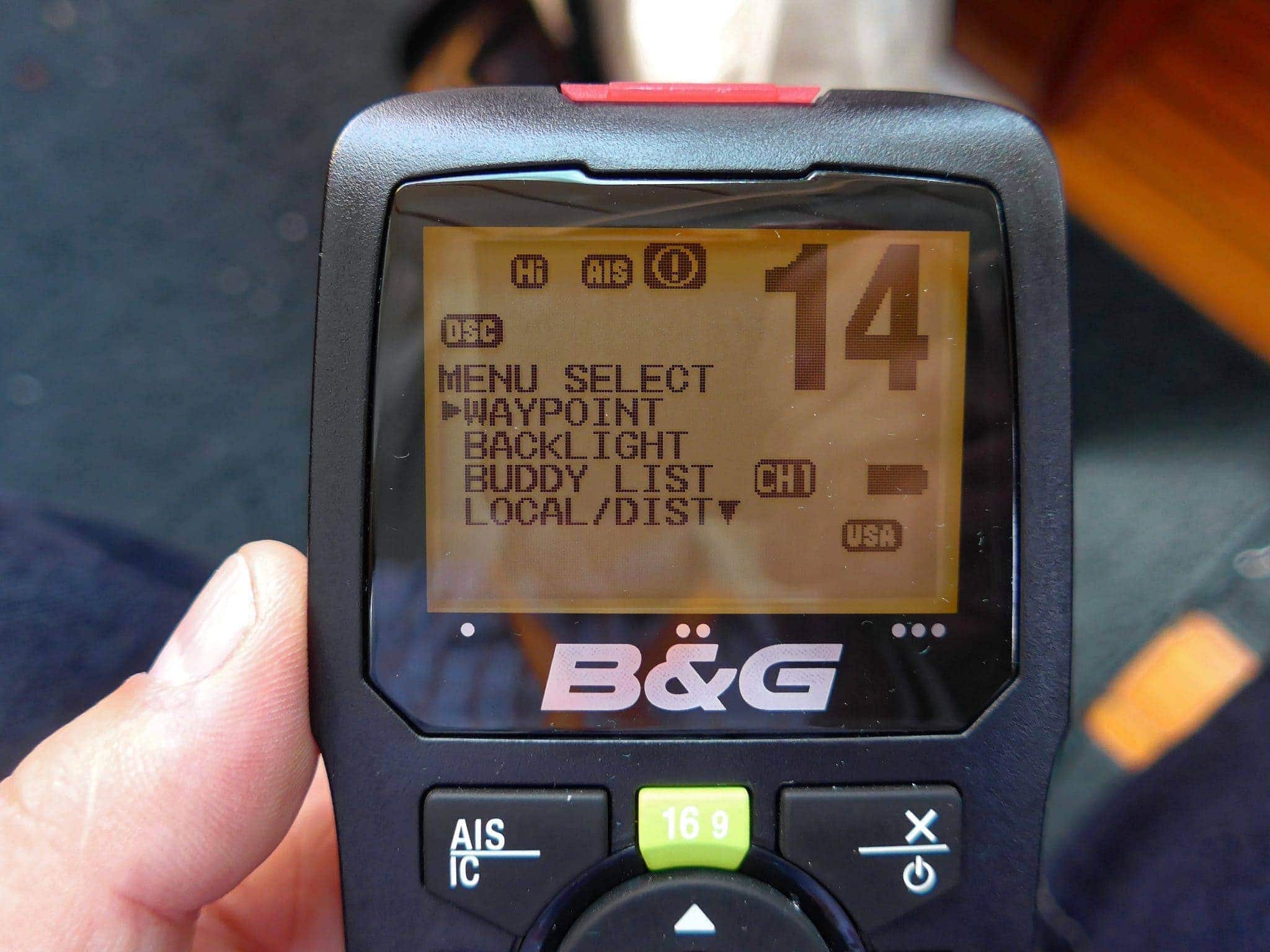 More menu options
AIS Support
While I didn't purchase this unit for its AIS support, it has quite a robust set of features around that protocol in general. The base unit operates as an AIS receiver and can send that info out it's NMEA 0183 or 2000 ports, which could be useful if you do not have an AIS transponder or receiver already. I already have a Vesper XB-8000, but I still let the B&G gather AIS data and dump it onto my NMEA 2000 network.
In addition, you can mark and plot AIS targets, and see detailed information about targets on both the base unit and handset.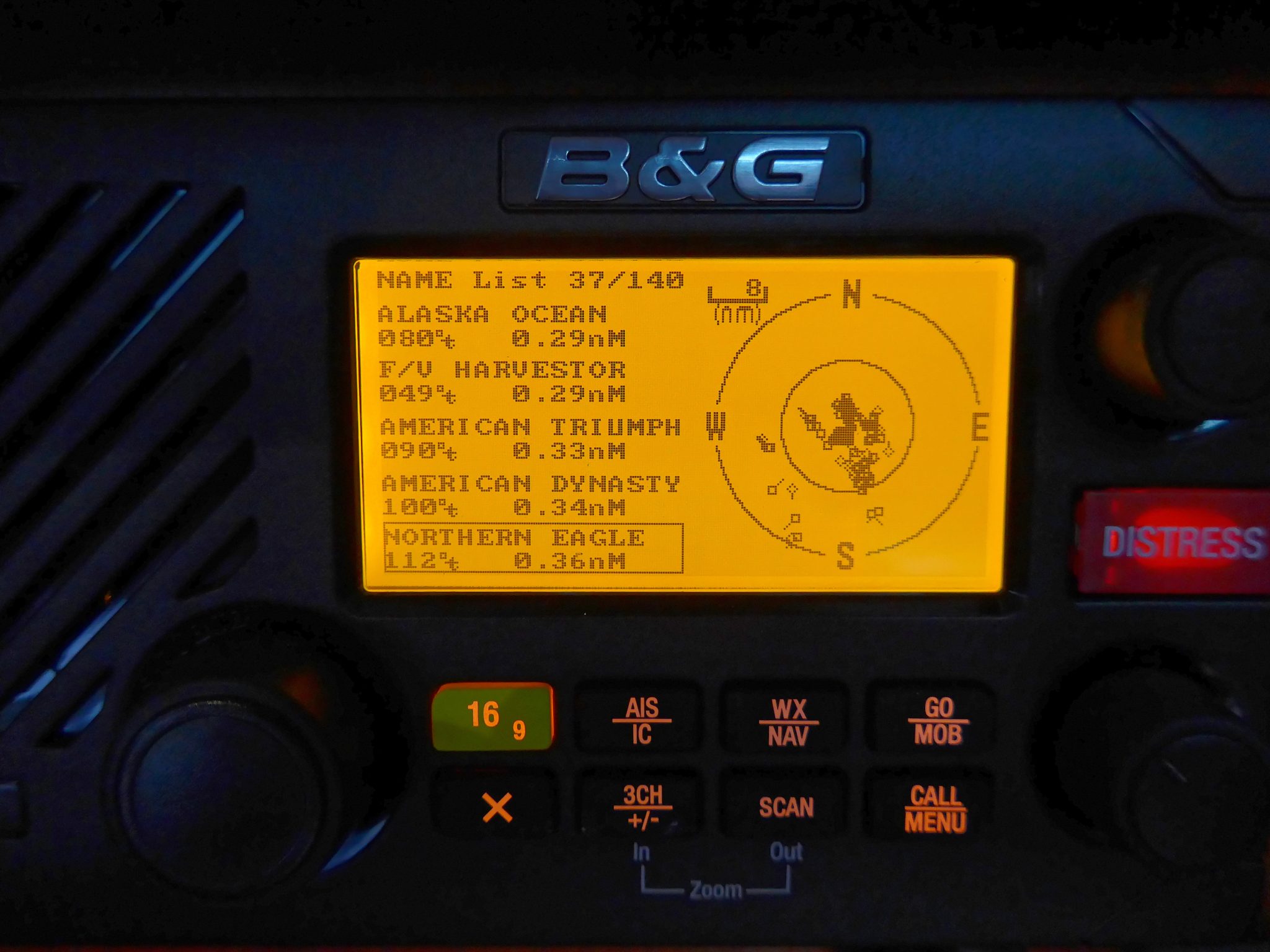 AIS target list and map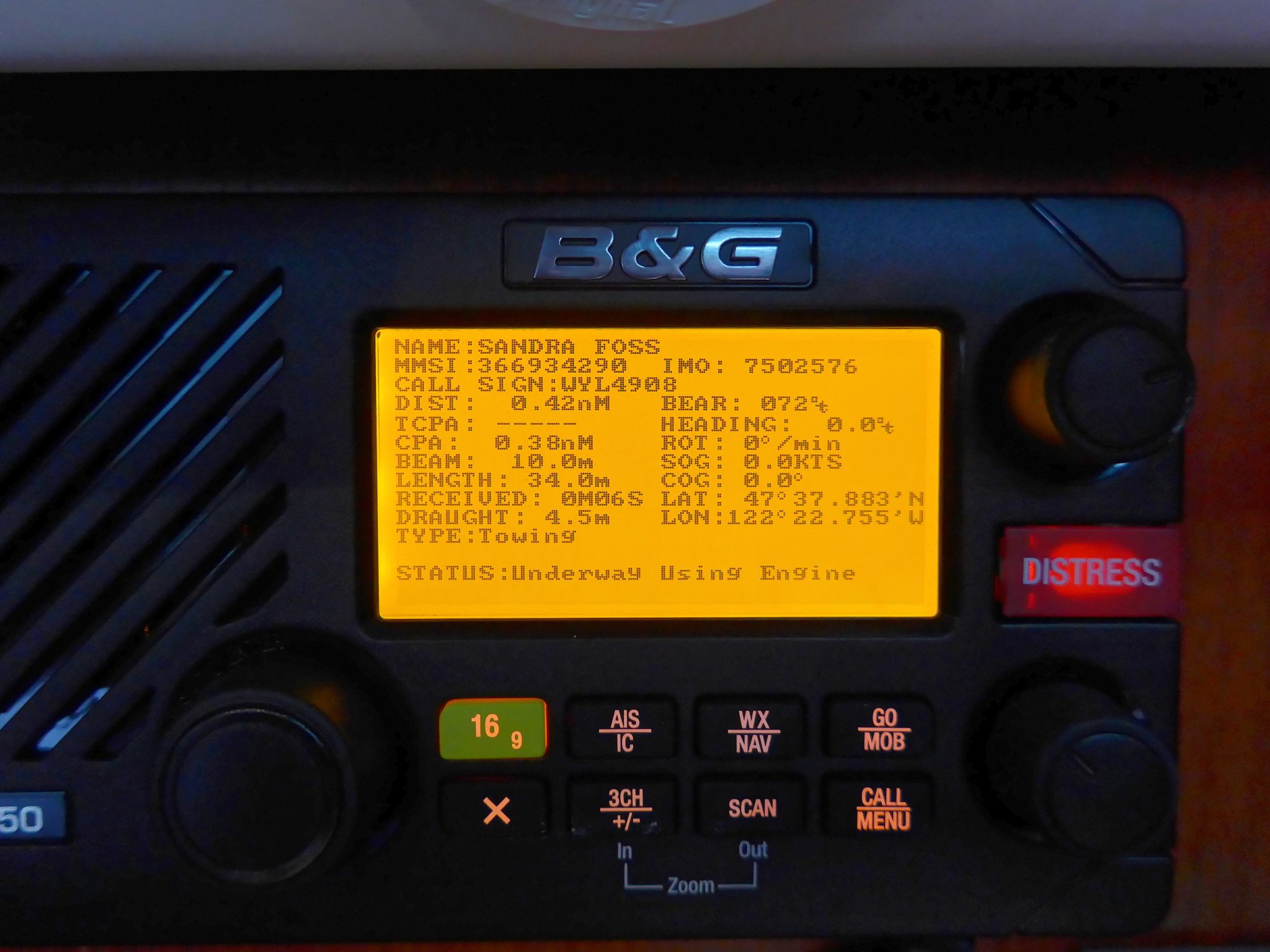 AIS target detail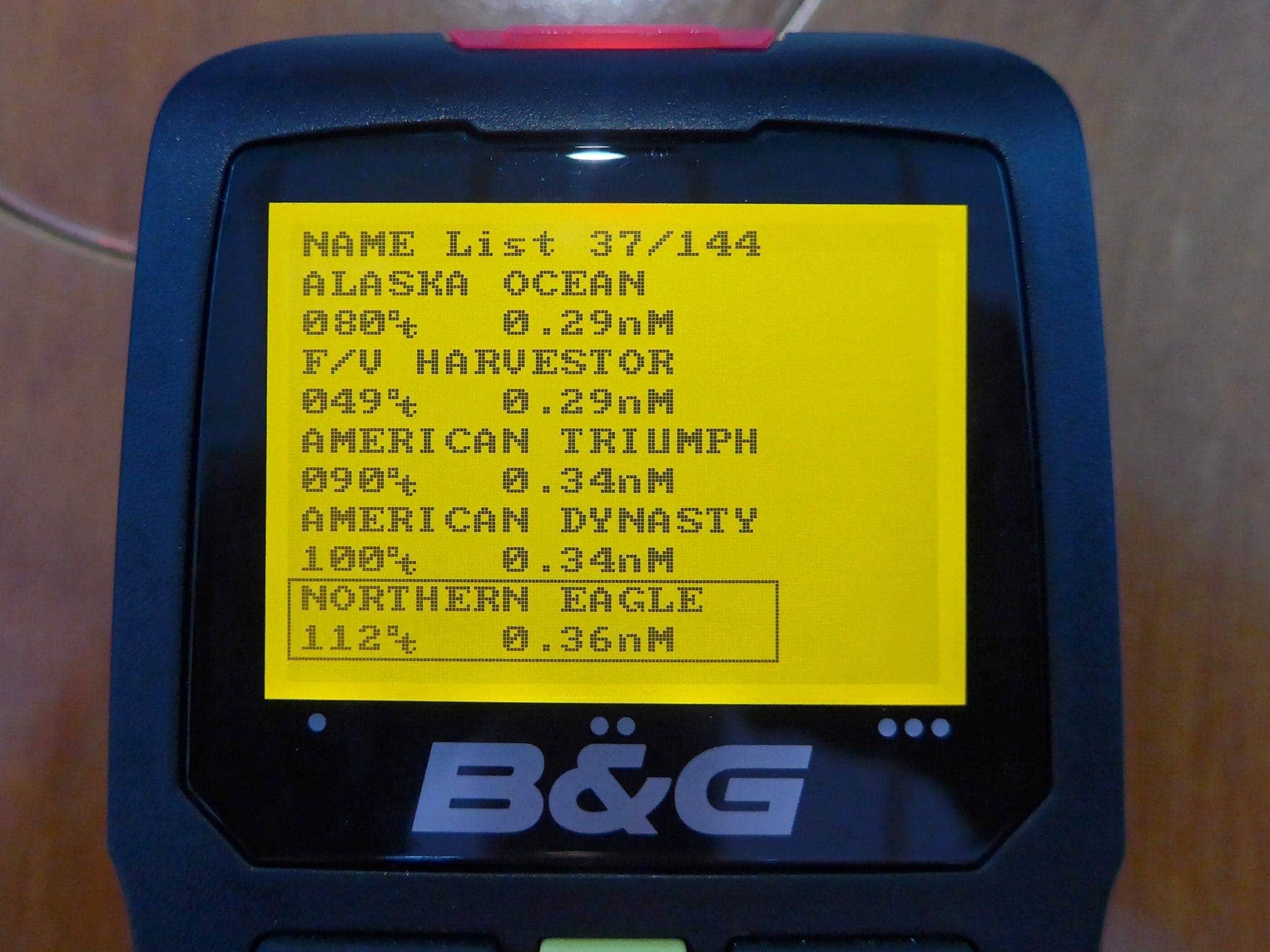 Remote target list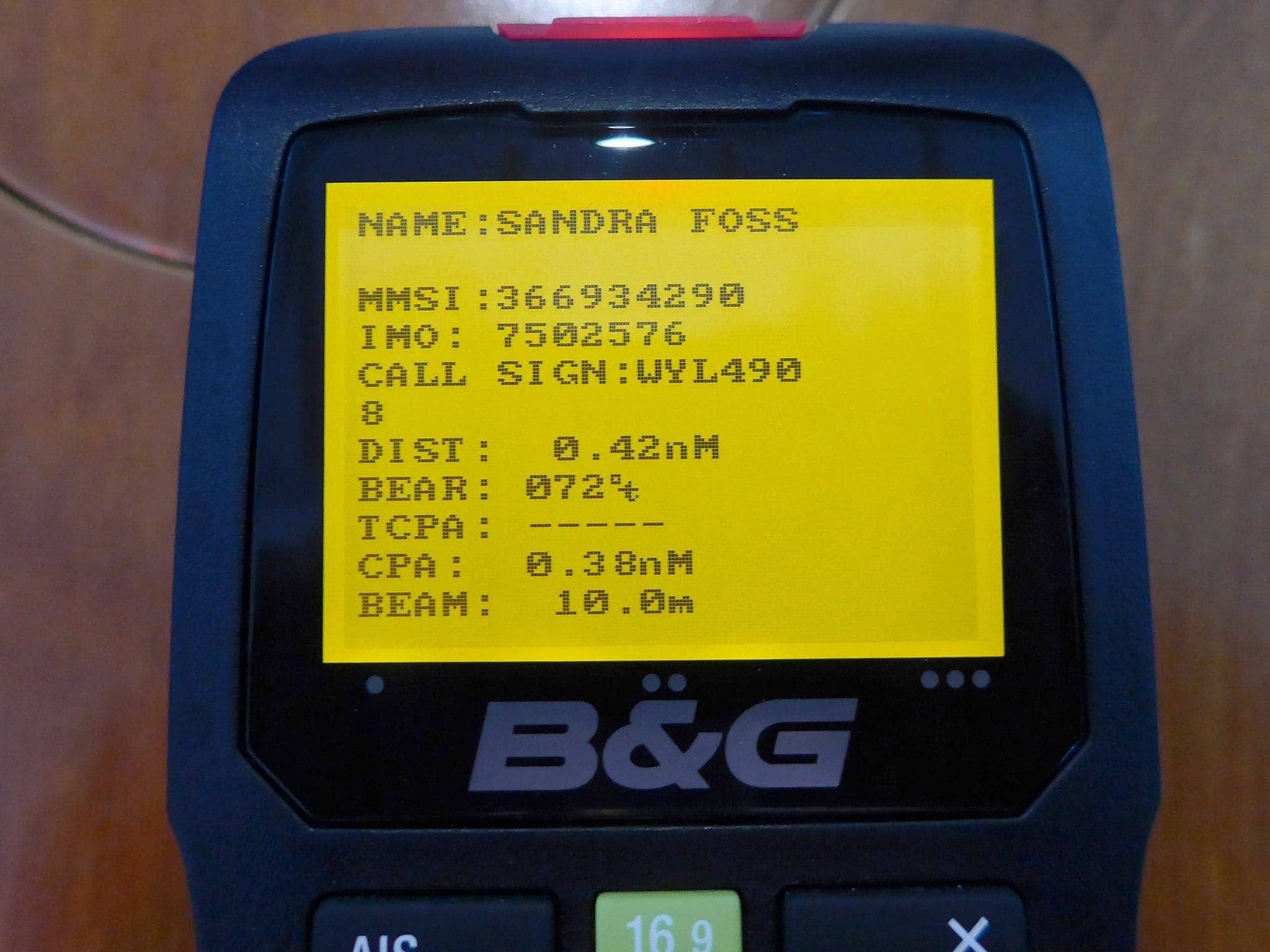 ) Remote target detail page 1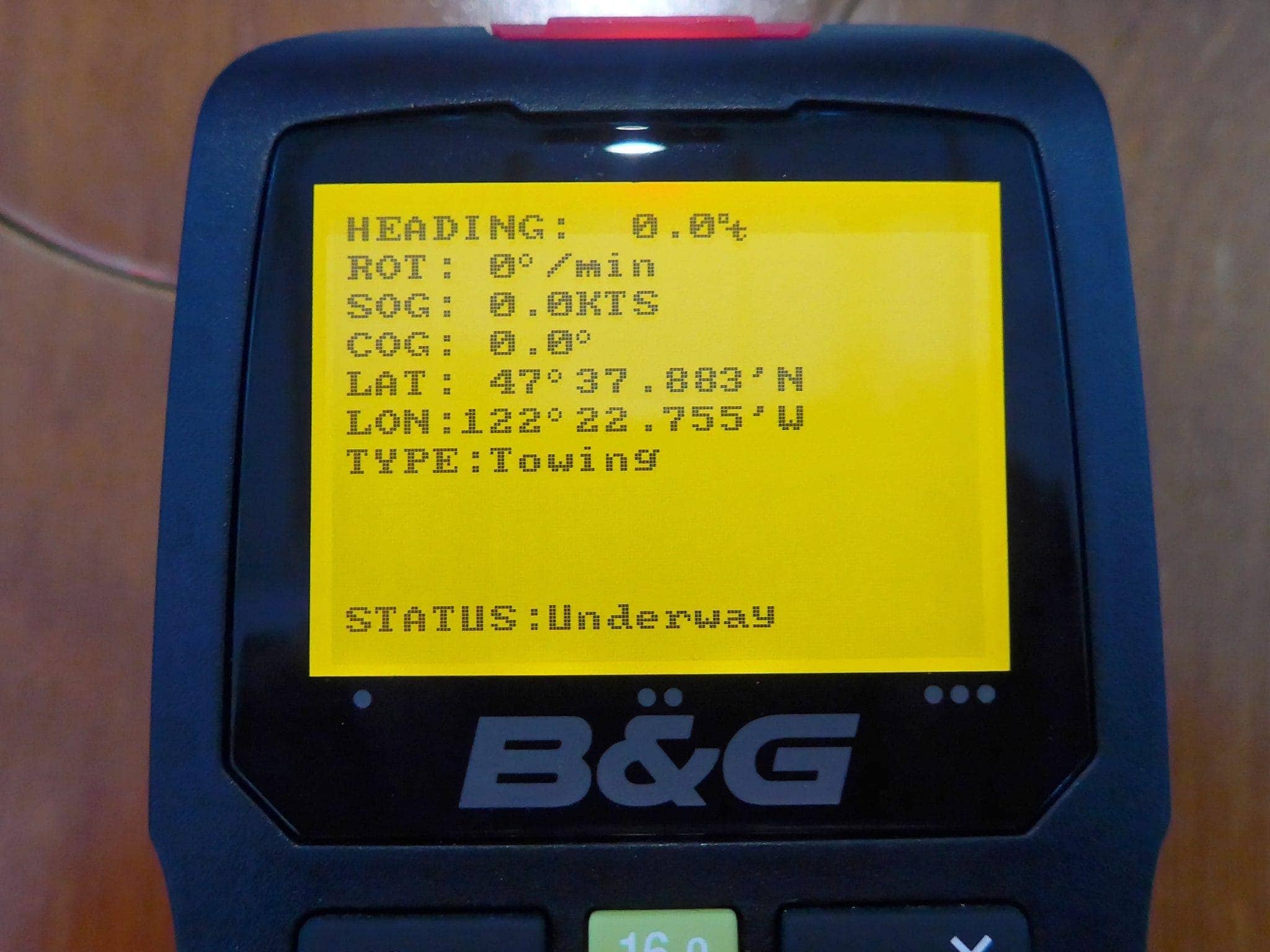 Remote target detail page 2
One note – when using the remote, if you click into a targets details, there are actually two screens of data. The unit will flip between those screens, which can sometimes be a bit confusing if you're still reviewing the first screen, since there's so much data to show.
I would definitely recommend this unit to anyone without an AIS receiver as it's a great 2 channel setup that can then provide that info out onto your 0183 or 2000 NMEA network for other devices to consume and display. There's also a ton of alert and tracking features that I did not use, but that could be useful to someone without an MFD or network.
Channel Scan
Channel scan is something I rely on to monitor key channels while in high traffic areas. Channel 14 (vessel traffic services for Seattle), 69 (primary channel I communicate on with friends) and 78 (local marina traffic) are my top channels.
I was surprised to learn that the B&G unit only allows 3 channels to be continuously scanned, along with the usual channel 9 and 16 for safety reasons. I'm not sure if it's because of a limitation in the product or a design choice of some sorts, but it's quite limited compared to other radios. My previous iCOM radio on Jammy would allow essentially an unlimited list of scanned favorite channels.
However, even with this limitation, the B&G has a feature that I don't think other folks do – continuous scanning even while listening to a conversation. I originally thought there was a problem with the radio, because every time it stopped on a channel with activity, the audio was a bit choppy. Then I realized that it was still actively scanning the other channels even while the audio from the channel with activity was ongoing. I don't think I've seen another radio that does this, unless it's in the background and not visible on the screen.
While I think this is a differentiating feature, it's also annoying. The audio breaks while it scans in the "background" and you're listening to a conversation can be distracting. I've never not understood the conversation that is going on, but it's still distracting.
Performance
I've had this setup now for about 3 months, and made several decent length trips using it to both listen and communicate with others. I also have been working on the boat at the dock a ton in the last few months, and always have the VHF on listening to the movements in the bay.
So far I have been very impressed with it's performance. I'm able to hear far more of the traffic than with the old setup, and I can hear it both in the cabin and the cockpit. Folks who I have done radio tests with hear me clearly, and I'm able to talk to people further away than before, although that is not a scientific test.
A longer term test will obviously be a better indicator, and our upcoming week-long South Puget Sound trip will hopefully be an opportunity for that. So far, so good, though!
Conclusions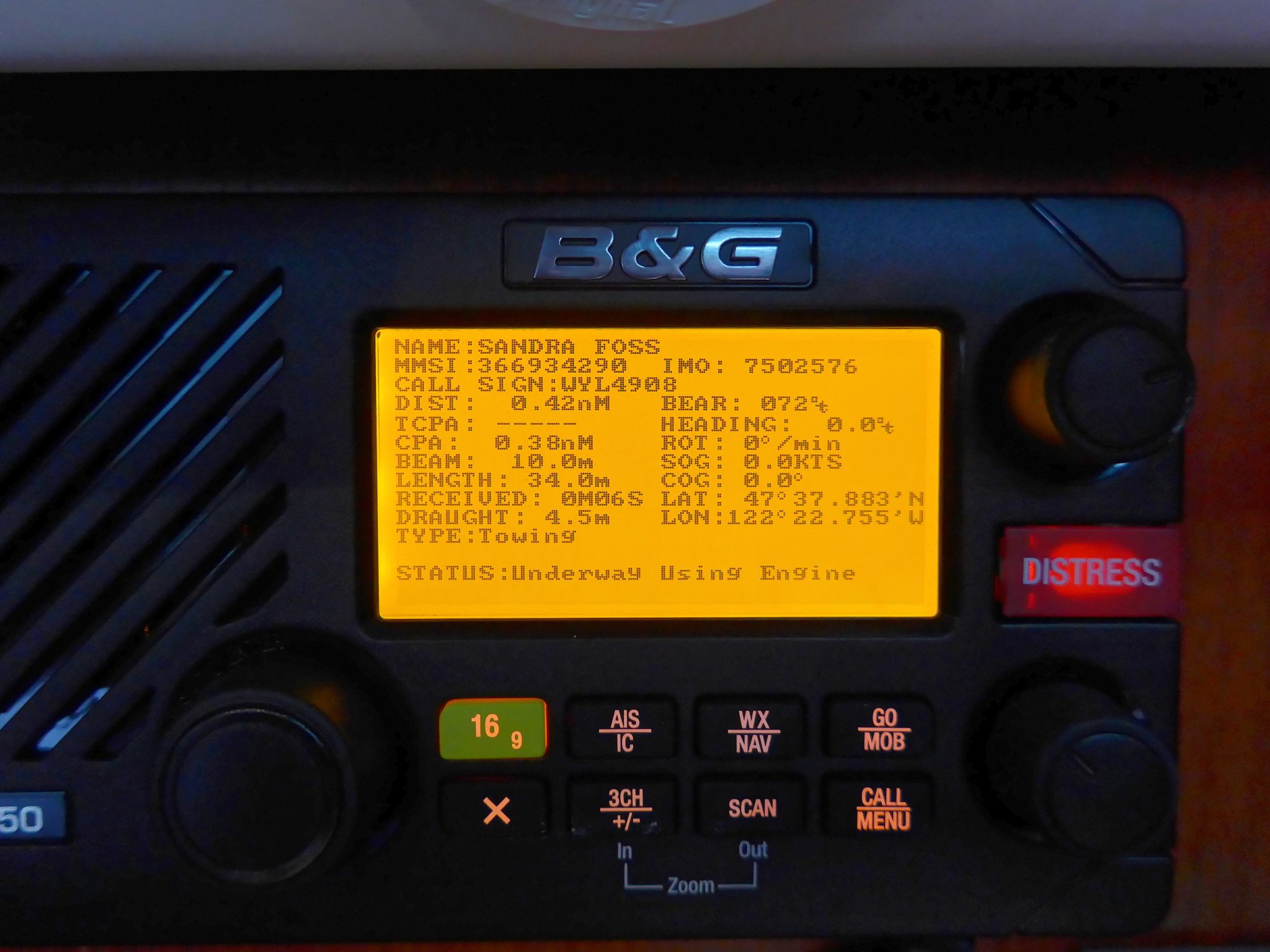 Pros
Wireless remote with inductive charging
Large screen on base unit
Ease of use and well designed user experience
Continual scanning even while channel active
Cons
Limited 3 channel scanning vs others with unlimited scanning
Gaps in sound while channel scanning
Delays with wireless when changing menu items
Squealing inductive charger
Note: I no longer recommend this radio after having major issues with the wireless handset and scanning.