I have owned sailboats for most of my life and have always loved the feeling of being under sail. In recent years, I've discussed moving to larger sailboats, or changing the entire substrate to something different to allow me to do more with my work with tech on boats. After spending the last 3 years on Grace focused on systems integration and projects, I've come to the decision that moving to a bigger platform is the best way I can continue my projects.
Grace for Sale!
To that end, I've put Grace up for sale – you can see all of the details, specs, equipment, photos, videos and more at Grace – 2000 32′ Beneteau 311 Sailboat for Sale.
Grace has been an amazing part of our family, and I've poured a lot of time and effort into improving just about every system in the last 3 years. I've learned so much about modern power systems, been able to investigate integration of tons of instruments on my crazy NMEA 2000 network, and built a fully integrated Raymarine system that virtually runs the boat while moving.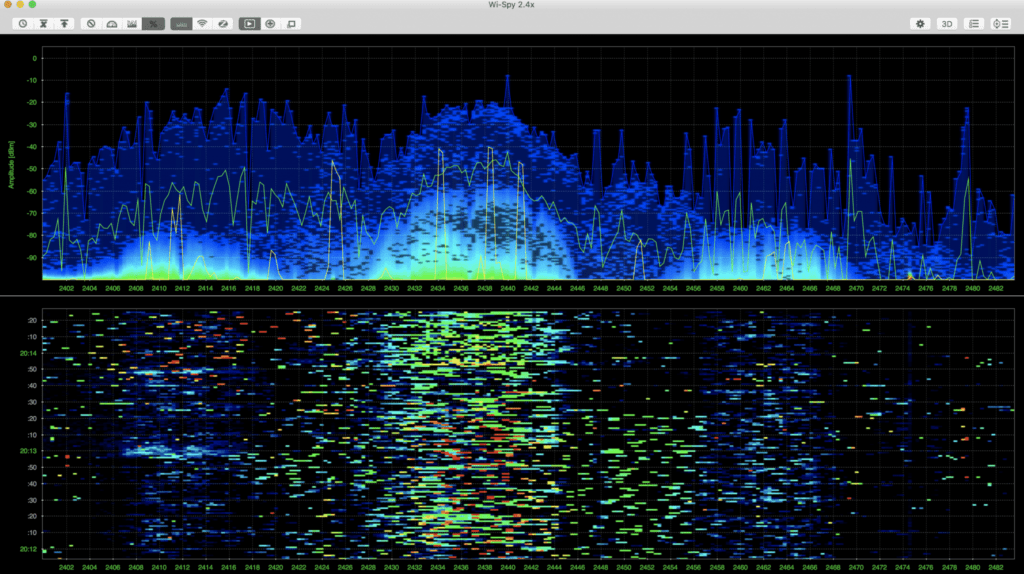 Wonderful graph from a spectrum analyzer looking at 2.4Ghz WiFi
My favorite area of projects has been around networking and WiFi, and love the response from the communities who have read and reacted to those articles. I want to continue expanding this area – there are so many new technologies and products that I think boaters could benefit from.
I want to continue integrating, building, and testing everything technical that I can put on a boat. If anything, this choice has made my desire to do tech on boats increase, knowing that I am entering into a new world with more possibilities.
Motor Yachts
As a result, I am moving to the world of motor yachts! Some people call this "going to the dark side" and I can see how die-hard sailors could look at it that way. Heck, even a few years ago I looked at it with a fairly negative attitude. But I have started to see the appeal.
It's not something that I just decided to do on a whim – I've discussed it before with my significant other, even around the time we purchased Grace. We had thought that in 5-10 years, switching to something like a trawler would be perfect. The reasoning behind it was mainly around health and comfort – that by that point we'd be more comfortable on a boat that did not require as much physical work as a sailboat. I am aware that there are larger sailboats which are just as comfortable in many ways as a motor yacht, but the requirements we had talked about would have required a much, much larger sailboat.
My crew also surprised me when I started discussing this change with them – they all love sailing, but would rather have more room and more comfort in a similarly sized vessel, and they all seemed really interested in the idea.
Not having sails is definitely a big decision, and not one I took lightly. In the last 2 years, I have motored almost 80% (likely higher in many cases) of the time on longer trips. Motoring on a sailboat is nowhere near as comfortable as a motor yacht. I love sailing, but I seem to love playing with technology and going from place to place more…
The Tipping Point
In the last year, I have had the opportunity to visit a number of other yachts in the Seattle area – sometimes just with friends and other times folks I have met through SailBits who were in need of help. The majority of them were power boats of some sort, ranging in age from the 1970's up to brand new deliveries.
The main thing that kept resonating with me was the amount of space available for not only comfort, living, sleeping, and enjoyment, but more importantly for technology and gear.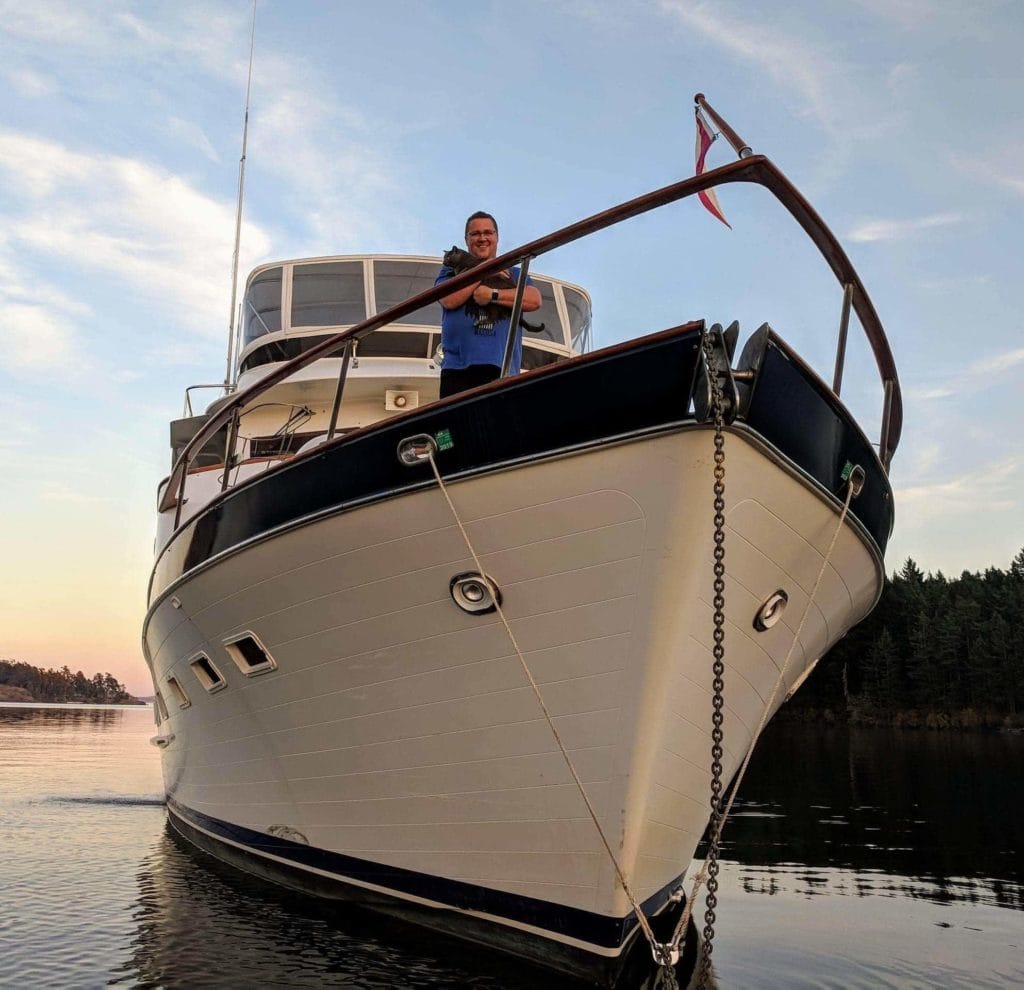 The author on Sea Bear with … Izzy the cat! Photo courtesy of Steve Roberts
On my recent trip to Princess Louisa Inlet, I followed a 62′ Angel named Sea Bear and spent almost every evening aboard after being on the water in Grace during the day. I learned a lot more about yachts of this type and vintage, and really fell in love with the idea of a motor yacht.
Space also would be great to have for tools and even a small work bench. I have had to do some crazy things with Grace and Jammy as I live in a condominium and have no other suitable work areas.
After spending 5 days aboard Sea Bear on a recent cruise around the San Juans, I realized that instead of waiting 5-10 years, maybe it was time to look at something sooner. I really enjoyed the overall experience, and realized that not only would it give me more space for tech stuff, but a more comfortable experience overall for the type of cruising I want to do.
The Platform
I have some very specific goals for the next platform, and they seem to be met by what can generically be called a trawler. In general, I'm looking for something along these lines:
40-46 foot LOA – this seems to be the most popular size of slips in the area I want to cruise. While I definitely want to anchor as much as possible, having a slip is always nice after a long day. Going any larger and I would worry about complicated wait lists, and of course higher fees.
2x diesel engines – for some level of redundancy, I would like to have two engines. I could be convinced to go with one, but it seems there are few choices for that beyond 45′
8 – 10 knots cruising speed – I don't need anything faster – I like enjoying the view, and am used to 5-6 knots from the sailboat world. It would be nice to have the ability to burst beyond 10 knots, but it is not required.
4-5 gallons per hour max consumption
Generator & decent sized inverter / house bank
Decent sized diesel, water, and holding tanks for 1-2 week trips
Queen island berth for master stateroom
Decent second berth for guests
2x heads with showers in both
Large salon for entertaining/living
Frige, freezer and ice maker
Diesel heat
Flybridge driving station
There are a lot of other nice-to-haves, such as air conditioning, bow thruster, etc. but the core items above would be the start of a very good platform.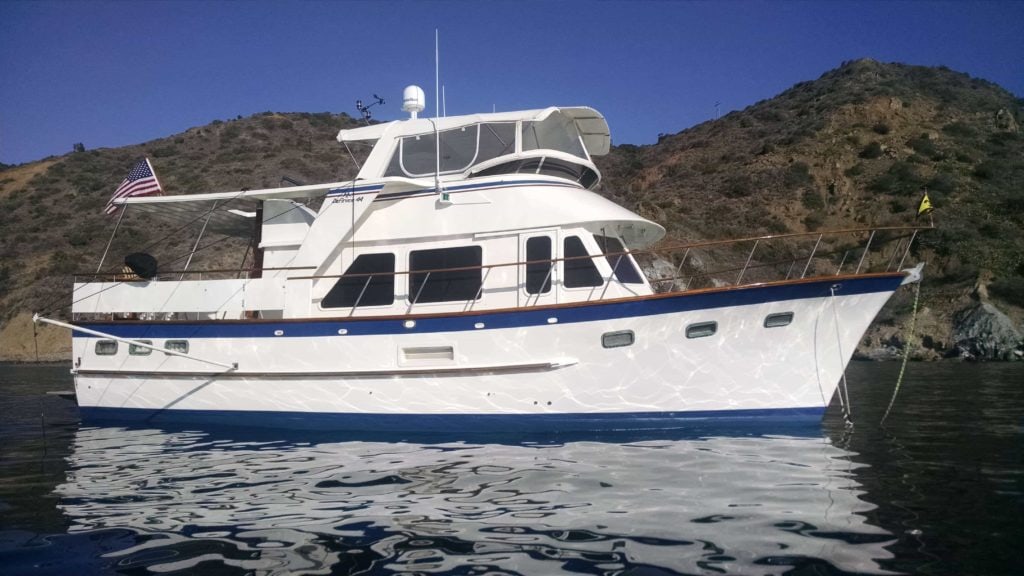 DeFever 44 – image courtesy of DeFeverCruisers.com
Based on my research, my favorite brands are DeFever, Tollycraft, Island Gypsy and Ocean Alexander. I particularly prefer the DeFever 44 which has a fantastic layout, great stability, wonderful lines, and a rare stand-up engine room, among other things.
I seem to like both the styling (and the pricing) for models made from 1980-1995.
If you have other recommendations, I'd love to hear about them in the comments!
New Challenges
I'm curious to see the work I've done for 20+ years on my own sailboats from a completely different viewpoint – that of the motor yacht.
I'm also really interested in new areas to explore that I would not have had exposure to on a smaller sailboat – larger engines, multiple engines, generators, and the complexity that comes with a bigger vessel.
Most of all, I'm interested in trying something new both as a platform to work on, and a cruising boat!
The Future
What does this mean to the future of SailBits and to the type of projects and reviews I would be involved with?
I believe this change will even further grow the site and the exposure, the types of articles I'll write, and the depth of my experience and testing. I have no intention of changing what SailBits does, or reducing the amount of focus on DIY projects and technology. In fact, if anything, this change will drive even more new ideas and articles in the near future. I'm very excited about the future, and can't wait to share the journey to power with you as well!
---
Archived Comments
These are read only comments from the old system. Scroll down to participate in SeaBits Discussions, our new interactive forum attached to each article.

Bob
September 7, 2018 at 11:02 am
I am curious if you considered a sailing catamaran? It gives you many of the things you listed but you don't have to give up the sails. 🙂
Steve Mitchell
September 7, 2018 at 10:03 pm
I don't think I would like a catamaran. They seem to be very popular, but I look at them having a lot of similar challenges as a sailboat. Of course, they have some benefits too in terms of speed and more space, but ultimately I would like a ton more space, which you can really only get with a motor yacht. Most of the yachts I am looking at are a max of 4 gallons per hour at full cruising, and much less if you go slower. I am willing to pay that difference for the extra space and comfort!
Richard Cassano
September 7, 2018 at 5:53 pm
Ben,
For the most part, I can not agree more with the transition to trawler. I've had my Tashiba 40 sailboat for 21 years and motored 80% of the time. We did have some spectacular sailing days, which provide great memories, but I have motored from the Chesapeake all the way to Maine a few times. Very disappointing! For me, the 1.5GPH on my sailboat kept me from switching especially when fuel prices spiked to $5.50 a gallon. The other alternative to consider is a catamaran with mega space, two engines and still have the ability to sail and anchor in shallow coves. You just have to find a yard that can haul a cat. Wish you luck finding a new platform for technology.
Roberta
September 12, 2018 at 2:20 pm
LOL, we just went through the same epiphany and bought a 1994 Ocean Alexander sub deck for cruising the PNW. Only difference is that we still kept our Islander 36 (in Baja). The power boat seems like a mansion, enjoy!
Steve Mitchell
September 12, 2018 at 10:04 pm
Thanks Roberta! I'm excited because of the room that I'll have to continue doing testing and networking and other tech stuff. We are considering OA as well, along with Tollycraft and DeFever and a few others. Glad you like your OA!
Mark McGovern
September 16, 2018 at 3:25 pm
Big decision! If the crew in fully on board that makes a huge difference. The big question is the domain name "trawlerbits.com" available? 😉 Despite your move to "the dark side", I will continue to follow your journey. I am sure that the majority of the information you will continue to share will transcend the kind of boat you choose to explore in. Good luck with the boat search!
Steve Mitchell
September 16, 2018 at 10:05 pm
Thanks Mark! I have some ideas on the domain and branding on the site, but ultimately I will still be sailing on the water doing techy stuff, just not with actual sails 🙂 And you've definitely hit the nail on the head in terms of my focus – what I will be doing on a bigger power boat will still benefit sailors of sailboats, and everyone else on the water!
Lee Jetton
September 29, 2018 at 8:25 pm
Just remember the old adage, "You go from a sailboat, to motorboat, to a motor home, to the rest home, to the funeral home." Try to stay with the former 2. Might consider Gulfstar 44 motoryacht. It has almost everything on your wish list.
Steve Mitchell
September 29, 2018 at 10:06 pm
Thanks Lee! I have heard that adage, and I am long way off from the last two. I've sailed for 20+ years, so I figure I have at least that left in motor yachts.
Thanks for the suggestion on the Gulfstar 44. It looks very similar to the Tollycraft that we've seen.