Exploring via dinghy is one of my favorite things to do while on the water. One of the best times of the day to explore is right at sunset, and shortly thereafter. I've always had challenges finding a good solution to ensure my dinghy can be seen at night or adverse conditions until I found NaviSafe dinghy lights.
I've never had a boat big enough to have a dinghy with integrated lights, and have resorted to handheld lights or other methods (or none at all) for navigation lights. While doing a search last year, I came across the NaviSafe product line at Fisheries Supply, and was immediately intrigued. After a bit of research I ordered their NaviSafe Dinghy Complete package.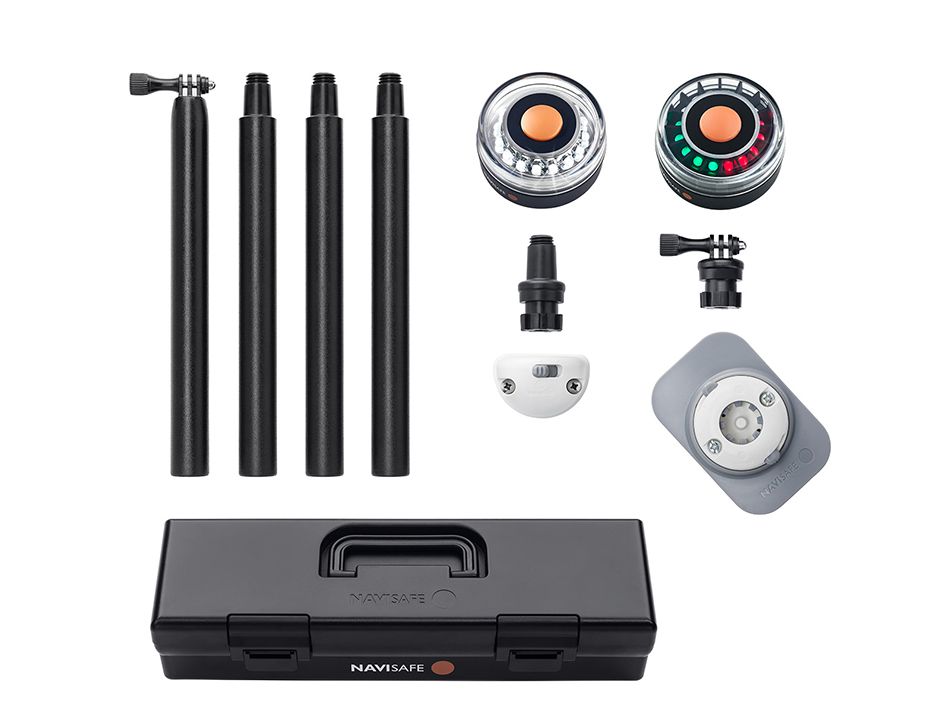 This kit comes with two lights, mounts for both bow and stern, poles for the stern light, and a storage box. The lights are specific – one is an all around white light that would be used on the stern of the dinghy, and the other is a tri-color light which would be used on the bow.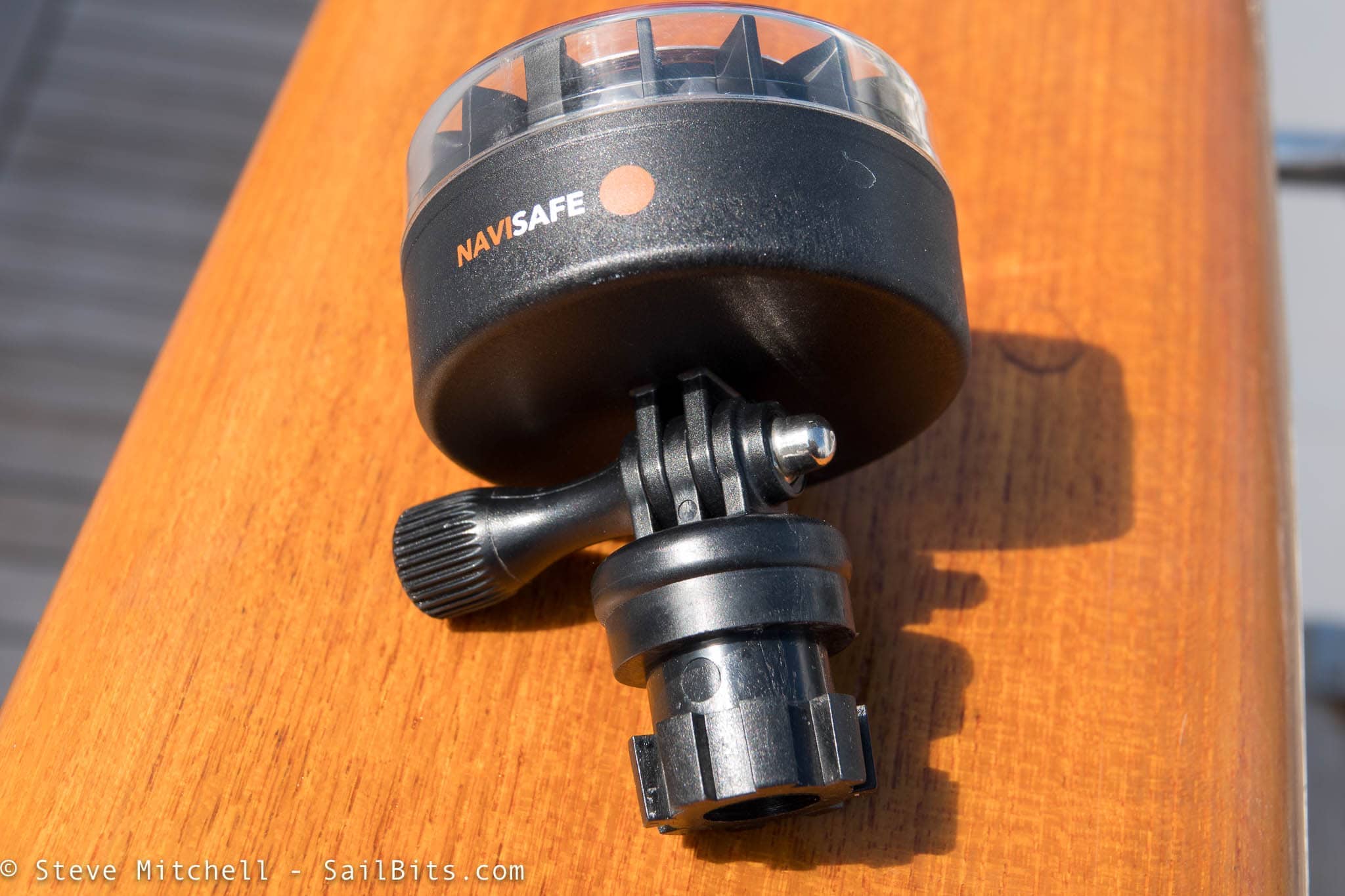 What I immediately liked about the whole setup is the mounts – they are the same hole pattern as a GoPro camera mount. This means I could stick a camera in the bow mount if I wanted some fun footage, and gives me the flexibility of using other mounts if the ones provided don't work. Plus, it is a proven mount system – not something new that has new teething issues.
There are also a bunch of other mounting options including suction cups, rail mounts, and the like.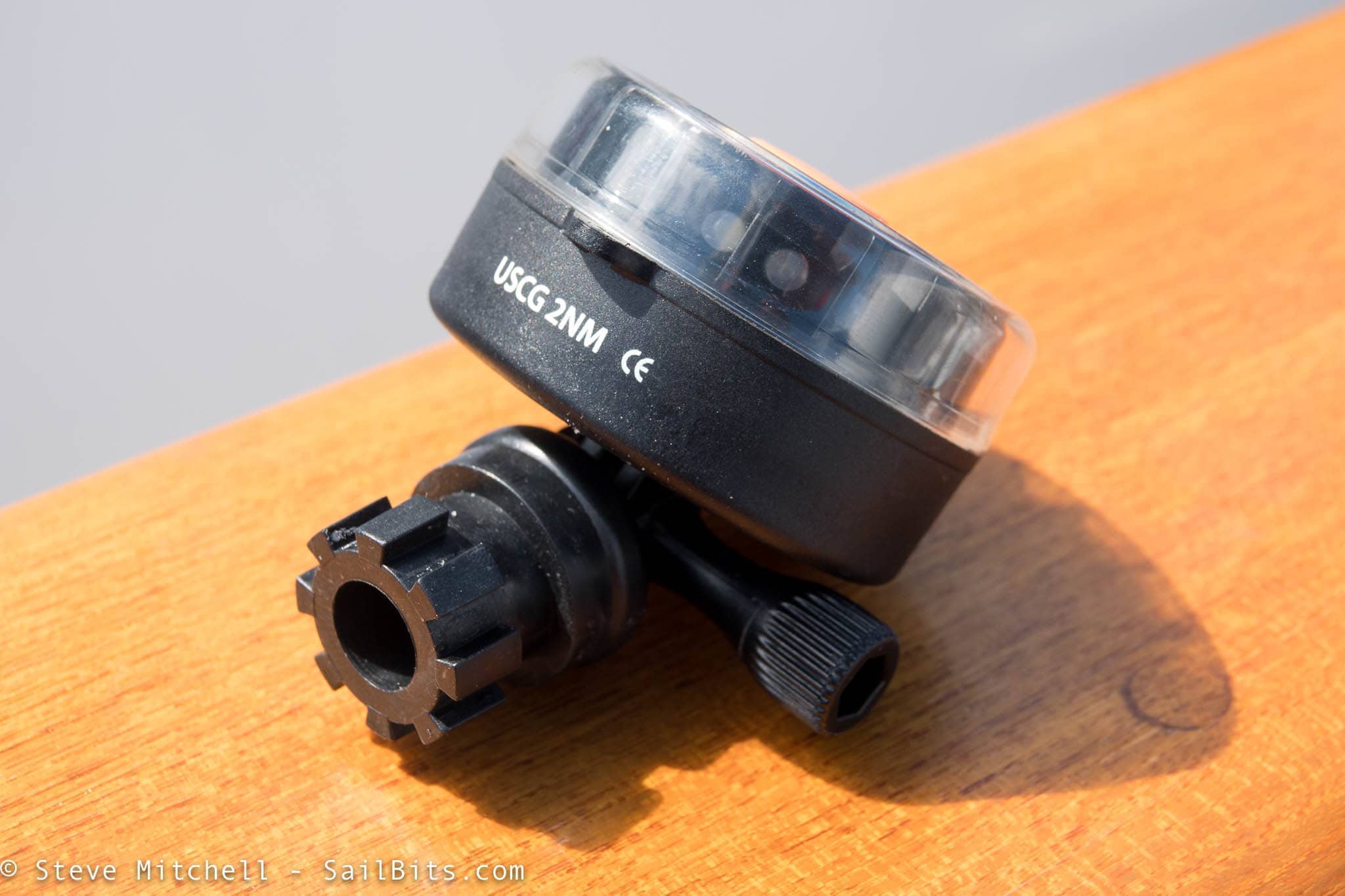 The lights themselves are powered by 3x AAA batteries, accessible by unscrewing the clear top light assembly. They are well made, and have survived being left on the dinghy all season, as well as some bumps and impacts into various docks, boats, etc.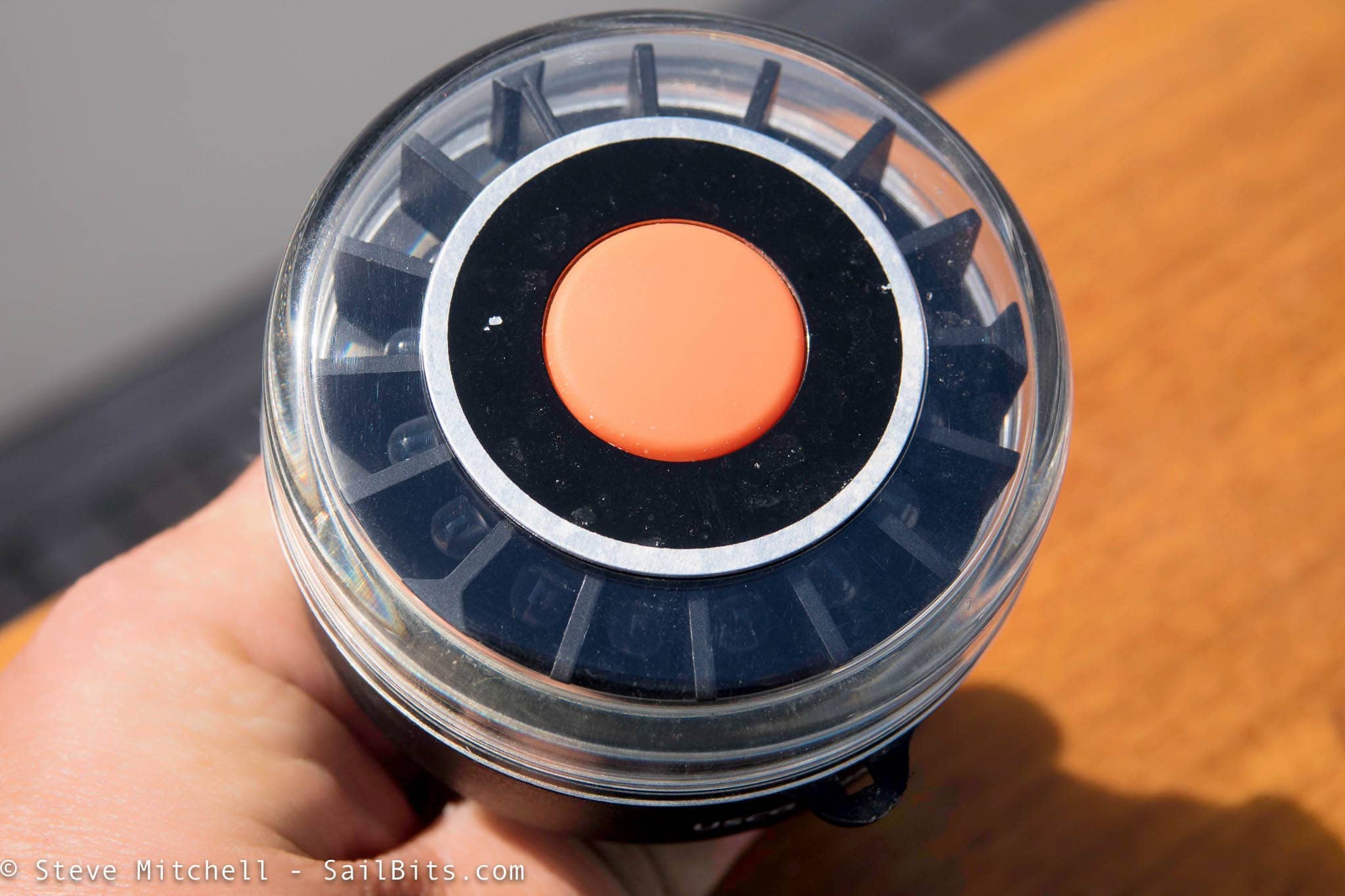 There are 16 LEDs in each light that are extremely bright. A nice big orange power button is on the top of the light – easy to see even at dusk. The above light is the bow / tri-color version, and you can see the plastic separators are a bit wider at those points where the light color changes.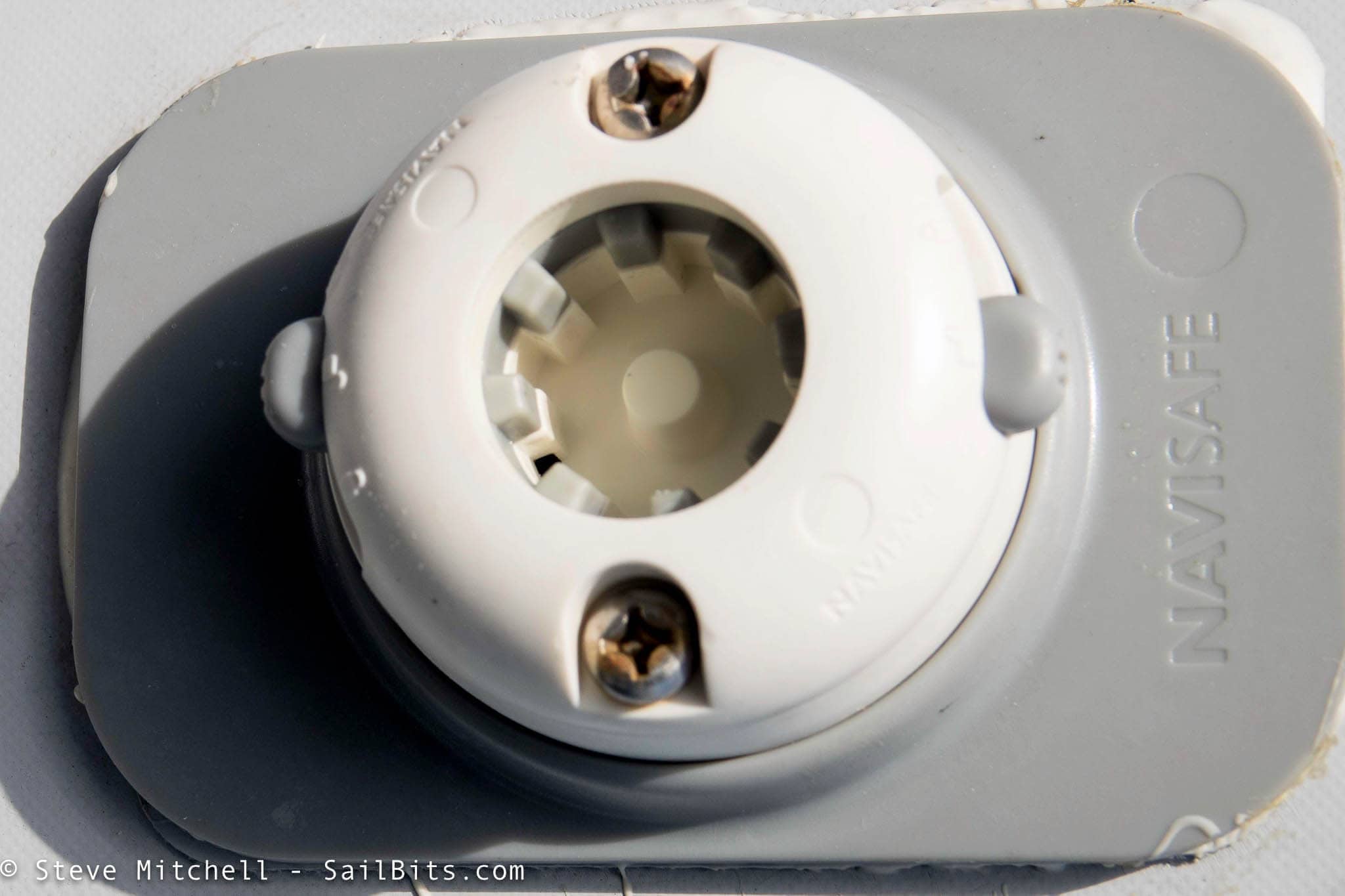 I chose to glue the bow mount onto the PVC of my dinghy. I chose a spot just below where lines are used on the bow, and far enough down that the light wouldn't ruin my night vision while it was on. The initial sticky glue on the back of the mount was worn out from me having used it on another dinghy, and my skills at using glue and epoxy are terrible. It did not turn out pretty, but it is never coming off.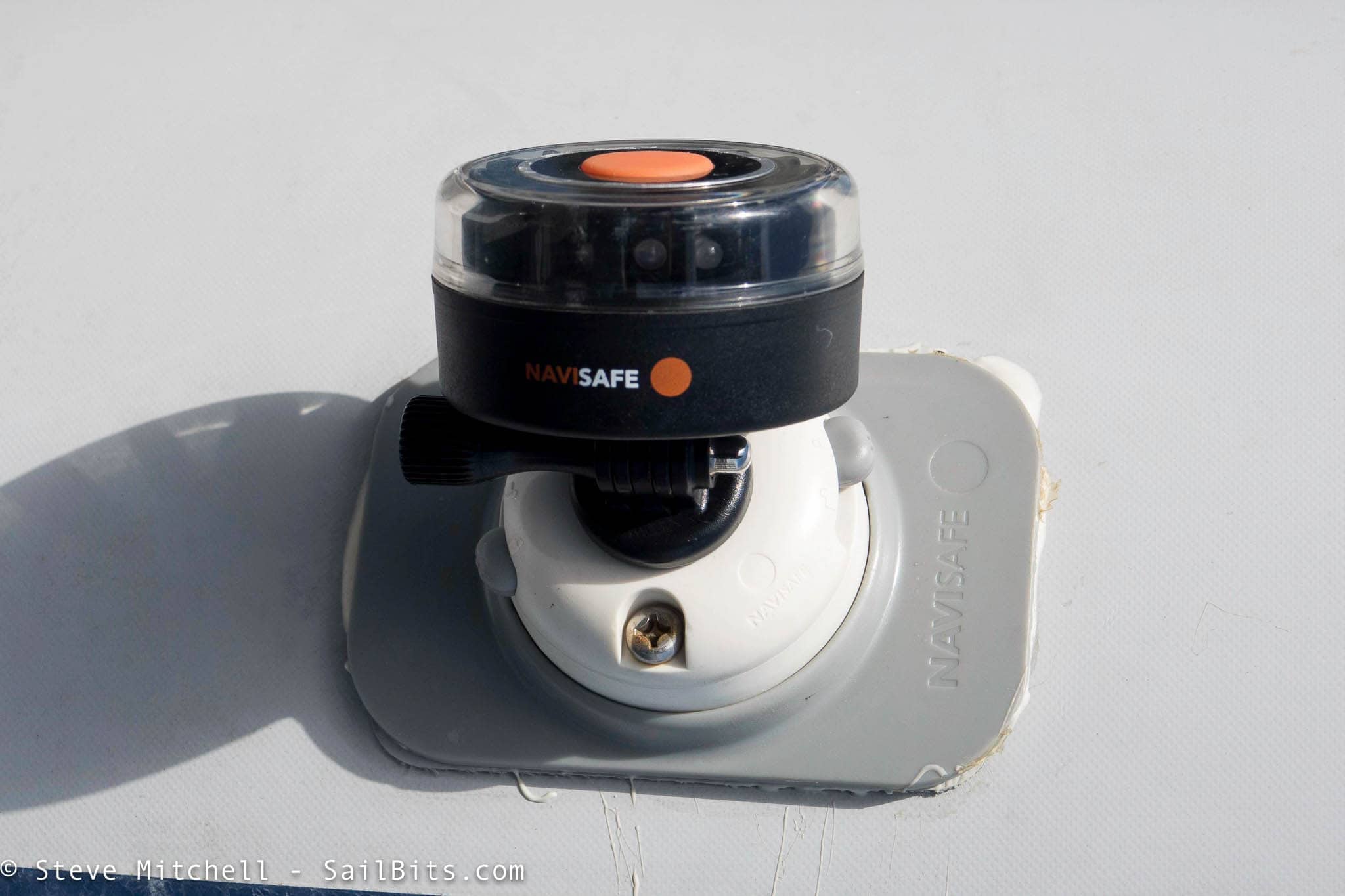 Pop the light in, flip the grey lock button, adjust the level of the light, and you're ready to go!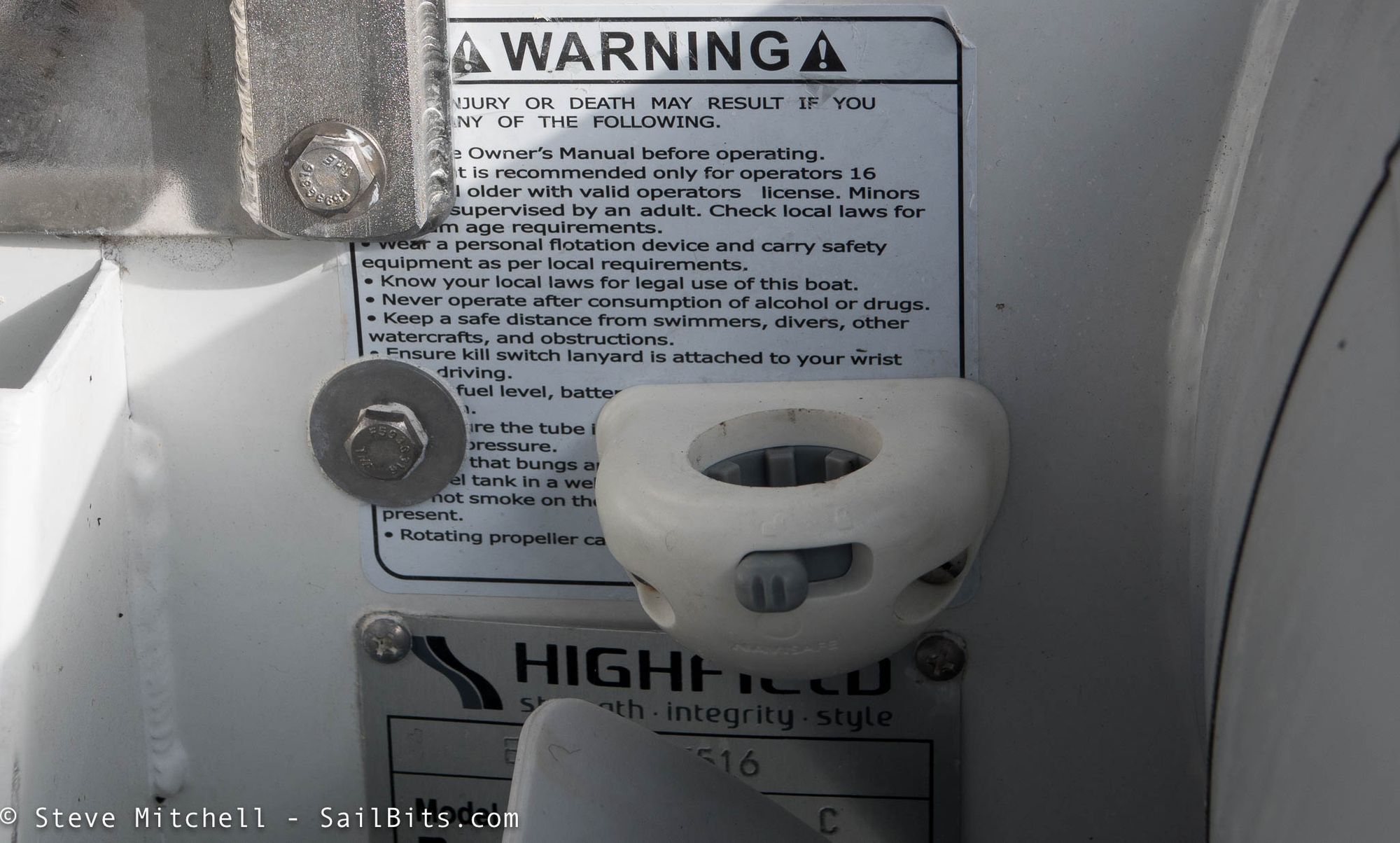 For the stern light, I drilled holes through the aluminum transom and used stainless bolts with nylock nuts (not included).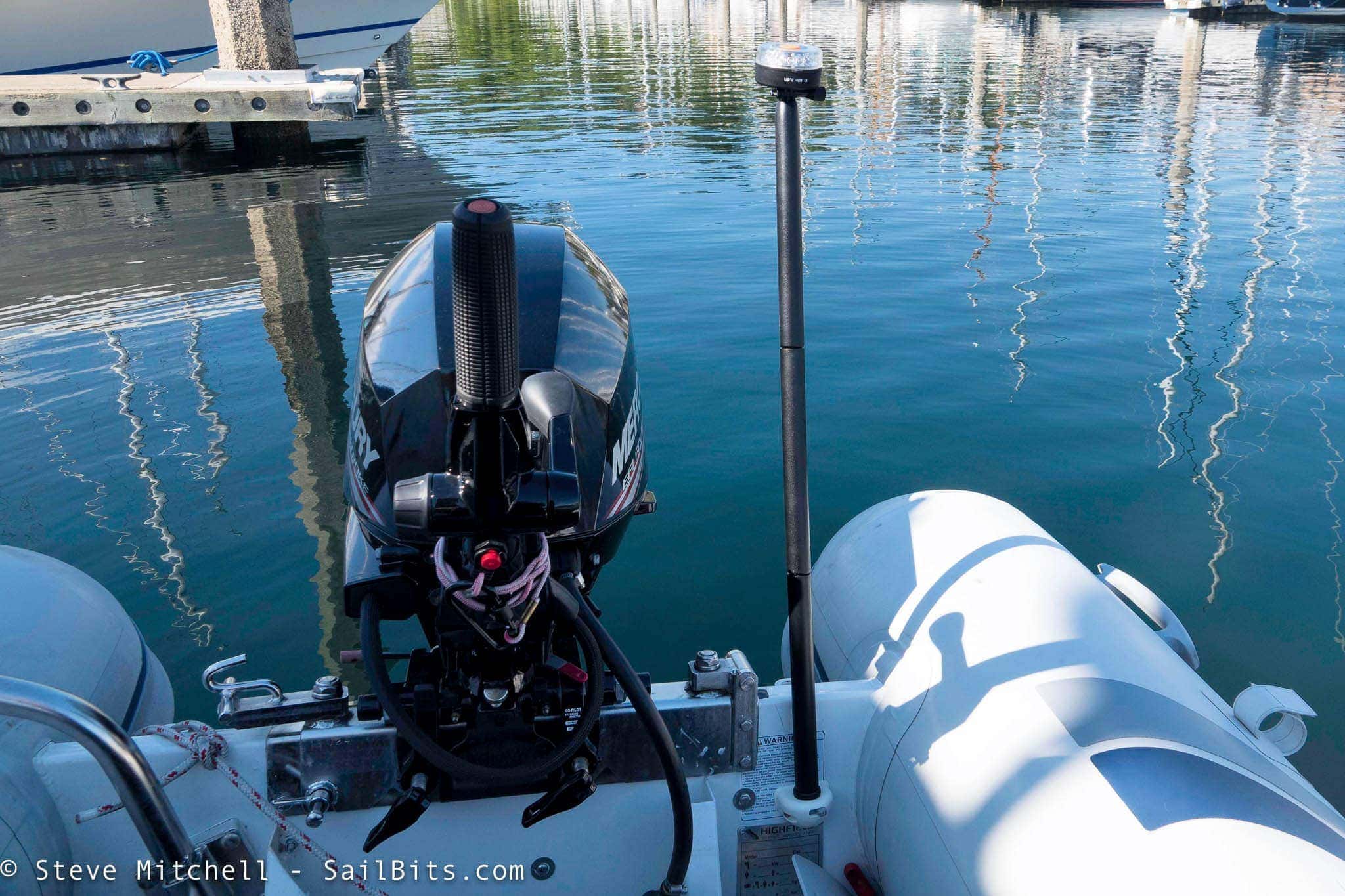 One of the genius parts of these lights is the mounting – the GoPro style mount allows you to spin the light to orient whichever way you need without moving or changing the mount.  In addition, each mount has a swivel point directly under the light you can adjust to get it level with the horizon. This allows very finite adjustments and should allow you to install them on just about any boat.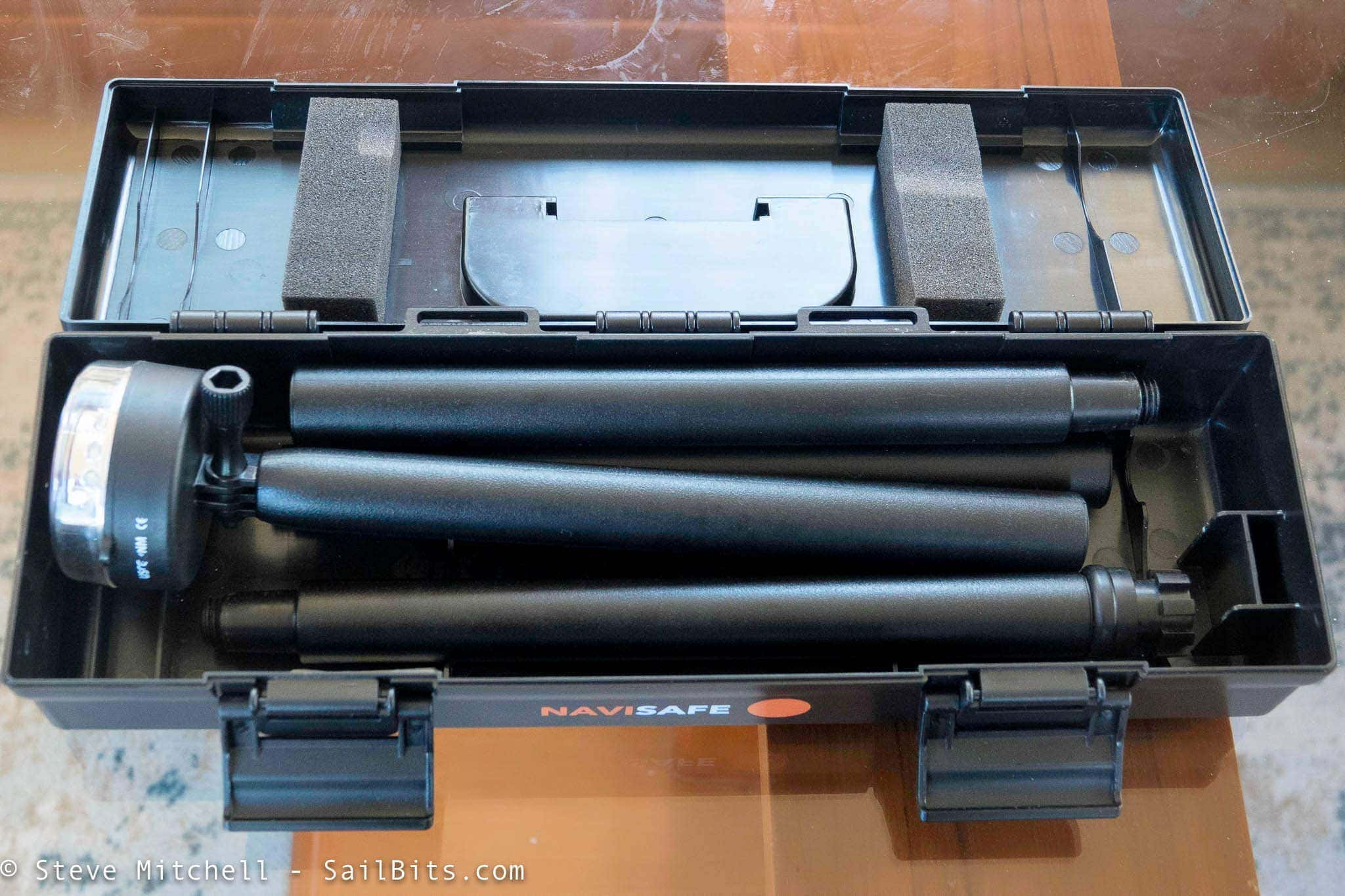 I don't generally use the storage box unless the dinghy is put away for a long while. Instead, I leave the bow light in the mount during the busy season, and the stern light I store in a bag aboard the dinghy. I don't like leaving it installed since it is tall and can get in the way.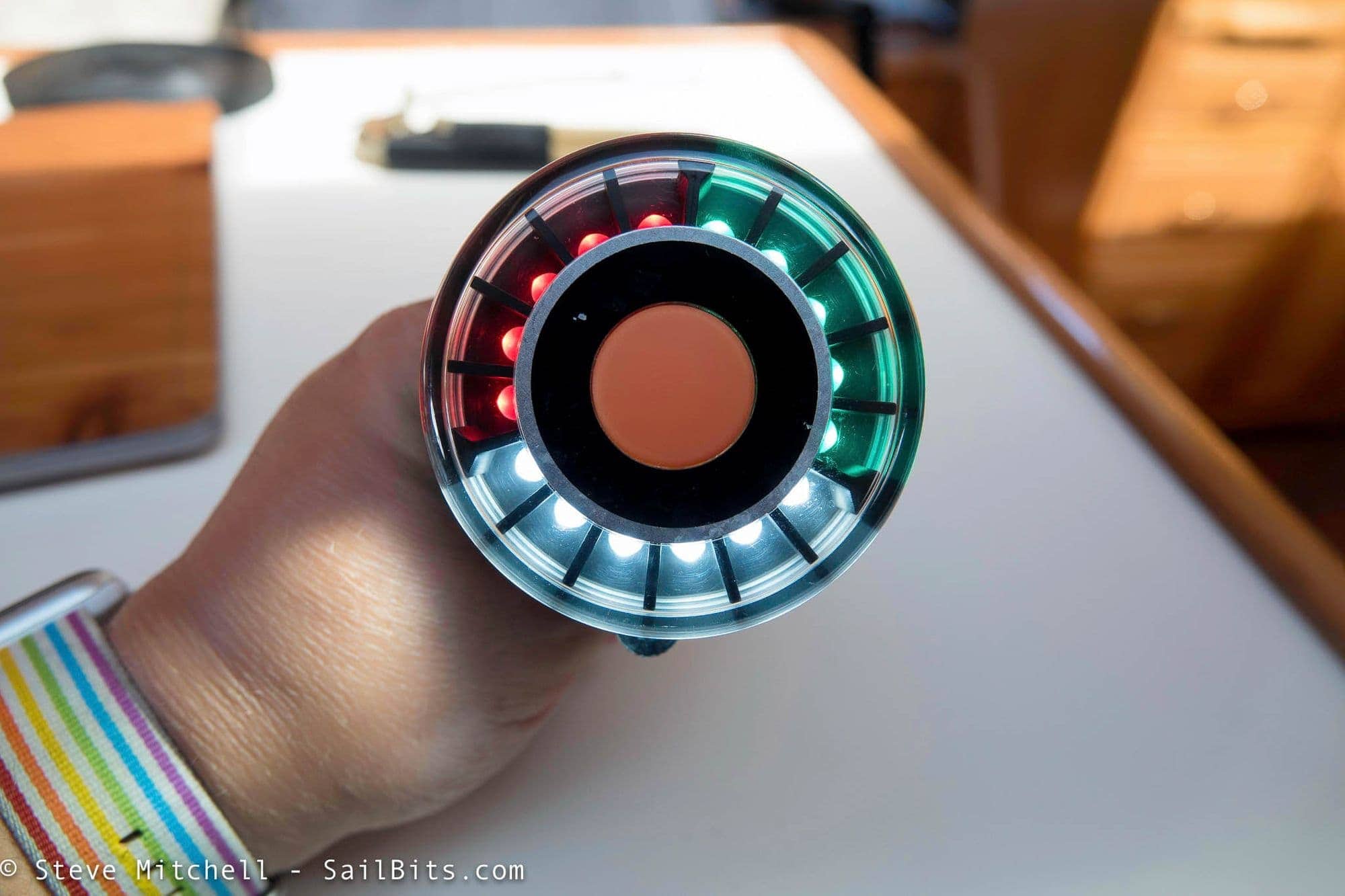 Both lights have different modes that you can control with the power button, which allows for even more flexibility beyond the mounting positions. Pushing the power button on the bow / tri-light for a few seconds turns it on in the default mode above – port/starboard lights facing forward, white stern light facing back.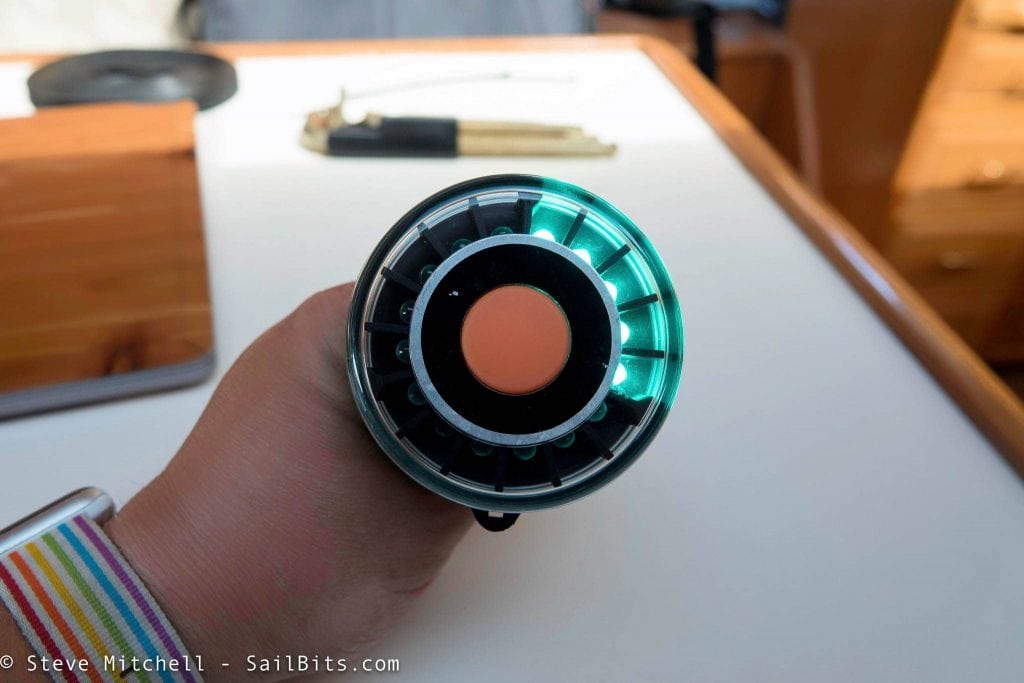 If you short press the power button once it is on, you will cycle through the available options. You can see from the pictures above, this gives you a ton of flexibility depending on your boat size, shape, etc.  You could use a couple of these lights for separate port/starboard lighting, which is really cool flexibility.
The stern light has differing patterns of white light depending on whether you want it to be all around, a dimmer all around, or just stern facing.
I've used these lights on two different dinghies now for a full season and a half and can say that they are well worth the investment. One set of batteries seems to last a whole season, and they are easily adjustable and controllable depending on the conditions and which lights you happen to have. They are super bright, so I recommend being careful when first turning them on if it is dark out – you will ruin your night vision.
Some people have reported leaks and sun damage from leaving them out all the time, which I could see. The plastic is decent, but I am sure it would wear, just like anything else in the marine environment, pretty quickly. I remove mine when not in more constant use during the busy season. The other complaint is that they don't float, but I think this is more from kayakers and smaller boats where getting them on/off might be a bit more of a challenge.
Highly recommended for smaller dinghies that don't have integrated lights already.
Buy the NaviSafe Dinghy Complete package at Amazon and help support SeaBits.
---
Archived Comments
These are read only comments from the old system. Scroll down to participate in SeaBits Discussions, our new interactive forum attached to each article.
Labatt s/v/ Pelican
July 3, 2019 at 9:22 pm
We've had these for two years and love them. They used to come with an aluminum telescoping pole instead of the plastic "assemble the pieces" pole which I liked a lot better, but we broke it (when I lost my balance and fell on it) so now have the plastic one. Def not as nice. Even though it's not quite regs, we use a single tricolor on the stern as opposed to putting a red/green forward and a white in the stern. We've been stopped before (planing through the mooring field.. oops 🙂 ) and the authorities commented on how nice the lights were after admonishing us for our misdeed. We've also put bow and stern mounts on our rails on our big boat so we can use these as emergency backups if we lose our primary nav lights.