I've owned Kaos for just about a month now, and am already knee-deep in some smaller projects. I am a big fan of iterative design and project execution, and many of these fall into that category. I may not have all of the pieces of the final design in place, but I've made progress in improving things, and know more about the systems involved.
Electrical System
Batteries
Unfortunately, within a few days of being aboard, I could tell the main house bank batteries were completely toast. This bank is 6x flooded golf cart style (GC2) 6 volt batteries wired in series pairs to provide 12 volts and a total of 705 amp hours, or 352 usable amp hours.
My first trip was from Anacortes to Friday Harbor, and various instruments were behaving erratically because of the bad bank. There were instructions from the previous owner to have an ACR forced on to combine the inverter and house bank while away from the dock for better performance, so I suspected something was up.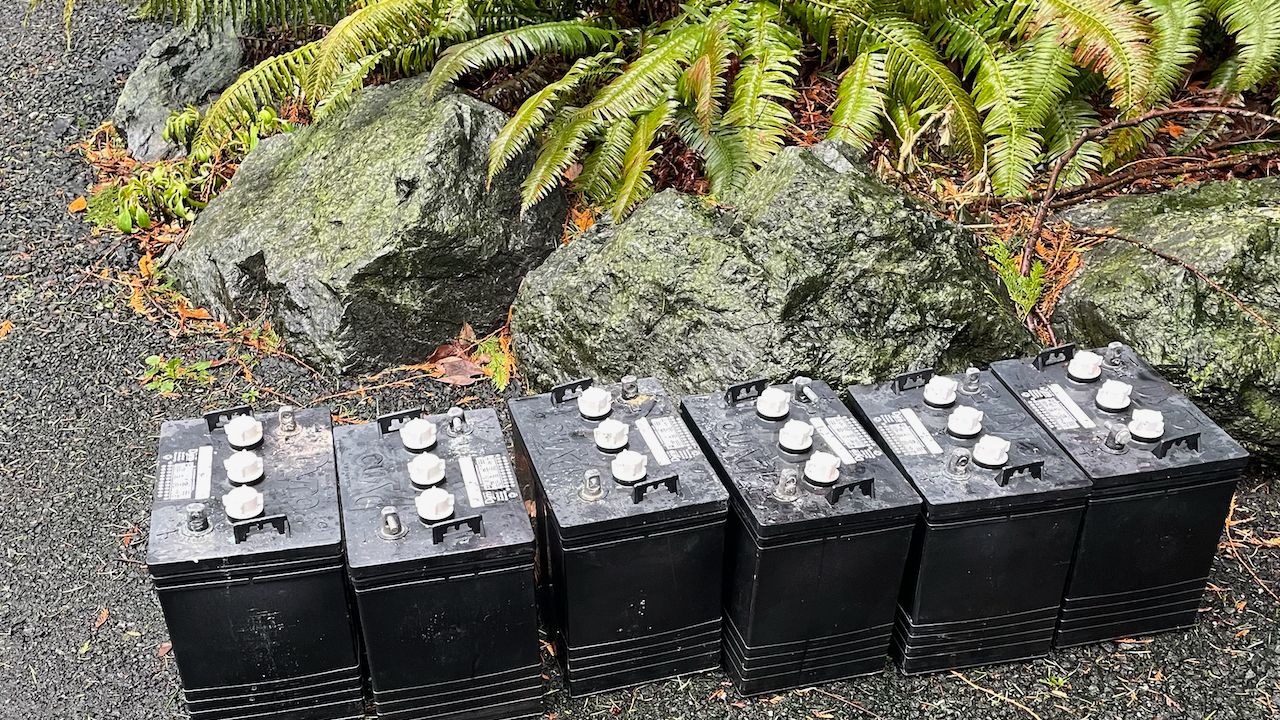 I was able to find (by a small miracle) a way to get 6x of these batteries in Friday Harbor, and only had to wait a couple of days. The only real challenge was the dock I was at, which had a very steep hill from the boat side up to the parking lot, and required a lot of muscle to remove the old batteries.
I chose to replace the flooded batteries with the same chemistry and type, and died a little inside. I've not purchased flooded batteries for myself in many years, although many customers and projects that I've been involved with still go that route. Nevertheless, for about a $1000 investment, I had a working house bank which was going to be important for things like water, toilets, lights, and navigation equipment. I plan on selling these batteries within 1-2 months after putting the new LiFePO4 battery system in.
AC Power
I knew there were some challenges with Kaos' electrical system, specifically the AC side of things. In the first week, I found several wires on the main panel that were in bad condition and needed to be replaced - they were responsible for most of the AC power and distribution, and I'm glad I found that early on instead of during a failure.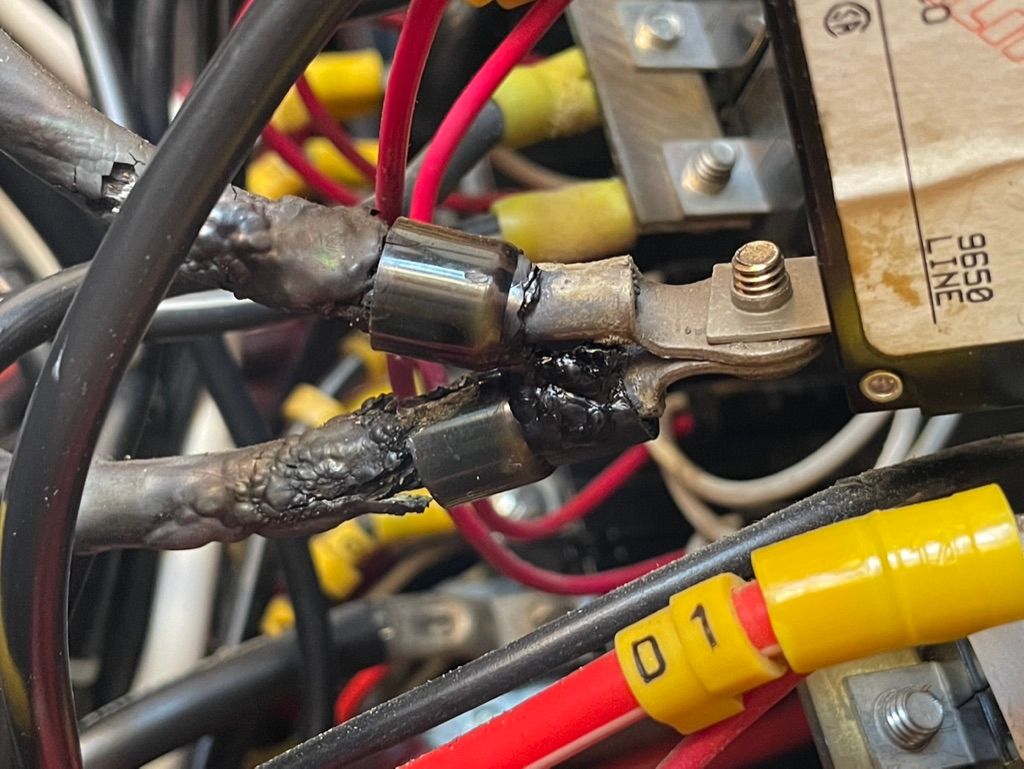 I also added some monitoring for the two legs of AC power so I can ensure that things are not overloaded and are balanced well. Almost all of the analog gauges on the main panel are wildly inaccurate or don't work at all. I highly recommend manually metering every AC and DC connection when you first buy a boat - never trust what you see on the meters.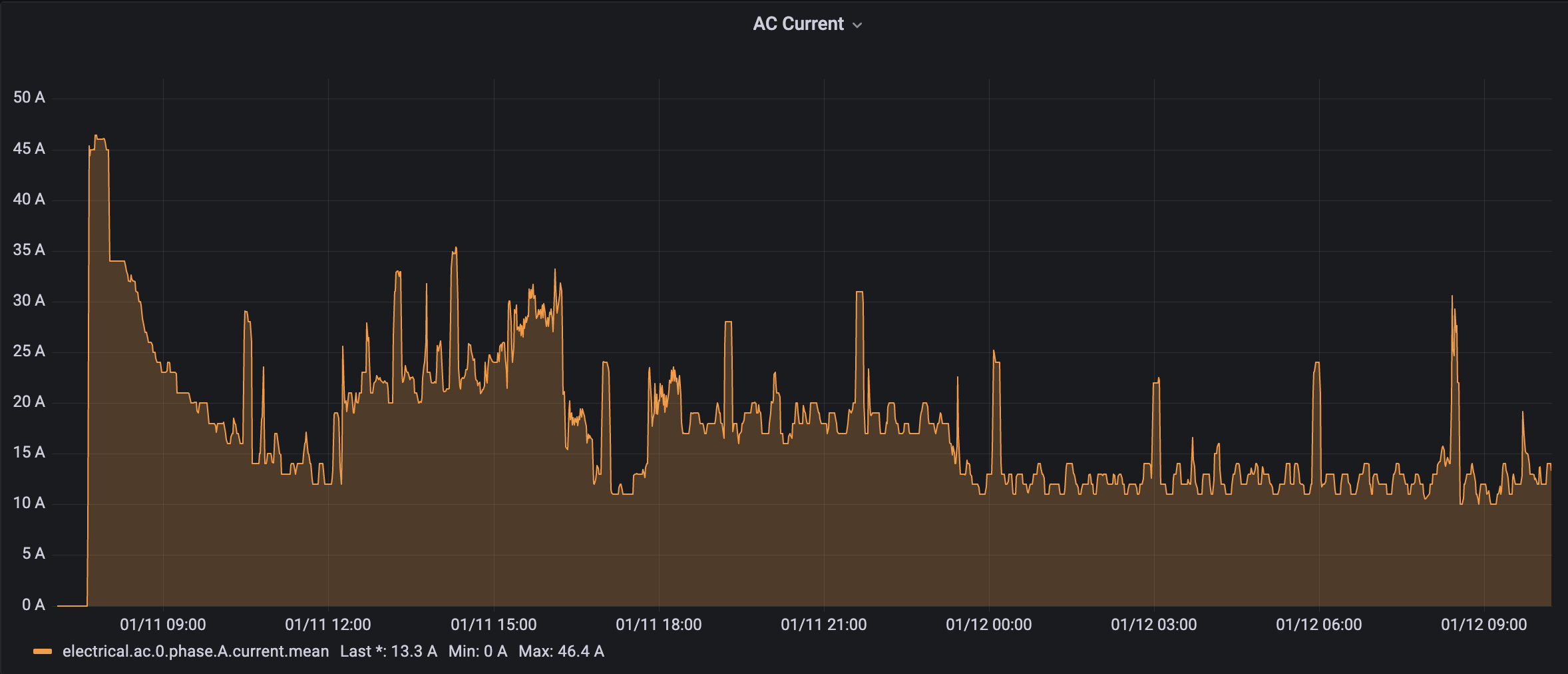 I found that the primary leg of AC power was running near maximum and at times over the maximum. This is due to some changes that were made at some point in the distant past to allow for both a 50 and 30 amp shore power connection to be used simultaneously, which is a good idea, but the panel was never designed to handle that much load. Breakers don't exist in the right places, and several breakers are sized 30 amps too large for the wire. Much of this has been replaced, bypassed, or will be corrected in the next few weeks.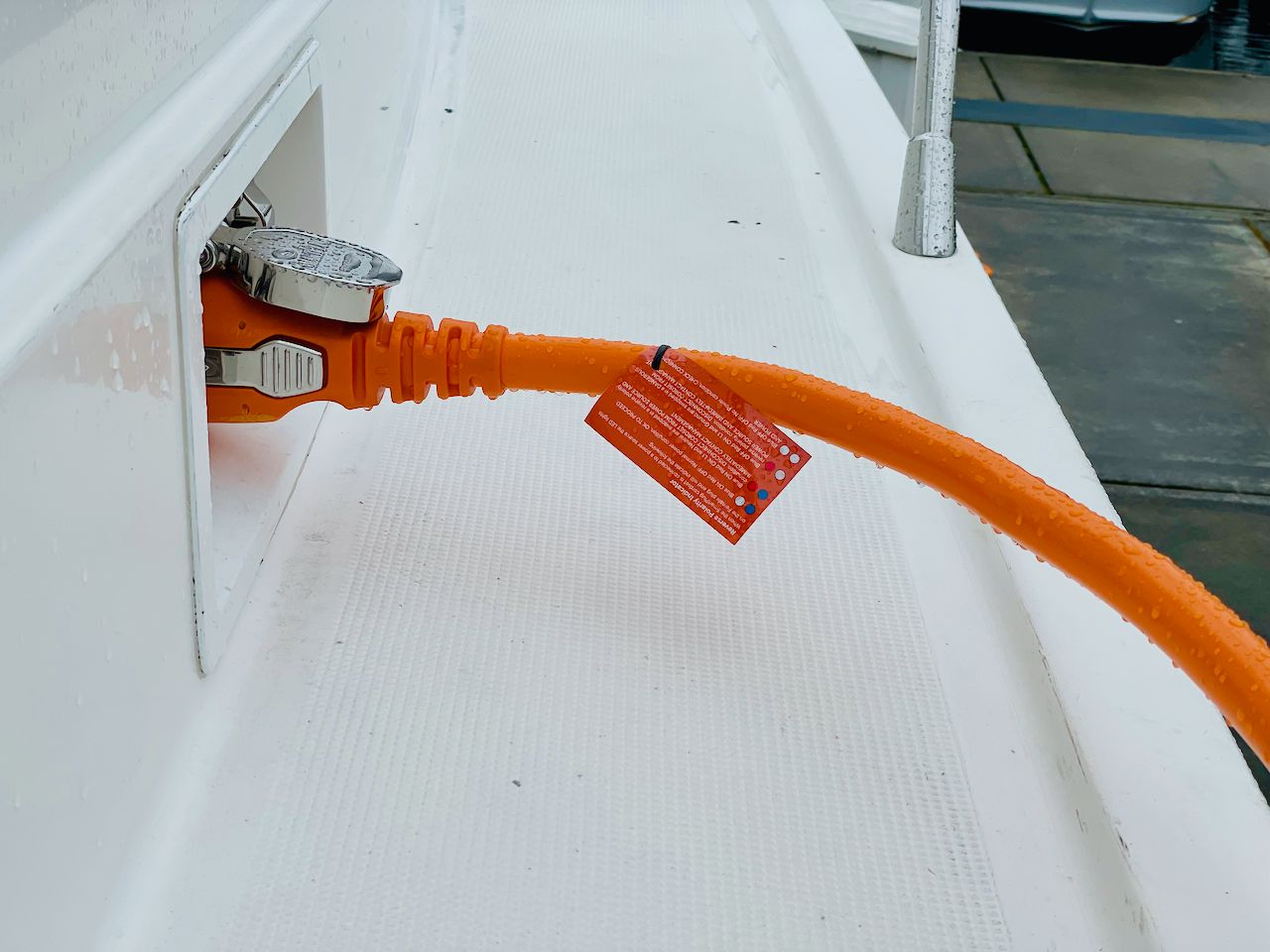 One of the first things I did is to replace the standard 50 amp shore power inlet and associated difficult to handle Marinco EEL power cable with a SmartPlug and cable. I've used SmartPlugs for years, and even wrote about them over 10 years ago on one of my sailboats after a near fire. Not only are they better designed than standard plugs, but for a 50 amp cable, the actual cable and wire are far more flexible and manageable. If you've ever tried to work with a cold, icy 50 amp cable, you know what I'm talking about. SmartPlug cabling is just better all around.
Lighting
I have an obsession with lighting. I will admit that. I am very picky about the quality of white light, the consistency in how it is thrown out of the fixture or strip, and the ability to control it. In Kaos, I was fortunate enough to be able to do some major retrofits within the first week without too much effort.
Halogen Hell
There are 33 G4-style halogen light fixtures aboard Kaos, and every single one had a standard, old school halogen bulb in it. Not too bad of light quality, but amazingly hot, and a huge drain on the battery bank. With all lights on, I was drawing about 45 amps alone just to power the halogens. 45 amps!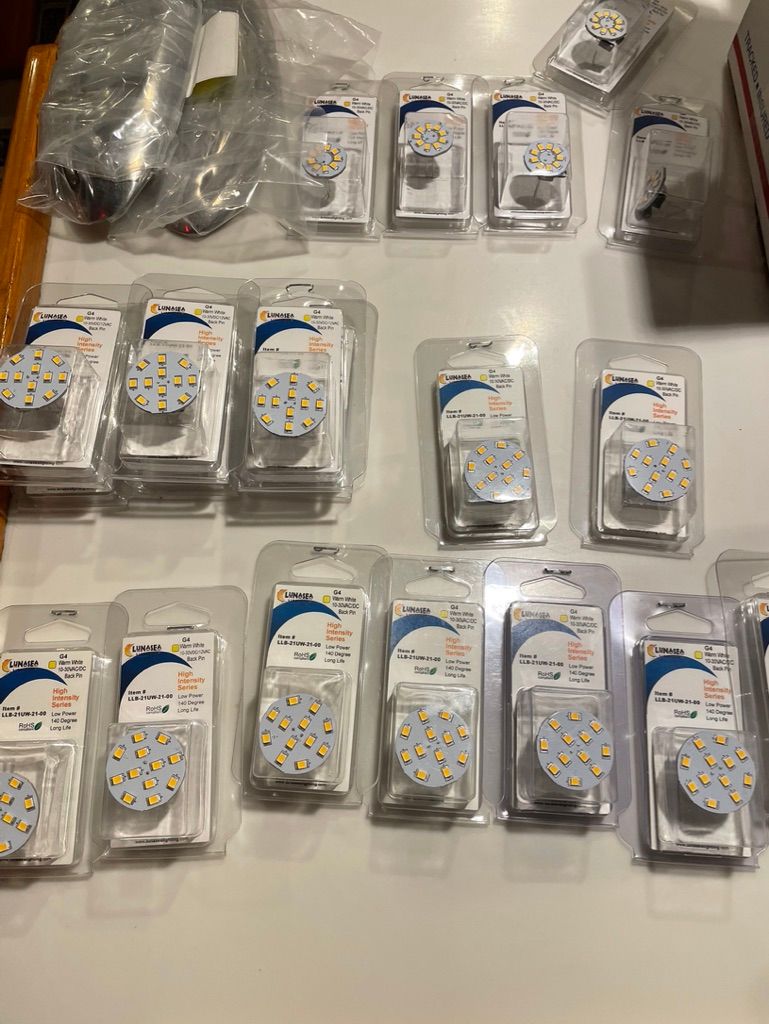 I have loved the quality and reliability of lights from LunaSea for a number of years and have talked about them before. I ordered various shades and types of lights from LunaSea, MarineBeam, and SailorSams. Hands down, the warm white lights from LunaSea provided the best coverage and most consistent warm white light without any issues. The other vendors had small issues like hot spots, weird noises when the bulbs were running, etc.  After replacing all 33 lights, I was down to about 4-5 amps total consumption with all of them on versus 45 amps!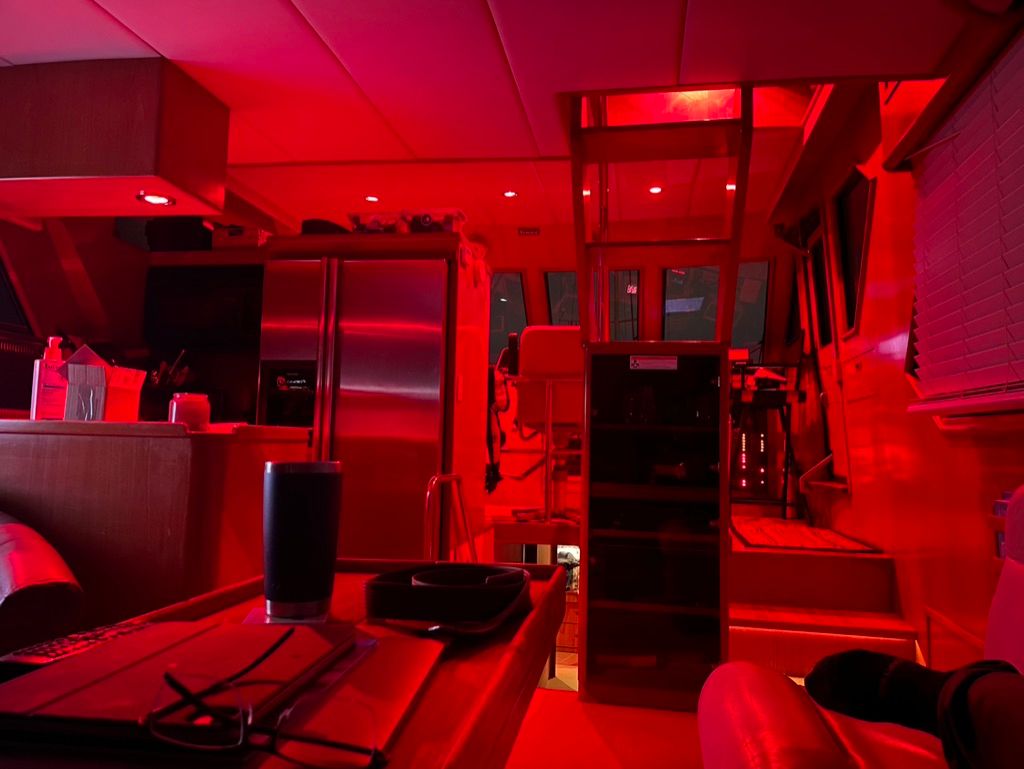 I am testing some multi function bulbs that allow for red / white, white / blue, and different dimming levels, all through the existing switch. As an example, switching these particular ones on initially start as red, and switching back off and on again within a short period changes it to white. I wanted to have the pilothouse and galley red for night passages or at anchor. These bulbs have some compromises as they are shoving both white and another color in a small package, and they're not made by LunaSea, so I will continue testing for a while before making a final decision.
New LED strip lights
Kaos had some adequate 12 volt accent lights in a few places - above the valences in the salon, all around the upper woodwork in the master berth, under the guest bed edges, all of the stairs, and the whole back rail in the cockpit. These were all the ubiquitous 12 volt rope light that was popular in the late 90s when the boat was built. They aren't the best light consistency and have hot spots where the light element is, and they're not the most power efficient.
I wanted something a little nicer and more consistent than the strip LED lights I've used for the last 2 boats. These consisted of a RGBW, or red-green-blue-white, high quality strip with individual LEDs. They required a moderate sized controller with a lot of little fiddly wiring, and a wireless remote somewhere to change colors and dim. While this provided a lot of control, I didn't like the remote at all, and the wiring was prone to some challenges with all of the different connections for the types of lighting and colors.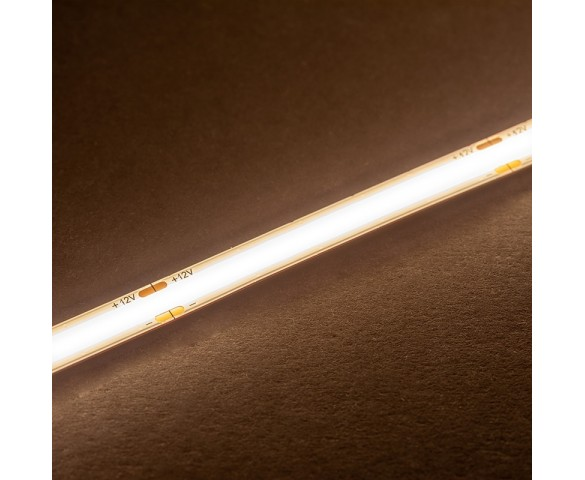 I found a new style of LED called "chip on board" or COB. This design results in a strip light that has a consistent, unbroken bar of light lasting the whole length of the strip. They are very similar to the RGBW strips in that they can be flexed a lot, stuck down with adhesive that is included on the back of the light strip, and cut to length. They also only require 2 wires, of which you can streamline with barrel connectors.
I purchased a few rolls of these for the salon valences, master bedroom, and guest bedroom. I also purchased the various barrel connectors as well as some WiFi enabled remotes that are slimline and work with Home Assistant (the subject of another article in the future) to allow for automation and centralized control.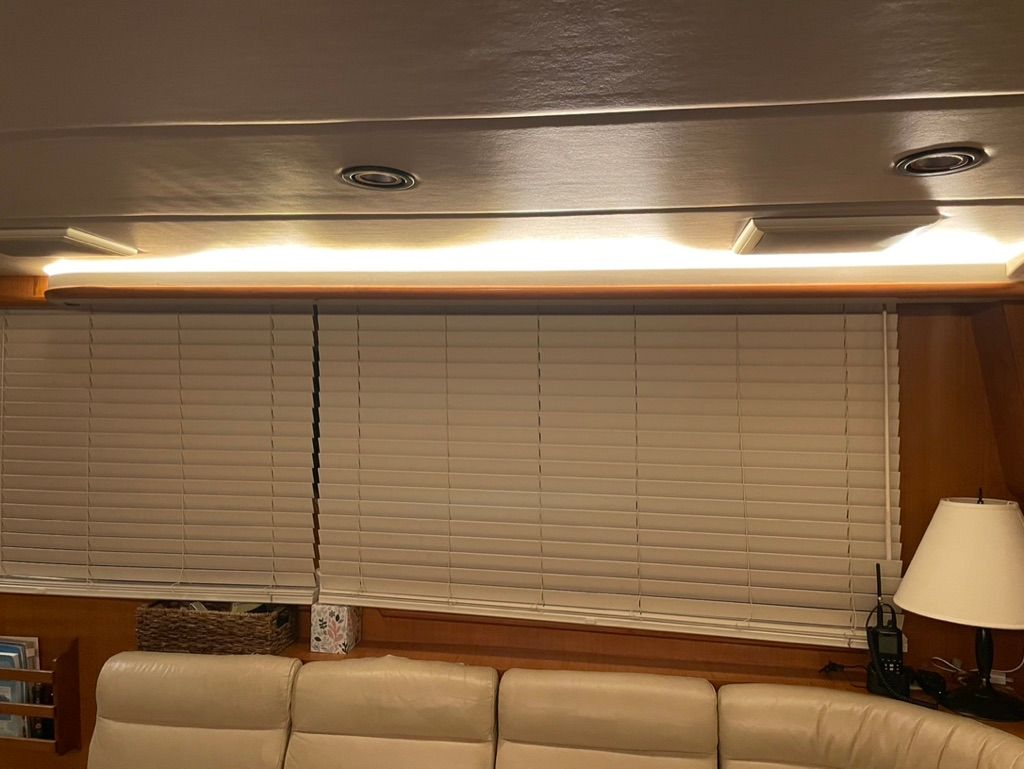 I am beyond pleased with the quality of the light, the smooth dimming, and the overall look. Gone are the hotspots from individual LEDs, and it looks like a super-professional installation. Both the salon and the master bedroom have a completely new source of light, whereas before it was just an accent. I find that in the salon I use these as the primary way of lighting up the space almost all the time at night.
Electronics
One of the first things I always do aboard a new boat is add some form of electronics. On Kaos, this was a bit easier because of an existing NMEA 2000 bus throughout the boat. My electronics installation is going to be a long journey of different revisions, but to get started, here's what I've done.
Furuno + TimeZero Professional
Mirroring a similar configuration from Rendezvous, I removed all of the Garmin chart plotters, GPS, radar, and other bits. I replaced it with a reliable and powerful system including:
Furuno DRS4DNXT radar
TimeZero Professional on Intel NUC running Windows 10
This combined with the existing Simrad NAC-3 + AP48 autopilot provides me with a fully configurable navigation, planning, and radar suite.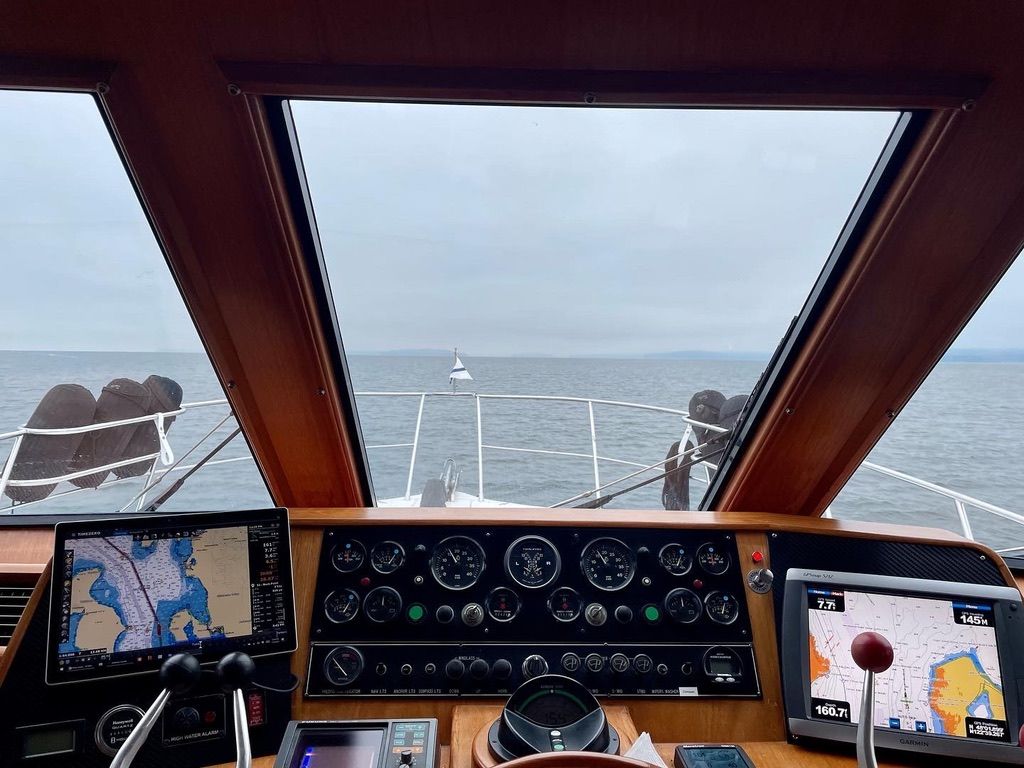 Within 24 hours of being on the boat, I actually had a Microsoft Surface Pro screen (undocked from the laptop keyboard portion) velcroed to a spare spot on the helm and connected via the docking station to the NMEA 2000 network. This allowed me to use that system for navigation and charts, since the Garmin system hadn't been updated in a long while.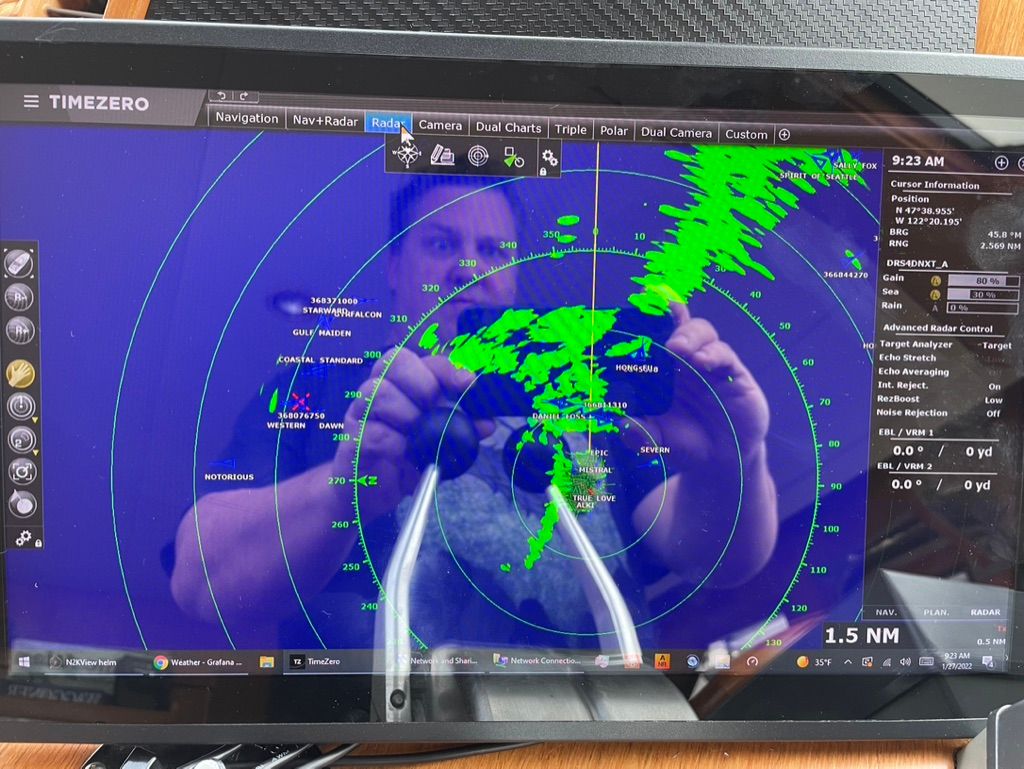 Once I got back to Seattle, I removed the Garmin HD radar and replaced it with the Furuno, along with adding a few other sensors. I have some new displays and other bits and pieces I'm experimenting with and will write more about soon as well.
Other Electronics
Other things I've added within the first few days:
Linux server running SignalK, AIS dispatcher, Saillogger, weather station, and more.
Maretron AC power monitoring.
Maretron IPG gateway + N2Kview to allow for monitoring and alerting
Vesper Cortex VHF/AIS  - this replaced the existing AIS transponder and also provides remote monitoring via its connection to NMEA 2000
Toilets
Not the most exciting thing in terms of projects, but this matches what I did on Grace and Rendezvous early on in our ownership. On Kaos, I've decided to go with Dometic MasterFlush 8100 series heads instead of the Raritan models I've used the last 10 years. This is for a number of reasons.
First, I've never had MasterFlush myself, although I've used them on other people's boats. I am always game to try something new and this is a perfect opportunity and low risk choice since so many people love these toilets just as much as folks love the Raritan ones.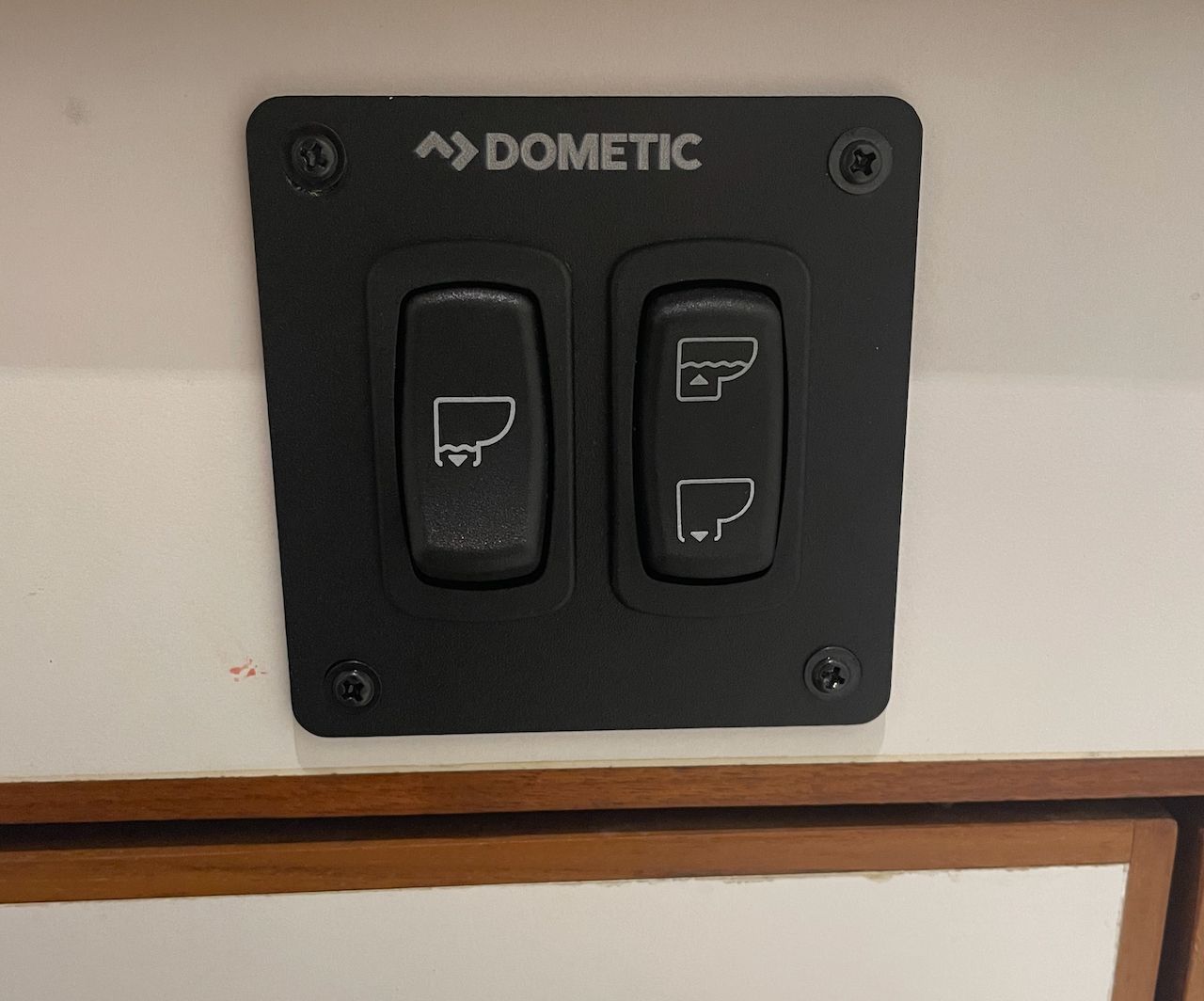 Second, the controls for the 8120 are far easier to use and understand. This was a common problem with the Raritan to the point where I put colored stickers on the buttons to push for guests. The MasterFlush panel is very simple, and the one big button make it very easy to use.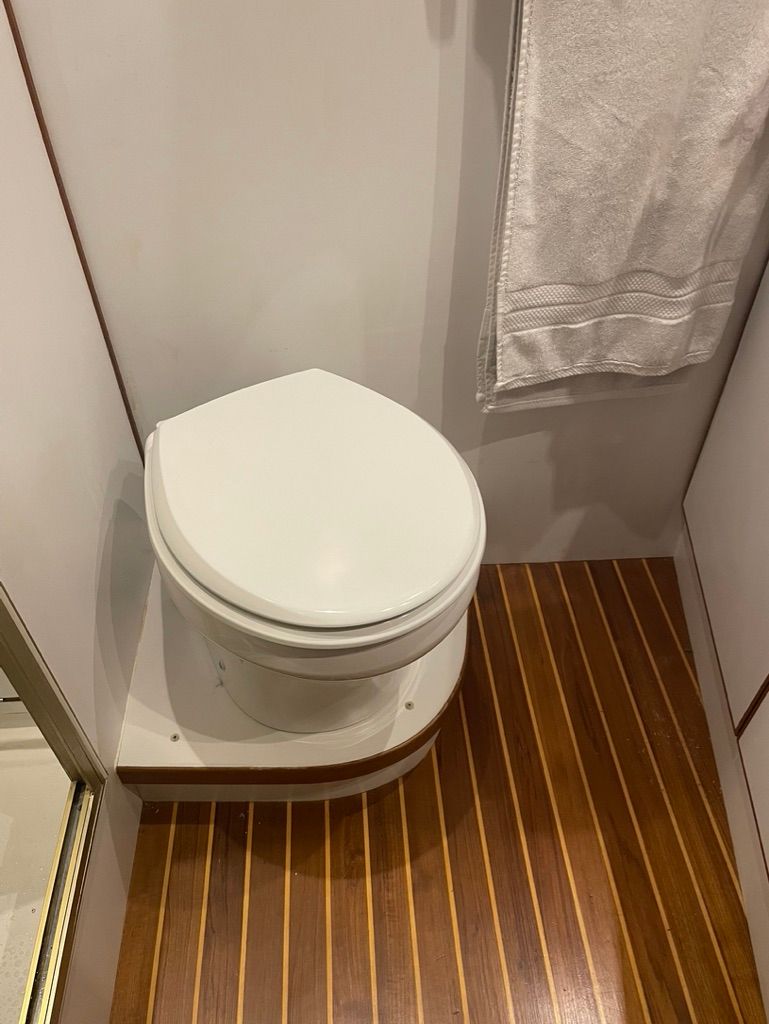 Finally, and most importantly, the MasterFlush has a flat top to it which allows you to use just about any toilet seat on the market, including a full-fledged fancy bidet. More info on that soon.
Heat
Kaos has two heating systems - an extensive Webasto 2020 hydronic system, and a reverse cycle system.  The reverse cycle main water circulation pump was damaged during survey, and the previous owner ordered a replacement pump, but it didn't arrive by the time I took possession of the the boat.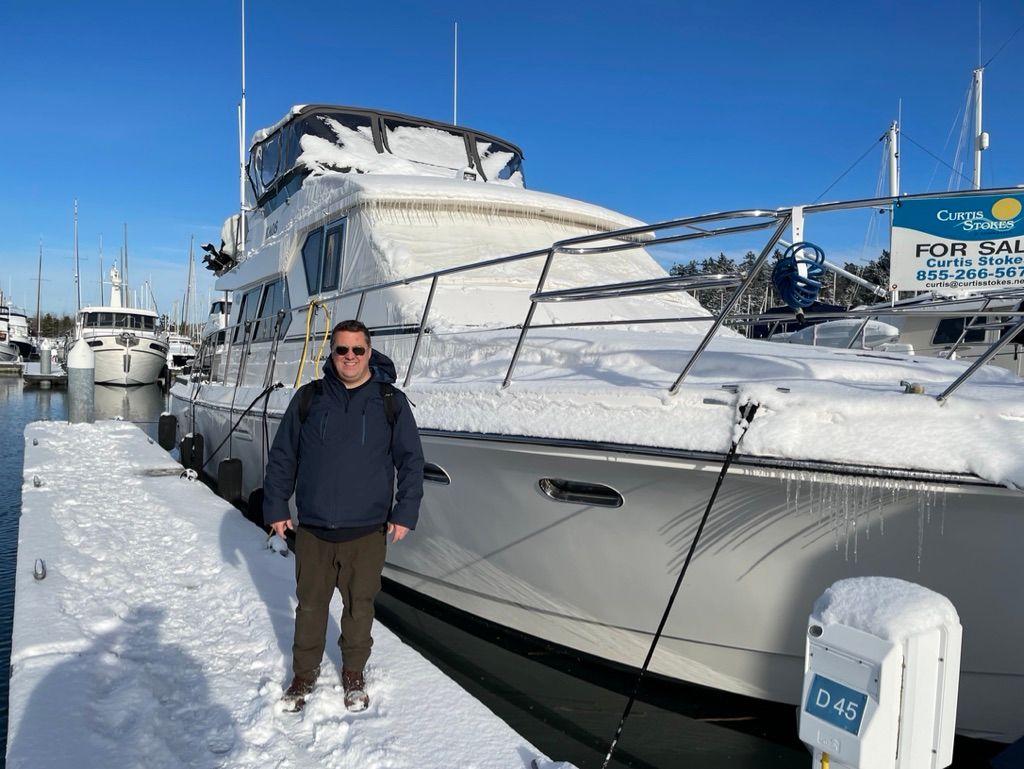 Also during this time, we experienced some of the lowest temperatures we've seen in many years, along with a decent amount of snow. The Webasto hydronic system was left on at about 55F and kept the boat warm and safe from mid-December all the way through mid-January.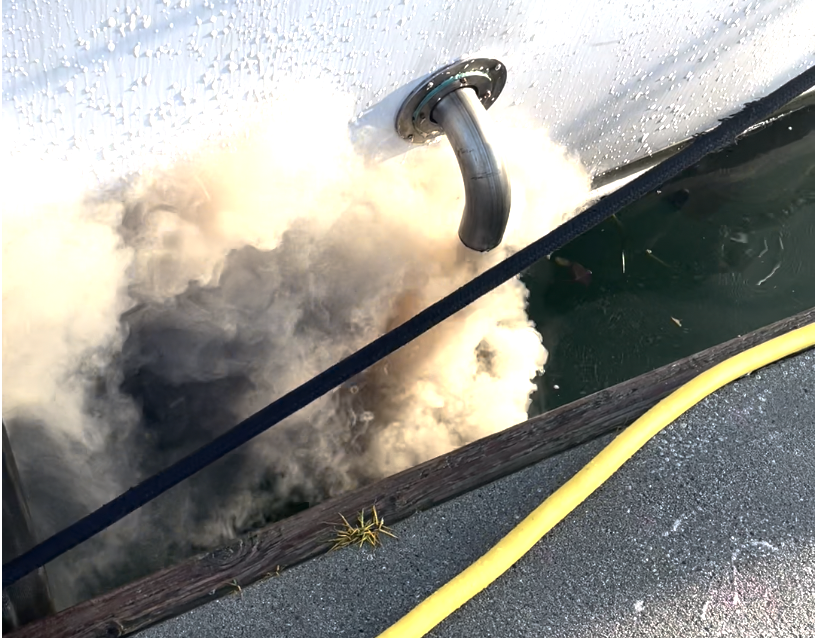 While in Friday Harbor, and subsequently out at several anchorages, I noticed a lot more smoke coming from the heater. It got even worse over a period of a few days, but would only happen once a day with the heater running 24x7. I have had this model of heater before, so I did the usual maintenance steps which included checking the nozzle (I didn't have a spare), ignitors, fuel supply, and a number of other steps. Nothing seemed to help that much. Eventually it stopped igniting altogether.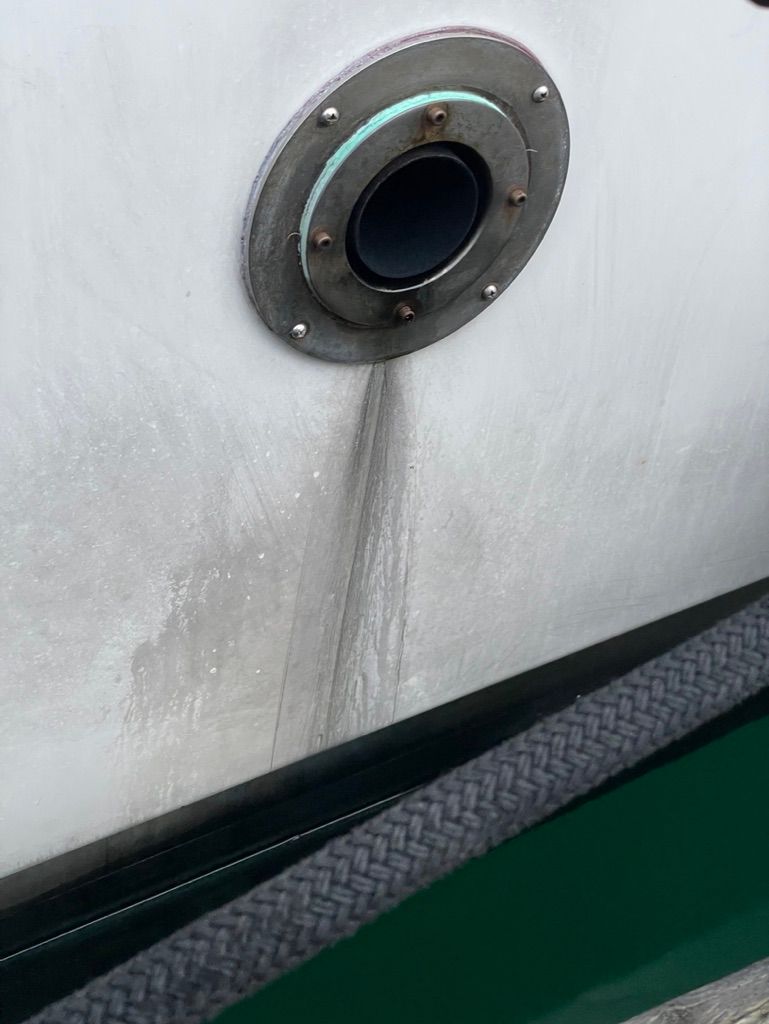 An additional side effect is the staining and fiberglass mess that the heater caused. I'm still cleaning this up off of various things, and waiting to do a full clean until I get the heater working again, as I suspect there will be some left over diesel it will burn off.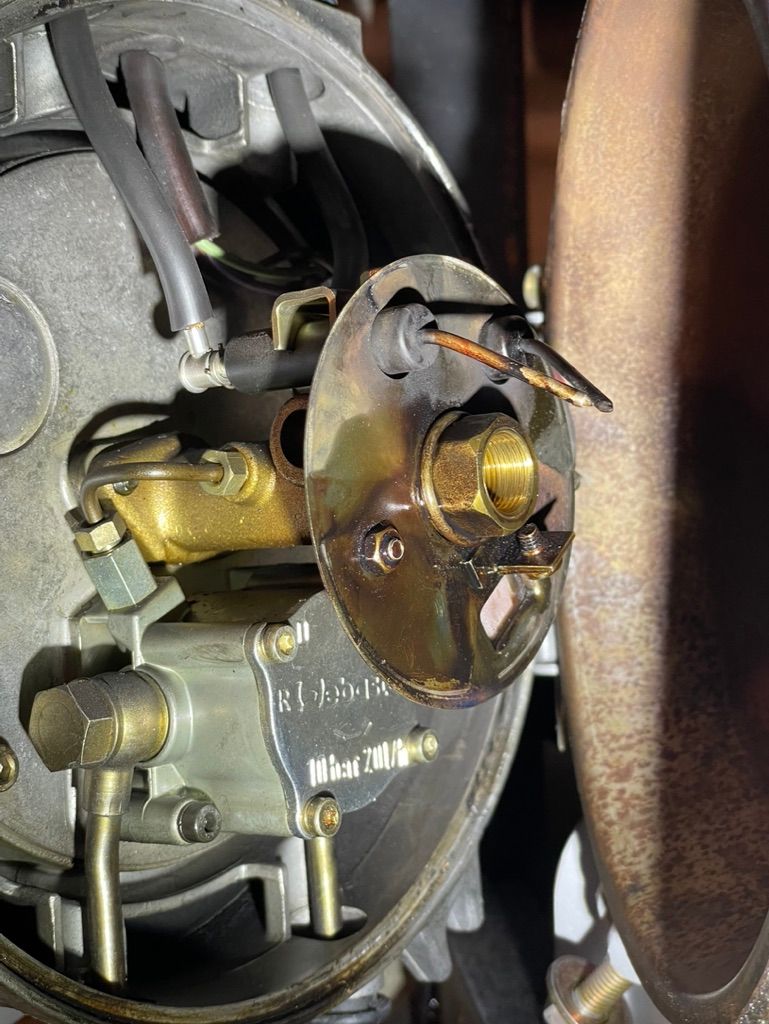 I changed out the nozzle as soon as I got back to Seattle, but that did not seem to help. I pulled the head and took it to Sure Marine and am waiting for a diagnosis.
In the interim, I was able to get the AC water pump replaced and back up and running. The reverse cycle system has been keeping the boat warm, and works reasonably well, although the hydronic system is a bit warmer since it runs in more places throughout the boat.
Internet
I haven't actually installed a big internet setup quite yet as I'm learning where cables can/can't go, the best spaces to mount routers and switches, and more.
To start with, I've been using Peplink MAX BR1 Pro 5G router combined with the Netgear Nighthawk 5G hotspot connected to the WAN port on the router for a second connection. I've been using factory antennas, and have the system sitting in a corner of the pilothouse. It has worked reasonably well since I've been in mostly populated areas. In some of the less connected areas, I was not able to get reliable connectivity, as I expected.
Longer term, I plan on having a multi-WAN, multi-modem 5G router mounted in the flybridge somewhere, several test antenna mounts within easy reach, and a couple of Peplink domes. I'll be doing an updated article on my new setup within the next month or so.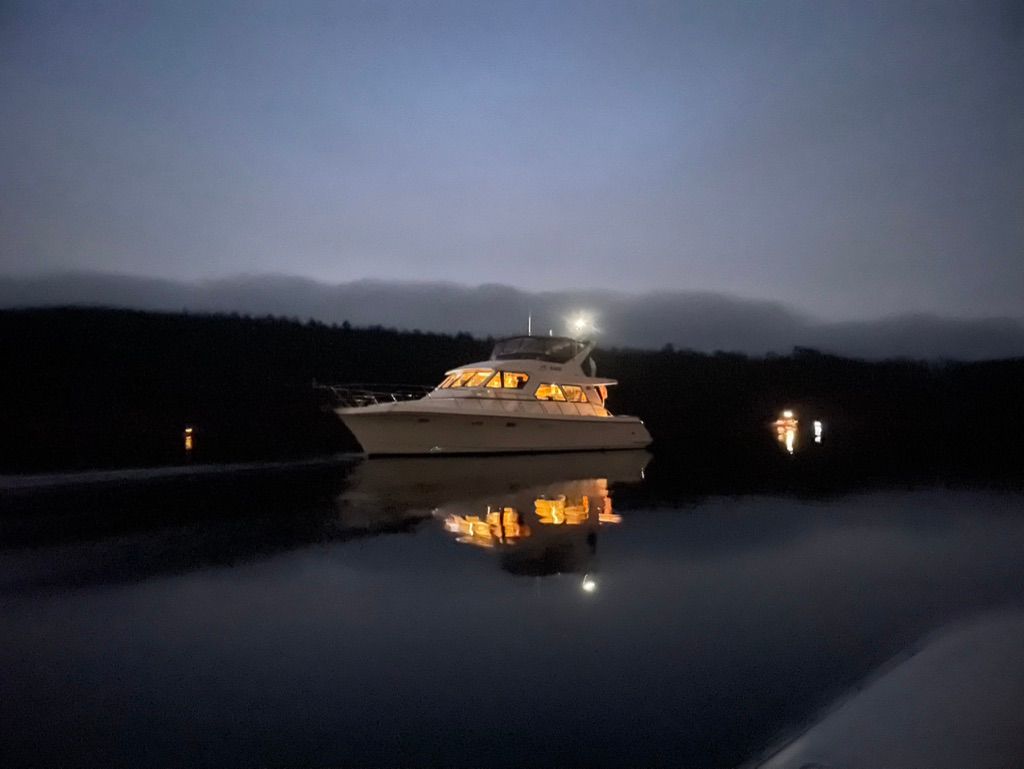 I'm really happy to have gotten started on projects, and can't wait to jump into some of the bigger ones. I'm also really excited to get back out on the water and enjoy the boat even more!