The Vesper Cortex has been one of the most anticipated devices in the marine world for over a year. I've had one for a couple of months now, and have had the opportunity to use it daily while out cruising.
This is a huge product, combining mini-chart plotter, VHF radio, AIS transponder, remote monitoring, and instrument display. I'm sure I missed a ton of things, and look forward to delving deeper into some of the features in the comments, and future articles.
Cortex Overview
Vesper Cortex is a next-generation combination of a number of different things: VHF radio, AIS transponder and receiver, along with remote monitoring. With these core features, you also get things like anchor watch, a plotter to see nearby targets, and a handheld controller that makes it all possible.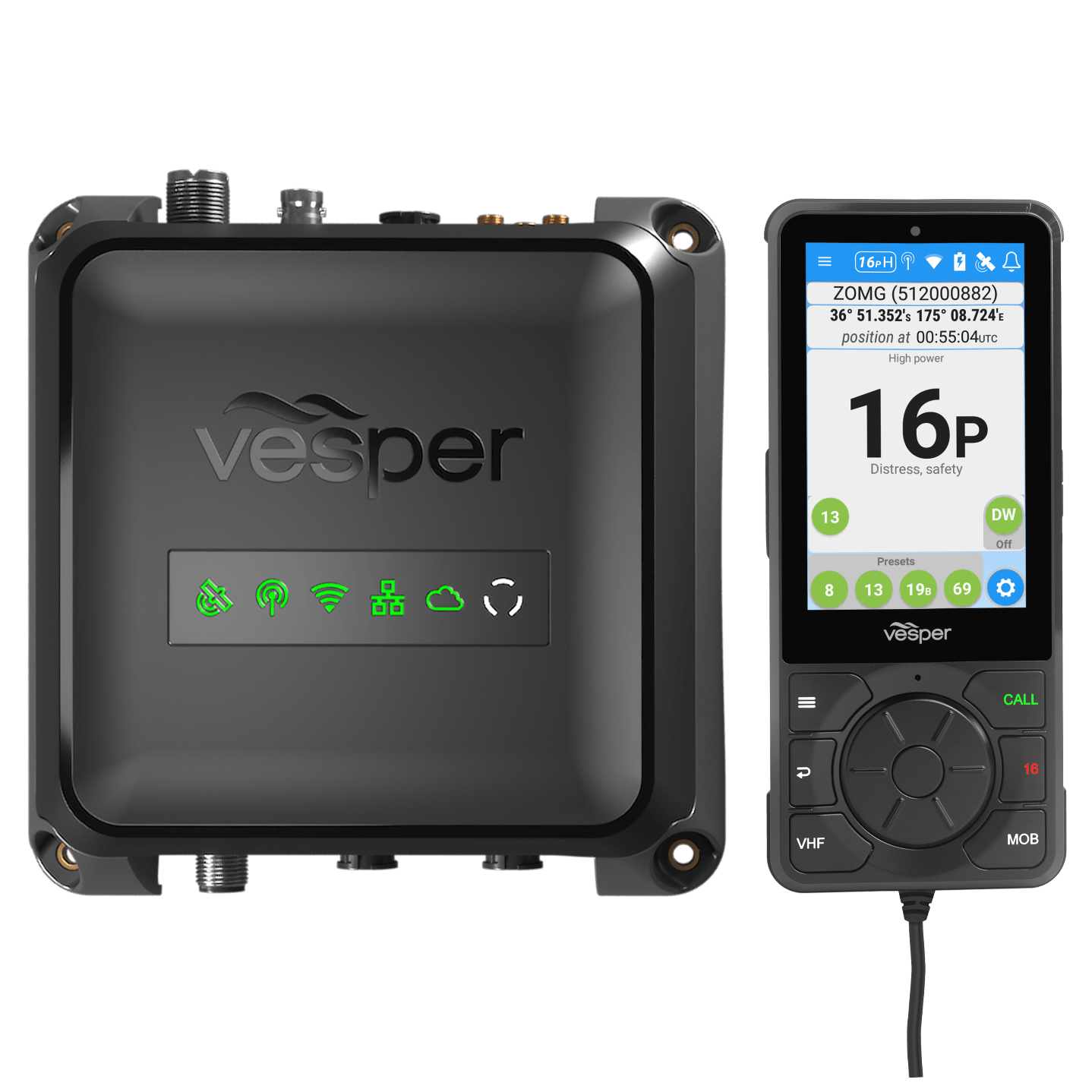 Vesper have a good site available with videos and descriptions of the product along with other details. The Cortex has won a number of awards from various boat shows and organizations, and seems to be getting lots of positive reviews and press.
Panbo's Ben Ellison also did a deep dive on the M1 hub which you can find below.
The Hardware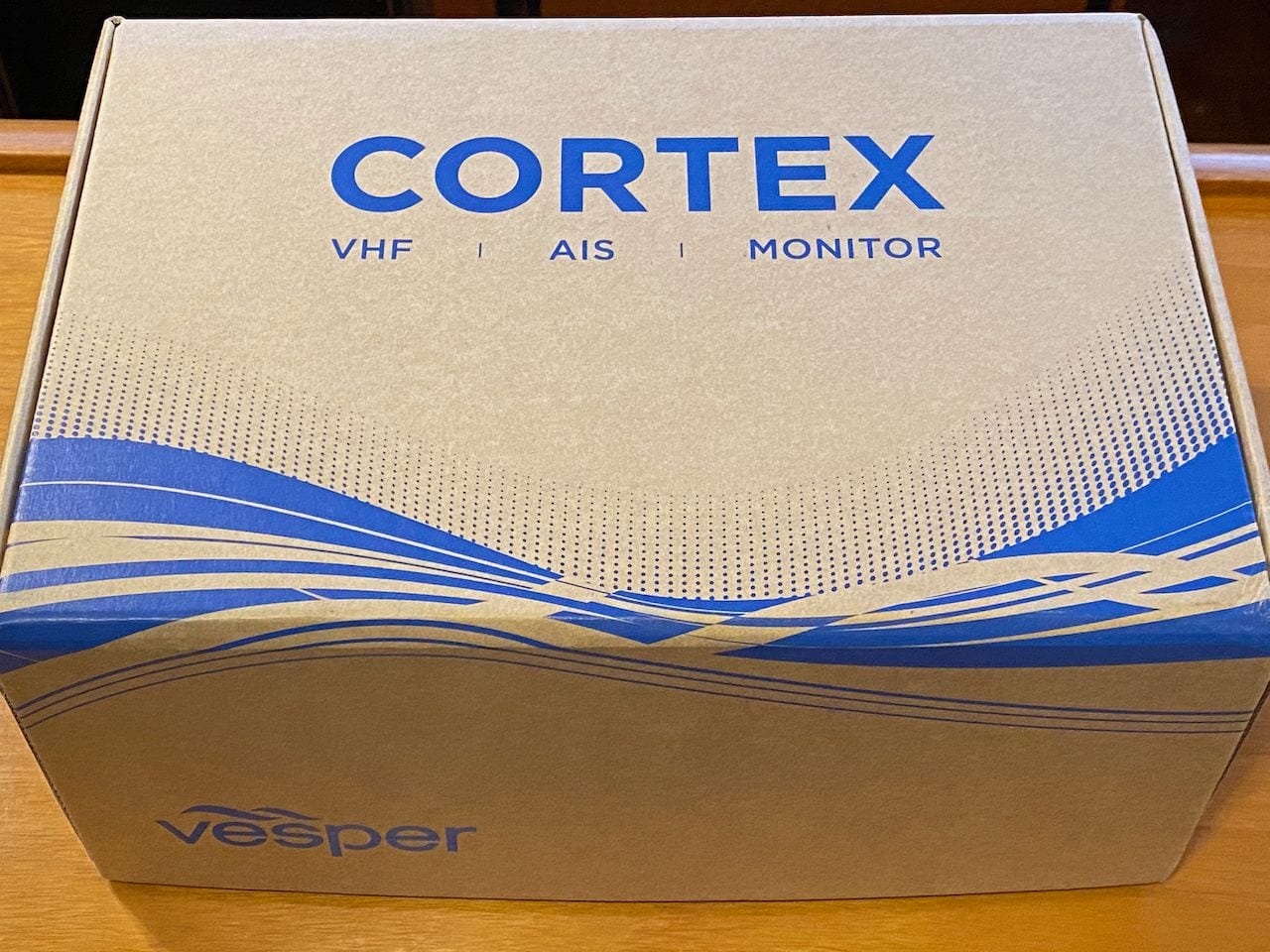 I ordered the Cortex V1 bundle for $1849 which comes with a hub and wired handset. I ended up ordering the H1P wireless handset for $599 separately later on as it wasn't in stock for delivery.
At first glance those prices can seem high, but if you do the math on the separate pieces, it helps a bit:
VHF radio – $500 – split the difference between a top end unit and mid-level unit.
Vesper XB-8000 Class B (not even Class B+) transponder – $750
Remote monitoring device – $500 (conservative)
Total: $1750
One could argue that a Class B+ transponder would be more, as would a more feature-packed AIS-enabled VHF radio. That also doesn't account for the benefits you get when combining them together.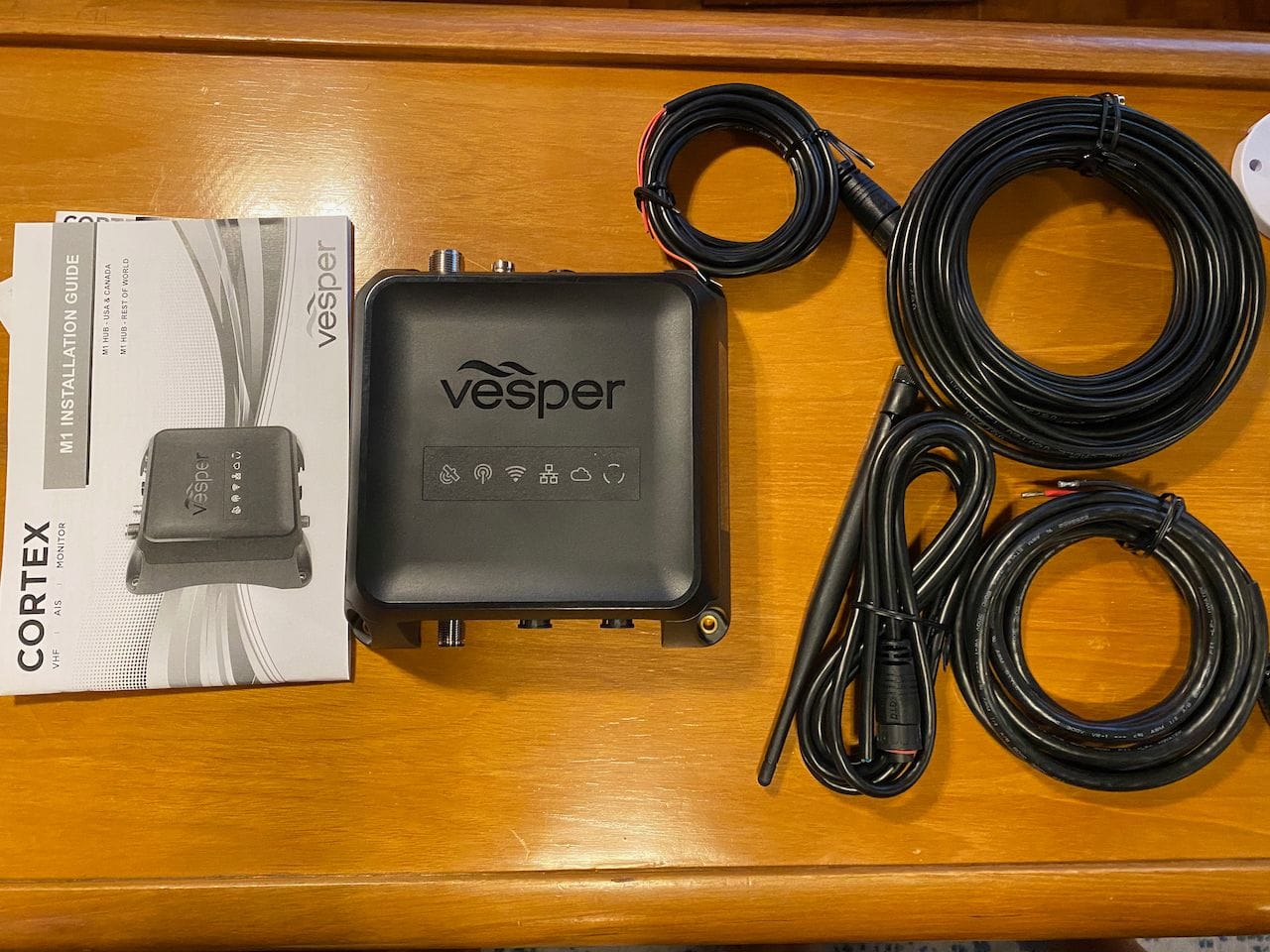 Inside are the M1 hub with all of its cables and antennas.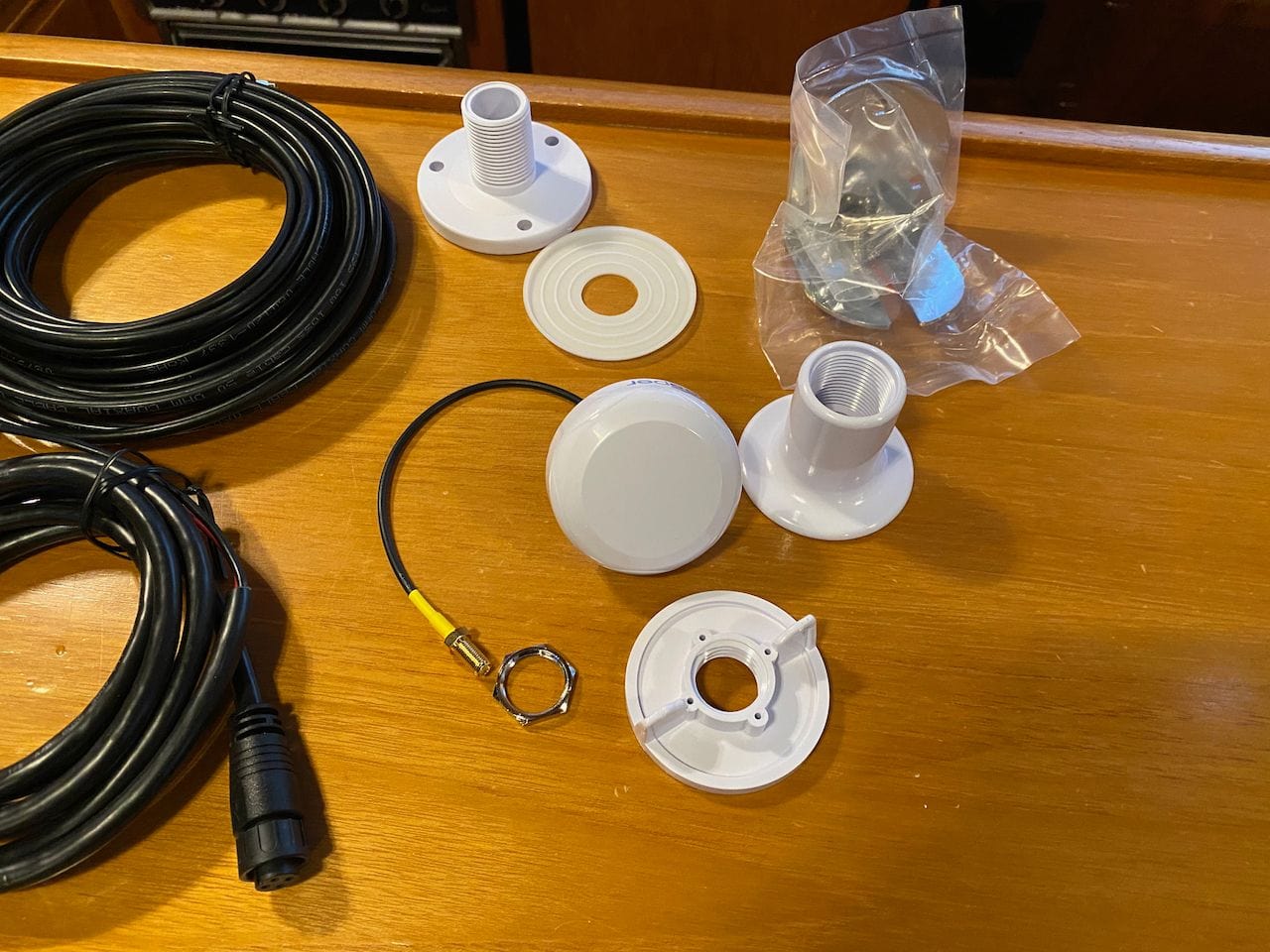 As with any AIS transponder, you need a dedicated GPS antenna, and the Cortex has one with a bunch of different mounting options included.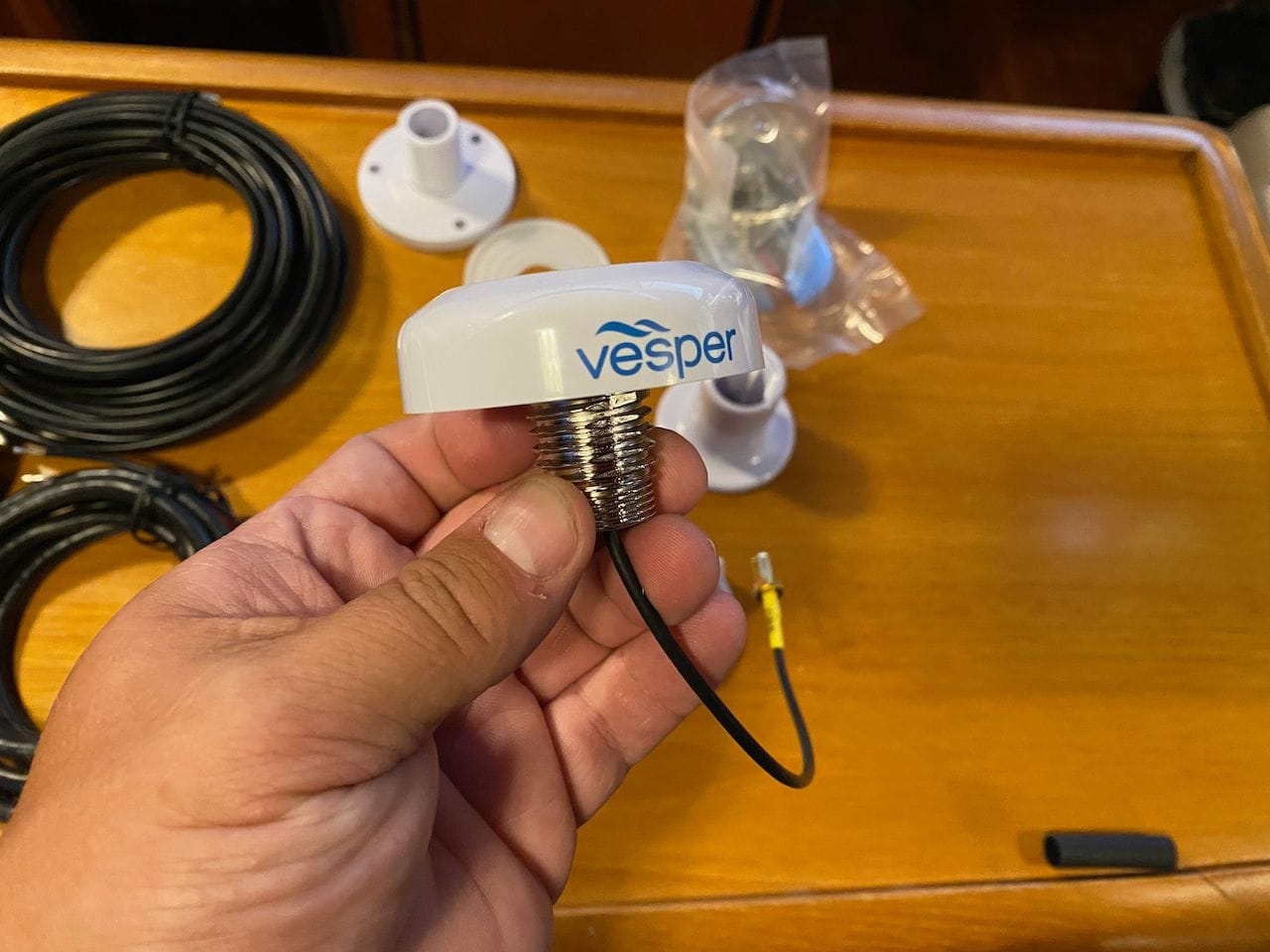 The GPS antenna has a nice design with the threads and short connection cable so you don't have to twist things in weird ways when screwing it down to a threaded mount. I like that touch.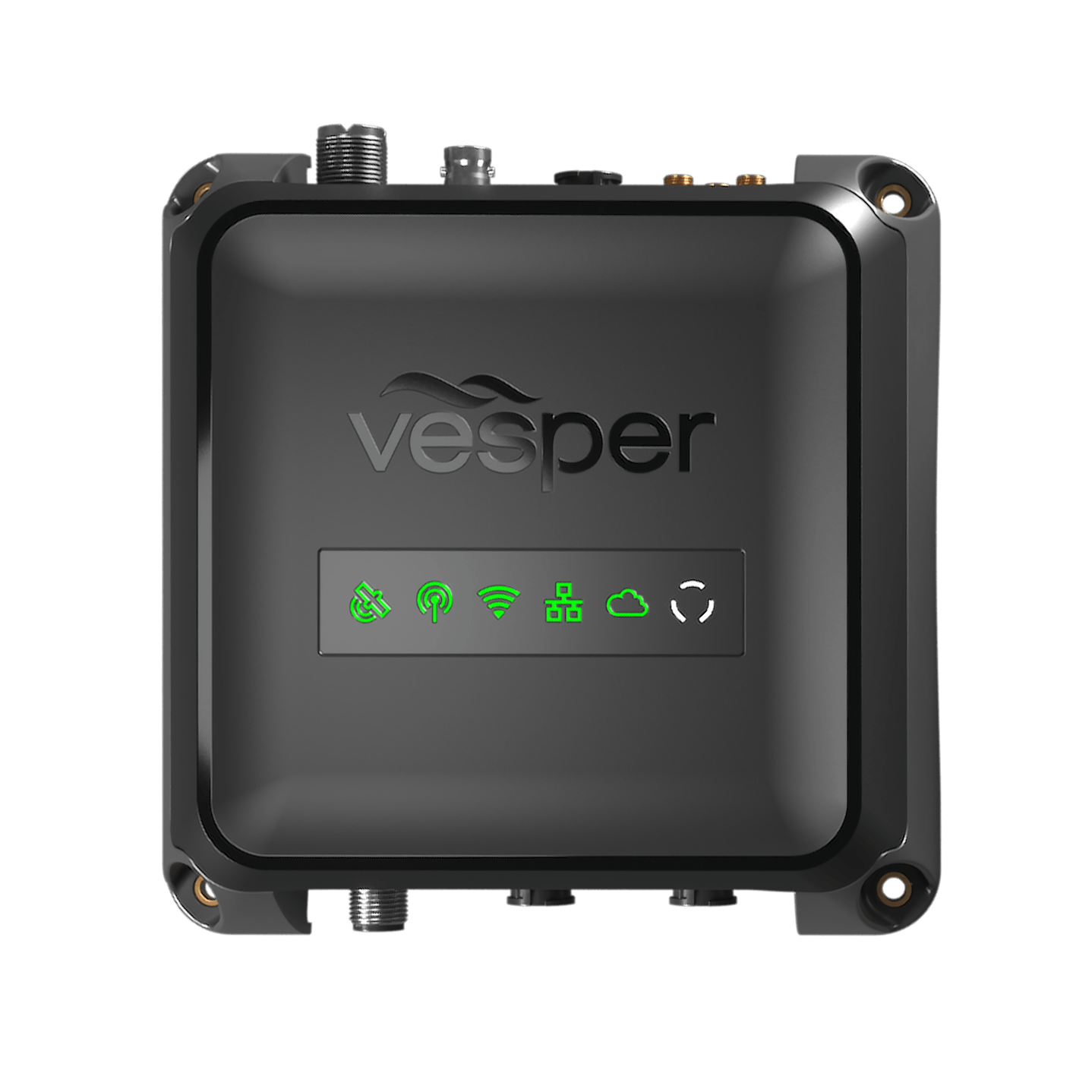 The hub is the brains of the entire operation, and is very compact. It has a set of very bright indicators on the front of the unit, enabling you to quickly see general status and if there are any issues.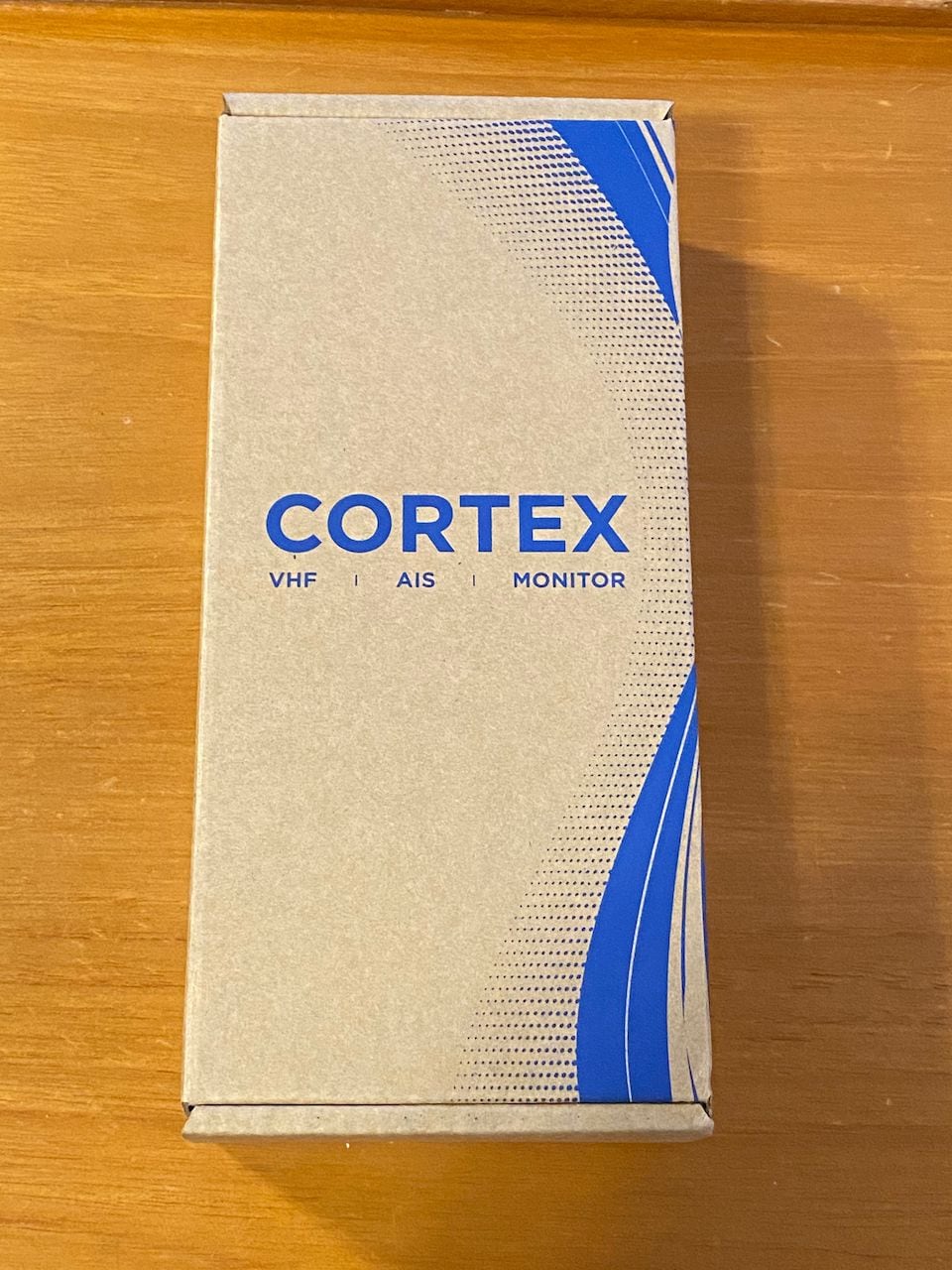 The handset itself comes in a separate box inside the bigger box.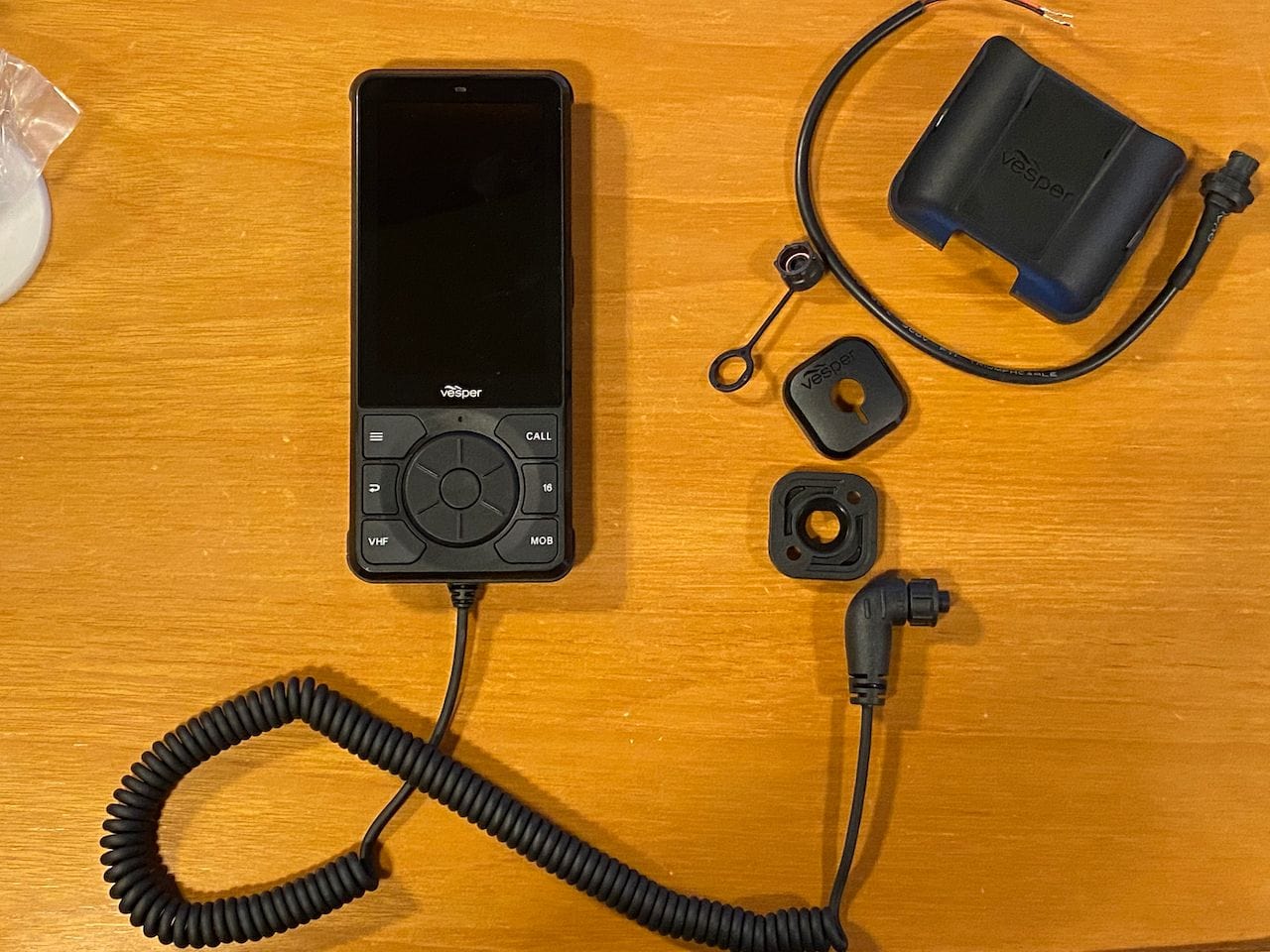 The handset includes wiring and covers as well as a cradle to mount it in.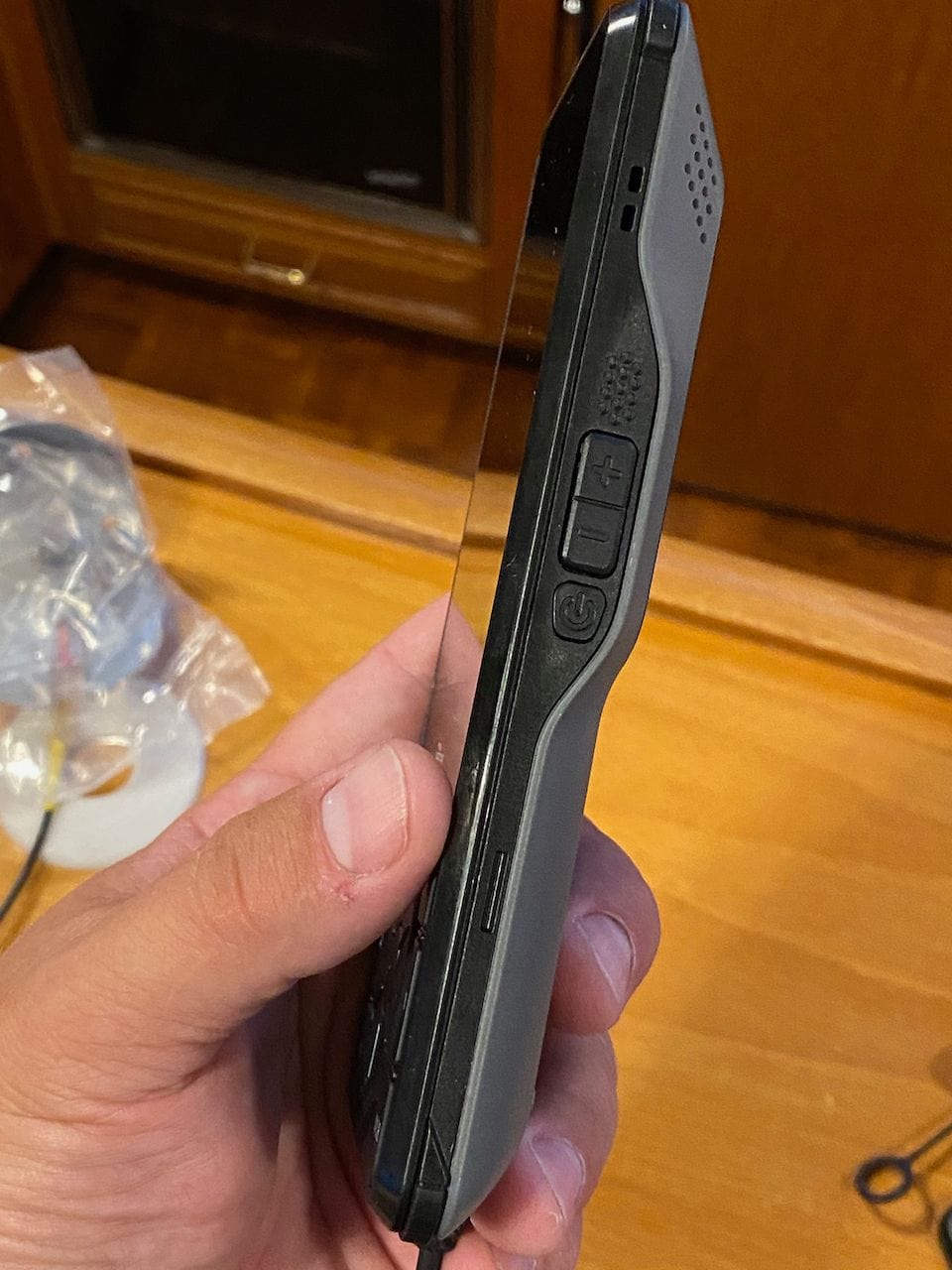 The handset is a really nice piece of engineering. I have small hands, and it fits in them like a nicely sized smartphone. It has some weight to it, and has a lot of rubber surfaces on the sides and bottom for protection and anti slide. There's a DSC button cover on the top, transmit button on the left side, and volume and power on the right side.
The buttons on the front include a menu button, back, VHF, Call (DSC), VHF channel 16, and man overboard. In the center is a jog wheel that can be spun different directions for various functions, and a center button to select things.
The speakers are on the back, and there are two of them angled away from the edges.
It is obvious a lot of thought has gone into making this part of the product as easy to use as possible in all conditions. You have multiple ways to do things – from touching the screen to using the wheel to clicking a specific button. A very intelligent and multifunctional piece of hardware!
I purchased this unit myself and expect that this system will become my primary AIS and VHF solution on board. If you are looking for a place to purchase the Cortex, check out Milltech Marine – I buy all of my AIS stuff from Doug Miller, and have since AIS Class B first came out. He is very knowledgeable and helpful with anything AIS related!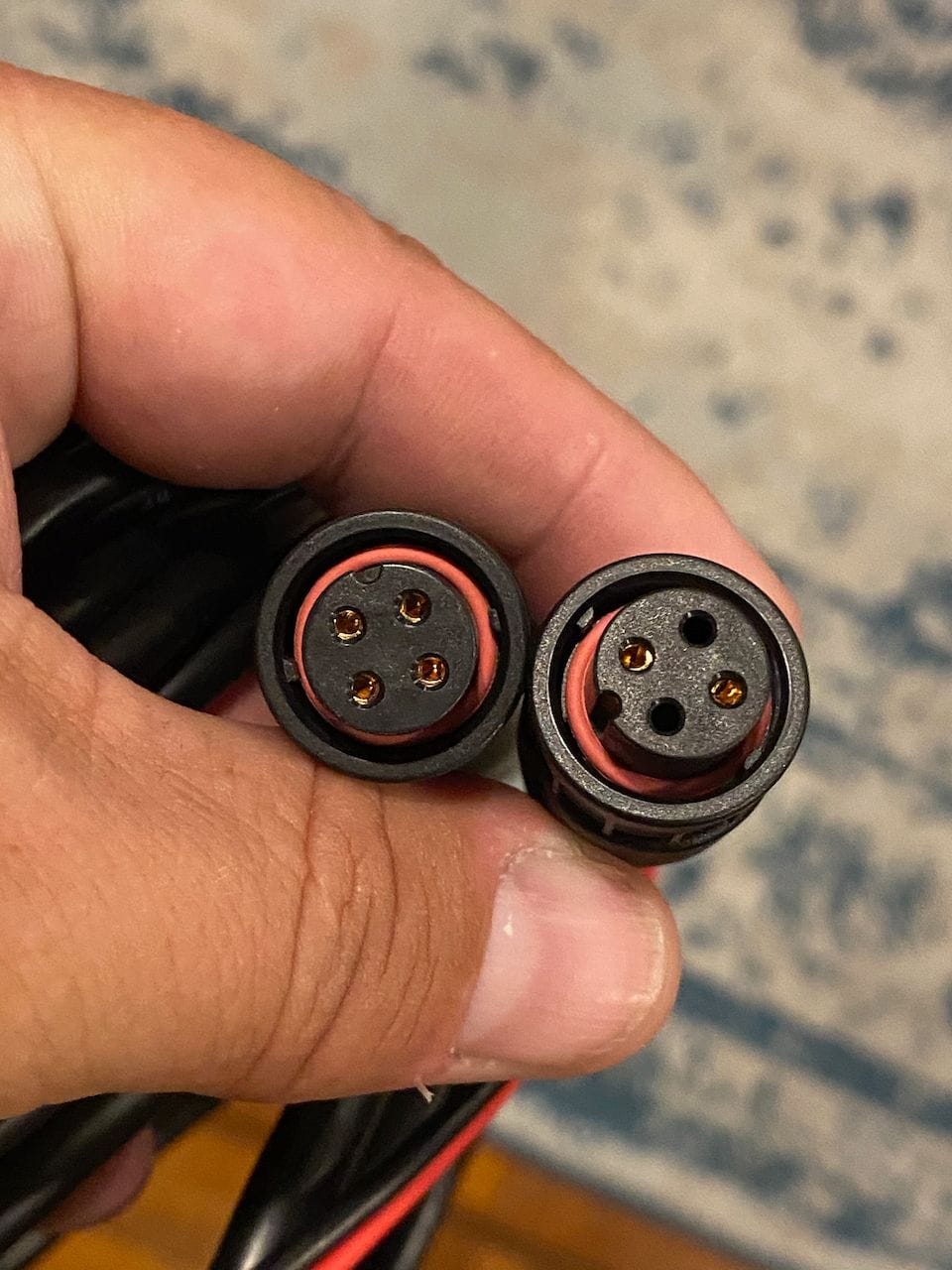 There were some odd things in the hardware that I wanted to point out. First was the power cable and speaker/hailer cable. They are identical in terms of the connector plug, and you could easily confuse them. I'm not sure if it could hurt something if you plugged the power into the speaker port, but I would have liked to have seen a unique connector for power so you couldn't do that.
The connector for the wired handset was also a bit fiddly and the cable was really short. I would have liked to have seen at least a couple of feet of cable so that I didn't have to splice a foot onto it to reach power.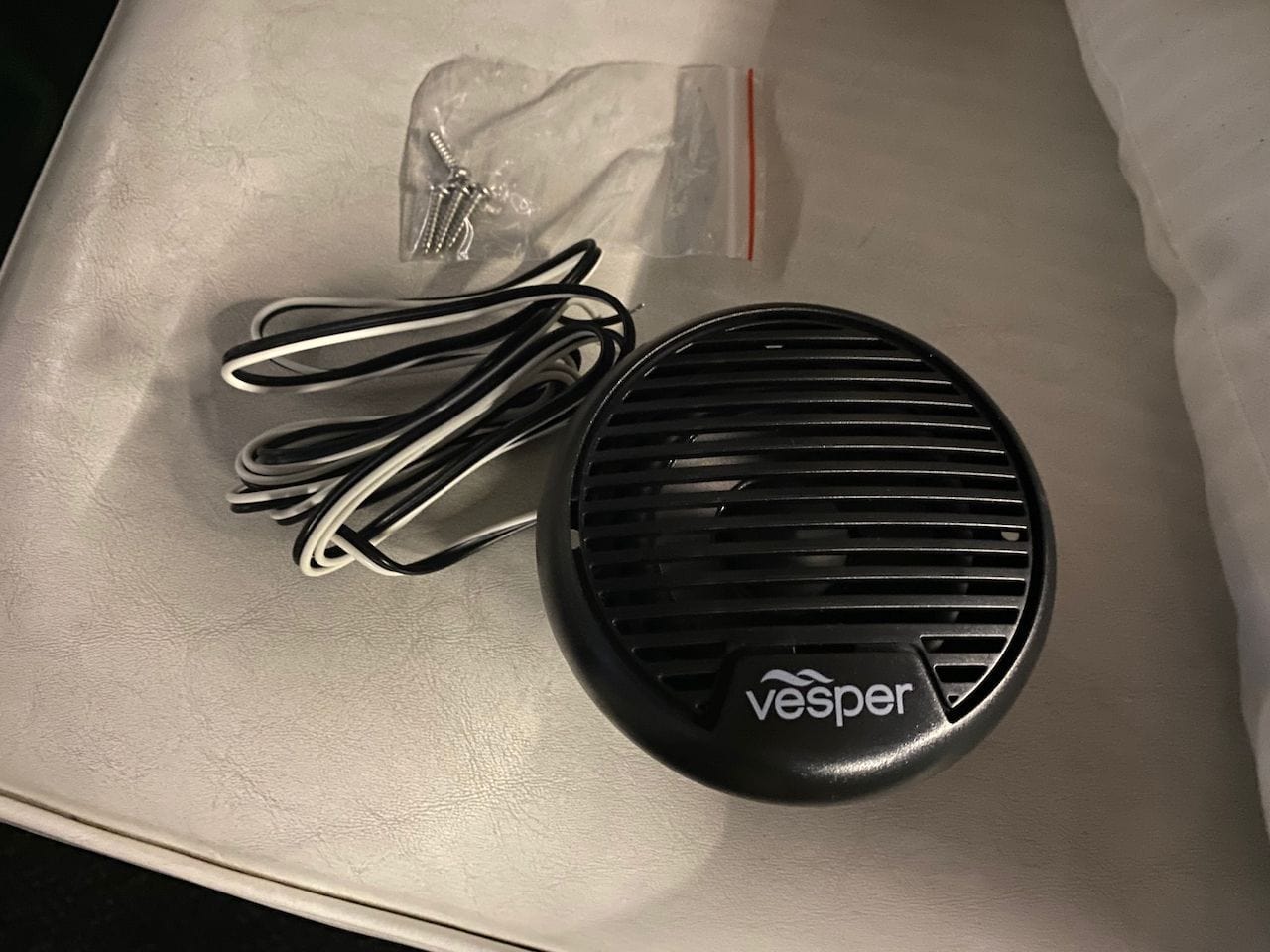 The external speaker was also not easy to mount. There was no bracket to surface mount it, and instead a very large hole was required to mount it. I would have liked to have seen a bail or other less destructive way to mount it, similar to speakers available from just about every other VHF manufacturer.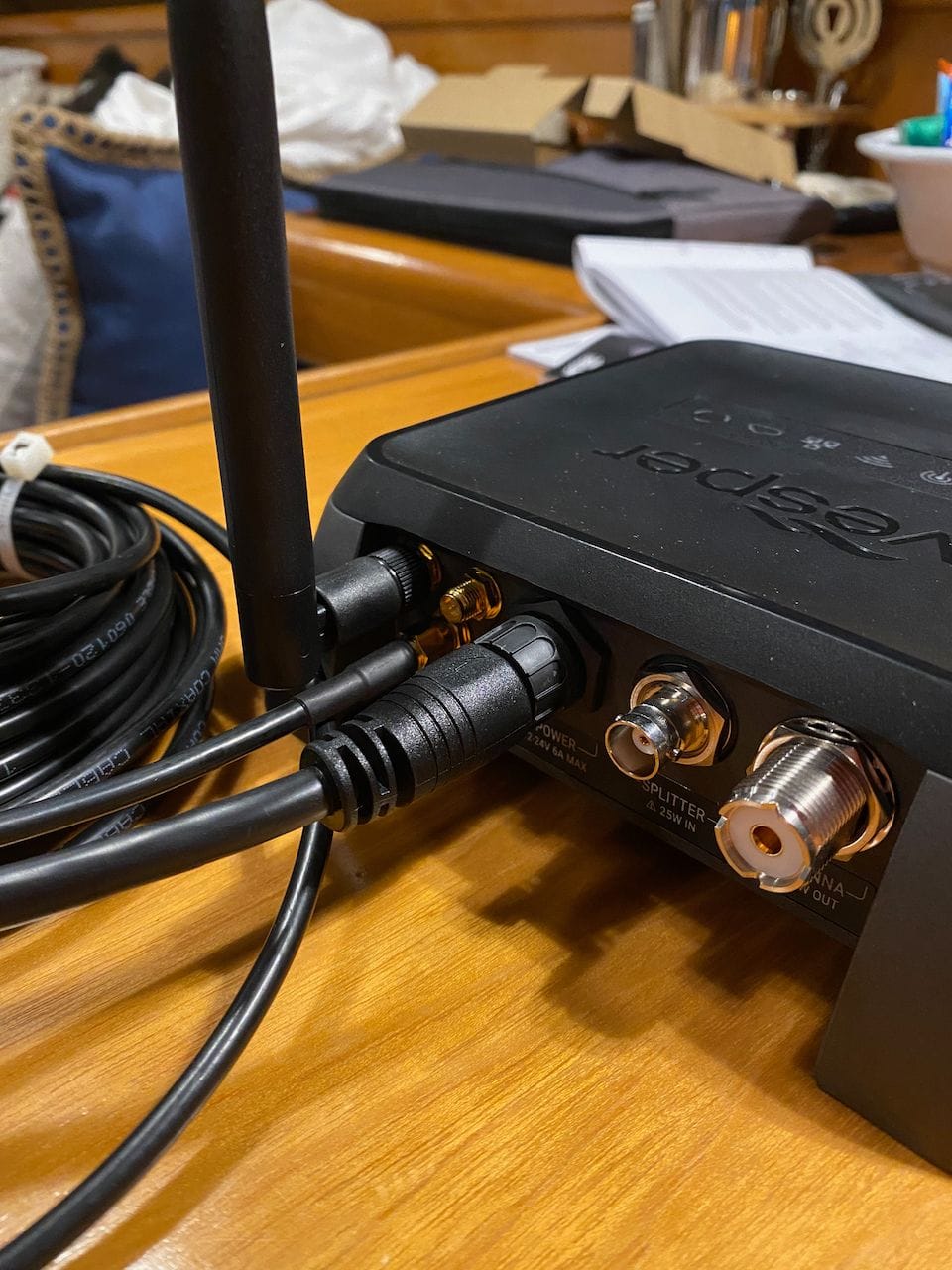 The Setup
My Cortex is mounted in my flybridge and powered off of a dedicated circuit. The DC power wiring is very heavy, having been put in by Ocean Alexander years ago when the boat was built. I have the Cortex connected to an antenna (see below for a longer discussion on antennas) with high quality LMR-400 cable. The cable run is about 15′ and the antenna is high up on my arch above everything else on the boat.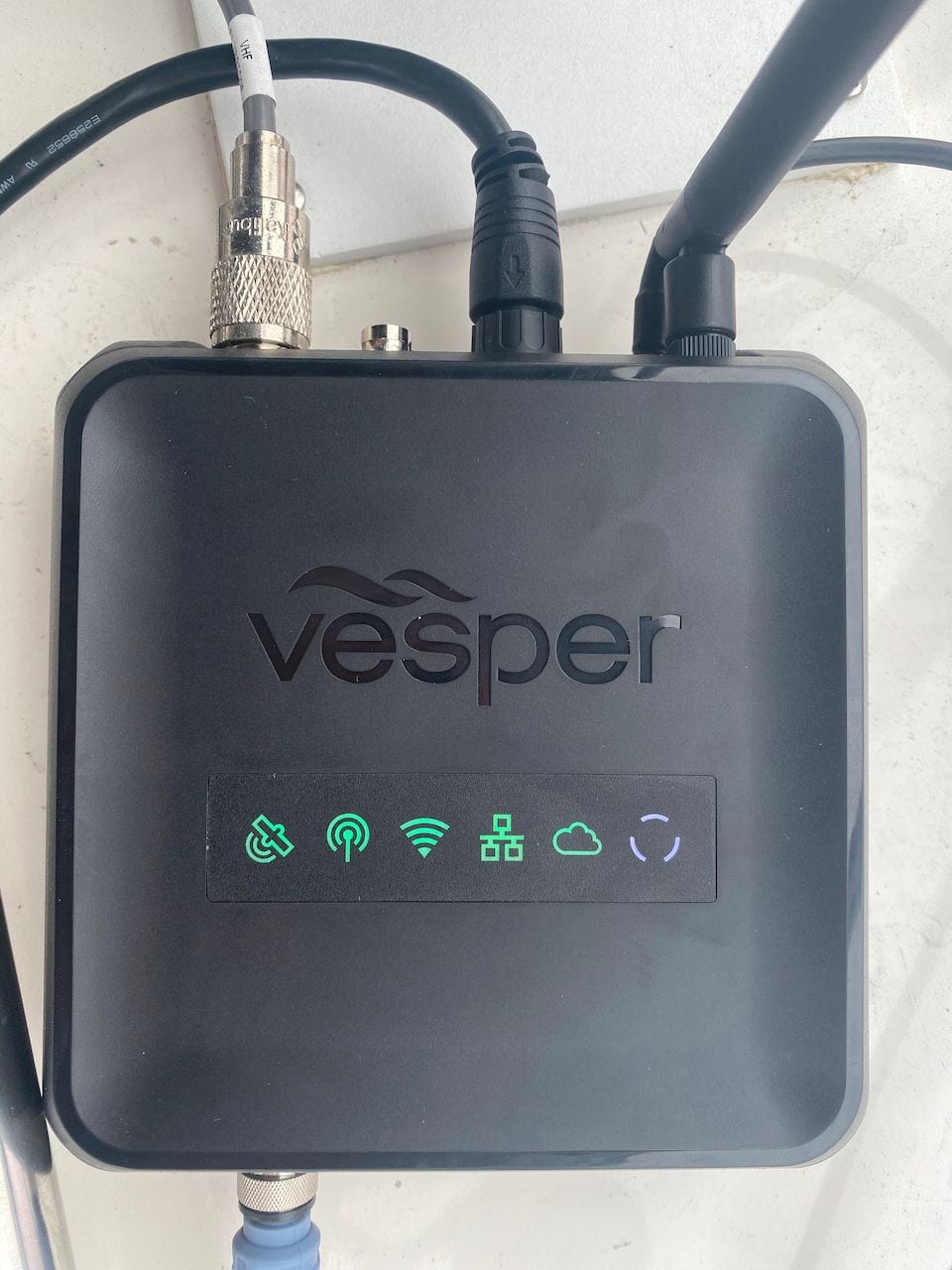 The GPS is mounted on the side of the flybridge and only a few feet from the transponder. I have the provided WiFi antenna installed, and I have used both no LTE antenna, and some from my various on-board testing. The Cortex is also connected to my NMEA 2000 network.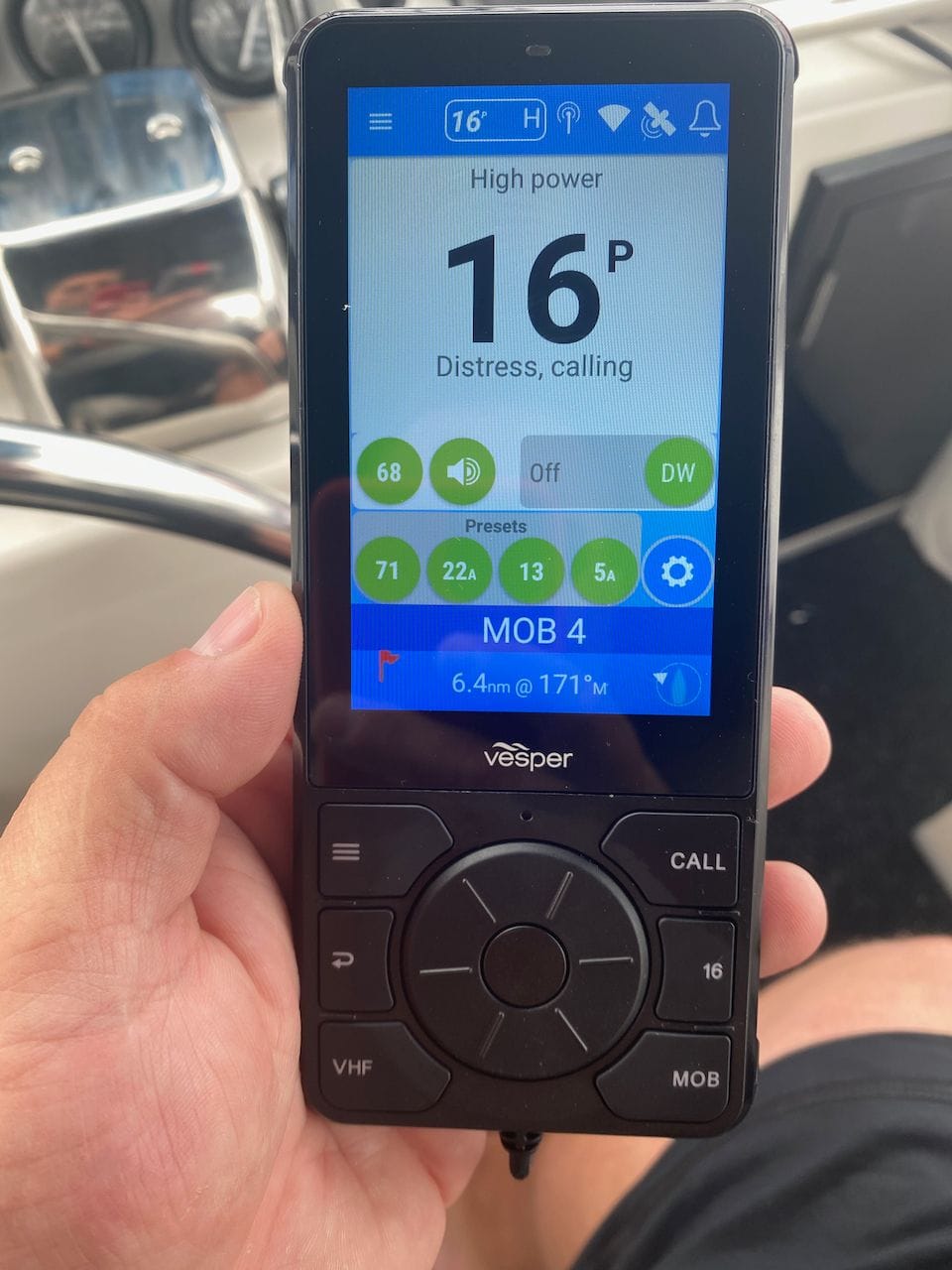 The wired handset is only a couple of feet away sitting on my console in the flybridge. I drive most of the time from that position, so having the wired handset there makes sense. It gets its power from the same circuit as the Cortex Hub.
I did not use the mounting bracket because I can't find a graceful way to install it where I can see the handset. This is a new challenge that you may have with this product. Traditional radios and such have very uninteresting microphones, and generally just have a little clip they slide into when not in use. The radio is somewhere else, much larger, and has its display and buttons oriented towards you. The Cortex handset is the entire interface, so finding a place for it may be something you have to consider if you are replacing an existing VHF.
I found that the handset stayed put even in the worst weather or waves on my fiberglass flybridge "counter" near my throttle controls. It's made of fiberglass, and the Cortex handset seems to stick to it with the rubber backing and never moves. It also provides a surface for the sound to echo off of from the back speakers on the handset.
WiFi choices
The Cortex base unit has a dedicated WiFi antenna that is included, and unlike previous Vesper products (for now), it is an access point only. That means that you can't have it join an existing WiFi network on board. The original reasoning behind this as explained by Vesper was so that the connection between the handset(s) and the base were more reliable. Each handset connects to the base unit WiFi network and that is how the entire system works.
Vesper released a beta feature to allow the Cortex to connect to your local boat network which I have been testing. Hopefully this will help with the above.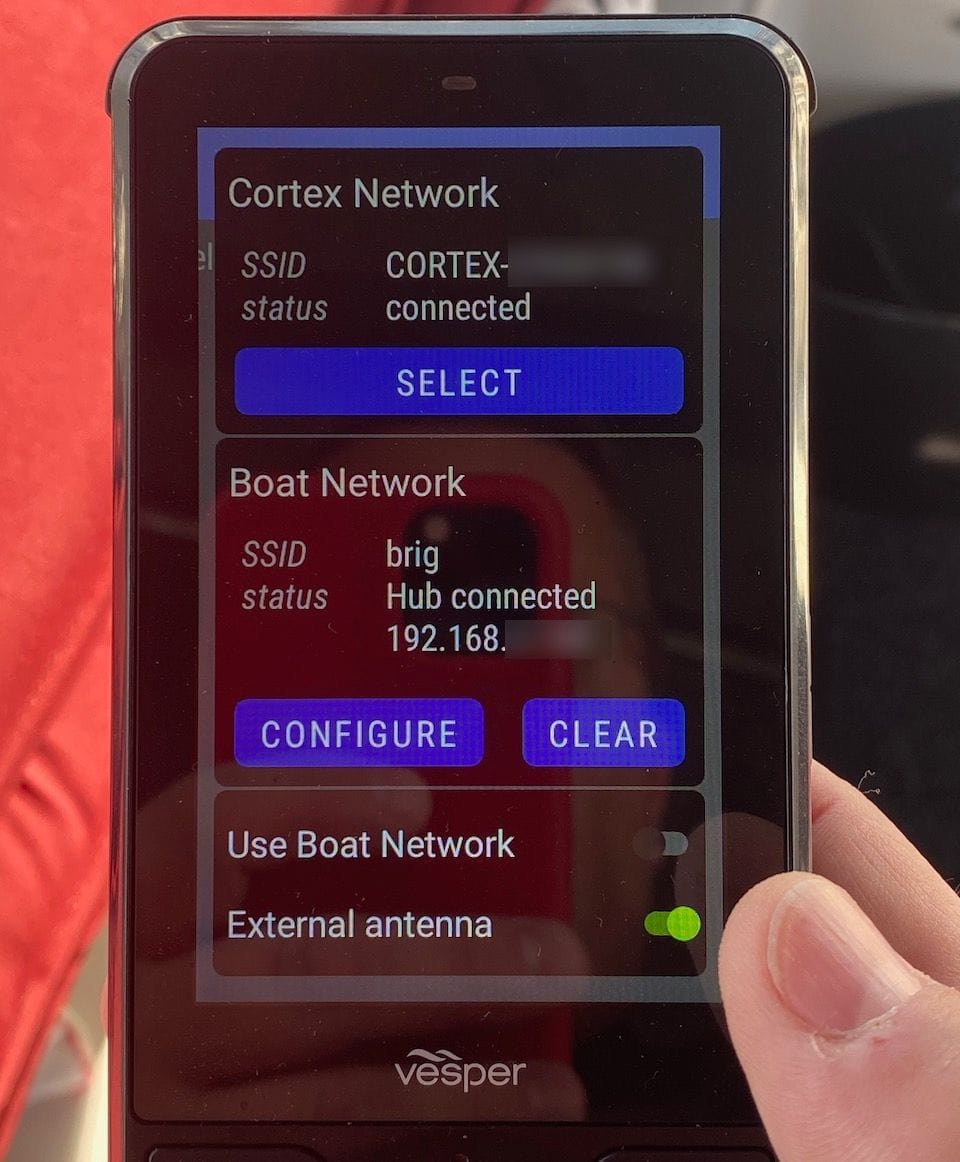 Having spent most of the last 15 years in the WiFi world, I appreciate having a dedicated network for the handsets so that someone watching a Netflix stream doesn't mess up my conversation with a converging ferry, but there are still some concerns here.
First, Cortex have chosen a 2.4Ghz b/g radio for the base station and handsets. I have discussed the issues with using 2.4Ghz WiFi in marinas for a long time, and that discussion is still relevant here. I have seen issues when I am in my marina with lots of overlapping 2.4Ghz WiFi signals, and there's not really much that can be done to fix that. Yes, I know I won't be using the Cortex that much in the marina, but I've seen plenty of issues with 2.4Ghz elsewhere too….
2.4Ghz WiFi was initially released in 1999, so we definitely need to get away from that as a reliable way of connecting things. Many other vendors have tried wireless handsets with VHF radios, some of which I've had myself, and all have used 2.4Ghz. I think a dual band radio would have been a better choice – using 5Ghz when possible, and switching to 2.4Ghz if further away.
For those considering the Cortex on a larger vessel, or one with a lot of interference, I would definitely get a wireless handset and try it first in the locations you expect to be using. I would not be surprised if there are challenges with distance, and perhaps that is something Vesper are hoping to address by supporting an existing WiFi network.
Remote wireless handset
I was not able to test the remote wireless handset (H1P) as they were not available for shipment at the time. I just got mine a couple of days ago, and will write an update if there is anything meaningful to say after a couple of weeks. However, the difference from the wired and wireless handset is only in the wire and charging base. The functionality and the way they connect is identical, so there is little to add with the second handset except performance and distance.
Antenna sidebar
There's an important sidebar that needs to be made around antennas. Most of us added a dedicated AIS antenna in the last few years when we put a transponder on board. That usually meant we had one or two VHF antennas specifically for radios, and a 3rd antenna for AIS (see Upgrading VHF and AIS antennas to see what I did about a year ago that was similar). For sailboats, folks either added an AIS antenna on the arch or somewhere lower, and left their mast-mounted VHF alone, or added a splitter.
Many purists, especially in the power boat world where real estate seems more plentiful for antennas, shied away from splitters because of the perceived loss that they add, or because of a failure point. I had a Vesper splitter on both of my previous sailboats and never had a failure or issue. In fact, it has been shown that Vesper's splitter actually amplifies the signal based on the design. So I think that argument is no longer that valid.
With the Cortex, it appears that a new paradigm for antennas is likely going to be the norm. I started out testing with my normal AIS-tuned antenna, and while the transponder performed well, the VHF did not. That's an understatement – it was terrible at best, and compared to a standard VHF radio, had about 1/4 of the range.  This would make sense since the antenna is tuned for the channels that AIS uses. It worked, but longer range radio transmissions from other boats were unreadable or simply never heard. I was able to test this with both an on board fixed mount VHF radio and handheld. Chaining a fixed-mount VHF off of the Cortex splitter resulted in bad performance as well, as you would expect.
Switching to a VHF tuned antenna which had been used with my Standard Horizon GX2400 fixed-mount VHF radio resulted in good VHF performance with the Cortex, but not so good with the transponder side.
After a number of discussions with various folks in the antenna and AIS world, in particular, Doug Miller of Milltech Marine, it seemed like the right thing to do was to use a middle-tuned, 159 Mhz antenna which should provide the best of both worlds.
I ordered a Morad 159mhz tuned antenna and installed it up on my arch in place of the AIS antenna I had there previously.
It's also good to note that I went one step further – I removed the two other VHF antennas that I had which were connected to fixed mount VHF radios. Having too many VHF antennas too close to each other, even if they are separated, isn't going to perform as well as one single, high up antenna. This has also been proven by many others who have gone down this road.
So, I ended up with a single 159mhz tuned VHF antenna that is connected directly to the Vesper Cortex. Off of the splitter port on the Cortex, I have a very short LMR-400 cable going to my Standard Horizon GX2400 fixed mount VHF radio that has two stations. I am keeping this radio connected to do some comparisons and as a backup just in case. Eventually, I would hope to only have the Vesper Cortex.
Bottom line – if you have a good VHF antenna, you can connect the Vesper Cortex to it and have good VHF performance, and probably OK or so-so AIS performance. For the best overall performance with both VHF and AIS, you will need a 159 mhz tuned antenna.
The Handset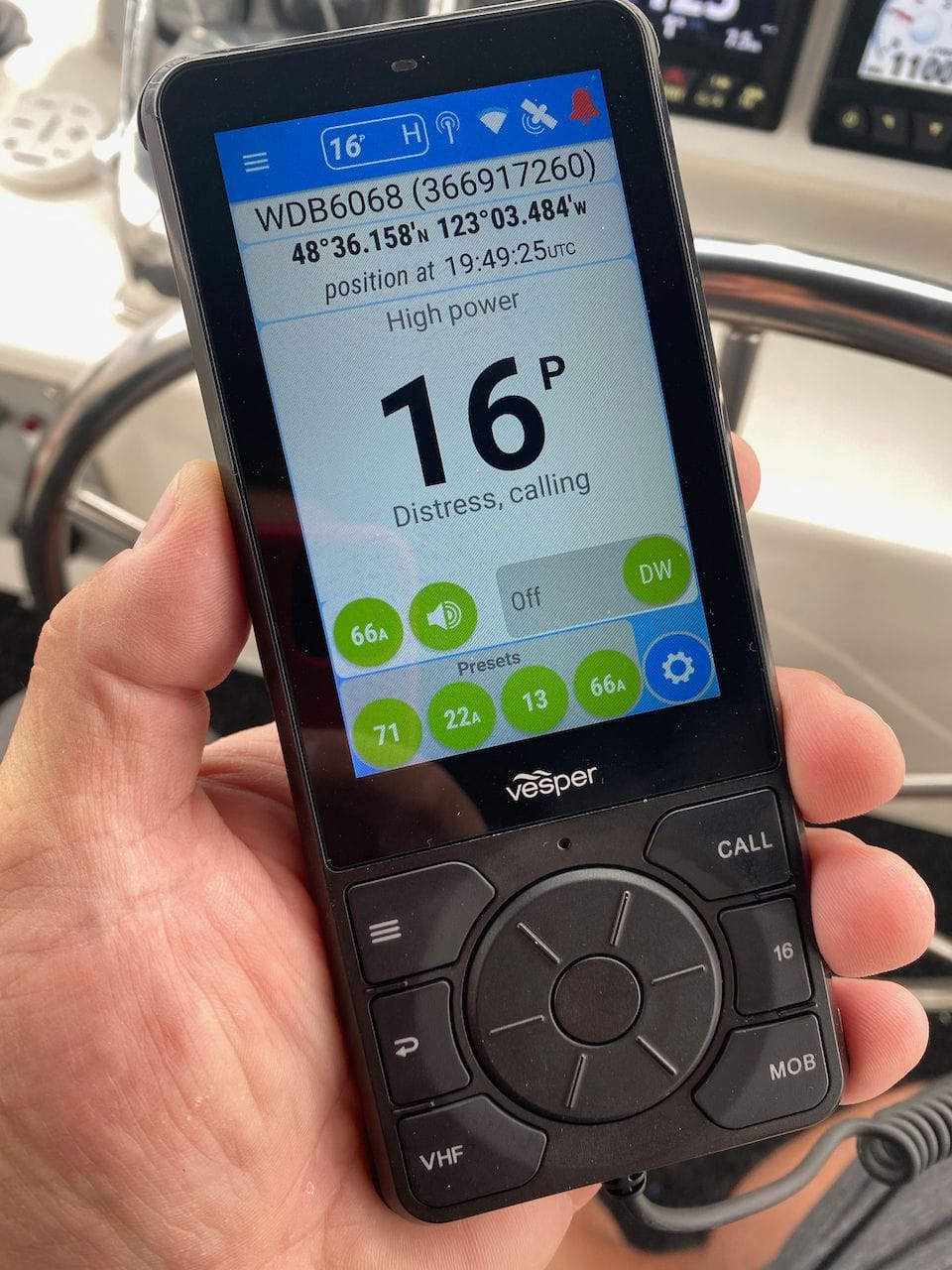 The handset is where everything interesting happens, and as I mentioned above, it is a beautiful piece of engineering.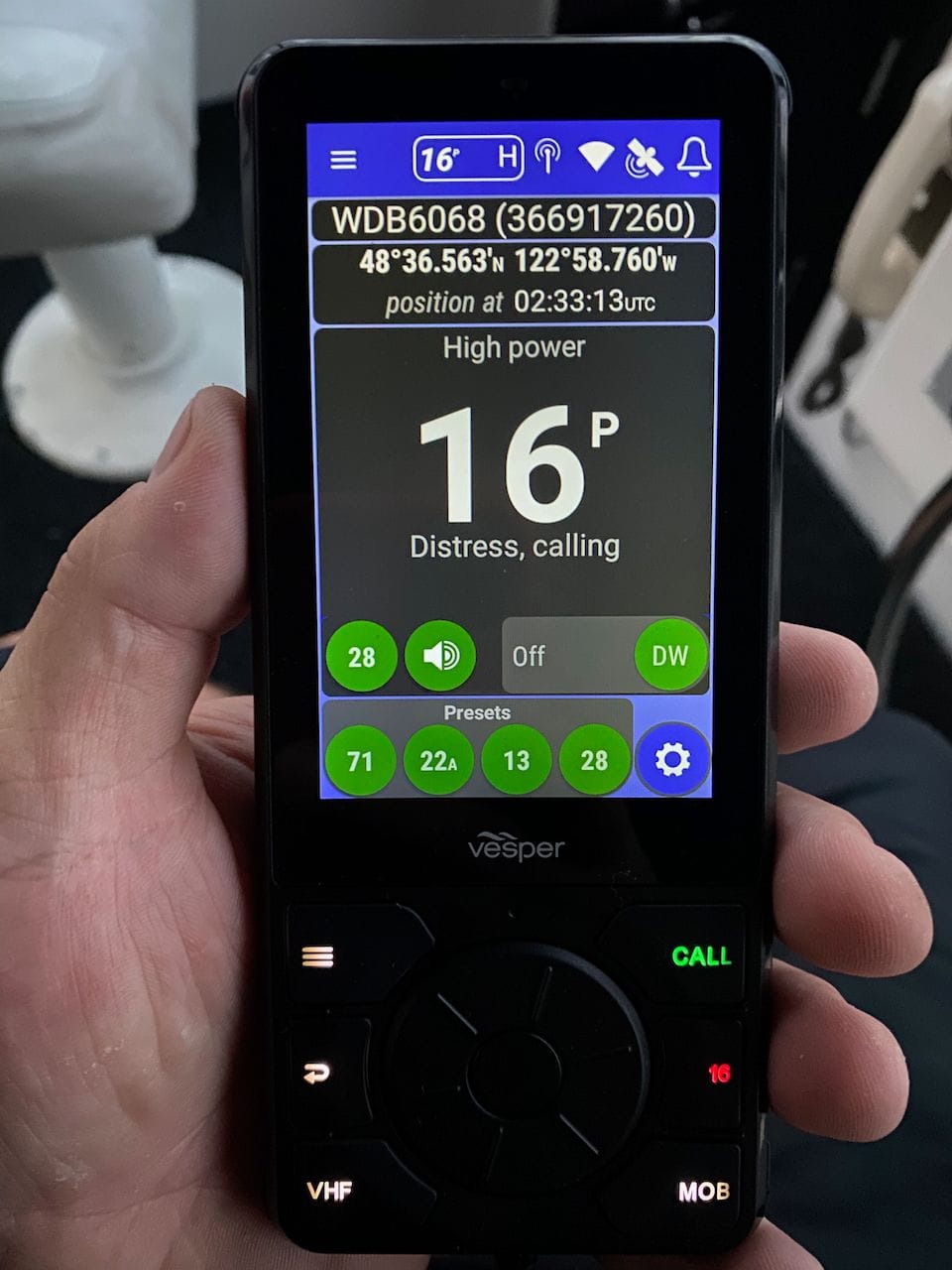 It even has a night mode that I prefer even during the day. The display has an ambient light sensor (which you can override if you like) which adjusts brightness. I've not had any issues in bright daylight with polarized sunglasses on, or in the dark of night.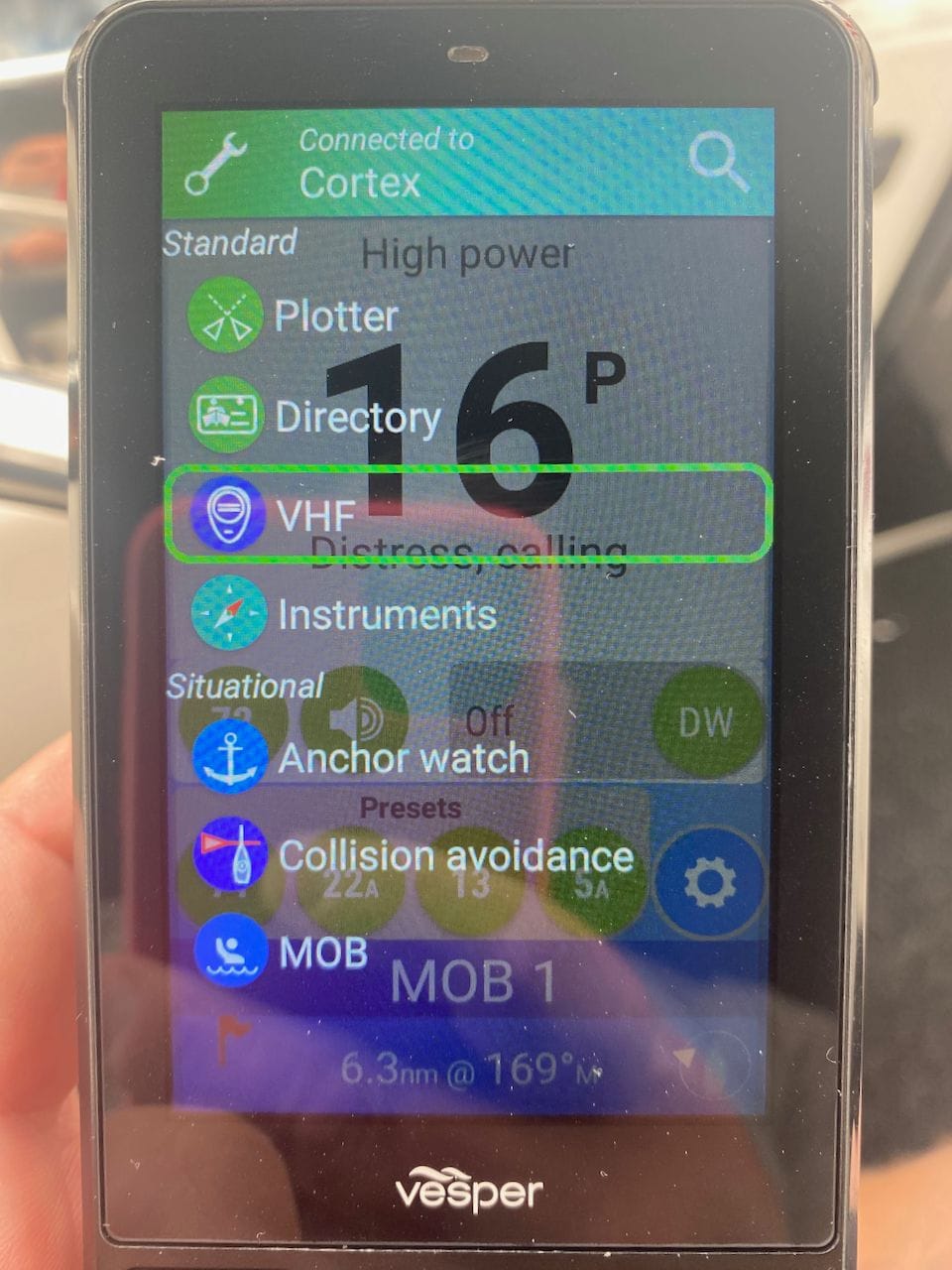 By pressing the upper left key below the display that looks like three lines, or the same symbol on the upper right of the screen, you get the menu. This allows you to choose one of the main functions. You can do this by clicking on one of the items on the screen or using the jog wheel below the screen and the central button in the middle of it. Giving folks the ability to choose which way they prefer (physical or screen) is excellent, and it means you can use it both with/without gloves, in the rain, and even with one hand if you can't reach the screen.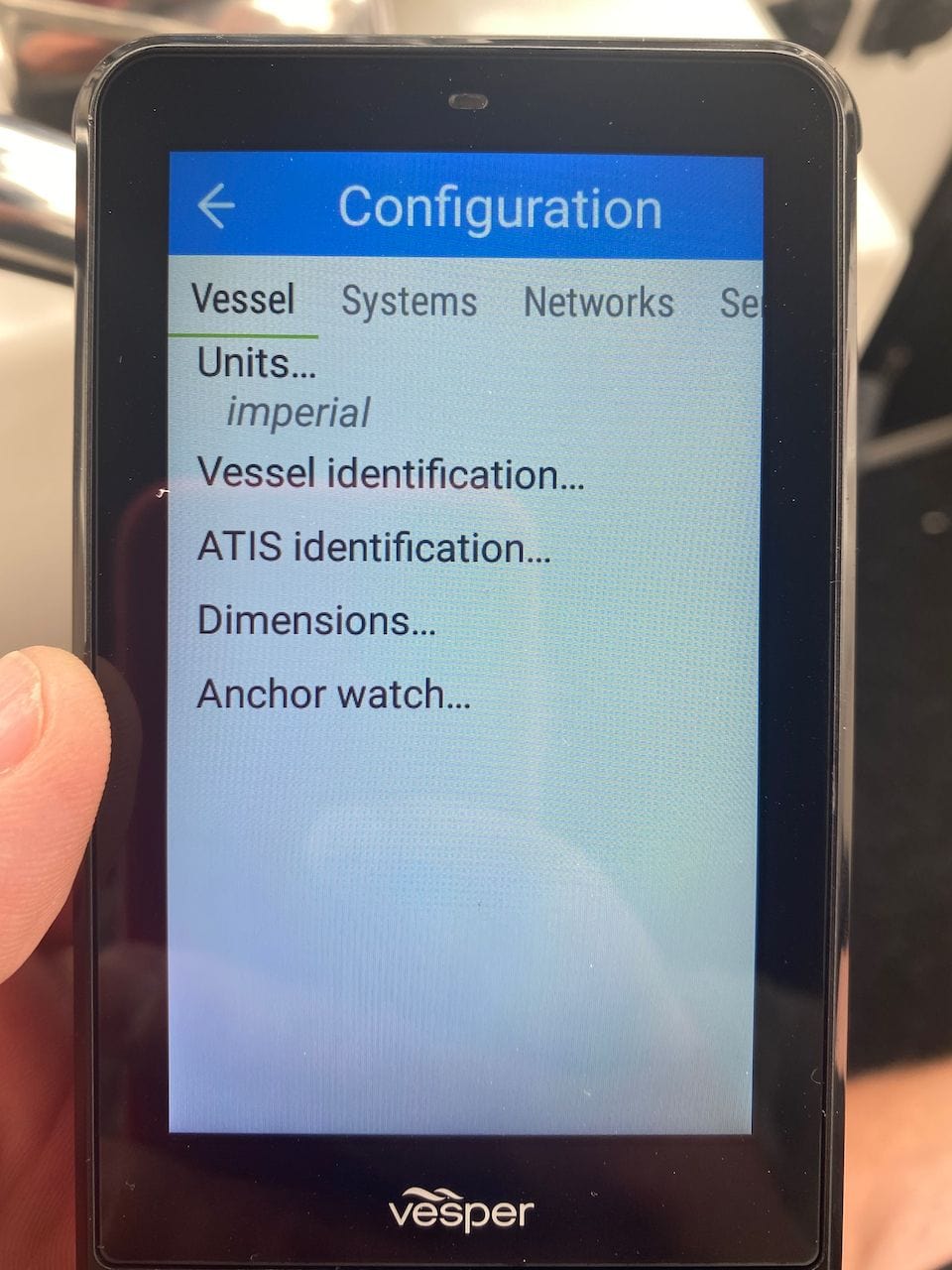 Clicking on the wrench in the upper right corner of the menu will result in the main configuration menu. There are a bunch of settings in here, and I am not going to go through them all – if you're curious about something, let me know and I am happy to post more screen shots. Essentially, this is where you setup your boat info, units, wireless and NMEA 2000 connections, plus other config options for things like LTE and the like.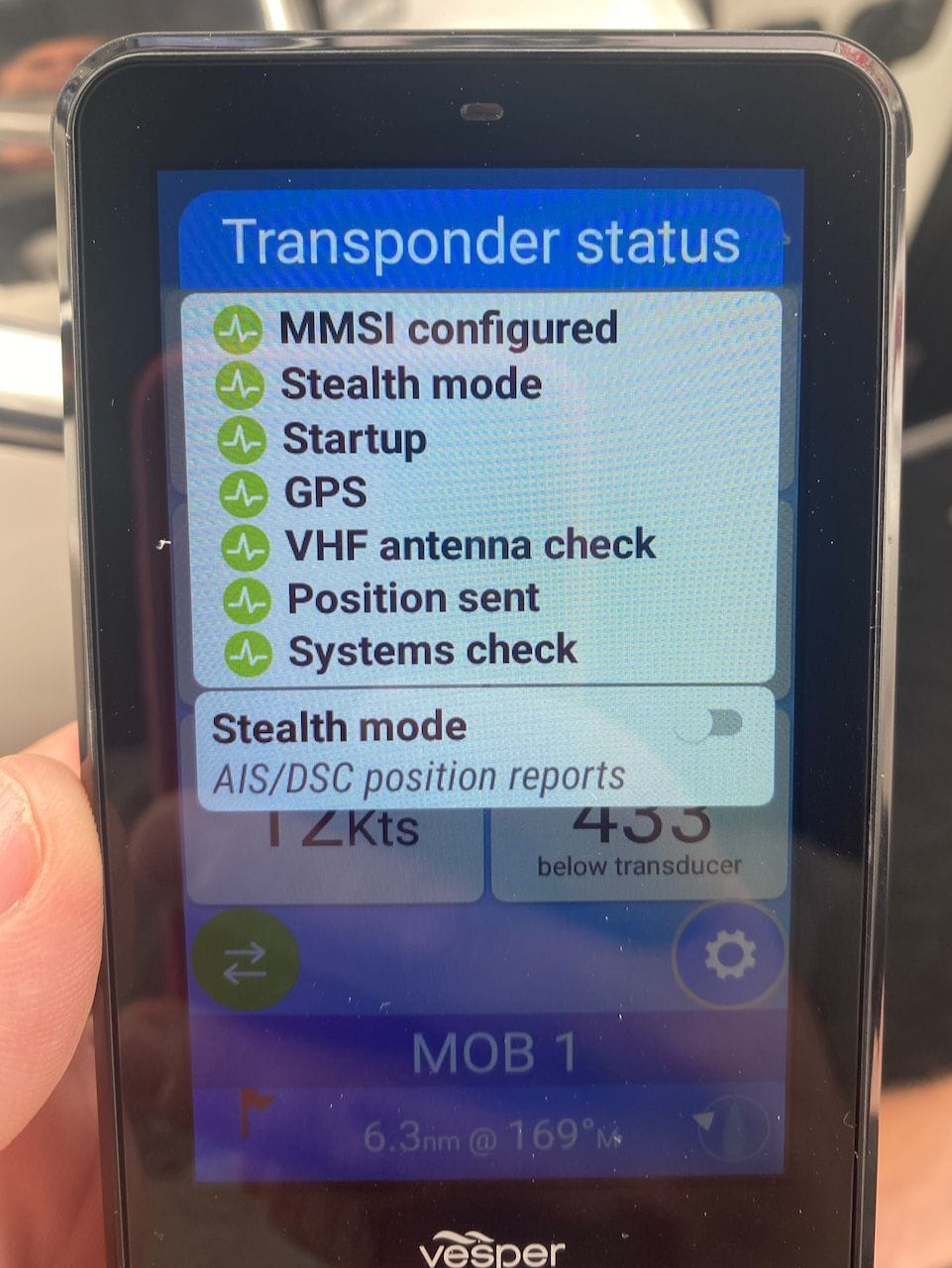 The icons on the top of the screen show things like the VHF channel you're listening to, as well as items for GPS and transponder status, which show screens like the above. There is also the configuration for the WiFi network, which is important, as the handset uses this to connect to the Cortex hub base unit.
VHF
The VHF functionality in the Cortex is close to feature-parity of a standard VHF radio, plus there are things it has access to or can do that most VHF radios either cannot do, or have horrific UIs that you have to use.
Here are my observations using the Cortex as my primary VHF radio for the last few months in the San Juan Islands and Seattle area:
Pros
Very easy/fast to switch channels with the rotary wheel
Clear and detailed information on the channel in question
Easy dual watch capability
Super intuitive to use the screen – just like a smartphone
Tons of info on the screen – your call sign, GPS position, etc. which would be helpful in an emergency.
Easy to change presets – just select a new channel, click and hold on an existing slot, done
Multiple ways to do things – buttons vs touch, etc.
DSC is finally easy – but I still rarely use it
Favorite vessels! Screen shot and details further below
Cons
No channel scanning – I thought I could get by with dual watch, but it is very limiting. On most trips, I listen to channel 16, a VTS channel for the location I am in, 13 for passing arrangements, and a cruising channel if I am with someone else. Vesper say this is on their roadmap, and I can't wait.
There is a delay of almost a full second, maybe two, compared to a standard VHF radio. I assume this is the latency added by WiFi and whatever processing is happening. It can be maddening if you have another radio on at the same time.
Squelch auto control is inadequate – you can only choose between three sensitivities, and I often miss parts of conversations as a result.
No intercom – Vesper also announced this is coming and on their roadmap
No hailer – I use mine to harass crew at the bow while anchoring, but more importantly, to fire off required fog signal noises when in fog.
So if you can see that it is very close to being a full VHF, but not quite there yet. Channel scanning & intercom are on the roadmap to be delivered by Vesper, while hailer and squelch control are unknown at this time.
AIS
The Cortex is the first AIS Class B+ SOTDMA transponder from Vesper. We've been waiting for this for a while, as I did a review of one of the first ones in 2017!  I have a number of different Class B+ SOTDMA transponders on board, and compare performance by running them for a few hours in the same place and capturing the amount of AIS targets each "sees" via a Linux machine onboard. The Vesper Cortex performs as well as the best units I've had on board, and that should be no surprise given Vesper's experience in this area.
Class B+ is the newer-ish standard for recreational-class AIS transponders providing a more efficient way of sending out your boat data (SOTDMA) and at a higher power of 5 watts. This is especially important in congested areas with lots of AIS vessels, and has made a notable difference for me in the Seattle area while testing these type of transponders. You can learn more about SOTDMA and Class B+ in a great article written by Ben Ellison on Panbo.
The hub itself has a lot of neat things built into it that are firsts for AIS transponders. It has it's own heading sensor which makes your AIS data more accurate if you don't happen to have it connected to NMEA 2000 and have an existing one, and it has really intelligent alarms and profiles.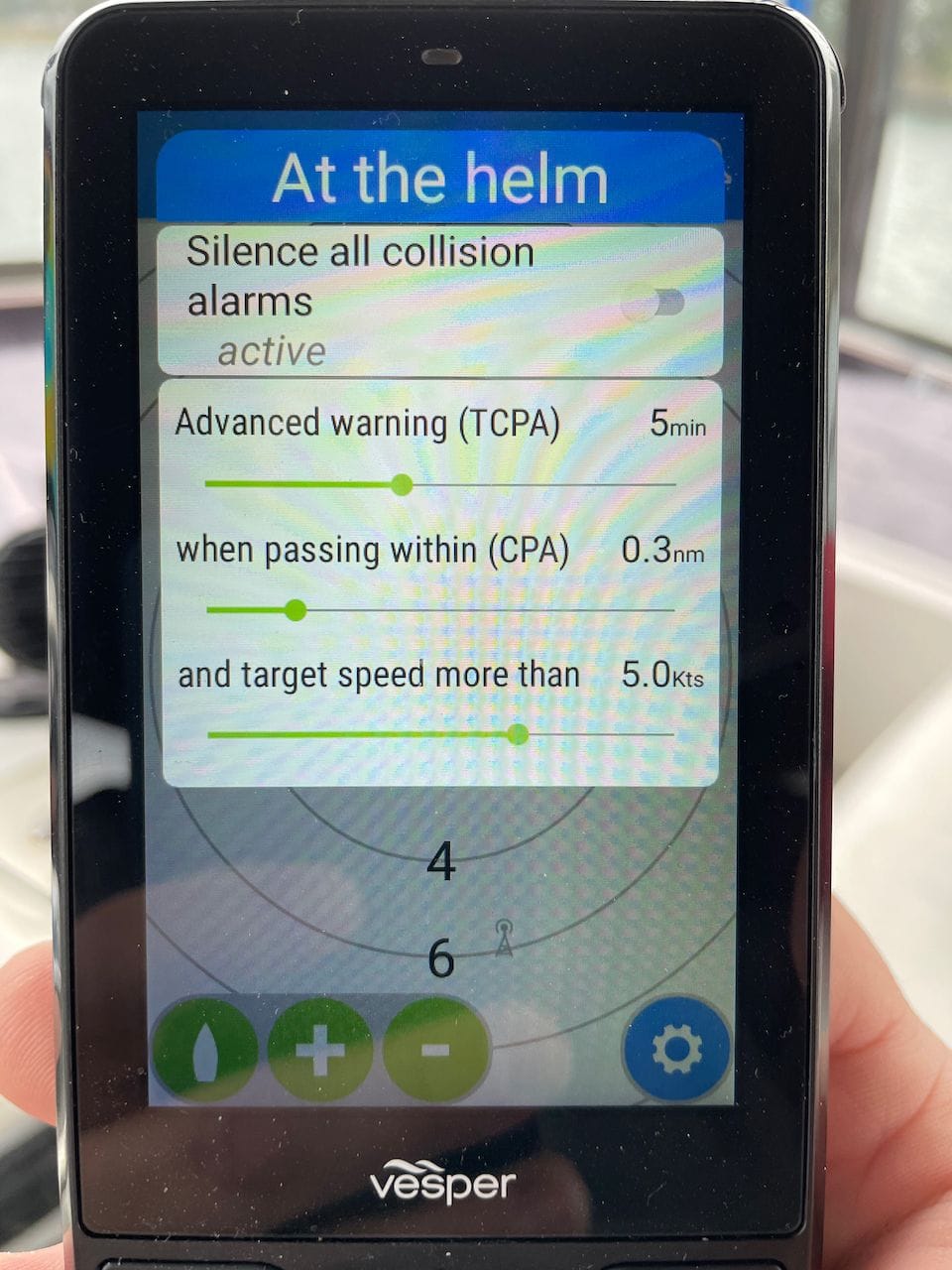 AIS alarms can be configured pretty easily, with three different criteria available. I usually turn them off when I'm in populated areas like marinas, otherwise they go crazy. It's worth noting that if you power cycle the base unit, this setting will go back to the default of alerting you for any dangerous AIS targets, which is probably a good choice. Changing these three different settings will allow you to dial in how frequently you want to be alerted depending on the speed of your boat, how busy it is around you, and the boats near you as well.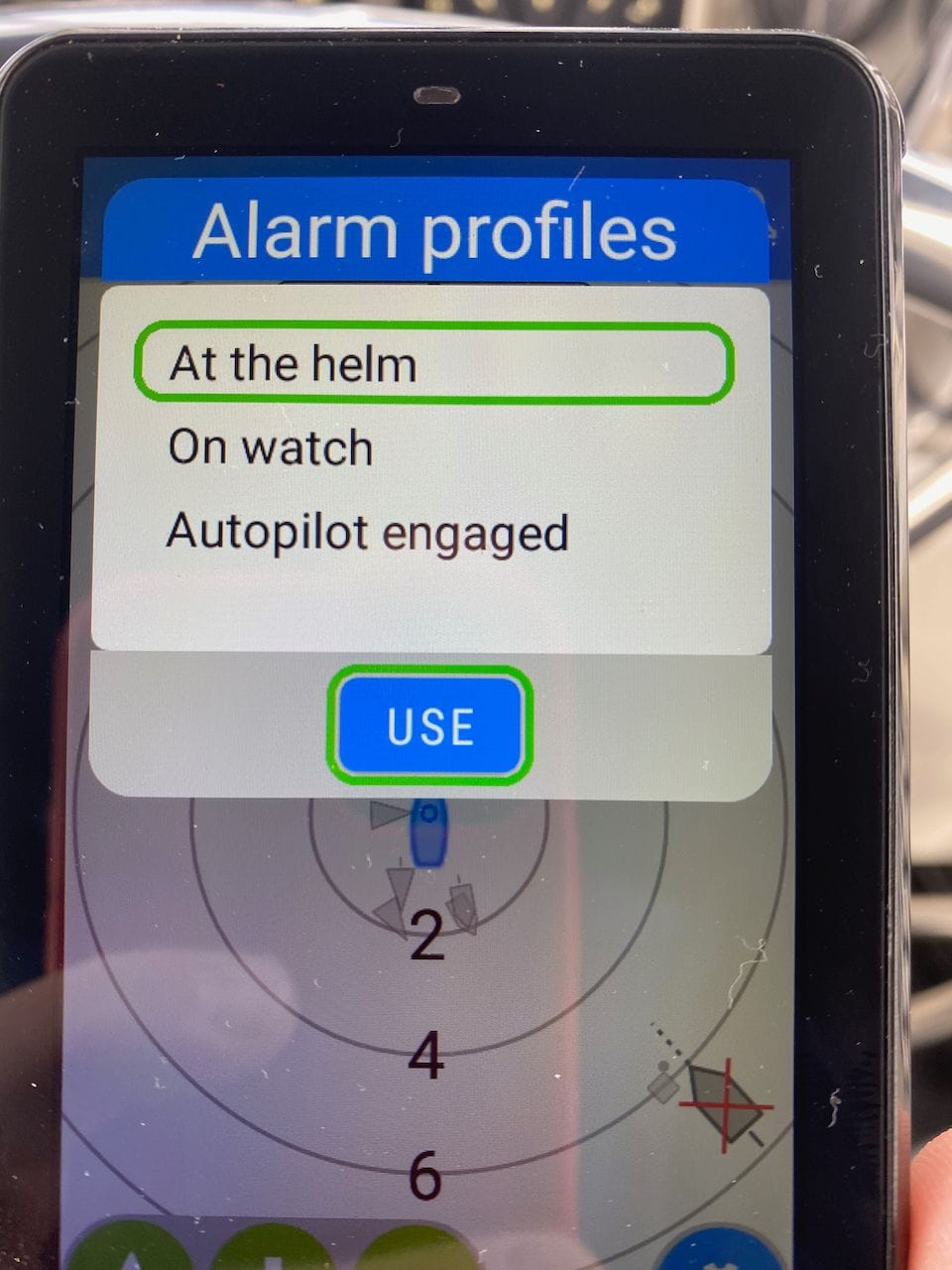 You can also setup three different alarm profiles, each with different criteria, which is very useful. Each can be tuned to be less or more sensitive depending on your preferences. I used the "On Watch" option for when the boat was at anchor, and had less sensitive settings.
I found the alarm configurability to be the most flexible I've found in just about any product, including MFDs. The fact that you can quickly switch profiles is a differentiating feature for sure, and allows you to actually rely and use AIS alarms, rather than constantly silencing them and becoming numb to over-alarming situations, which I have had happen many times. I suspect there will be even better control over this in the future, and it makes for a very powerful feature in the product.
Instruments and MOB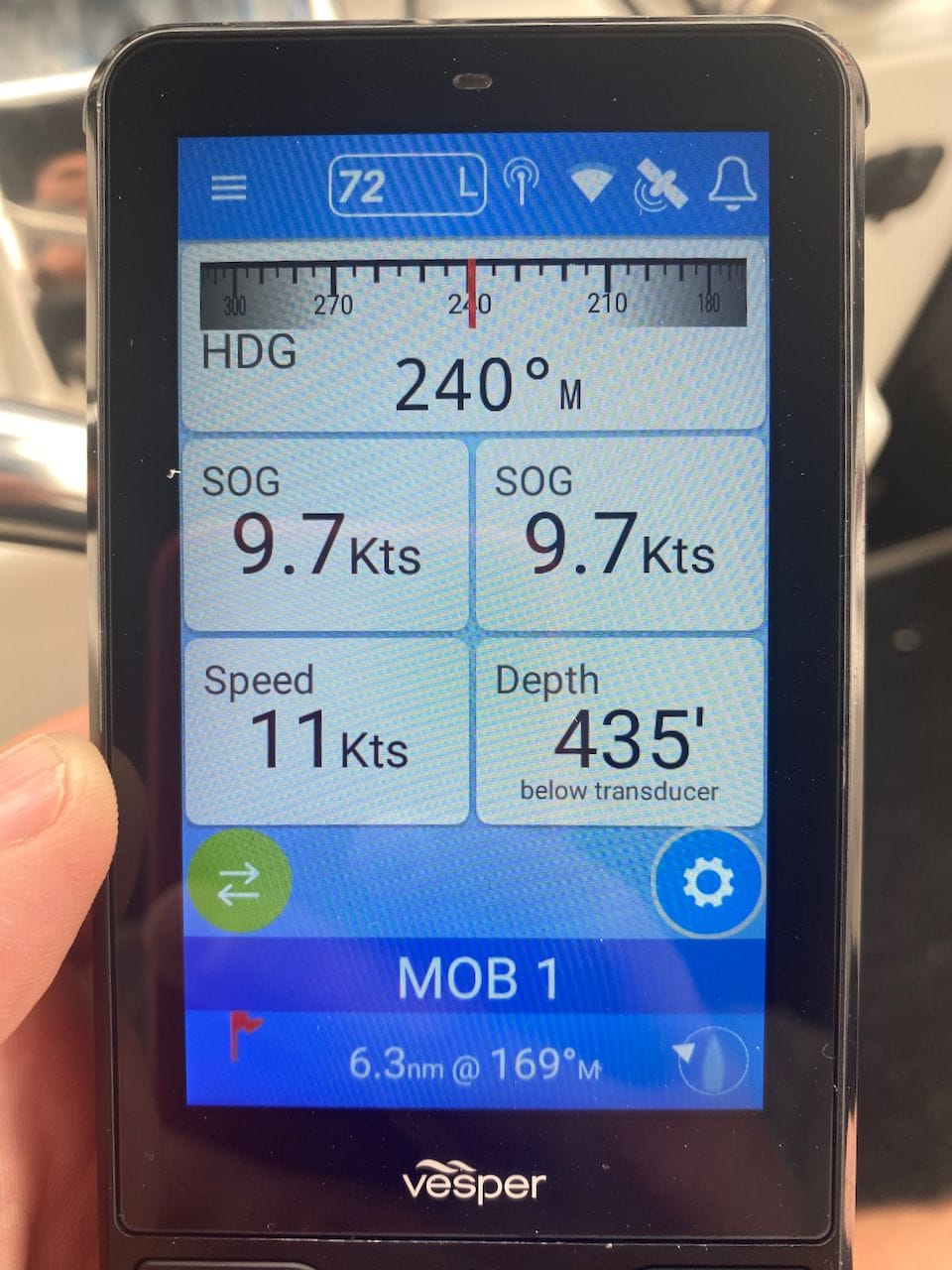 The Cortex has a screen in the menu dedicated to instruments. You'll need to have your unit connected to NMEA 2000 or 0183 in order for much useful data to show here. It's pretty limited in terms of what you can display compared to a 4″ marine display, but if you do not have a small marine display or chart plotter nearby, it is a handy way to display things like speed over ground, depth, wind speed, and the like.
It also would be useful at night if you had the handset near your sleeping location. If you're worried about the wind, you can see the direction and speed quickly, as well as check on your anchor alarm.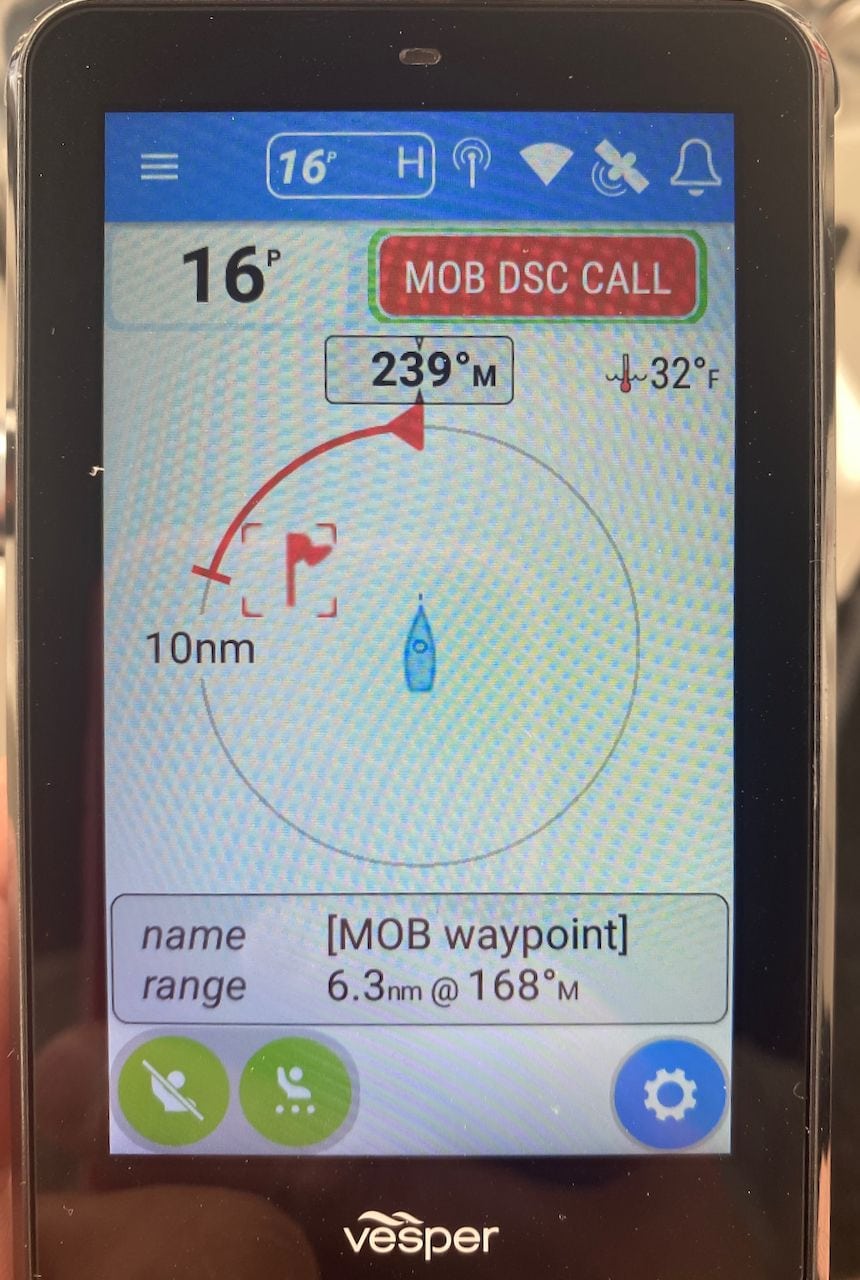 If you press the dedicated MOB button on the handset, it drops a GPS pin at that location, and switches the display to a constantly updating orientation to that point. It also displays the water temperature, which it has routinely said is 32F but is definitely not that cold! I anticipate this might be a NMEA 2000 bug on their end, since it is right everywhere else on various displays.
This is a very well thought out implementation of a man overboard system that doesn't require lots of extra technology or pieces, and can be found very quickly as one would assume someone is near a radio at the helm at most times.
Plotter, DSC, and awareness
This is where things get interesting. The features and screens alone are all things we have seen in one incantation or another, but combine some things, and you've got a whole new product. The plotter screen isn't new – you can find this on the older Vesper products via the Vesper smartphone app, such as the venerable XB-8000 AIS transponder. Where it gets exciting is what you can do when you click or select a target, and how it interacts with AIS, DSC, and VHF.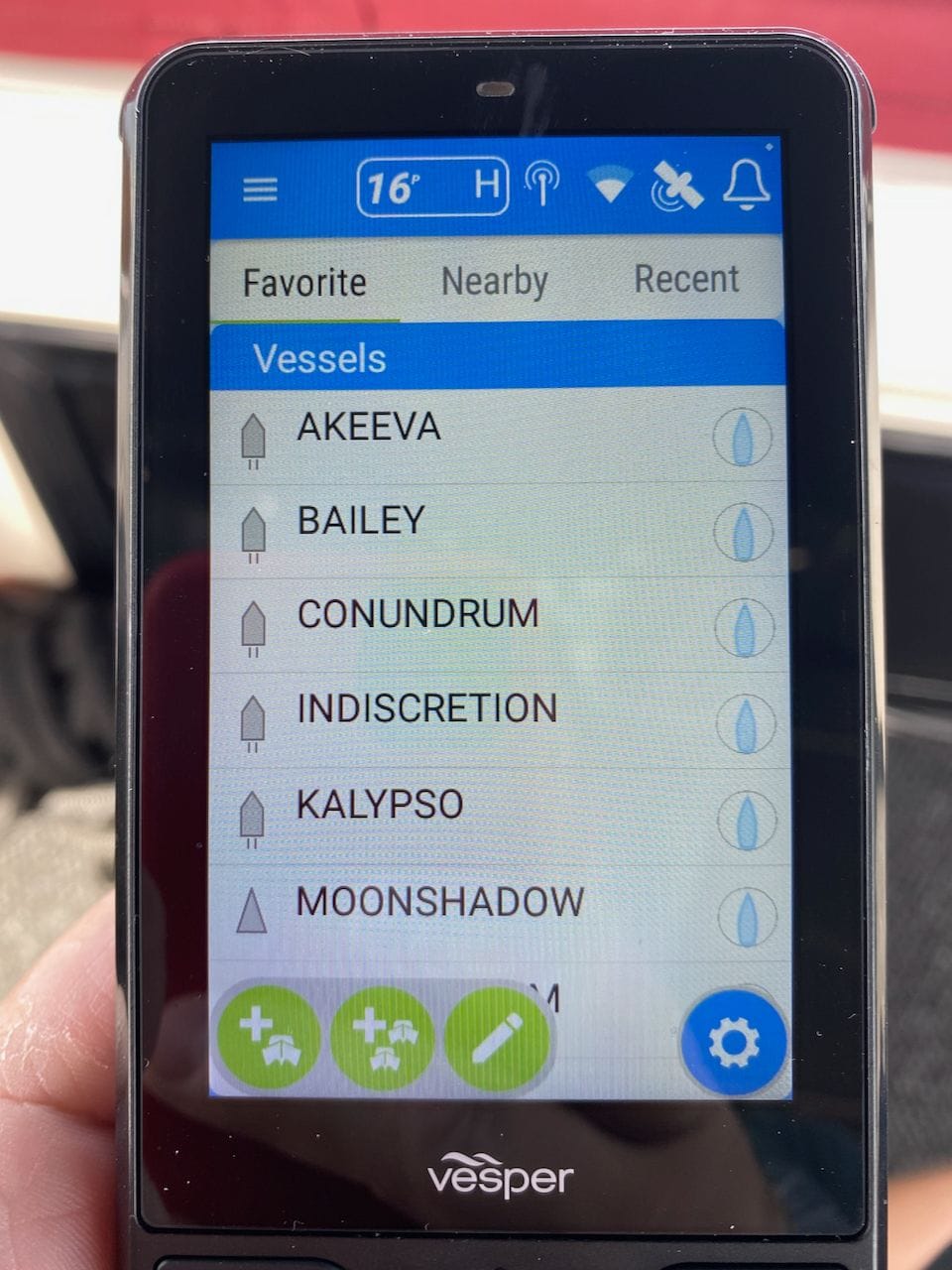 You can build a list of favorite vessels, either by entering their MMSI manually, or by clicking on them on the plotter and adding them. This is nice so you can see who might be approaching that you know, and so you can quickly make DSC calls. The boat icons on the right will usually show a little arrow if it detects them on AIS indicating the direction they are in relation to you.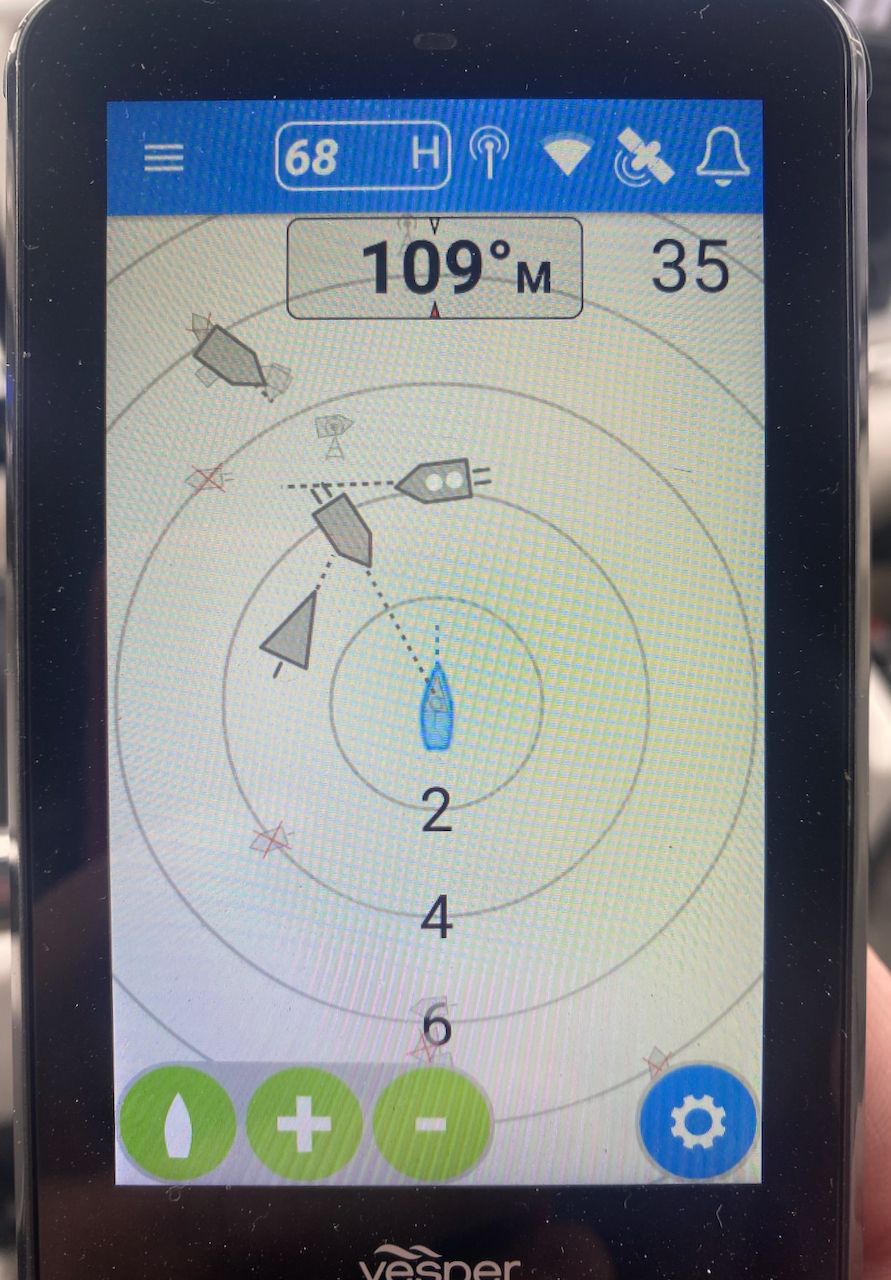 The plotter screen above shows multiple vessels, and you can see one is shown as a tug with the two white circles. This isn't unlike the older plotter screens where you could see info.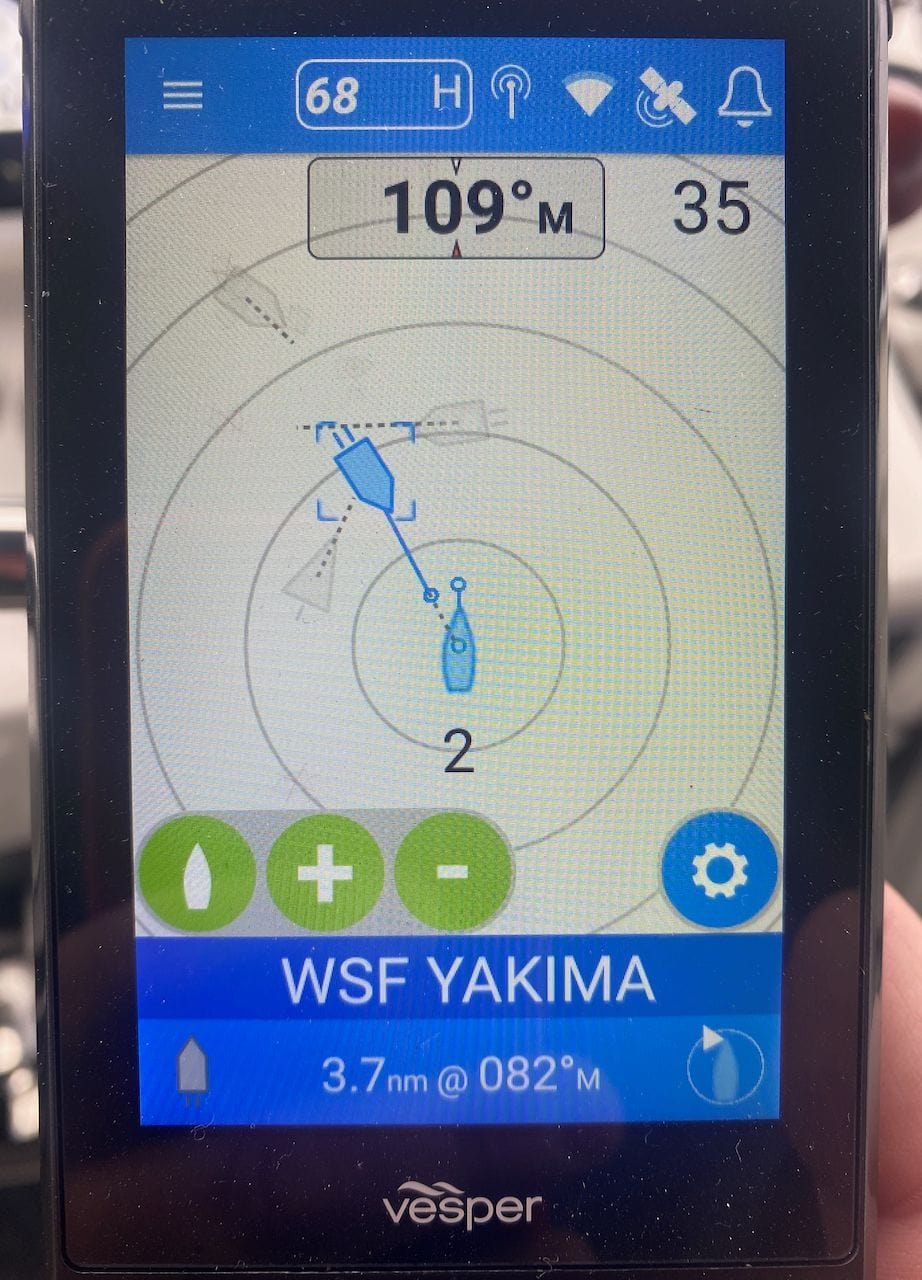 Clicking on one of the vessels shows the name, in this case, the Washington State Ferry Yakima, and how far away it is and a bearing. There are also nice UI touches showing the direction from our boat to the Yakima, and a predictor line from them based on their course and speed.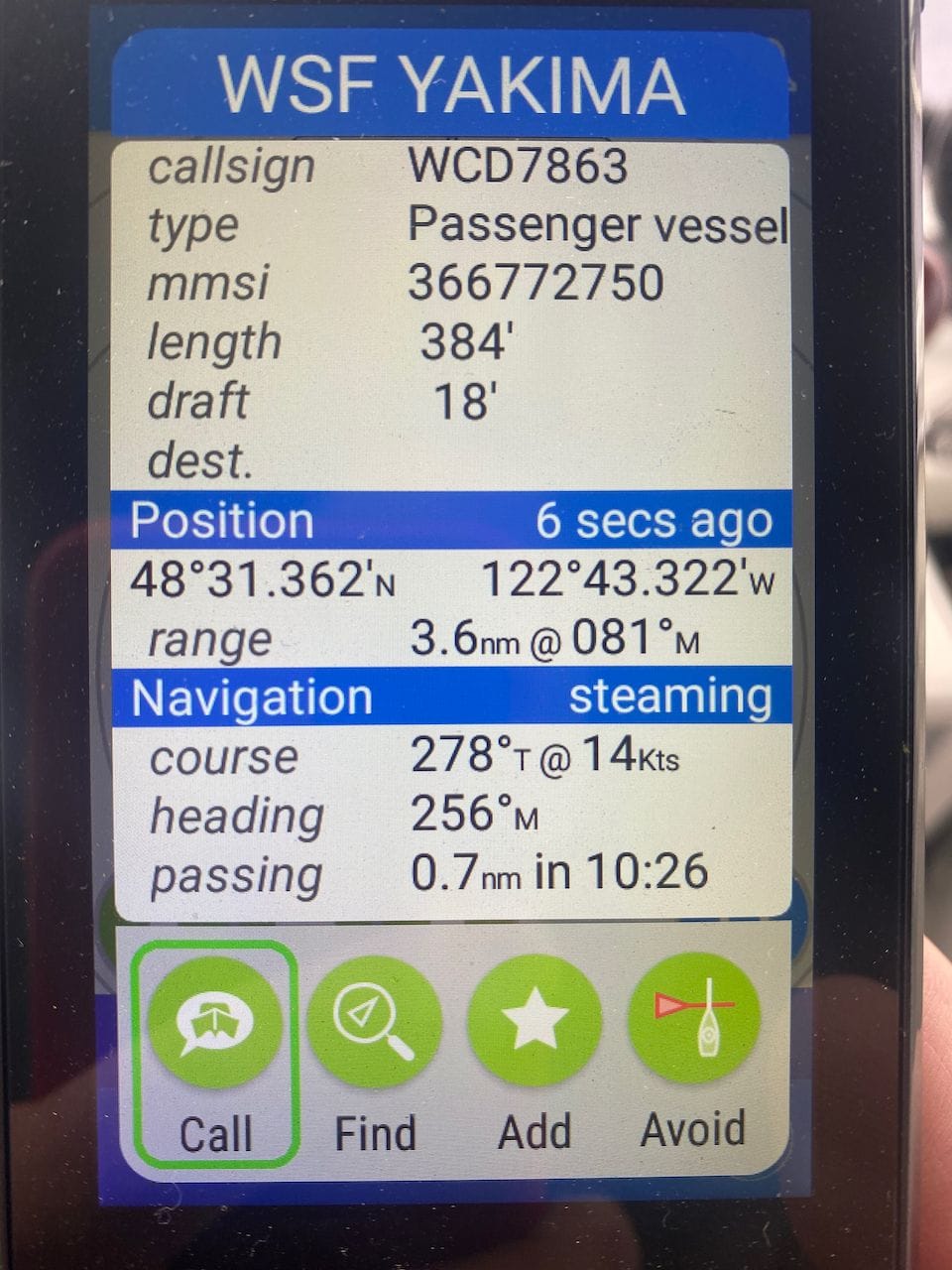 Clicking on the Yakima banner at the bottom of the screen shows the detail page for that target. Tons of info is here including how close they'll be passing. The best buttons are along the bottom, with my two favorite being CALL and AVOID.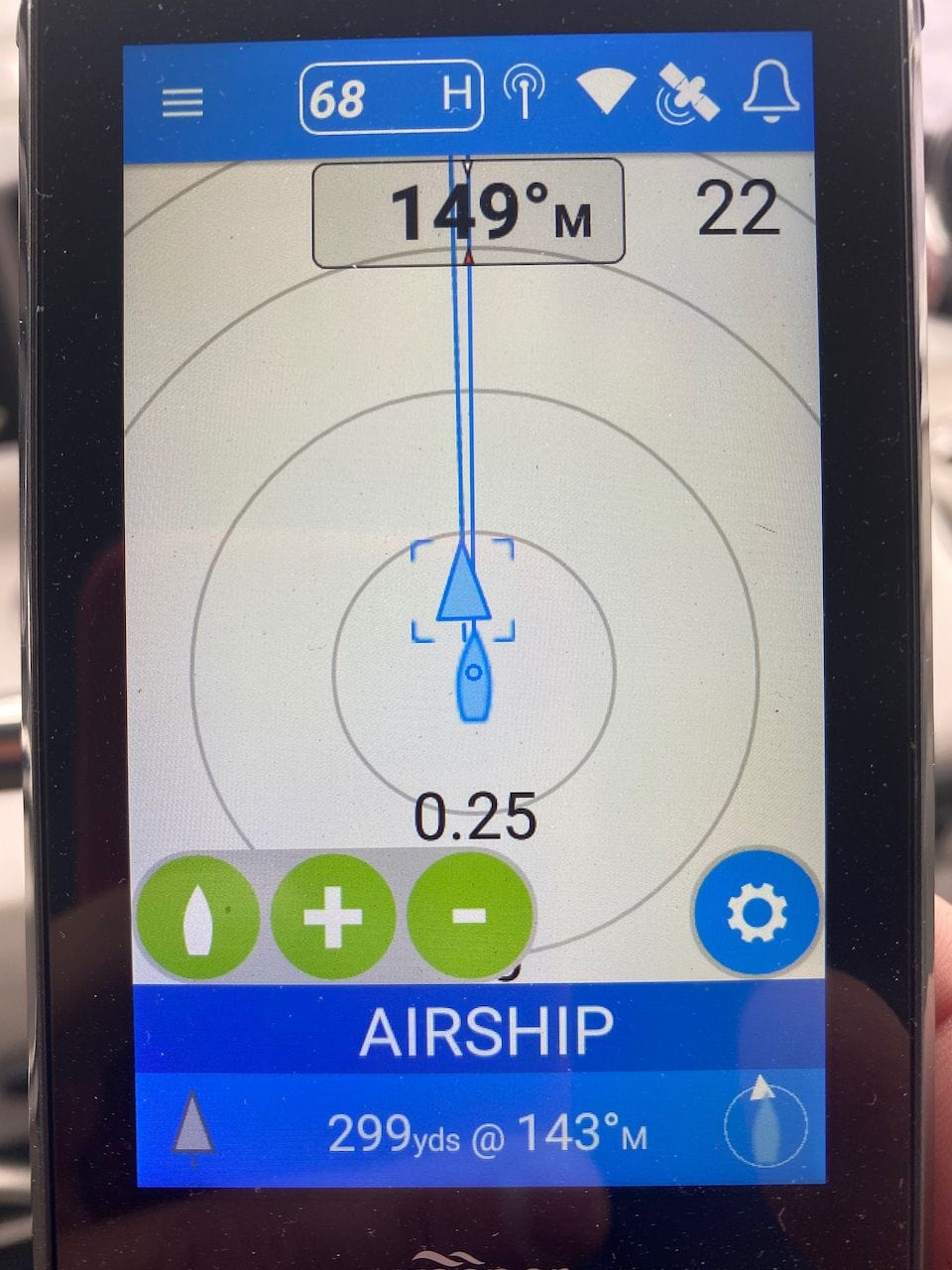 Here's another example using my friends on Airship from Slowboat.com. We spent some time socially distanced cruising in the San Juans this year, and it was a perfect way to test the Cortex. You can see above they are in front of me, and clicking on their ship name gives me all the details I need to know about them.
If I click call, I'm sent to a screen to setup the DSC call and can choose the VHF channel rather than having to fumble around.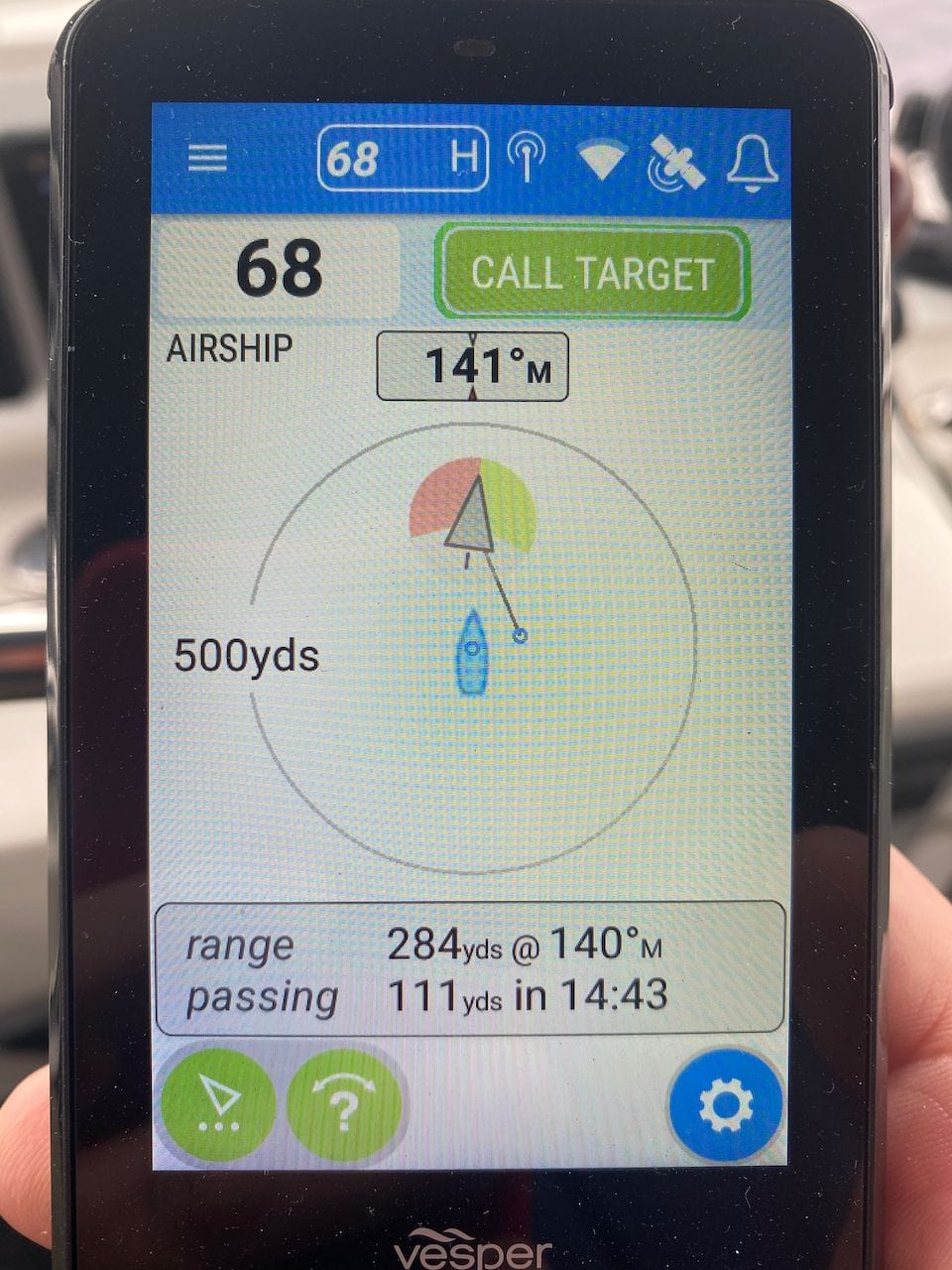 But instead of calling them, I can also use AVOID, and the Cortex will show me a graphical representation of their port/starboard lights, and ways to avoid them. There is also a nice big DSC CALL button at the top in case I can't avoid them, and need to make a call.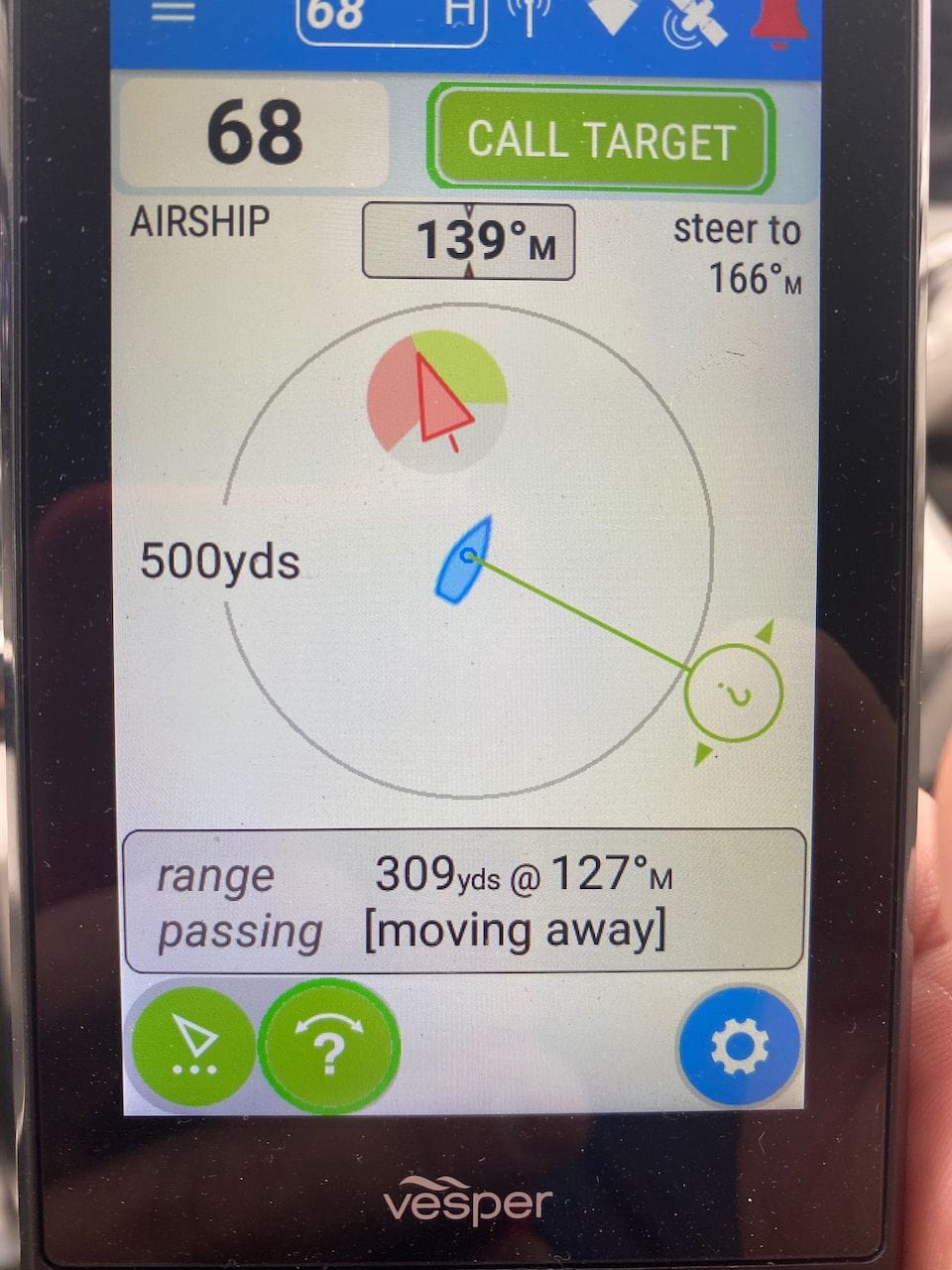 You can also use the question mark control at the bottom of the screen to figure out a safe course to pass or avoid them. The top of the screen shows the course to steer to avoid them based on the way you've oriented your boat.
A lot of us already have chart plotters or PCs that can show this data and allow you to figure out a way to get out of someone's way. I just think Vesper has done a more elegant way of showing the data quickly with clear ways of avoiding or communicating, port/starboard lights, and all of the data about the target in one place. And, it's using the same device that you might need to grab if you want to arrange safe passing – the VHF radio. Many of the chart plotters I've used require multiple clicks to see all of this, and you still need to find the ship name and call them – here you can just click DSC CALL and be done.
Anchor Watch
Many people (including me on my sailboats) have used the Vesper anchor watch that was a feature of the XB-8000 transponder. Since I left it running most of the time, and was relatively lower power than leaving a chart plotter on, it was an excellent way to have a quality anchor watch. The Vesper Cortex continues this feature, and adds the ability to see it remotely via the Cortex Monitor app.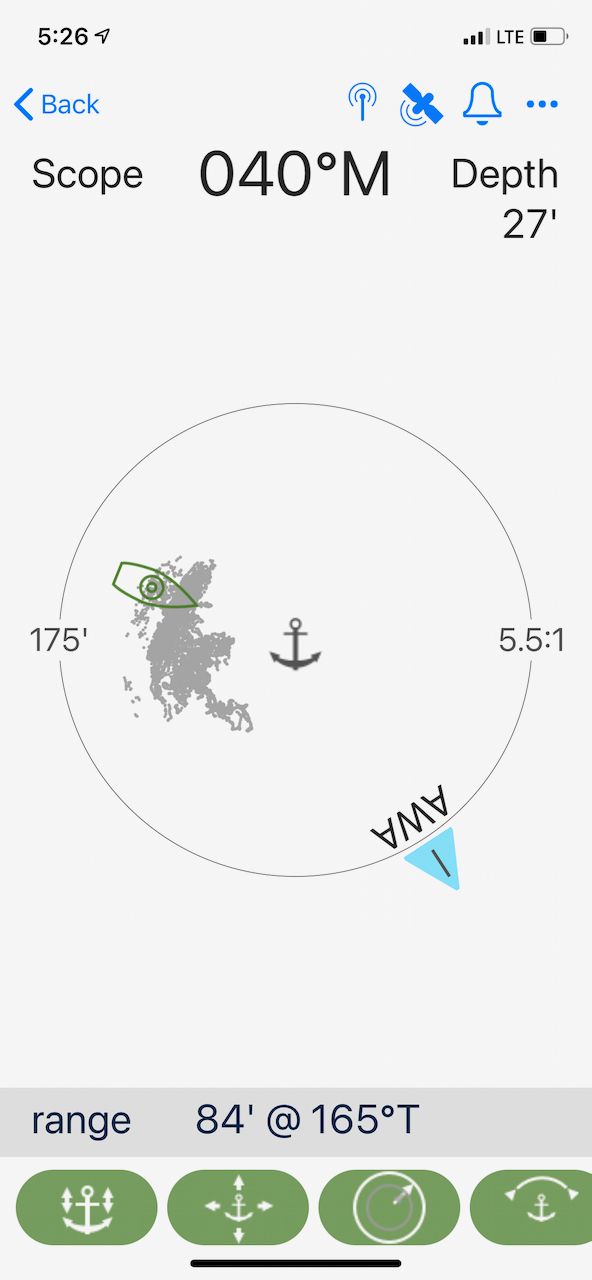 I preferred to set the anchor watch using the Cortex Onboard smartphone app rather than from the handset. You have controls along the bottom to drop or weigh the anchor, change the anchor location, scope, and reset the anchor. The display shows the depth, range, anchor alarm circle, history, AWA, and more.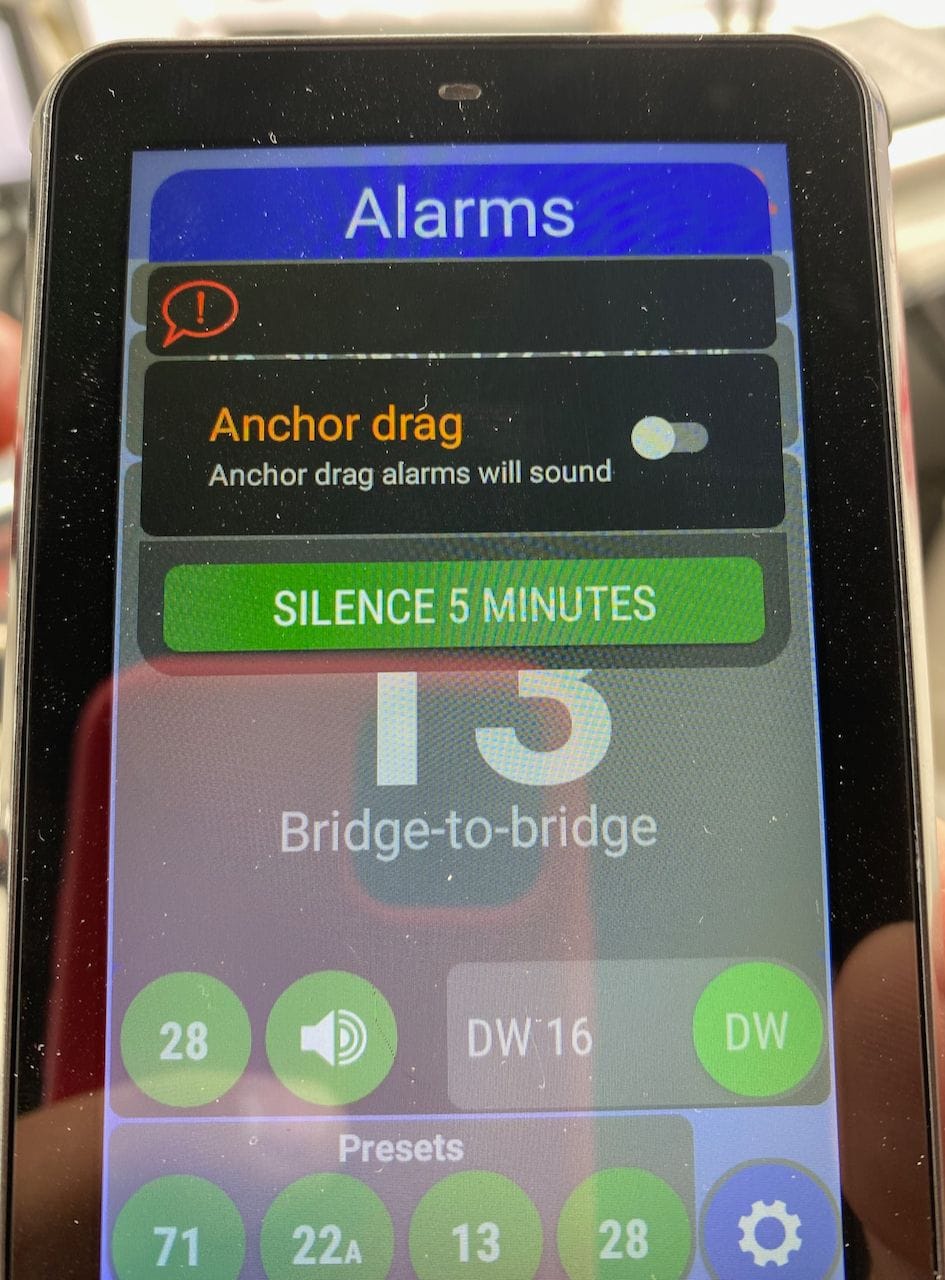 The anchor alarm can be silenced, just like AIS alarms. One catch 22 here is that if you don't have a handset wherever you are sleeping, and you intend on leaving your smartphone connected to the Cortex WiFi network, you could have issues. I had mine routinely disconnect (most likely due to 2.4Ghz / distance) and my phone would happily reconnect to my on-board WiFi and the app would never update after that. There are changes coming with their WiFi implementation as I mentioned above, but you may wish to have a second handset nearer to your sleeping location if required.
Cortex Onboard App
There are two apps available for your smartphone for the Cortex – Cortex Onboard and Cortex Monitor. The Onboard app is as it sounds – you use it while you are on board. It's very similar to the actual Cortex handset, without the VHF functionality and a few other smaller things.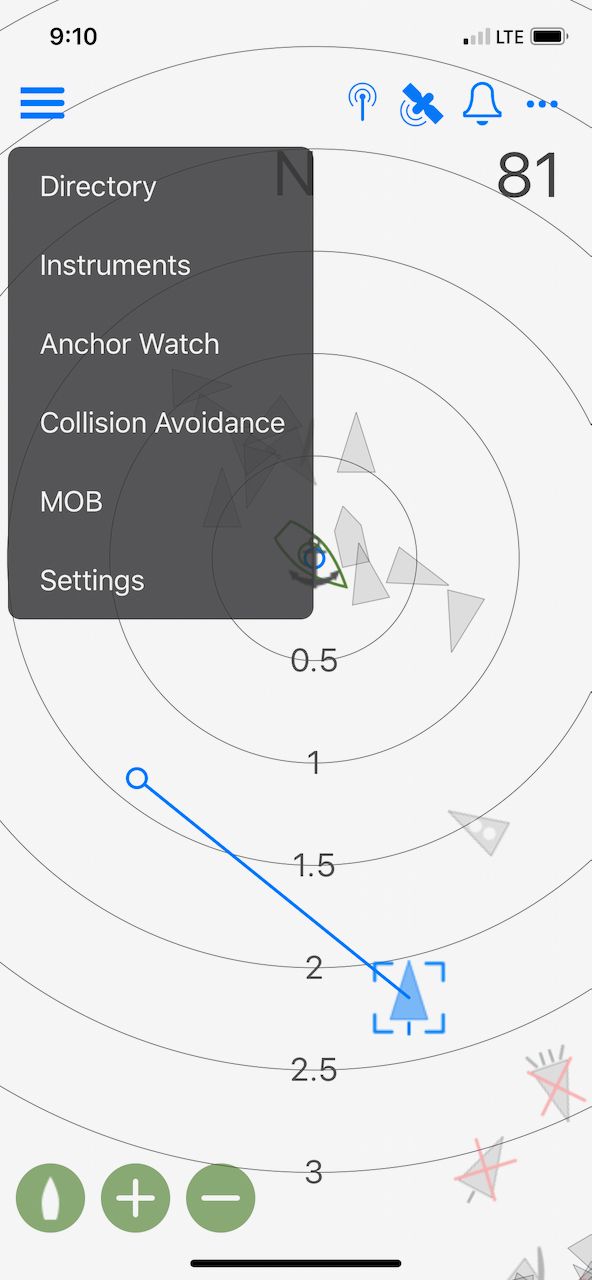 You have a menu of choices that are similar to the handset.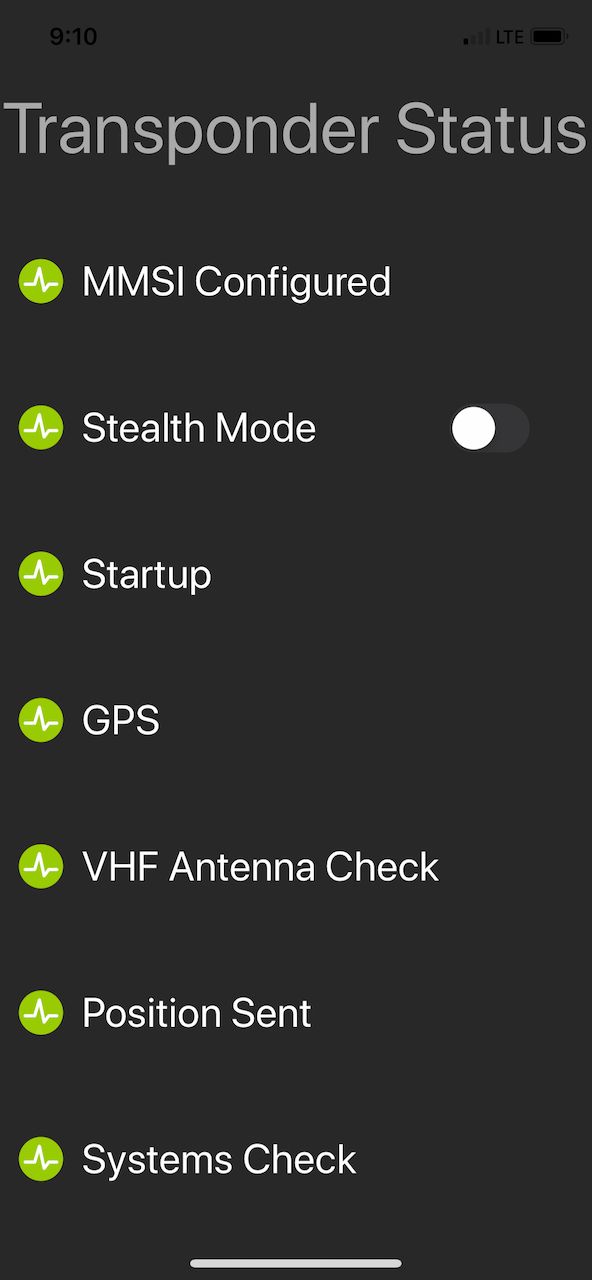 You can see transponder status, GPS status, configure the unit, and see instrument dashboards, which is super nice to have as a second display somewhere.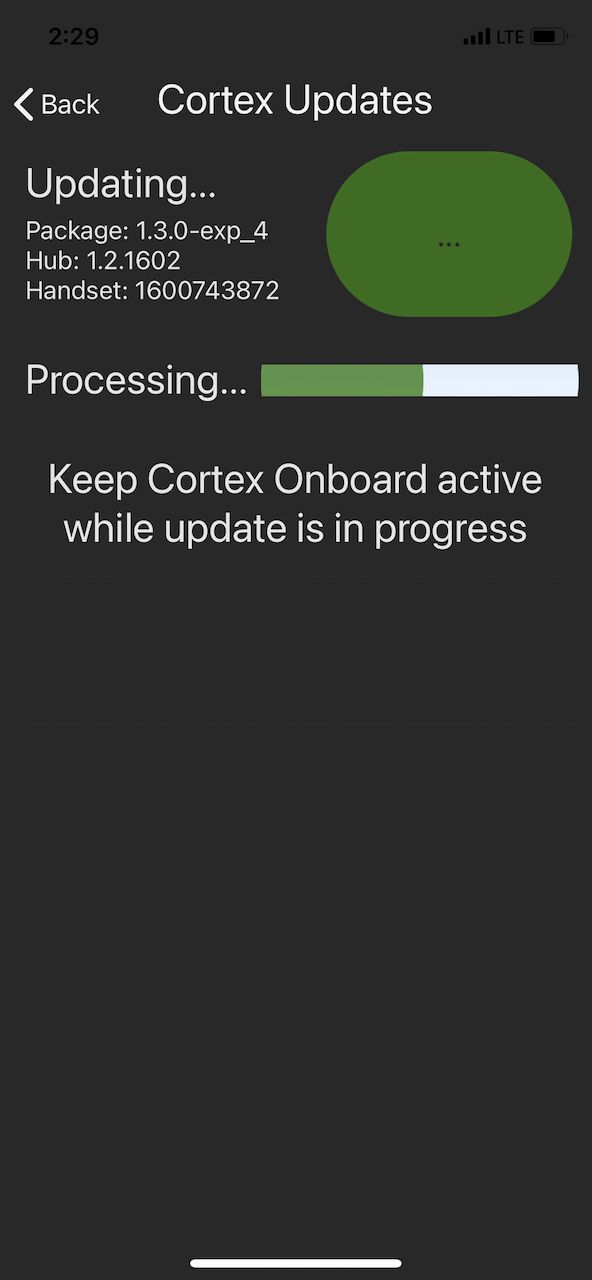 One of the cool things about Cortex is the fact that the hub and the handset can be upgraded easily. The handset is running some form of Android, a mobile phone operating system, and the primary way to upgrade both the base and handsets is via the Cortex Onboard application. It downloads the new software from Vesper and sends it to the pieces on board, and they each individually prompt you to go through the process.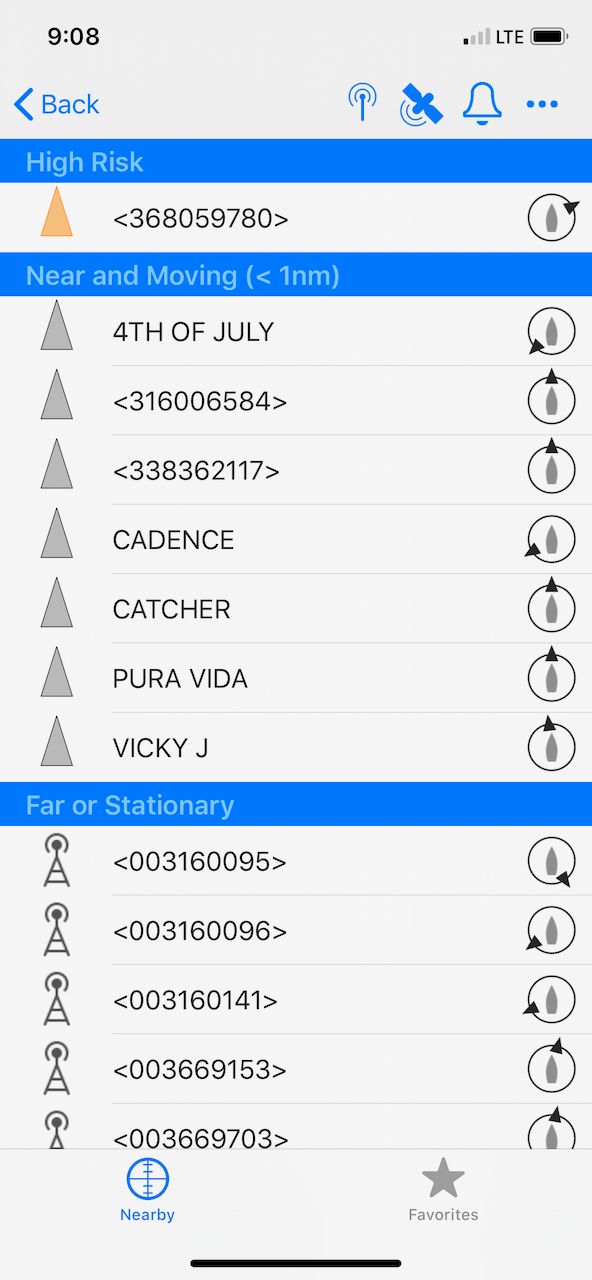 Just like the handset, you have access to the plotter screen, can figure out how to avoid a contact, and can see nearby targets in a list. You can't initiate a DSC call or do anything VHF-related, but that makes sense, as I think the FCC's head would explode if they allowed you to use your smartphone as a radio. I also think it is generally a bad idea anyhow for many reasons.
The biggest challenge with the Cortex Onboard is that you have to connect to the Cortex WiFi network to use it, which means your mobile device will complain about WiFi not having internet access, and hopefully if you have a good signal, will use cellular data to continue doing other things. There are potential changes to WiFi coming, but my experience has been middle of the road with this particular app because of the need to connect to the Cortex itself, and having the phone disconnect at inopportune times. The new Boat WiFi feature will help, but so far my testing hasn't shown it to be that reliable.
Cortex Monitor App
The Cortex Monitor app is the remote monitoring app that allows you to access your boat data while away. I sort of wish they combined the apps so you don't have to switch back and forth, but I understand this was probably to delineate the two development and release-wise. It has four main parts:
Systems – a dashboard with drill down and alarm control on various boat data. Some of this will only work if you have NMEA 2000 or 0183 connected to the Cortex hub.
Controls – control relays and items remotely
Tracking – GPS tracking and geofence
Anchor Watch – remote anchor watch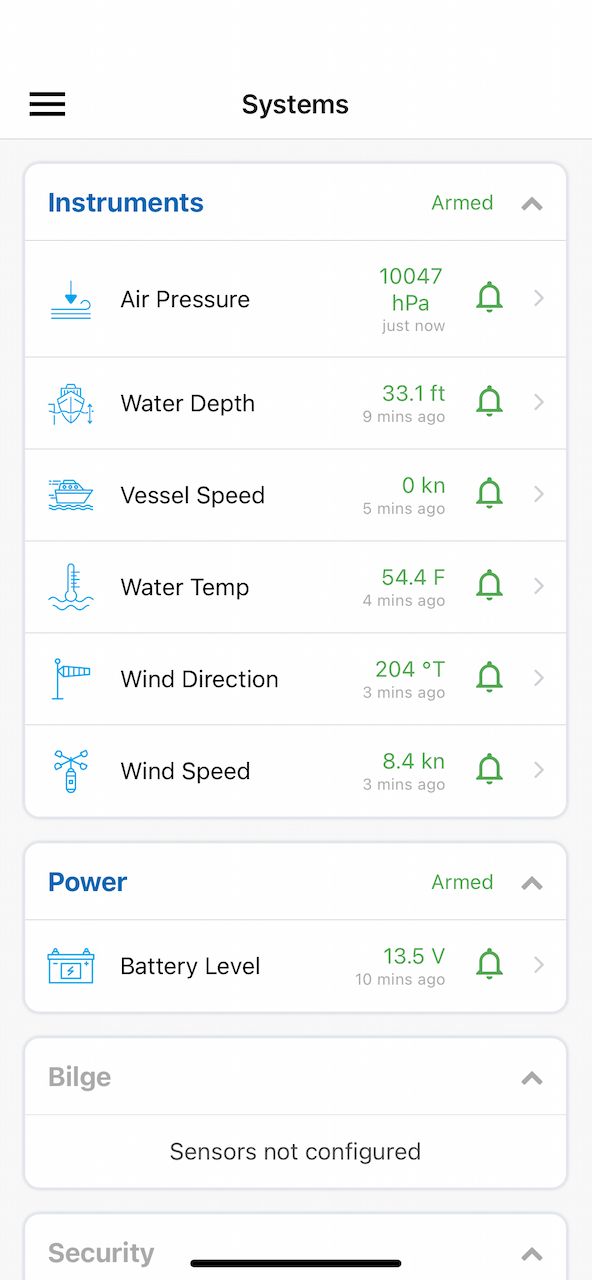 Systems is what I have used the most, and Vesper have selected a number of useful bits of data to display on the dashboard. This data is coming from my NMEA 2000 network, and it shows both the data and when it was last retrieved, which I find highly useful. Having spent a ton of time with remote monitoring products, it's usually two or three clicks to see how fresh the data is.
I don't have the system connected to my bilge pump or security sensors, but it looks to be pretty straightforwards, and have similar settings and alarms. You can read Doug Miller's blog post on how having his bilge pump connected to Cortex saved his boat.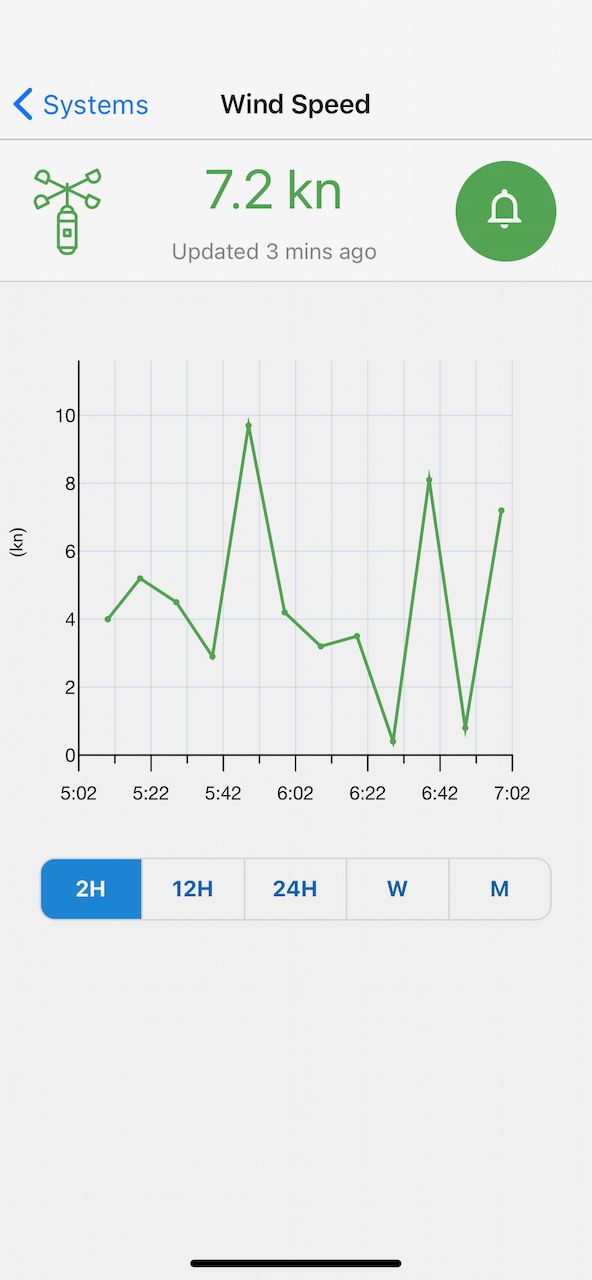 If you click into one of the bits of data, you will see a graph. You can change the scale (see below) as well as click on the alarm icon and set up alarms with varying different parameters. I like how the different types of data have appropriate alarm options, such as a high wind, average wind, and time limits for battery voltage.
The only gap here is that alarms are in-app only. All of the monitoring systems I have on board (and I have a lot!) allow for multiple methods to ensure you get a critical alert – usually in-app, email, and text message. I'd like to see at least text message here just in case the app isn't working right, or you don't have a data connection yet can get basic SMS.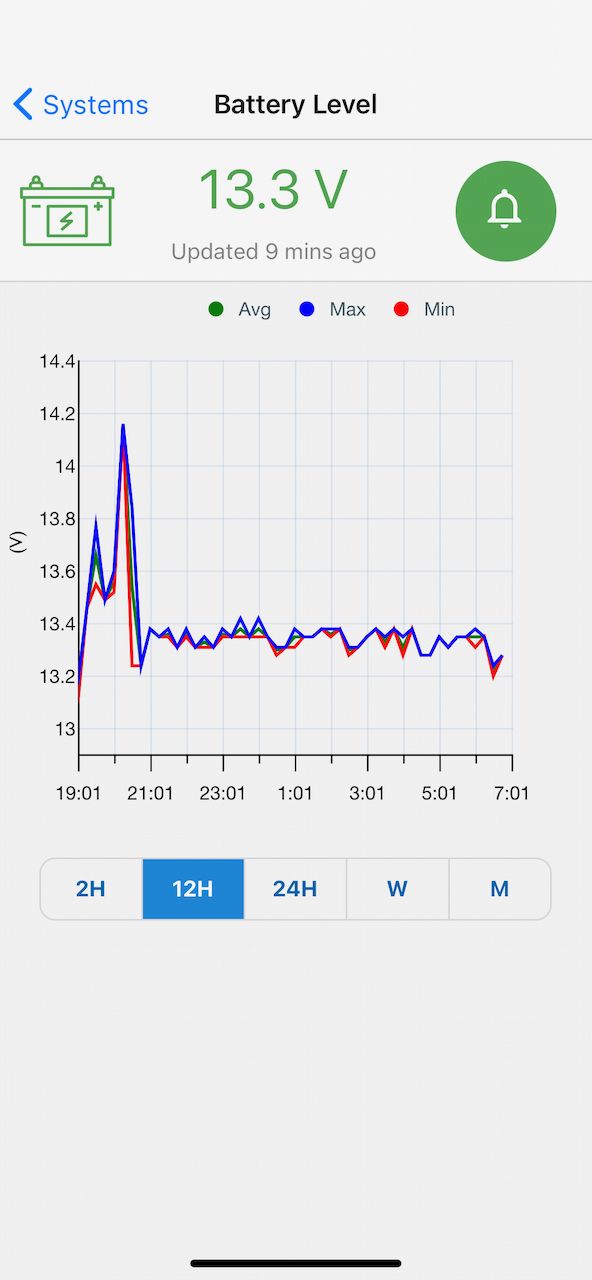 I am a sucker for graphs, and the ones included are very well done. You can look at historical information back to a month, or drill down to two hours.
Tracking is useful to see where you've been, but you can also setup a geofence zone and alarms. This is useful for security purposes to know if your boat breaks through that zone.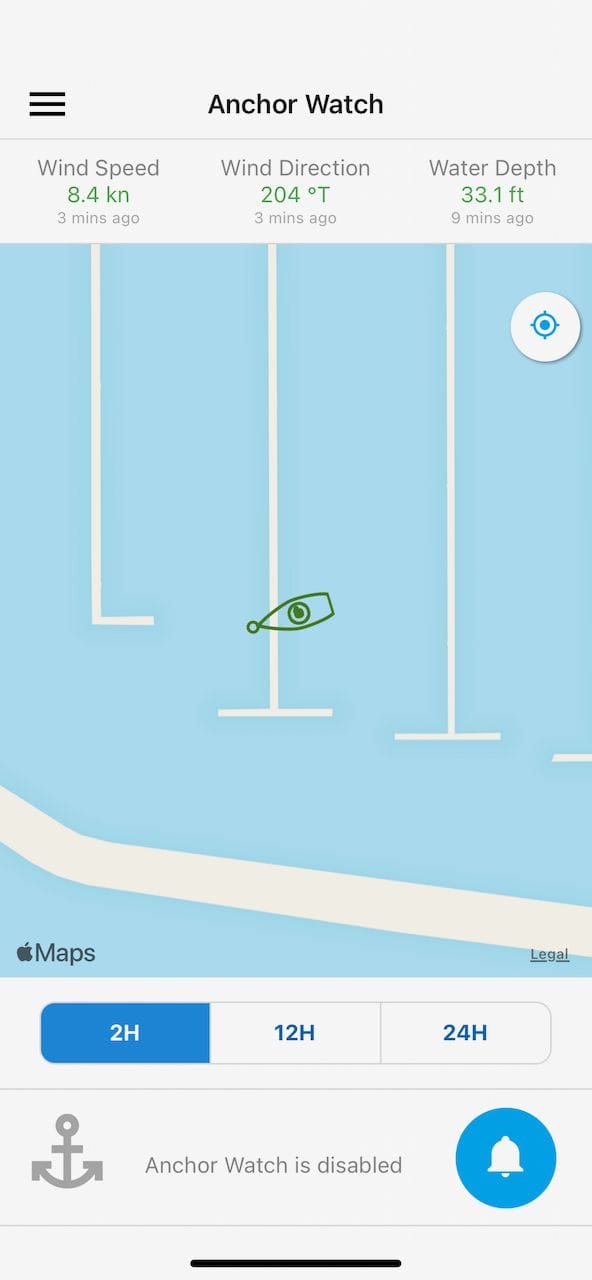 Anchor watch is also available via the Cortex Monitor app, and allows you to check on your anchored boat while away from the vessel. This is a nice feature, and something a lot of other monitoring systems don't do that well. Being able to go ashore somewhere and have the ability to get alerted if the boat drags is nice. Would be even better to have text messages too, especially in remote anchorages where LTE data isn't as reliable.
In general, the LTE signal from the Cortex has been fair to moderate. It routinely reports that it is offline in many places around Puget Sound, so if you are looking for it to be 100% reliable, you will need to purchase the external LTE antenna, and even then I'm not sure that will fix it everywhere. I would make sure that if you are going to rely on Cortex for remote monitoring, you are in a good signal area, and test the installation location of the device to ensure the area you mount it in can access that signal reliably. The external antenna may also be required in most installs to guarantee this.
I think for a first version of remote monitoring this is a feature-packed setup that is competitive against even some of the more established vendors in this space. You can see a lot of useful data, graphs in various different timelines, and decent alarms that are well thought out. Add in the ability to monitor the bilge, security, and even control relays remotely, and you have a very powerful system.
Performance
Overall performance has been acceptable in most cases. There were a few stability issues in the initial software that have since gone away, but it is a first generation product, so keep that in mind. Some of the core features are still going through some rough patches including LTE and squelch, so you may want to watch and see what happens before purchasing if you are concerned about those areas.
AIS has performed as you would expect, as I mentioned earlier in the article. Testing it side by side with other Class B+ transponders showed that the Vesper unit was one of the best in terms of both broadcasting and receiving.  Data gathered by the transponder showed up on all of the devices on my NMEA 2000 network and the Cortex Onboard app without any issues.
VHF has been OK. Aside from the feature limitations with scanning, the biggest problem was getting the right antenna, and the pre-defined squelch levels. Having a poorly tuned antenna will cause any radio to perform bad, but in this case, using an AIS-tuned antenna caused a lot of issues.
Squelch is the single biggest issue with the radio. There are only four choices – no squelch at all, which is not useful unless you are trying to hear something far away and never want to scan channels, and high sensitivity, medium sensitivity, and low sensitivity.
I've found that the only useful preset is high, and even then, I hear only partial conversations for a lot of local traffic. I've compared this to the Standard Horizon GX2400 that is connected to the splitter port of the Cortex – so exact same antenna, same transmissions happening real-time – and I can adjust the squelch on that radio to be able to hear everything. Vesper have taken this feedback, but I have not seen any details on how this might be solved. I would hope a twisty dial control just like what we have on standard radios would be considered so that I could adjust it exactly where I'd like it. Without that, you run the risk of not being able to clearly hear important transmissions.
WiFi has been good, but it has it's challenges. The range of the 2.4Ghz radio is limited, and even on a 46′ boat, I have places where I cannot connect to it. The Boat Network WiFi feature that I'm beta testing will help, but that assumes you have another network on board. Having a more powerful radio, 5Ghz support, or some sort of repeater is going to be important for some installs.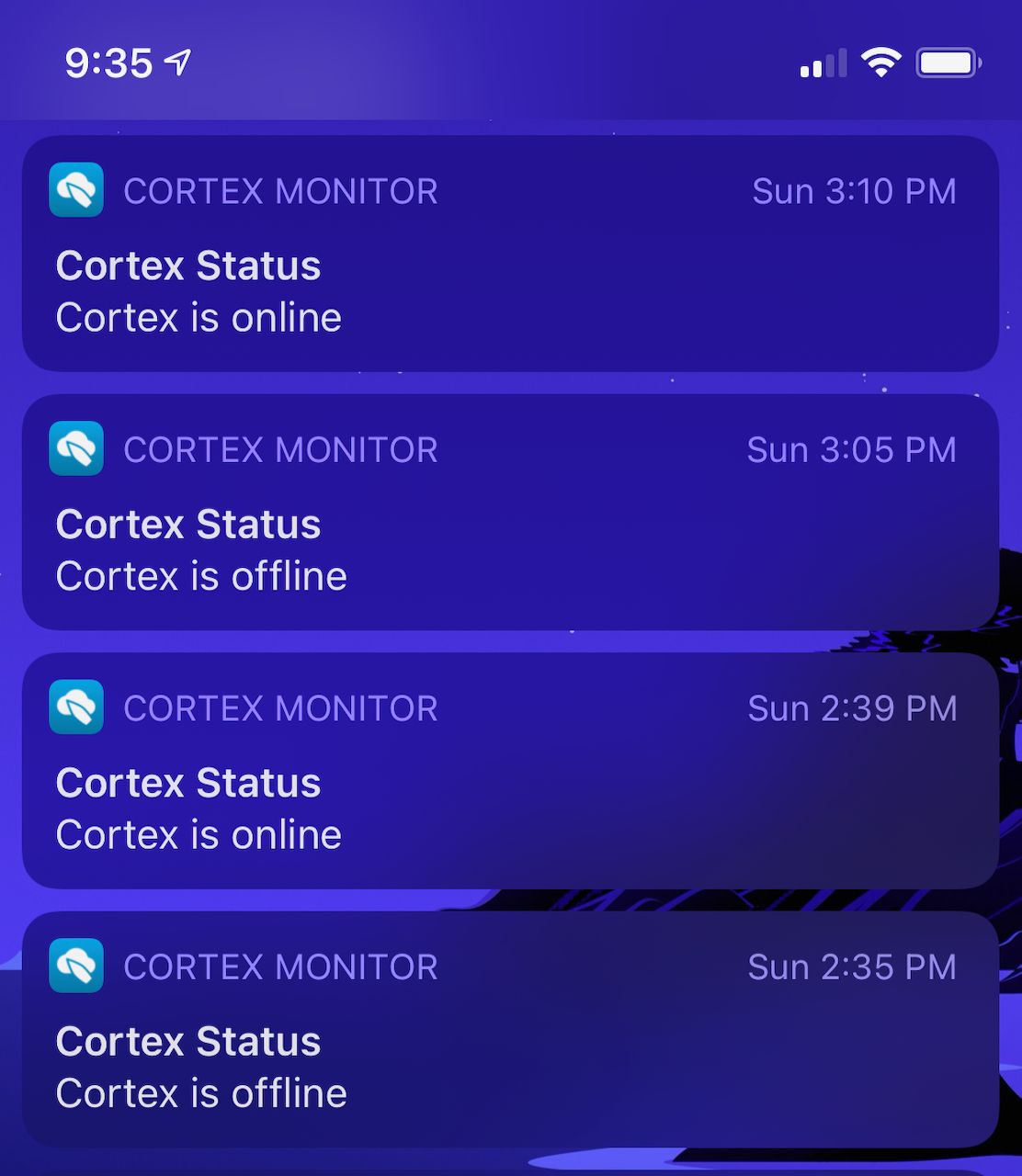 LTE has been fair to poor. I've tried adding an external antenna from my collection, and it has improved in some situations, but only moderately. Even in populated areas, I will get at least one disconnection notice per day. In moderate signal areas, the Cortex disconnects a lot – sometimes once an hour. This is a concern if you are relying on the remote monitoring features, and I expect there will need to be some tuning or other work done here.
Conclusions so far
I think the Vesper Cortex is a fantastic meld of VHF, AIS and situational awareness. It combines things that have rarely been done before, or not been done well, and allows you to leverage the info from those different sources in a consistent and usable way.
The usability and ease of use of the handset is fantastic, and it will only get better with software upgrades.
Speaking of software upgrades, that is also a huge selling point of the product. Both the hub and the handset can be upgraded easily, and have very robust hardware inside. Even though this is a first generation product, it was built to allow for longevity with software updates.
The AIS transponder is true to Vesper's roots and performs extremely well. The AIS alarms and plotter are super useful, and work better than any other AIS alarm system I've used. The ease of being able to add favorites and see nearby moving vessels quickly is an excellent awareness feature.
As a VHF radio, it is good, but there are still gaps in base features that can cause some changes in your habits, or simply won't work for your use case (scanning, squelch, etc.).
The WiFi implementation leaves some challenges with anchor alarms and app connectivity, but changes are coming here as well.
Remote monitoring is a fantastic feature to have built into the entire system, and has features similar to the other vendors on the market, plus anchor watch. The frequency of updates and depth of features will likely improve with time, but this is a powerful set of features to include with the product. I'd like to see text and/or email notifications though.
This is a first generation product, so there are things that are still being worked through, and some of the performance challenges could be concerns for the longer term. Keep that in mind if you do decide to purchase, but know that Vesper is very receptive to feedback, and has been addressing most issues as quickly as they can.
If you are looking for a next generation VHF/AIS transponder, the Vesper Cortex is definitely one to consider. If you have a vessel with a single VHF antenna and/or space/power constraints, the Vesper Cortex could be a perfect match.
Support SeaBits by purchasing using my affiliate links: Cortex V1 bundle or H1P handset. Thank you!
---
Archived Comments
These are read only comments from the old system. Scroll down to participate in SeaBits Discussions, our new interactive forum attached to each article.

David de Regt
December 15, 2020 at 9:38 pm
Thanks so much for this huge review. I'd been looking deeply at picking one of these up, and your review goes into many of my worries that I was unable to validate any other way, and picked up several that I never would have thought about until after I owned it. While I'm excited about the prospects of where this company and product may go in the future, at the moment I'm definitely putting it back on the "wait and see if it improves" list.
Before this review I was almost definitely going to pick it up to install while we were in one place for a month this coming January. Fundamentally, though, on top of the current awkward set of deficiencies, one of my biggest worries here is that the order of development (what they put energy into) here perplexes me greatly — I wonder how they are prioritizing their feature backlog.
Alerts only being in-app and not having a more robust way of receiving them means that they are essentially unusable. Interesting to look at, but definitely don't trust them to save my boat. Moreover, as you point out the several further deficiencies specifically on the anchor alarm setup, it feels like no one actually used this on a real overnight anchoring event on a boat, or if they did, they ignored the feedback about it. Without specifically installing a handset next to your bed (!?) you literally can't trust this setup.
The 2.4-only wifi is a rather hilarious anachronism, for a product aimed so heavily at monitoring/alerting. That's going to require new hardware to fix, unless 5ghz is hiding inactive in there with a second antenna. I hope your boat isn't sinking while anyone near you in the marina is running their microwave.
Similarly, not having the ability to connect to your local boat wifi means that you have to pick between receiving alerts and using the internet on any sort of vaguely-connected boat. In the general boat populace, I could forgive that, but this product is obviously aimed at the techy folks out there that are willing to spend more money on some shiny gadgets specifically for advanced features. These folks are likely going to have their own wifi network on their boat that they don't want to have to switch between. I realize that you mentioned that they're addressing at least the WAP aspect of things, allowing it to join your network, but I would have been livid if I'd installed this thing and found these issues with it, and been in a real pickle about the holes in my fiberglass I'd drilled to install it but wanting so badly to return it.
The squelch settings on the radio leave me similarly perplexed — everywhere I've ever boated, I've been just knifeedgeing the squelch knob to be able to hear what's around me without whatever the second-nearest coast guard radio station broadcasting in the distance constantly squawking in the background. I could absolutely see having an option for some sort of machine-learning-trained option here as an attempted replacement for the old analog knob, but eschewing that for off/low/med/high seems painful, as you repeatedly call out. I hope they have a full DSP pipeline for the audio there, so this feature hole can be rectified.
So I dunno. I'll be keeping an eye on this in the next year or so to see how the hardware and software develop — I hope to see a followup article from you next year on all the improvements they've made from customer feedback! But for now I'm pretty thoroughly scared away. 🙁