The MikroTik Groove is a fantastic product to use as a marine WiFi booster. However, it is not the simplest device to configure. This guide covers setting up and configuring the Groove for initial use, and some additional recommendations.
Other articles I've written that cover more details on configuration and usage:
Usage
There are a couple of different ways you can use the MikroTik Groove, the most common being an outdoor "booster" to grab remote WiFi signals and pipe them to a device on board your boat belowdecks. This device is usually a router that can use the Groove as an Internet source, and then shares it out on your boat with your own personalized WiFi network.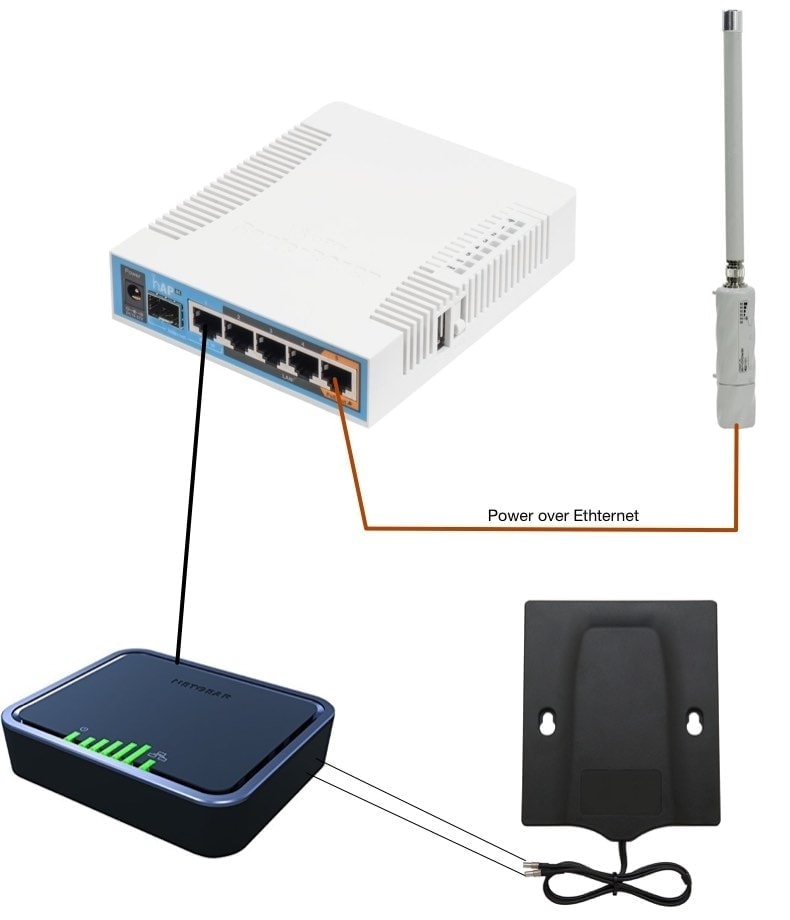 Sometimes folks use the Groove to connect directly to a laptop instead of an internal router, but this limits other people on board from being able to take advantage of the Groove.
The Groove will not function as both a remote WiFi grabbing device, and a WiFi router where it broadcasts a local network – this is a common question I get. The Groove can either be a client and grab a remote signal, or it can be a server or access point, and serve as your local WiFi network. I wouldn't recommend the Groove for the latter, but instead the MikroTik hAP AC – check out my article on Modular, cheaper boat internet solution via Netgear and MikroTik for more details.
Why do I need one?
Short answer: read Marina WiFi is hard.
If you visit a marina, and you expect to connect to their WiFi network, you need some sort of external antenna or booster. Some Peplink products allow you to use a feature called WiFi as WAN which may work, but most of the time having an external, dedicated antenna or device is required for a stable connection.
Expecting all of your devices inside your boat to work with a wireless access point that has a billion other people nearby, with boats, metal masts, and other interference is one of the biggest misconceptions in marine WiFi. You need some way of amplifying the signal.
Getting Started
Connecting your Computer
There are two ways to configure a MikroTik device – via a web browser, or via Winbox. I prefer using the browser as it works from any operating system, even an iPad, while Winbox is made for Windows. You can run Winbox on Mac or Linux if you want to go through the headache of setting up Wine, which I don't care to do. If you prefer Winbox, these instructions may not match all steps in that interface.
To get started with connecting, you will need to power the Groove via a PoE adapter – usually the one that it came with. Follow the instructions on what port goes where. You should end up with an Ethernet port on your computer connected to the PoE adapter, and the adapter connected to the Groove. When power is applied, you should hear the Groove beep very soon after applying it, and then 10-30 seconds later, another beep sequence to indicate it has booted.
If the Groove is working and running well, your PC should be assigned a DHCP network address in the 192.168.88.xx range. Use your operating system control panel to check that you are getting address.
Additionally, you can test connectivity by opening a Terminal in Mac, or a Command Prompt in Windows and pinging the Groove's default IP address:
ping 192.168.88.1
PING 192.168.88.1 (192.168.88.1): 56 data bytes
64 bytes from 192.168.88.1: icmp_seq=0 ttl=62 time=33.826 ms
64 bytes from 192.168.88.1: icmp_seq=1 ttl=62 time=30.486 ms
64 bytes from 192.168.88.1: icmp_seq=2 ttl=62 time=42.349 ms
64 bytes from 192.168.88.1: icmp_seq=3 ttl=62 time=45.525 ms

--- 192.168.88.1 ping statistics ---
4 packets transmitted, 4 packets received, 0.0% packet loss
round-trip min/avg/max/stddev = 30.486/38.047/45.525/6.112 ms
If you get responses, then it's up and running and ready to be configured.
If not, you may need to Factory Reset the device. See below on how to do that.
If it is up and running, connect with a browser to http://192.168.88.1/ and you should see the initial Quick Set page.
Basics of the MikroTik Interface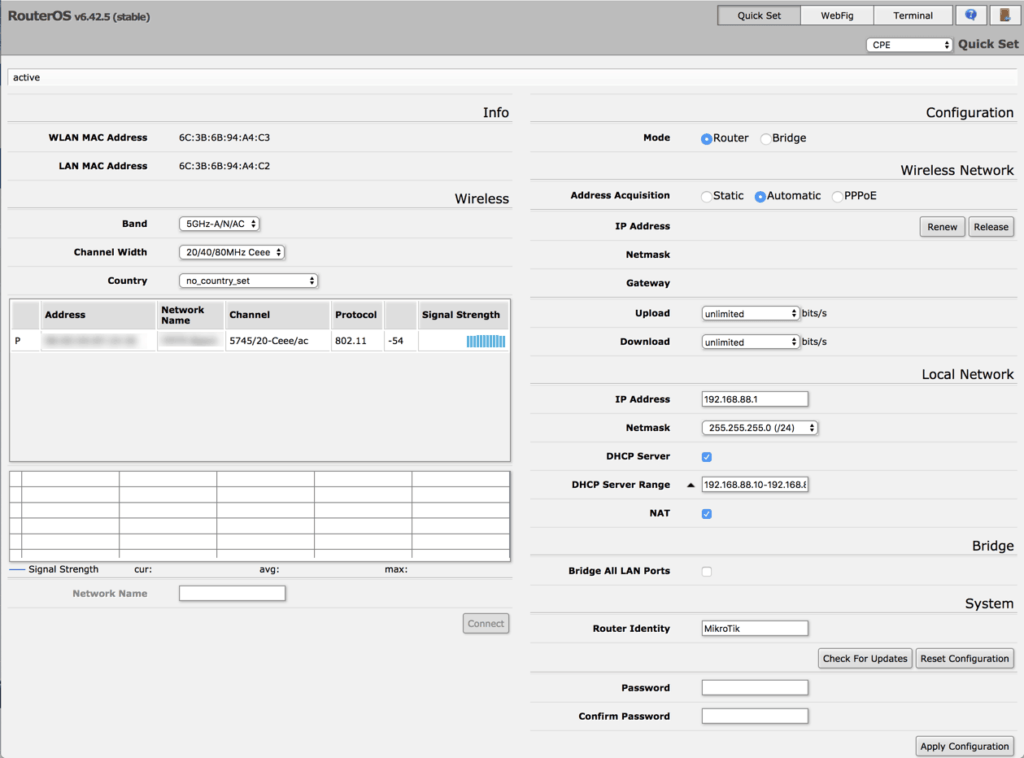 If the device is running v6.40.x or newer, you will be taken to a simplified Quick Set page. Older firmware will take you to the Quick Set page, but with a big menu on the left hand side.
On the left hand area of the page, you will find MAC addresses, some basic settings for WiFi, and a list of nearby networks (once we configure things). The right hand side has the pieces we need to configure first, including the Quick Set choice, router/bridge mode, and addressing.
Lights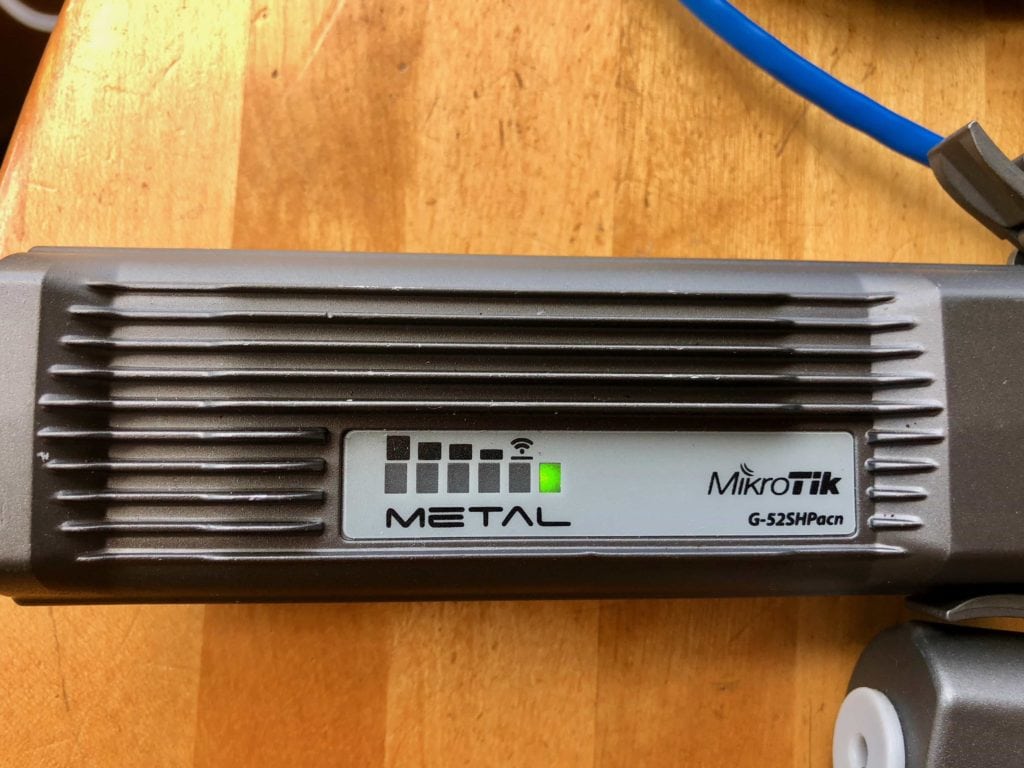 Groove LED showing Ethernet connection active, but no WiFi network connected
There are 6 LEDs on the side of the Groove. The first one will blink in various forms on boot up, and if you are doing a factory reset. Once the Groove has fully booted, that first (lowest) light should be on to indicate your Ethernet connection is up and working. It should blink to indicate network traffic.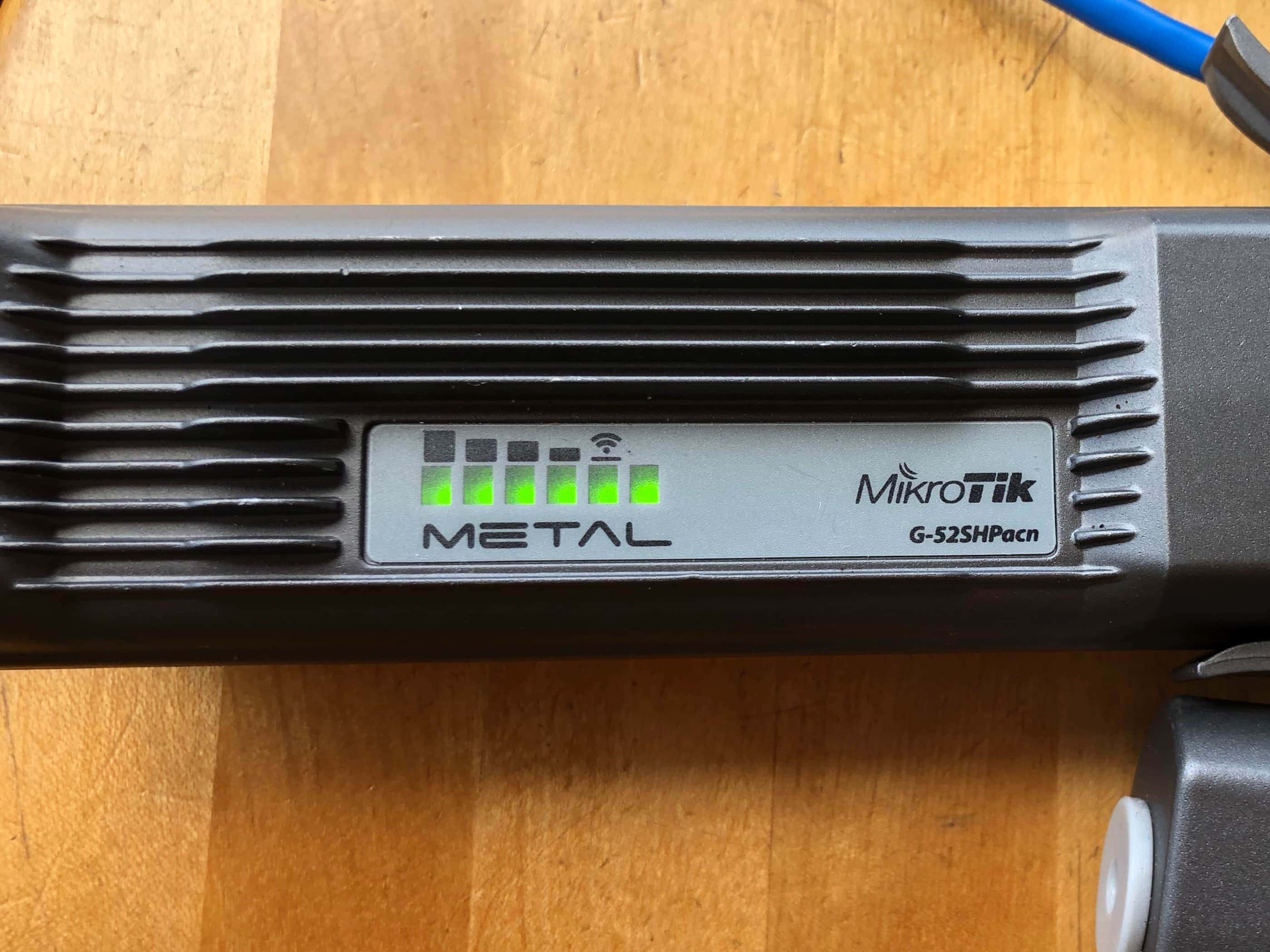 The next LED up shows when you are connected to a WiFi access point, and the final 4 LEDs show the signal level of that remote WiFi network.
Factory Reset
If you get to a point where you can't get back into the Groove, you may need to perform a factory reset. I have done this many times while experimenting with features or configuration, and have lost network connectivity to the device.
Power off the Groove
Using a small pointed object, press and hold the reset button on the bottom of the device near the Ethernet port
While still holding the button, plug the power back in
Wait until the bottom LED blinks, then release the reset button
Your Groove is now back to factory defaults and you can start over!
Initial Configuration
Step 1 – Router Mode

Many new Grooves are already setup in Router mode. You can tell yours is already setup this way if the Quick Set is set to "CPE", and the Mode is "Router".
If not, using the pull down near "Quick Set" choose CPE. It may want to reboot – make sure you do that before changing anything else.
If your Mode is not set to Router, choose that and press Apply Configuration at the bottom of the screen. It also may want you to reboot here, which I recommend.
Once you have the device in CPE + Router mode, you've done the most risky part of getting things setup. I have seen many situations where changing to other settings under Quick Set have rendered the Groove unreachable, and have had to reset it to factory defaults.
Some people have asked about Bridge vs Router mode, and why you would want another NAT in the process. NATs are not that "expensive" network-wise, and I find it easier to determine where traffic is coming/going to with clearly defined network addresses. Bridges are known to forward anything they receive, and in a WiFi situation, I don't want crappy broadcasted traffic forwarded through the MikroTik down to my router.
Step 2 – Optional Settings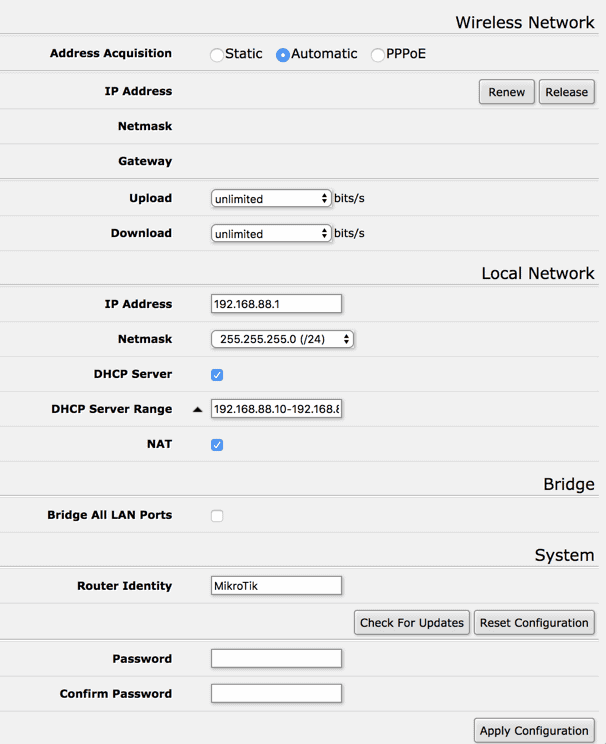 At this point, you can proceed to connecting to your first WiFi network – the basics are setup, and the rest of the defaults should work with a standard router connected to the Groove. If you want to, you can also change the Groove's name, IP addressing, and the like.
I generally do not recommend changing the network settings as the defaults work well, and unless they conflict with other devices on your network, add more risk in changing. Plus, because you can get into situations where you have to Factory Reset, using the default IP address that MikroTik assigns saves you from having to change your networking just to reconfigure things.
I do recommend giving your router a name under Router Identity, and setting a password for the admin interface so that others can't change the configuration.
Everything else I recommend leaving at the defaults unless you know what you're doing.
Connecting to a new WiFi network
When you have arrived at a new marina and are ready to connect to a new WiFi network, there are a couple of choices to get you going:
The Quick Way
In newer firmware versions, it is very simple to connect to a new WiFi network. If you don't have the new firmware, you might have to do the Manual Way, and then do a Software Upgrade.
To get started, login and make sure you're on the Quick Set screen.
Once there, you should see a Wireless section on the left hand of the screen. By default the MikroTik should start showing you available WiFi networks, but it may be blank if the band is set wrong.
The Groove shows the available networks based on the Band, Channel Width, and Country that is selected. Here's the best steps I've found:
Country – choose the appropriate country
Channel Width – set this to 20MHz which is the least restrictive/lowest common denominator
Band – depending on whether you're going for 5Ghz or 2.4Ghz, use the most inclusive list for each: 5Ghz-A/N/AC or 2Ghz-B/G/N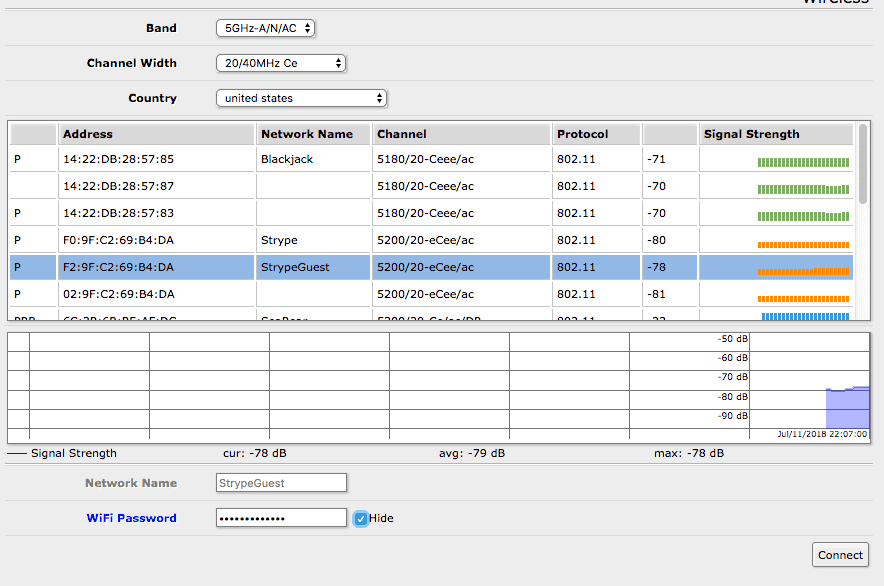 Once you find the network you want to join, click on it in the list, provide the password (if there is one), and click the Connect button. If everything is set correctly, you should connect very shortly.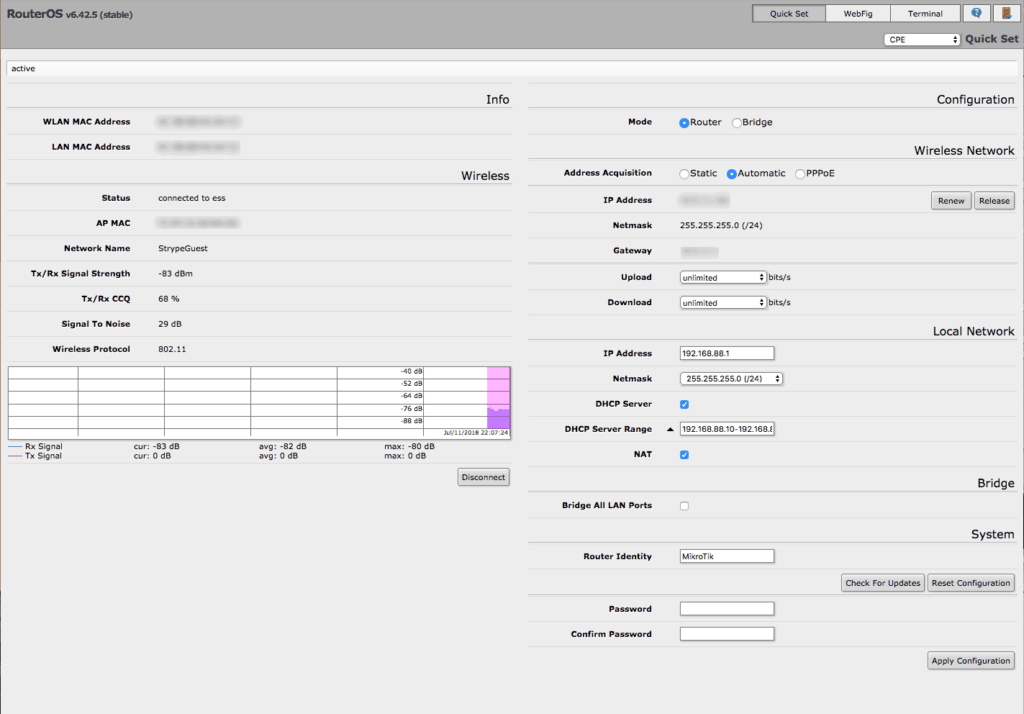 You'll know if you've joined successfully when the Status text says "connected to ess". You should also have an IP address in the right hand side under Wireless Network.
If you do not have both of these, then there is something else wrong and you may need to look at a manual configuration, or the WiFi network you're trying to join is too weak or overloaded (which is common).
Using a particular access point
While you are now connected and should have Internet access, some versions of RouterOS record the exact access point MAC address, band and channel width and locks the connection to those properties. If you are at a location where there are multiple access points (APs) providing the same WiFi signal, you may wish to override that so that the Groove searches for and uses the most powerful access point if something changes.
Often, when boats move up and down with the tides, and as environmental conditions change (another boat leaving, etc.) the AP you chose originally may not be the best one for you now.
In other situations, "pinning" your Groove to a particular AP may be desirable as you know it is the highest transmitting on 5Ghz, and you don't want the Groove hunting around for another.
You may need to experiment to get the best results, and I have seen the above be completely wrong with some of the newer firmware versions – they configure it generically and connect to any AP with that WiFi name.
To override what has been set above, simply follow Step 4 below in The Manual Way to remove the AP MAC address and change the band and channel width to more inclusive values.
The Manual Way
If you have an older version of firmware, you may not be able to use the steps above. Also, if you prefer to tweak the radio or security settings, you might use these steps as well.
Step 1 – Security
If the WiFi network you're connecting to requires a password (or security key), as most of them do, then you'll need to create a security profile. To do this:
Click on Wireless in the navigation pane.
Click on the Security Profiles tab.
Click Add New.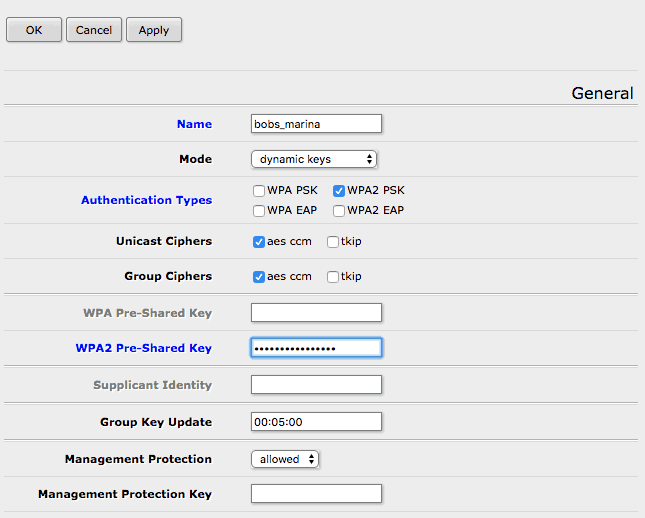 Most modern WiFi systems use WPA2 security, and in particular WPA2 PSK. Make sure that is selected only.
Leave the default Unicast and Group Ciphers set to AES – those are most commonly used as well.
Under WPA2 Pre-Shared Key, enter the password or passphrase for the WiFi network you're trying to connect to. Leave everything else at the defaults.
Click Apply, and you have a Security Profile you can associate with the WiFi adapter for the network in question.
Step 2 – Scan
I always use the built in scanner regardless of what the marina has told me. I start by scanning with the radio set to 5Ghz, and then try 2.4Ghz if things don't work out.
Click on Wireless in the left navigation pane
Click on the WiFi adapter, "wlan1"
Change the band to 5Ghz – I set it to the most compatible of 5Ghz-A/N/AC
Change Channel Width to 20Mhz
Change the security profile to the one you setup in step 1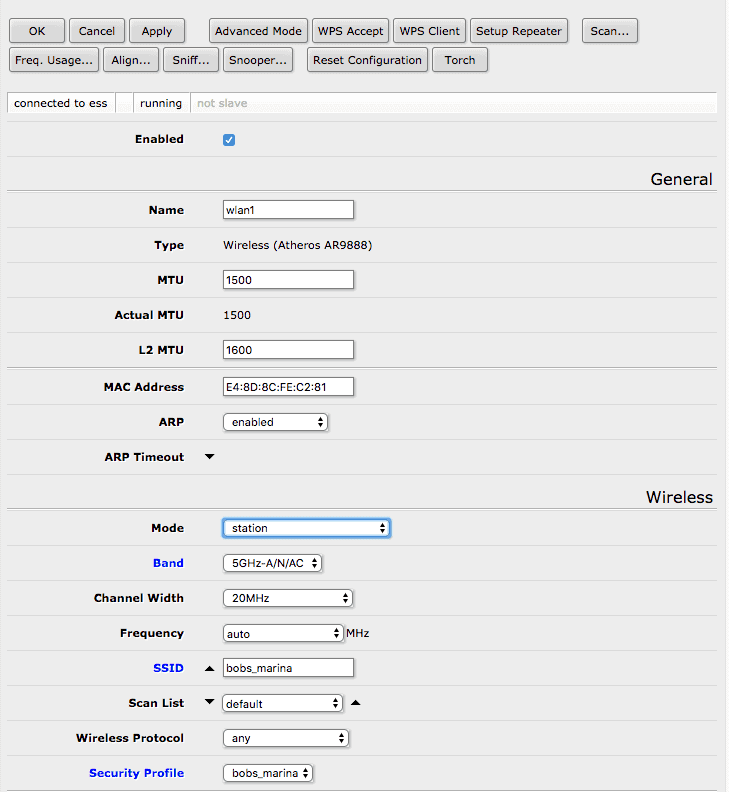 Now we need to scan for available networks
Click on Scan to start the scan on 5Ghz
If nothing shows up matching what the marina provided, they may only have 2.4Ghz. If so, go back to step 2 and choose 2Ghz frequencies.
Step 3 – Connect
Once I find a signal I like, I click Connect and let it auto-fill the WiFi adapter settings. You can tweak them afterwards.
Step 4 – Adjust
Once things are pre-populated from the above step, I go in and adjust a couple of things.
Remove specific MAC address of AP chosen
Adjust band to entire spectrum
Adjust frequency to auto
Keep in mind that I do this because I know my boat will float a bit, and move around with the tides, and the one station we identified in our scan might not be the best a few hours later. If you have issues after changing these, your Groove might be hunting around and changing the remote AP too many times, and you can go back and re-run a scan to "pin" it to a particular access point.
You can also force the system to use a particular access point – see above under "Using a particular access point"
Software Upgrade
Once you are connected to a WiFi network, you need to upgrade the software to the newest release. I highly recommend doing this before relying on the Groove. Many bugs have been fixed in the more recent versions, as well as some major vulnerabilities that you don't want hanging around.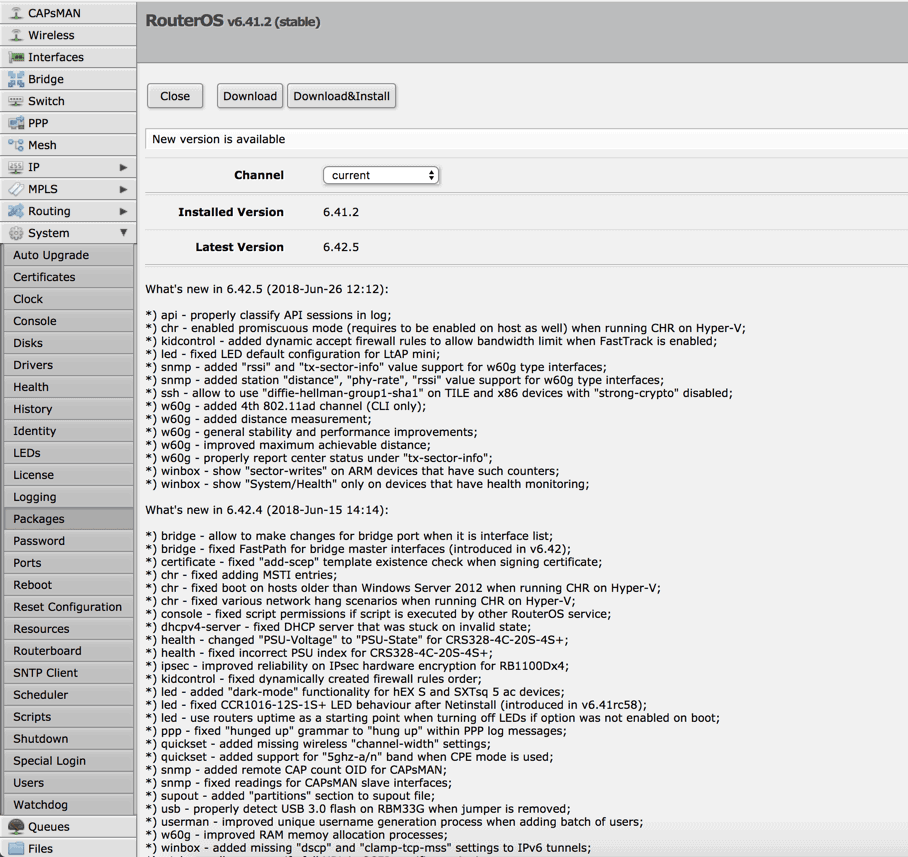 To upgrade:
Login to your Groove
Click on WebFig to get into advanced configuration
Expand System in the left hand menu, and choose Packages
Click "Check For Updates" (requires active connection to the Internet)
You'll see a screen similar to the above if there is a new release available
Click "Download&Install" and wait a couple of minutes while things are downloaded and installed
The Groove will reboot and should come up with the new version.
I also recommend checking for new updates every week to ensure you're on the latest and most secure and stable release.
Security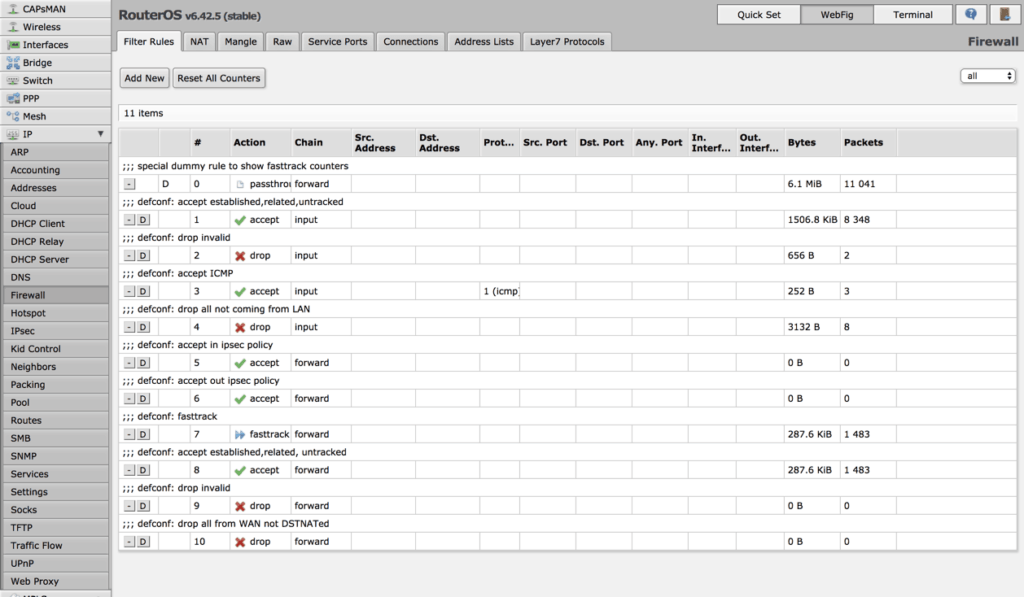 By default the Groove has a firewall in place with some good rules to prevent anyone on the WiFi networks you connect to from accessing anything on it or elsewhere behind it. Unless you have needs to open ports for shared services or the like, I wouldn't change much here.
In addition, if you are using an on-board router that the Groove is connected to, it also should have a firewall protecting your internal network as well.
I also highly recommend that you read Securing your Router for more information on additional steps you can take, and set an admin password and switch to SSL!
Conclusion
This is a very basic set of steps to get a MikroTik Groove up and running as a wireless "booster" for a marine application. You could also use this on an RV or in any other situation where you need to snag a remote WiFi signal and then amplify it within your house/boat/RV/yurt, etc.
However, by no means is this all-inclusive. There are tons of other features in the MikroTik RouterOS software, and you can end up with some pretty amazing and complex configurations. This guide is meant to help you get connected quickly. Hopefully it has, and you're using it in your network to read this right now!
You can help support my site by buying a Groove through one of the Amazon affiliate links below.
Make sure you check out my other articles around similar topics:
Subscribe to SeaBits News
Get all the latest & greatest posts delivered straight to your inbox
Please check your inbox for a confirmation email!
Something went wrong.