One of the most important pieces of technology on any boat I own is the autopilot and systems that drive it. Rendezvous came with a partially functioning autopilot that I was not able to rely on, so I started searching for a new solution.
Searching for an autopilot
Part of this search wasn't just simply about an autopilot, but about all of the systems around it. Unfortunately in the marine electronics world, you can't mix and match too many components without having compatibility issues, or at least quirks that become irritating quickly. This led me to a bigger discussion of the main key systems on the boat, the features I needed and wanted, and what solution(s) provided those.
This entire process is the subject for a dedicated article, but at the high level, I consider three systems critical to the core of navigating and moving my boat: an autopilot, a radar, and a display of some sorts for both. After a lot of research, I chose Furuno for all three of those components. Trying to use a mix of vendors is possible, but as I mention above, they rarely work reliably together. In the case of radars, they are almost all proprietary to their own displays or chart plotters.
I also wanted the deep integration you find with autopilots and chart plotters where the manufacturer likely has to be the same. Being able to control the autopilot from the chart plotter, make course changes, reset the XTE, and control it from a different location where there is a chart plotter but maybe not an autopilot control head are all desirable to me.
Existing System
I removed the existing autopilot shortly after I purchased the boat. It was a Furuno NavPilot 700 system but with some older components mixed in. It never worked quite right, even under the simplest conditions. It was also directly connected to the Furuno chart plotter that I am also replacing, which really did not work well for the type of route planning and navigation I planned to do.
I did connect the Furuno control unit to my NMEA 2000 network for a while, and played around with sending courses to it from Coastal Explorer, several Raymarine MFD's, and TimeZero. None of them worked well, many of them did not work at all. That sort of reliability and finickiness is not something I want to deal with on a day-to-day basis.
The worst part of the install was the compass, which was placed in a center part of the boat, very stable area, but directly above the main battery switches and cables for the engines. Several times while trying to calibrate it, I watched while the compass essentially spun around in circles over and over any time the engines were on and charging the house bank. After 8 different attempts to calibrate it, I gave up with that location, and tried another. It worked better, but still had interference from nearby sources.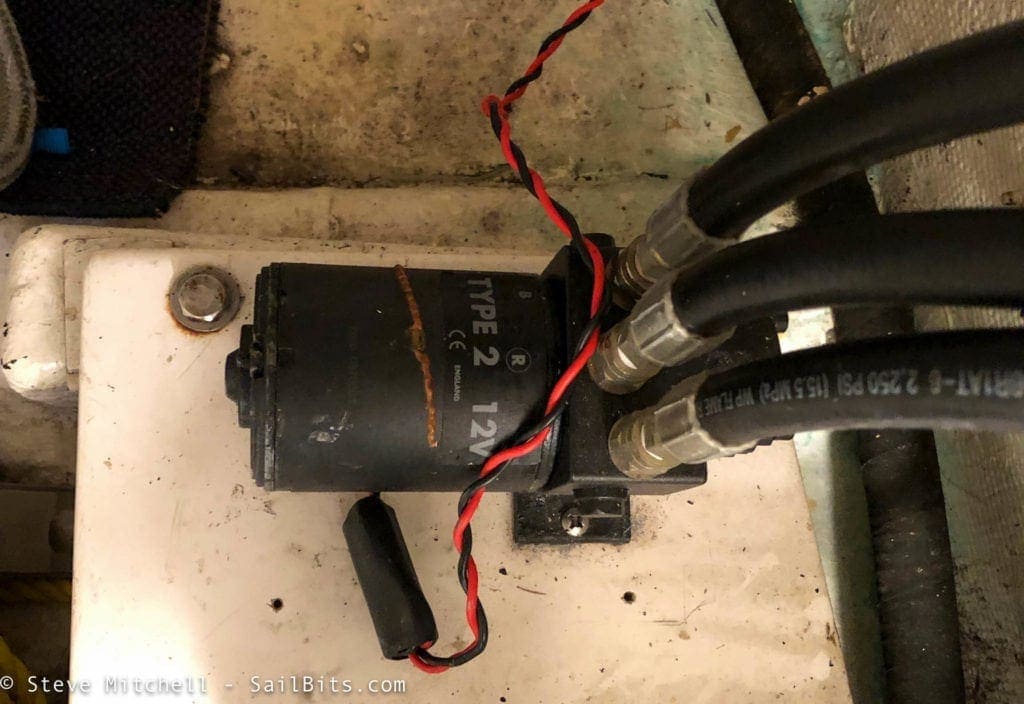 One thing I did keep is the newer Type 2 hydraulic pump which was wired and plumbed in already. I had not seen any issues with the pump while using the existing autopilot, so it seemed like a good way to not have to deal with a hydraulic mess and save some money.
I was also able to keep my rudder reference unit wiring, which was nearby.
I also took the time before removing my old autopilot and rudder reference unit to mark both rudder posts so I knew where rudder center was. I used my trusty Sharpie white oil paint markers, which I use for all sorts of things around the boat. This would help me when installing the new autopilot and rudder reference unit.
Choosing a Vendor
I went into this with all four of the major vendors on my list: Raymarine, Garmin, Simrad, and Furuno. Initially, I leaned towards Raymarine as I had one of their Evolution autopilots on Grace, and loved it. I had no issues with it, it worked reliably the 2 years I had it in place, and the integration with their Axiom MFD was great.
Simrad was at the bottom of my list, as I had a previous generation of their autopilot on Jammy, and it was a nightmare in terms of reliability and just general usage. It did look like there were some improvements in recent years, but I also am not a fan of their rather MFD operating system. Most of the calls I get to consult on fixing systems have do with Simrad, so that definitely played into my decision to rank them at the bottom.
Garmin is very highly rated by many people I know as being one of the easiest systems to use with a reliable set of hardware. I am not a big fan of their user interface, but it is pretty easy to use. What I did find is a similar polarized opinion around their autopilots – some people love them, some hate them with a passion – very similar to Simrad. What was frustrating to me was trying to get specific technical details on the installation and usage, along with a confirmation it world work with my existing pump. I was referred directly to Garmin to confirm the pump can be used, and after several attempts at contacting them, I was generally given the advise that I should spend $2000-4000 more for their branded pump. That combined with the instability with their autopilots I had heard from a number of folks took them out of the running.
Furuno originally was not high on my list either, having dealt with the auto pilot on Rendezvous that was not working. However, after reviewing their new NavPilot 300 system, and chatting with folks on their helpful forums, they popped up to #2 on my list.
The Choice
After reviewing the top two, and delving deeper into the chart plotter and radar options, I chose the Furuno NavPilot 300. This was mainly driven by the quality of the auto pilot, radar, and the way I can feed all of this courses and information from the chart plotter, PC, and other sources. The NavPilot 300 is also 100% NMEA 2000 based, which meant no proprietary cabling specifically for the pilot.
Furuno specifically markets the NavPilot 300 to center console boats, but after my discussion on the Furuno forum, it seemed like it would work just fine on my boat as well. The main control display looks like it has all the features I need, it comes with a handheld remote, which would be nice for a second driving station, and it has a good main control unit with easy cabling.
Unboxing & Installation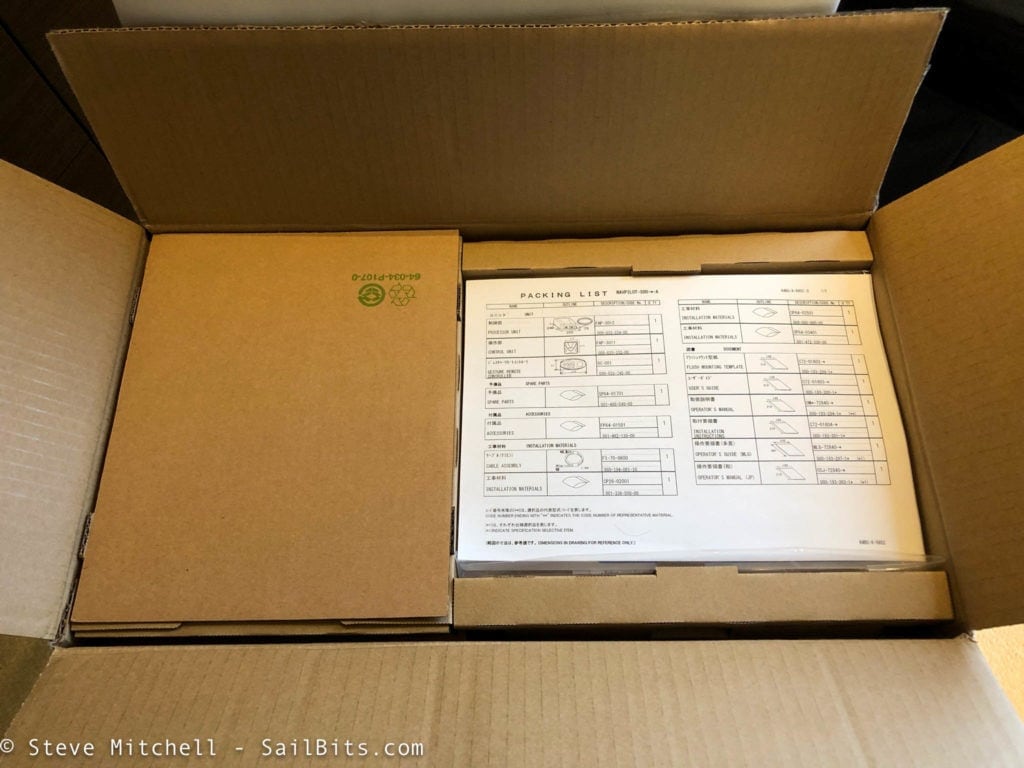 I ordered the NavPilot 300 bundle with the PG700 heading sensor from The GPS Store. This bundle included the NavPilot 300 itself, and the venerable PG700 heading sensor, each in their own box. The NavPilot 300 is packaged just like everything else I've seen from Furuno – fantastic boxes and components, along with clear lists of everything included.
I also ordered Furuno's rudder reference unit FAP6112 even though the NavPilot 300 does not require it. I wanted it so I can see where my rudder is pointing when I am docking and in other situations.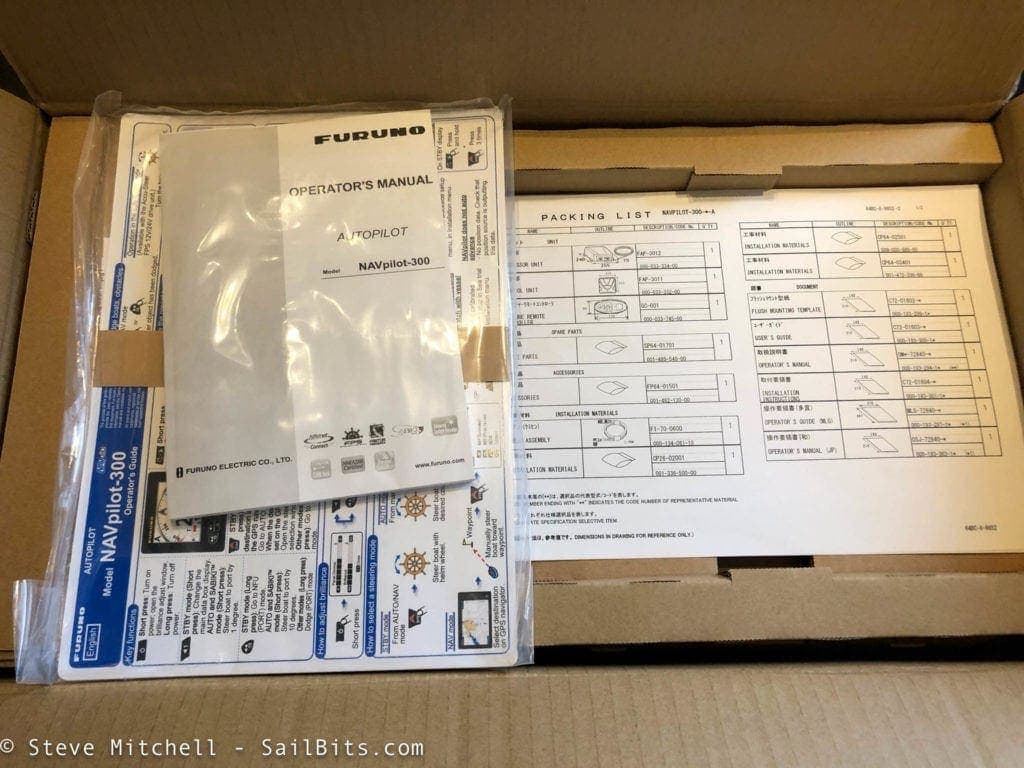 There's a ton of good documentation as well including an operators manual, quick guide cards, and individual sheets for specific mounting options and parts.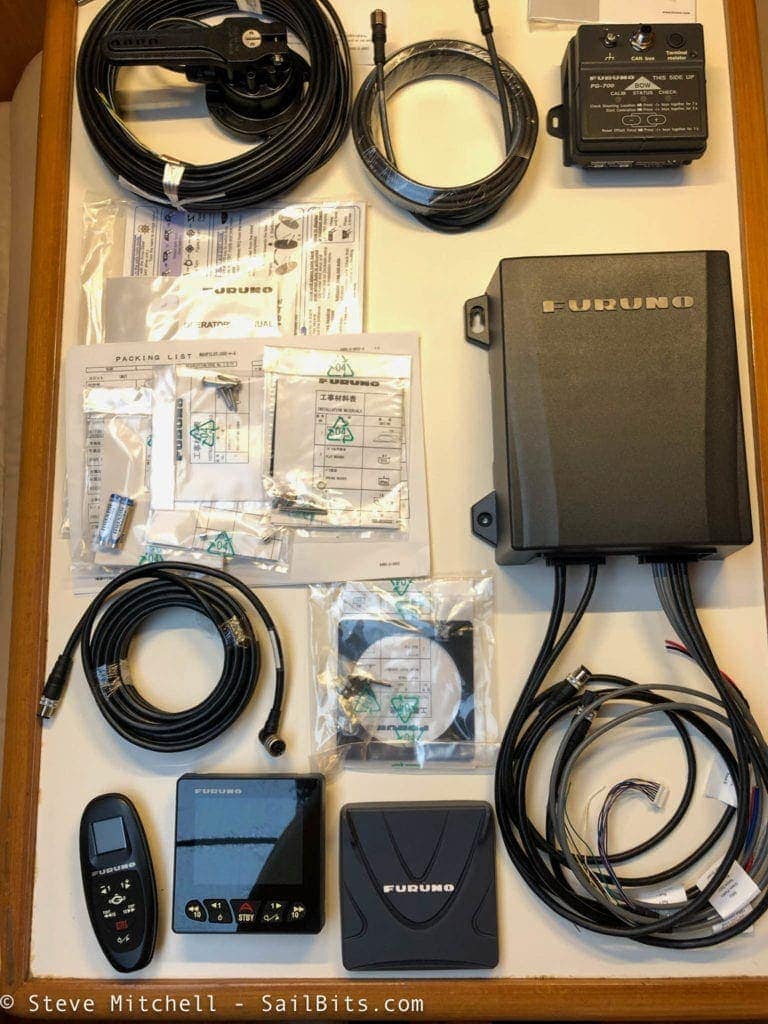 Here is everything out of the NavPilot 300, PG700 and rudder reference boxes.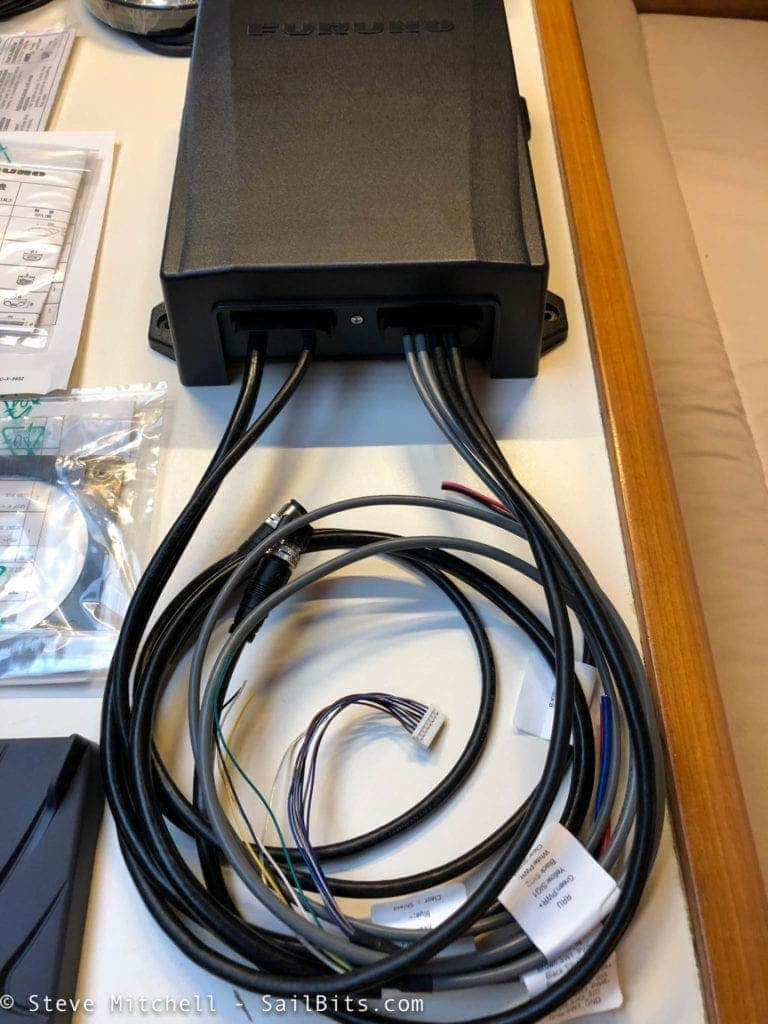 The main processor unit (FAP-3012) is a bit smaller than the 700 series autopilot, and comes with pre-wired leads ready to connect to various things.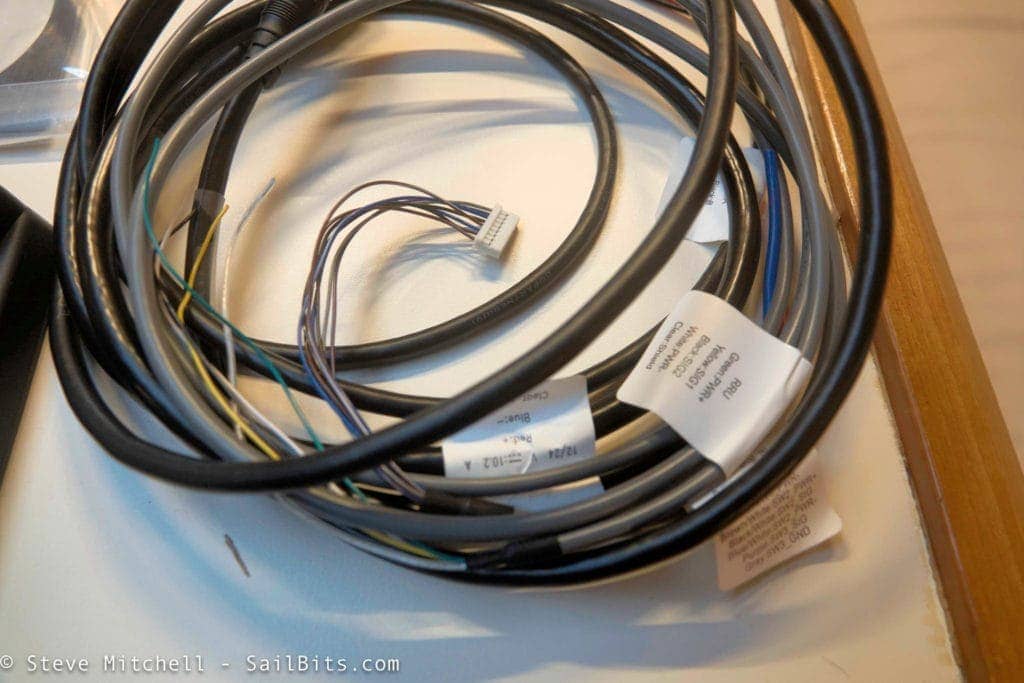 It is pre-wired with the following connections:
DC power
Hydraulic pump power
Rudder reference
NMEA 2000
EVC system connection
Safe helm / event switch
Everything is labeled clearly and comes with plenty of length. I only used the DC power, hydraulic pump, rudder reference and NMEA 2000 connections.
It was very easy to install the processor unit. I had a good spot already from the previous autopilot, and a NMEA 2000 bus point nearby. After connecting that, the DC power supply wires, the existing rudder reference and hydraulic pump wires, and mount the whole thing securely.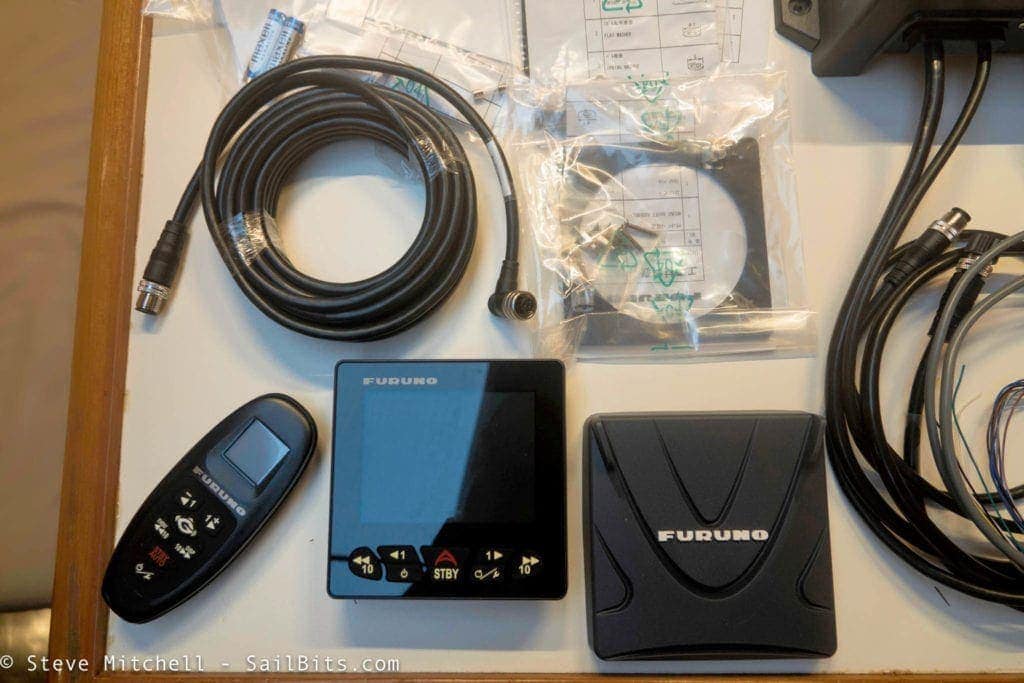 The NavPilot 300 also comes with the handheld remote, control unit, cabling, cover, and mounting options. One thing I do not like about Furuno is that almost every product I've ever purchased does not come with a bail mount – they are all options you have to order, and are sometimes hard to find through normal vendors.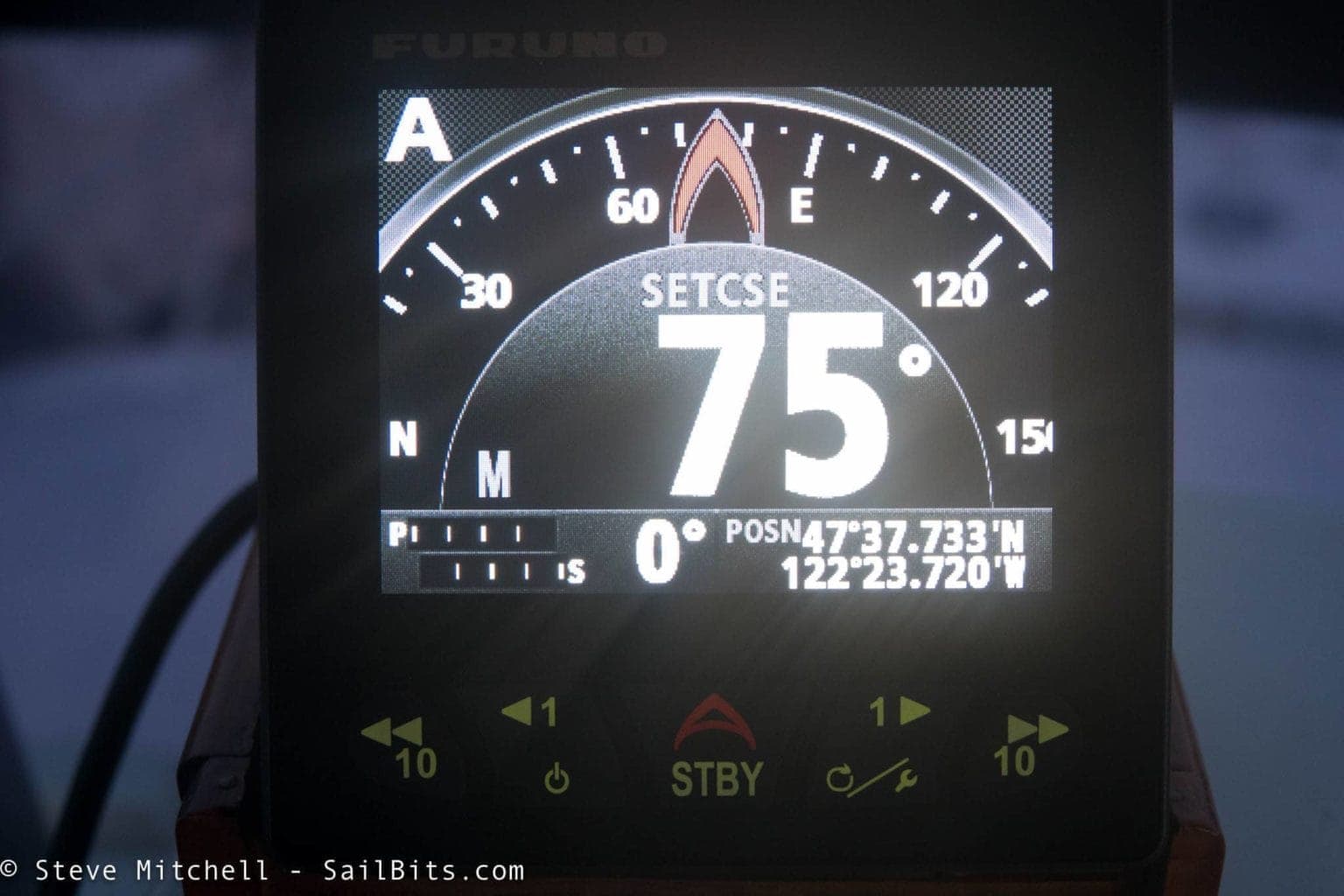 The control unit is very similar to the 711 series one, minus the twisty dial in the middle.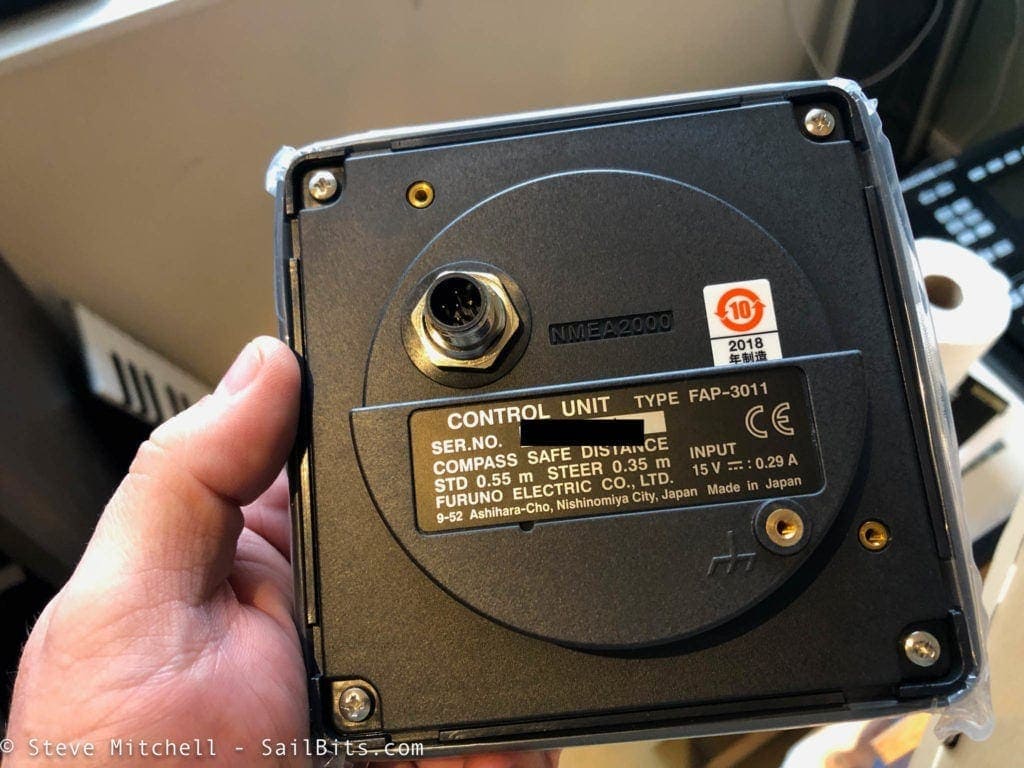 The biggest difference from the older 700 series is that the control unit uses NMEA 2000 connections, which is one of the reasons I went with this system. I already have an extensive NMEA 2000 network on board, and being able to add the control unit wherever I had an existing open connection was very attractive.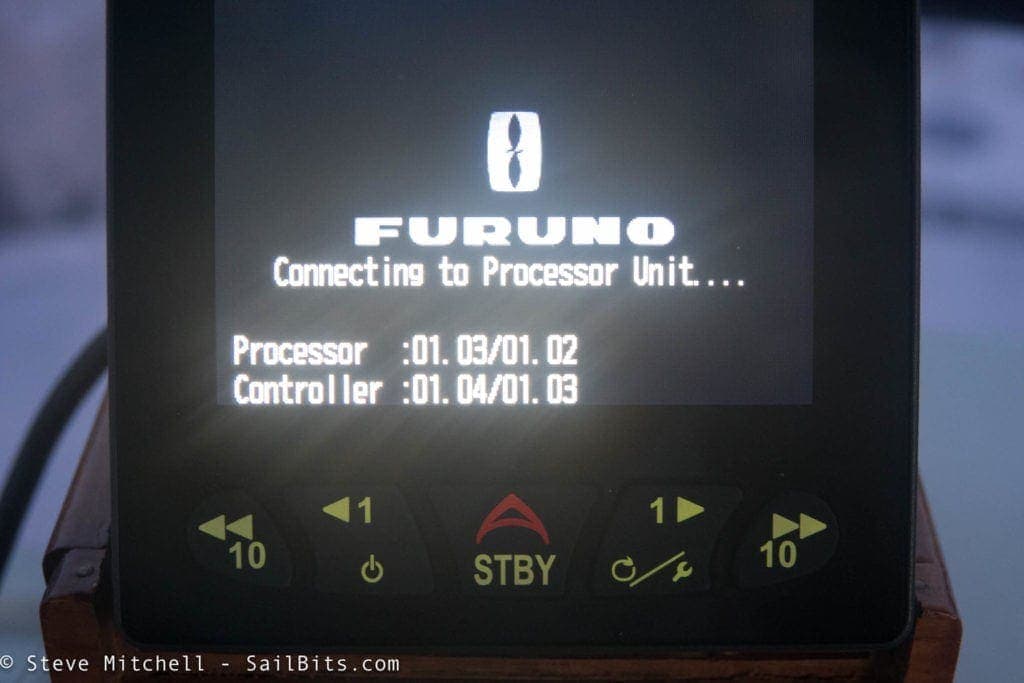 Unlike older control units which were directly wired to the processor unit, the NavPilot 300 unit searches the NMEA 2000 network for the processor when first starting up. I have noticed that sometimes this can take up to 30 seconds, and in rare cases, the search failed. I do have an older version of software, and will be upgrading it as soon as the rest of my Furuno stuff arrives.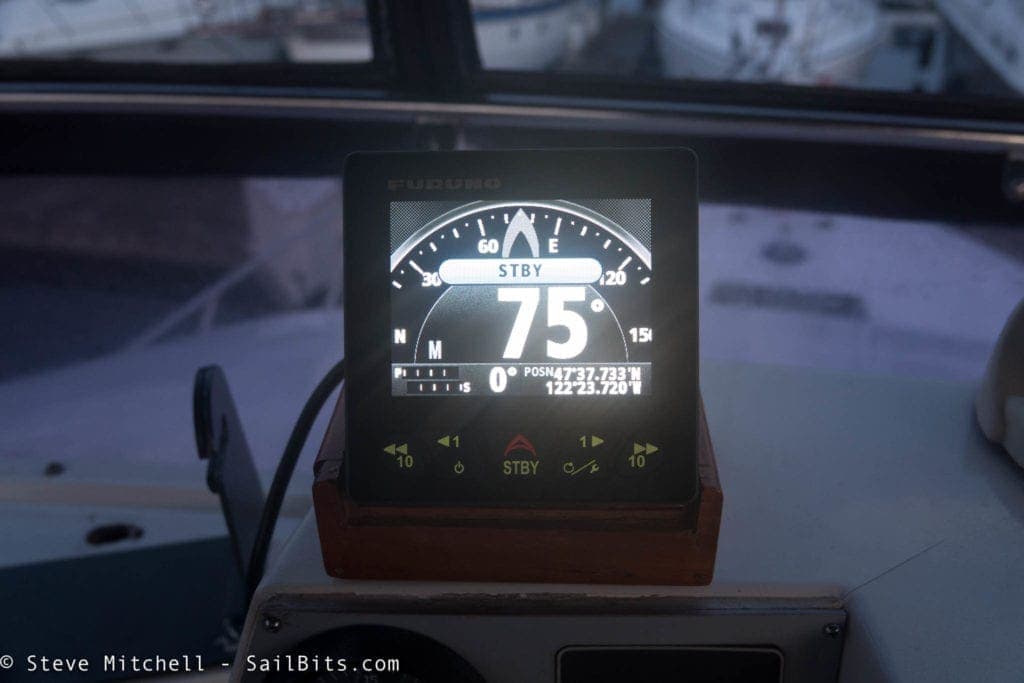 The control unit is very bright and easy to read, and has a few configurable screens for each mode. This is one area where the NavPilot 711 has an advantage, as there are more screens and configuration options.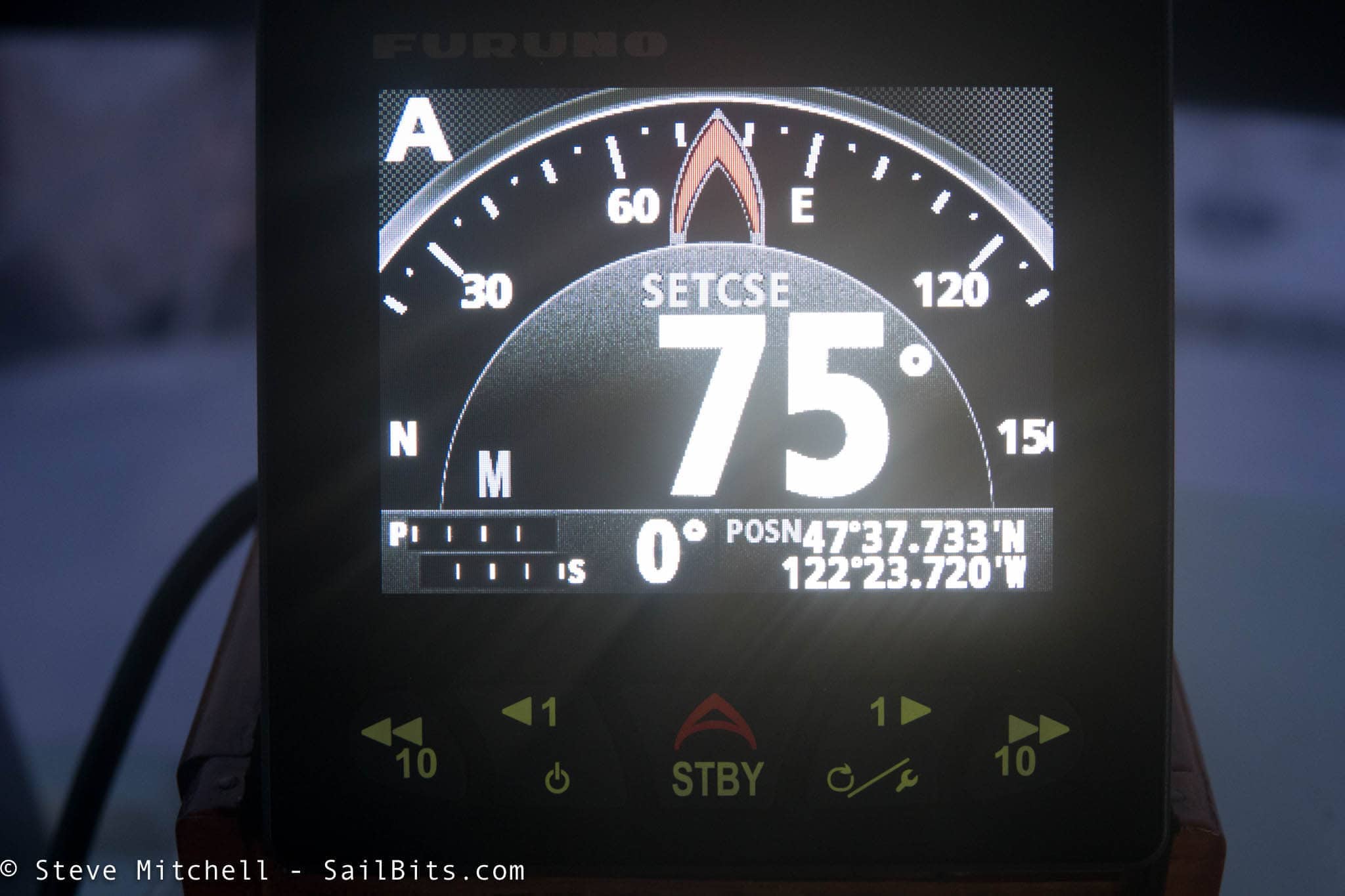 Above I have the NavPilot 300 set to a compass course, and you can see the icon of the boat changed to include a red section which indicates the course of the boat. The rudder position is in the bottom left, and my position on the bottom right. You can change the bottom right data to various different things – SOG, COG, GPS location, etc.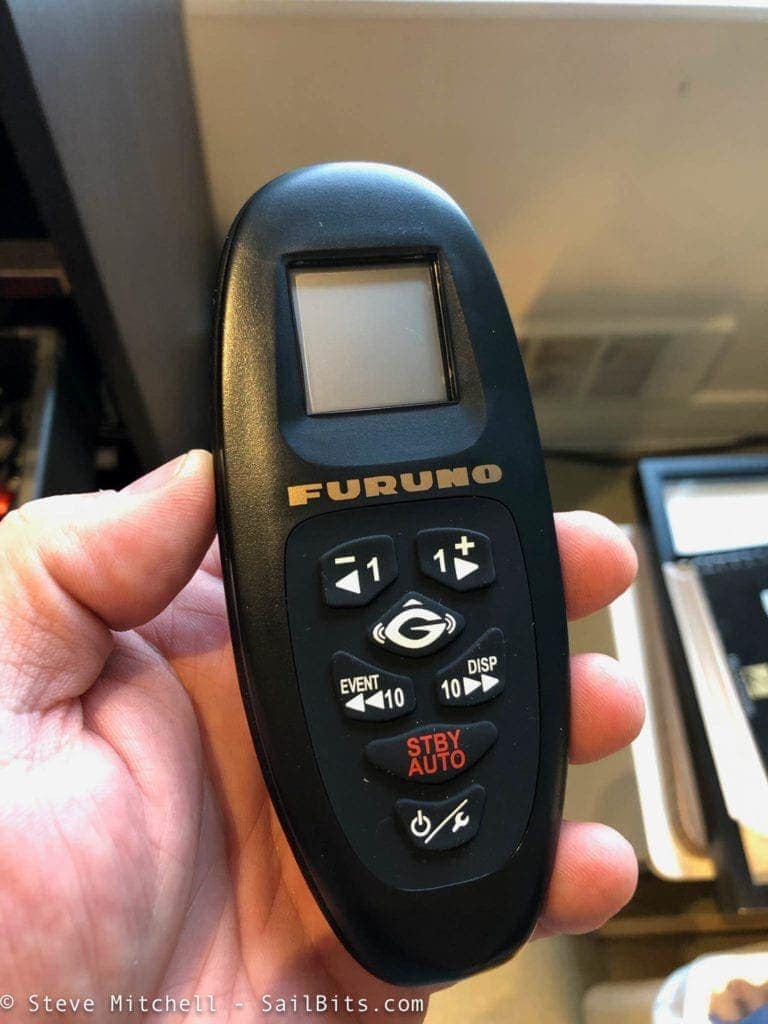 One of the big selling points to the NavPilot 300 is the handheld gesture remote. I wasn't particularly interested in the gesture part, but I was happy to have a second way to control the autopilot. I intend on using this at the lower helm.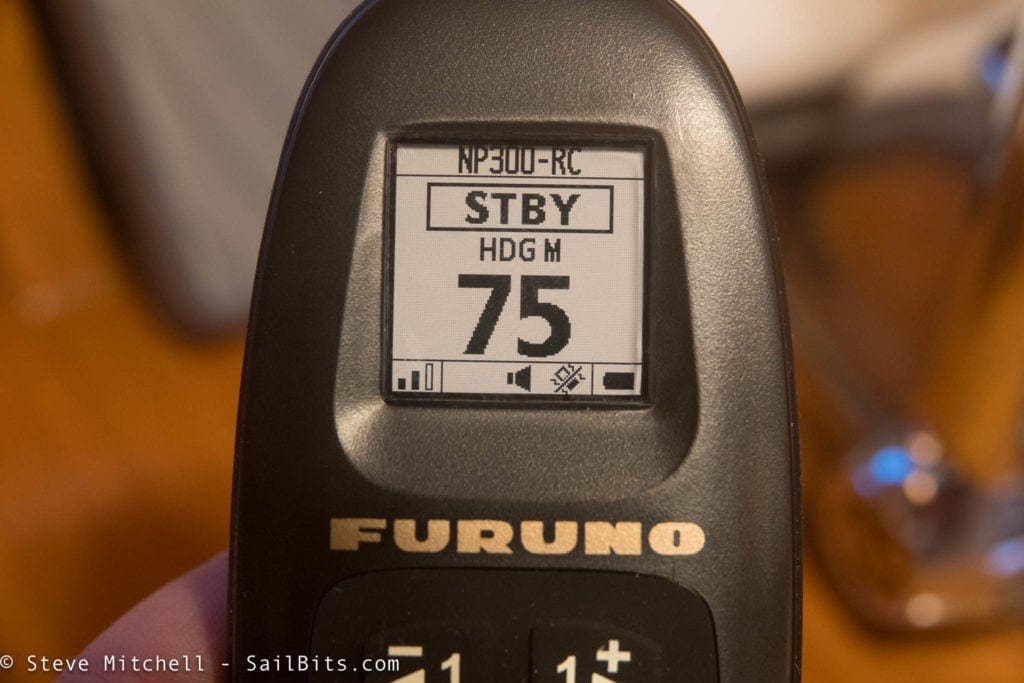 The display is pretty small, but very easy to read and backlit.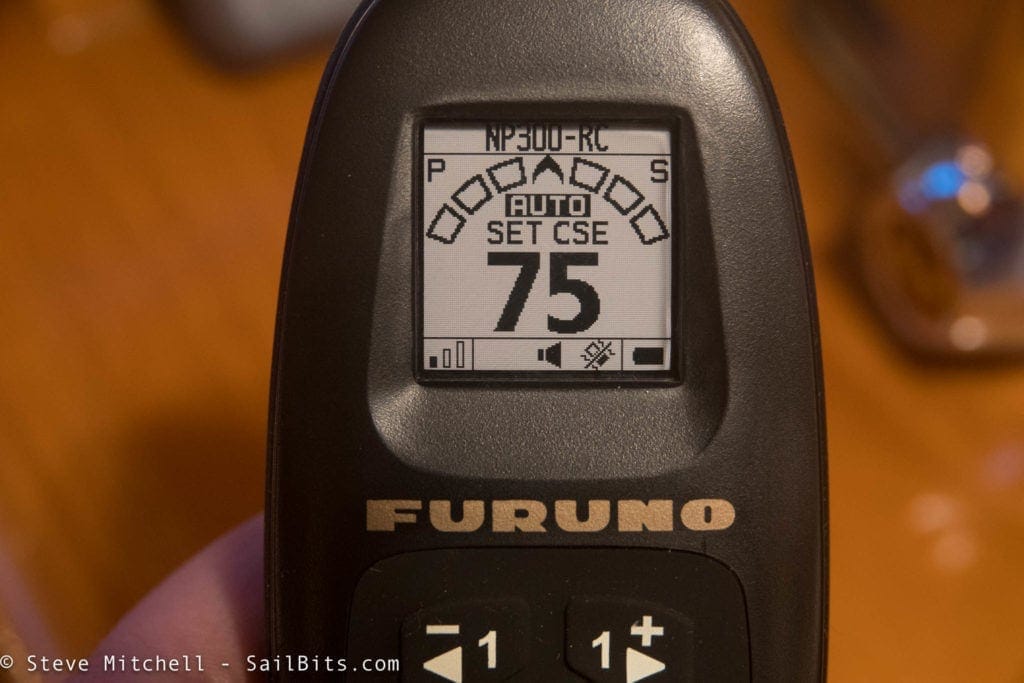 You can control the entire system from the remote, including switching modes, which will be very helpful at the lower helm. I did notice that the range was pretty short – you can see the signal strength in the bottom left corner at only one bar. I was within 10 feet of the main processor unit, and it was pretty low. It did not work from my flybridge location.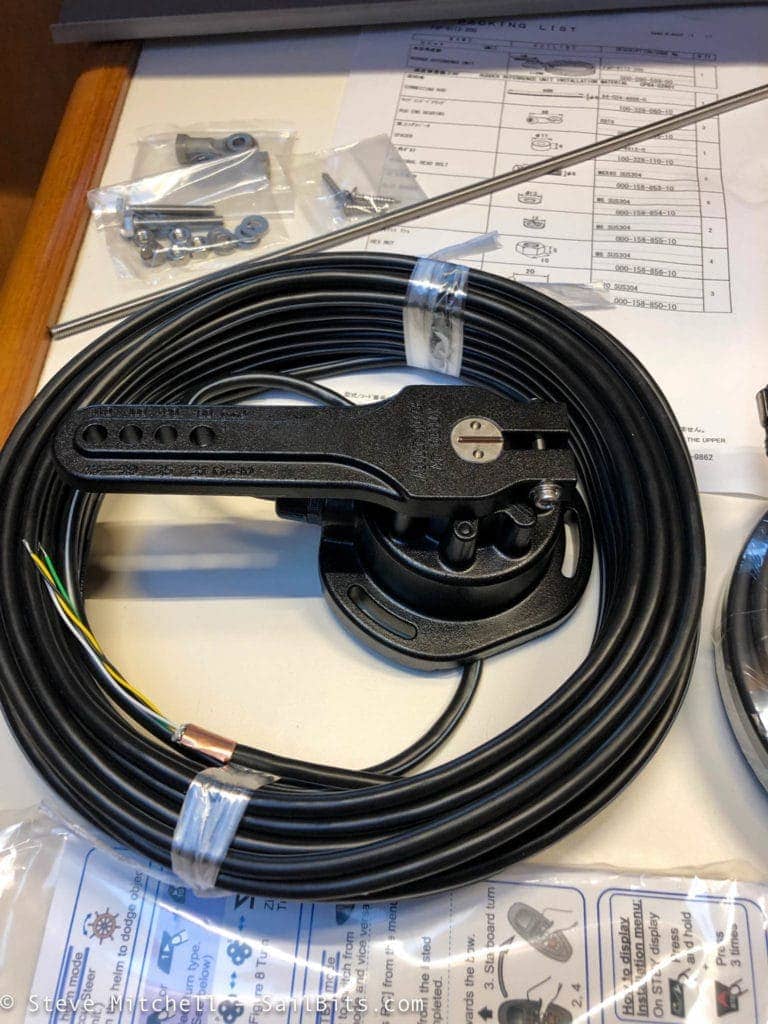 The rudder reference unit was almost identical to the one I removed with my NavPilot 700 setup. I was able to re-use existing wiring from that location to the processor unit, saving me a bunch of time. It was pretty simple to install the crossbar into the rudder since there was an older system there before.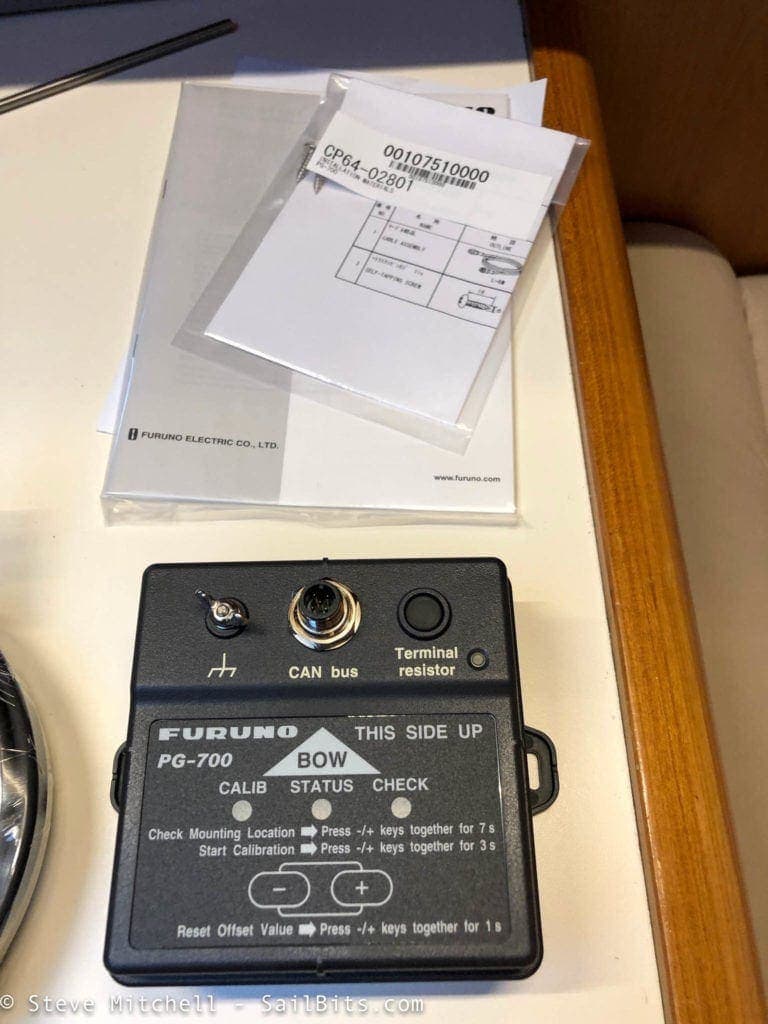 The other critical part of the system is the PG-700 heading sensor. This has been around a while, but came bundled with the package I chose. I had an older heading sensor I removed that was never successfully calibrated, and mounted in an incorrect place for proper operation. The PG-700 was easily mounted in a great new location, and calibrated the first time out on the water. It is also NMEA 2000 certified, so no proprietary wiring.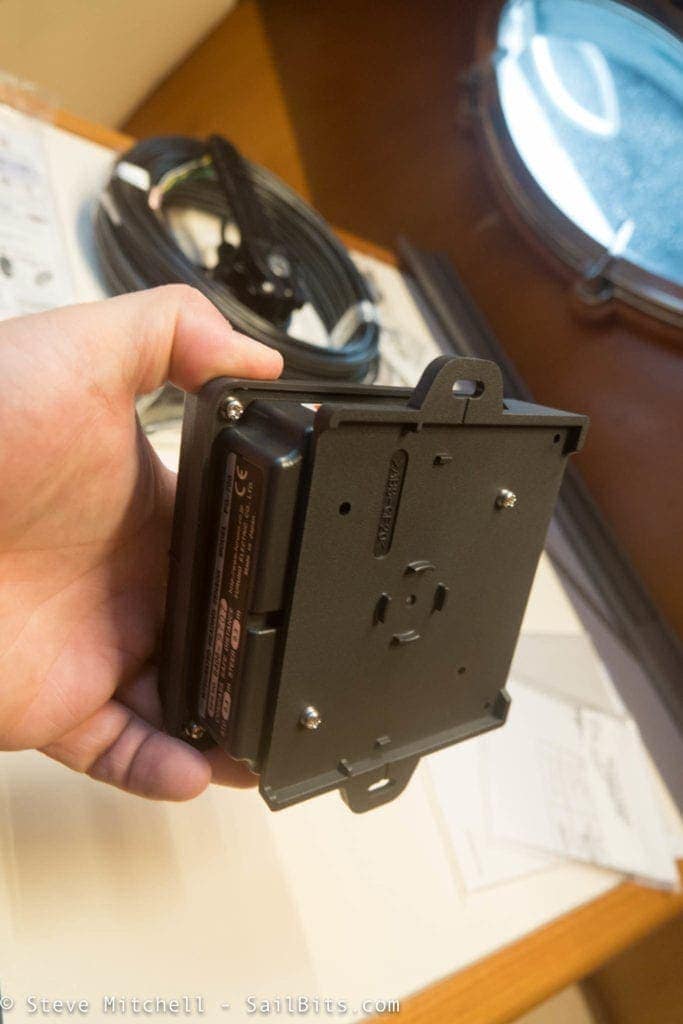 The PG-700 has a cool mounting bracket that can be flipped different ways to mount on a flat surface, a wall, and in other configurations.
Opinion so far…
Everything was pretty easy to install, especially because of the NMEA 2000 compatibility.
So far I've used the NavPilot 300 for about 20 hours of time on the water. Most of my usage has been with Coastal Explorer routes driving the autopilot for the various places we've been going. I've also used it a bunch just holding a compass course.
I've tried the Nav Eco and Nav Precise settings, and seen a difference between both. I prefer Nav Eco as it seems to be slightly less aggressive with course corrections. The existing Type 2 pump has been working very well with the system.
I have had the control unit lock up a number of times whenever I turn on the handheld remote. It sounds like there is a new software release that could help with this.
Other than that, the system has performed very well, and I look forward to using it with the rest of my extended Furuno system being installed soon.
Subscribe to SeaBits News
Get all the latest & greatest posts delivered straight to your inbox
Please check your inbox for a confirmation email!
Something went wrong.