WiFiRanger has been around a long time providing connectivity solutions for RVs and boats. Their new platform is called Converge, and is a mix of different components that can provide a whole solution for internet aboard. I've had one for a few months, and below is an overview and some results from my initial testing.
Converge Platform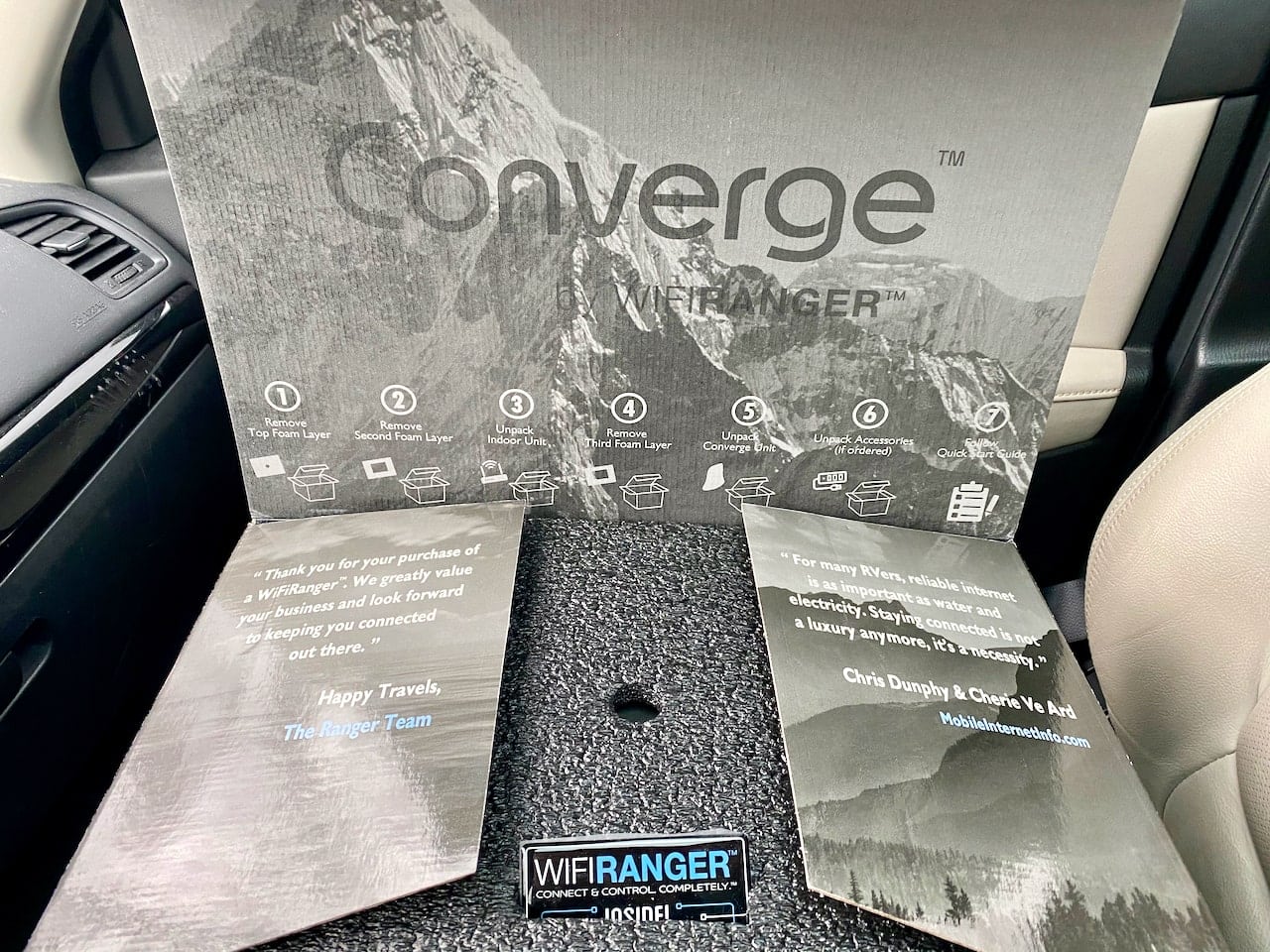 Converge is a combo of indoor and outdoor components. The outdoor piece is a fin-shaped antenna enclosure that can be upgraded, and the indoor part is a router that comes in several different flavors. The idea behind this is something I support very much – modularity. Being able to upgrade the fin antenna on the roof with newer or more LTE radios is very attractive, and so is being able to choose the right size indoor unit.
There's another reason I really like this design, and it's because the LTE radios and antennas, along with the 2.4Ghz WiFi radio for grabbing remote signals, are all outside. This means there are no cables running from inside to outside, adding loss to the signal. Many of the other products I use and test are all indoors, with the antennas only outside, which adds some complexity and signal loss.
Outside Antenna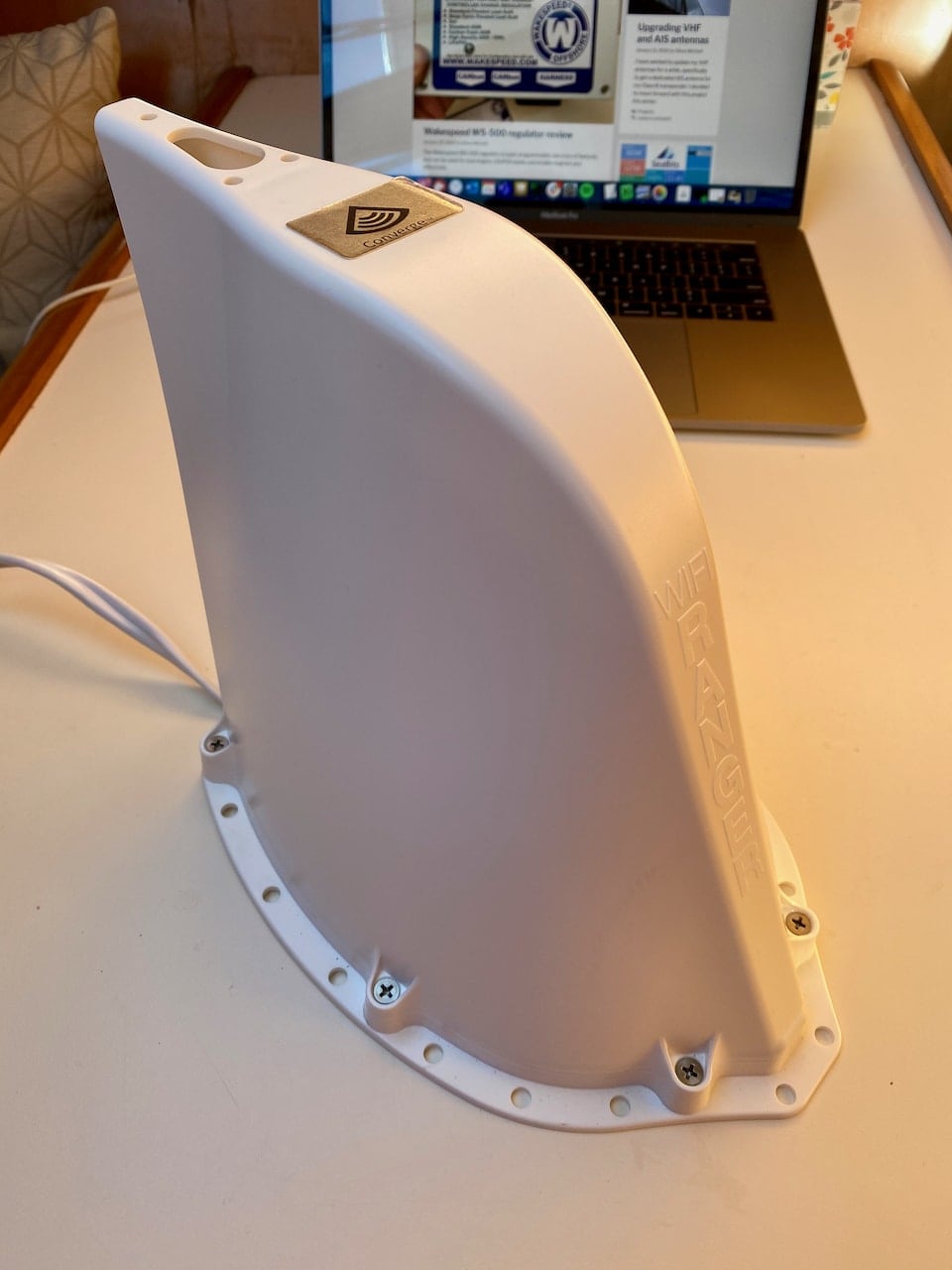 Right now WiFiRanger offer two outdoor fin antennas – the Teton and Denali. The Teton only has a 2.4Ghz WiFi radio in it, and lower power than the Denali, and would be useful more in the RV world, or for someone who has access to a remote WiFi network to connect to, perhaps a liveaboard in a marina. The Denali has a more powerful 2.4Ghz WiFi radio and a category 4 LTE radio. The Teton goes for $129, and the Denali for $499.
There is a third unit planned called the Everest which will have both 2.4 and 5 Ghz WiFi radios (yes!) and the capability to have dual LTE radios – one category 6 and one category 4. This would put it more in competition with products from Cradlepoint and Peplink that offer dual LTE radios and both WiFi bands, although the second LTE radio is an option, and the price for this unit is listed at $799 but I'm not sure if that comes with the second LTE radio.
When the Everest comes out, it will be one of a handful of other solutions that have dual band outdoor WiFi, like the MikroTik Groove, and will allow you to connect to 5Ghz and 2.4Ghz remote WiFi sources. This has been one of the most difficult things to find, and something that is a necessity in many installations I've done (and my own marina) because of noise and interference on 2.4Ghz. However, it would also be good idea to look at other solutions, as once you get to $799 for the unit plus $100 for the indoor router, you are in the price range of several commercial solutions that may have advantages.
Indoor Router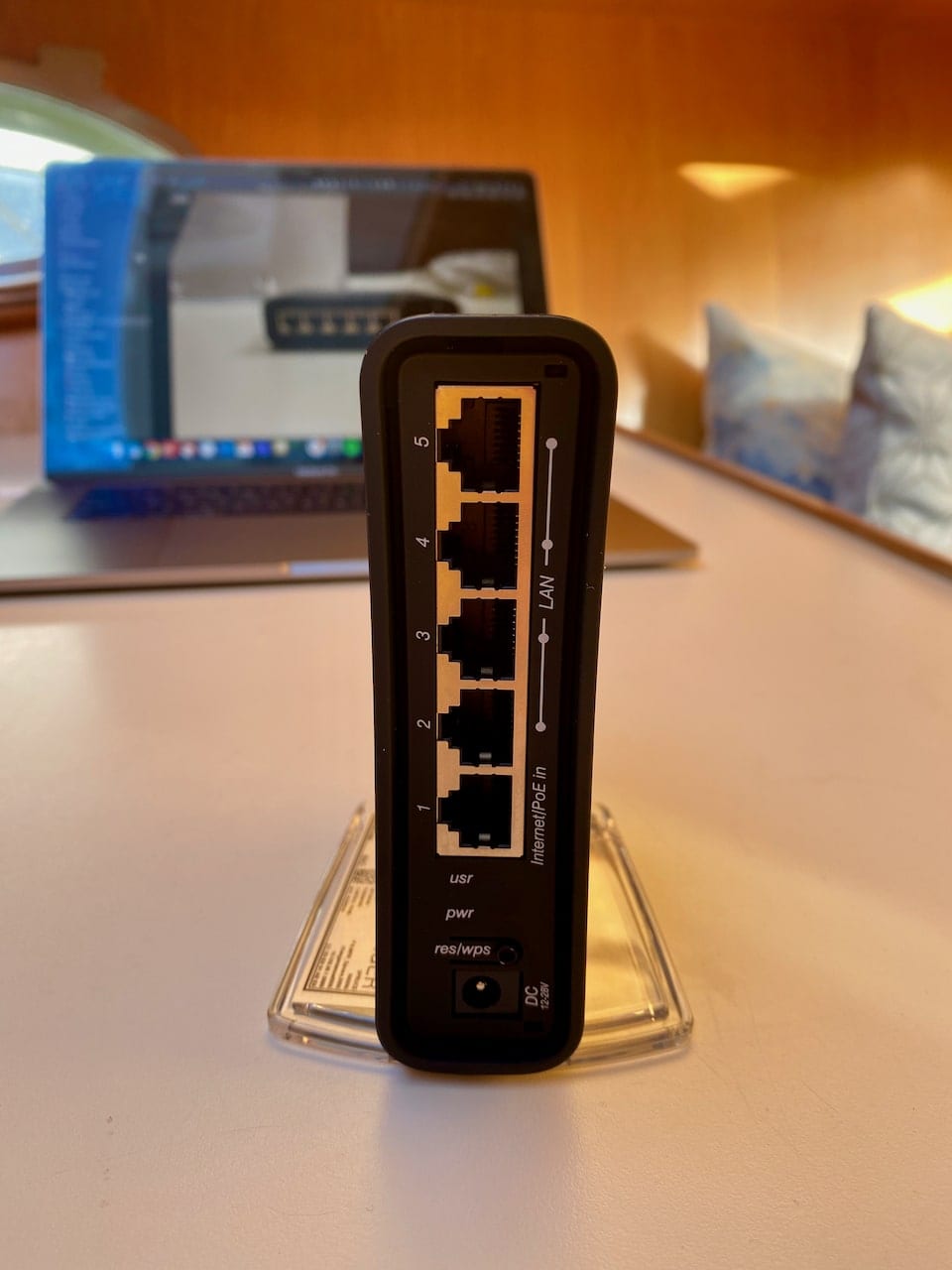 There are two indoor routers available – the Poplar and the Spruce. The Poplar is very basic and only supports 2.4Ghz WiFi at $79, while the Spruce is $119 and does both 2.4Ghz and 5Ghz. Both have 5 ethernet ports.
Given the proliferation of new devices supporting 5Ghz, and how messy marina WiFi is, I would always spend the extra and go with the Spruce.
WiFiRanger give discounts for buying a Denali+Spruce or Teton+Poplar together. You'll see that on the Denali/Teton store pages on their site. The combo I'm testing is around $550 total.
Packaging and Materials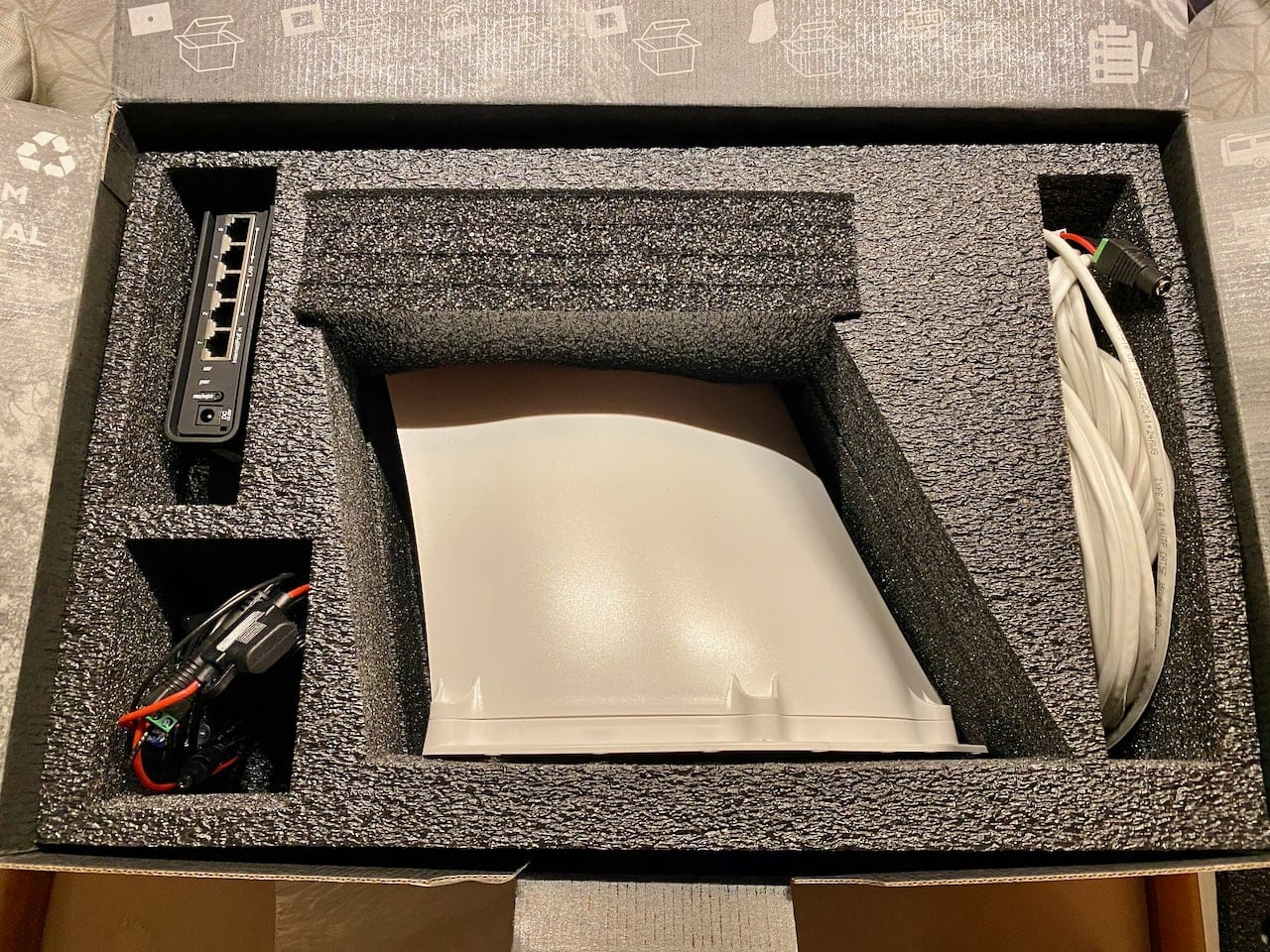 The entire setup came in one, very well designed box with excellent packaging and protection. It also included installation instructions, and an AT&T SIM card that had already been pre-installed in the Denali.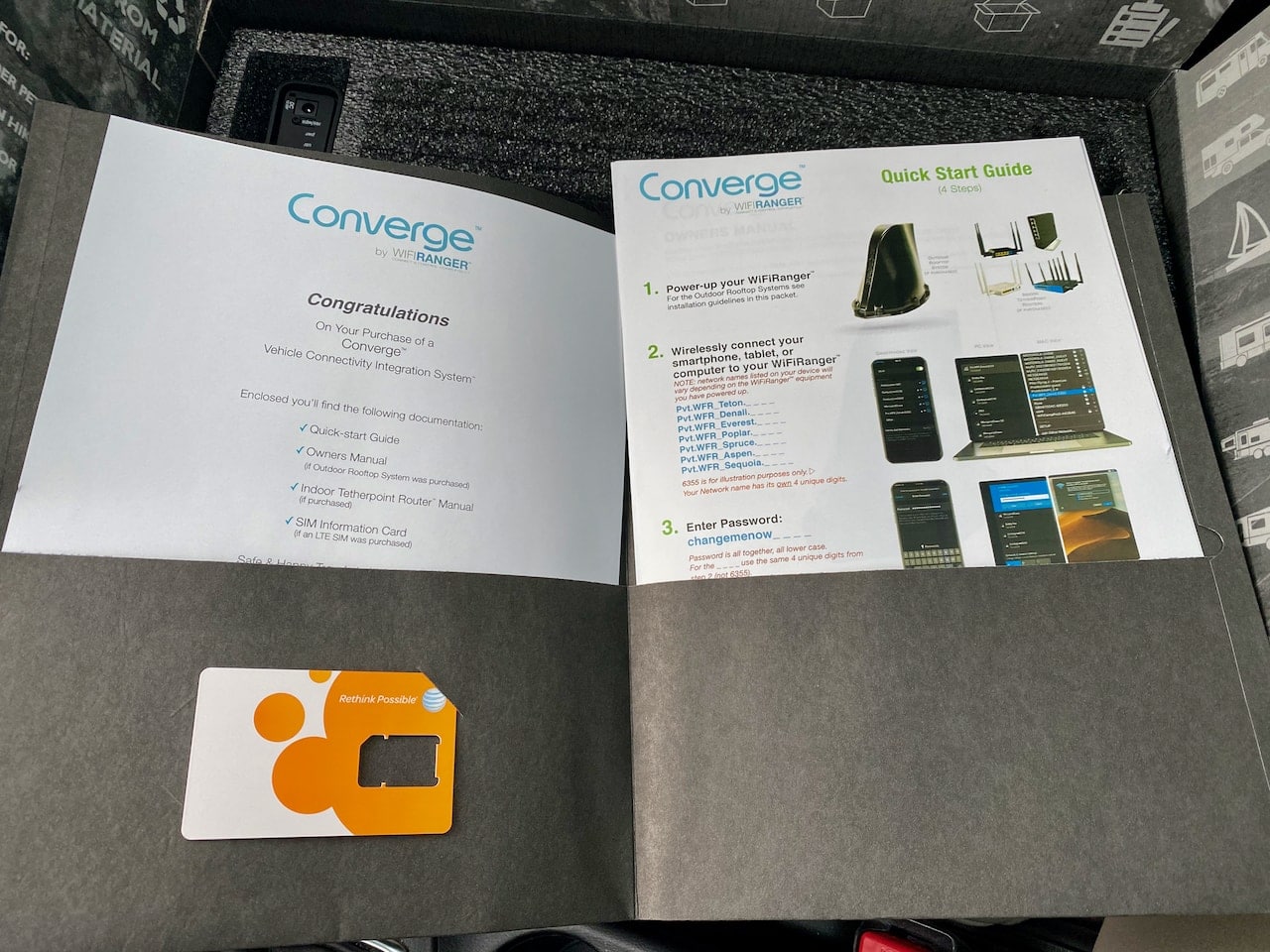 Because I already had an AT&T SIM, this required I open up the antenna and swap it for the one I already had. Strangely, there were no instructions included to activate the included AT&T SIM, and I had to contact support for more information. WiFiRanger offer plans through AT&T and for someone relying mostly on WiFi, as I imagine most traditional RV'ers do, they look OK.
For most boaters, $90 for for 22GB/month of data is quite high. I personally go through over 100GB/month which would cost me $300! There are alternative providers out there that use the same networks and provide better pay-as-you-go solutions.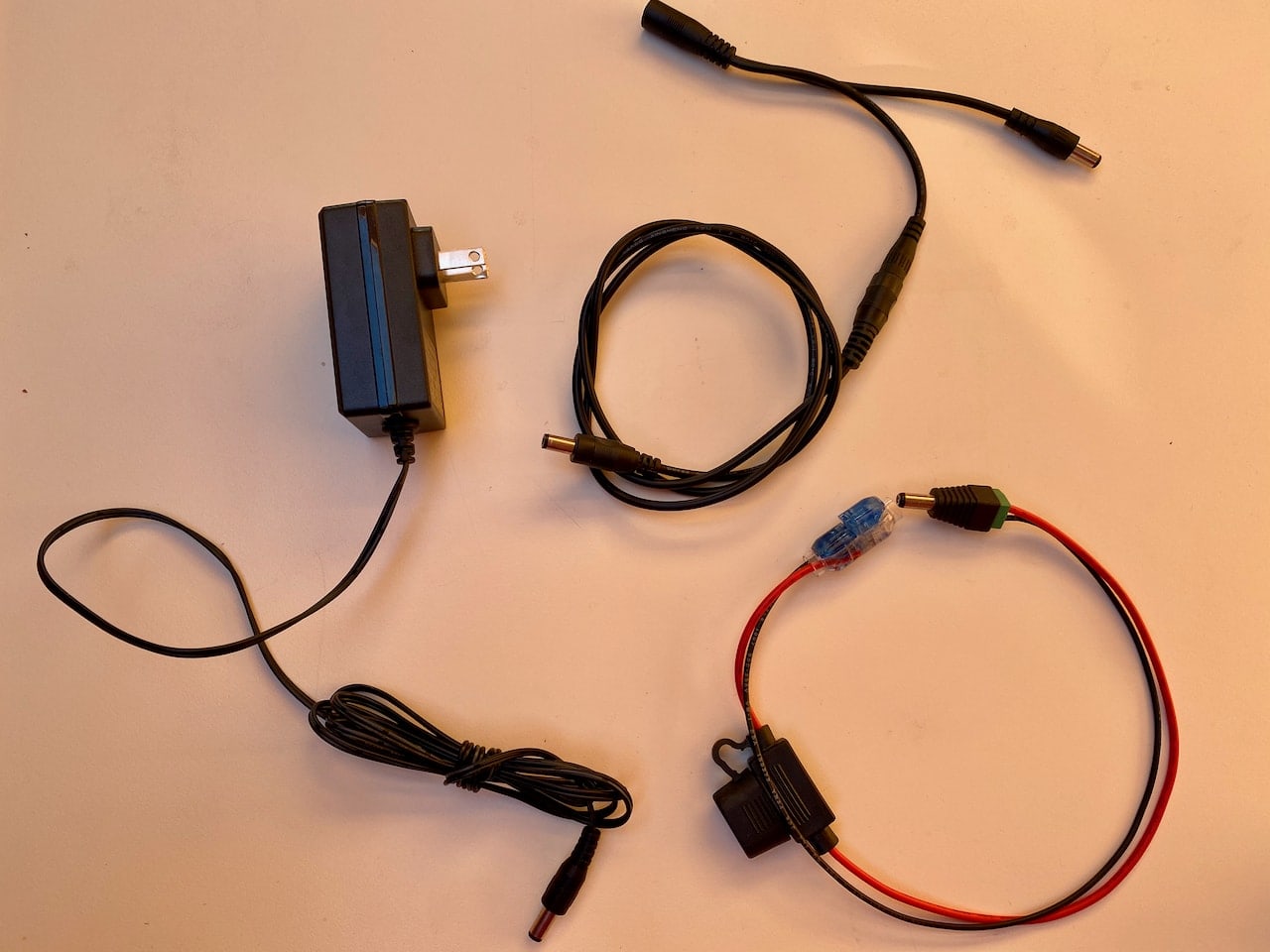 The Converge comes with a fused lead (bottom right above) to connect to your DC power system. However, you can also get an AC wall wart, which I did for testing. In addition, there is a Y cable that provides DC power to the indoor and outdoor pieces.  It's really nice to have a fused lead and power connectors for everything right out of the box.
Denali Details
Specs:
2.4Ghz high power WiFi radio + 2 antennas to grab remote signals
Single category 4 LTE radio
GPS antenna
The Denali is designed to be mounted outdoors and grab remote WiFi and LTE signals and send those down an ethernet cable to the indoor unit. It could also be used standalone and connected to a PC or another non-WiFiRanger router. A third option is to use one of the 2.4Ghz radios to broadcast a local WiFi signal in case you didn't want an indoor router. Lots of options for deployment – I will be using mine connected to the Spruce router, with the Denali doing 2.4Ghz WiFi externally (searching for a remote signal) and using the LTE radio as a backup internet source.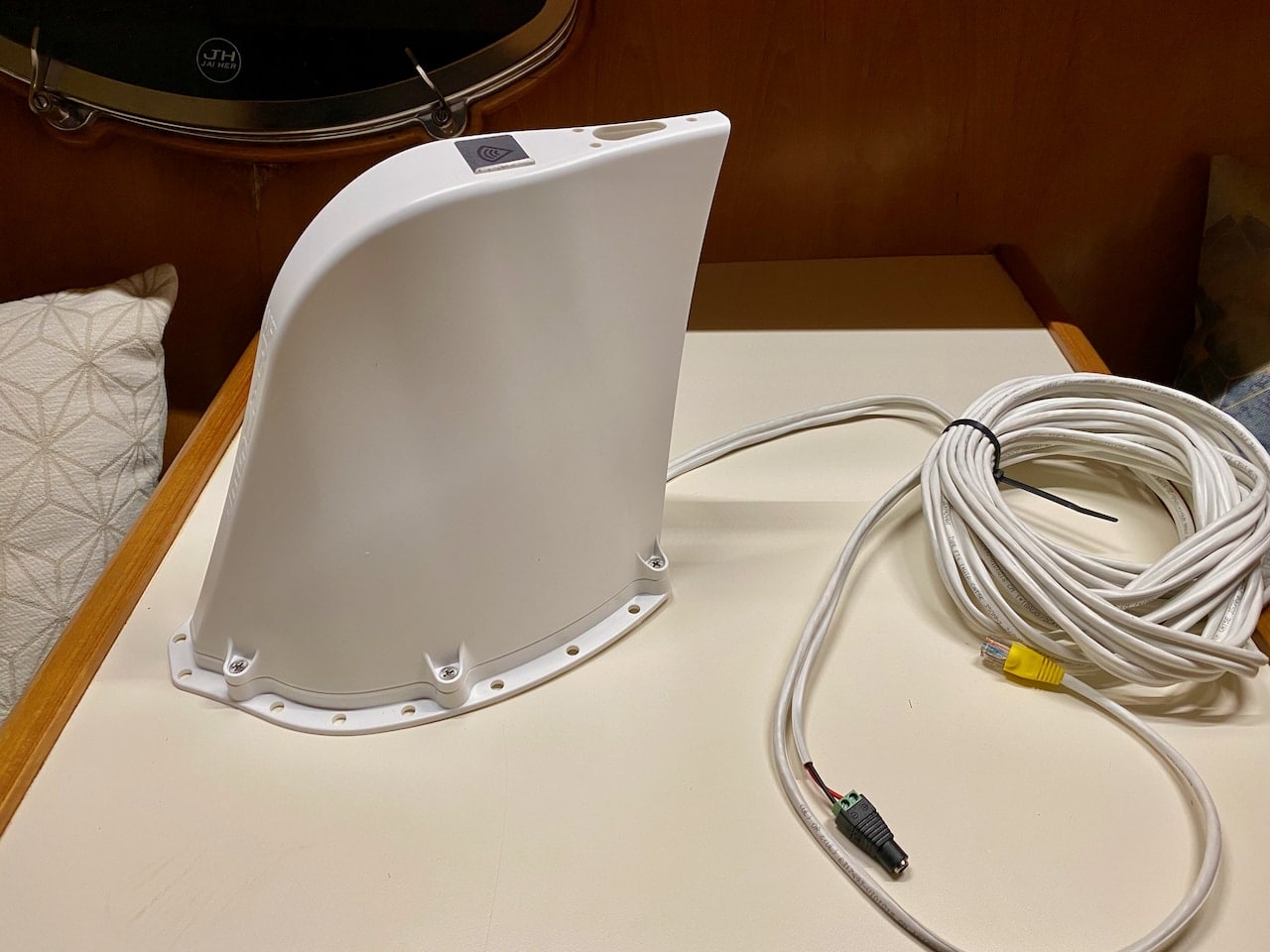 The outdoor unit is a single fin antenna enclosure and included cabling. I chose a 30′ long cable as I didn't know where I would install it. This includes both power and ethernet, but they are separate cables – no PoE here, which would be nice to see in future versions, since the Spruce supports it.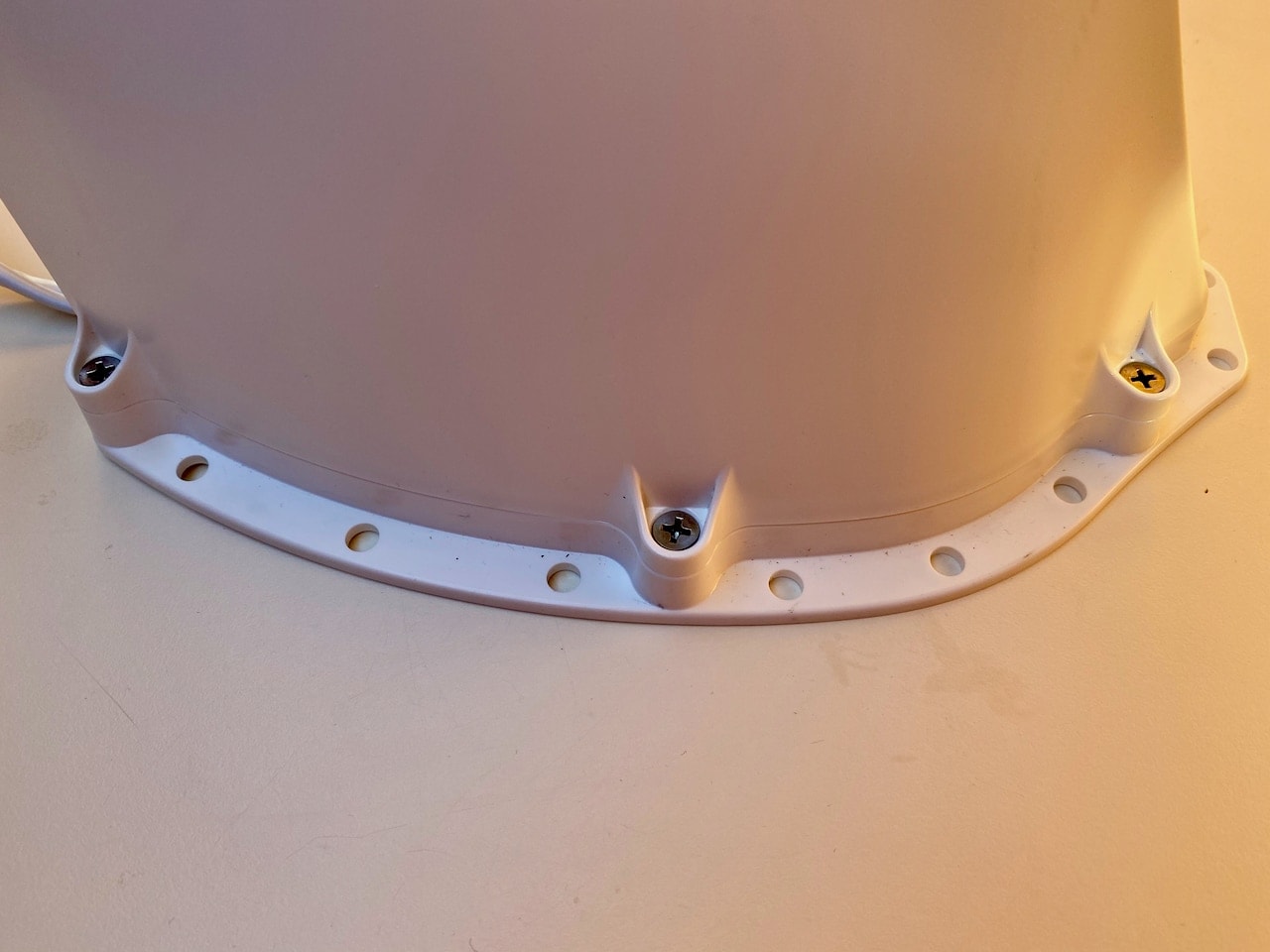 The Denali can be mounted using screws or sealant. You can also access the innards, which I had to do to swap my SIM card, and you may have to do for an upgrade, by removing the 6 philips screws around the outside edge.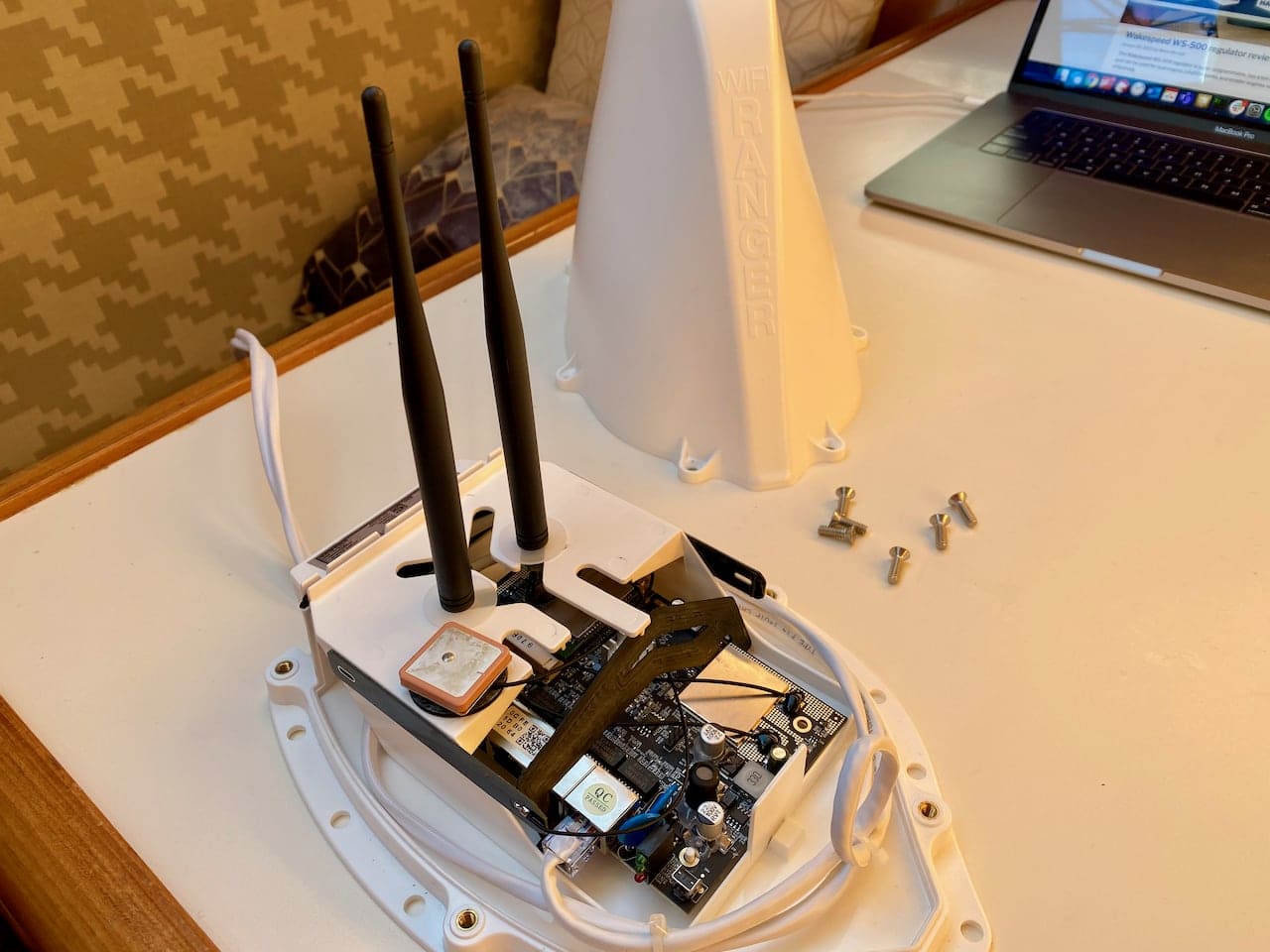 Once you have the top off, you will see two tall antennas, which are for the 2.4Ghz WiFi radio, and other bits and pieces.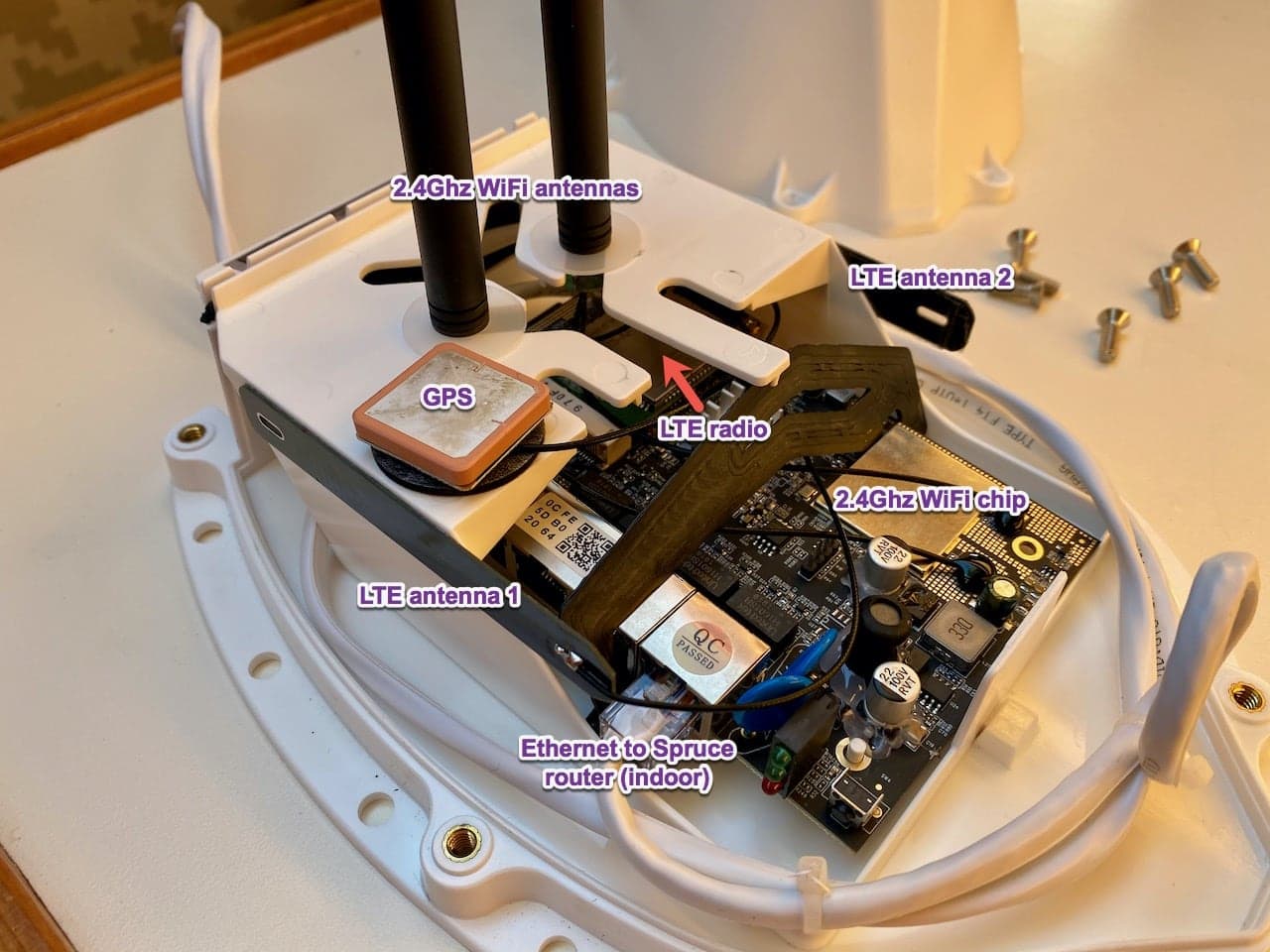 Looking a little closer at the components, you can see a GPS, LTE antennas, ethernet cable to the indoor router, and chips for the LTE and WiFi radios. This appears to be a custom board that WiFiRanger have built.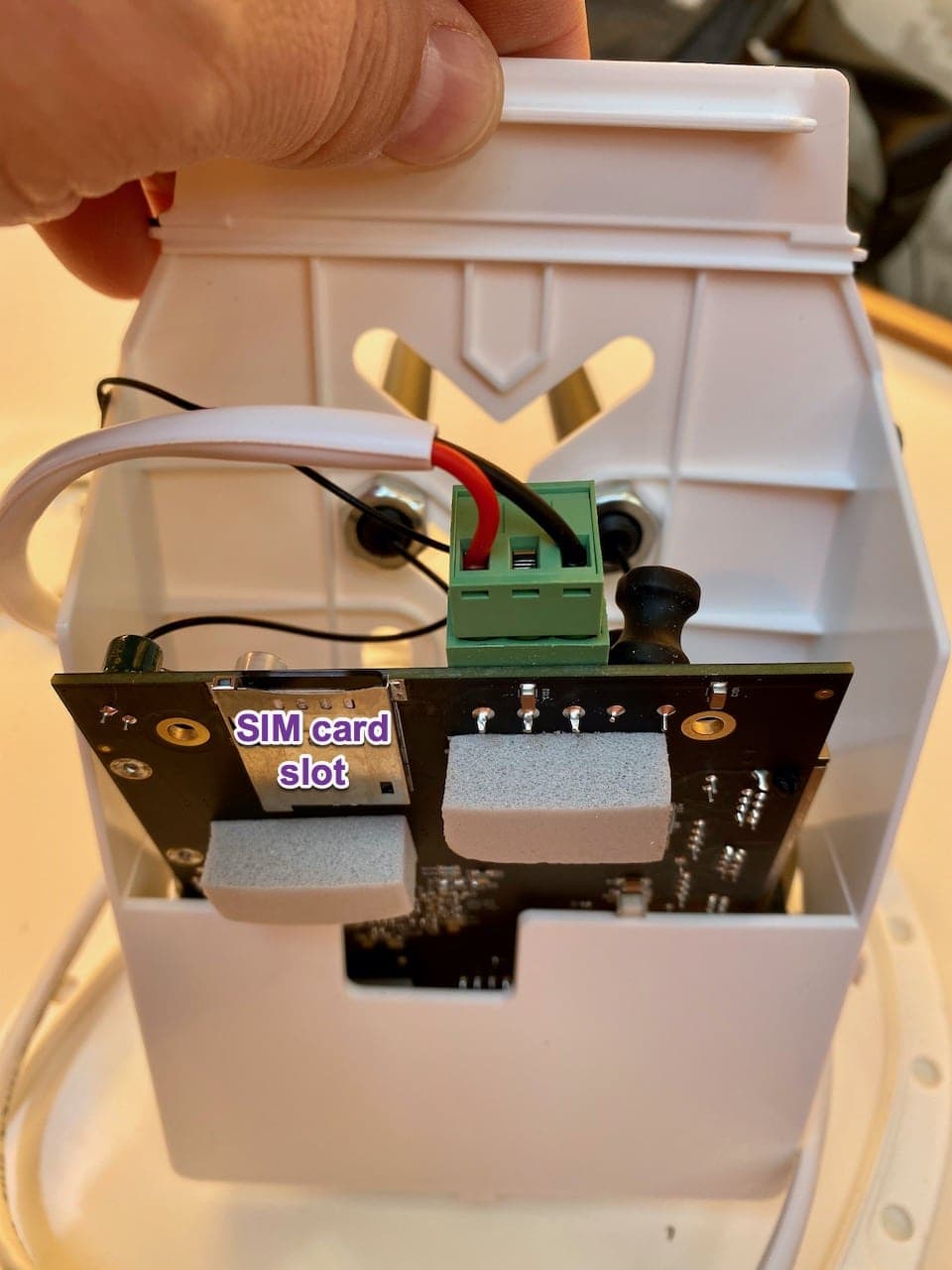 You can carefully lift the whole assembly out of the tray, and on the back of the unit, there is a power connector and the SIM slot. This is where I had to remove the factory provided one, and add my own. Not the easiest spot to get to, and it requires a lot of patience to put things back together correctly.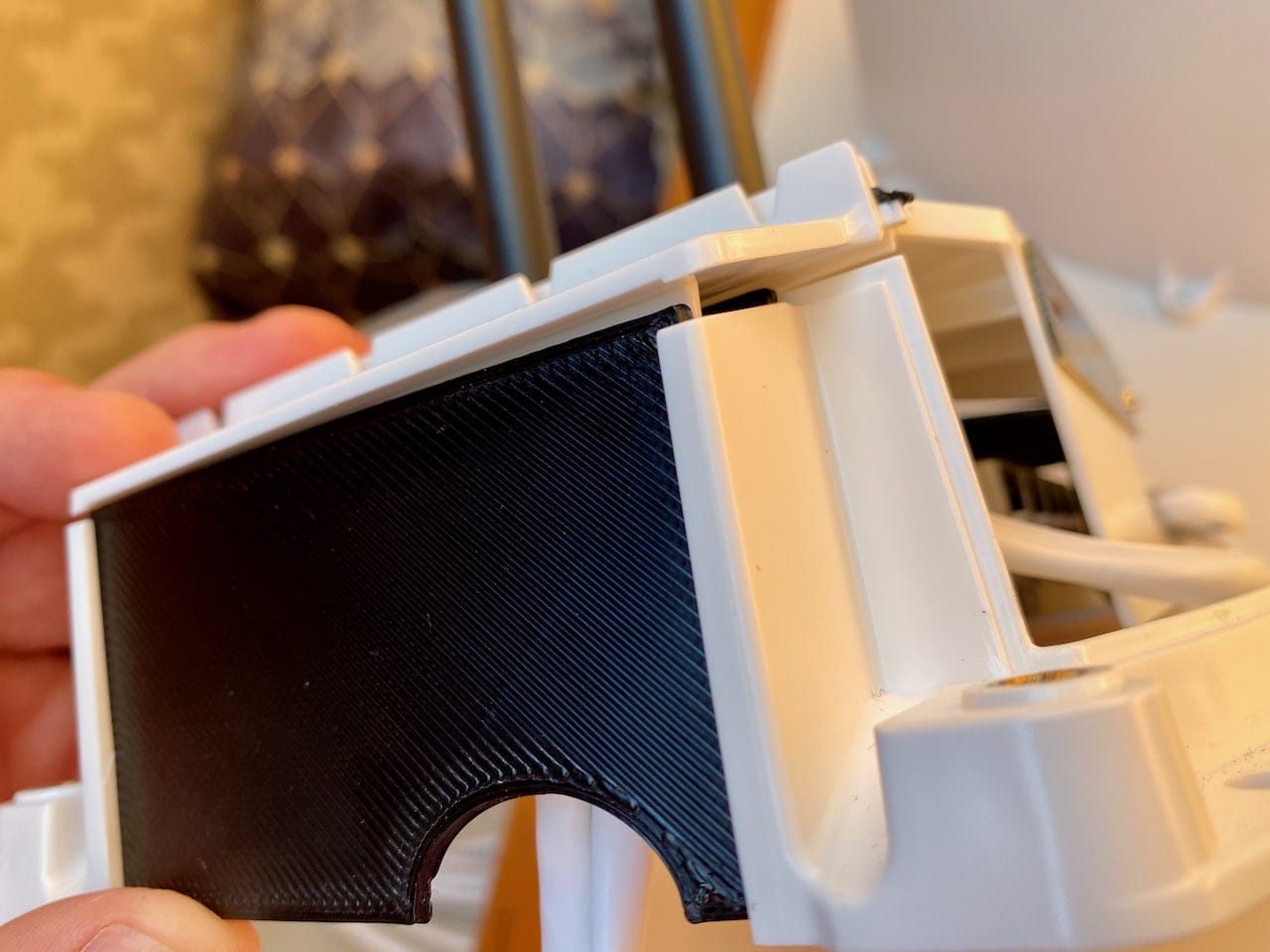 One thing I had concerns about is the way everything fit together. Once you remove the top of the fin antenna, it is very hard to get everything back inside and closed up. There is some slop until things are tightened down. I am a bit more worried about the entry point for the cable on the back of the unit, which has space for things to get up inside, and the entire edge of the top of the fin. While it overlaps the outside of the base, there are no water tight seals of any kind, which might be an issue in terms of longevity.
The Denali is a pretty neat piece of gear – aerodynamic fin that has lots of radios and antennas packed inside, and allows for an easy mount somewhere outside. I really like the idea of being able to upgrade or swap out the components, and the fact that the LTE and WiFi radios are outside and able to reach signals much more efficiently than other products.
Spruce
Specifications:
5 ethernet ports (one used by Denali unit)
2.4 & 5Ghz WiFi access point
802.11 n/a/c – WiFi 5
USB port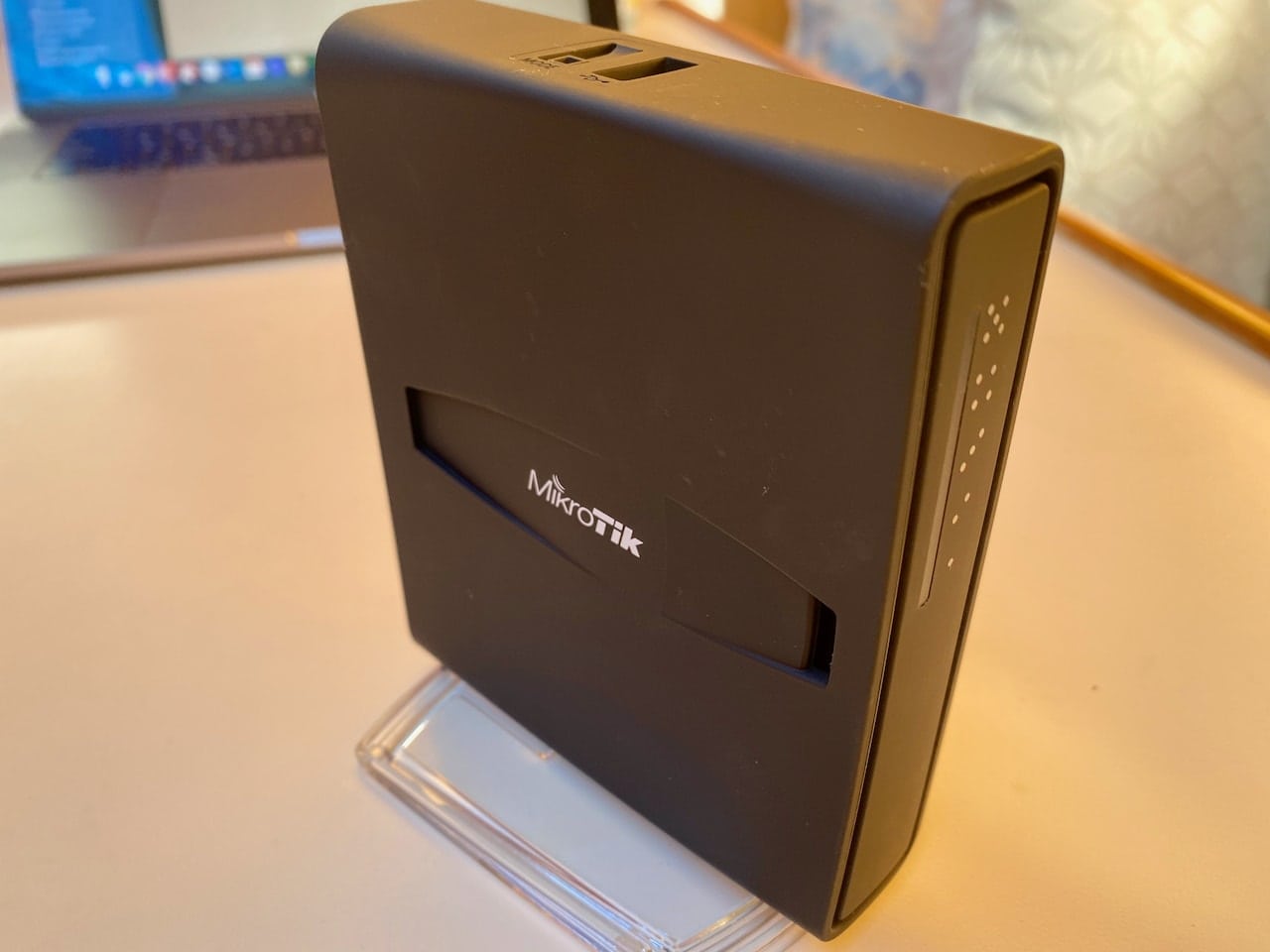 The Spruce is a 5 ethernet port device (one used by the Denali) with both 2.4Ghz and 5Ghz WiFi radios inside of it. It is branded MikroTik but runs WiFiRanger software.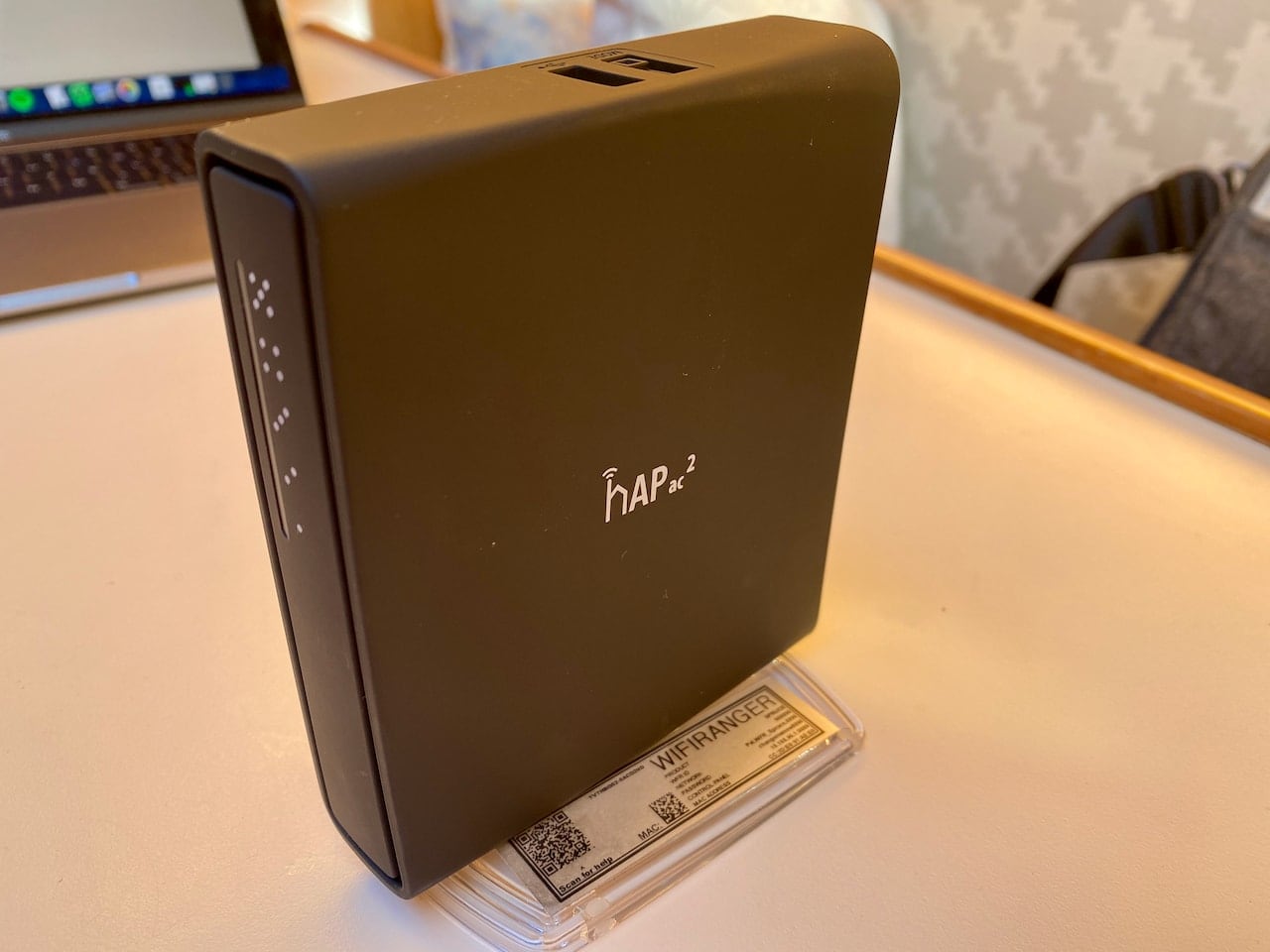 It is an hAP AC2 model and has really good specifications.  You can mount it either on the stand you see above, or flat on a desktop.
The Spruce also has a USB port which can be used for connecting a MiFi or other LTE device if you choose not to have a Denali, Everest or Teton outdoor unit.
The Denali connects to port 5 of the Spruce, and after powering everything up, they should talk to each other and be ready for configuration.
Software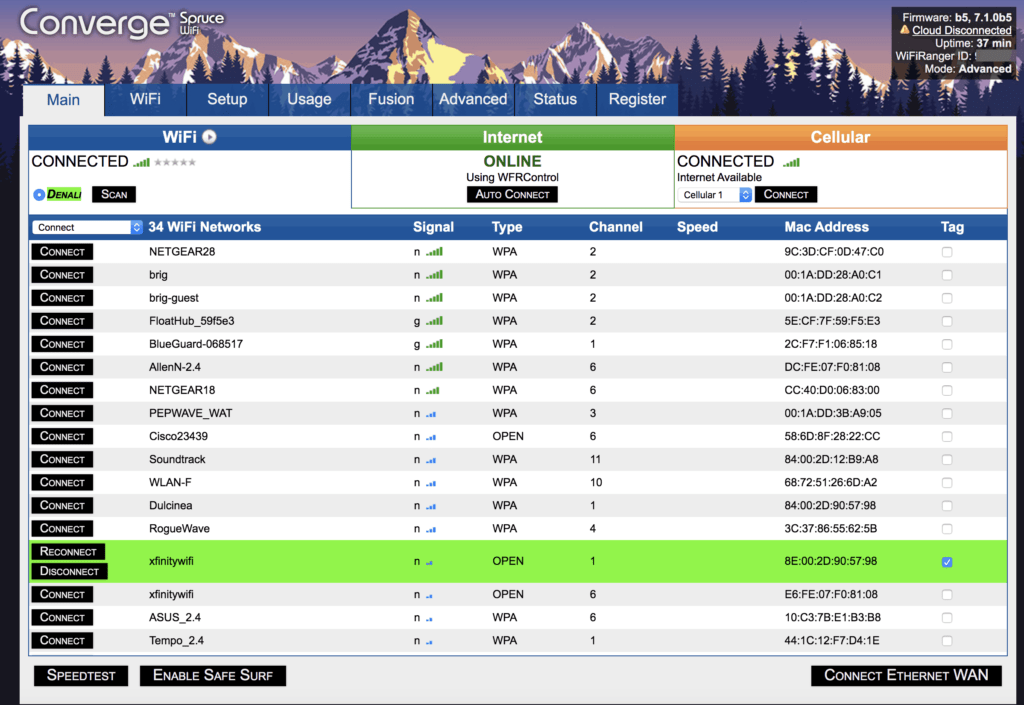 One thing that WiFiRanger has always had is very focused software, and the Spruce+Denali = Converge setup is no different. Very clear status is visible on the main page, and everything you'd need to do when arriving at a new location is easily found as well.
I really love the mountain background with the product name – it's a nice touch that offers a slightly less clinical screen that are so popular with routers and tech gear.
In this case, my Spruce is connected to the Denali using WFRControl and we're connected to LTE and WiFi.
You can see a list of available nearby WiFi networks, which one we're connected to, and choose to reconnect/disconnect, plus other settings.
Up in the top right corner is the software/firmware version, whether we're connected to the "cloud" which allows WiFiRanger to access things remotely, uptime, and serial number.
What isn't obvious is that most of this data is coming from the Denali unit outdoors – it's the one that is scanning for WiFi networks, connected to LTE, etc. and is providing that information over the cabled connection to the Spruce. This is also where I've seen some confusing things, which I'll cover below.

If you expand the WiFi arrow, you can see details about the WiFi network we're connected to which can be helpful when troubleshooting.
You can also configure the WiFi system to pick a network based on a number of different criteria, which is a very, very nice feature. These include First Available, First Tagged, Strongest Signal, Fastest Available, and Fastest Tagged. This is a great way of being able to categorize the WiFi networks near you and choose what is the most important – speed or signal strength – when connecting.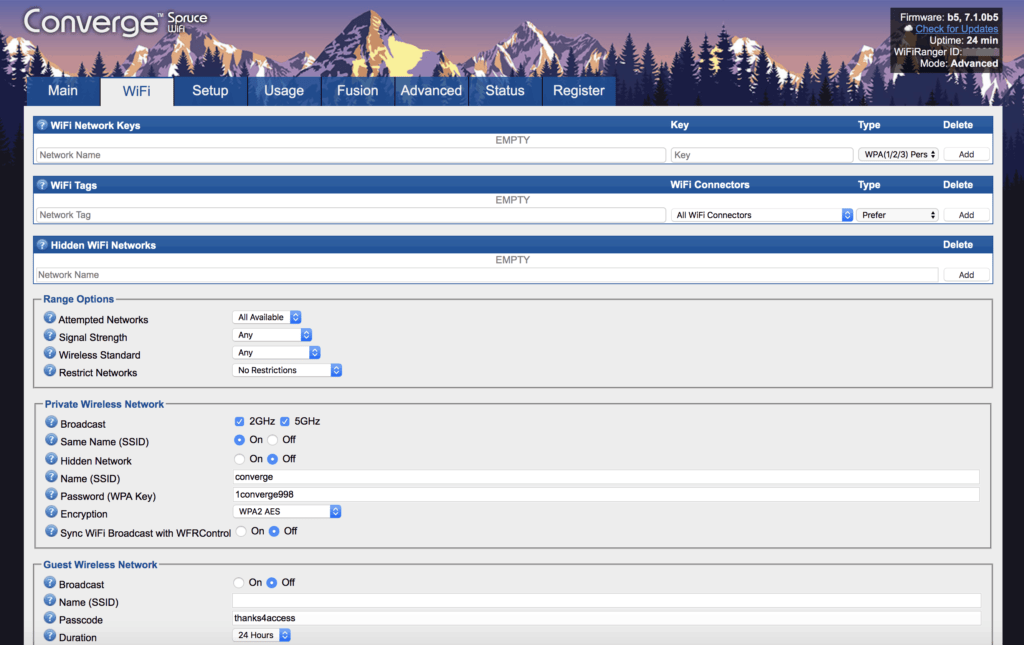 The WiFi tab has lots of useful settings including the networks you want to connect to remotely, the various bands you want to broadcast indoors, SSID and password, and more. You can also setup a guest network with a bunch of helpful settings.
These settings are for the Spruce, not the Denali, well most of them. You can have the Denali broadcast a WiFi network that matches the one inside. I suspect this may be for while you're outside, but I also saw it affect my performance when trying to use a remote WiFi network as my internet source.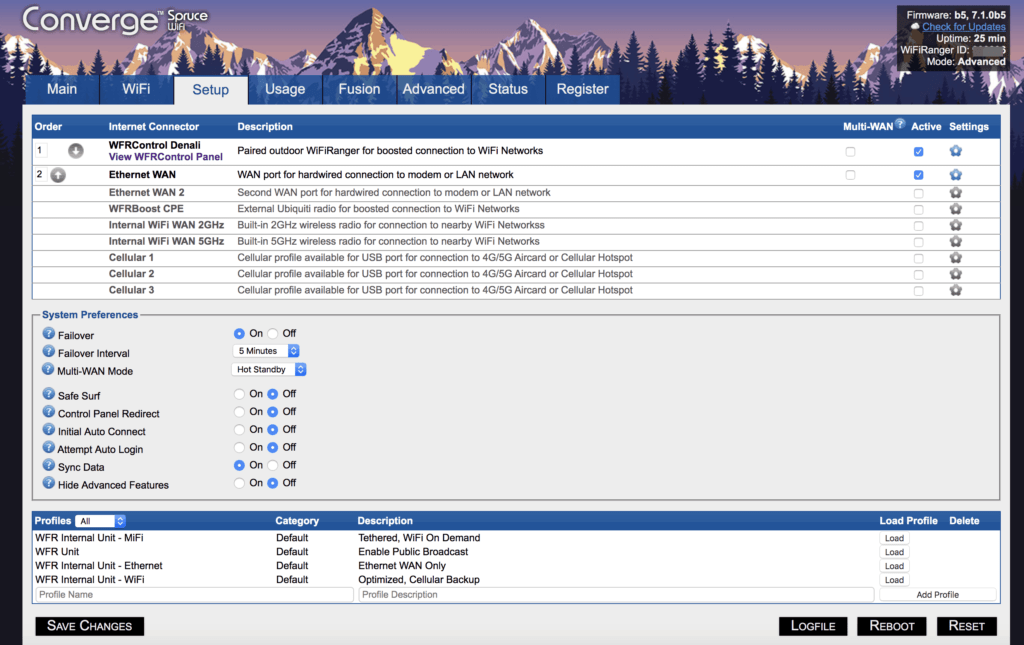 The setup section is where it gets interesting. I've disabled "Hide Advanced Features" so I can see everything. You can see the various Internet Connectors, and for the Spruce, I've moved the "WFRControl Denali" to the top of the list. This is the outdoor Denali unit, and I want it to be my primary source of internet. Other than the confusing naming, it is nice to have this level of control.
If I wanted, I could use an Ethernet port, one of the Spruce's WiFi radios, or a USB connected device to provide internet as well. Very flexible!
Also on this page is how you configure failover, although I'm not clear if this does anything or if the Denali's settings override this. Same with the Multi-WAN mode.
There are profiles you can create/load for various settings, which is handy if you like flipping over to a different order of devices or failover settings when on WiFi vs LTE or at particular locations.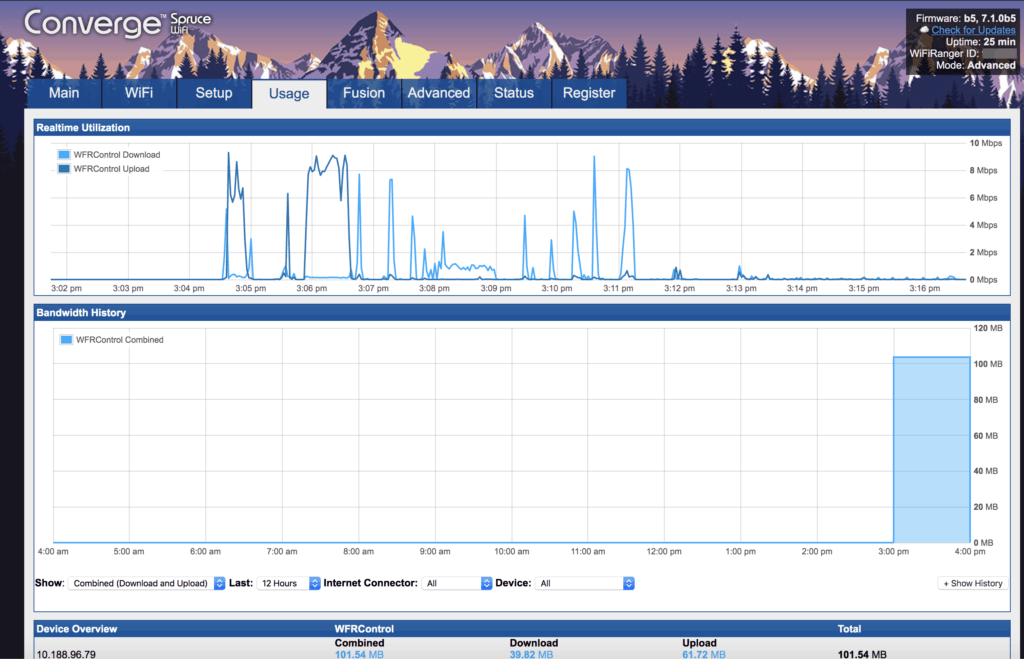 The Spruce does not by default collect usage information, but it is easy to turn on, and contains a nice set of graphs.  Unfortunately, on the Spruce it only shows one "Internet Connector" which is the Denali, so there's no way for me to know if this bandwidth has been used by my LTE radio or WiFi connections. You have to look on the Denali for this.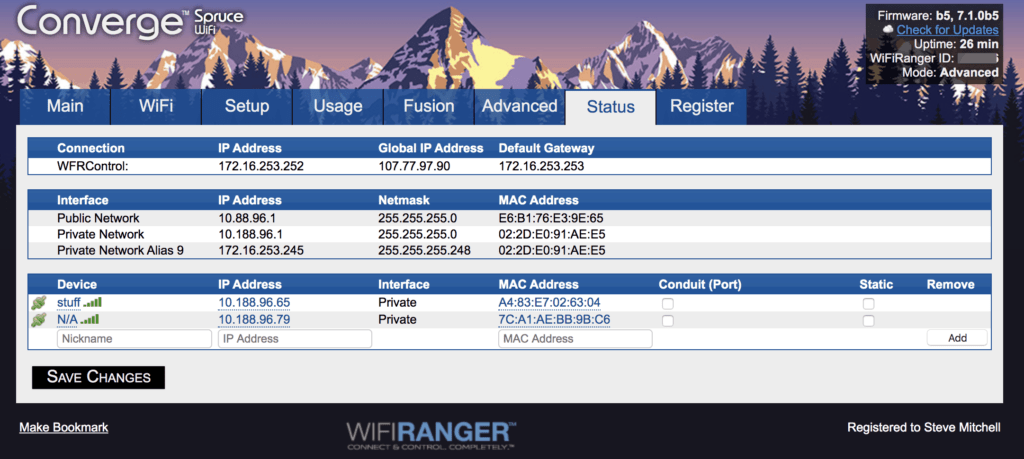 Under status you can see the connection being used, IP addresses, interfaces, and devices connected to the internal WiFi access points.  You can also set static DHCP leases.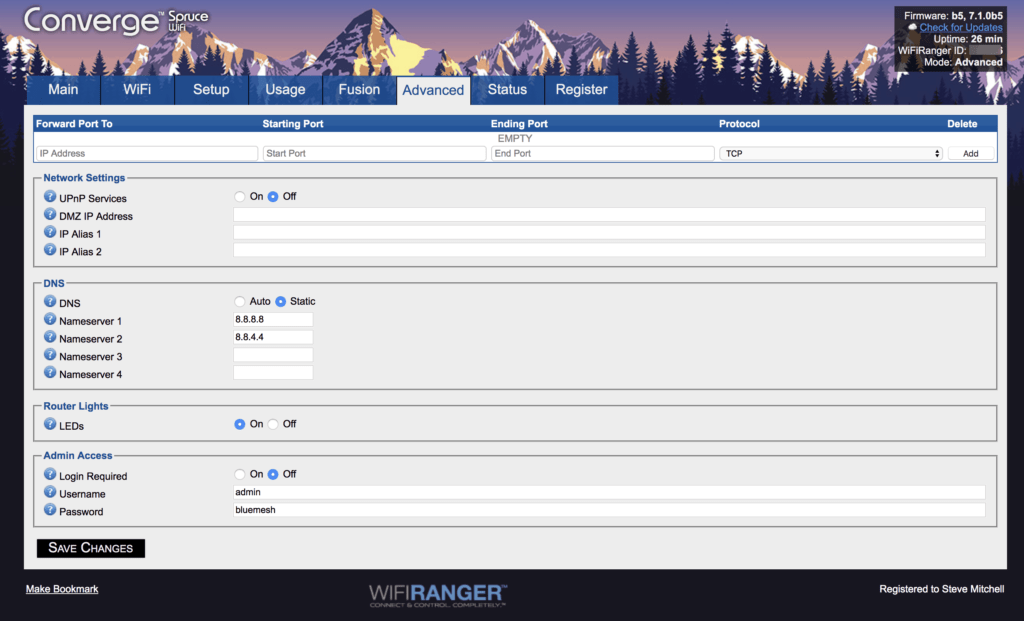 The advanced screen contains ways to forward ports, DNS overrides, and security for logins to the dashboard, among other things.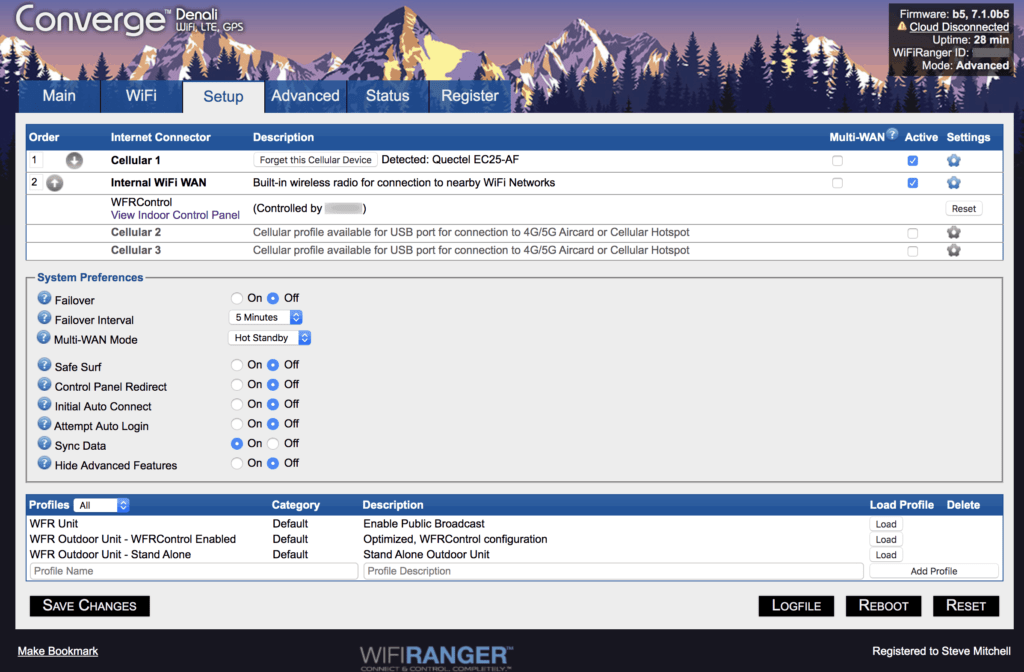 If we head over to the Denali, there are an identical set of tabs/pages, but slightly different data on some of them.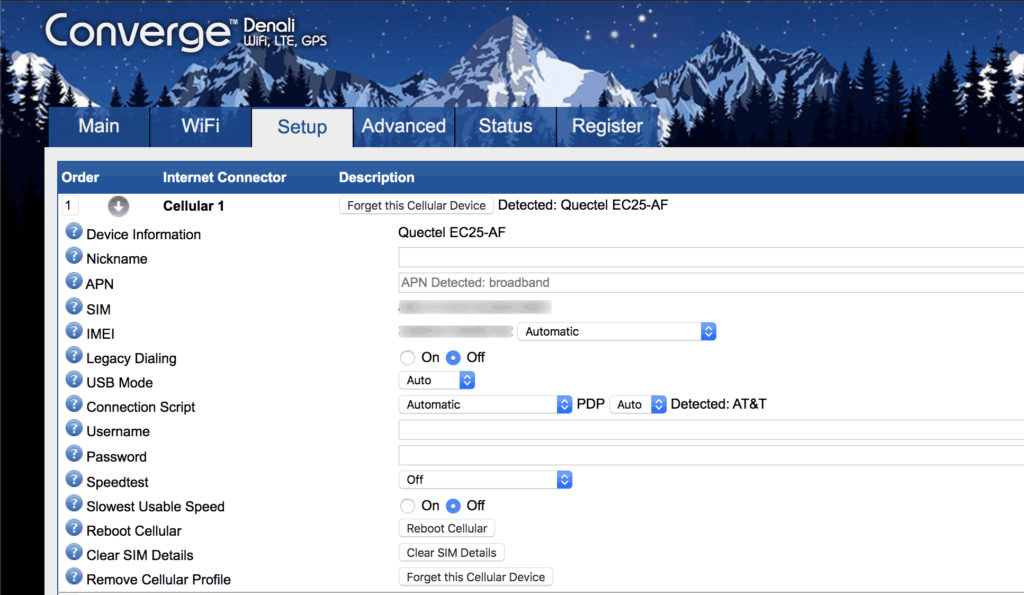 The most important one is the Setup tab. I've changed the default order which was to use Internal WiFi WAN first, and Cellular 1 second. Within each of these there are a bunch of settings as well, especially for the Cellular 1 Internet Connector, but I left them all at the defaults. You can see your IMEI and other SIM details, and choose providers, etc.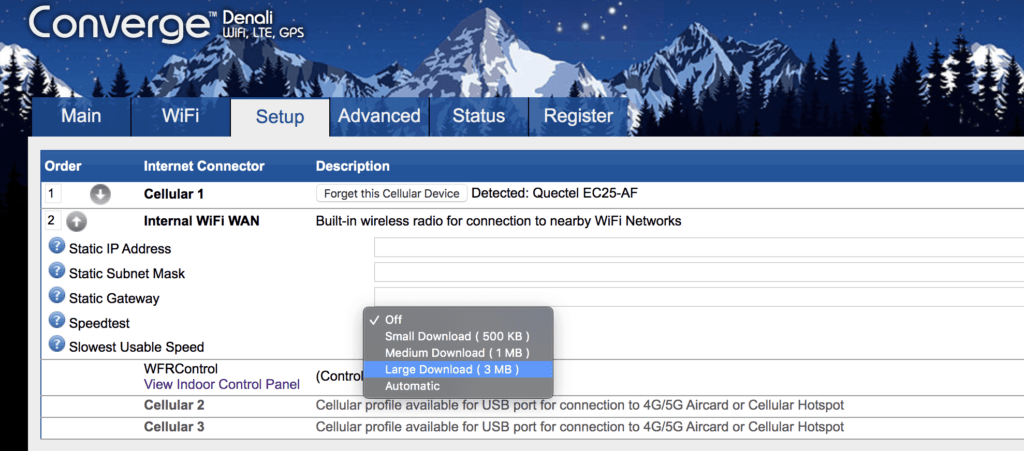 There are also profiles below, as there are on the Spruce, for some standard configurations which is helpful. Since all I ever do would be to change the priority order of WiFi and Cellular 1, I opted to use the arrows instead of creating a new profile, but I could see where that could be beneficial as you could customize the settings under each.
Stability and Maturity
I applaud WiFiRanger for creating software that is more streamlined than most commercial products I've used/tested. If you've ever used Peplink or Cradlepoint, they have decent UIs, but they are still technical and can be confusing. If you've tried a MikroTik device, you know the opposite end of the spectrum where you immediately begin to age and get grey hair the moment you start clicking through options.
However, there is room to grow. The most confusing thing is how the Denali and Spruce are separate units, but not. Some things can only be done on the Denali, but changing other settings will cause the Spruce to lose its mind.
Then there are confusing terms like WFRControl and Failover which aren't really defined anywhere, and screens showing interfaces and IP addresses that the average user wouldn't need to see.
The most frustrating thing though is the stability of the software. Even though the "Initial Auto Connect" feature was on all of the time, I never saw the system automatically connect to anything without me intervening. Once connected to LTE, if I attempted to connect to WiFi, the Spruce became very laggy, and I often lost my internet connection completely until things stabilized, sometimes 3-4 minutes later. I've also had to reboot the system a lot to get things working again.
I appreciate this is a new system and software, and I know that WiFiRanger is working on improving it. Even in the last few weeks, I've seen a lot of improvement with new firmware, but it has a ways to go.
Support
I had to contact support a number of times for various reasons. Most were around the initial version of software that shipped with the unit, which needed to be upgraded. However, I had other issues around stability and lots of configuration questions.
Support was very quick to respond via email (my preferred method) – usually the same day or within 1 business day. They were helpful and friendly, but most of the time asked to simply connect remotely to the unit to fix the issue instead of providing steps for me to do so.
Being a hands-on tech person, that was somewhat frustrating, but for those that aren't, this sort of support could make the difference in a purchasing decision. Having someone else who knows the product fix your issue remotely is definitely a big benefit. You do have to be connected to the internet for this to work though.
I would highly recommend their support.
Testing Results
Testing was good in some areas, and OK in others. In terms of performance of the indoor WiFi router, that was excellent, as you would expect with hardware backed by MikroTik. I never had any disconnects or performance issues, and it was as strong or stronger than my other on board systems. Same with the ethernet ports, although I would not have expected any issues here.
The outdoor 2.4Ghz WiFi AP that connects to remote signals worked very well also. It was pretty close to the performance of using a MikroTik Groove or Ubiquity Bullet, and found and held on to remote WiFi signals well.
The outdoor LTE radio was very good. Because the radio and antennas are outside, the distance between the antennas and the actual thing doing the work was very small, resulting in little loss, and the antennas weren't inside being blocked by boat stuff. This meant very high download and upload speeds, as well as strong signal even when far away from towers. On AT&T I saw 80Mbps download and 50Mbps upload for multiple days in a row in one location, which is pretty awesome performance.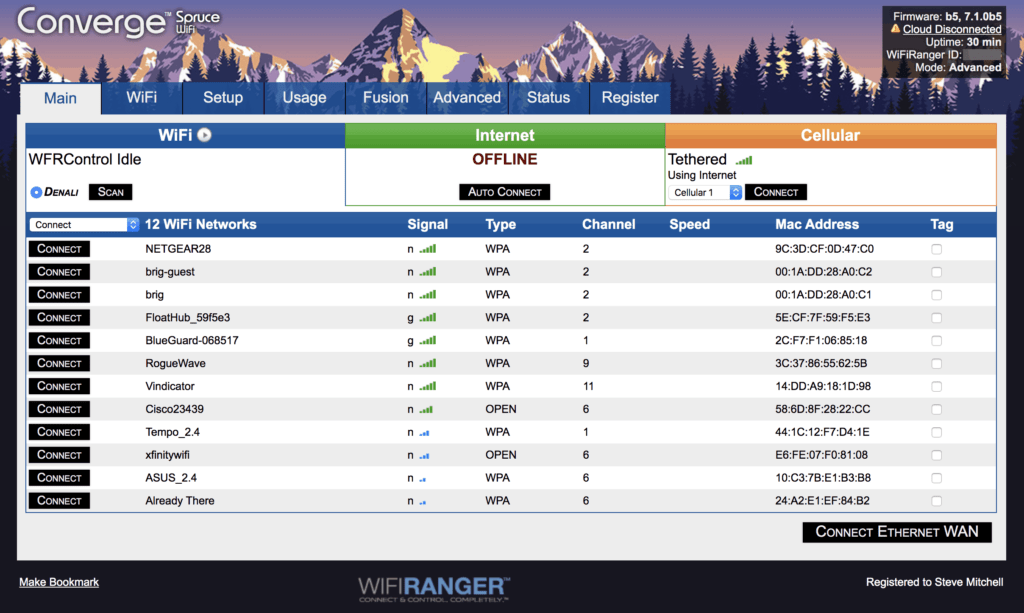 The challenging thing was reliability. The software linkage between the Spruce and the Denali would sometimes get out of sync and as a result, the internet connection would go down for multiple minutes while things synced and figured themselves out.
Some of this I think has to do with the failover technology that WiFiRanger employ, which is much less aggressive than what I've seen on other products. By default the lowest setting to switch between sources is 5 minutes, which is a long time to be disconnected – people will notice.
The reliability has improved with every new software release they have come out with, and WiFiRanger have been very up front with the fact this is a new product and that they're refining things. Their support has also been great at looking into any of the issues and tuning the units to get the most out of them.
Overall, the performance was on par with the best systems out there in terms of WiFi and LTE radios and bandwidth. The most important thing will be to see the reliability improve over time.
Pros
Streamlined user interface
Powerful radios
Modularity & upgradability
Support
Cons
Build concerns
Software – still a work in progress
SIM card access
Conclusion
I think WiFiRanger have hit on a good mix of modularity and power in their new Converge line. I like how I can choose the different pieces, and potentially upgrade them in the future without ripping out everything. The LTE and WiFi radios are very powerful and work extremely well.
However, it is still a work in progress – the software is getting better, the install process for the SIM card is difficult, and the long-term viability of the components could be a concern in the marine environment.
The Converge is in an interesting price bracket at $550 – you can't get all of these features in a Peplink or Cradlepoint system. You'd have to spend $100-200 more for the extra ethernet ports and an external WiFi antenna or booster like the MikroTik Groove, and they would be disparate pieces.  But, that system would have a lot more features, and be more commercial grade.
If you are looking for a powerful indoor WiFi system that pairs with an equally powerful outdoor WiFi and LTE system, then the Converge could be a good fit. Everything is included in one package, support is excellent, and is much simpler to use than other commercial products.
Thank you to WiFiRanger for providing the Converge system used for testing in this article. I will be using it for future testing and updates.