I'm always on the look out for a compact, well performing, easy to use computer for the sailboat. Over the years, I've used some rugged tablets, laptops, and other creations, but none have been able to run the software I need while still being easy enough to use. I have been a hardcore Mac user for the last 6 years, and while my MacBook Pros have been great, the best software for navigation doesn't run natively on the Mac without major compromises.
Windows vs. Mac
The primary use of a computer aboard Grace while planning or underway is to run Coastal Explorer. Secondarily, when doing projects or maintenance, to run software from manufacturers like Maretron or MasterVolt to update or configure various devices. All of those software packages require Windows.
For blogging, editing photos or videos, or general web browsing, I still rely on my Mac, although those waters are becoming a bit more muddied with the recent purchase of a MacBook Pro with Touch Bar – I can't say I'm impressed with the hardware compared to what I see in the PC world.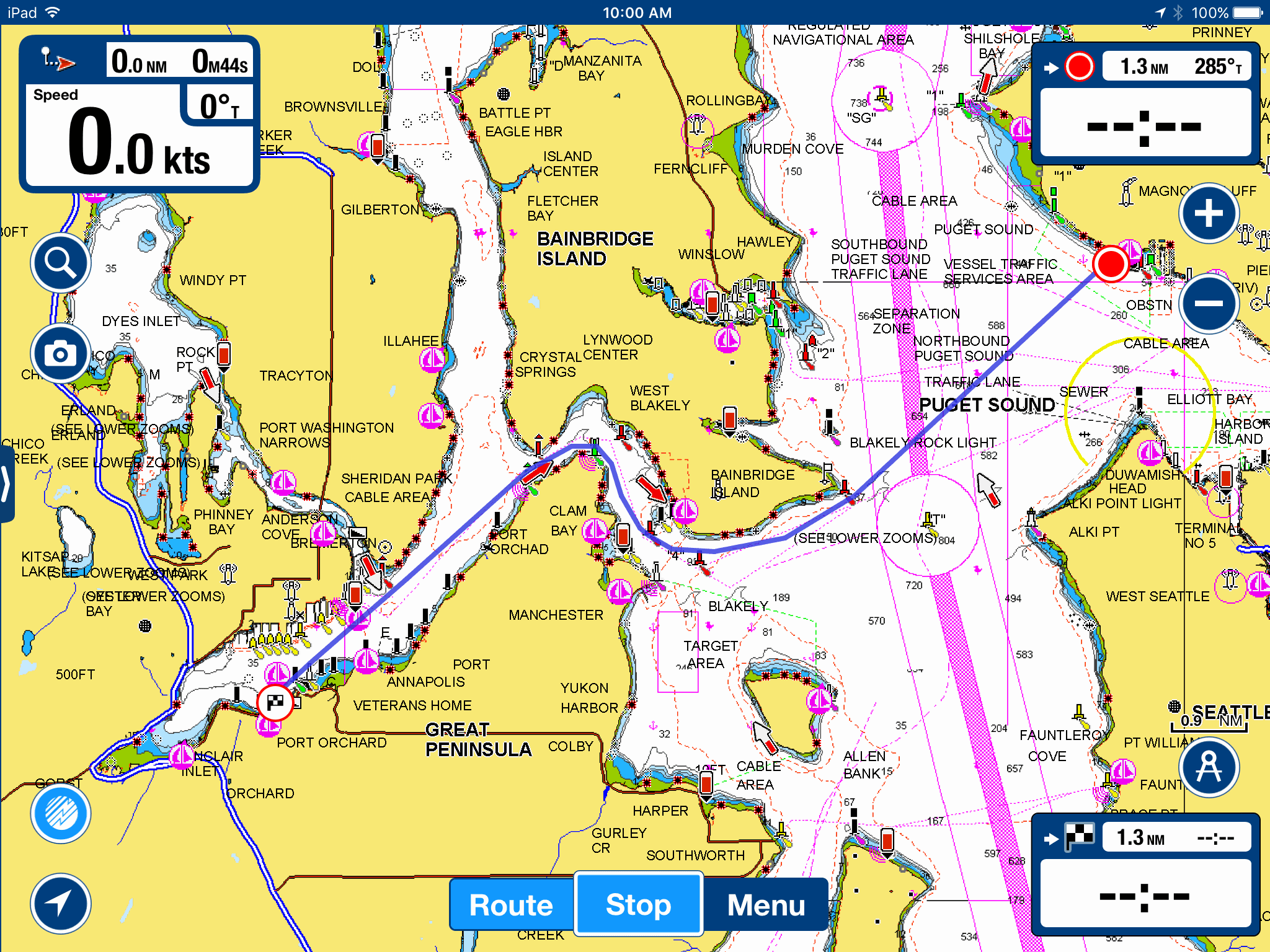 Navionics on the iPad
iPads are great, and I have a 9″ one that I use a lot with Navionics, which is one of my go-to apps to plan trips quickly. But they lack the ability to delve deeper into a particular route, move route waypoints around easily, and do more with the software in general. They have definitely improved over time, but they're still tightly controlled by Apple as to what they can and can't do, and have no ability to interface with USB devices on the boat for firmware updates, etc.
My day job exposes me to many virtualization technologies, and I've tried a bunch on the Mac – Parallels, VMWare Fusion, and Virtualbox – but they're not the same as the real thing, and they burn through battery like a boatyard through your hard-earned savings. That's not to mention that you need a ton of disk space for a fully installed copy of Windows, and the usability quirks with switching between things on one machine. I've also had issues emulating virtual serial and USB devices that work appropriately with specialized hardware like the Maretron USB 100.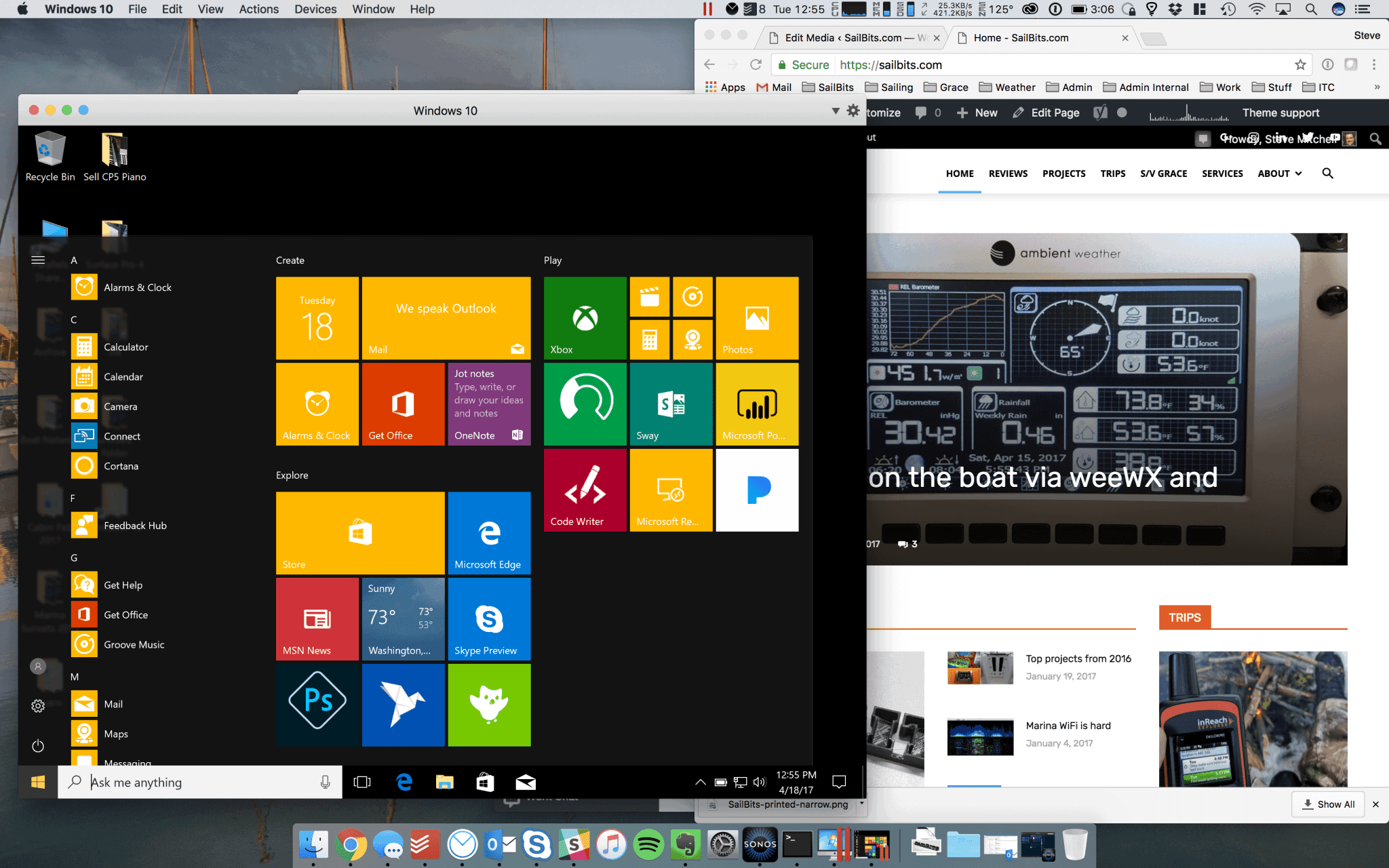 MacBook Pro running Parallels virtualization software and Windows 10 virtual machine
You can also use Boot Camp, where you section off a part of your Mac hard drive to boot into a full version of Windows, but that's just like owning two computers and having to keep them both updated and patched. I would prefer to do that on dedicated hardware via a standalone computer, and the Mac is not terribly efficient at being a full fledged Windows machine – battery life and other things are notoriously bad.
Surfaces & Windows 10
A few months ago, I bought my significant other a new laptop – a Surface Book, the bigger, more powerful brother to the Surface Pro – after doing my own research on various Windows laptops. I was very impressed with Microsoft's hardware and design, and the utility of disconnecting the screen and using it as a tablet. I had been upgraded at work to a Windows 10 laptop recently and had found the operating system to not be as terrible of a solution as Vista or Windows 8 – it was, in fact, usable. I also got a bit jealous as my new MacBook Pro with Touch Bar was not that much faster than the 2+ year old one it replaced, and seemed to have less utility for me – no SD card reader, USB-c ports, no touch screen…
One of the best features in Windows 10 that I think is undersold for boaters is how you can limit data usage for low bandwidth or capped connections.
Windows 10 loves to update itself without consulting you, which is nice that it does it in the background and doesn't bother you, but on a boat with a capped data plan, or one with limited download bandwidth, this can mean you are stuck waiting for updates when you need to be doing something else, or blow through your data allowance. Being able to control this is a great option to have.
After playing around a bit with the Surface Book, I fell in love with the clarity and aspect ratio of the screen and the general utility of it all. A month or so later, Microsoft offered the Surface Pro 4 with Intel i5 processor, 8GB RAM, and 256GB SSD storage for $999 on sale. I snapped it up along with the Arc Touch Bluetooth mouse, and Signature Type Cover (keyboard). It was delivered a few days later, and I fell in love with it as my go-to boat computer.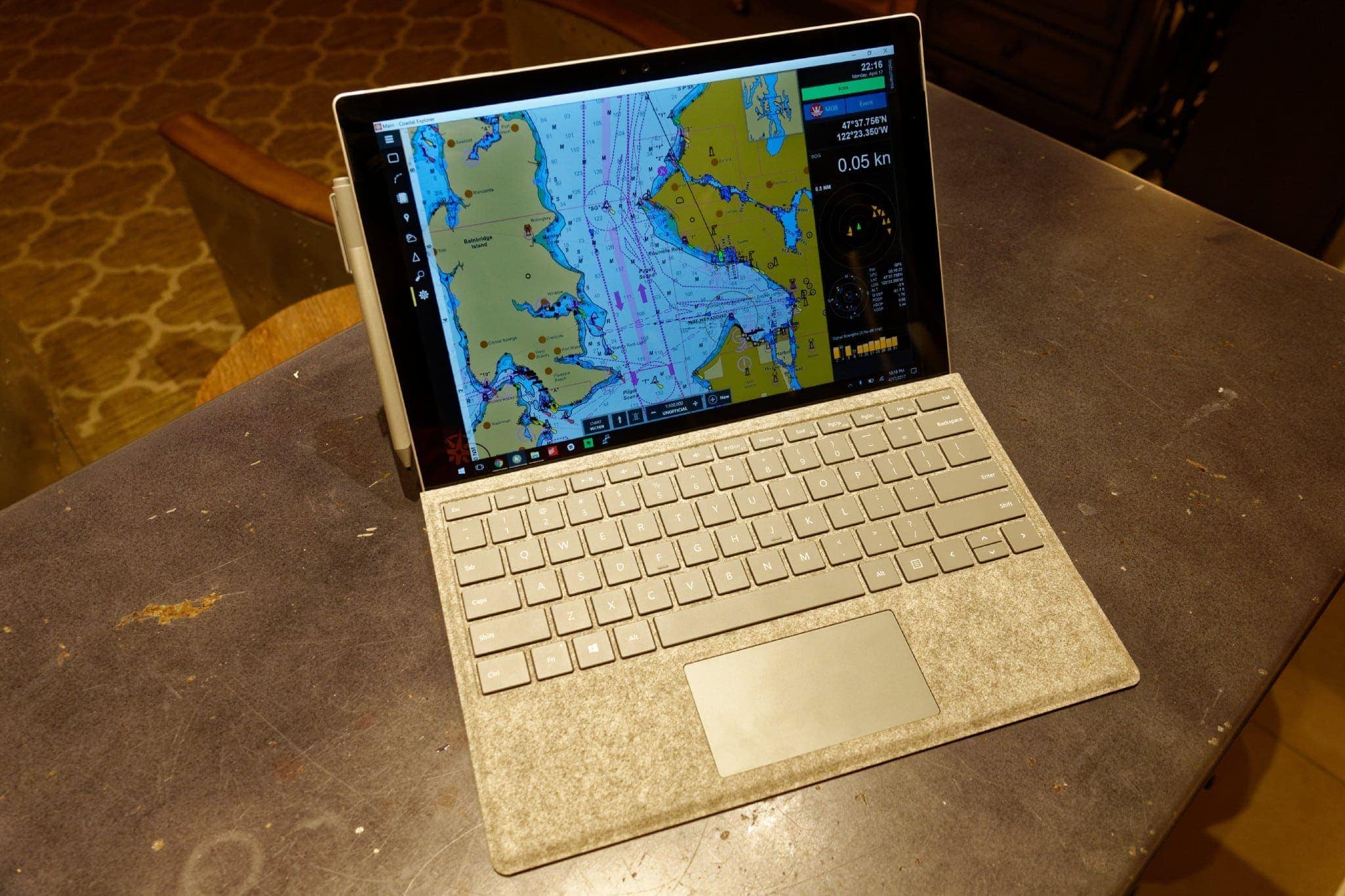 Surface Pro 4 with type cover attached
Surface Pro 4 Overview
The Surface Pro 4 is essentially a well-endowed tablet with a keyboard cover – more than enough power and flexibility for the boat, plenty of connectors with a bright touch screen. The computer boots very quickly, uses facial recognition to log you in – handy if you don't have the keyboard or your hands are full. On top of that, you can use it like a tablet and touch the screen to navigate. There's also a wonderful pen if you are interested in more art-focused applications.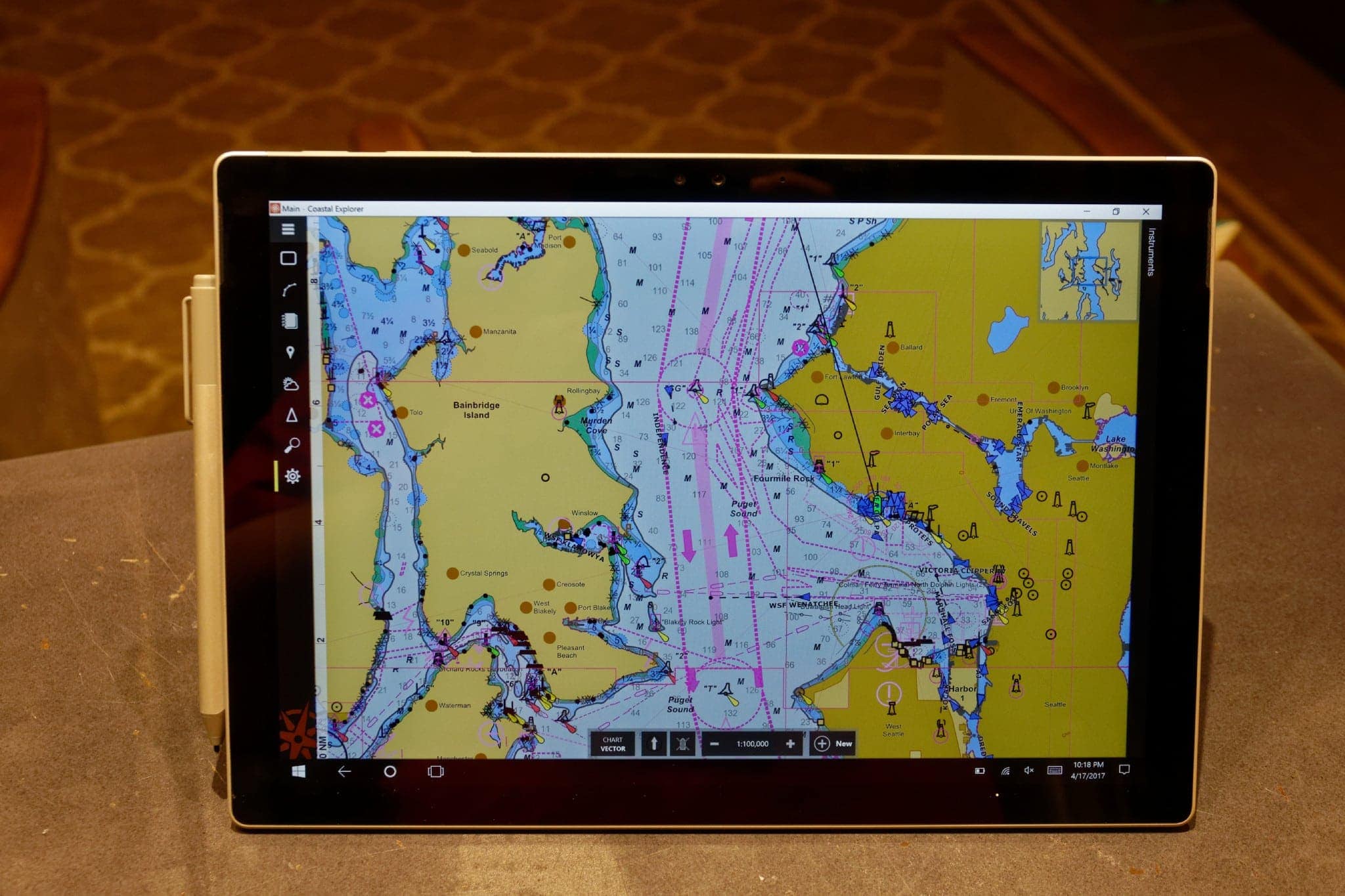 Not only is the hardware well made, but the utility of being able to disconnect the screen from the keyboard makes it extremely usable while underway in particular. You can simply touch the screen, drag the maps around, and interact with Coastal Explorer very easily.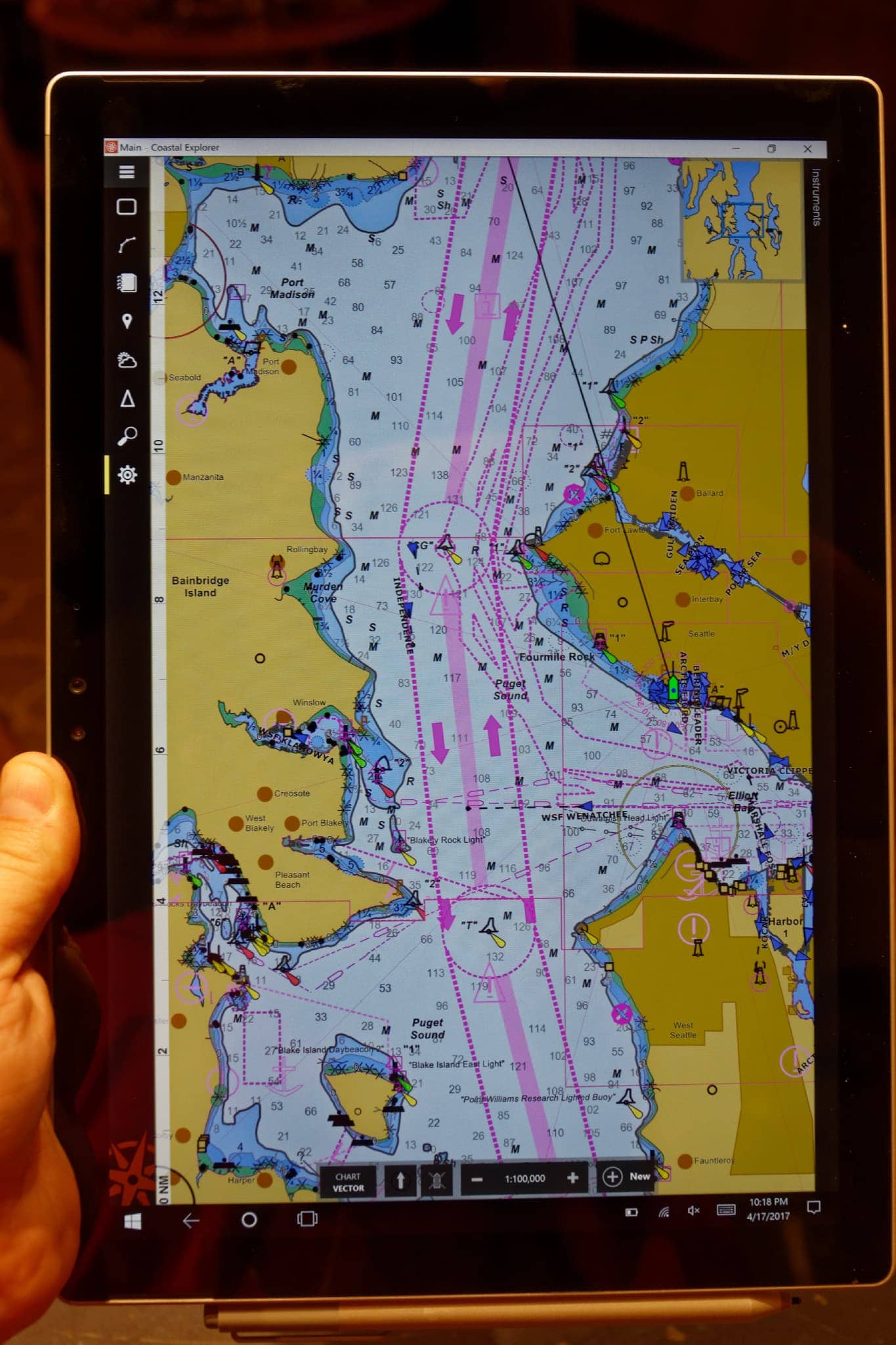 Coastal looks good even when you turn the tablet sideways! I actually really like using it this way when in north-up orientation when planning, as I am usually going a long distance north or south, and can see more of the route without having to zoom in and out. It is also a lot easier to hold, almost like a book.
Touch Screen & Pen
The accuracy and efficiency of the touch screen should not be overlooked – I now use Coastal almost exclusively this way. Dragging the maps around, zooming in and out, and even planning routes seems so much faster and more natural using touch.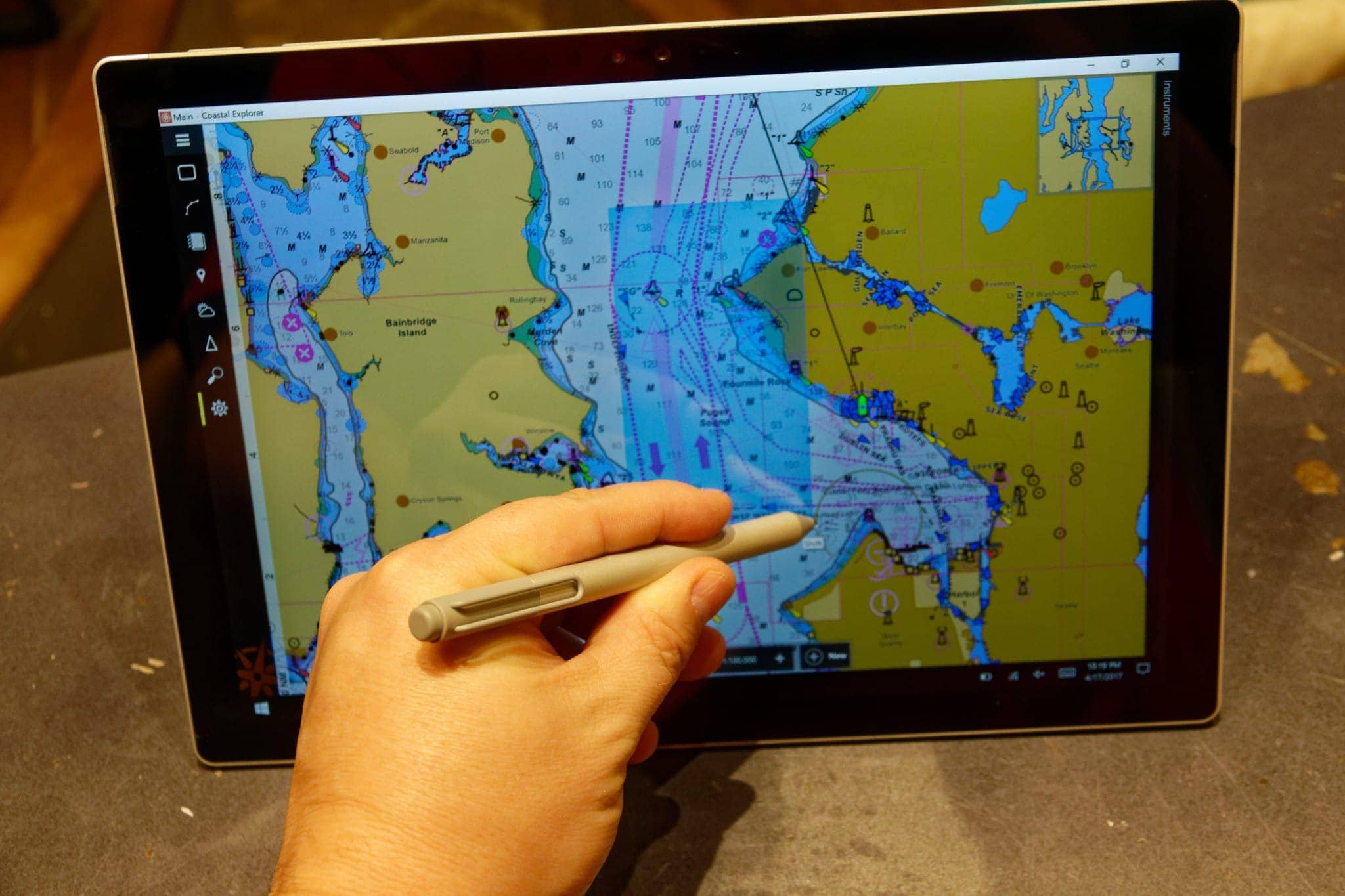 The pen has proven to be somewhat useful so far, although I don't reach for it all the time. You can use it like a more precise mouse than your fingers if you don't have the keyboard attached, or a mouse connected. Above I am selecting an area with it, but you can also click on areas and use the button on the pen to bring up more information.
Ports & Power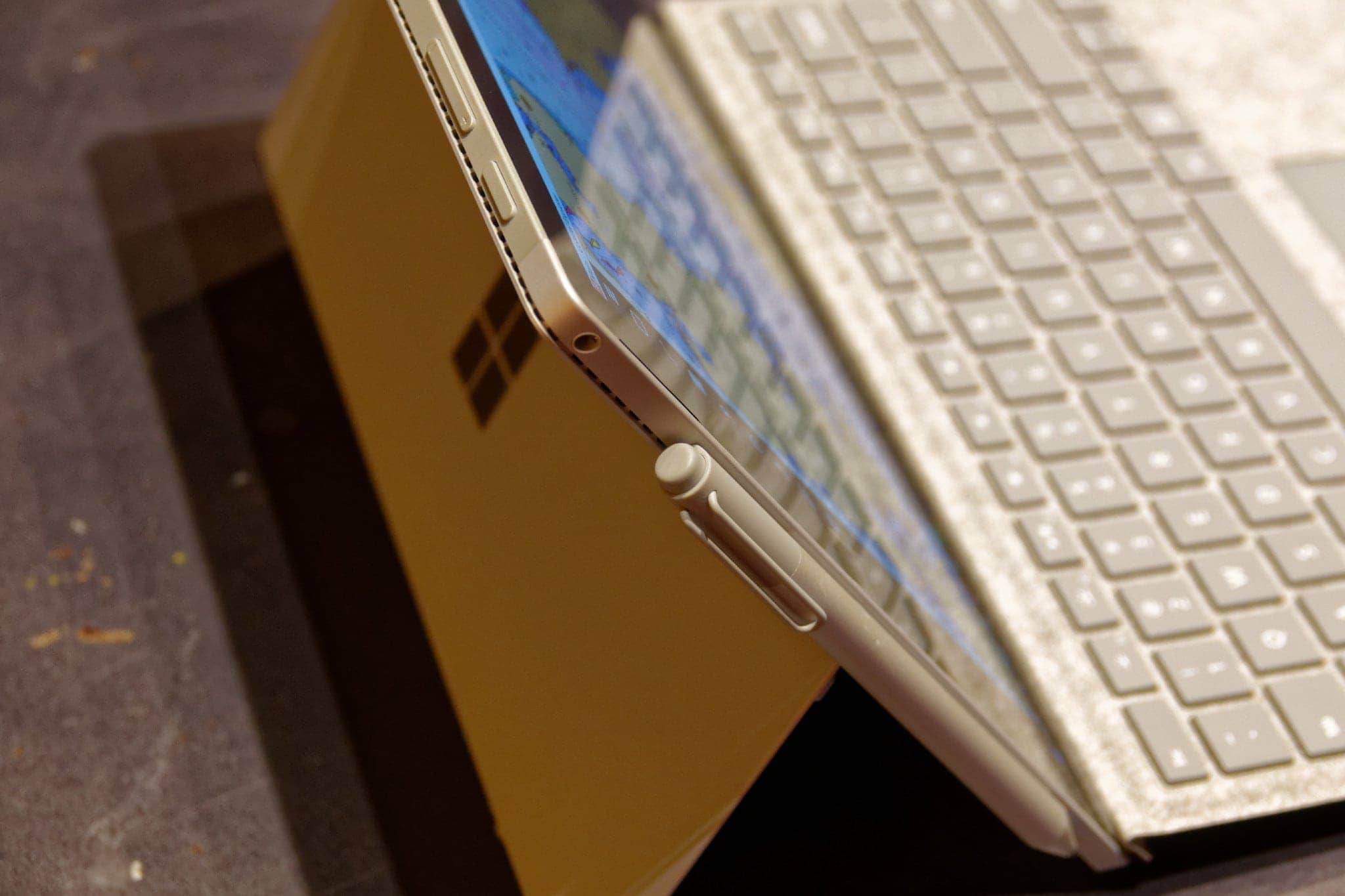 Power, volume, headphones, and pen
One corner of it has the volume rocker, power button, headphone port, and space to magnetically attach the pen. I've lost the pen a bunch already when shoving it in a bag or elsewhere, so be aware of that. If you close the keyboard cover on the screen, it goes to sleep, which is a nice feature – just like a laptop. I have no complaints about the buttons or power access.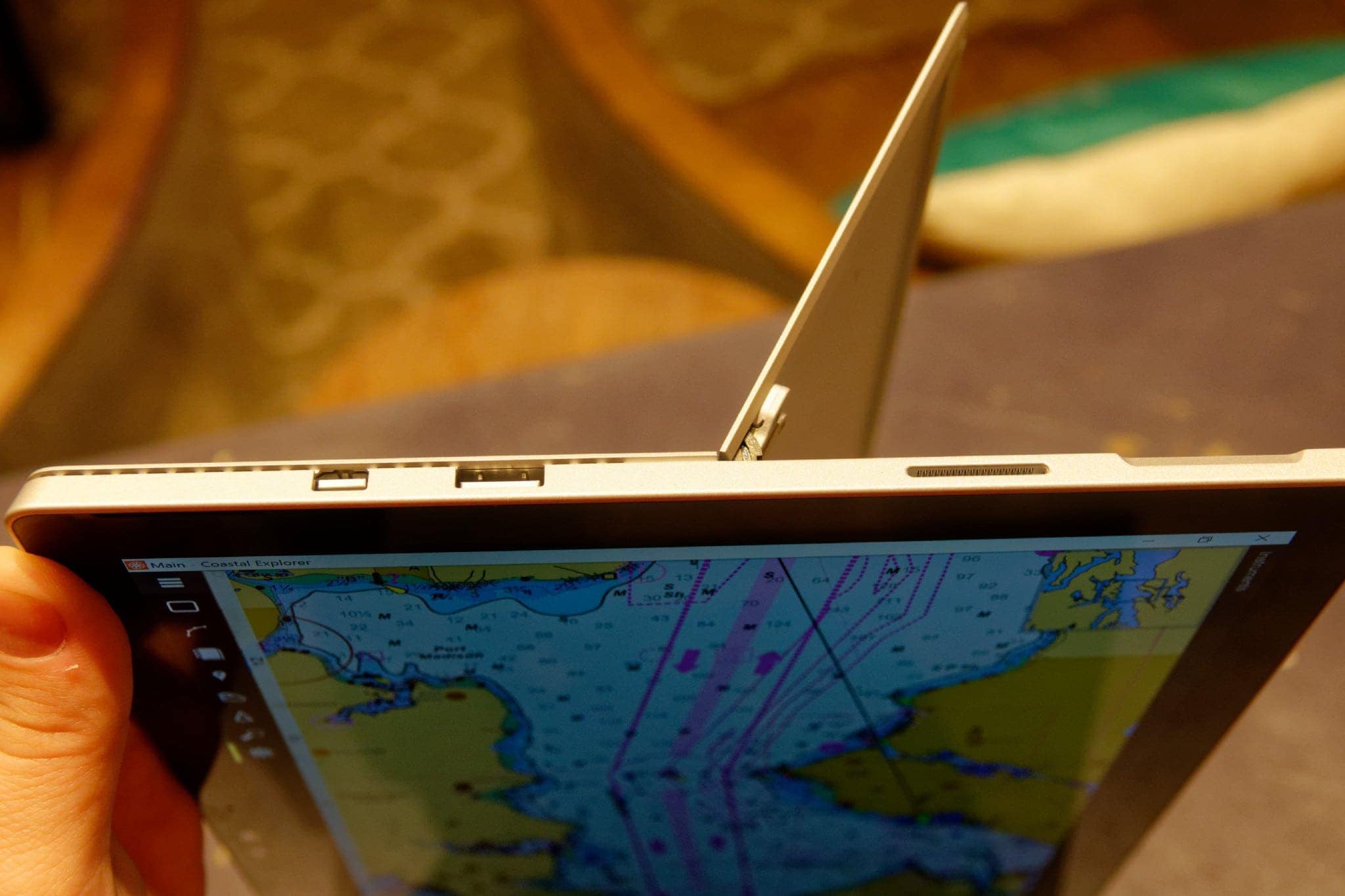 Ports and power
The other side has a single USB port, display port, and power port. This would probably be my only big negative – a single USB port can sometimes be limiting. I purchased the Microsoft Arc Mouse which doesn't require a USB port for a dongle or connector, leaving it free to connect to Maretron or MasterVolt USB interfaces, or other things that need programming.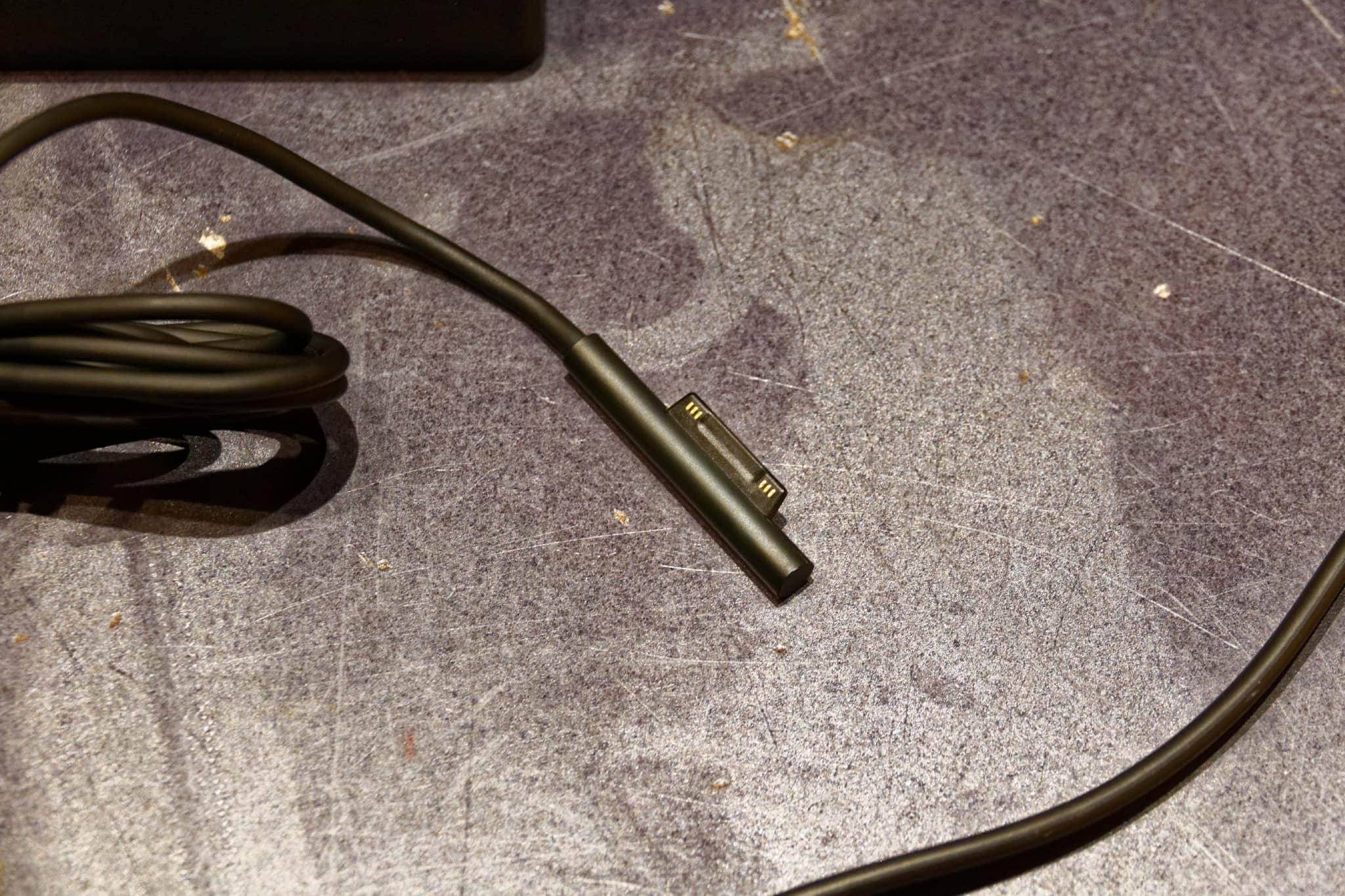 The power connector is a tab-style thing that magnetically sucks itself into the slot from the previous picture. I've never had any issues with it not connecting or coming out too easily. The power supply also has a USB port on it that you can use to charge other devices.
Battery Life
Battery life is really, really good – consider that I'm running a full-fledged copy of Windows 10 with all of the stuff that comes with, and that it is such a small, slim profile and I am impressed at how long I can use it without having to search for the power supply. I routinely see around 5 hours of use before I need to search for the charger, longer if I'm just using it for planning.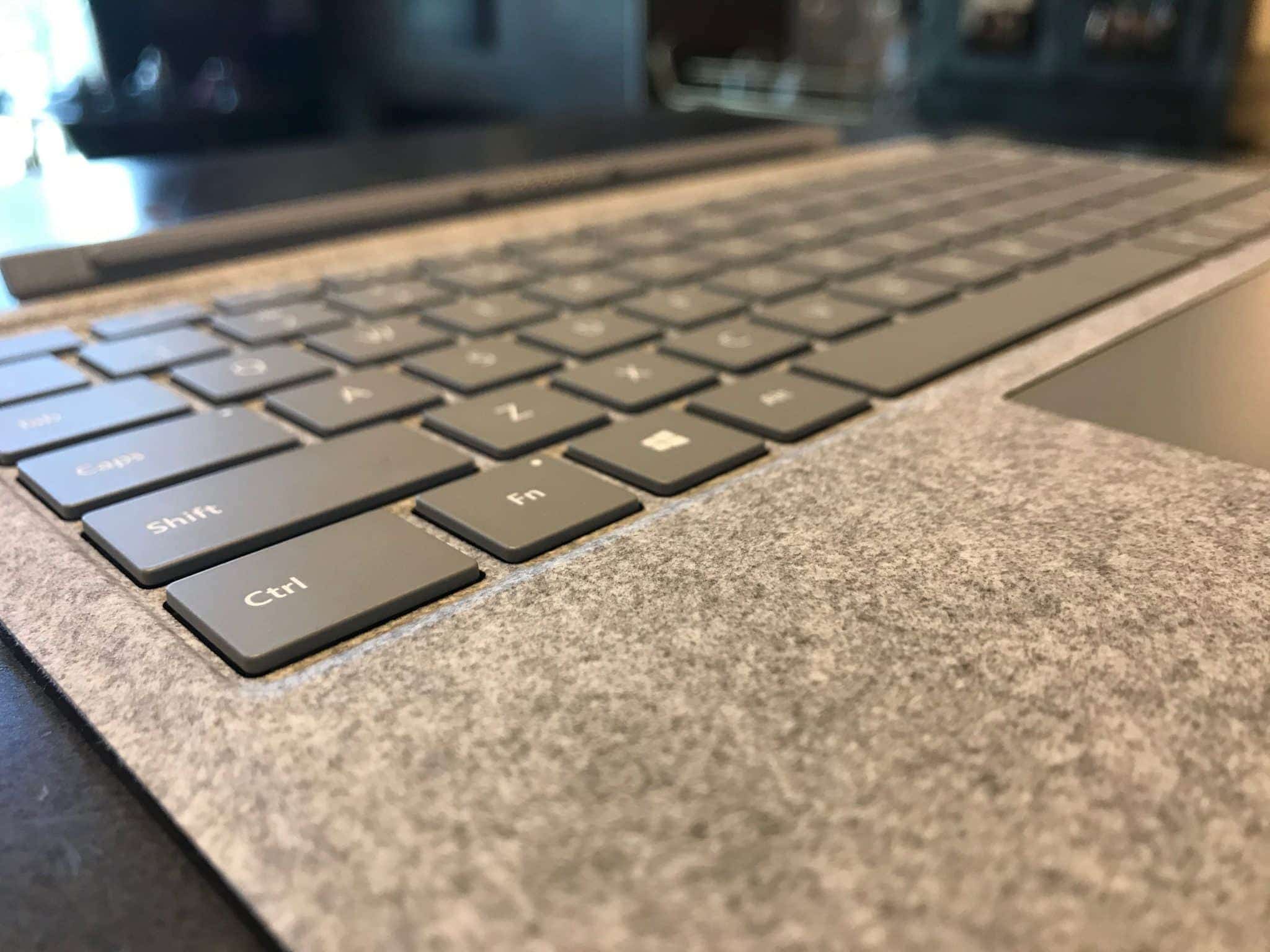 Signature type cover
Keyboard & Mouse
I opted for the Signature Type Cover which has a wonderful furry touch to it, and looks really nice. The Surface doesn't come with a keyboard by default, and you need to choose one if you intend on using it like a laptop. Microsoft does a good job of showing you a ton of different options and colors – and they call it a "type cover" not a full-fledged keyboard, which should be a hint…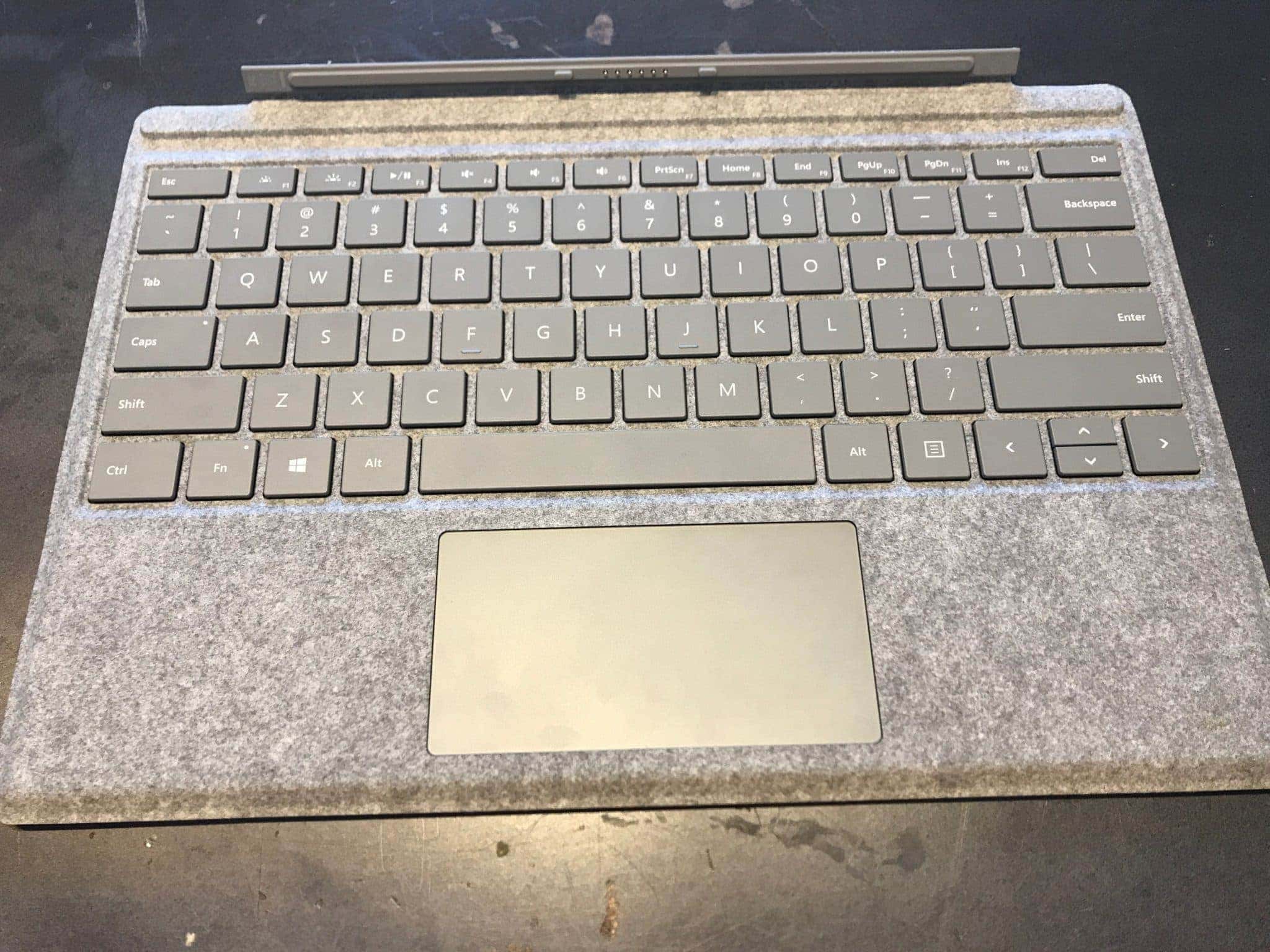 I had the first edition of the Surface a few years ago, and the keyboard was absolutely terrible. Not only did the keys not really have any throw, but the keyboard itself would routinely come unconnected from the tablet, and bad things would happen – drops and gyrations to catch everything as they separated.
The new type cover for the Surface Pro 4 is actually a usable keyboard. It is definitely not a full quality laptop keyboard, but it is pretty darn close. The keys have decent throw, the touch pad is pretty good for mousing around, and it weighs next to nothing.
I've typed for quite a while on it without noticing any pain or other problems, and have never had the disconnection issues from the older Surface line. The mouse is not always great, which is why I added the Arc Bluetooth mouse for more precise actions on charts and such.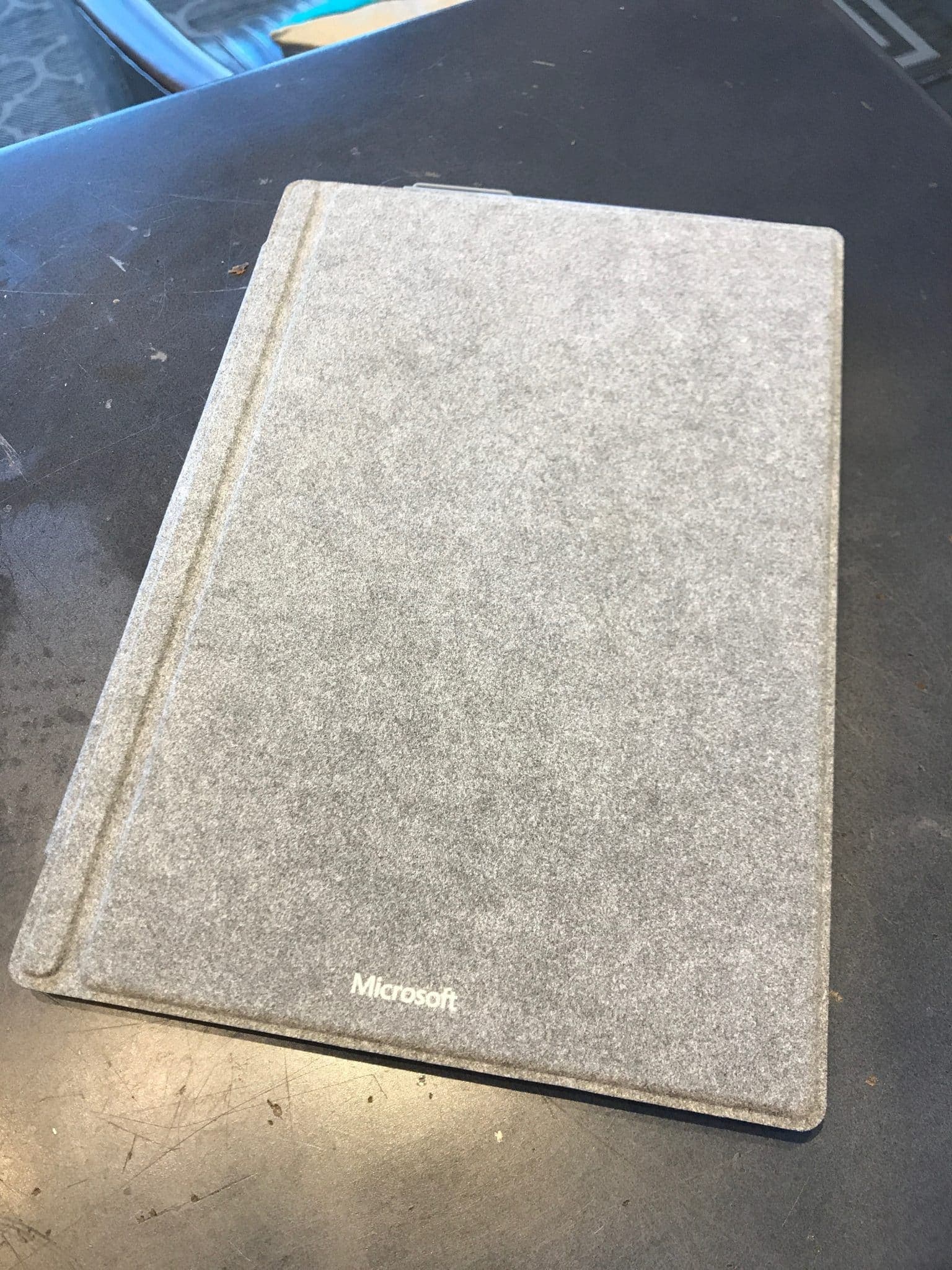 The type cover does a great job of protecting the screen, almost making the whole thing look like a fancy portfolio.
Kickstand vs. Laptop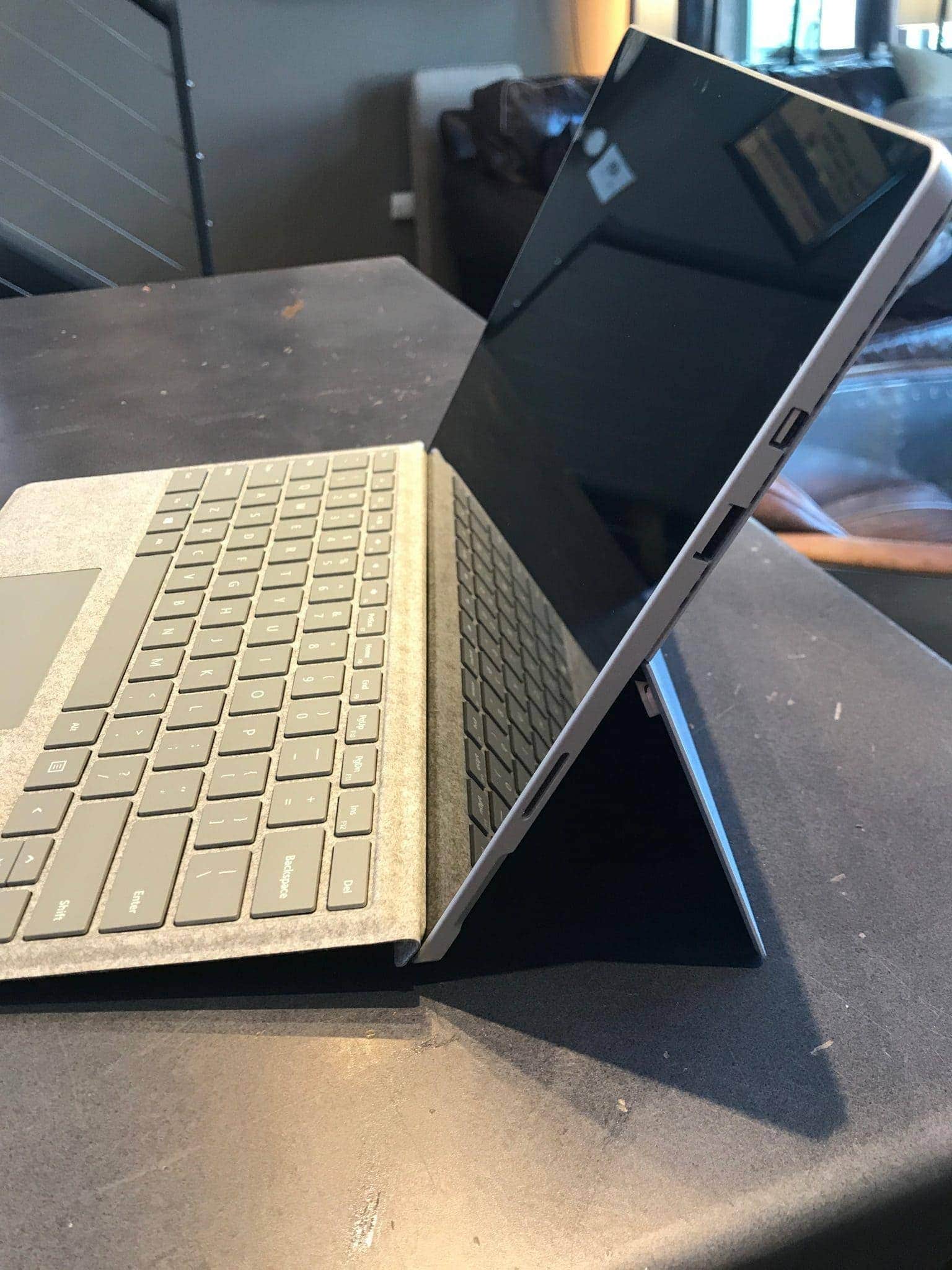 Tablet computers have always had issues being full laptops, and the Surface is no exception. This years' version has a better kickstand, and I have not had any issues with using it on my lap or other strange places. Older versions had issues with the kickstand closing, causing the tablet part to flip away from you, disconnect from the keyboard, and leave you with the cheapest part of the whole package in your hands while your tablet bounced around on the floor. So far I have not had any of those issues, but it is definitely a deeper profile than a laptop would be.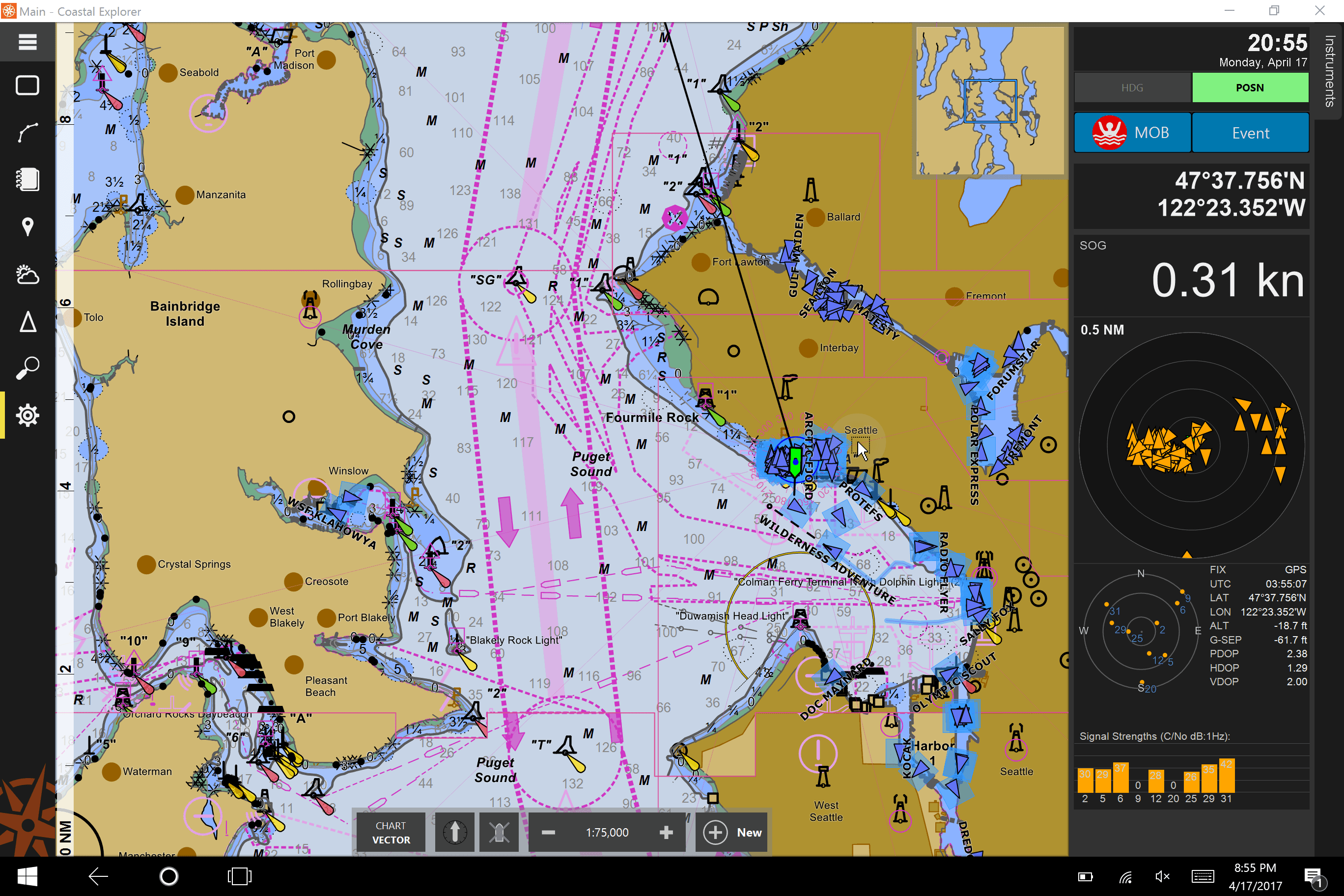 By the way, if you haven't already, you should upgrade to Coastal Explorer 4 – highly worth the upgrade fee ($99) with all of the enhancements and improvements. It also looks amazing on the Surface, and works great with the touch screen.
Conclusions
Pros
Performance – fast i5 processor, lots of storage space on the 256GB SSD, good amount of RAM
Wonderfully bright and clear screen
Touch screen ideal for Coastal Explorer
Usability and portability – small enough to be portable, big enough to be usable
Battery life is great
Cons
Cost – cheaper laptops can be had, but not with these features – still can be spendy
Kickstand – makes it deeper on your lap, can collapse
Keyboard is not a full laptop keyboard
Only one USB port
The Surface Pro 4 is definitely not a budget laptop – at $1200 for all of the bits and pieces, you could go get a nice mid-grade laptop with a bigger screen, etc. But you wouldn't likely have touch screen, a disconnecting keyboard, pen, or as good specs as the 4. Plus, I like the fact that I'm buying my hardware and software from the same company – they are more likely to fix things than 3rd party hardware, and it just seems to work well out of the box without a billion patches and updates. The compact form factor also is very convenient on the boat – big enough to see what needs to be seen screen-wise, but not too big like many budget laptops.
I'm also happy not to be running this on my MacBook in a virtual environment, or using sub-par packages as a workaround. Having Coastal Explorer on what amounts to a large, more powerful iPad is perfect for planning and being underway, and I look forward to lots of future trips enabled by this technology.