---
It's been about 8 months since Kaos joined our family, and a lot of projects and improvements have happened. I've put a lot of hours on the engines, watermaker, and generator, and had the opportunity to experience her in various conditions.
Trips
So far, I've put about 300 hours on the engines, which is actually sort of low for my normal cruising style. I've done a number of trips ranging from weekends, several weeks, and  a 30+ day trip up into Canada to Princess Louisa Inlet and other places.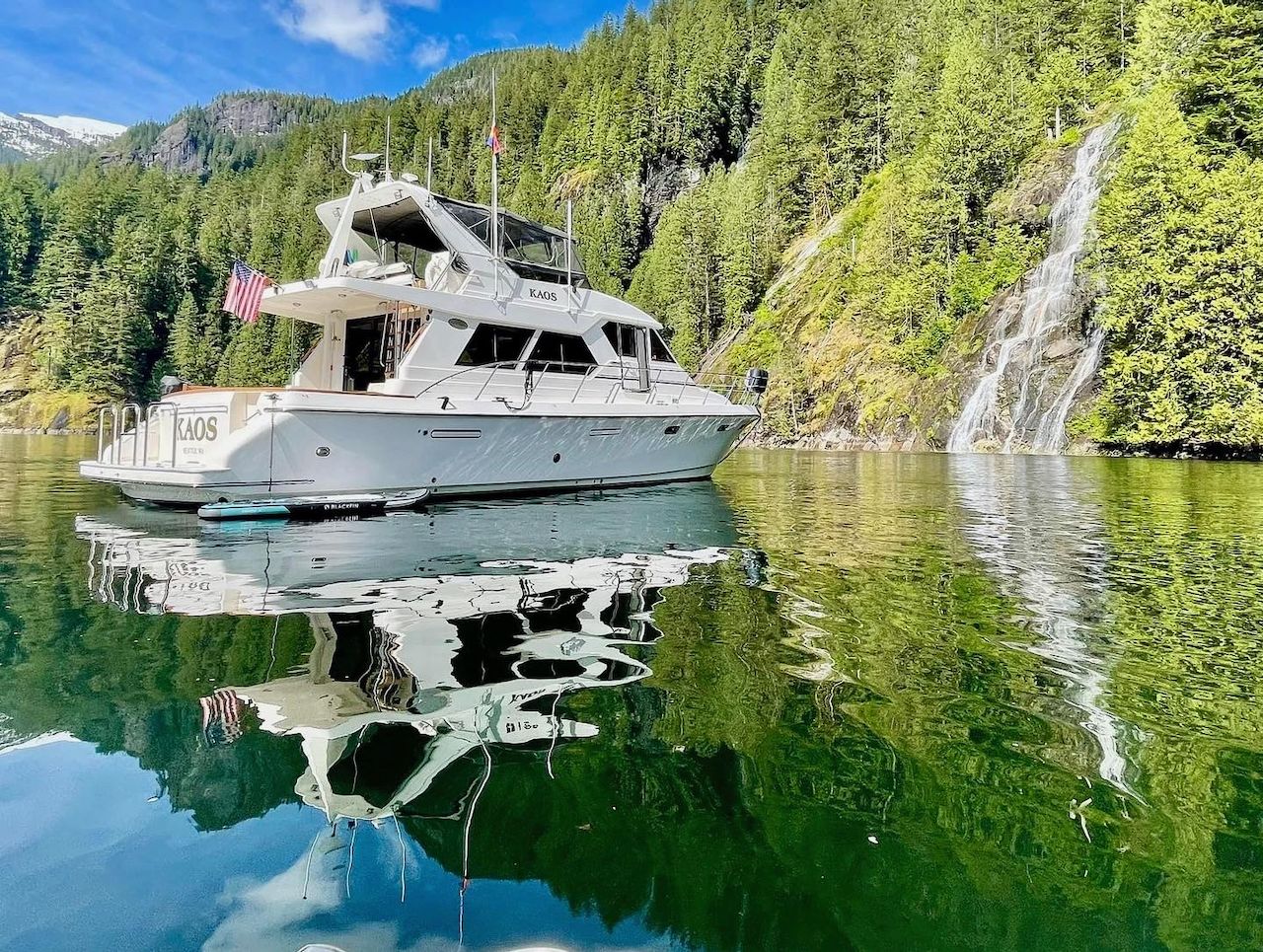 Many of the early trips were shorter due to poor house/inverter battery bank design that I had to live with until my finalized electrical design and install was completed in May 2022. Since then, things have been much more enjoyable and we continue to tweak and optimize things to make our time aboard more comfortable.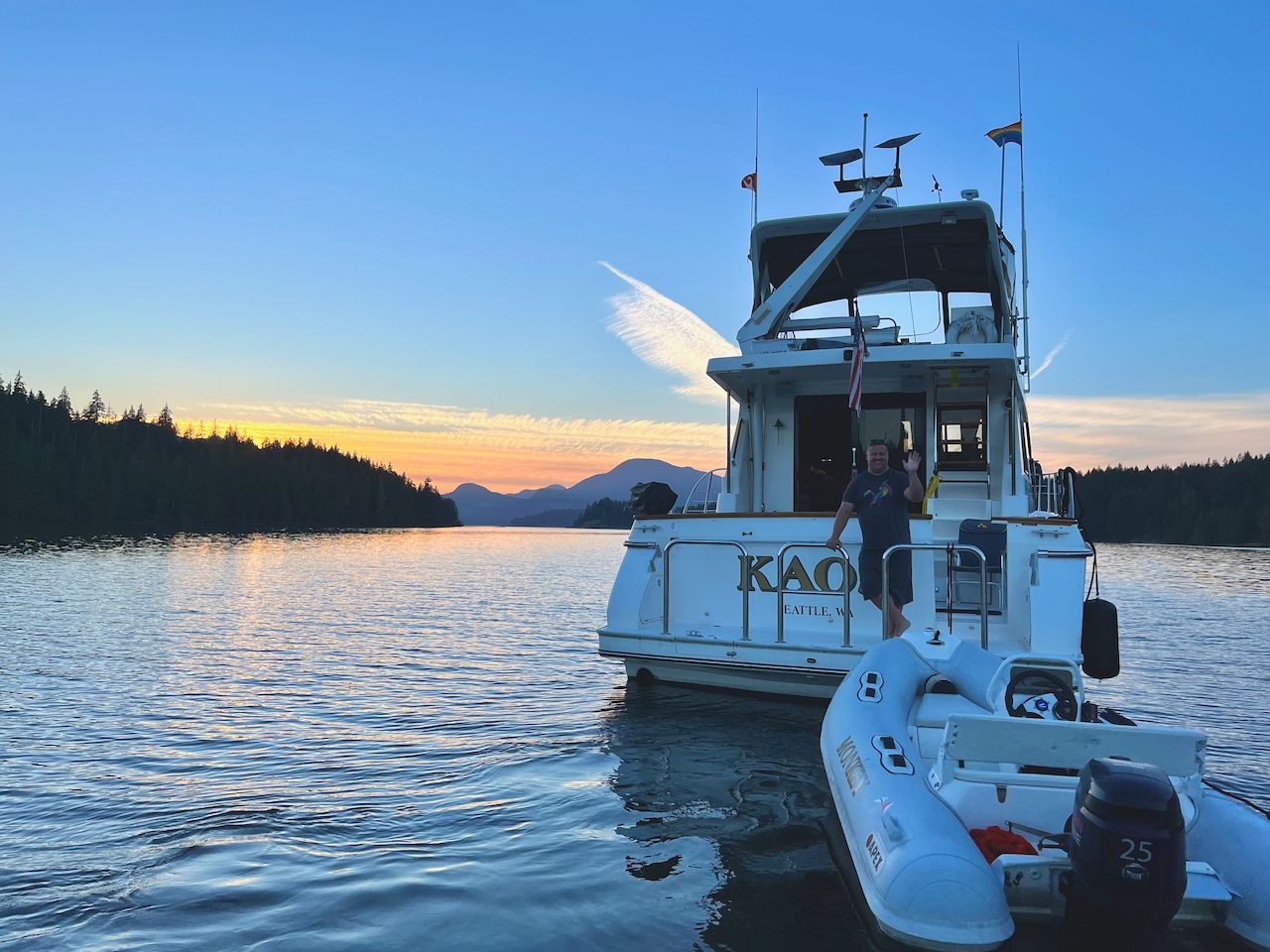 I'm currently up in Desolation Sound and the Discovery Islands enjoying the last warm weeks of summer and working remotely (as usual) and the boat is working very well.
Projects
Where do I begin? There have been so many projects and mini-projects - here are a few of the big ones and why I have been so busy the last 6 months.
3 Week Yard Visit - Kaos needed new shaft seals, and those were done in March. While I was out, I ended up deciding to replace the propellors and move from a 3-blade to 4-blade model. I'm liking the extra speed and less vibration I feel with the new props.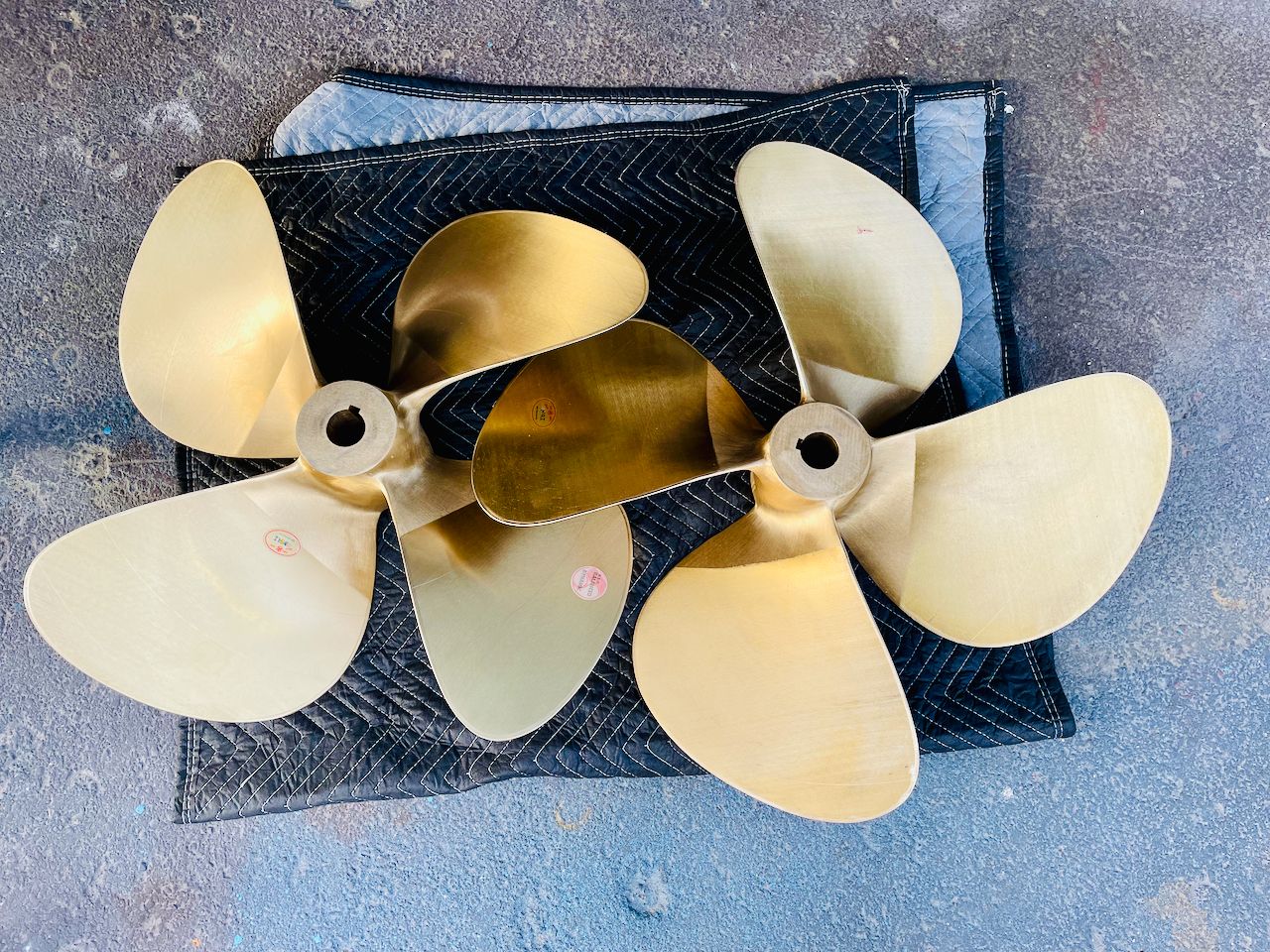 Head upgrade - from VacuFlush to Dometic MasterFlush plus a bidet from BioBidet. We did a similar upgrade on Rendezvous, and it's one of the first things I did on Kaos as well.
Water system upgrade - multiple filters, new pumps, UV sterilization, AC powered pump, and more. This is always high on the list with any new boat. This time around I went for bigger filters, a bigger pump, and a bigger Acuva UV LED unit.
Anchor & rode upgrade - 120 lb Rocna Vulcan + 400' of G4 3/8" chain.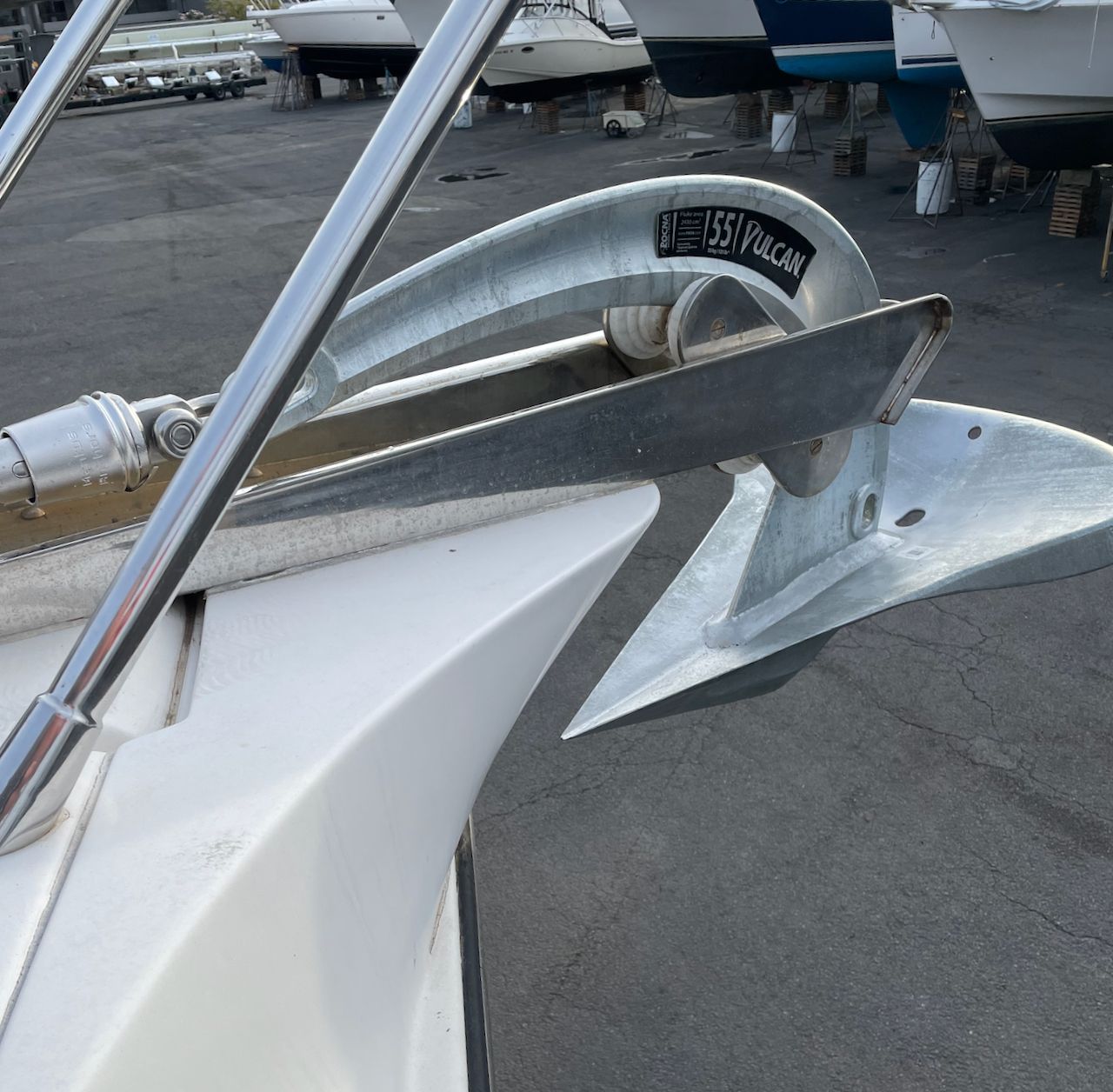 Lighting - this is an ongoing project - so far the interior lights have all been upgraded to LED saving over 40 amps of DC power usage (if they were all on). Outdoor and other smaller accent lights are in process of being updated and replaced right now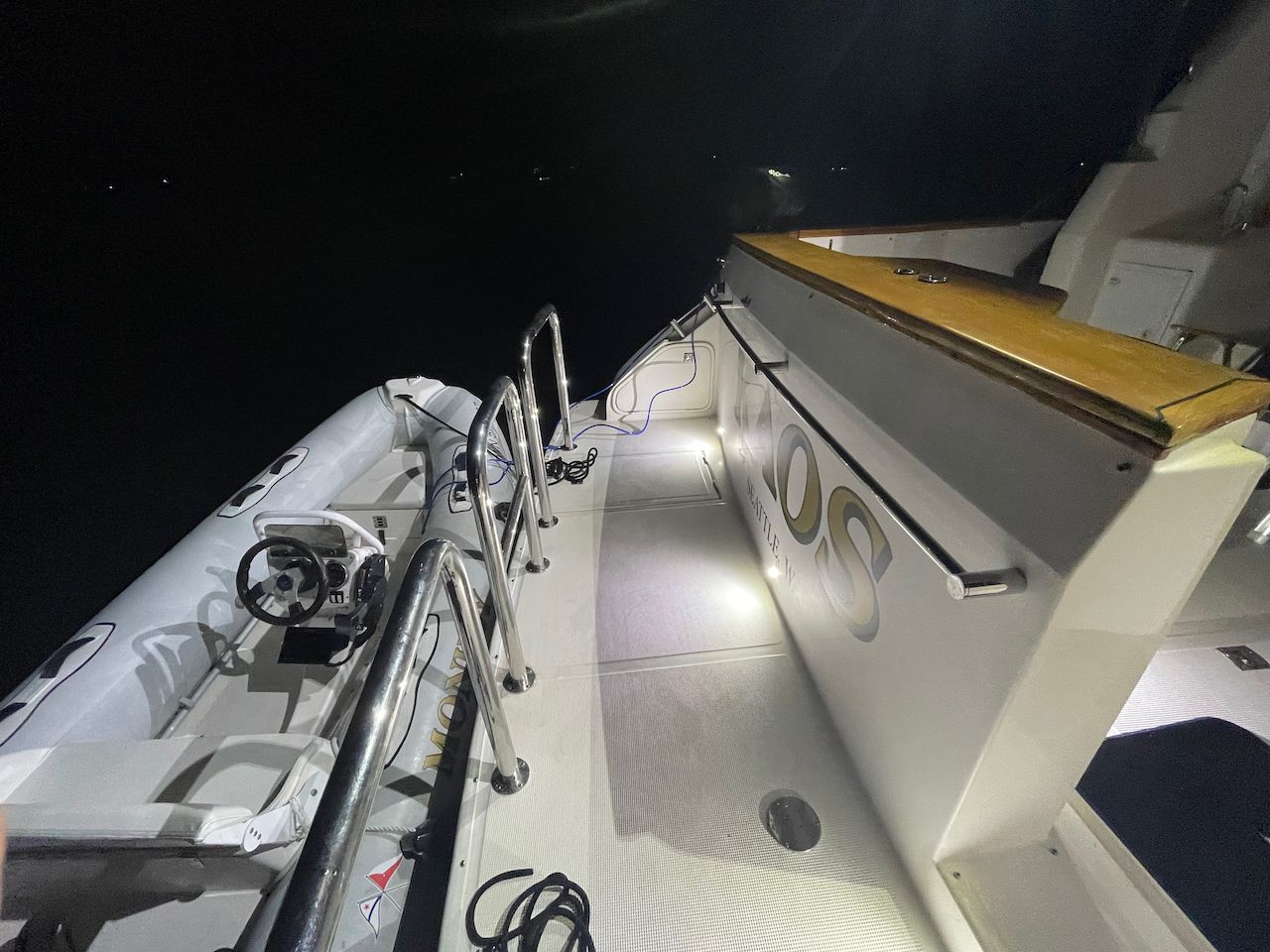 Electrical System - this will be a separate article given the amount of work and details. Moved from an inverter bank + house bank to a single bank of 24 volt LiFePO4 batteries plus dual 5000W inverters, busses, and charging upgrades. Completely changed the usability of the boat, as expected!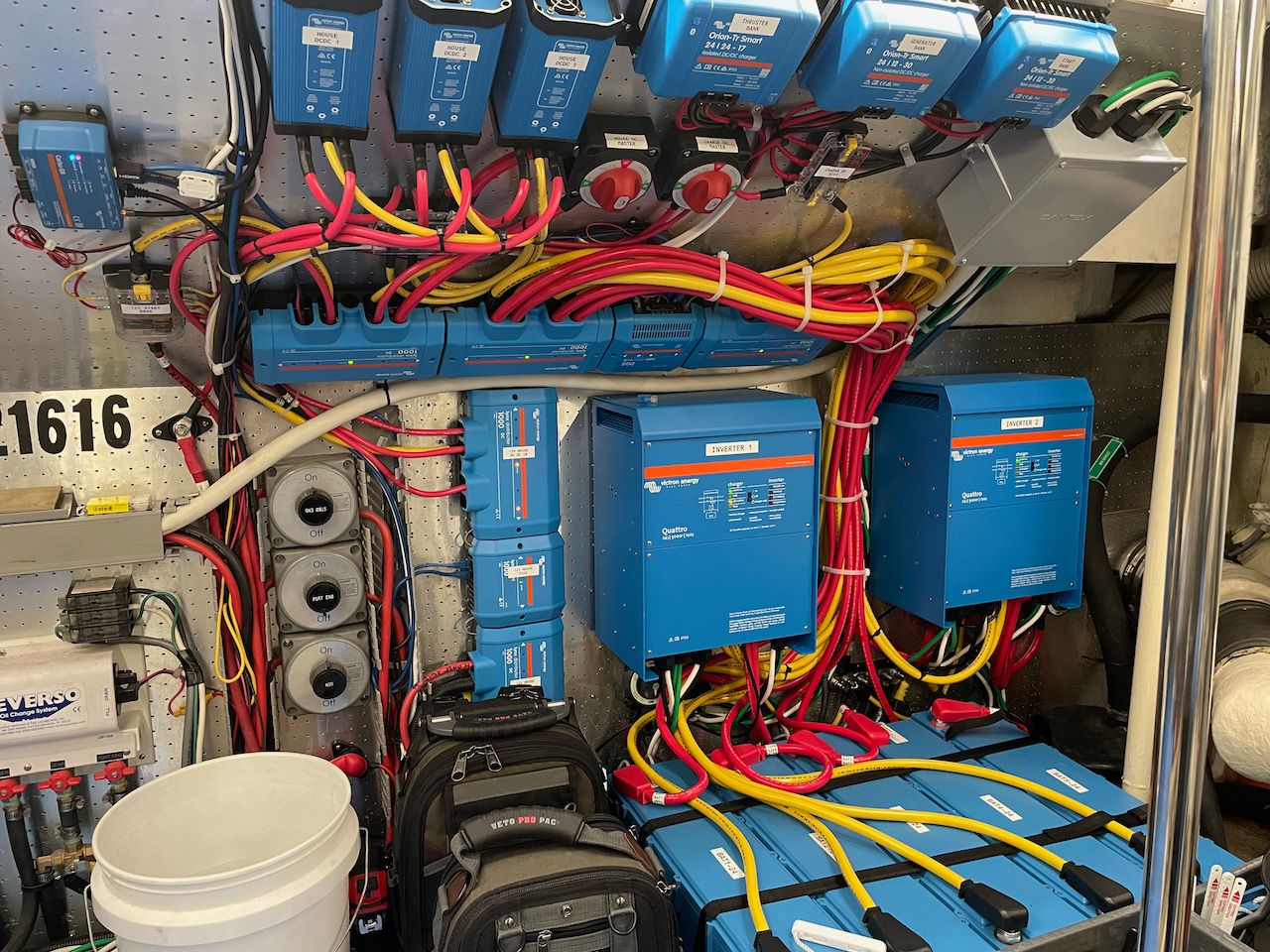 Electronics - this is ongoing, but initially I've added over 25 new sensors, new radar, satellite compass, TimeZero Professional, Maretron N2Kview, Grafana/Influx/Signal K, two new touch screens in the pilot house, and many other things. More details on this in a future article.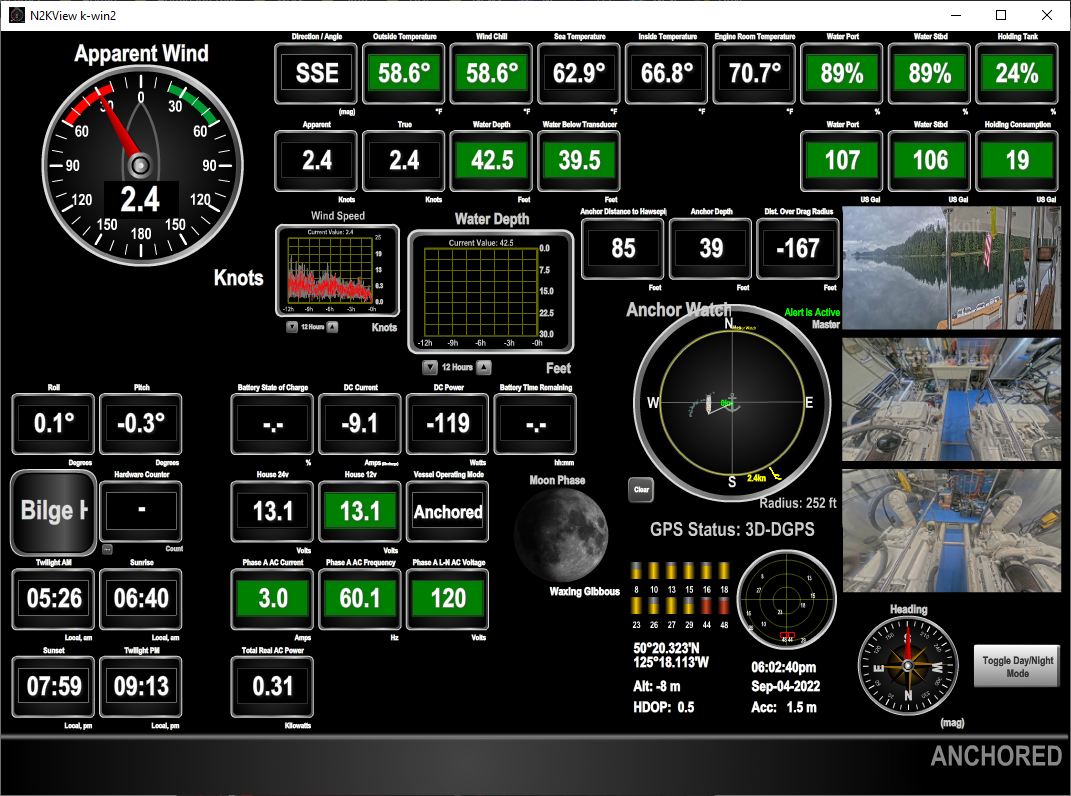 Cameras - I added two AXIS dome cameras - one in the cockpit to help with docking, and one in the engine room for monitoring. The cameras produce a single spherical image that can be viewed many different ways depending on how you want to see the image. This makes it great for different uses - I use the panorama view on the cockpit camera while underway to see who is behind me, and the focused view for the edge of the boat while docking.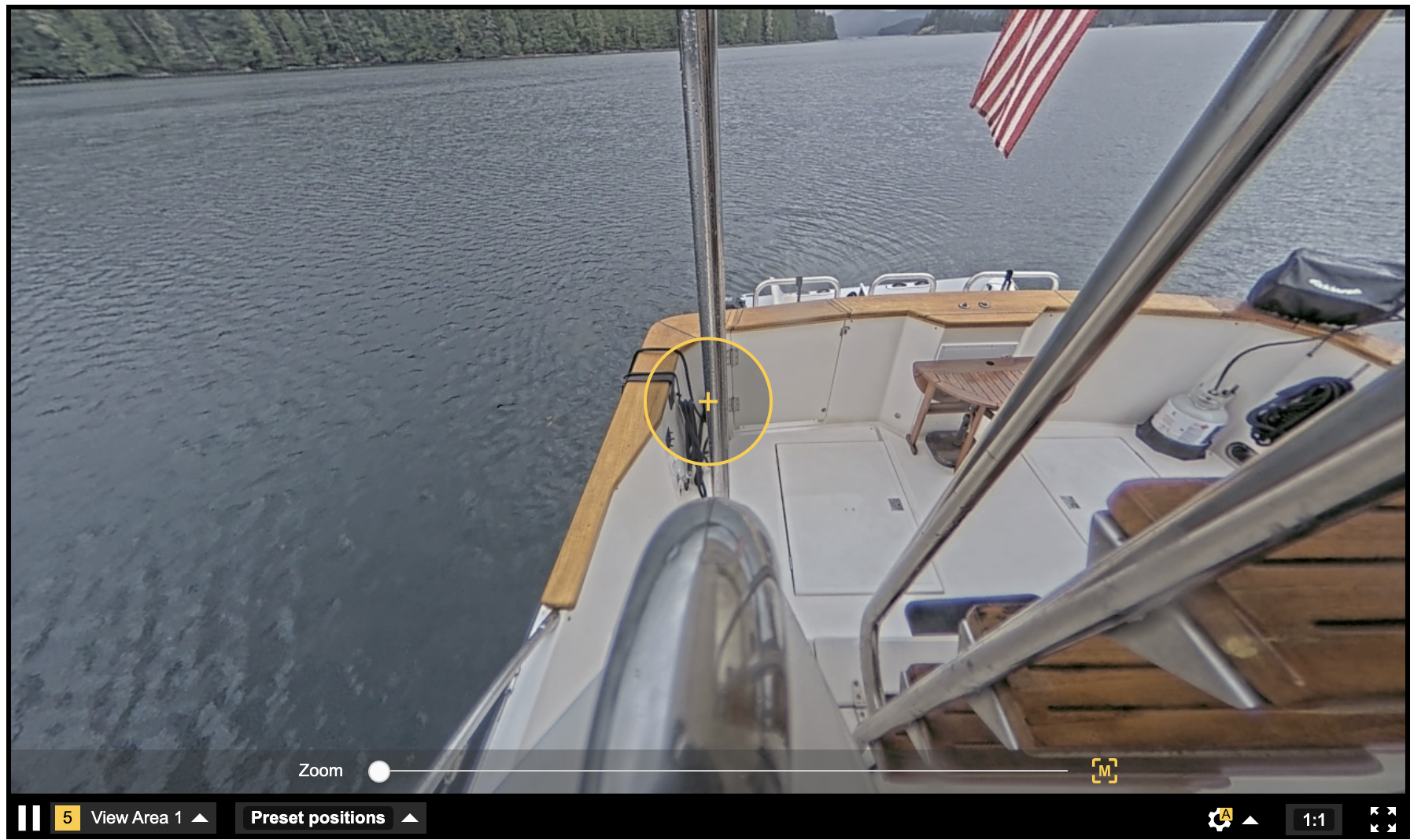 Internet - tons of work here (you can see version 1 of the system at Kaos initial internet setup) including a new main central router, dual Starlinks, access points, antennas, and more.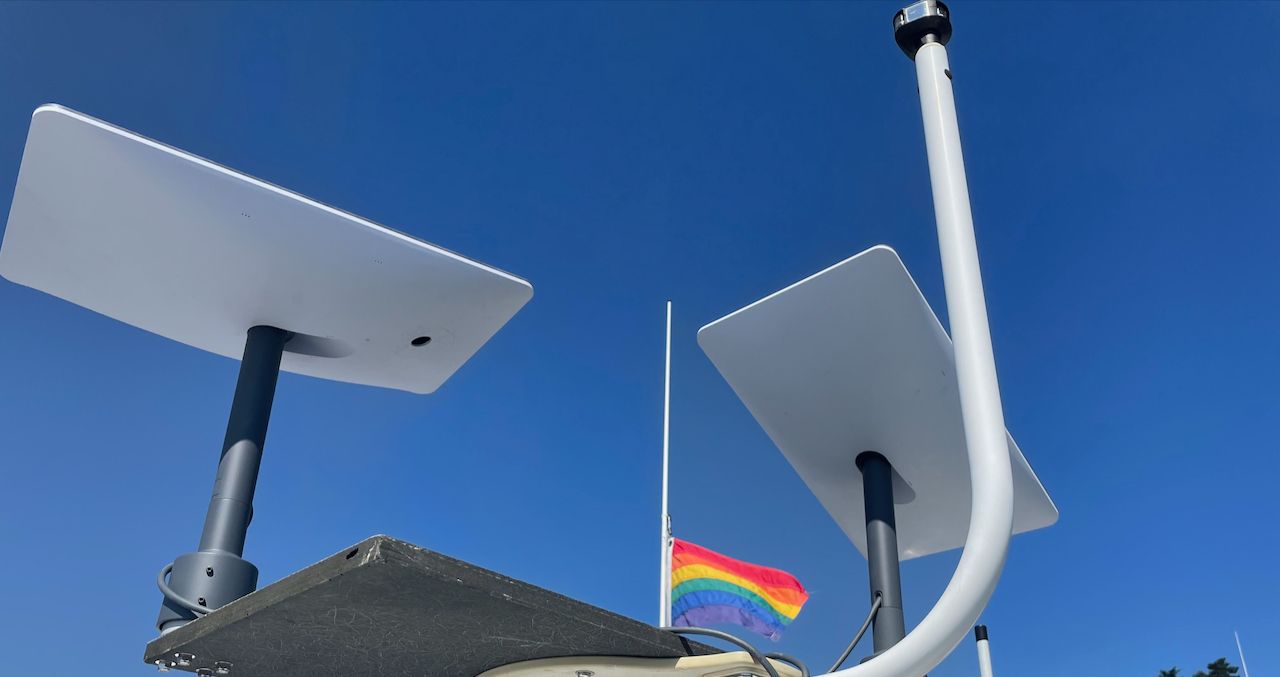 Sound system - being a musician, it was important early on to get a good sound system setup aboard. After a lot of thought and research, I decided to go with Polk Audio speakers everywhere paired with 4x Sonos Amps. The boat was already wired centrally, but all of the speakers were blown or in poor condition. Most of the time was spent finding speakers that matched the existing holes or mounts. There is still a bit of tuning to do with the system, but I am very pleased with the overall result.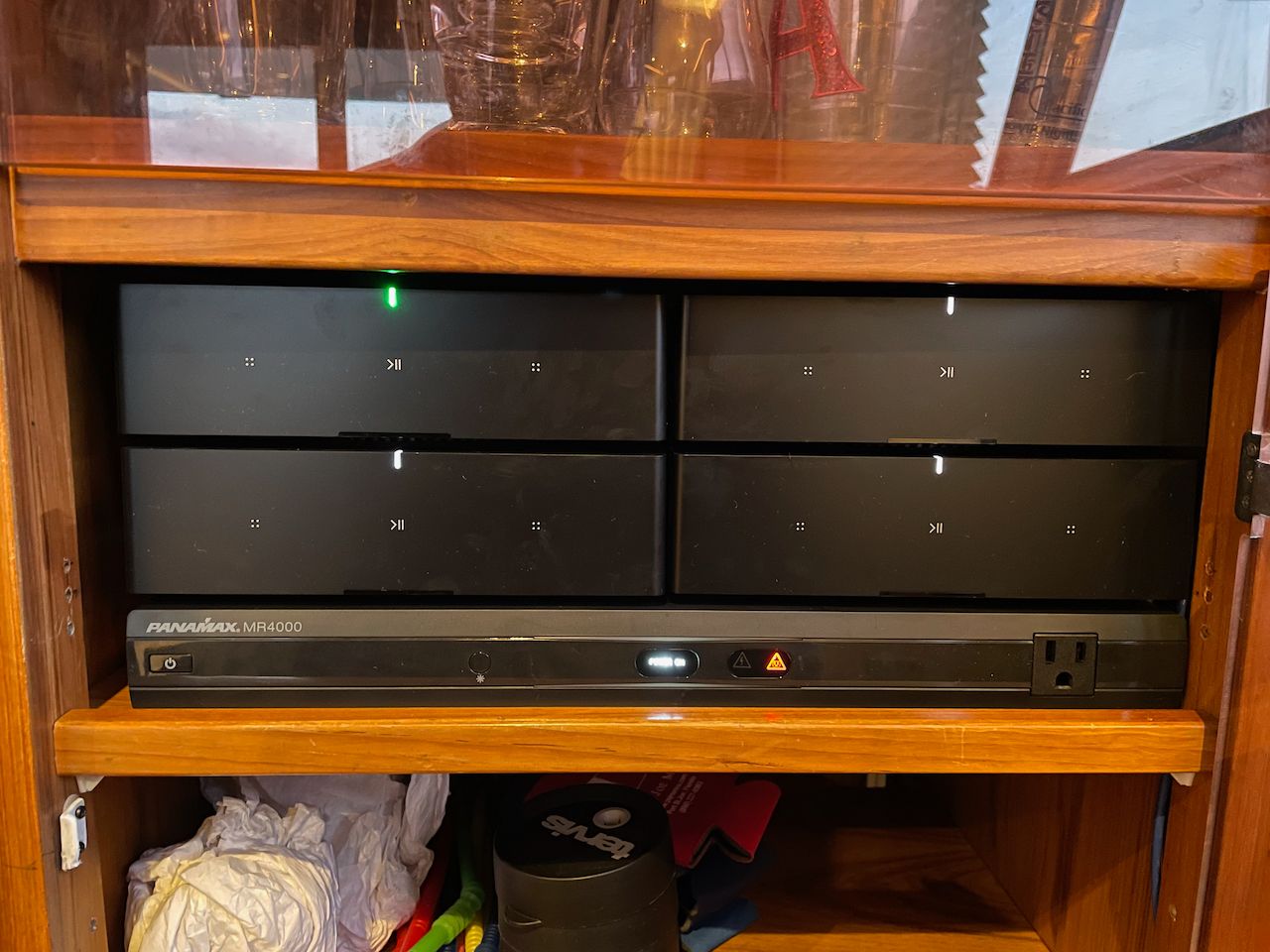 Interior - Josh has done a fantastic job of finding new things to make the interior more comfortable and modernize it a bit. New pillows, bedding, blankets, and lots of creature comfort upgrades in the heads.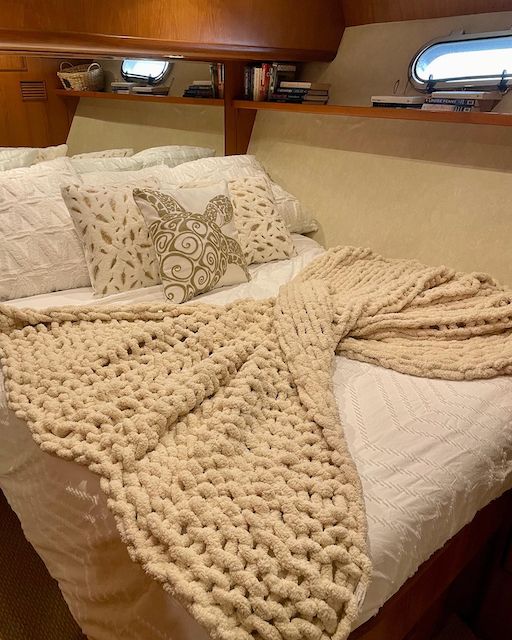 Air Conditioning in Pilothouse - replaced the aging AC unit in the pilothouse with a newer system + EasyStart.
There were tons of other smaller things like a new BBQ, stern cleats for the dinghy, fixes for various things that were broken, new washdown setup, and the many other things you find when you buy a new boat.
Future Projects
There are a lot of projects on the list for the future - here are a few of the big ones
Convert windlass to 24v - the current windlass is 12 volts and works fine, but it can cause voltage sags on the main house supply, even with the Victron DC-DC systems I'm using with the new electrical system. I moved the bow thruster battery bank from the engine room to the hallway outside the master berth and it is 24 volt already, so switching should be easy.
Interior construction - we'd like to remove the settee/couch entirely and swap it to the other side of the salon. However, instead of a built-in system like most boats have of this era, we'd like something a bit more modern and couch-like so it's more comfortable to lay on.  To do that requires removing the TV nook thing, ripping out the old couch, moving some heating vents around, and more.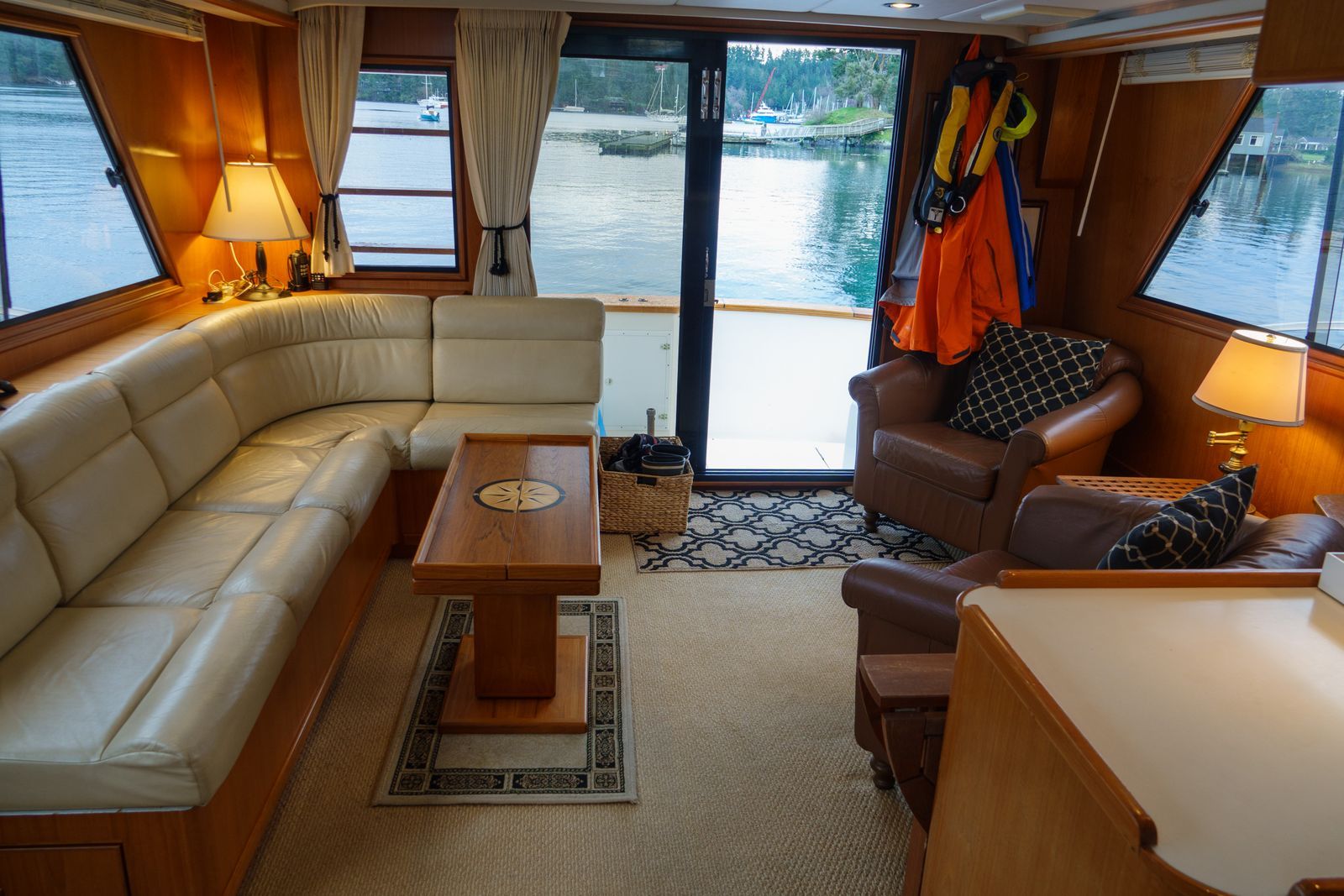 In addition, we want to rip out the carpet in the salon and replace it with some sort of engineered wood floor. I've seen this done on a number of boats with various products and it looks very good.
Once we're done with that, we'd build/buy a storage system along with TV lift on the side of the boat where the couch used to be, adding a lot more sensible storage and using the space better overall. In addition to all of this, we want to replace the counter tops in the galley and both heads.
Oven / dishwasher - one downside to Kaos is the lack of a built-in oven. We have a very large convection microwave, but it doesn't crisp up the bottoms of things as well. There is a portable Breville oven that we also had on Rendezvous and works extremely well, but it sits up on the storage area in the pilot house and has to be used from that side. There is space where I took out the trash compactor if we also removed a small sliding drawer for both an oven and dishwasher, and I am leaning towards this as a solution. However, we currently have trash/recycle there as well as our alcohol stores, so we'd need to likely finish the project above before we do this one...
Engine Instruments - similar to the Actisense EMU-1 I used on Rendezvous, I'd like to digitize all of the instruments on Kaos. I'm leaning towards the Chetco SeaGauge unit since I have a lot more gauge types and inputs than a single Actisense can handle. This is quickly becoming a priority as some of the gauges are becoming less reliable.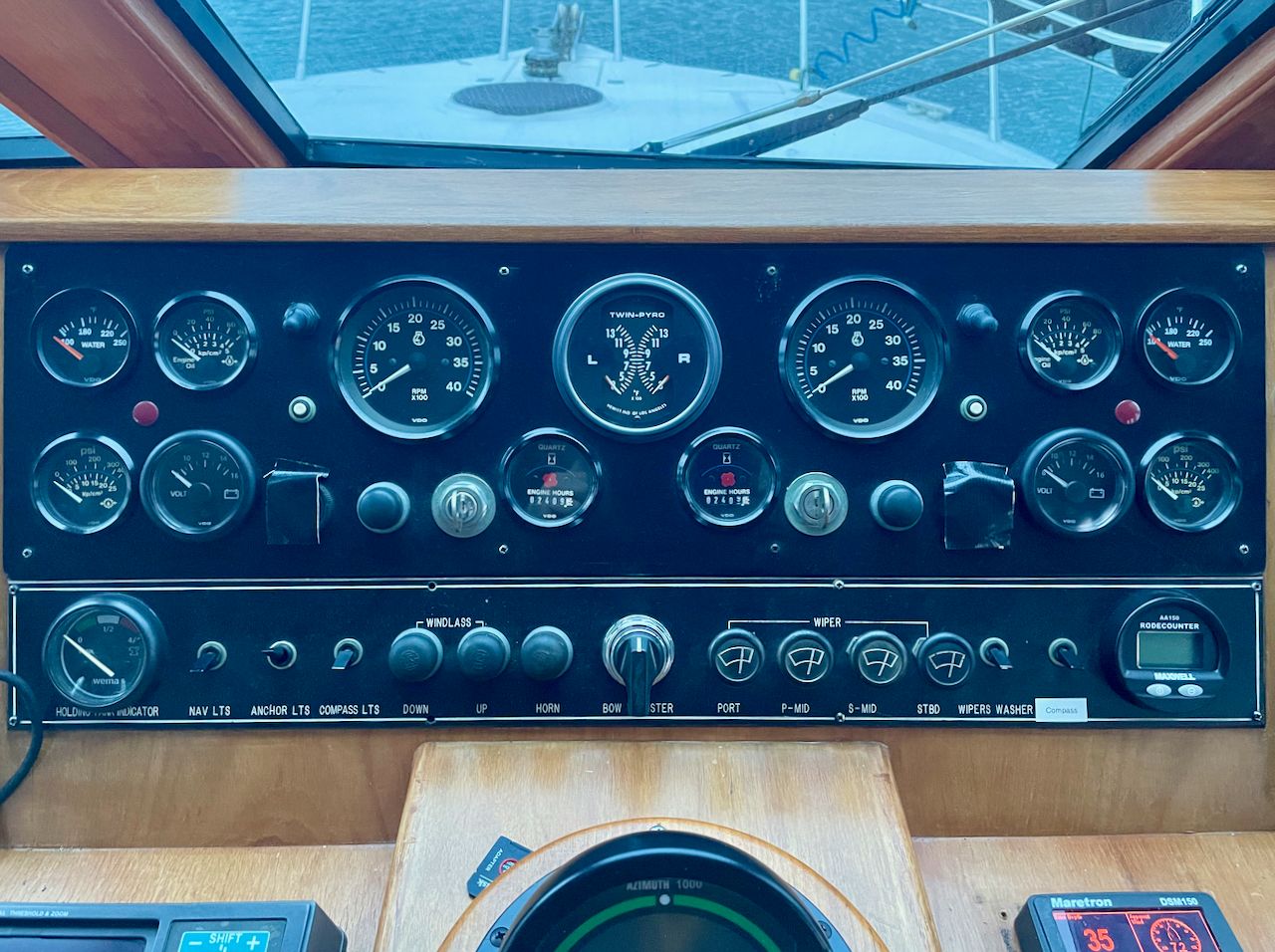 There are a whole list of additional projects that aren't even in the scoping stage yet - but that's part of why I love living on a boat - being able to work on projects that improve how you live every day.
Good Things
Mechanically Kaos has been near perfect. It was one of the things I was very attracted to with the boat when I first saw her, and the survey proved that out. After 8 months of daily usage, I am very pleased with the performance of the engines, generator, water maker, and all of the other major systems (minus the repaired diesel heater) without any huge issues.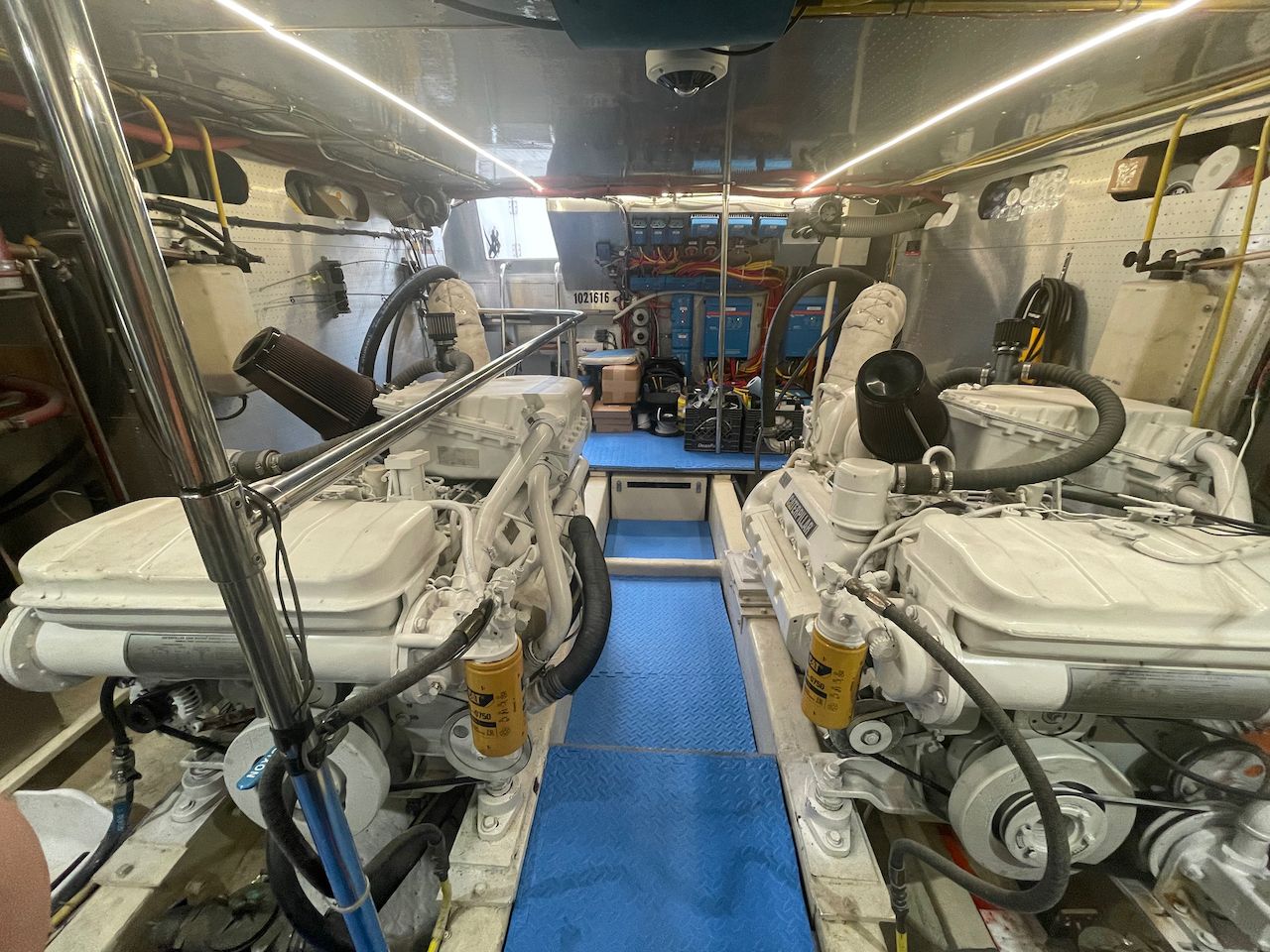 The space is generous everywhere and has been wonderful to be able to use. We've had plenty of folks aboard and been able to do a lot of entertaining without the challenges of previous boats. Having clear views from all of the upper areas outside makes it enjoyable as well even if you are in the galley cooking.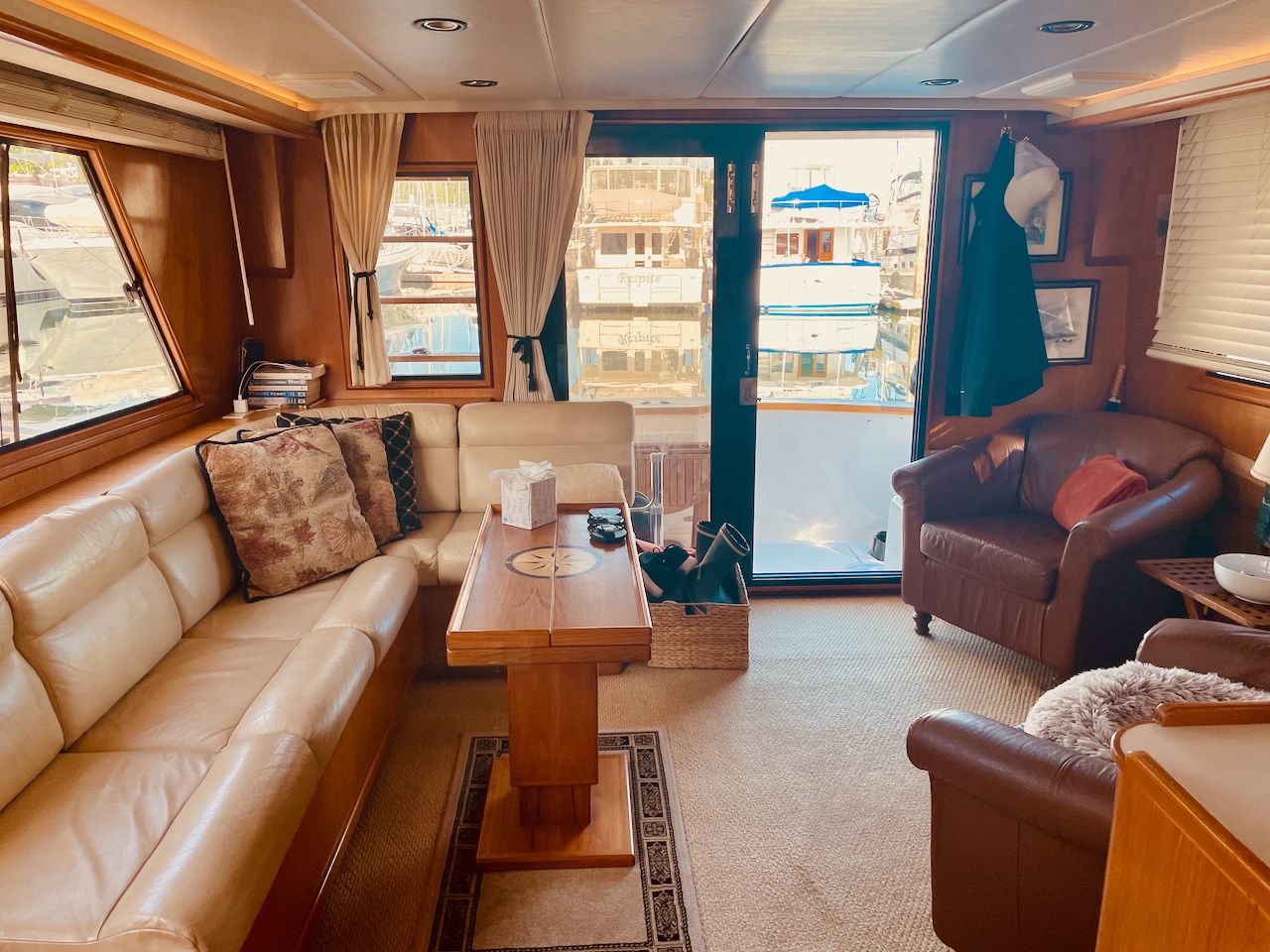 Challenging Things
Kaos developed a list after I removed a ton of older batteries during the electrical upgrade. This resulted in things like the fridge door not closing correctly, and my bathroom door hitting me in the head randomly because of my poor balance. After a lot of messing around, I ended up getting some ballast bags and seem to have resolved it, but it is something I will need to keep an eye on.
Many smaller repairs or maintenance on non-mechanical systems have needed some attention. A great example is the forward hatch in the owners stateroom. The plexiglas portion of the hatch appears to have come out at some point, and the repair was done with some sort of sealant that didn't bond, and wasn't used all the way around the hatch. As a result, during a rainstorm in Canada, we saw a small leak, and I ended up doing an emergency repair.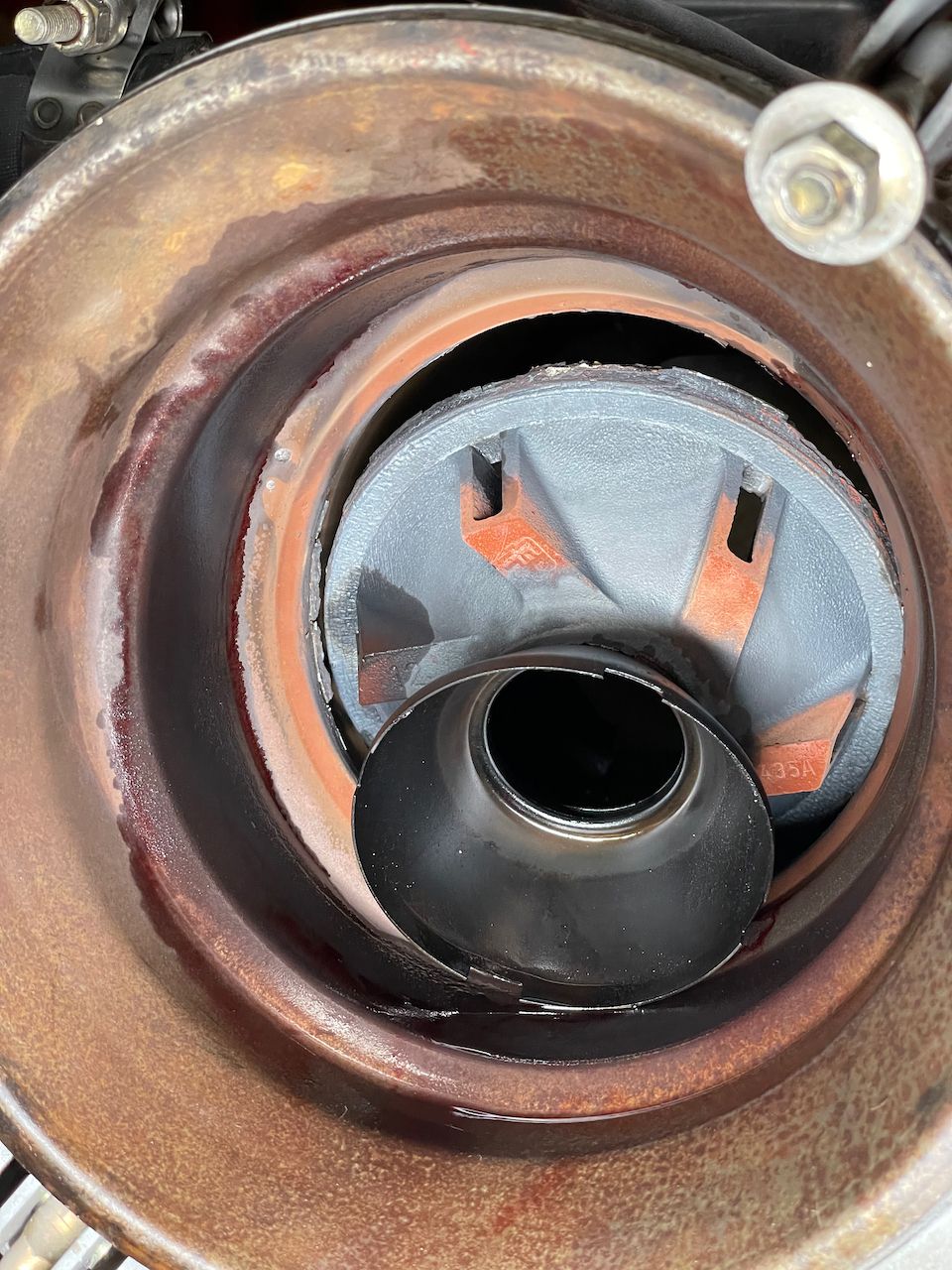 The diesel heater was also a big pain point early on in the year with multiple failures and issues. Sure Marine had it on their bench at one point during some very cold temperatures, and I had to rely on the reverse cycle system for heating in February. Finally, after replacing a few different pieces, and a failed inner portion of the burn chamber, the system was back up and running.
Many other repairs or fixes to things fall in a similar vein and many have had to be addressed. Velcro strips used as water gathering devices in windowsills (which are now moldy), wood sticks used to keep stainless support bars apart in the flybridge, and a few other similar things.
Underway
Kaos is extremely stable underway due to the extra weight and placement of things as well as the stabilizer system. That is a great improvement given how sensitive I am to wave action and how quickly I get seasick.
She likes to run at about 9.5-10 knots at about 1500 RPM on both engines. This results in about 0.8 gallons per mile or about 8 gallons per hour at that speed, which is pretty good considering you're shoving 65,000 pounds of home around through the water.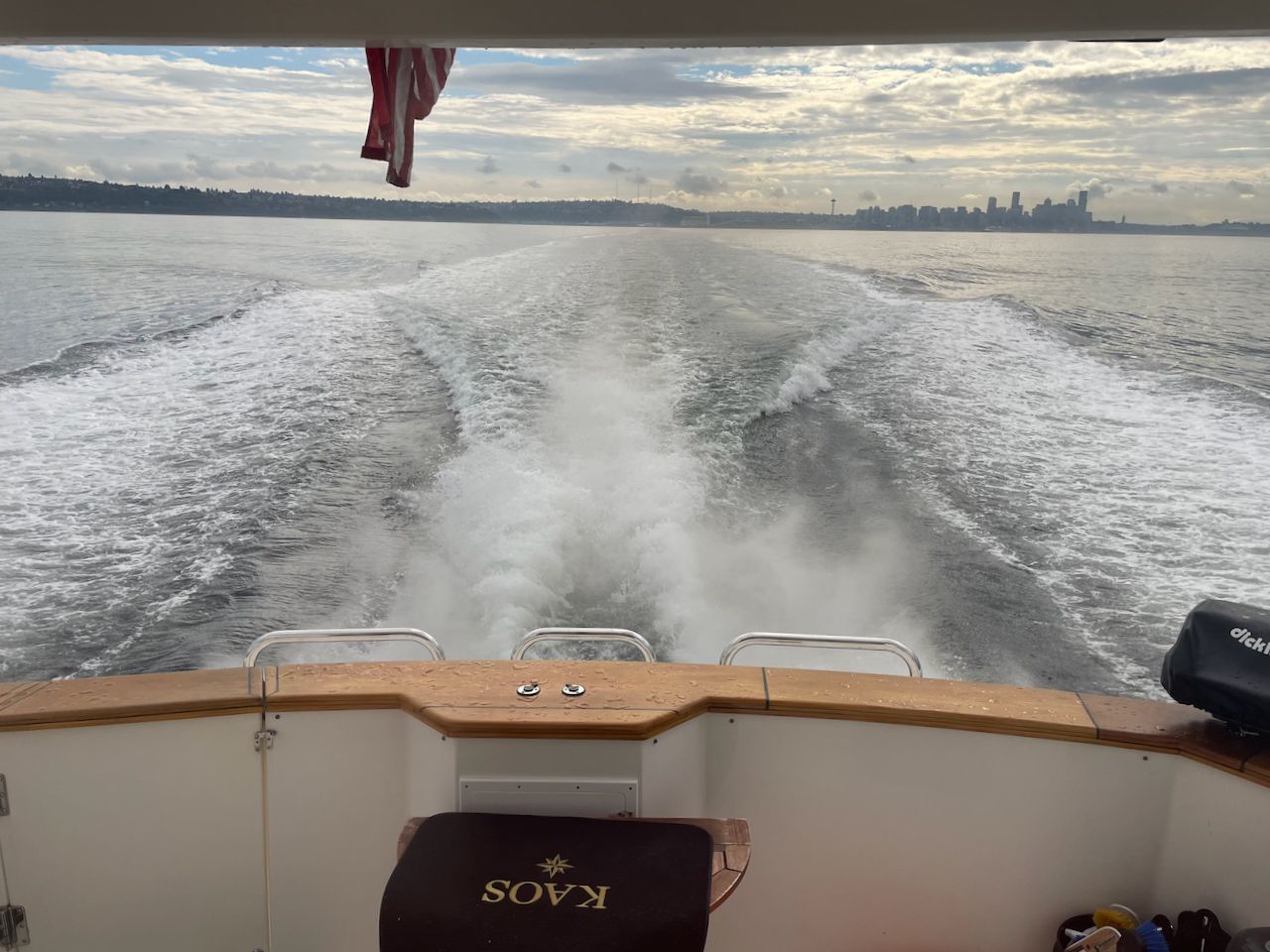 Around 2300 RPM we do between 17-18 knots and the boat really firms up. Her hull is built to be at this speed most of the time, and it shows. It almost feels like she is planing or at least partially planing, and the wake gets a lot smaller and less terrifying. I haven't worked out the fuel burn at this rate, but I know it isn't going to be as optimal as trawler speeds.
At Anchor
I'm even more pleased with Kaos at anchor, mainly for how comfortable I am even with waves and weather.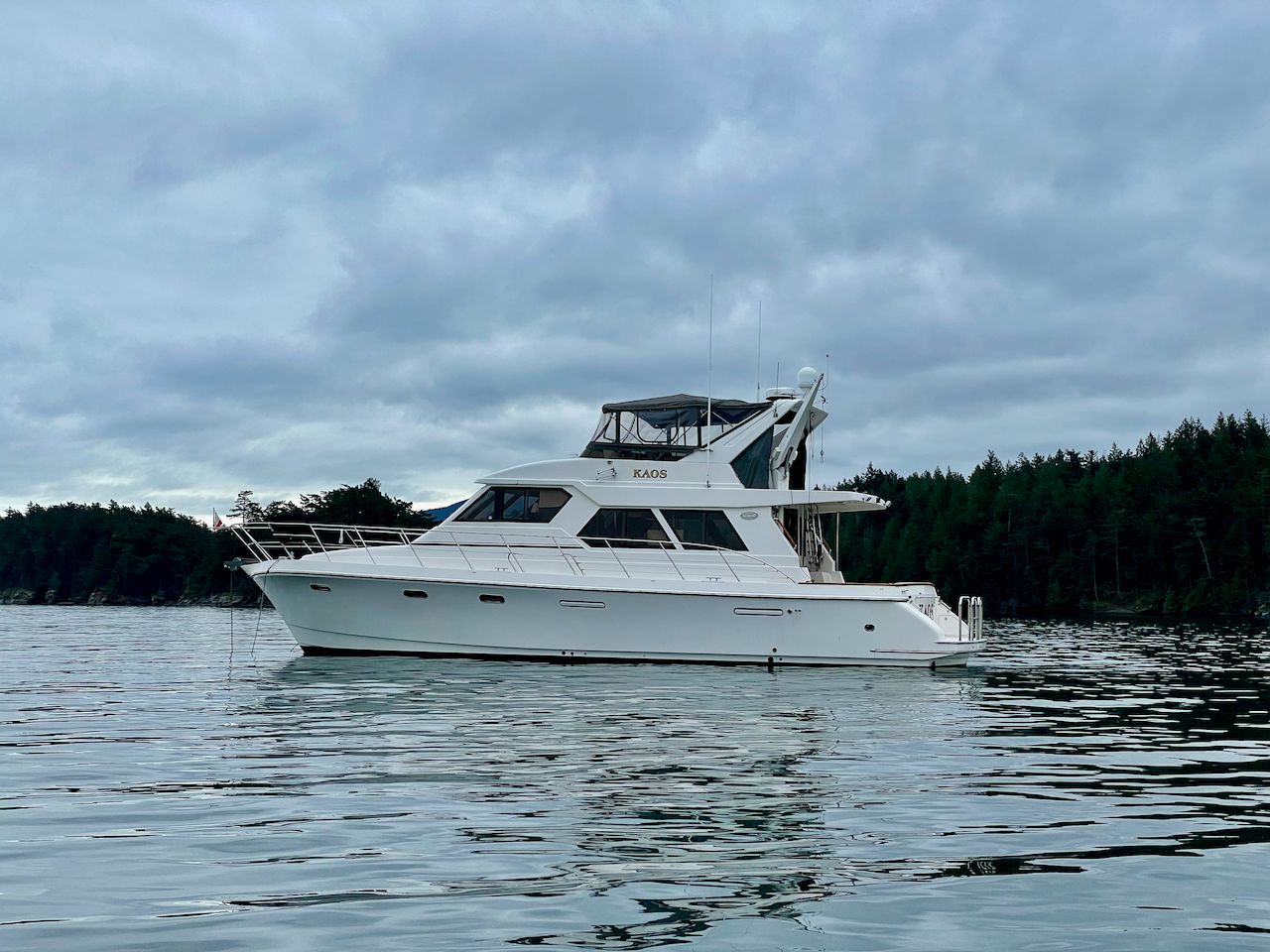 Rendezvous was about 30,000 pounds with a full load, while Kaos is closer to 70,000 pounds. In addition, Rendezvous fuel tank was on the center line underneath the stern master berth, and only 300 gallons. Kaos has two 400 gallon diesel tanks out on the edges of the boat near the stern in the engine room. This adds a lot of weight outboard that can counteract any wave action.
There are a number of anchorages with lots of waves such as Liberty Bay in Poulsbo, Blind Bay in the San Juan Islands, and Echo Bay at Sucia Island. In all of those spots, Kaos has been way more stable than Rendezvous ever was.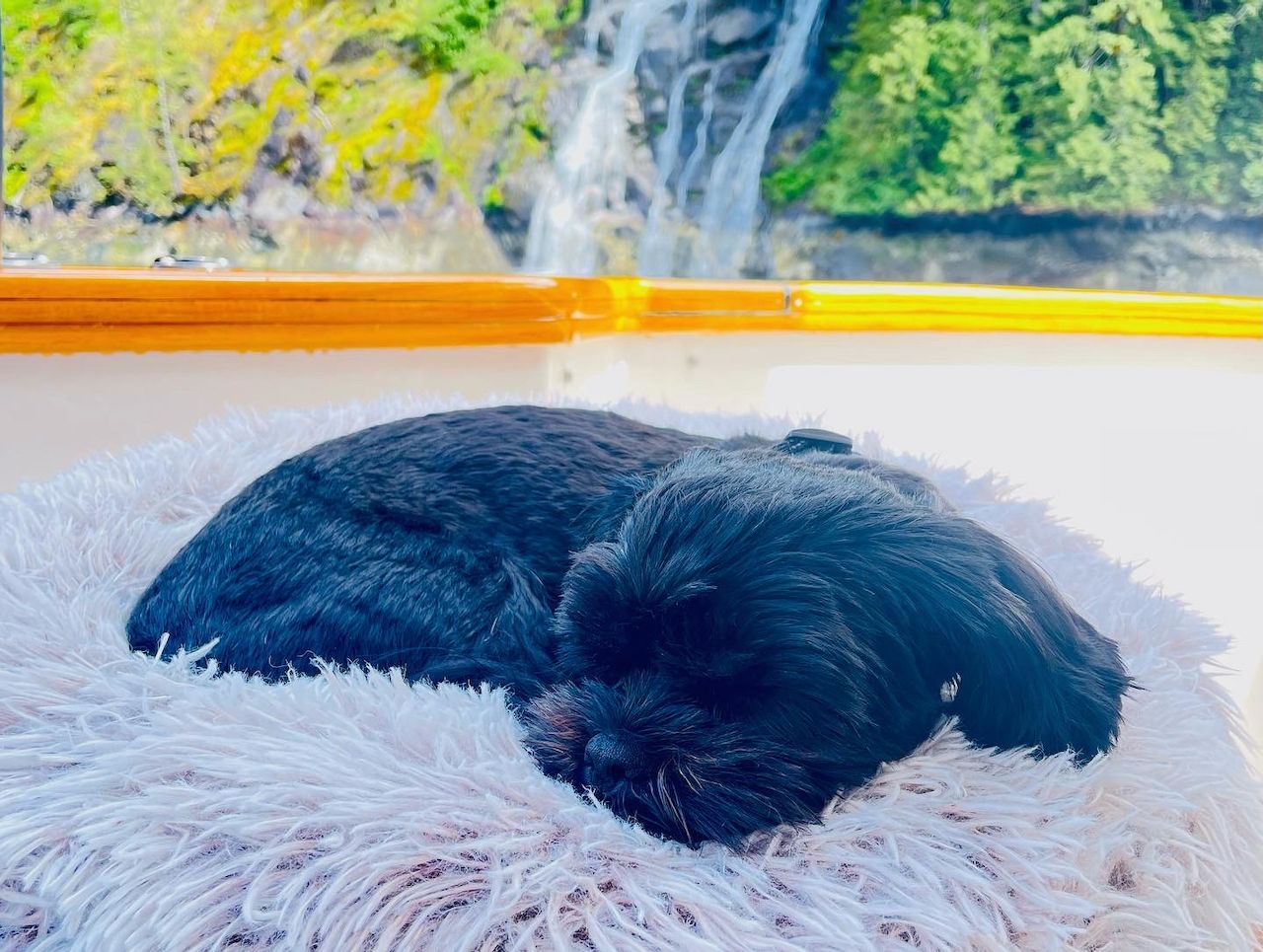 I'm looking forward to the next 8 months and more projects and improvements along the way. So far, we love Kaos and hope to experience even more wonderful sunsets and calm anchorages in the future, and hope I can sleep as peacefully as Frannie does when we're near our next waterfall!