The original plan for our fifth day of our South Puget Sound trip was to head back to Eagle Island or Oro Bay, but we decided head to Jarrell Cove for a night and extend our trip. I was very excited to see Jarrell Cove again – one of my favorite places in all of Puget Sound.
After the last few days of light wind, we were rewarded with 5-15 knots in the latter half of the day, allowing us to put in 5 or so hours of sailing. The weather continued to be perfect, with light clouds in the morning, and near 80 degree temps during the day with blue skies.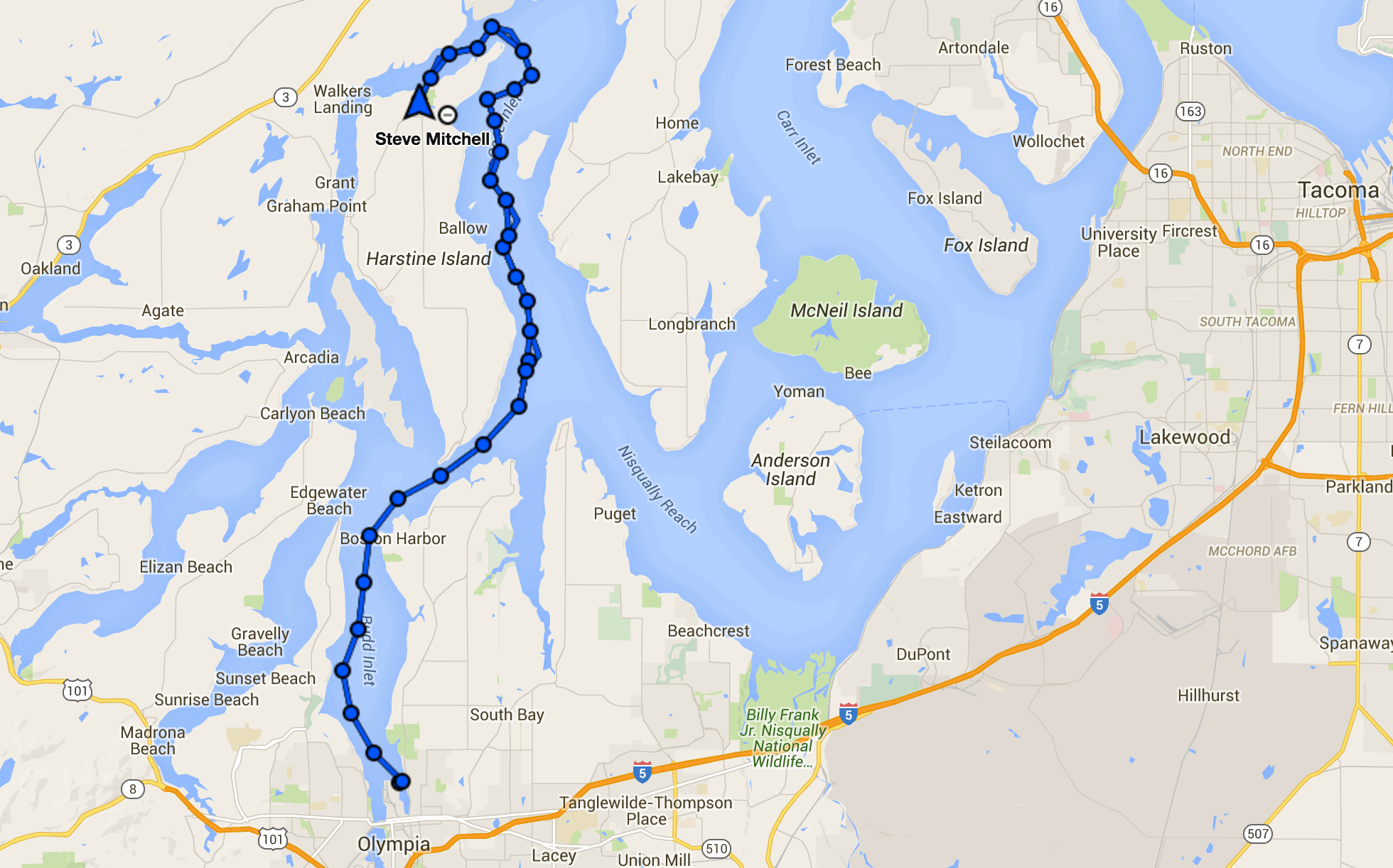 We traveled 21.14nm this day, and had a max speed of over 7 knots, which was under sail in the channel right outside of Jarrell Cove.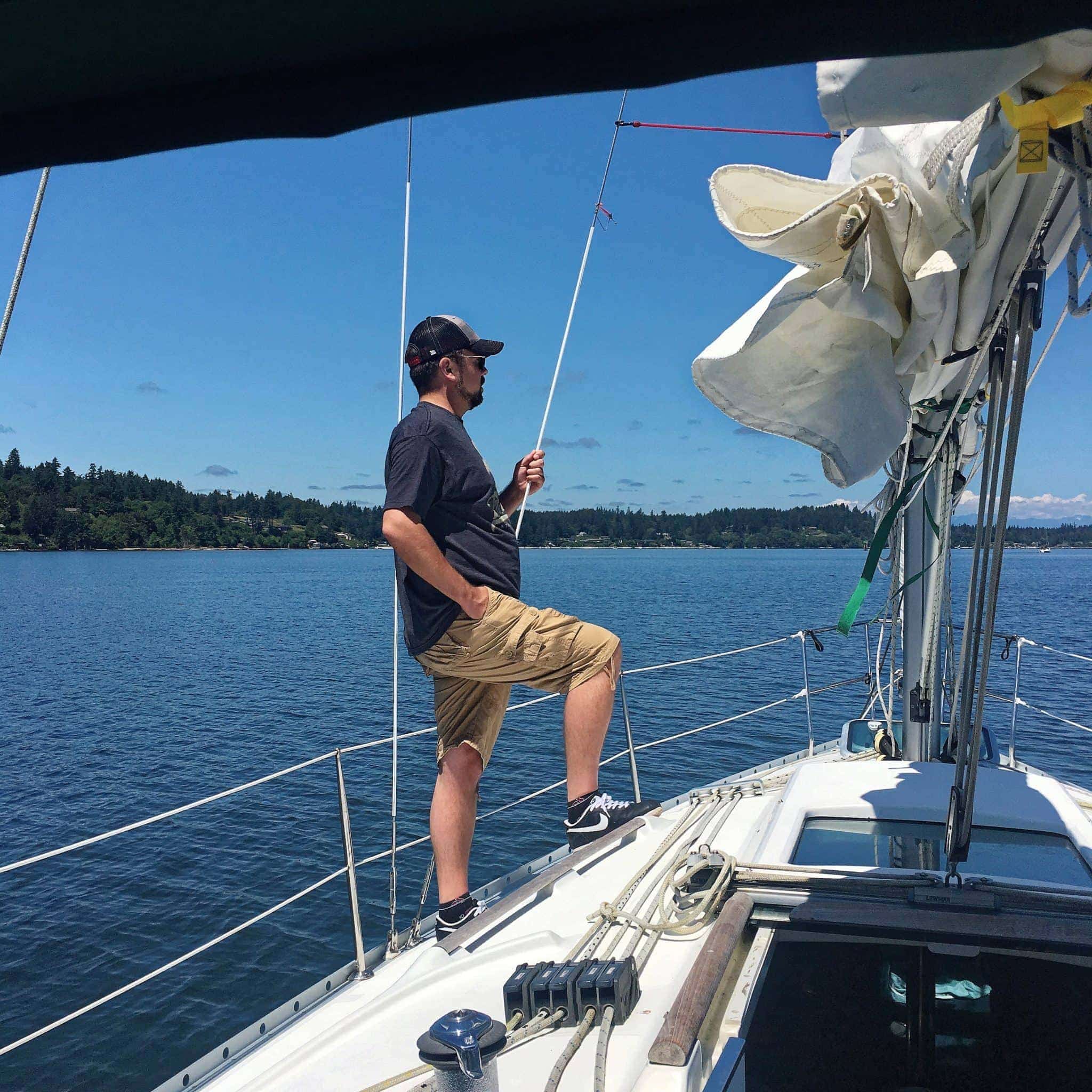 The transit out of Olympia involved more keen watch around markers and channel depths. The Raymarine and Navionics charts were helpful in ensuring safe passage. I had been using Navionics dock-to-dock auto routing feature which we first tested during our Port Orchard trip but with mixed results on this longer trip. The courses it plotted seemed less efficient than what I could steer myself, with wide turns around points and lots of extra distance. I ended up hand editing most all of the courses to save some time and distance, and to get closer to shore to take advantage of counter-currents.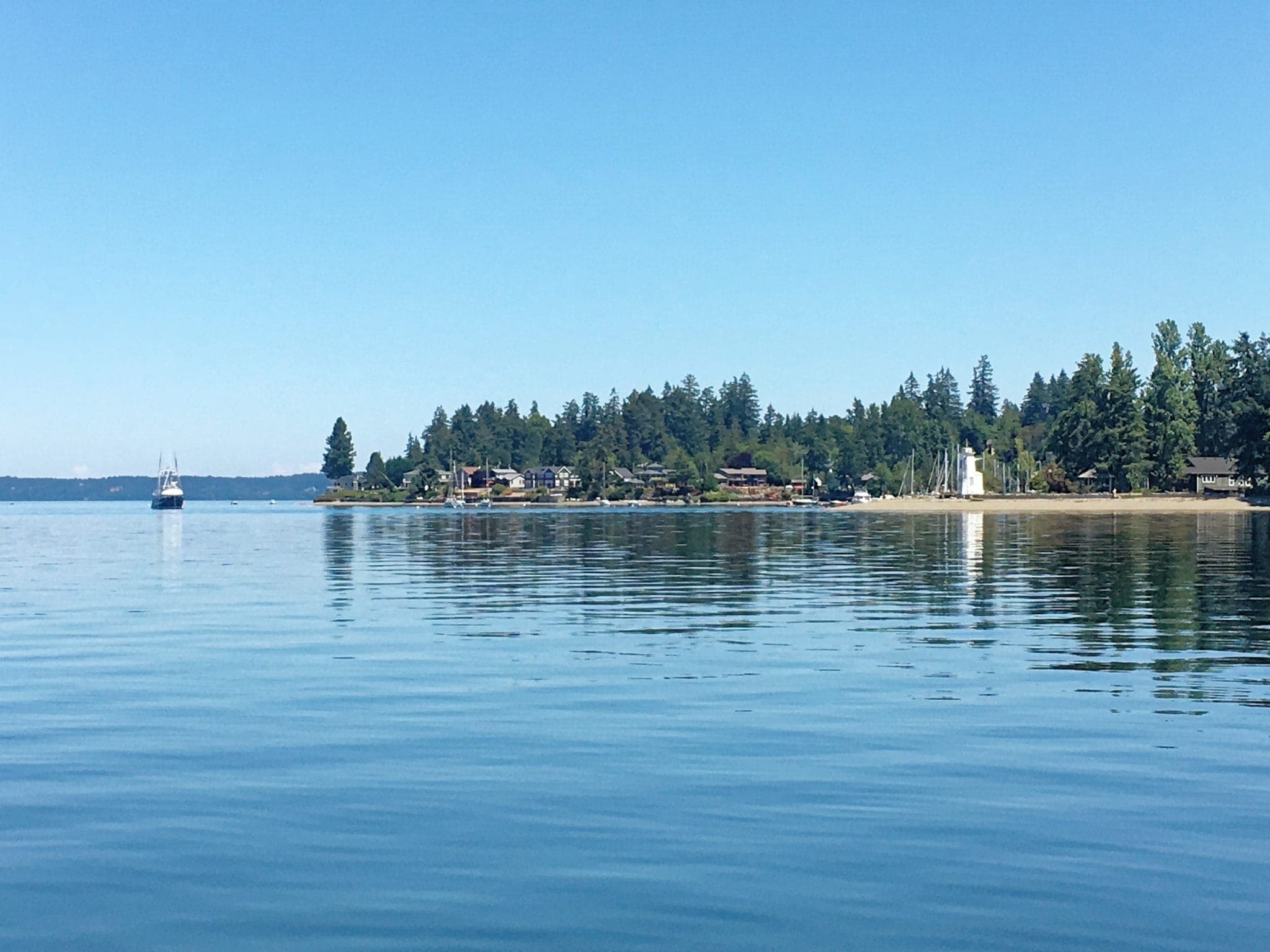 We motored most of the way through Dana Passage due to a competing tide and previous experience with serious tide rips here. After passing by Itsami Ledge, and turning up the channel, we stumbled upon a decent amount of wind and decided to start sailing.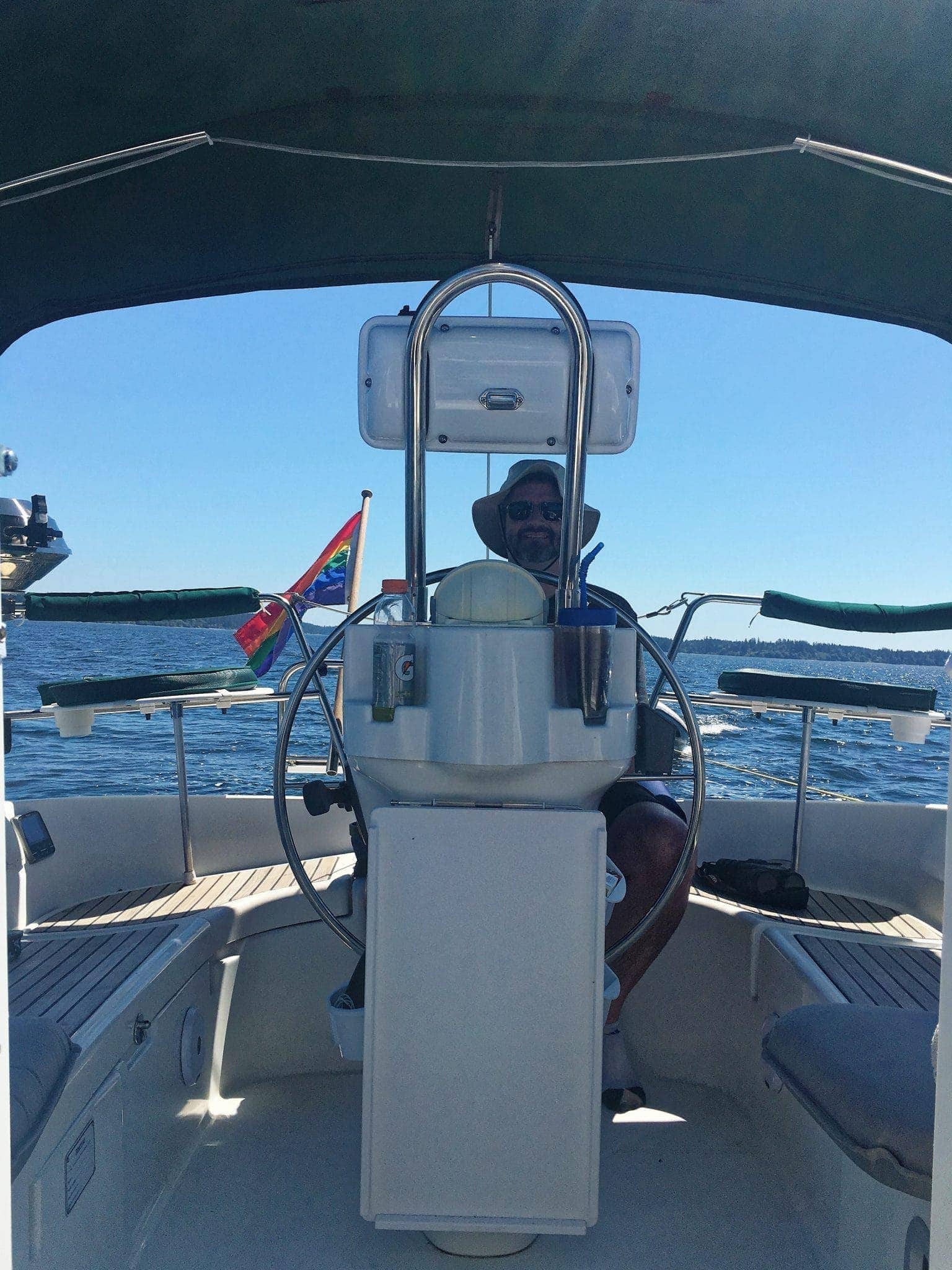 Jake, a close friend of ours, came along on our 8 day trip without having stayed overnight on a sailboat before. Quite a leap of faith! He also was very interested in learning the basics of sailing, and studied beforehand. Along the way he had been driving off and on while under motor, and done some other basic stuff. Once we found some wind, I had him steer us into it to raise the sails, and handle the boat for a while after while under sail. He did very well, and continued to learn and help throughout the trip.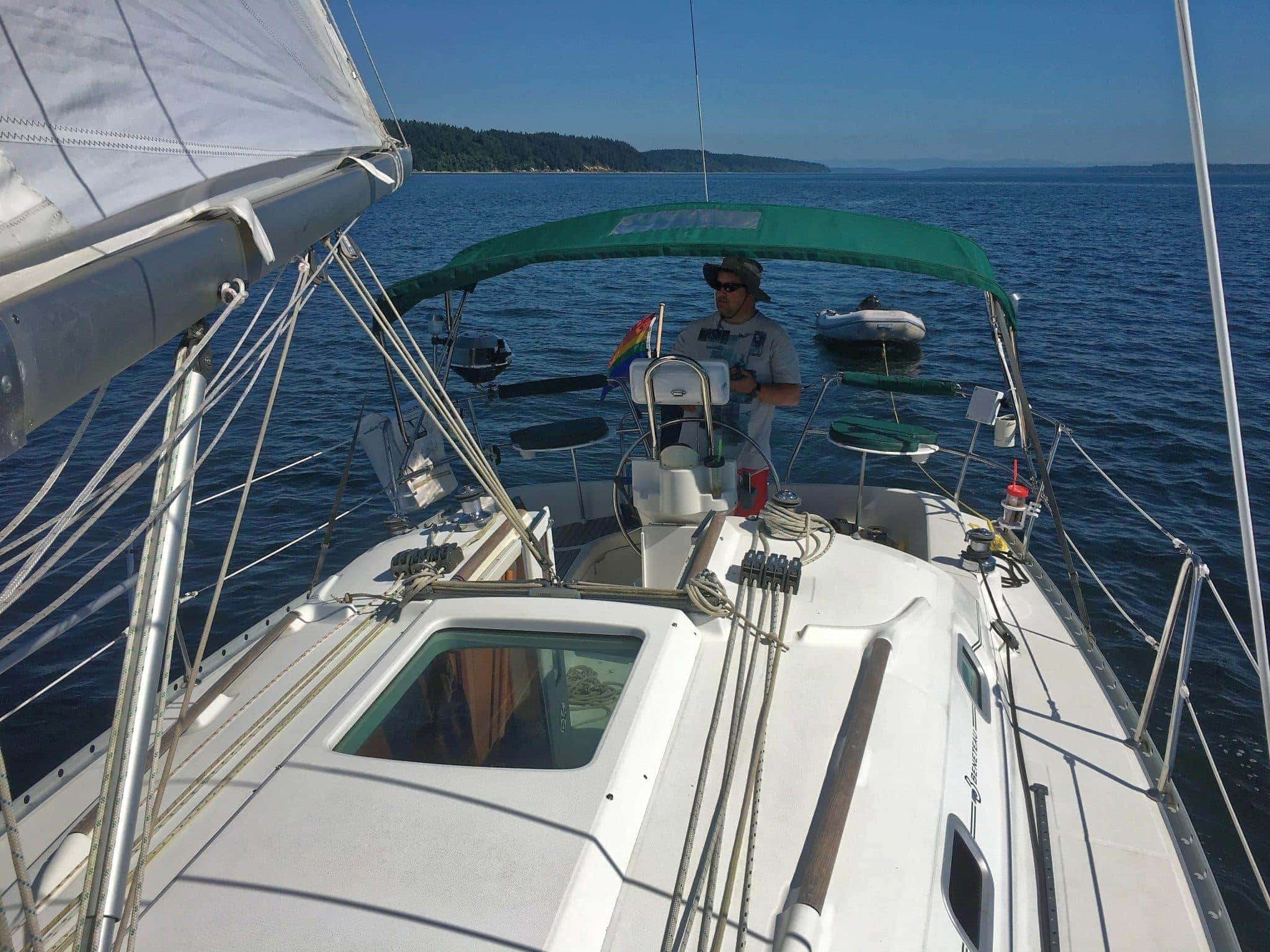 At first the wind was pretty spotty but it is so much better to move along silently with the wind than have the motor chugging.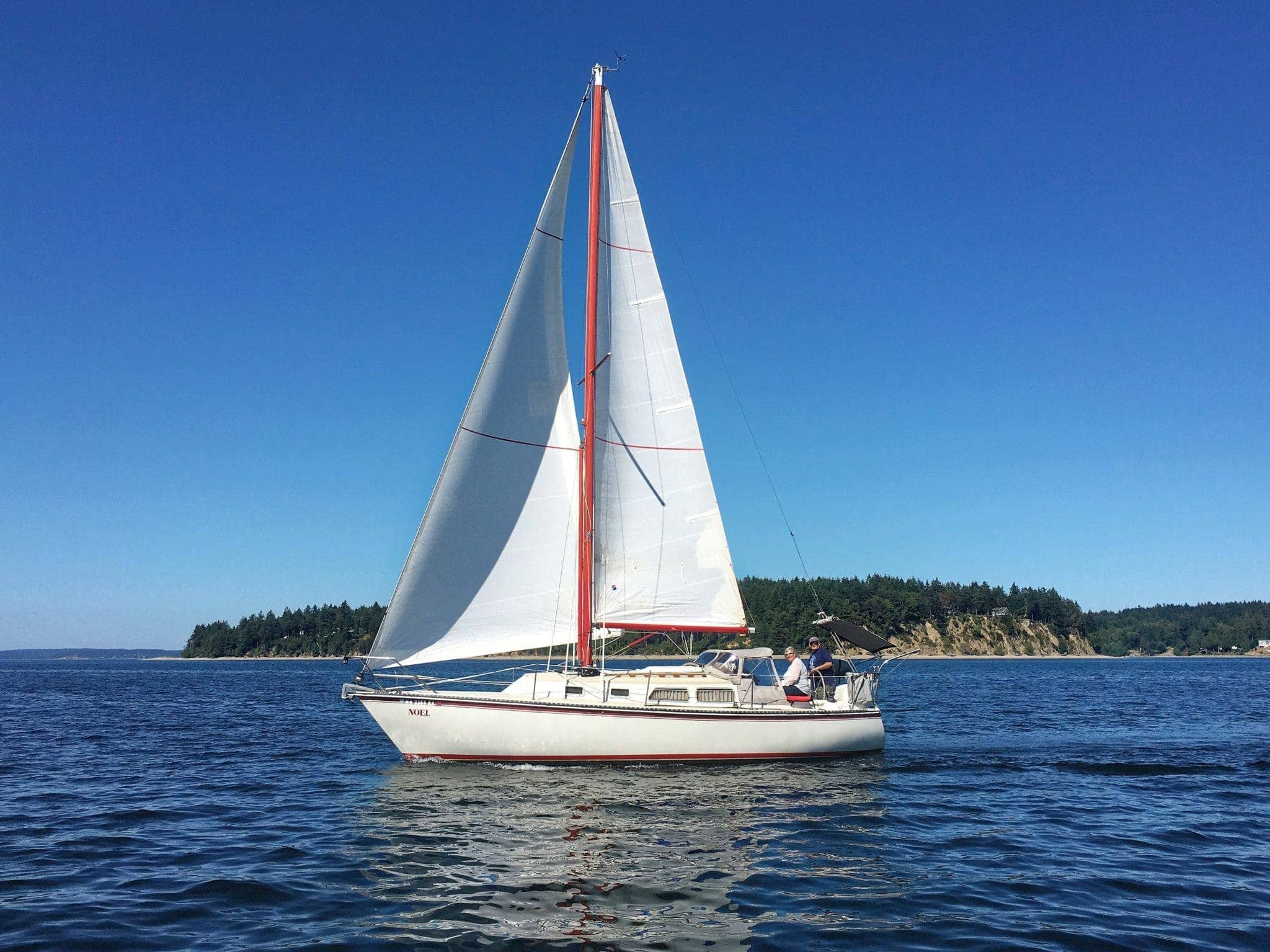 Dick and Jo on Noel were sailing along well, with even better speed than us. We tried to keep up, but they had the advantage for a while.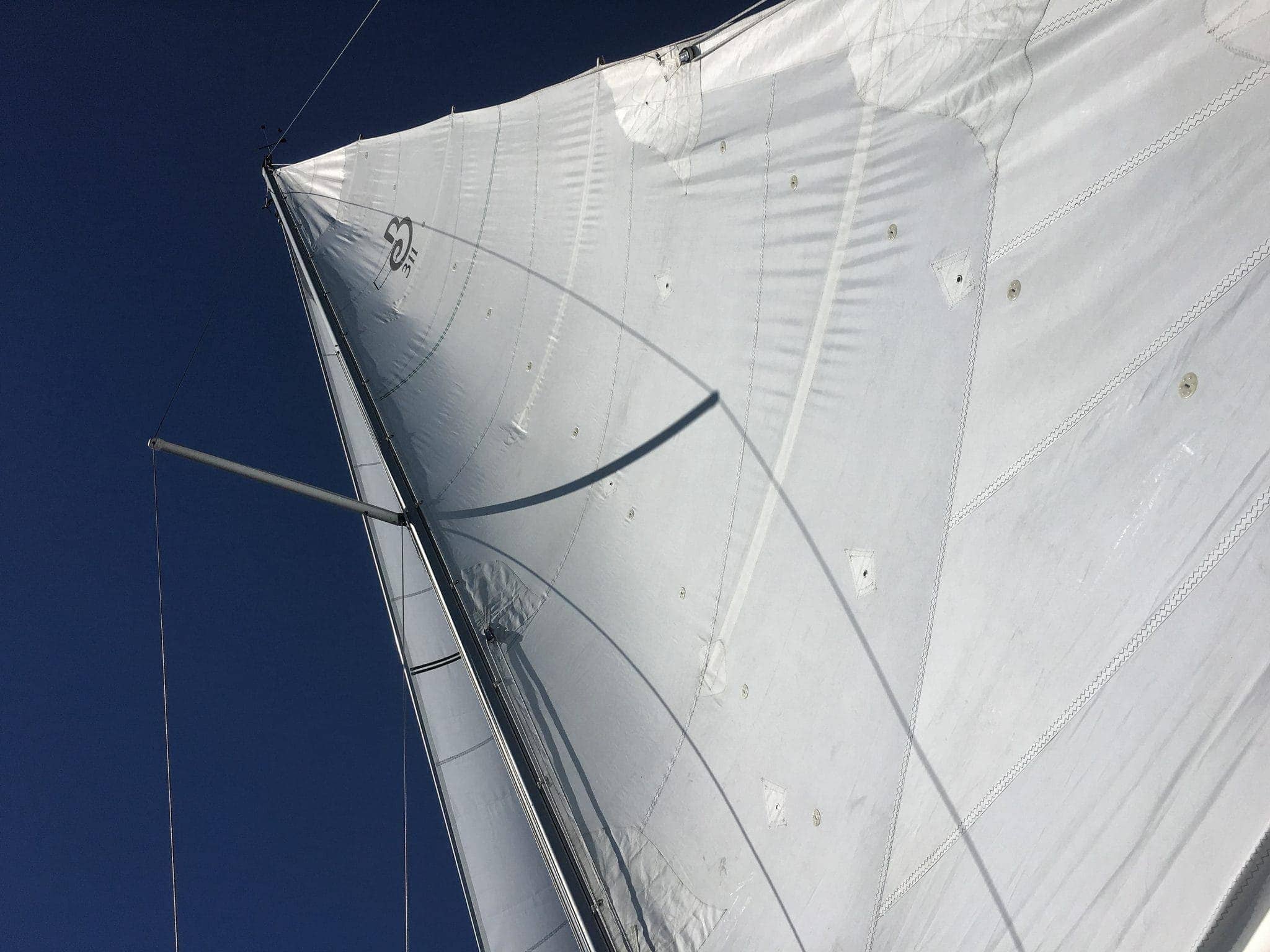 I have had some challenges getting the mainsail looking the way it should since purchasing Grace around this time last year. After a lot of investigation and learning, the mainsail looks way better than it has in previous outings, and gave us plenty of power.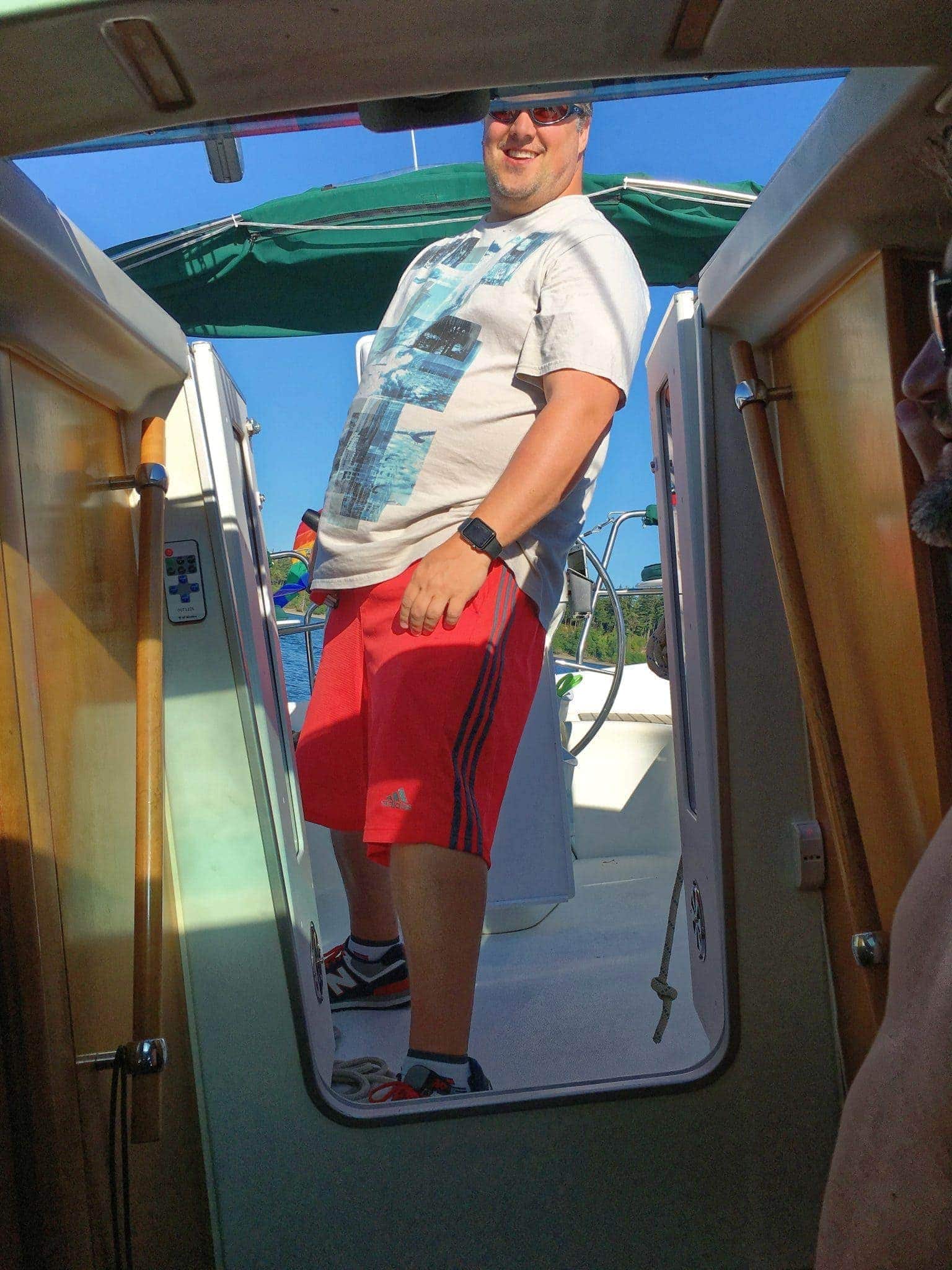 Once we rounded Dougall Point on the final leg into Jarrell Cove, there was 15+ knots of wind, and I got to sail Grace on an upwind course with everything close hauled. We were scooting along at around 8 knots of boat speed, and the crew absolutely loved it! She is so stable even with a 20+ degree heel and moving fast. Hard to tell in the picture above, but we are definitely not level with the horizon ?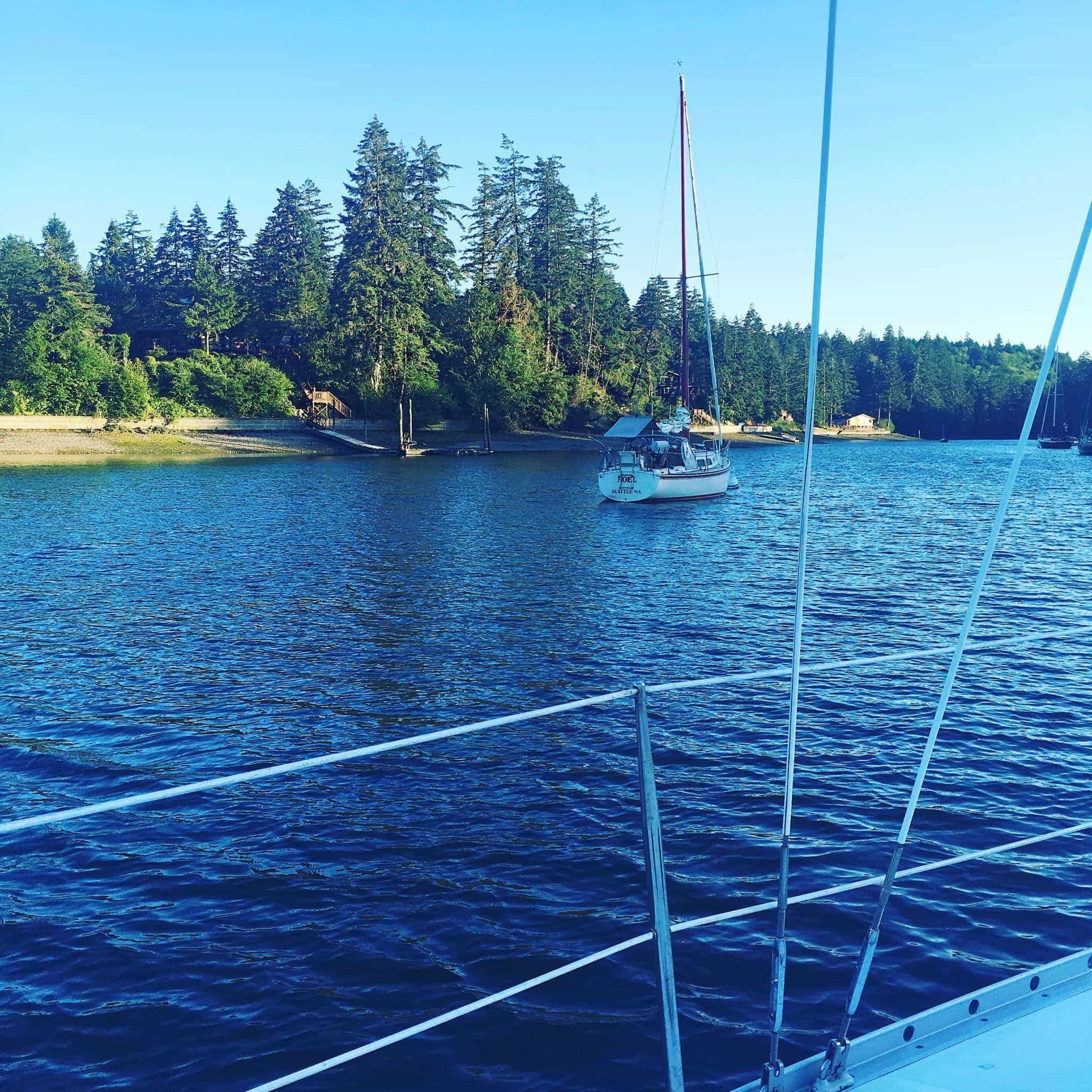 Noel arrived a while before us, having given up on the wind an hour or so before. We motored into Jarrell Cove and grabbed a mooring ball right behind them with our Grab-n-go. After running a good line through in addition, tidying things up from the sail, we got to making dinner. This evening was to be on our own – Jo and Dick on Noel did their own thing as well, as we were all tired from the last few hot days and sailing.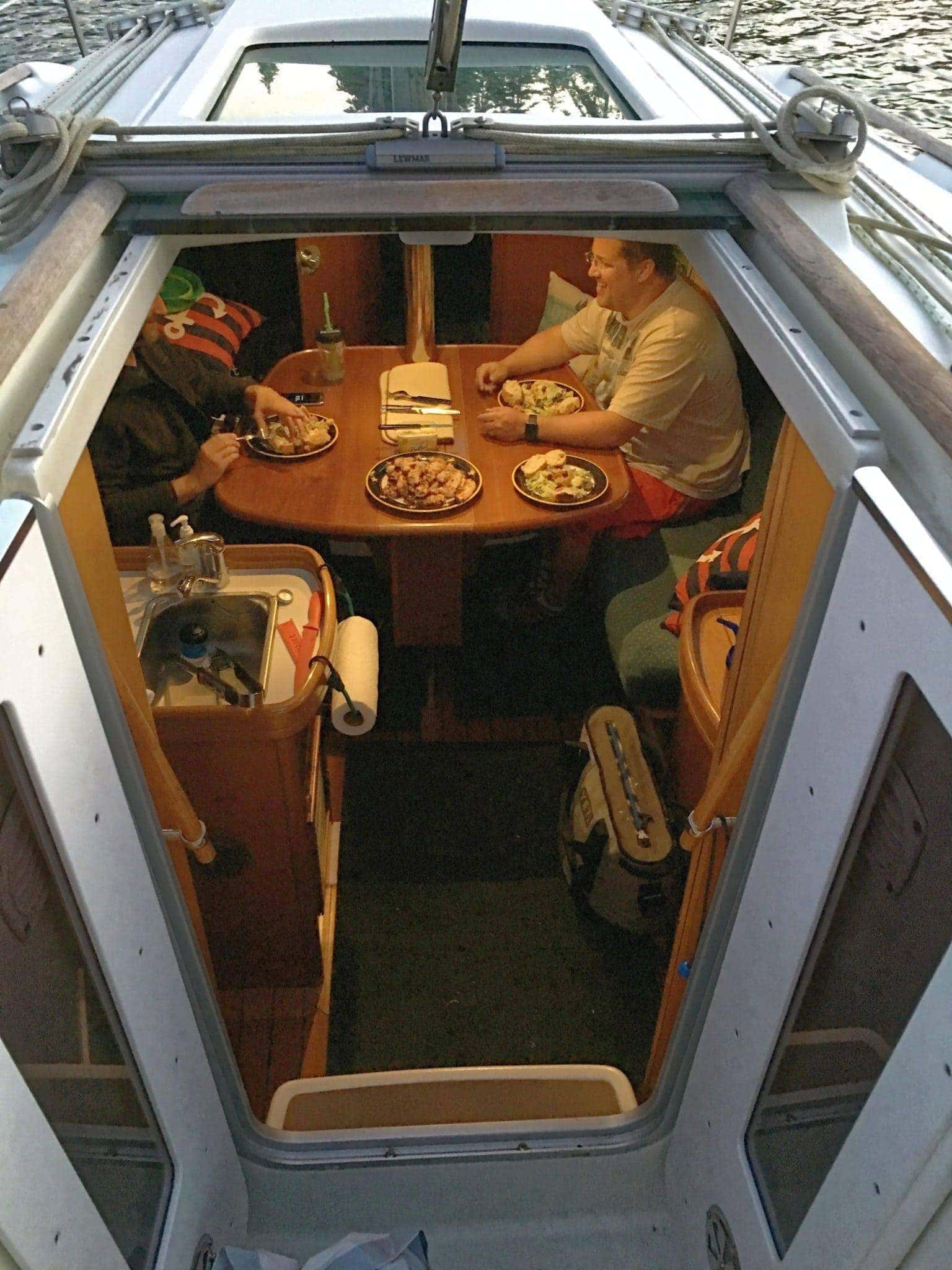 Josh had chosen a fantastic pasta and chicken caesar salad with garlic bread – I did the outdoor grilling as usual while Jake assisted Josh down below. It was amazingly delicious, and we all ate heartily after not having much to eat during the day.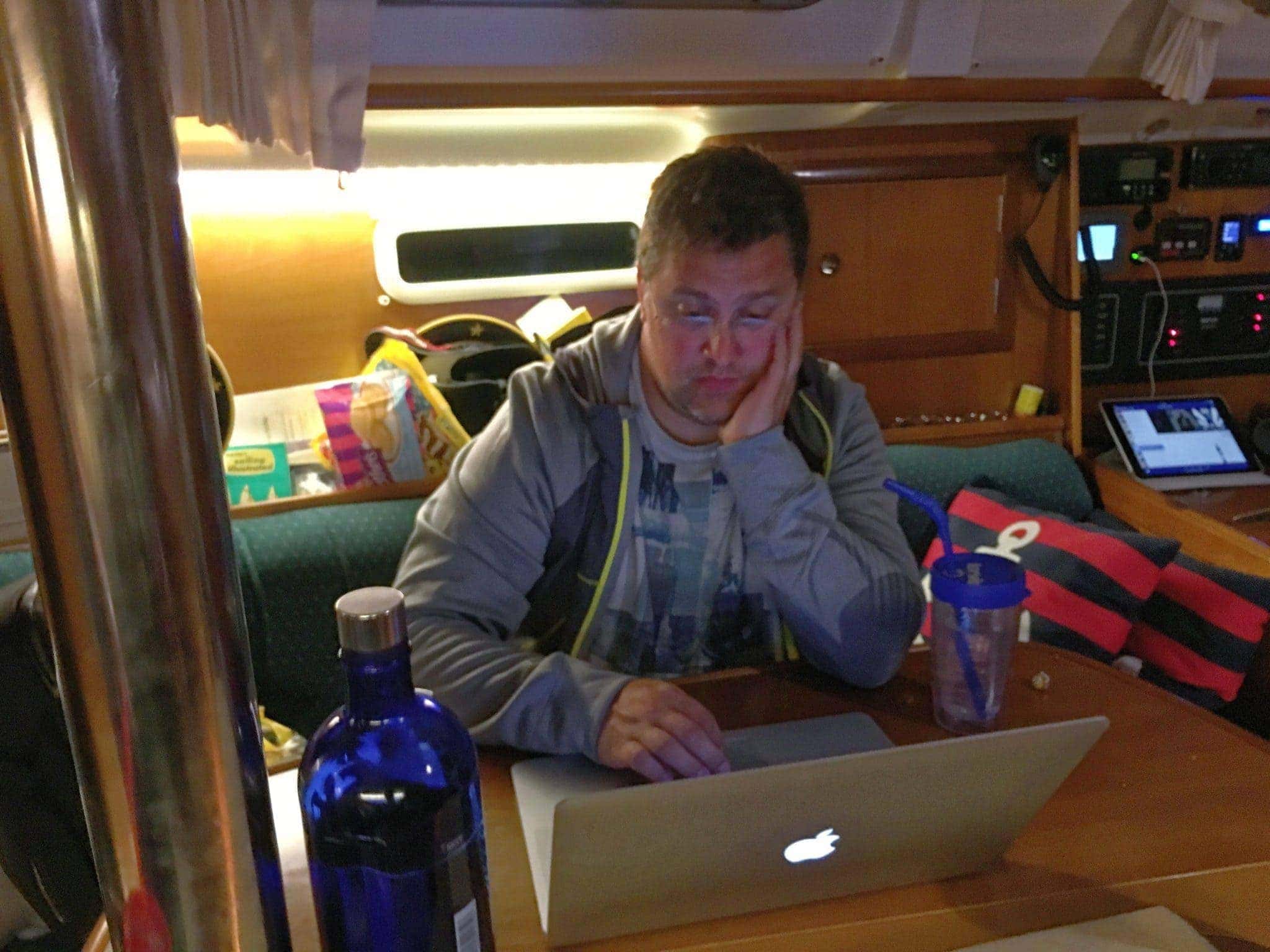 Someone snapped this super flattering photo of me doing trip planning on the Mac with a Windows virtual machine and Coastal Explorer, along with one of our vodka bottles. Thanks guys.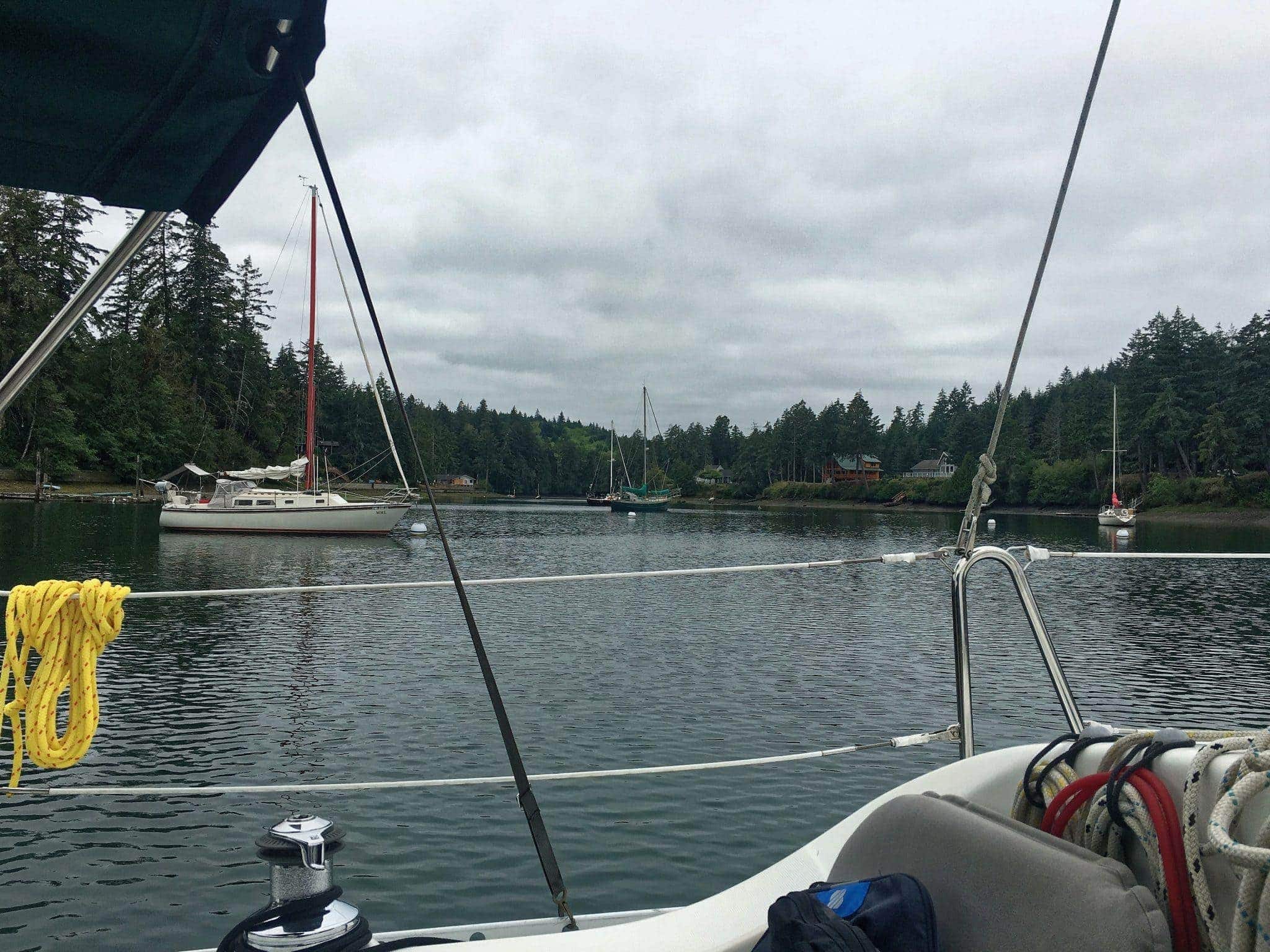 The morning arrived with grey skies, much appreciated by both crews who were sunburned and ready for a break. Jake and I decided to explore some of the inlets and shore while the rest of the folks slept in or relaxed.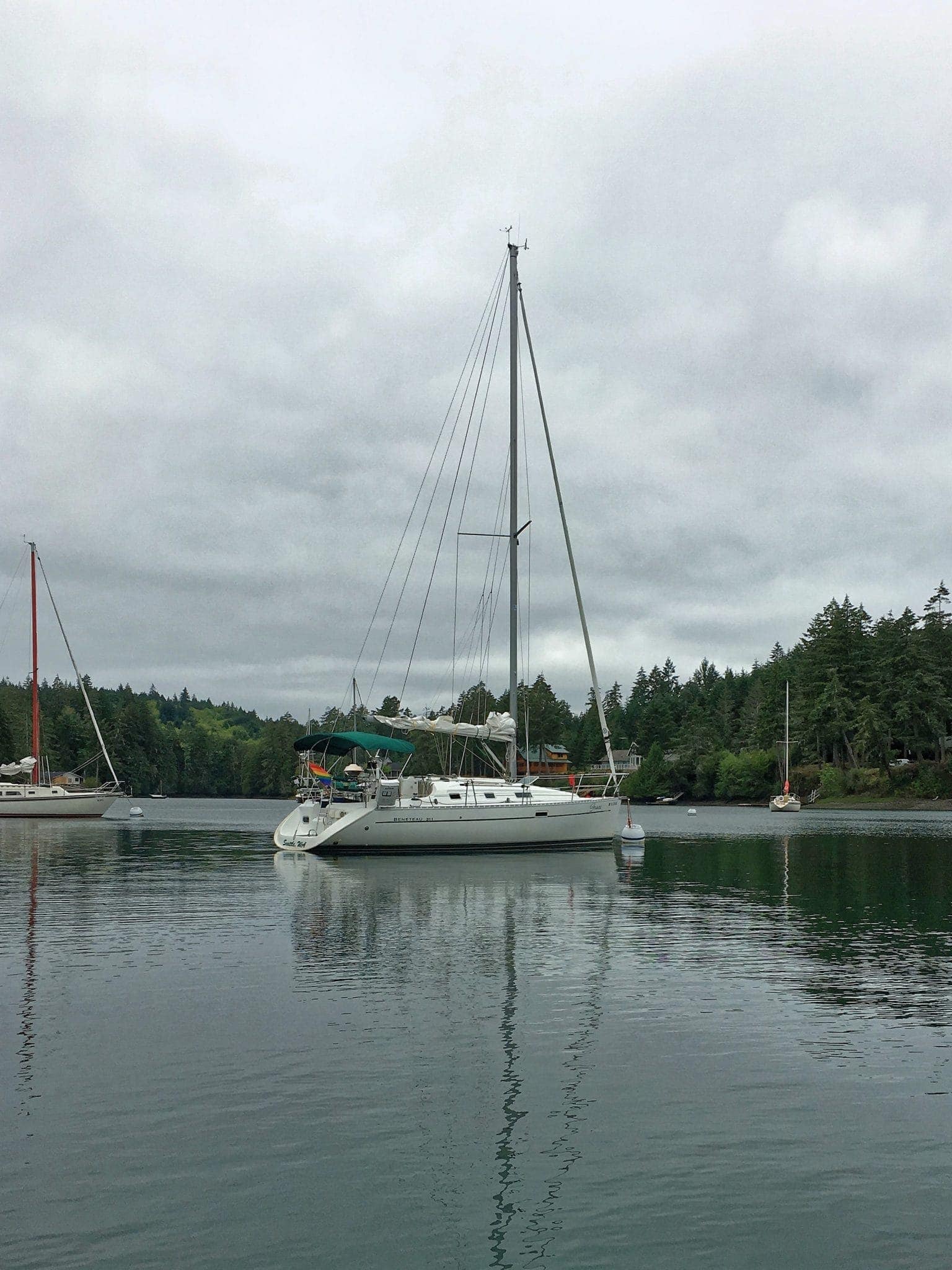 Grace has had a 1-2 degree list to starboard since I bought her, and sometimes possible to see it in pictures. I have not been able to right it, and it bothers me, but it has not caused any major issues as of yet. She still looks sweet out on the water away from a dock!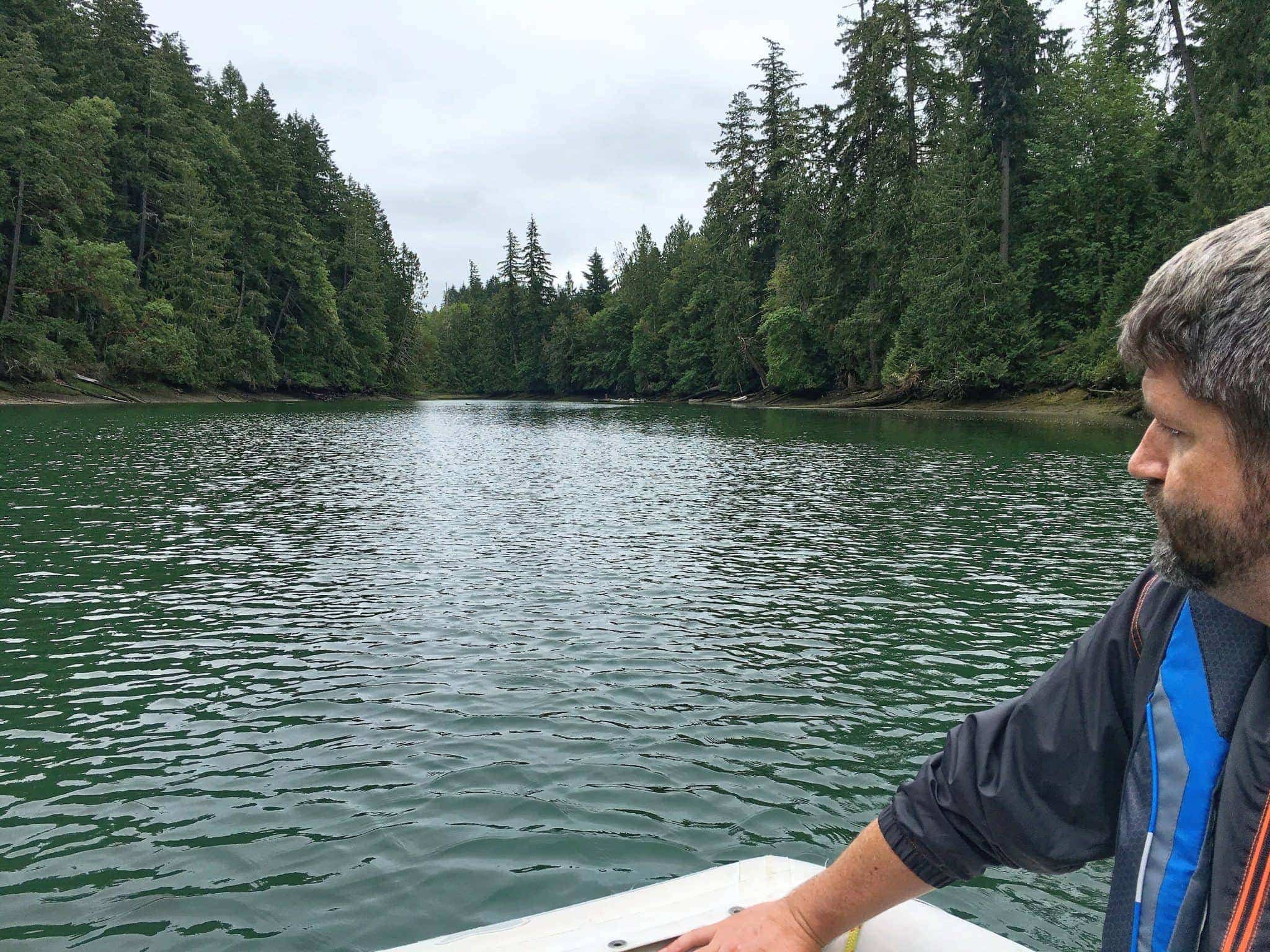 The inlets in Jarrell are fun to explore – there are some right near the state park inner dock, and another set deep into the cove. We explored the ones nearest the park for a while with our dinghy.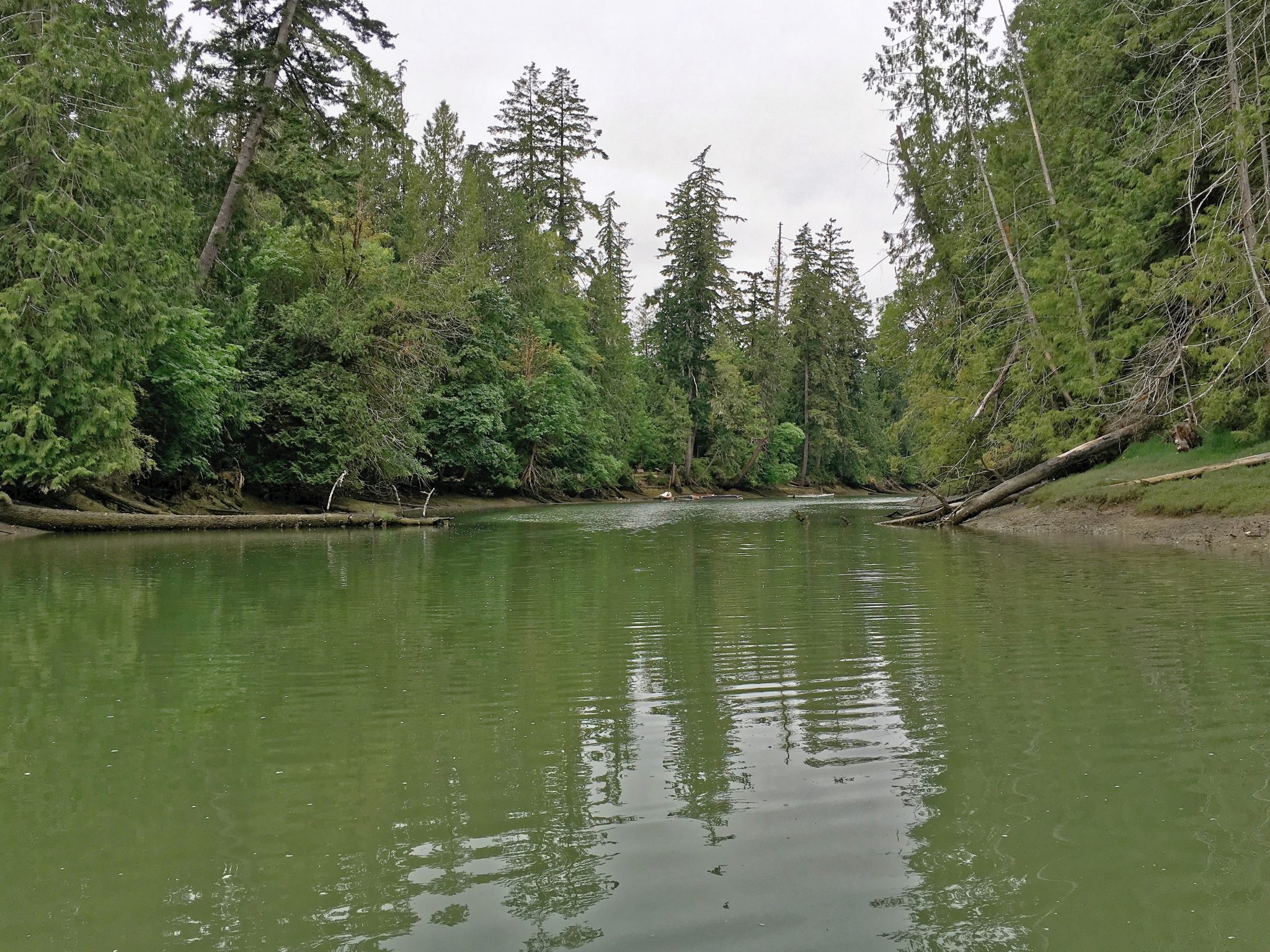 The water was not circulating much, which meant for some interesting colors.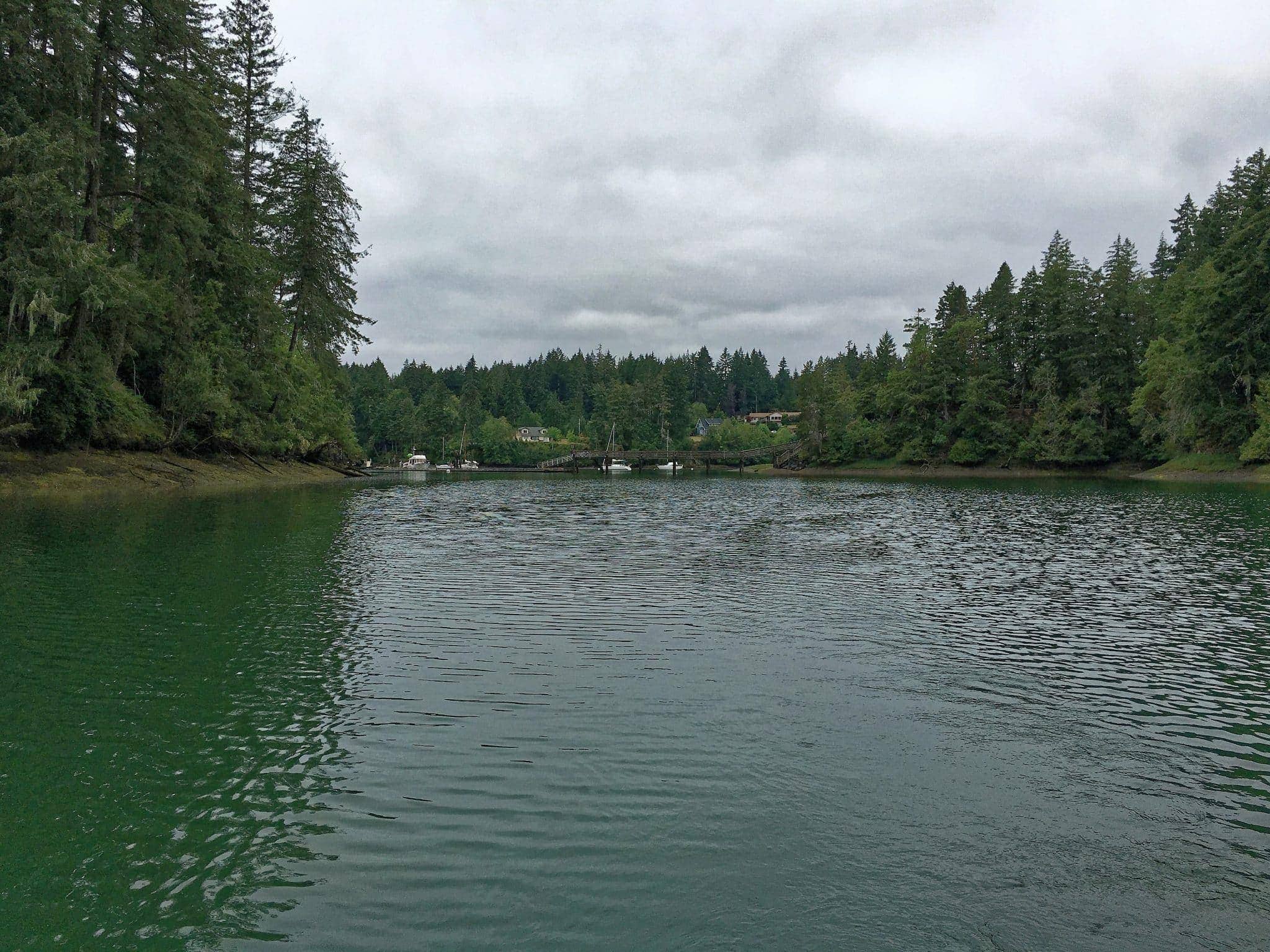 There were tons of birds hanging around the inlets, and you can go pretty far back in them and see all sorts of untouched areas of the park which appear to be unreachable from land.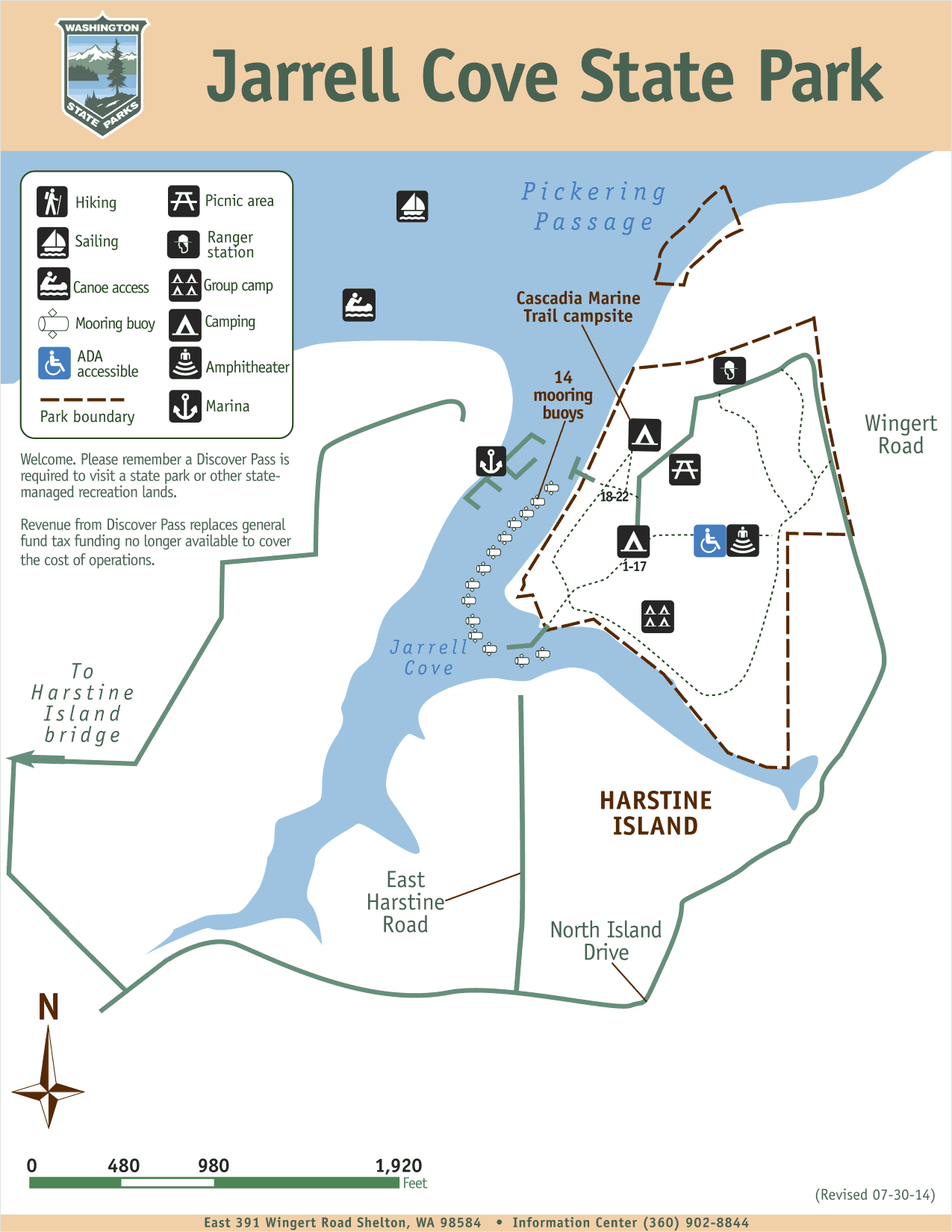 Jarrell Cove State Park map (courtesy Washington State Parks)
The map above is available on the Jarrell Cove State Park website and is helpful to see the full layout.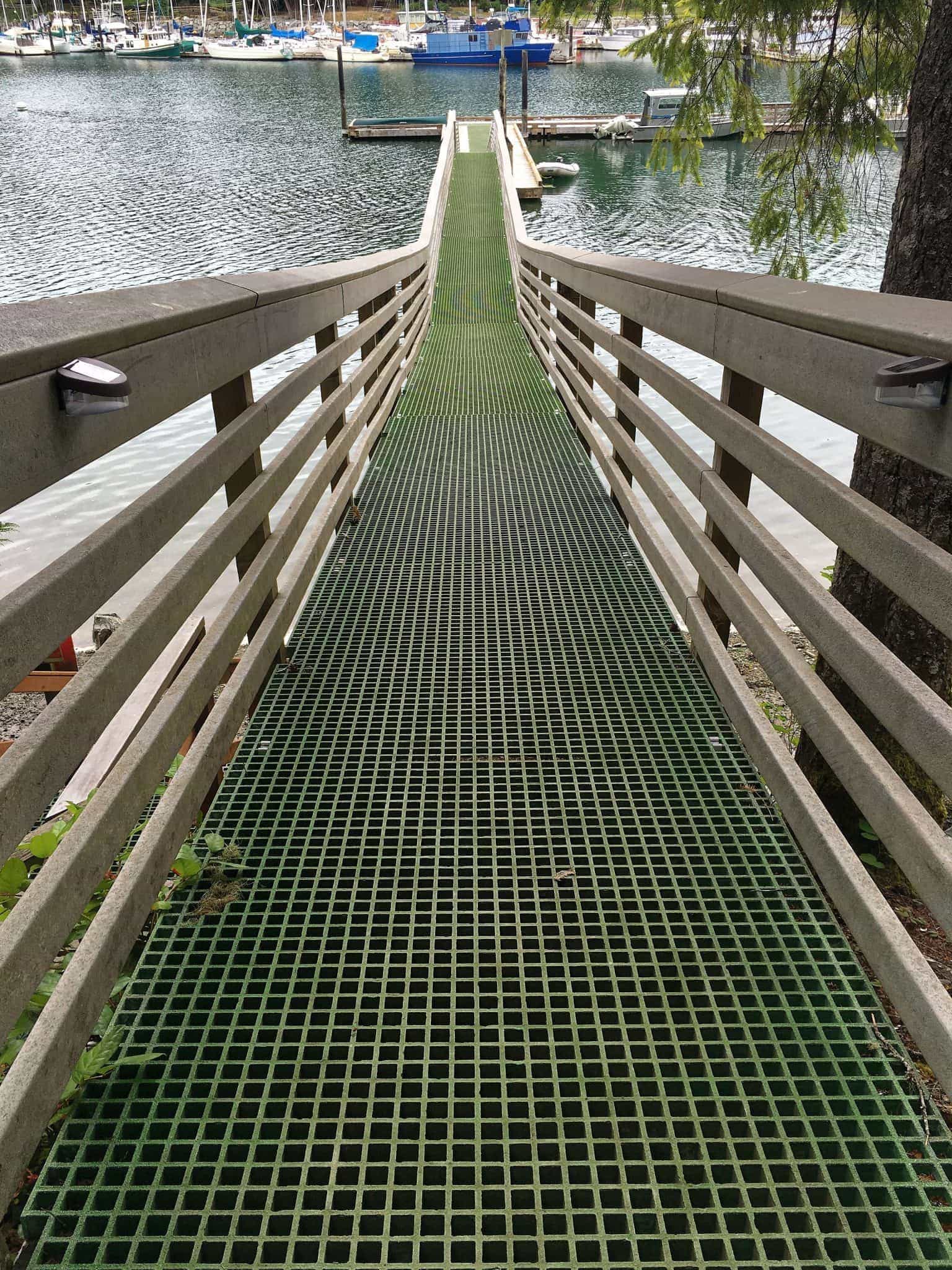 The state park has two docks in Jarrell Cove. The outer one is deep enough at times for decent draft vessels, but only has a pump out station and dinghy dock, no overnight moorage.
The further inner dock is much longer and allows overnight moorage, but when Noel got close it looked way too shallow for sailboats. At 7′ they backed away and decided on a mooring ball. There are a ton of those to choose from – 14 on the state park map, plus you could anchor if you wanted. However, it is pretty shallow in some spots, and you'll be aground if you're not careful at low tide!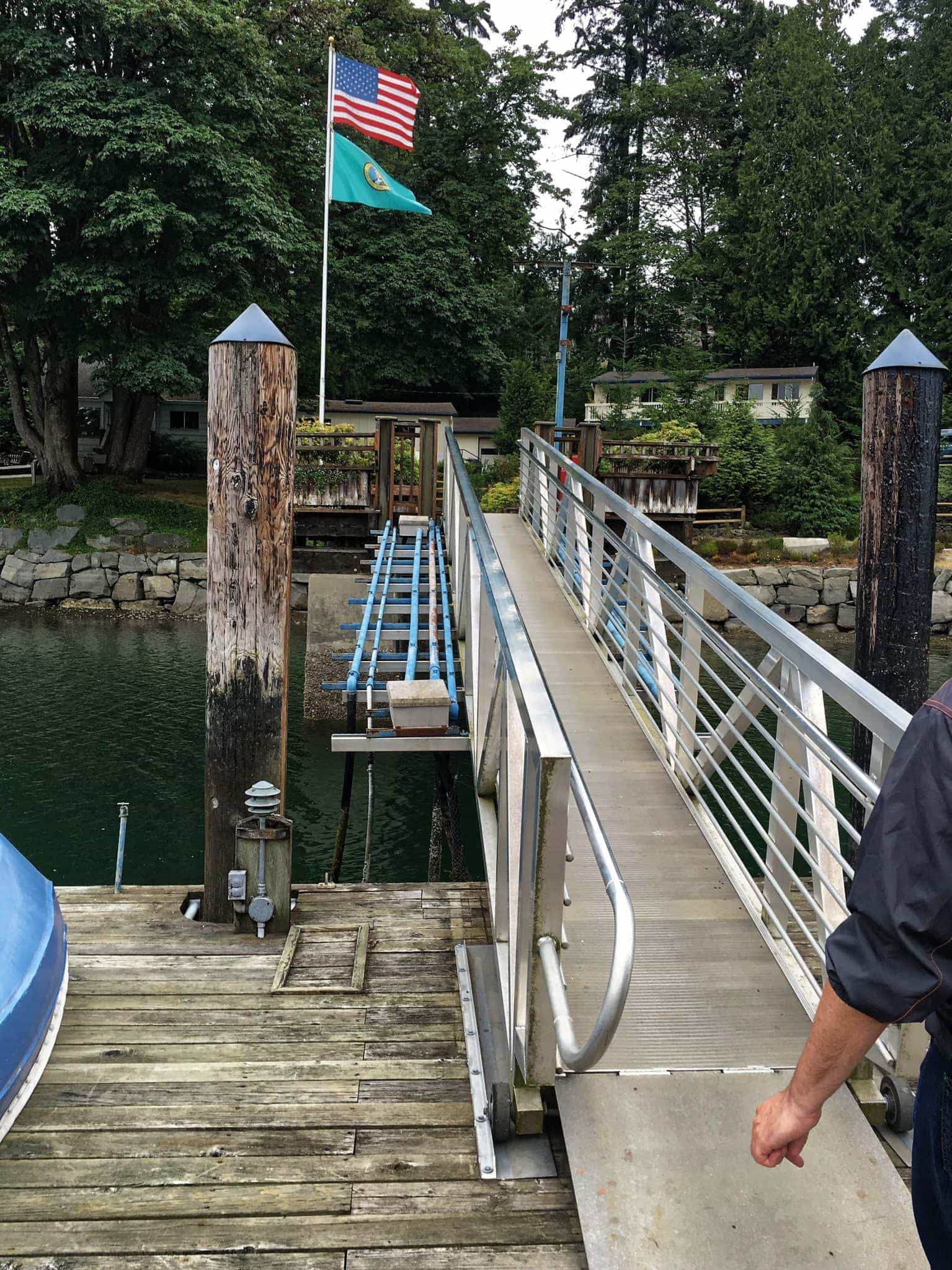 One of the cool spots here is the Jarrell Cove Marina and Store. I remember coming here long ago and having fun looking through the random stuff in the store. It is also one of the only places you can get fuel in this area of the sound.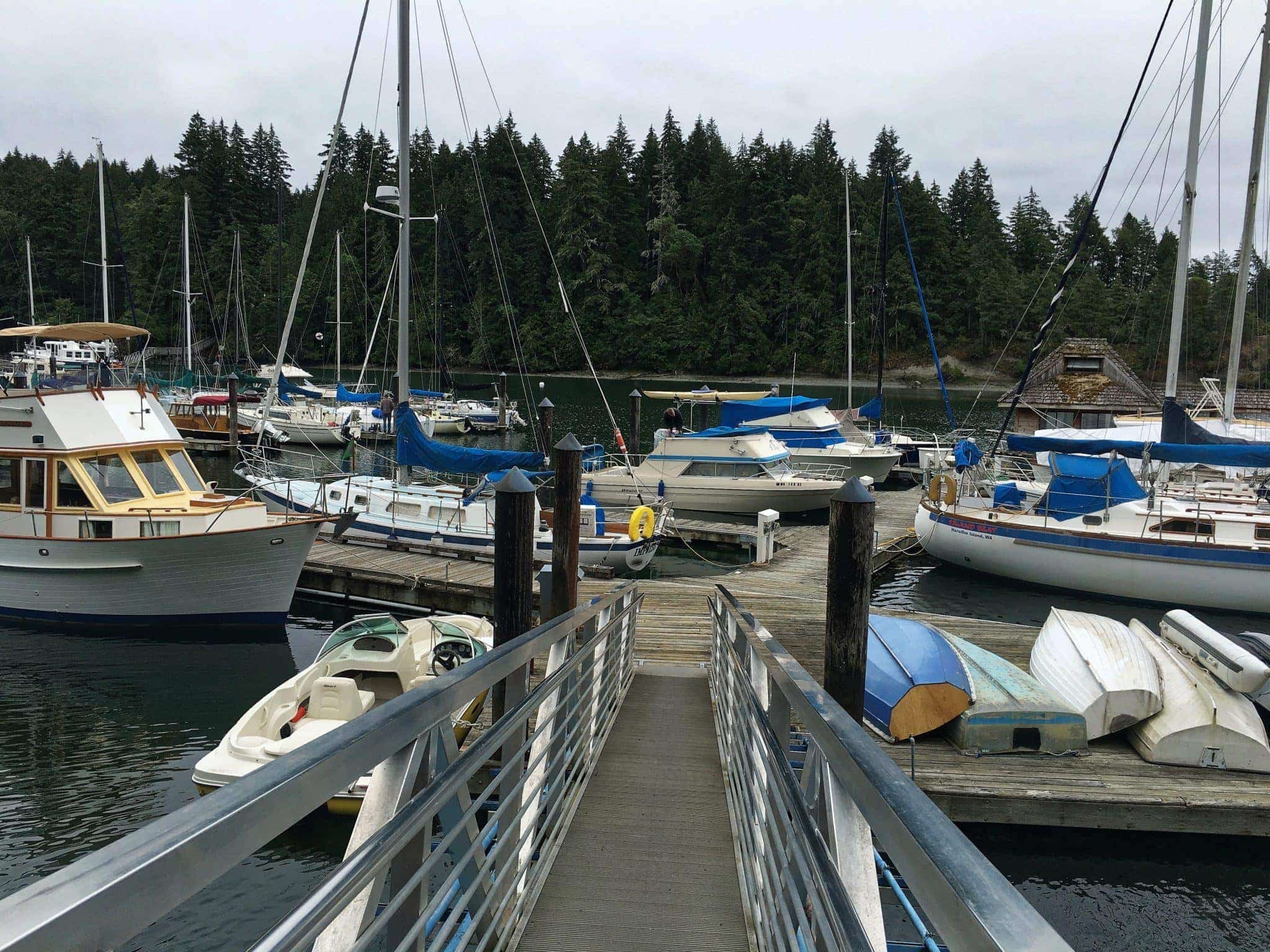 The marina hasn't changed much since I was here 15+ years ago – lots of fun boats and well maintained slips and docks.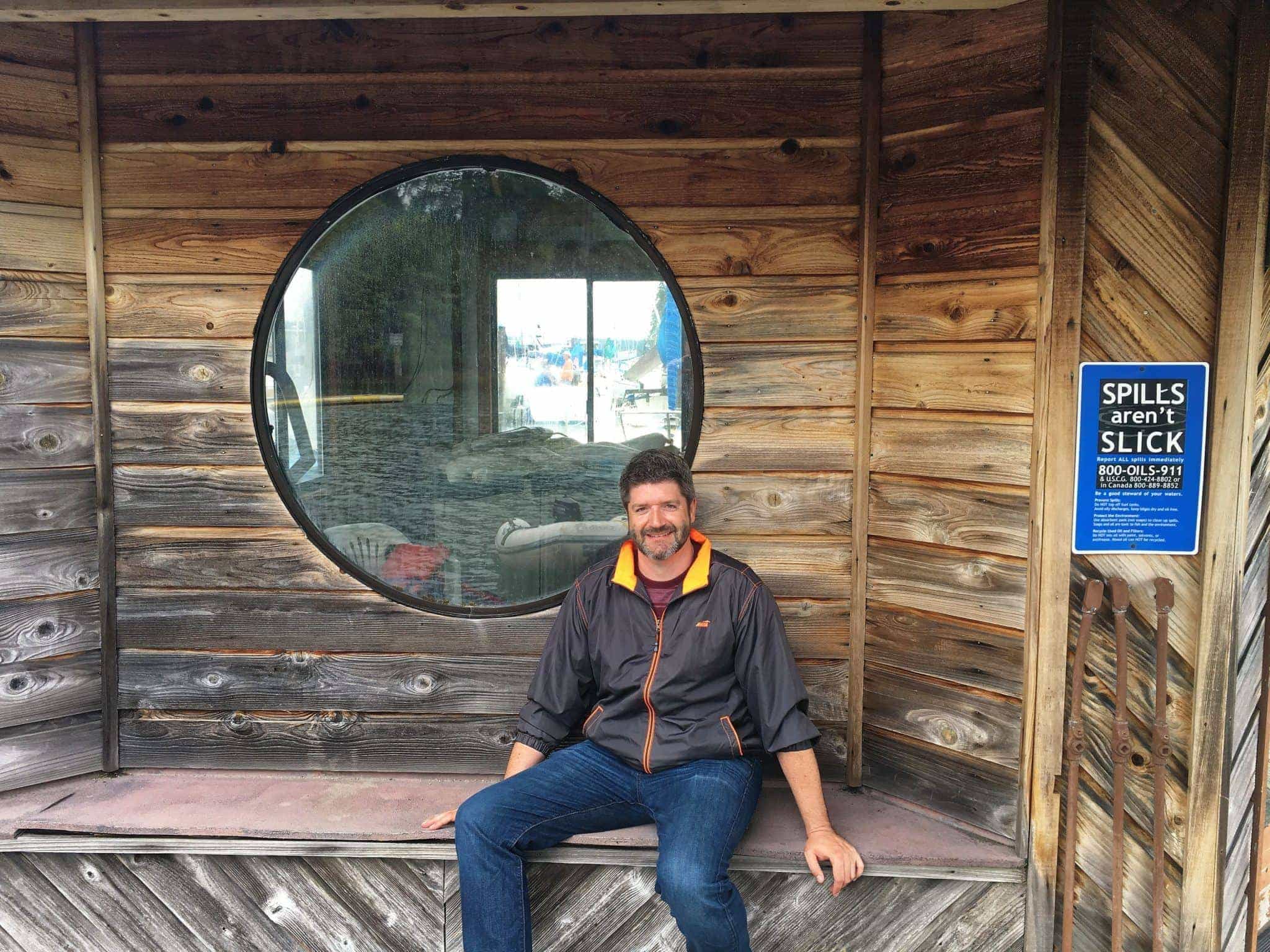 The fuel dock house is showing a little age. It has tons of moss on the roof, and some crazy fun windows that Jake wanted a picture in front of.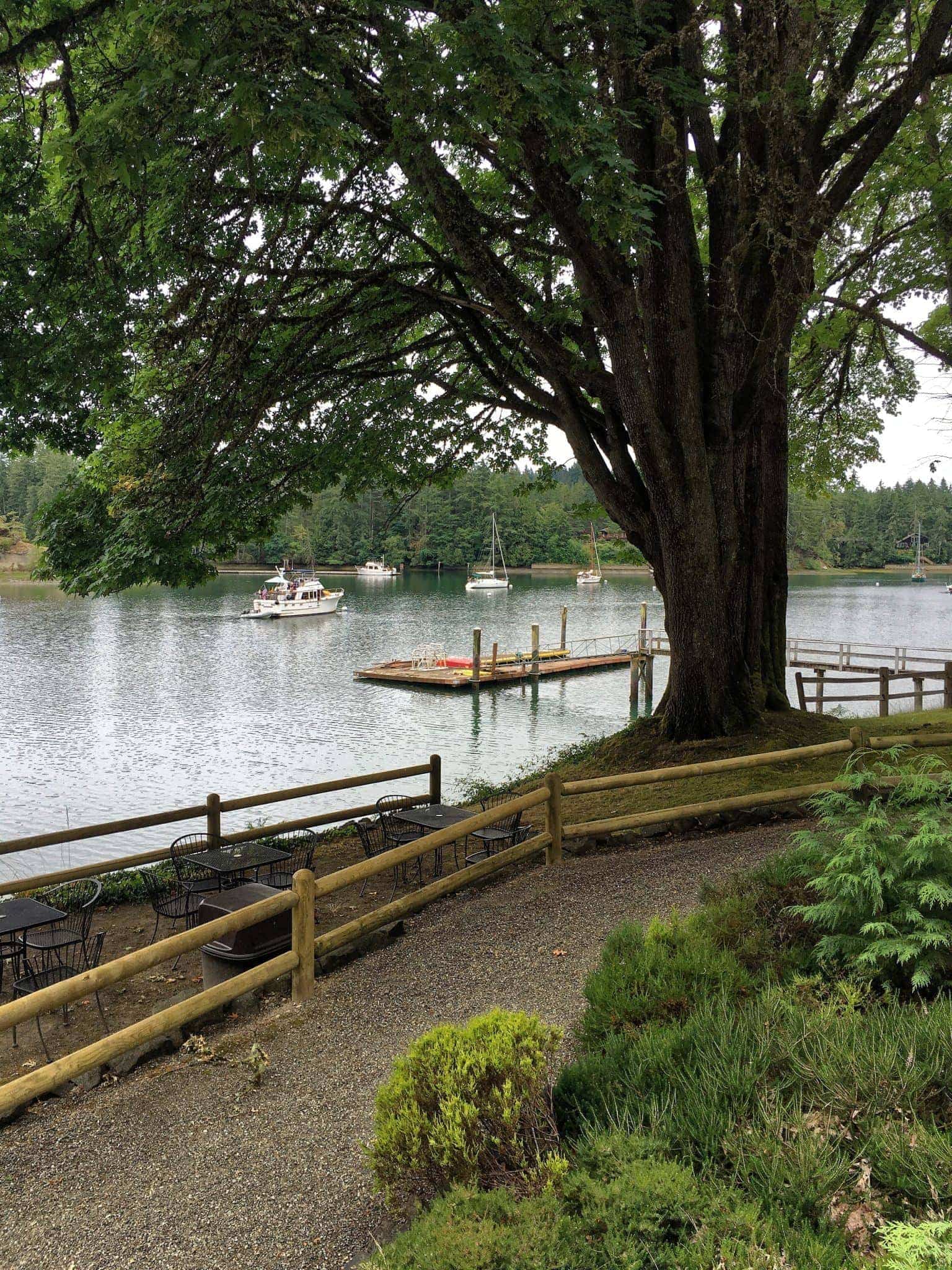 The biggest change I saw was the areas on shore that are landscaped and the tables and chairs available. I know there's also an RV park somewhere nearby connected to the marina, so perhaps these are primarily there for them? The views are pretty nice with a fantastic maple tree!

Me at my favorite place
I absolutely love Jarrell Cove for the seclusion, views, inlets, and the state park nearby. I will always try to find time when in the South Puget Sound to visit, and you should too!