I have been in the design phase of a number of projects which are about to kick in to high gear. I would normally do most of these in the winter, but because of when we bought Rendezvous, plus trips out and about, the timing has fallen to May/June to complete them. Here's a sneak peek at what I'm working on:
LiFePO4 power upgrade
Similar to the LiFePO4 project I did last year on Grace, this is the biggest project on the list and involves replacing the house battery bank, alternators, inverter, and a bunch of wiring. The current house bank is undersized for my use case, and is 6V flooded golf cart batteries, which require a moderate amount of maintenance.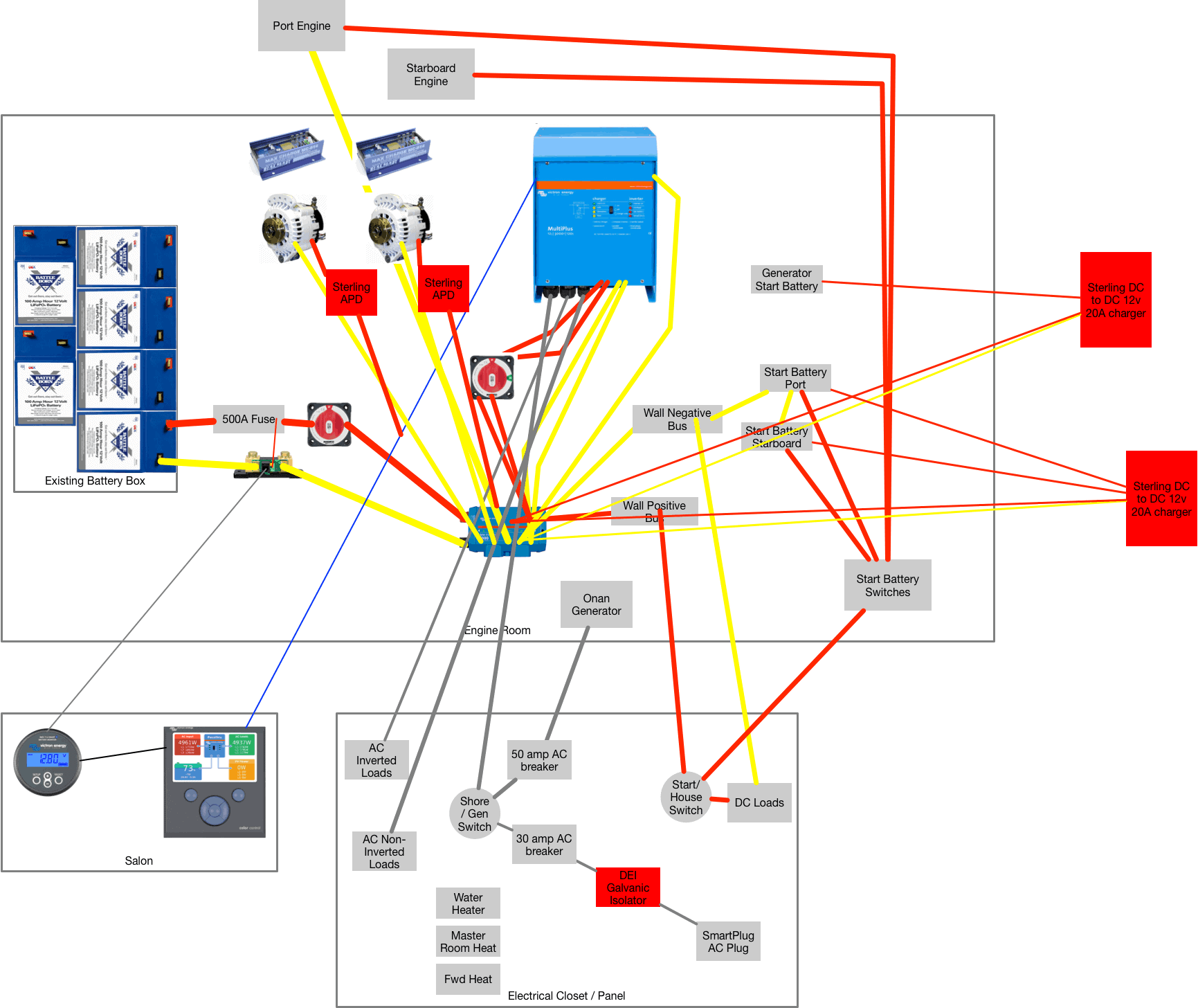 I'm replacing them with LiFePO4 batteries, adding a Victron MultiPlus 3000W inverter along with a Color Control GX display, and BMV-712 battery monitor. The LiFePO4 batteries will give me 30-40% more capacity, and of course will recharge much faster. The Victron pieces will allow far more visibility into power usage, and allow remote monitoring as well.
I'm changing how the AC  wiring is routed with the Victron MultiPlus to the same configuration I had on Grace. Instead of the inverter being a 20 amp circuit hung off of the AC panel, I am routing all AC power both from the generator and shore to the inverter. I will be using two AC outputs from the inverter, one for always on/inverted loads, and one for items that only are energized with shore/generator power. I also will be adding a bypass in the event the inverter completely fails.
This allows me to see how much AC power I am using from a central point and  use features like Power Assist which can take battery capacity/power and use it to augment my smaller 30 amp shore power connection when I am at the dock. Right now, I have to manually manage this which results in tripped shore-side breakers pretty often.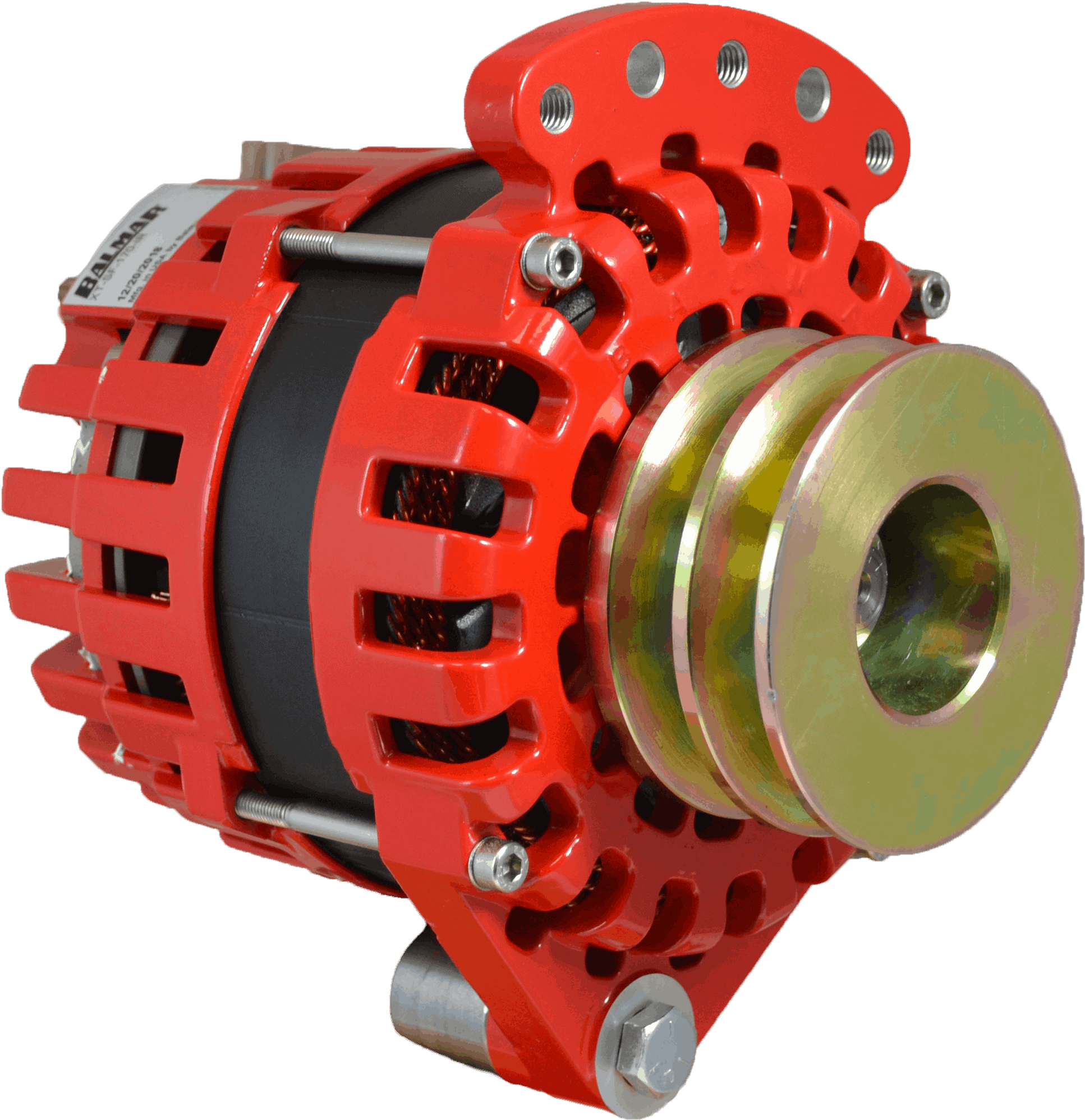 On top of the battery and inverter change, I am also changing out the two alternators on the engines to the newer Balmar XT 170, adding MC-614 external regulators and upgrading the wiring. Both alternators will be charging the house bank only, and will be protected by Sterling Power's Alternator Protection Device. To charge my start and generator banks, I will be adding two Sterling DC-to-DC battery chargers which will get their DC source from the house bank. This configuration should allow the alternators to charge the house bank the most efficient way without having relays, ACRs, combiners, etc. while also keeping the other banks topped off.
Diesel heater replacement
Two weeks ago, my 22 year old Webasto Air Top 5000 started seriously flaking out. It had been making weird fan noises for most of the winter, but I chalked that up to being wired incorrectly. I fixed that wiring a month or so ago, but the noises continued. Then a week ago, it completely failed.
After taking it to Sure Marine Service to have it looked at, it turned out it needed over $1000 of repairs, when a new Air Top 55 unit, along with the Sure Wire board, which I did not have, was about $2700. I opted for a new unit, and installed it a few days ago.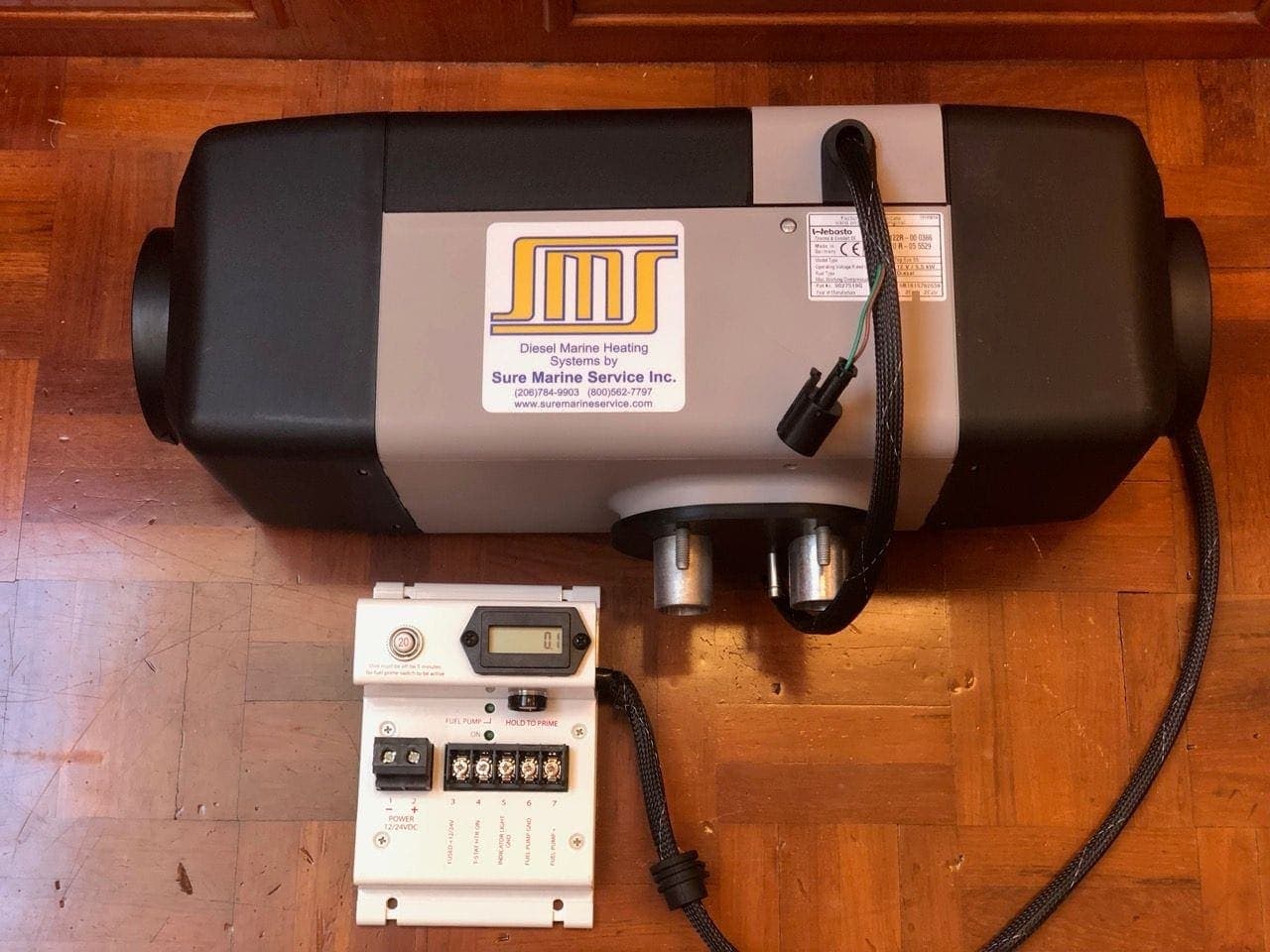 Not only is it quieter, but it is more powerful, and I now have the ability to keep track of hours, and manage priming and other things with the Sure Wire board.
Blue Guard bilge sensors and gateway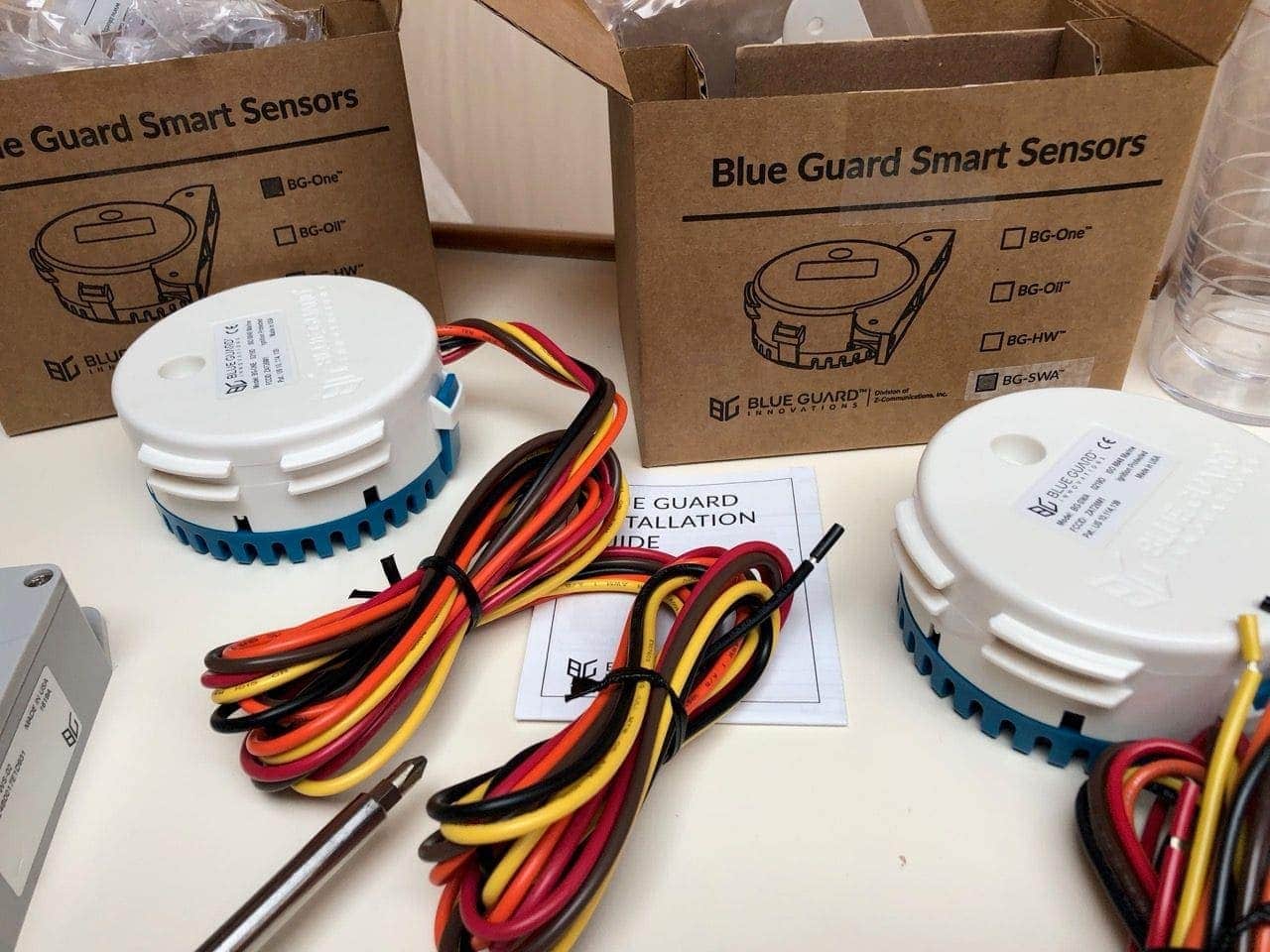 Ben at Panbo did a recent post on Blue Guard's new IoT gateway and sensors, and I plan on a post as well here in the next few weeks after a bit more time on the water with their products. So far I am extremely impressed and very excited about the visibility their product provides, and their design philosophy.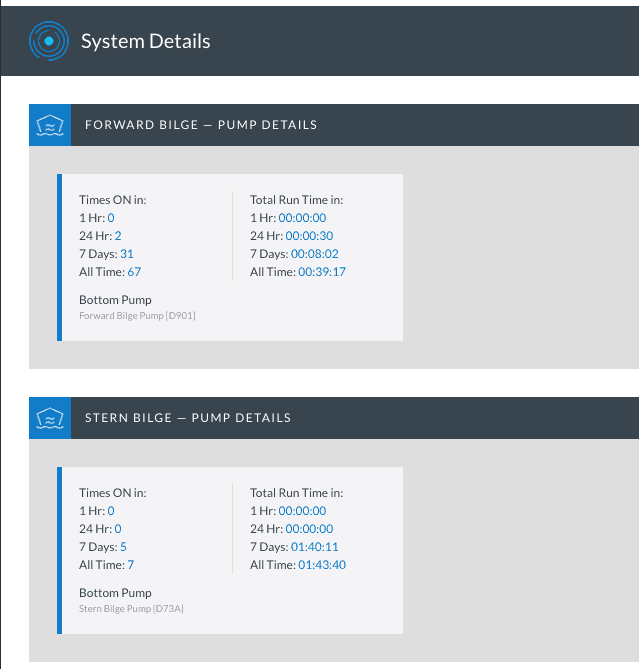 Being able to see how many times your bilge pump has run, the duration, and many other details including current consumption, temperature, etc. is very helpful, especially when you can access it both on the boat, and remotely, and get alerts when things are outside criteria you define.
Stereo upgrade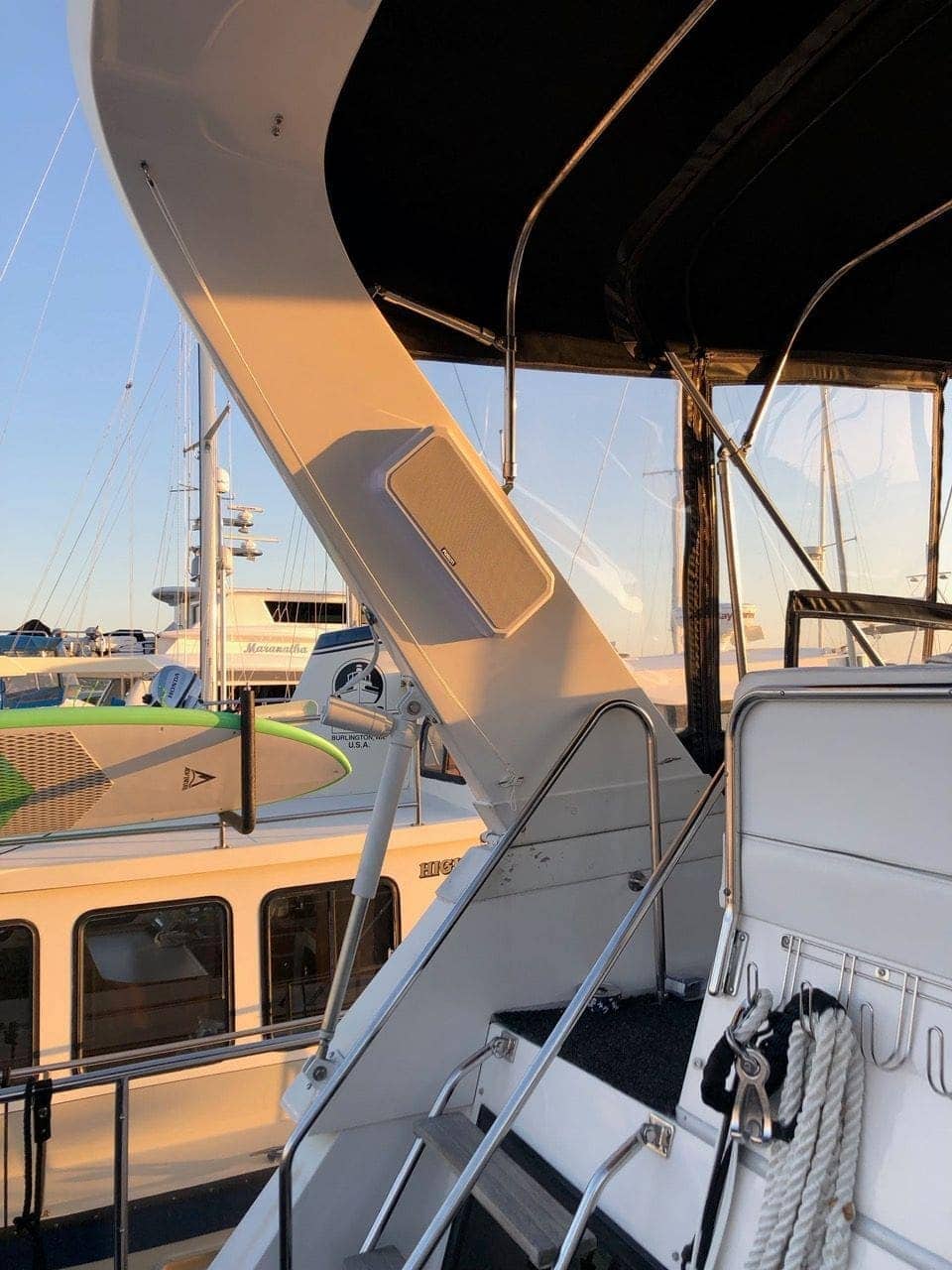 Rendezvous came with a 1990's era stereo, which I replaced with a Fusion AV-650 that I had in storage. However, the speakers were also 1990's era, and there were none outside or on the flybridge. Phase 1 of this project is adding two Fusion panel speakers (which are amazing speakers in their own right) to the arch in the flybridge, and a self powered subwoofer nearby. Phase 2 will involve interior speakers and a subwoofer, and likely an amplifier and new head unit. For now we're using a wonderful Sonos system, but I would like something that doesn't run off of AC power, isn't quite as bulky, and can be synched with the flybridge music.
Fire alarm system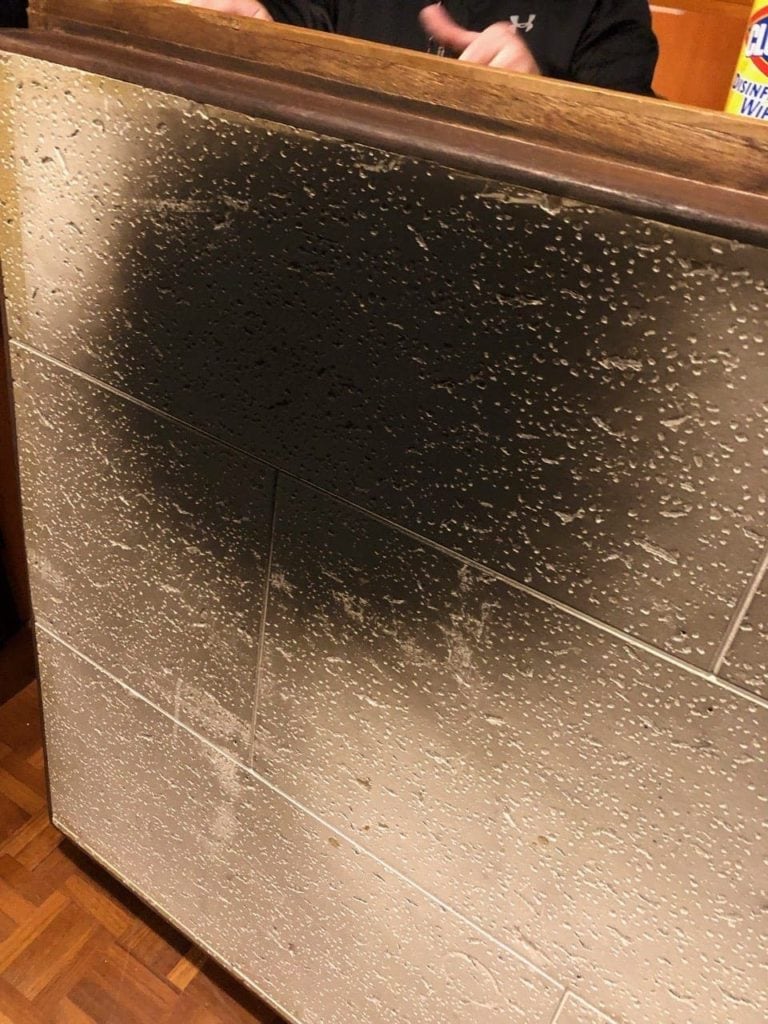 After our adventure this winter in which the pre-heater melted down, I wanted to provide some better early warning for smoke and fire in the engine room. Combined with the Blue Guard sensors, I am installing Aqualarm heat and smoke sensors along with a control and warning panel. The Blue Guard sensor will allow for remote monitoring and alarms as well.
Depth/speed/temp sensor
My existing depth/speed sensor has been wildly inaccurate since day 1. It also was part of the older Furuno RD-30 display system, and had two different transducers – one each for speed and depth. Thankfully they are more modern and adhere to the standard Airmar size, so I am replacing one of them with a new DST800 which has depth, speed, and temperature.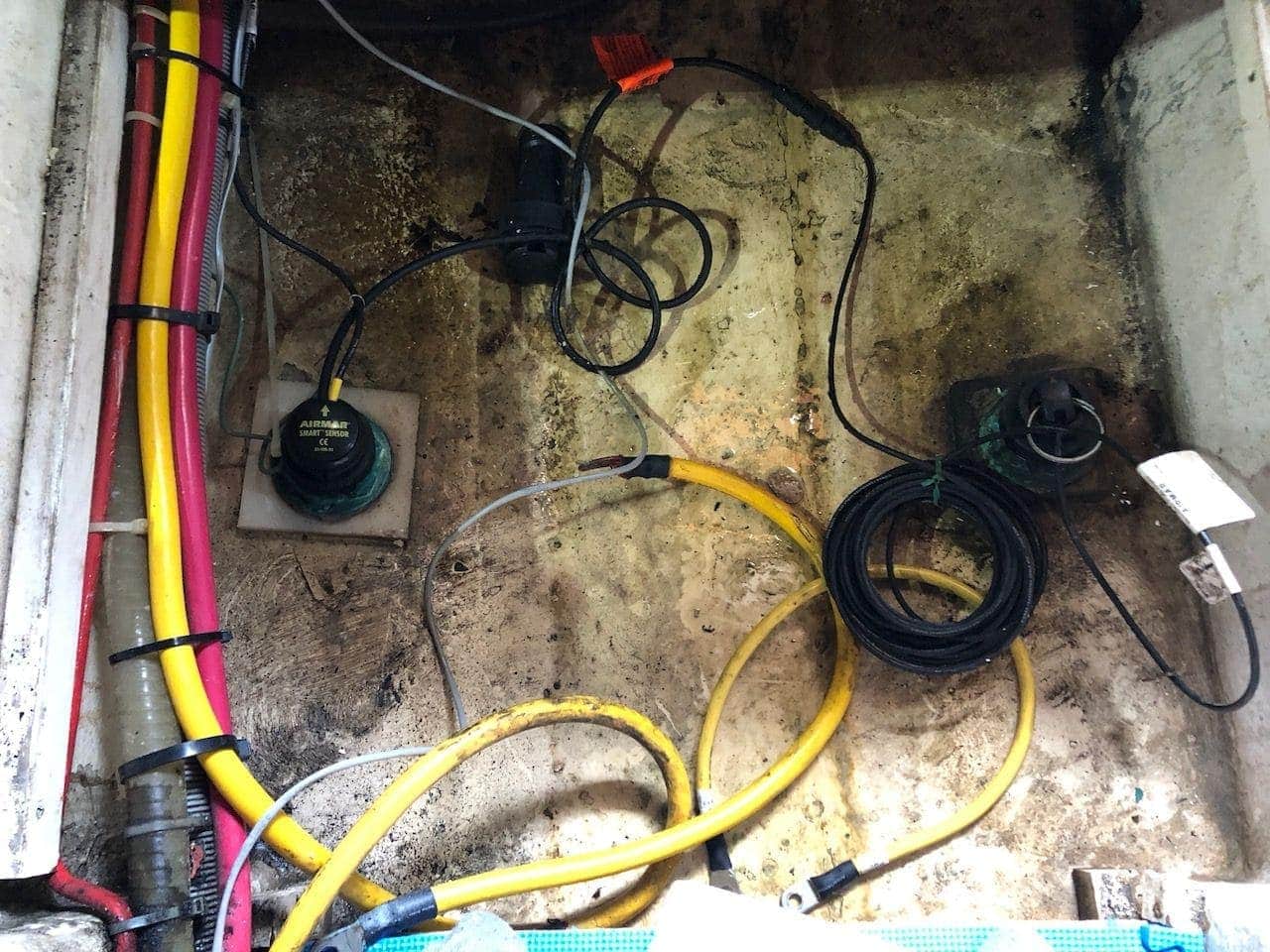 Once this is installed and working well, I will likely replace the second half of the old sensor suite with either another DST800 for redundancy, or the new UDST800 ultrasonic sensor if they figure out how to calibrate it reliably.
Outdoor furniture – table + chairs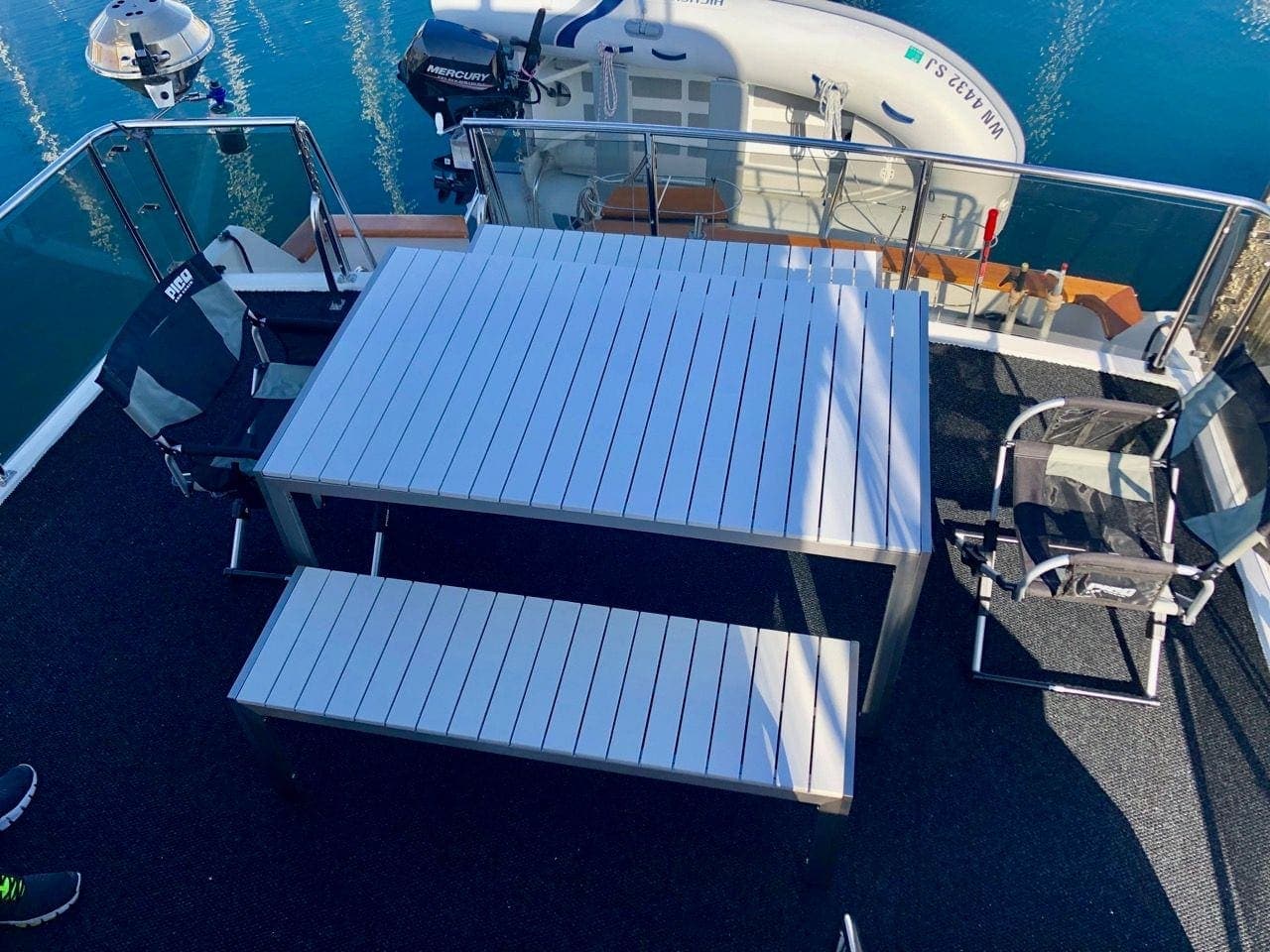 We've been working on this one a while, and have the table and benches on board, along with (way too many) pillows. The table has been an absolute hit with the first few larger groups we've had on board, and we're refining how we store it, move it around, and configure it depending on whether we're underway or at anchor. For now we are using our existing portable chairs to augment seating, but eventually we would like some nicer ones along with some outdoor storage for various things (including the bazillion pillows).
Wipers
Rendezvous has no windshield wipers or working motors on the lower windows, which always get wet even on warm days with moderate waves. I've been working with local Ocean Alexander experts as well as AM Equipment in Oregon to scope out replacement motors, wiper arms, and other related pieces. Unfortunately the only way to get to the existing motors is to cut access holes in the headliner in two areas, but it needs to be done.
Anchor chain
I upgraded my anchor in the first weeks of owning Rendezvous to a Mantus, paired with their swivel, and more recently their V2 chain hook. However, the chain is not in the greatest condition, and I only have about 180 feet aboard. I will be upgrading this to 300 feet of Titan grade 43 chain. This will give me the necessary scope for some of the deeper anchorages we plan on visiting later this year in Desolation Sound, while increasing the strength of the chain from the BBB we currently have on board.
Blinds / couches / interior
So much work has been going on inside, and will get its own post here very soon. All of the curtains in the salon are being removed and replaced with day/night blinds. Several other locations are getting new blinds where there were no window coverings.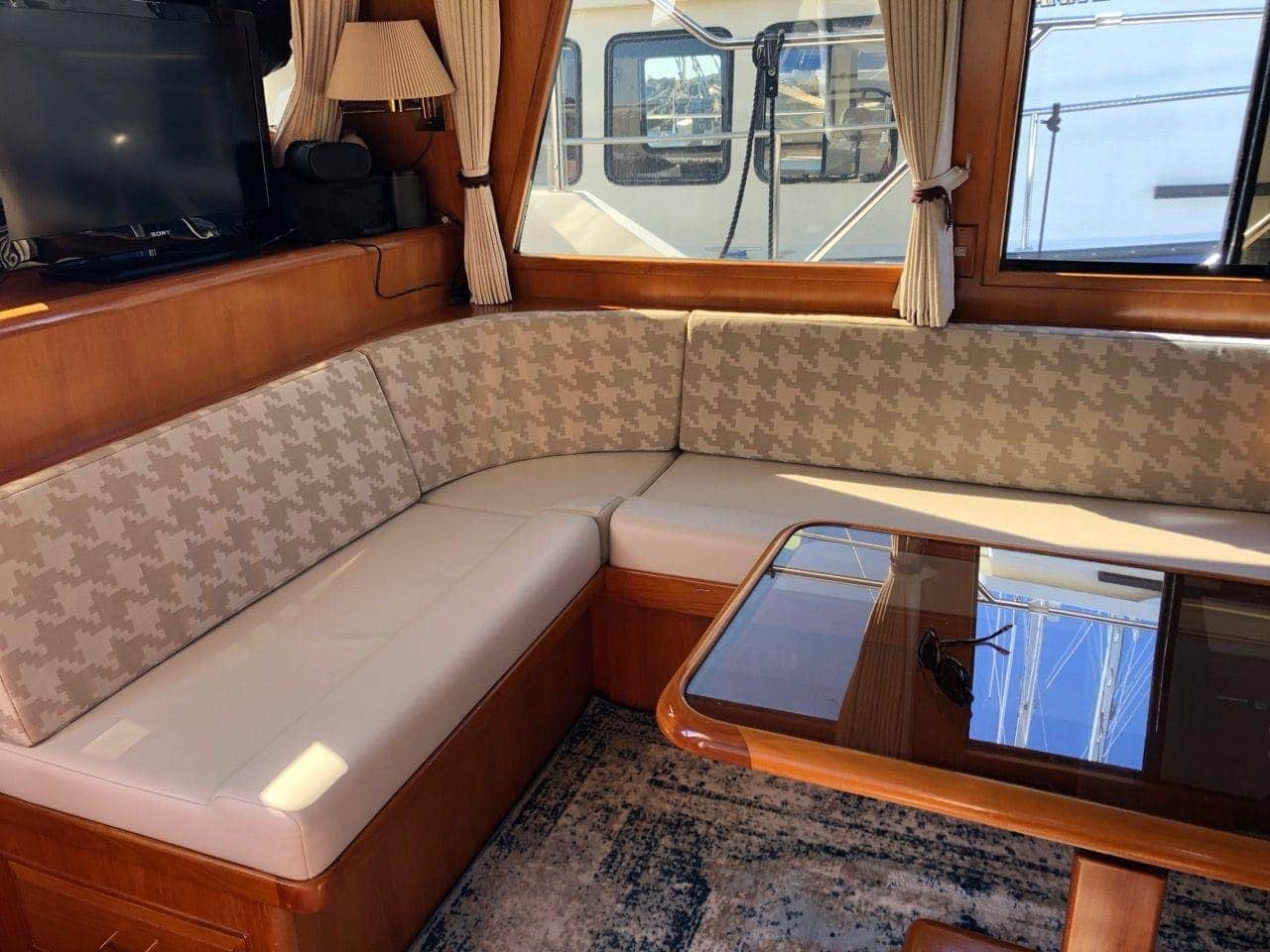 Our new couch and dinette cushions just arrived, which will make a huge difference in updating the interior. One of the old ones was damaged in survey and never looked quite right after repair. I love the new back herringbone pattern.
Tons of other updates have happened in the interior – new carpet/rugs, furnishings, pillows, accents, colors, and more, and a bit more is underway.
LED port/starboard lights
A few months ago I finished replacing all of the lights on board with LED, including new bulbs for existing port/starboard navigation lights. The rest of my navigation lights I upgraded to dedicated LED fixtures, but the starboard and port lights I re-used and just replaced the bulbs. Unfortunately those bulbs have failed twice now, most likely due to voltage spikes/sags during various times (windlass in particular) and have reduced my confidence in many after market LED navigation bulbs and their ability to operate correctly.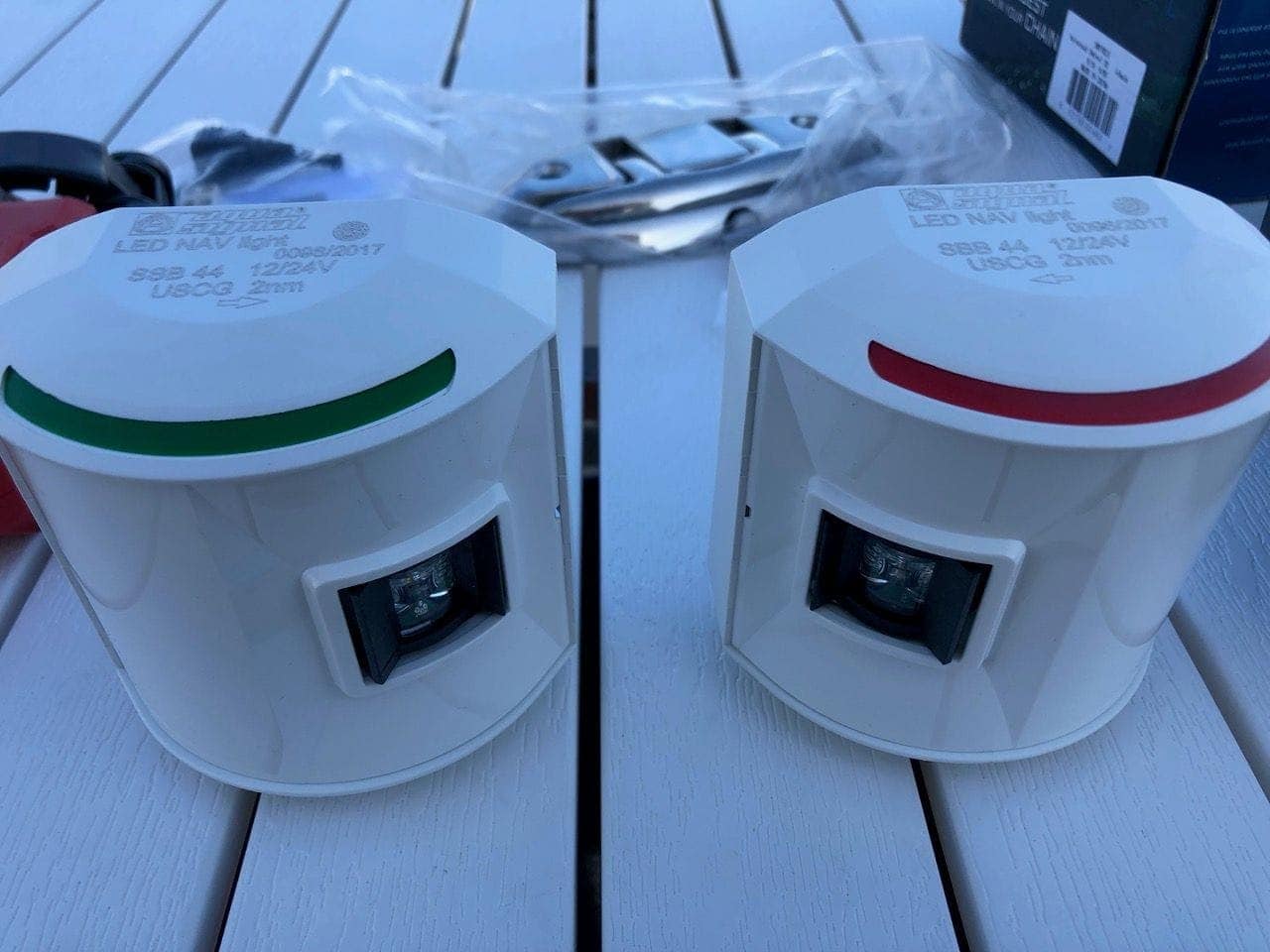 To keep things consistent, I'm installing two new Aqua Signal Series 44 port and starboard lights that match the steaming and stern light I added, and this should be the last time I have to deal with nav lights.
Fans everywhere
There are no fans, nor for that matter air conditioning, in any of the cabins on the boat. There are two very ineffective "defrost" fans near the salon front windows which are amazingly loud, but produce little air movement.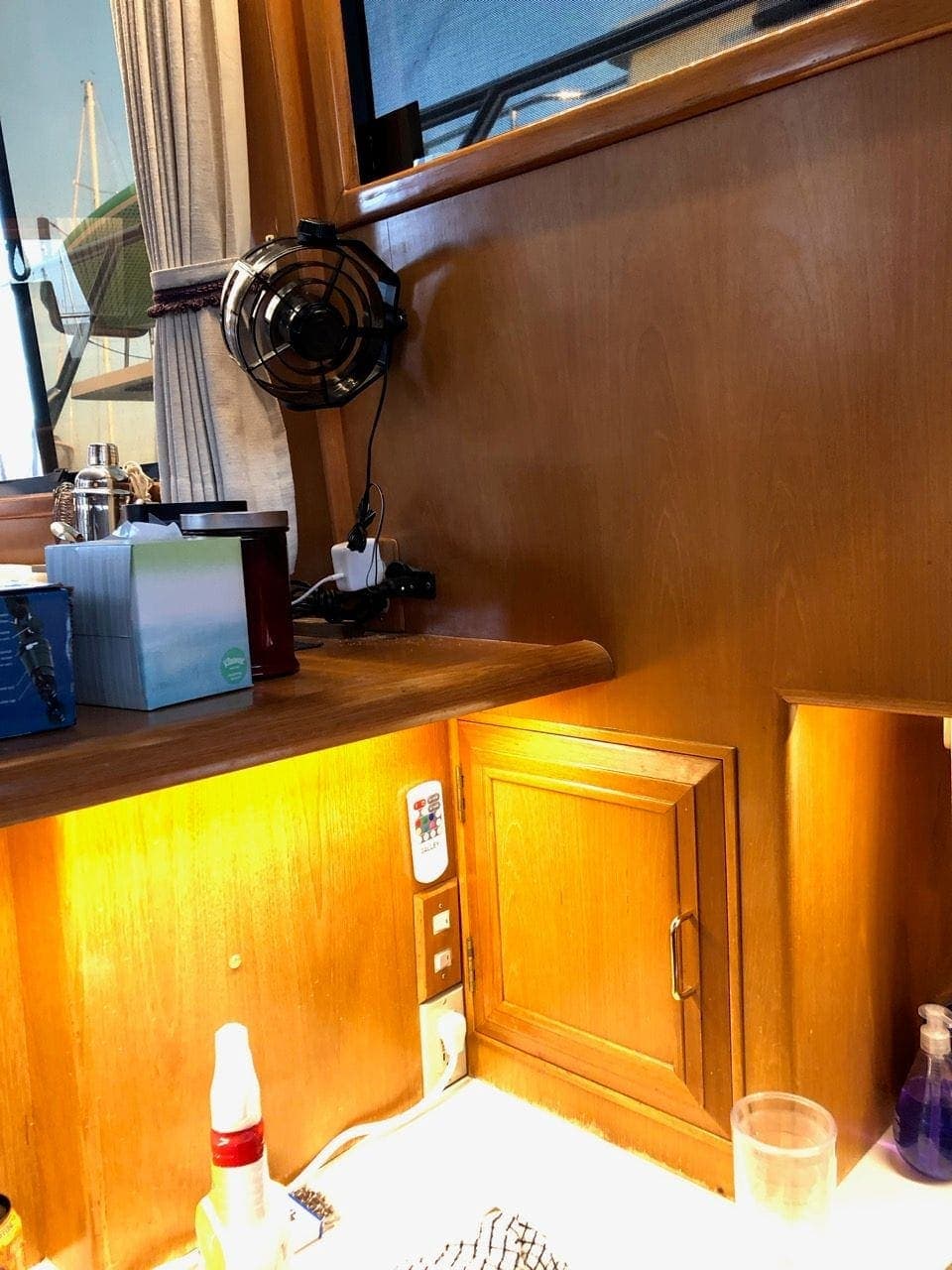 Two will go in the flybridge, which we have already determined gets very warm with the black canvas and mostly closed windows. Two will go into the salon, two in the master cabin, and one will go into the guest v-berth cabin.
Water pump and accumulator
The current water pump is a FloJet model with around 3GPH capability. The piping to and from it is a nightmare, having been modified to remove a failed Groco accumulator tank which was removed. Much of the piping has joints and connections that have slow leaks, including one side of the pump.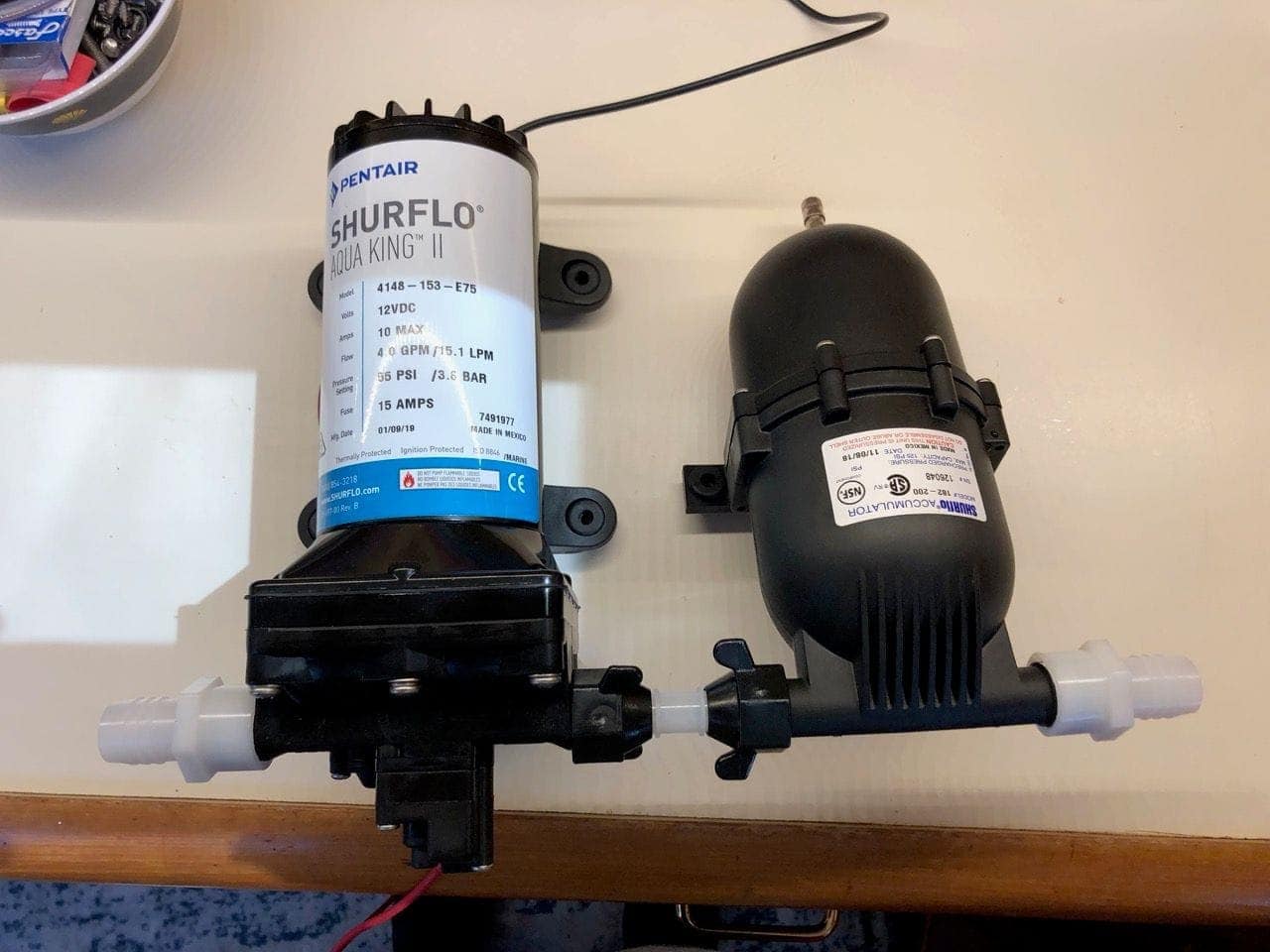 I also hate the delay in pressure when turning on any tap throughout the boat, and based on the number of taps, I think the current pump is undersized. Instead, I will be adding a 4GPH pump with accumulator.
Dinghy management – cleats and bumper
The swim step on Rendezvous is nice and spacious compared to many boats, but it is also very high off the water, even when all of her tanks are full. As a result, the dinghy can slide under it and either get stuck, or incur some damage from the bits underneath. In addition, there is not a single cleat or object to tie off to when the dinghy is in the water.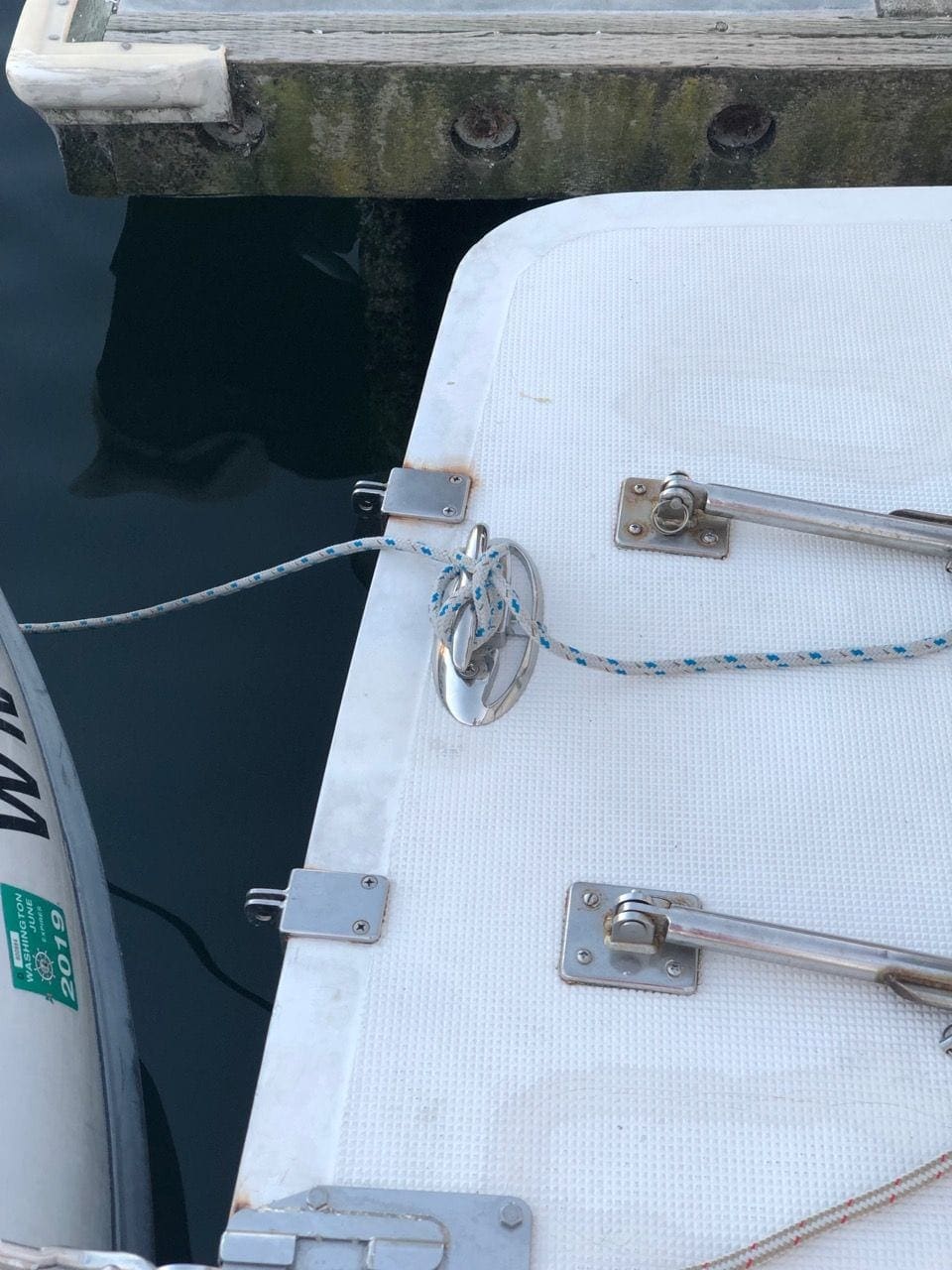 I'm adding two pop-up cleats to help with the latter problem, and after hours of research and forum posts, an interesting L-shaped fender from Harken to try to keep the dinghy off the swim step and from sliding underneath.
Dingy anchor and accessories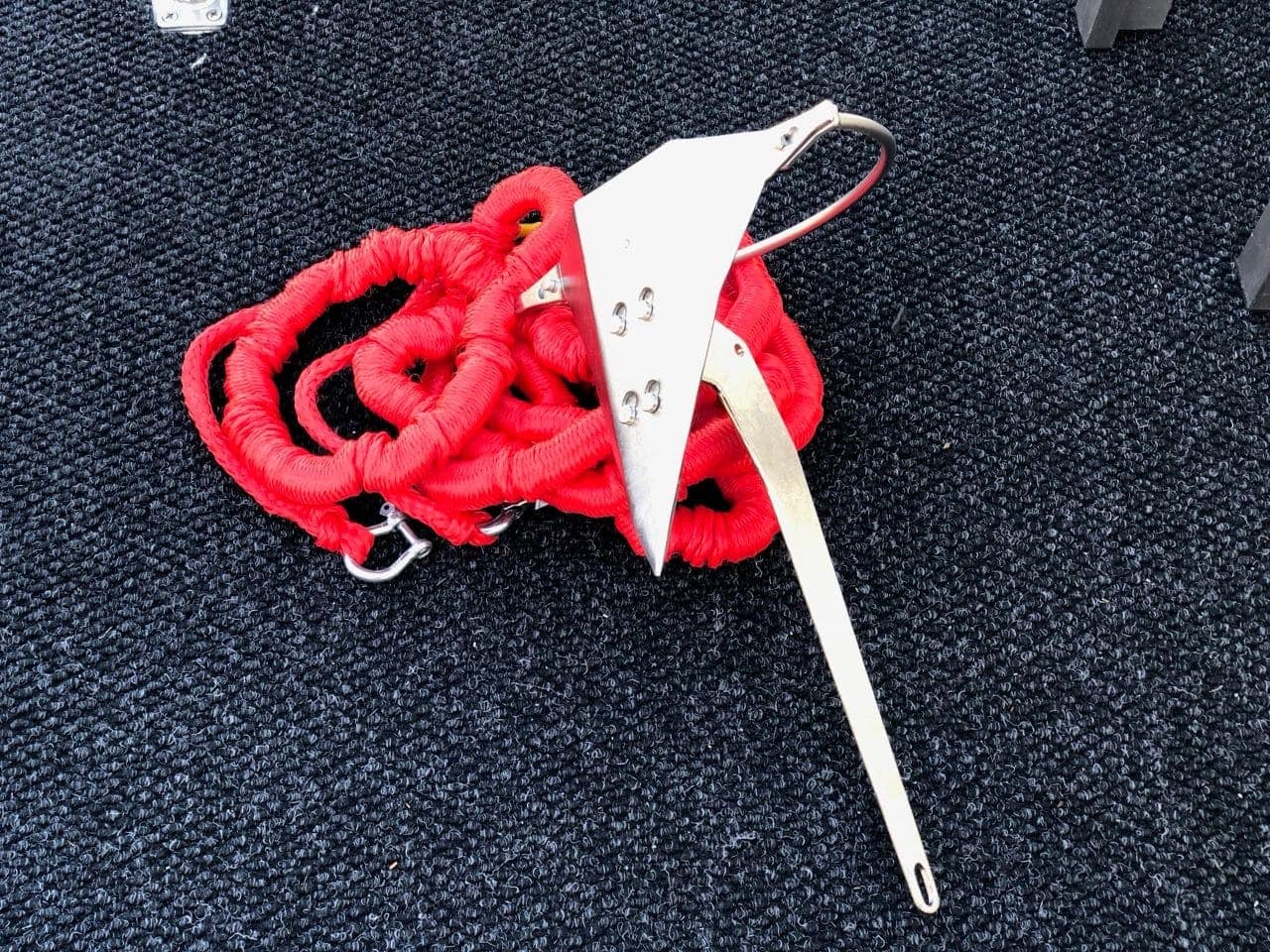 Our beautiful Highfield dinghy and paired Evinrude 15HP EFI motor came with the bare minimum. No anchor, anchor buddy, ropes, seat cushions, or any other comforts. I'm still searching for someone who can sell me the Highfield seat cushions with integrated storage… I added a Mantus dinghy anchor and line, anchor buddy, handheld depth gauge, and a few other odds and ends. This should really help on our planned summer trips while out and about on the dinghy.
Water tank monitor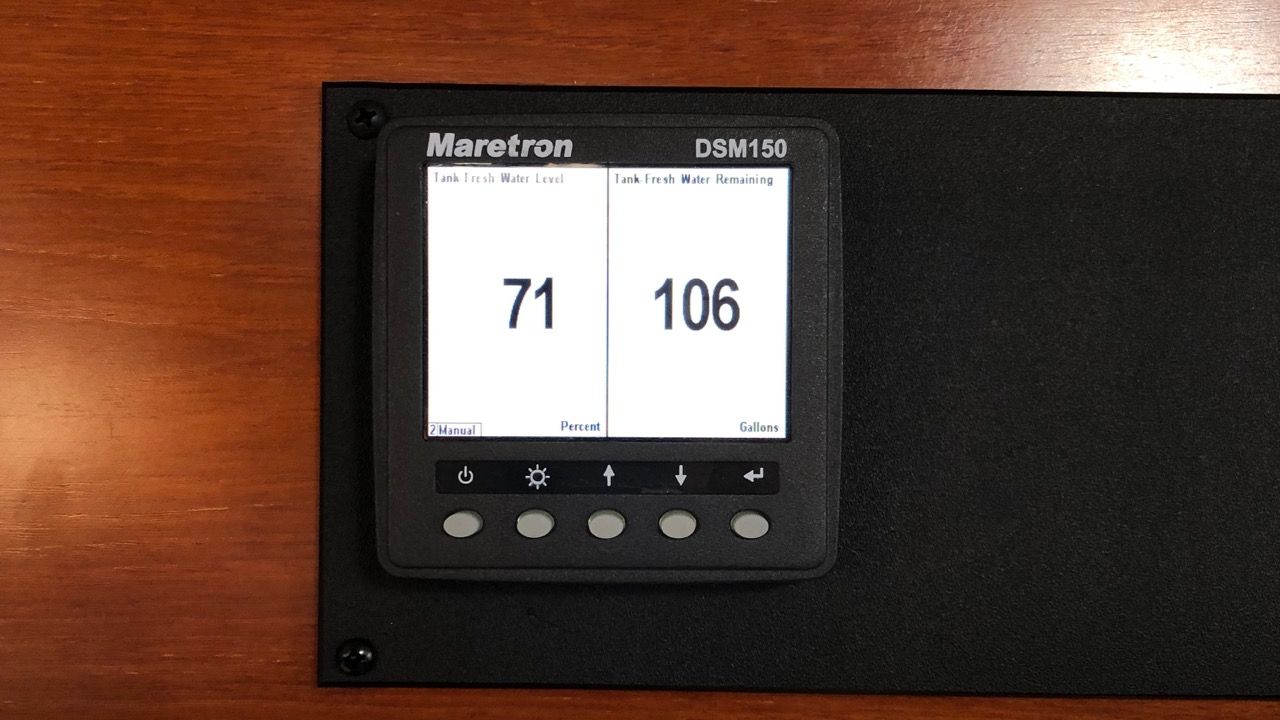 I added a Maretron TLM to monitor my diesel tank a few months ago, but need one for the water tank as well. We've run this out several times, even with a watermaker, when I wasn't checking it several times a day. Running NMEA 2000 to the water tank is trivial since the diesel tank is literally 3″ away and already has a sensor. The bigger challenge is cutting a hole for the sensor, as there are no inspection ports or other openings I can co-opt.
New BBQ and mounting system
The existing round Magma BBQ is one of the smaller ones, and is inadequate for 4 people on a normal trip. Add a few more people, and the grilling surface is just not big enough to keep up with demand. Additionally, it looks like all of the innards are in need of replacing, the piezo lighter doesn't work, etc.  I also was not a fan of where it was mounted – on the sun deck stern rail, over the cockpit floor where we generally store the gas cans for the dinghy.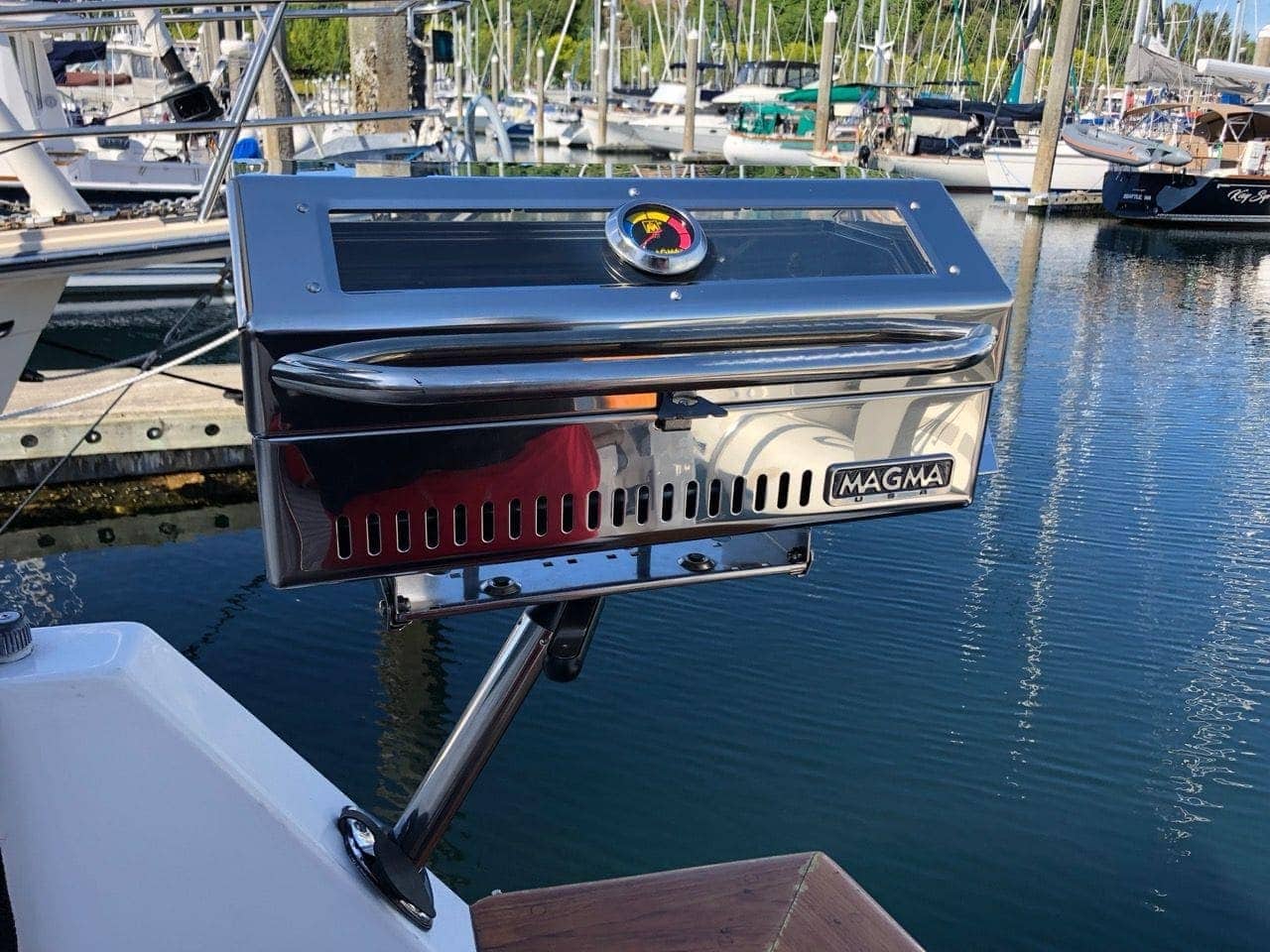 We had nice Perko pole mounts in the cockpit on the stern rails, so I had Magma make a longer universal Perko mount, and mounted a new Newport II infrared grill on it. The location should be safer and a bit more removed, and the grill is much larger and better for the type of cooking we do.
Spares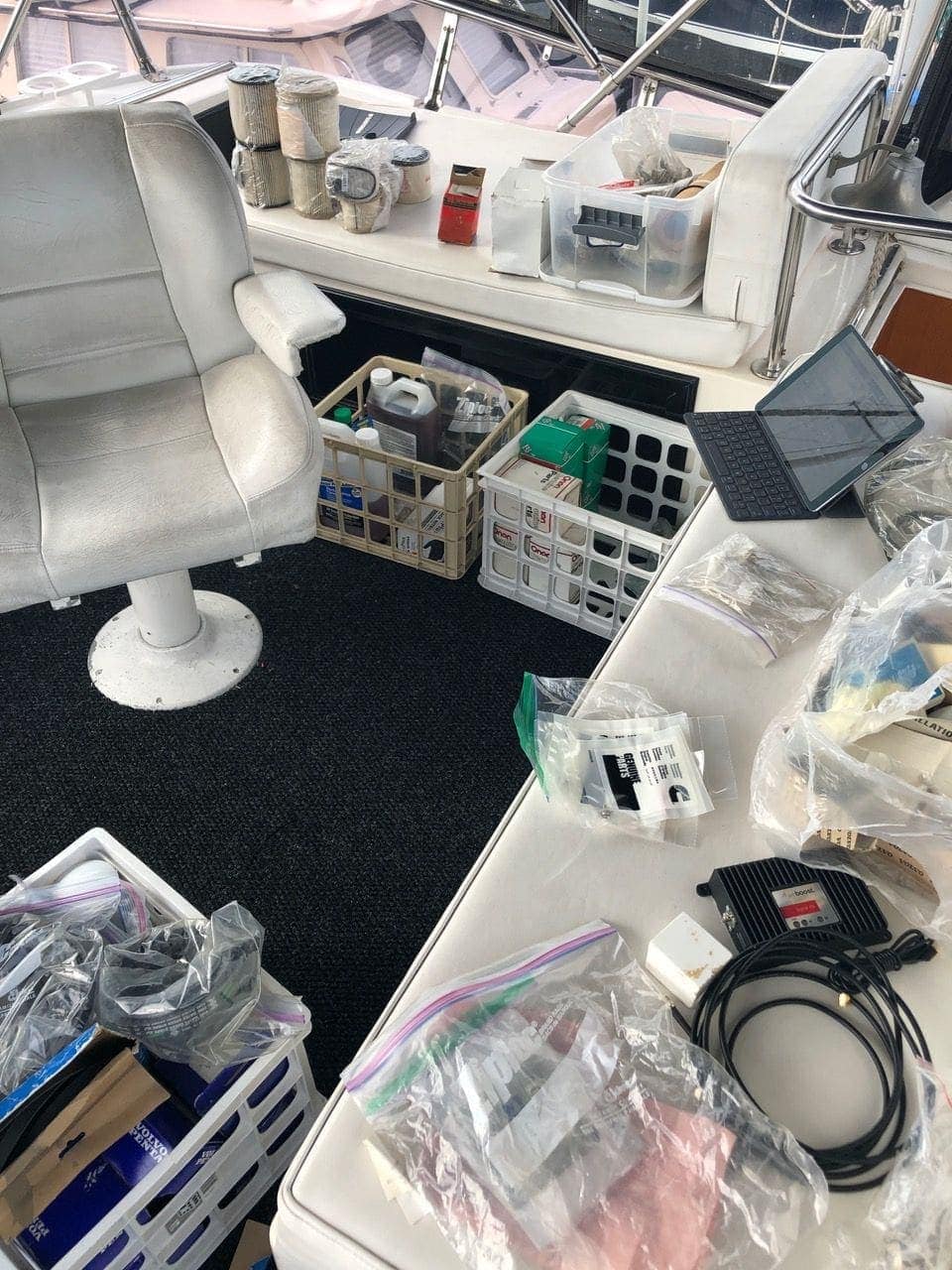 I have a full inventory of all spares for the boat, and am augmenting some of that, specifically around the water maker (there are no spares, have to research that) and some other necessary areas. Overall, the boat came with a good amount of spares covering all of the critical systems, but I don't want to be stuck without having critical supplies.
Can I complete this all?
Anyone who knows me understands how much I love working on boat projects, and all of the above qualify as some of the more "fun" ones in my eyes. I am hoping I can complete everything above, combined with a list of many other small things, in May so that I can settle down into enjoying the boat for the rest of the summer. The biggest challenge will be the LiFePO4 project as it will require at least 2 weeks of hard work to get things back to usable before the boat can move again. Everything else can happen asynchronously with the boat being out on the water.
What I am very happy about is all of the improvements in comfort, safety and usability all of these projects will provide!