I was lucky enough to be part of the beta program for the OpenROV Trident underwater drone. Mine was named Rhenium by the OpenROV folks.
I am currently diving Rhenium with a 25m and 100m tether. She has a 95 watt hour battery inside the ROV itself which powers the ROV as well as the topsides tether, which you can see in the picture below. The ROV is in the top middle of the picture, and the topsides is the black oval with the white item in the middle on the right hand side.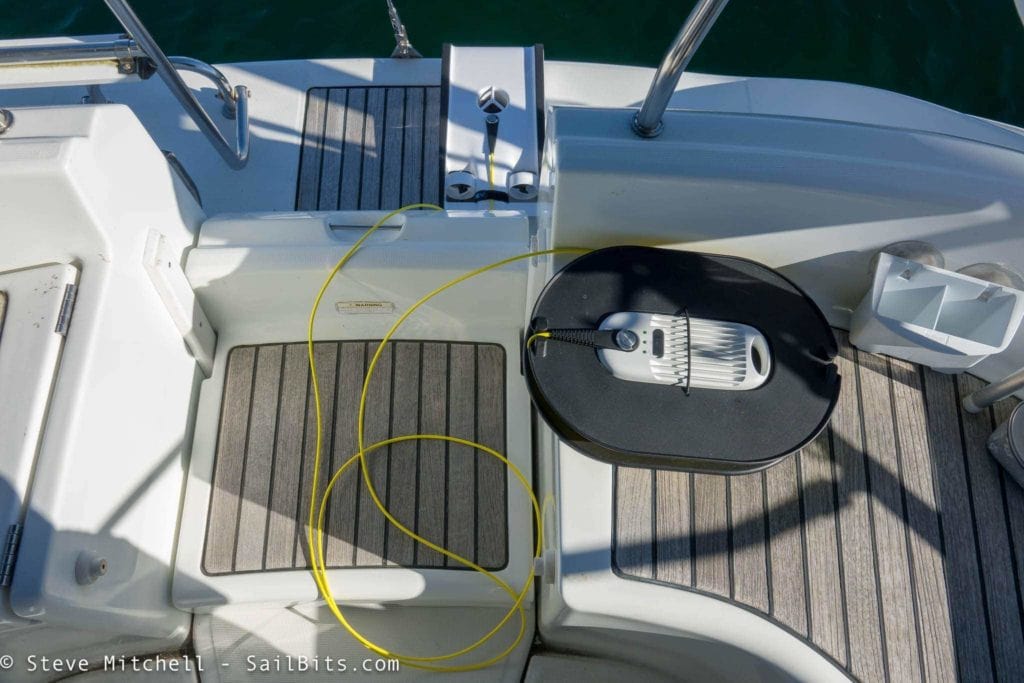 I will be diving primarily off of my boat Rendezvous around the Puget Sound area. In particular I am interested in diving around the anchorages and marinas that I visit frequently, and seeing some of the wonderful sea life that I hear divers talk about all of the time.
Here you can see the ROV ready to dive with the kevlar-reinforced tether attached, as well as the velcro holding it securely to the tail. The battery lights are also barely visible on the very stern of the ROV.
Videos
If you prefer to see all of these on Youtube directly, you can head over to my Trident OpenROV Playlist.
First Dive – this was my first set of dives, with boring parts edited out.
Fish and Crabs – a few days after my first dive, I lucked out and found a school of spotted ratfish and some crabs that I ended up following around for a while. Such a wonderful world below the water!
Night Dive Stills
I'm still working on the video, but here are some stills from the recent night dive I did.