The third and fourth days of our South Puget Sound trip were spent getting to and enjoying Olympia and Swantown Marina. We left our mooring at Eagle Island mid-morning, and headed along the north end of Anderson Island under motor, passing through tons of crab pots. The weather was beautiful – clear skies and an expected high of 75. Wind was very light, so we motored until the Devils Head area.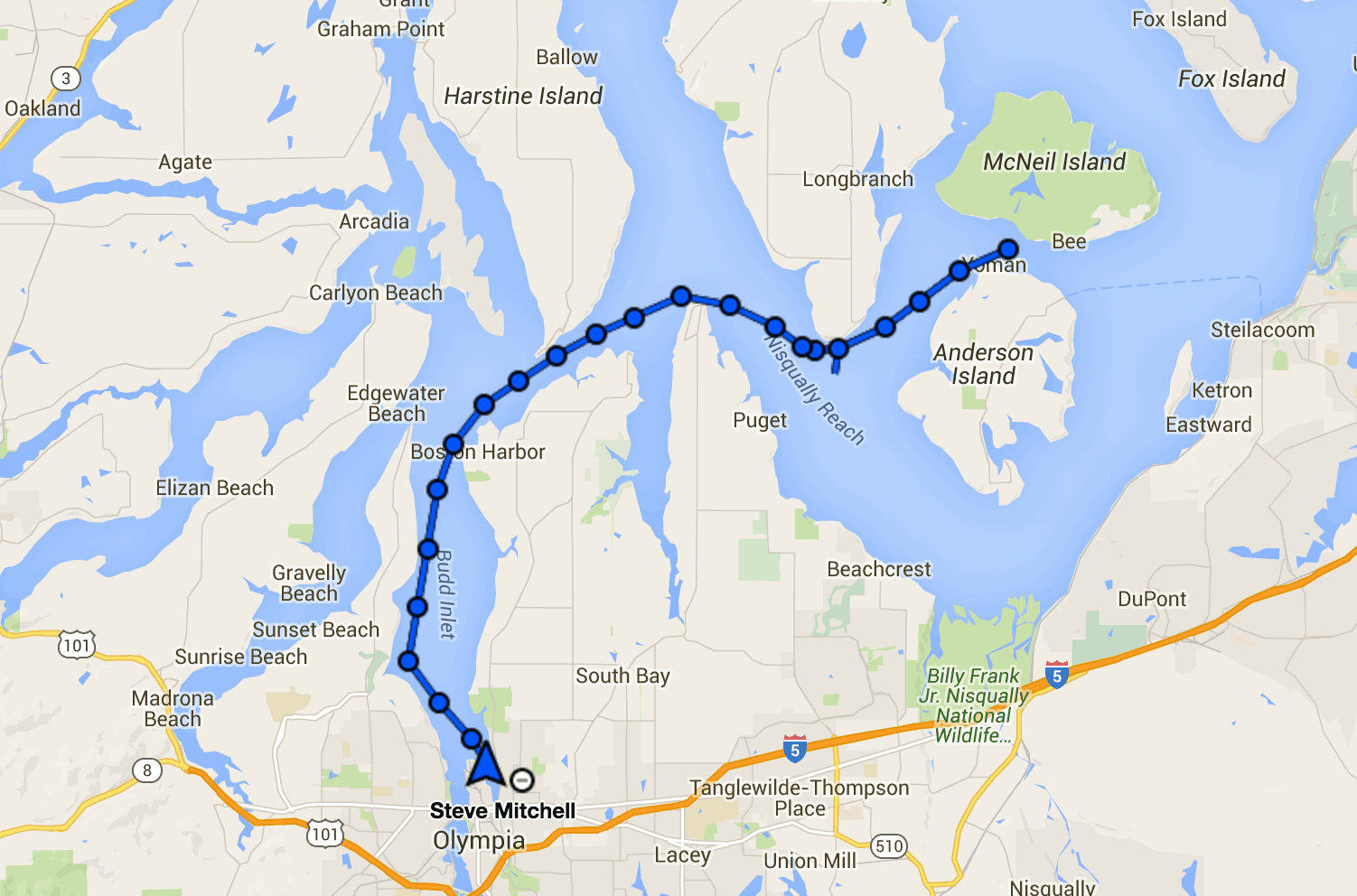 Eagle Island to Olympia track via DeLorme InReach Explorer
Total distance for this leg of our trip was 16.43nm, an average of 6 knots speed.
Josh relaxing near Devil's Head with the Olympics in the background
Around this time I noticed that my favorite small camera, a Panasonic DMC-LF1, had some sort of aberration in photos I was taking. You can see it in the picture above in the upper left. Unfortunately, to clean this requires taking the entire camera apart and accessing the sensor deep inside, something I was not able to find a safe place to do for the rest of the trip. I left my big Nikon at home due to space concerns, but will never do that again!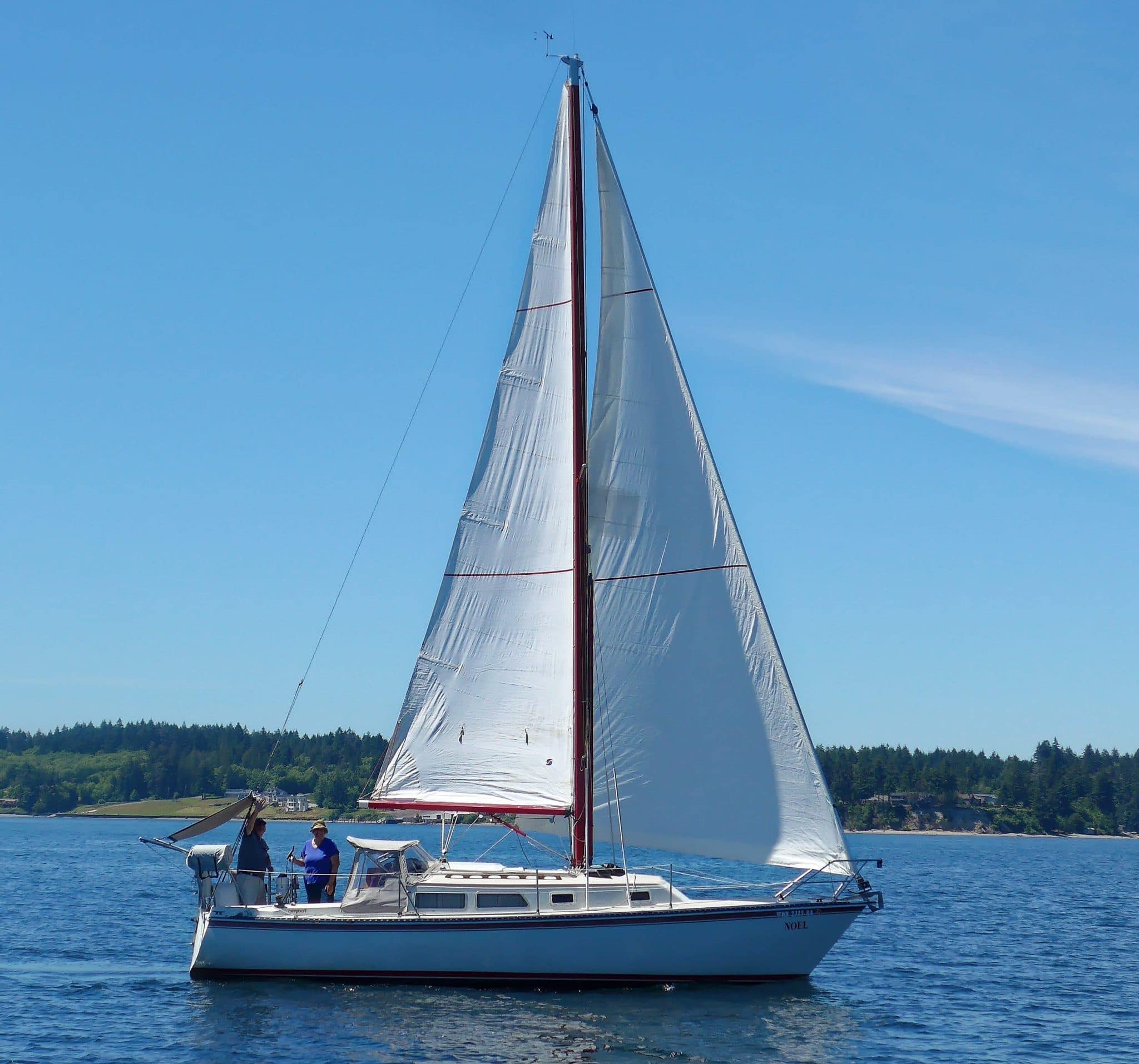 Noel under sail
We started feeling a bit of a breeze and decided to try to sail for a bit. Noel was up first with sails and cruised on by.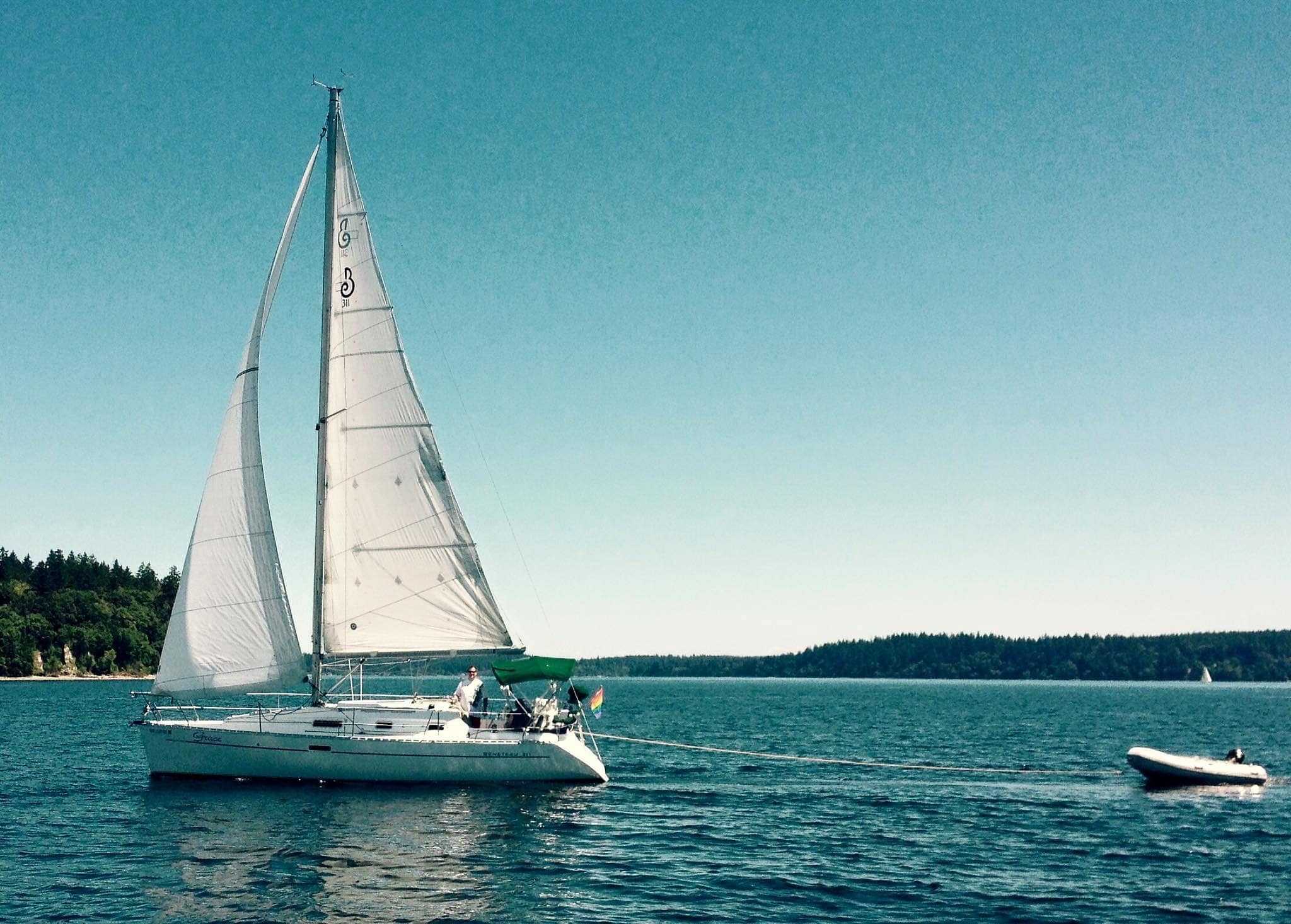 Grace under sail as seen from Noel
Noel took some great pics of us sailing by as well. Our mainsail looked far better this time around compared to our trip to Winslow. I found the leech line was strangely run through two grommets several times to take up the slack, which needed to be longer. In addition, the reef lines were also tangled weirdly, and some other minor adjustments to outhaul and vang got our mainsail into perfect condition for the rest of the trip.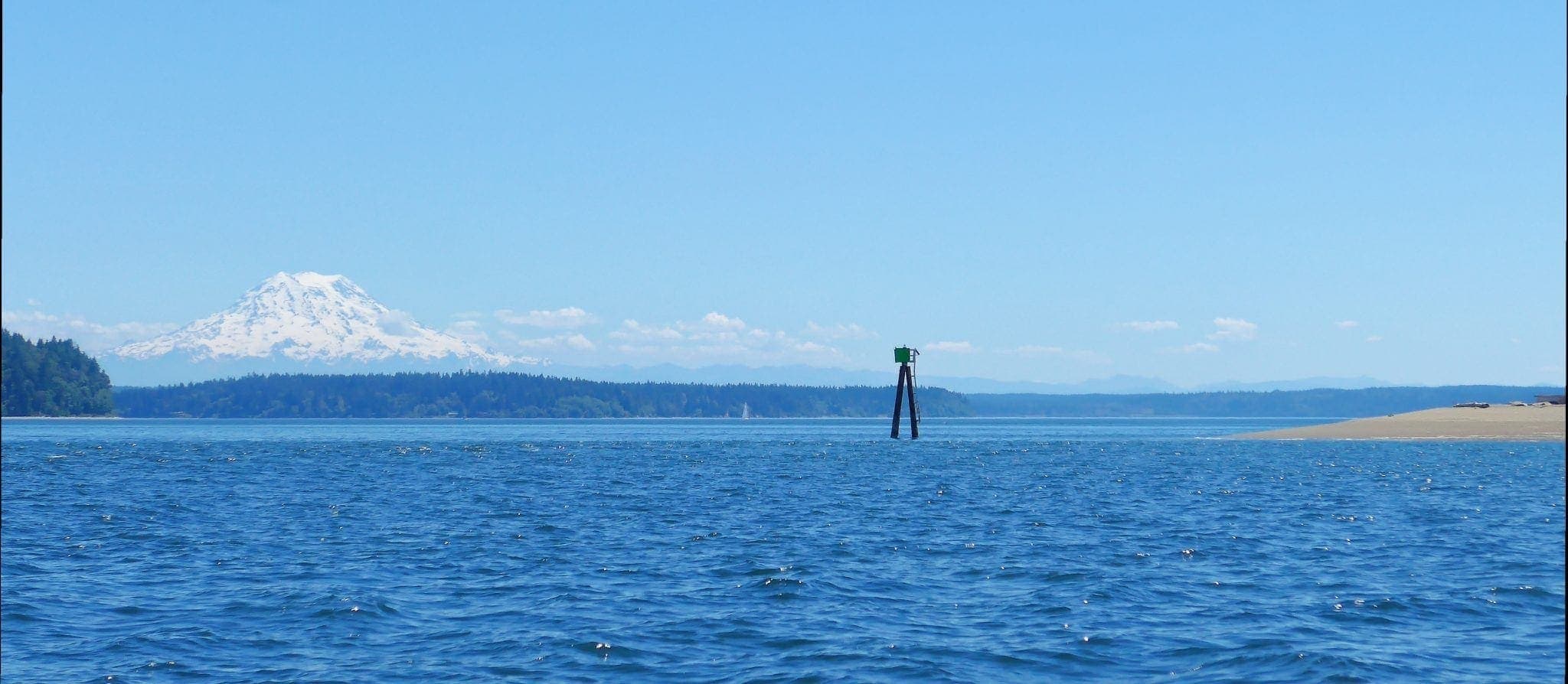 The wind died and it started getting hot, so we decided to motor around Johnson Point and the rest of the way in.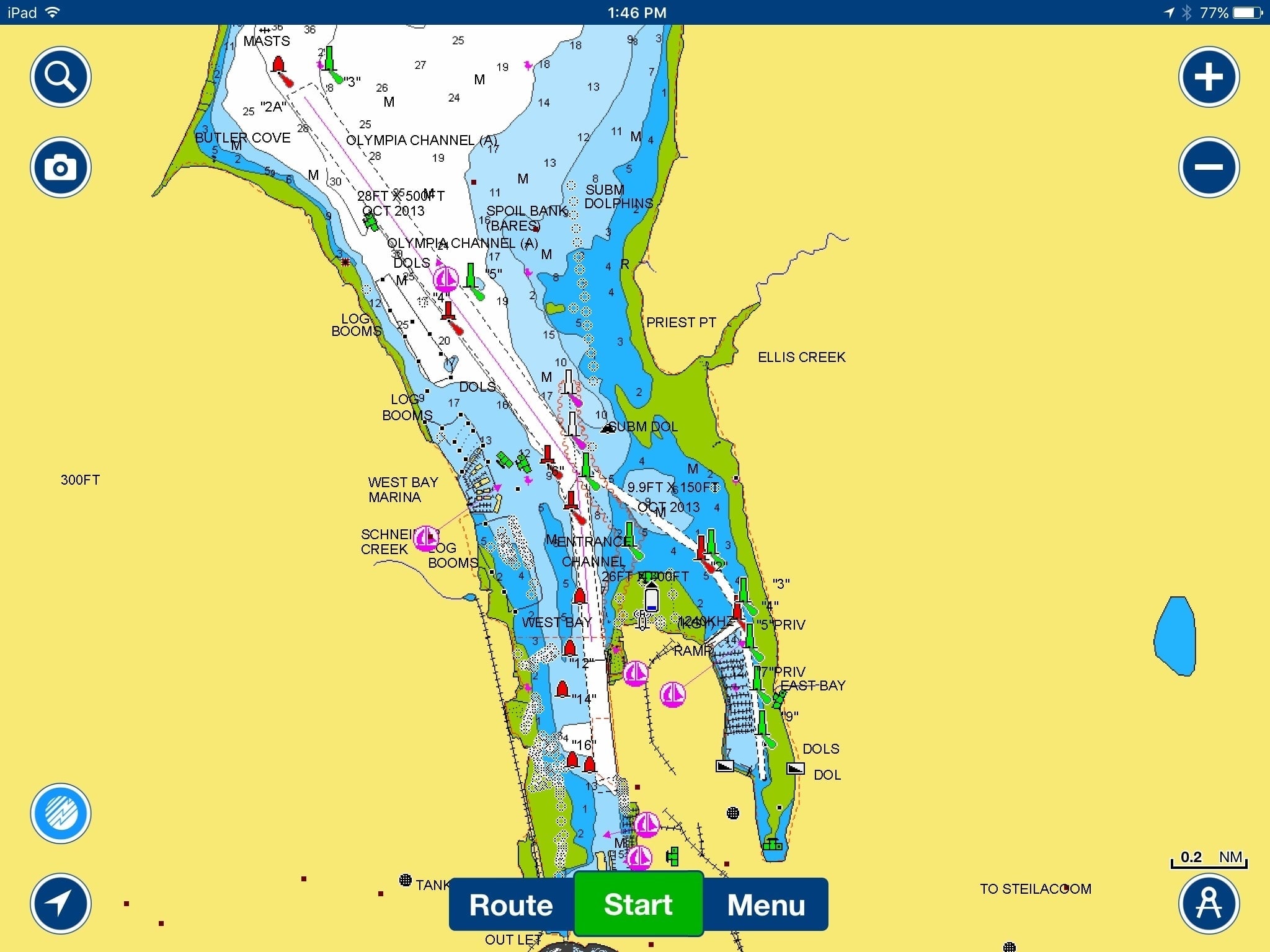 Budd Inlet and the entrance channel into Olympia is a moderately challenging path with lots of markers and buoys to pass through. None of us had been to Swantown before which is in the East Basin. We had all been to Percival Landing and the West Basin before, which is a much more straight shot down the channels.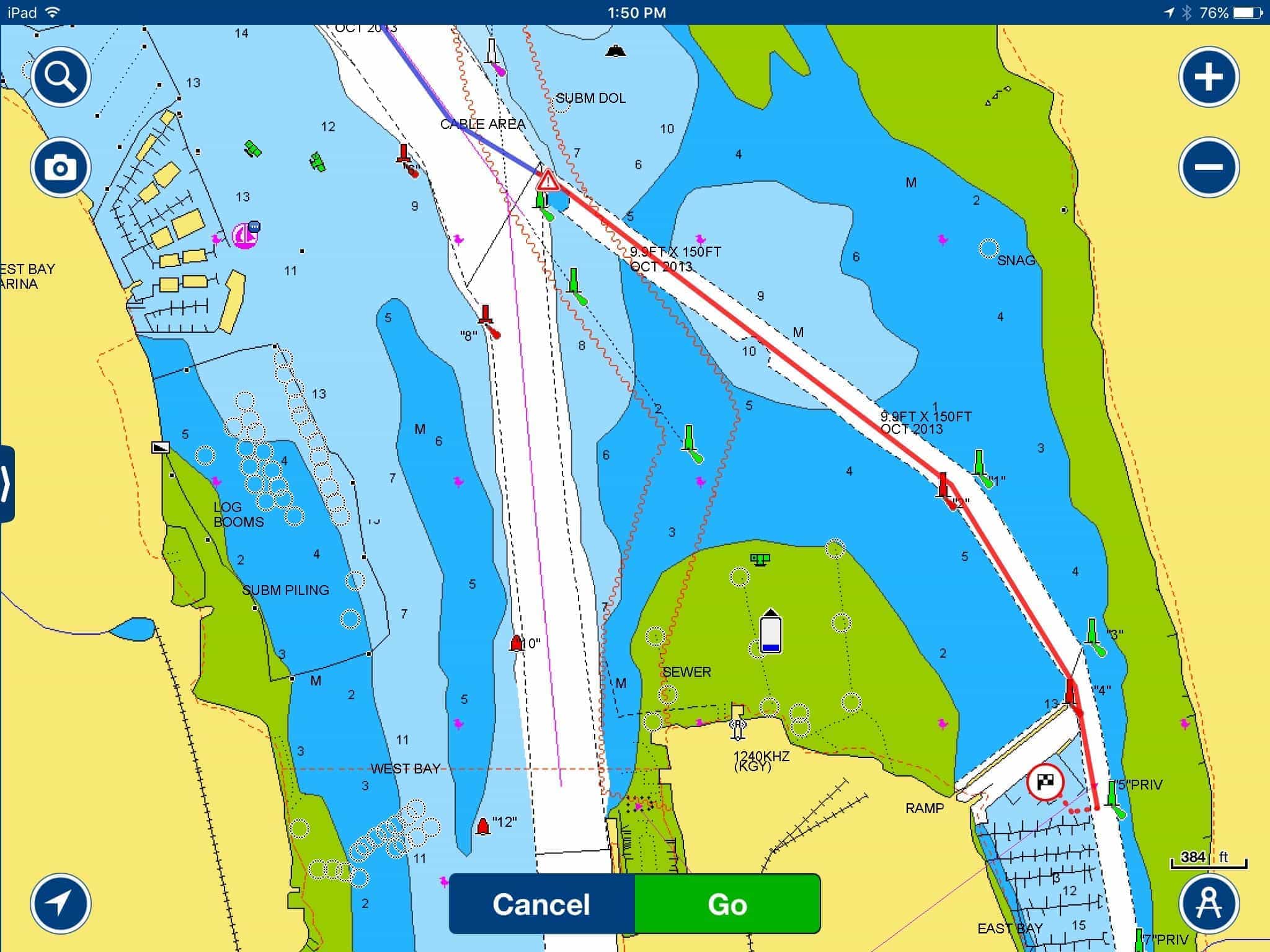 The first turn into the east bay channel is marked by a strange marker that none of us had ever seen before. What was confusing was that Navionics both on my iPad and on the Raymarine chart plotter showed it as a green marker.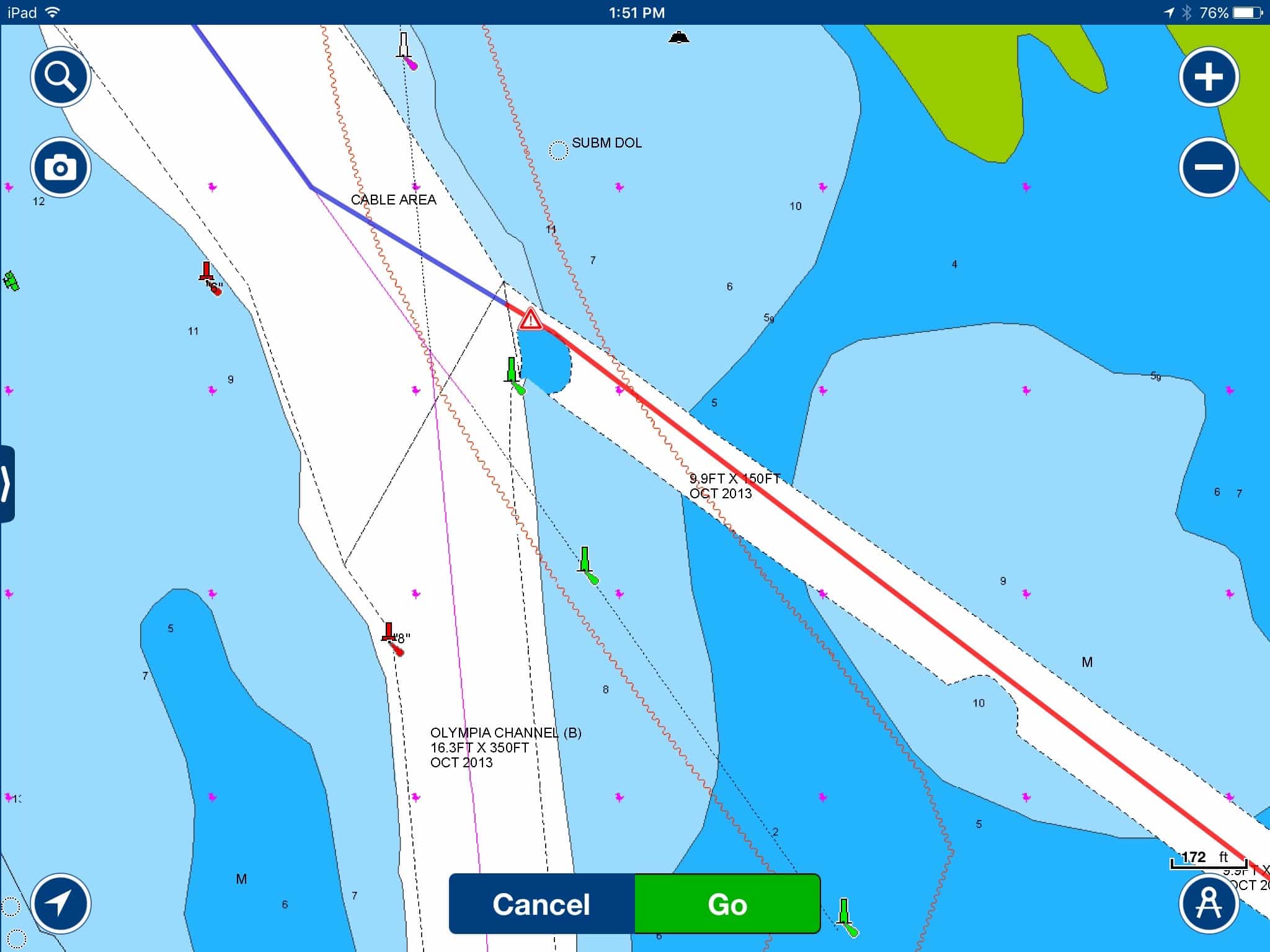 Here's a closer view of the marker showing that it's green, and clicking on it shows only details on its flashing light, which at 2pm on a summer day are pretty worthless.
In SeaNav US using standard NOAA vector charts, you can see a completely different representation – something that looks like green over red.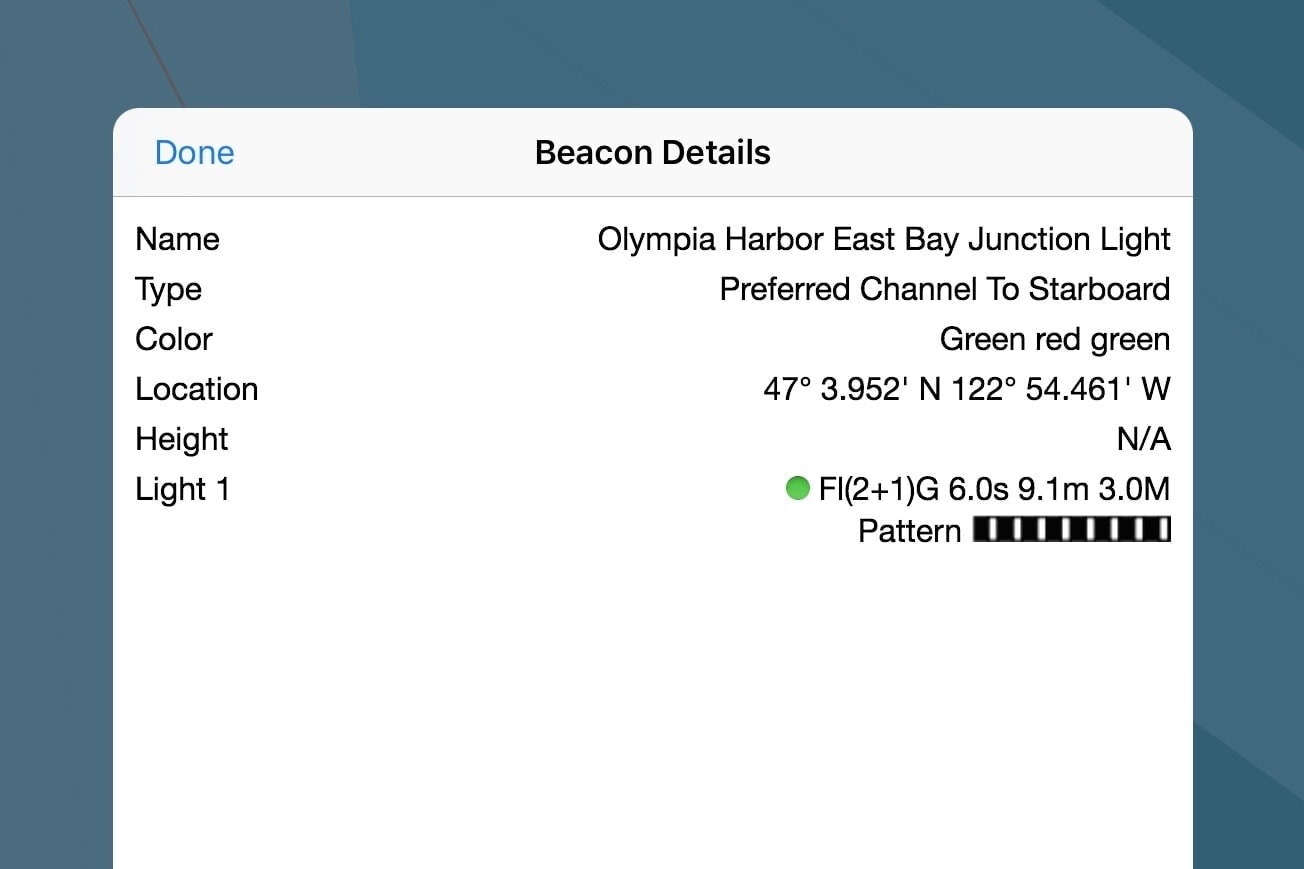 According to SeaNav US the color should be Green-Red-Green, which was confirmed by what we saw.
Unfortunately we did not have SeaNav US running, nor did I think of flipping to vector/NOAA charts on the Raymarine (which I have downloaded monthly via LightHouse charts) to check the data there.  I bet it would have the right data. Paper charts showed the right information as well.  Always pays to have not only several sources of data, but a paper backup!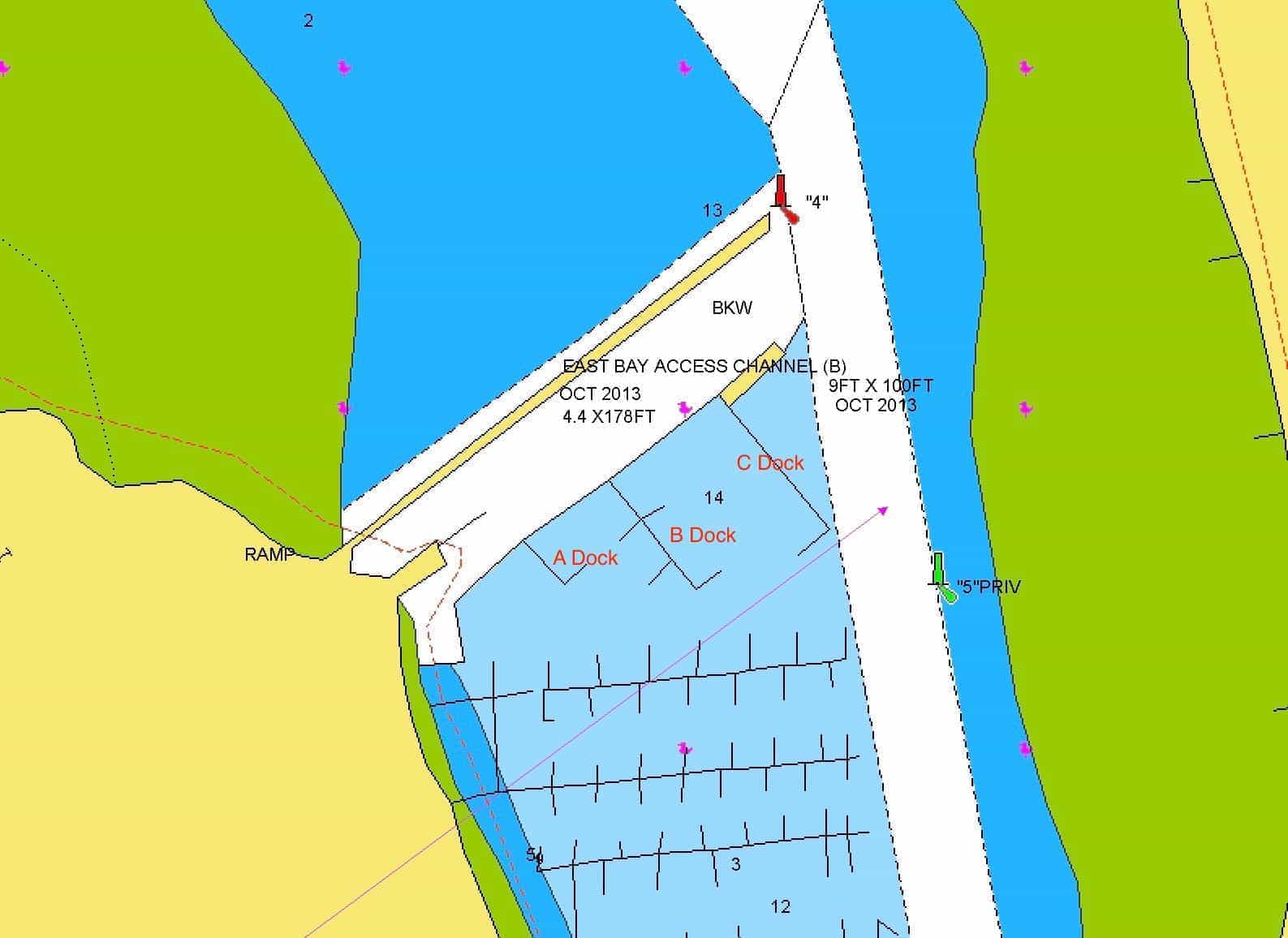 The map above is from Navionics and I labeled the guest docks – please be aware that the piers represented are not accurate – there are more finger piers on each dock.
We had no map nor could find one online, so it was a bit of a guessing game to get to the right spot. We went in first, did a circle or two, and found the A dock and our slip pretty quickly. We radioed Noel the details of their slip and quickly docked. It would be great if marinas who have guest docks document them online at the minimum so that new visitors know where to go. I can't imagine doing this in a crowded channel on a weekend in a strange marina.
The guest docks are roomy, and even had nice signs showing our boat names and dates we were staying! The numbering and layout of the guest docks is a bit confusing – C dock starts to the outwards and is only one set of finger piers, B in the middle, and A the furthest inward.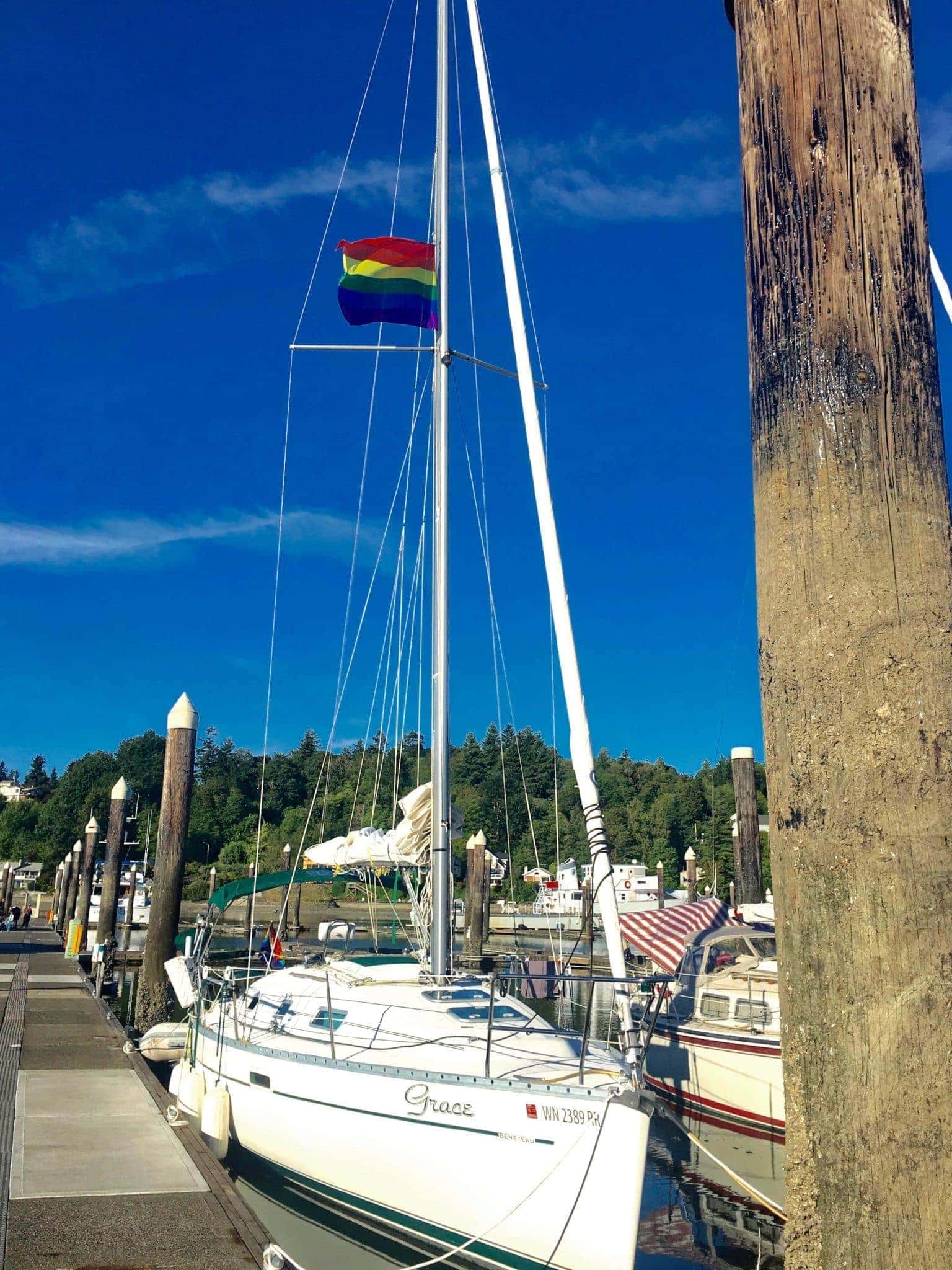 Grace showing her pride!
Sunday was the annual Seattle Pride Celebration and we were missing it for the first time in years. I did bring along a couple of pride flags and we flew those and supported the festivities in our own way.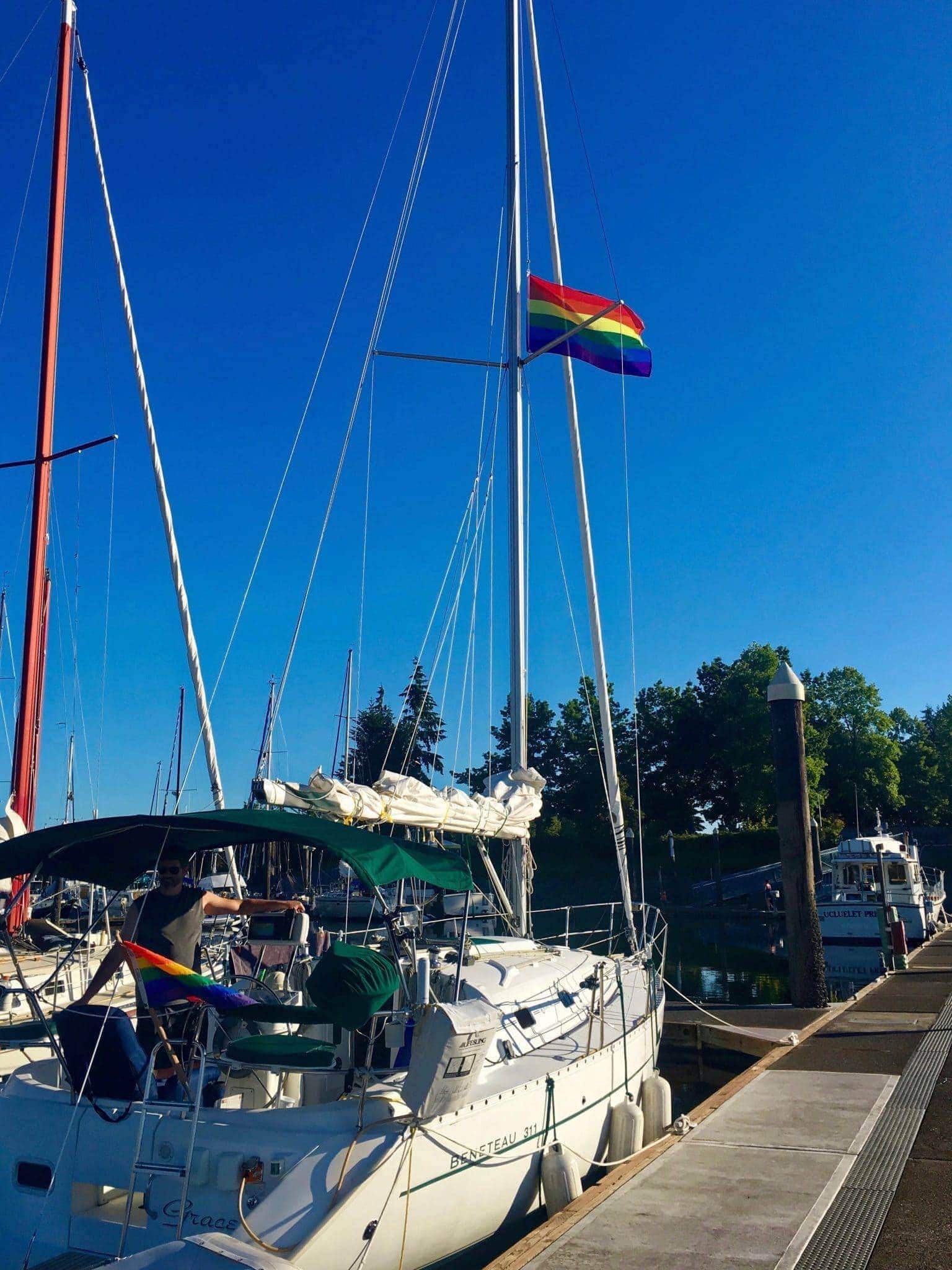 More pride!
Olympia had their own Pride celebrations only a week prior to our arrival.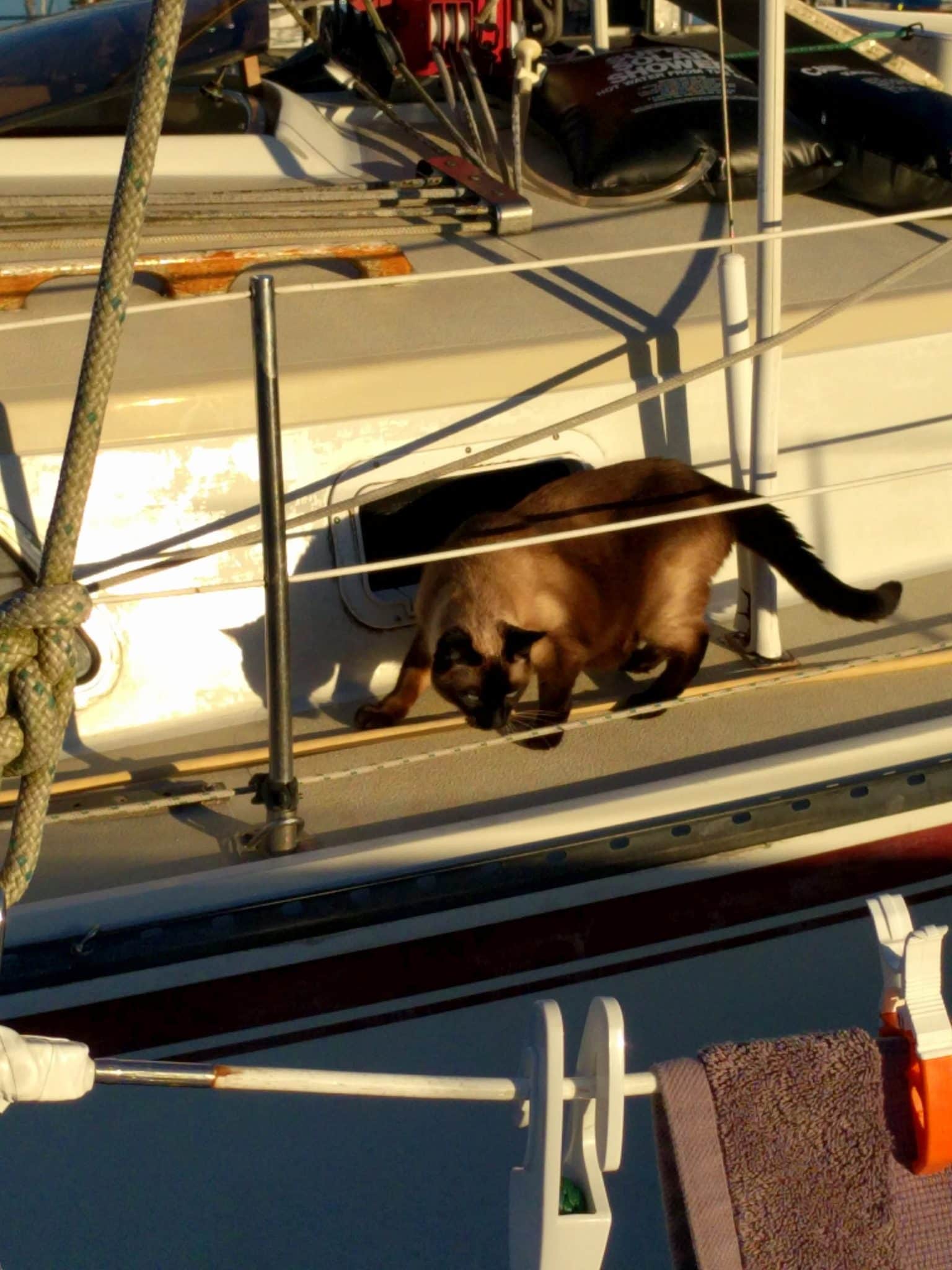 It was plenty hot at the dock (at least 80) and we fired up Grace's air conditioner which uses a heat pump and outside water to cool itself. It ejects the warm used water over the port side through a through hull that is up out of the water. Salty, Jo and Dick's cat, really did not like the water going overboard, and examined it a few times to ensure it was behaving.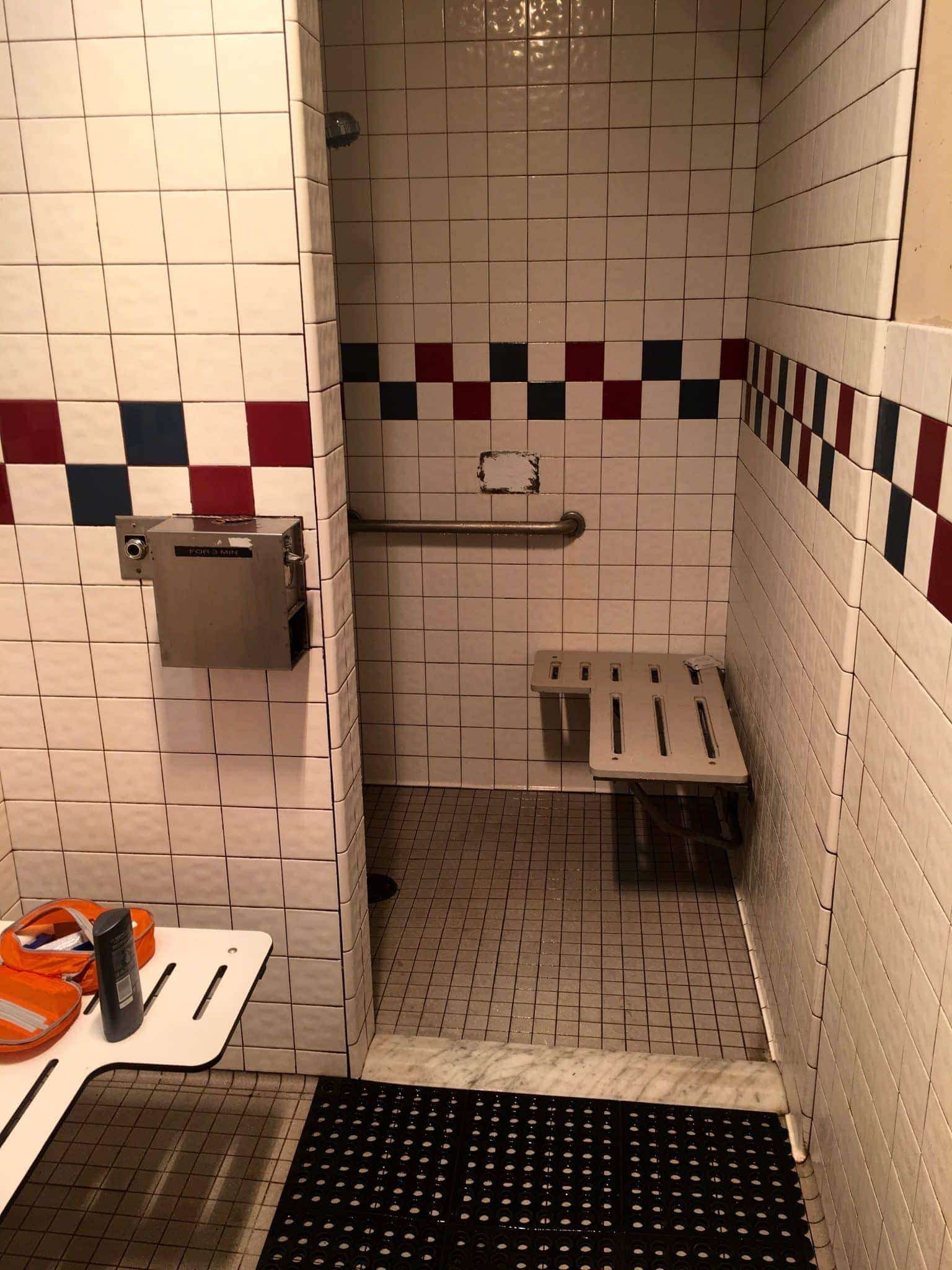 We stayed two nights at Swantown so the crews had a rest from moving every day.  I grade marinas (and hotels for that matter) on the quality of their bathrooms, and Swantown gets an A+ grade. There are two showers available nearby the guest docks along with full bathrooms and laundry. Both are supposed to be open 6AM-9PM but we had difficulties getting in due to problems with their security system. A quick call to the marina office (number is posted on each door) had them open within seconds remotely.
Showers and laundry are coin operated. Showers are amazingly roomy with an entry room area with plenty of hooks, seating, and a big full length mirror. Each shower is private with it's own outside door. The shower itself is very large, tiled nicely, and has great pressure and a proper height shower head – a pet peeve of mine. They also had a special heat lamp that was like the surface of the sun – nice on a cold day.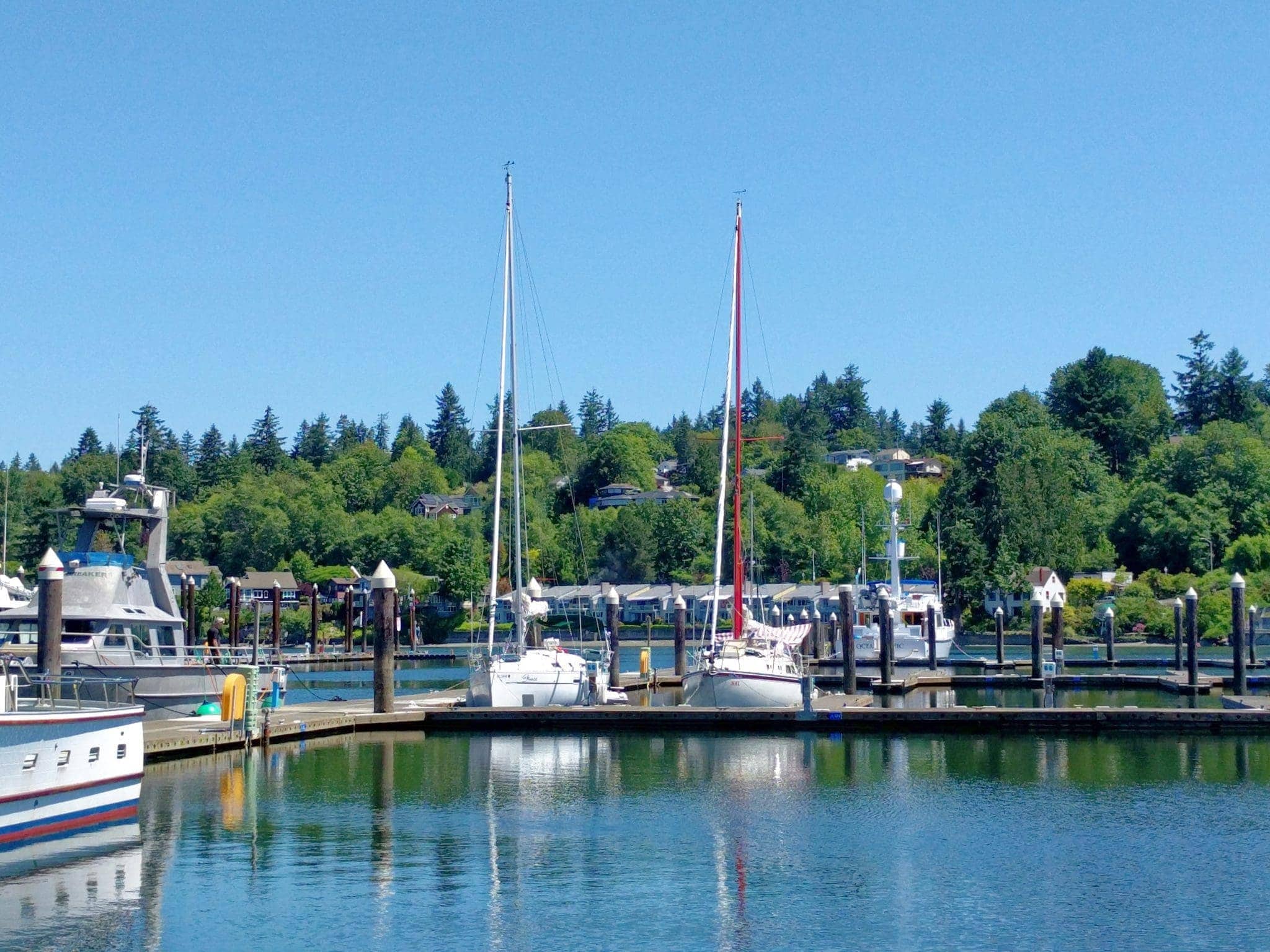 Grace and Noel at guest dock
Swantown was one of the cleanest and well kept marinas I had visited in a long while. The docks were very modern looking, and all of the other facilities were really well taken care of. I visited the marina office to check in and was given welcome bags for both us and Noel with helpful info about nearby businesses and the usual marketing stuff. The marina office sells ice in both block and crushed form, but it is a bit of a walk back to the guest docks. Ice and a small boat store are also available at the boat yard even further down into the basin.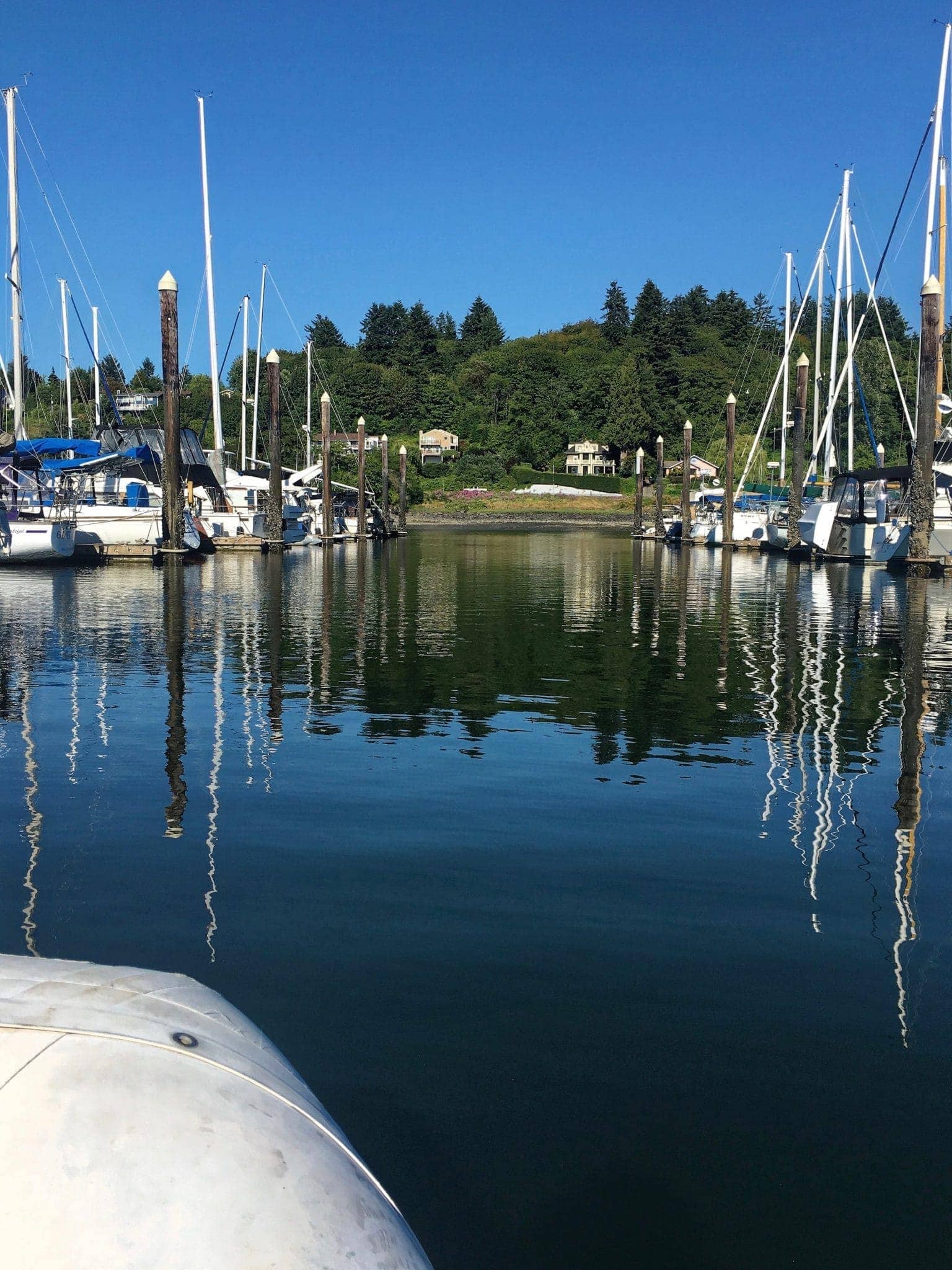 The marina is much larger than I expected with very wide fairways and wonderful boats to look at. I'm always on the search for other Beneteaus and ended up finding a few here that were of the same vintage as Grace.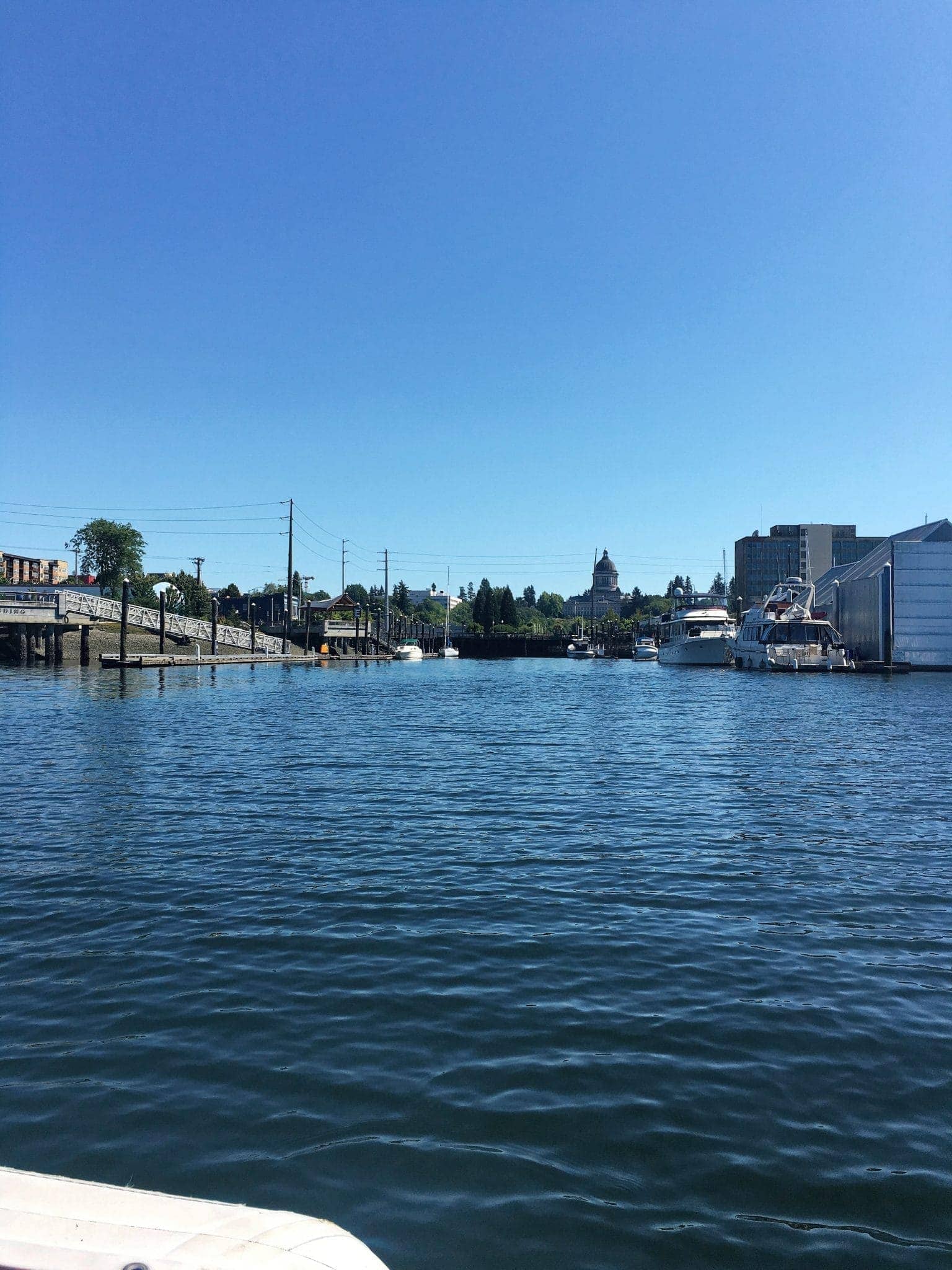 Josh and Jake decided to walk over to stores near Percival Landing and in Olympia. It looked like a bit over a mile walk, but once they got there in 80 degree heat, they requested a pick up via dinghy.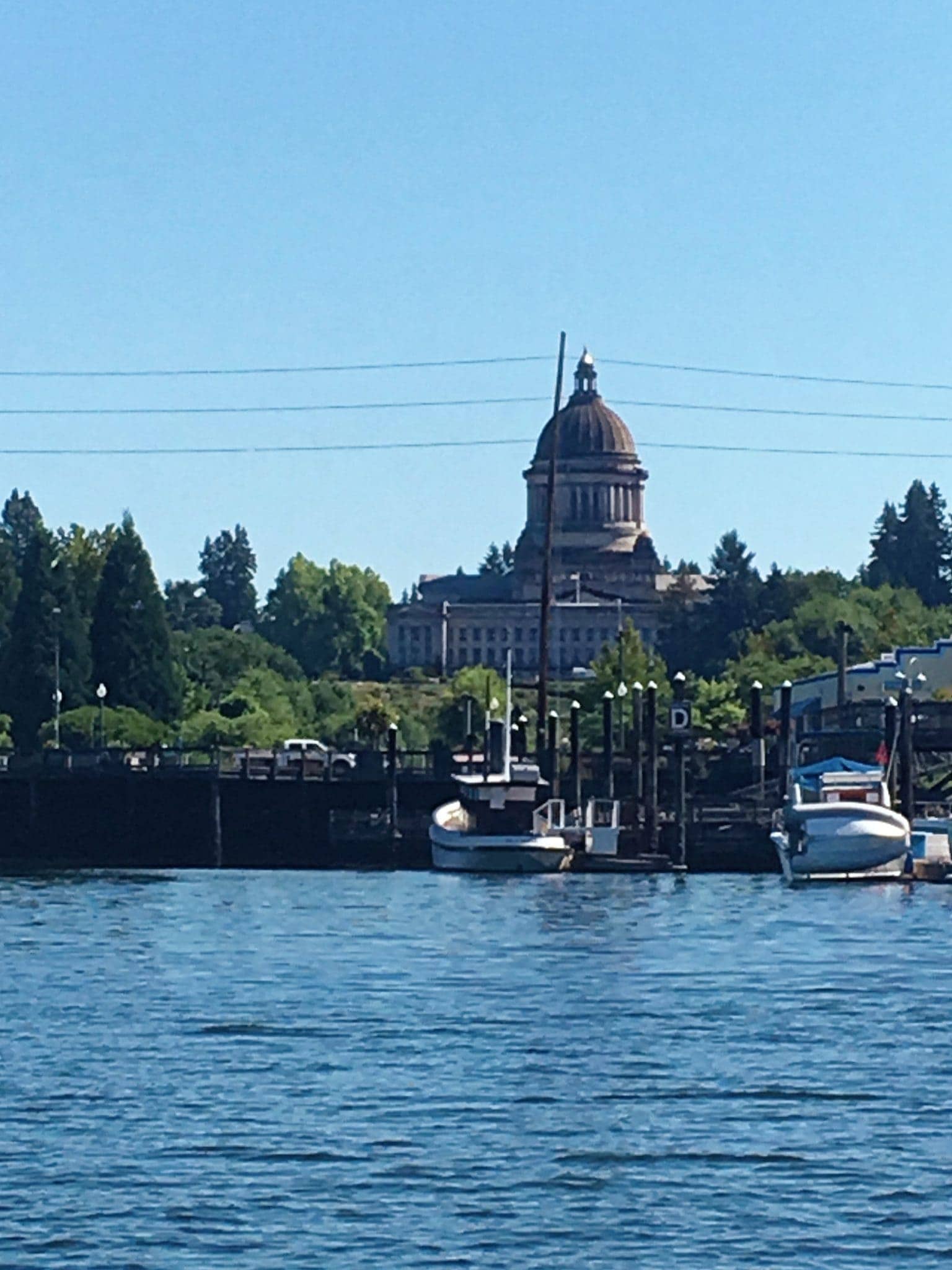 Percival Landing hasn't changed much since I was there years ago. Lots more food and things to see here than at Swantown. I think that would be the only negative we have about Swantown – it's a bit removed from anything that you'd want to visit without getting a taxi or walking a long distance.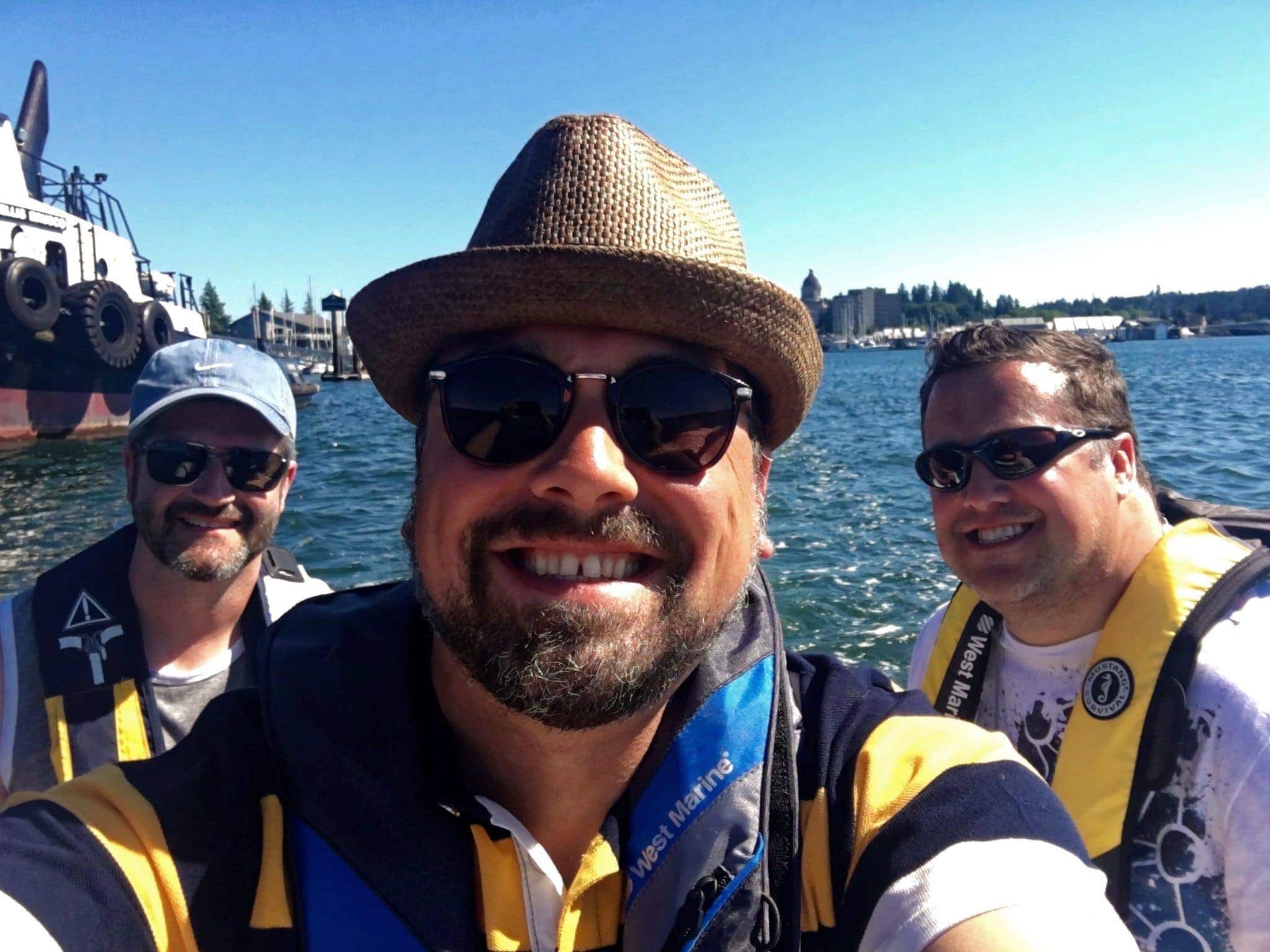 All of us in the dinghy on the way back to the marina
The winds picked up, and it was a bit of a wet ride both over and back, with our brand new engine dying while out in the middle of it due to trim and the tiny fuel tank on the top. Not the most comfortable feeling with 1+ foot waves.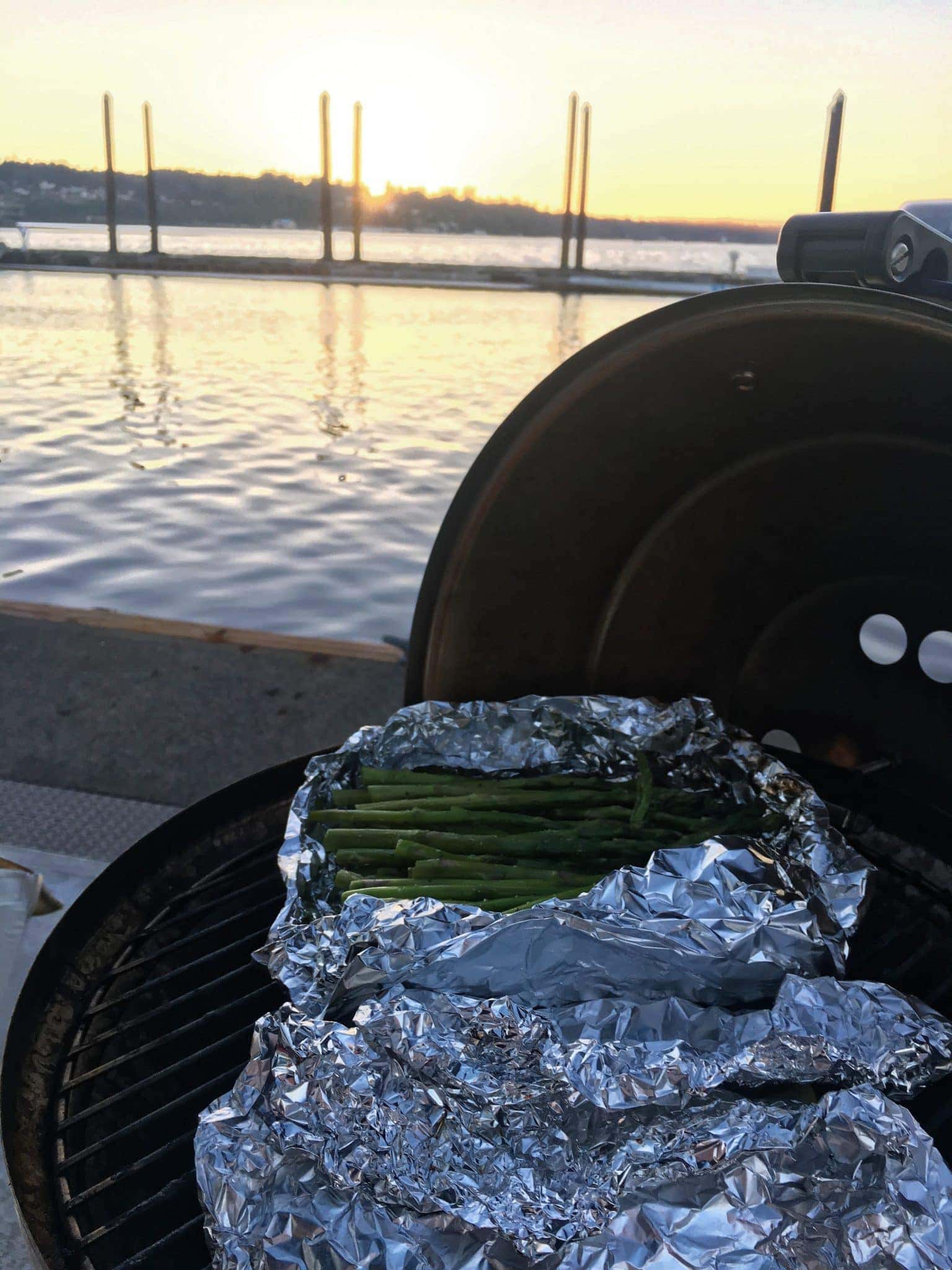 This was the first trip we got to use our new 15″ party-size Magma BBQ and while I liked the extra space for food, it's stability seems far less than the original 13″ we had before. I was also disappointed to find out that it did not have a piezo lighter and required a long lighter. I believe the instability is because of the sheer size of the grill all sitting on a single bolt. The food still tasted good!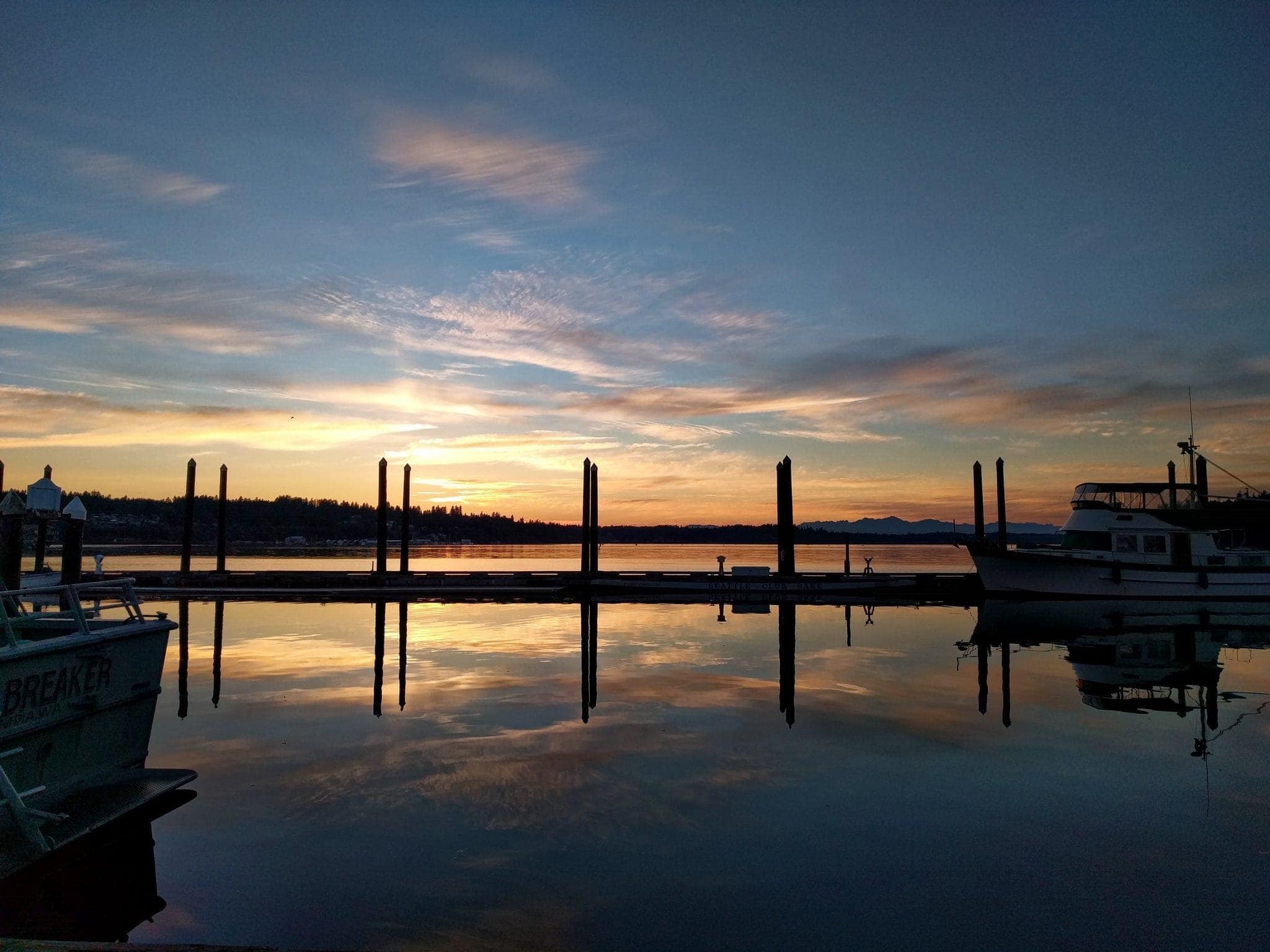 Our two day stay at Swantown was very relaxing. The boat launch and rowing docks are just to the outside of the guest docks and provided endless views and entertainment. It was very clean, quiet, and safe feeling, although a bit removed from town. I will definitely stay here again in the future.