After a successful survey of Grace, we had a limited amount of time to move her from Lake Union at the Signature Yachts dock out to her new permanent home, Elliott Bay Marina.   I had been a tenant of theirs for about 8 years with my previous sailboat Jammy, and kept the same slip for Grace, which was very convenient.
The trip would be pretty stressful for this new captain for two reasons:
First, while I did get to poke around Grace for a couple days prior to the trip, I'd never sailed her by myself without the broker.  She was a new boat to me.
Second, we would need to do this from Lake Union, a rather busy place, through the Ballard Locks, and out to Elliott Bay Marina.  The lake and the locks are a busy place, especially on a July day.
I ended up planning the trip to start very early on a Sunday which was less likely to be busy.  Along for the first official ride were a host of friends, and of course husband Josh.  He has a lot of traumatic memories of going through the locks from growing up on a sailboat, so I wanted things to be as stress free as possible.
After backing her out of a tight space on the Signature Yachts docks, right near a bunch of houseboats, we got underway and proceeded to open the Fremont and Ballard bridges to pass underneath.  The crew, some of which had never experienced this, all loved it.  Many Instagram and Facebook posts were made with photos of us delaying Sunday morning drivers by raising the bridges.
On reaching the locks, we tied up at the pier waiting for our opportunity to come in.  After hearing two other recreational boats communicate with the lock masters on VHF radio and ensure they were in the list of people, I did the same, only to be told to get off the frequency.
If there is one group of people in all of Puget Sound I wish could be lectured by recreational boaters, it would be the lock masters at the Ballard Locks.  They treat people terribly, and inconsistently.  I've passed through the locks many times in my years, and have been made to feel a complete idiot when I am doing exactly what they ask, and have a prepared crew.  I have seen them do this to other boaters who are also obviously prepared.  Even professional captains, and yacht brokers that I've talked to get the same treatment.
I get that the locks are primarily for commercial folks, but the reality is that recreational boating generates millions, if not more, dollars in taxes and other profits.  The Puget Sound is one of the busiest places in all of the US for boat usage, and everyone benefits from it in money and selling more services.  I realize the US Army Corps of Engineers runs the locks, and they probably don't get a ton of that money, but we are customers of theirs, and pay taxes to keep them employed.  It would be nice if someone in management there reminded them of that once in a while.
We transited through the locks without any issues, even had a friendly guy in a tiny dinghy tied up to us who was going out to catch some crab.
We took our time heading down to EBM and made our way over towards Bainbridge Island while having a moving lunch.  Josh even took the helm for a while, with Heather watching over him.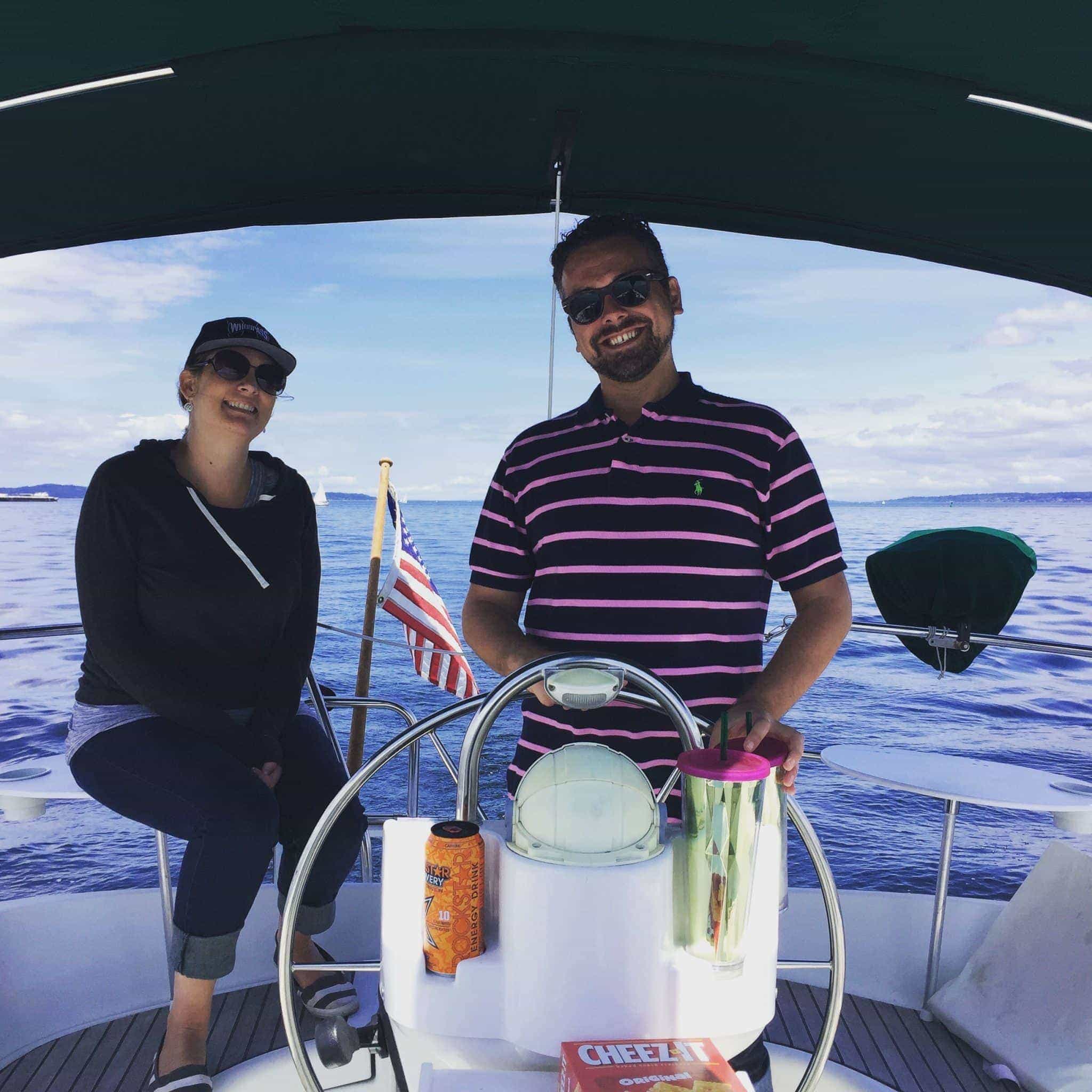 It was a wonderfully warm day, and we spent until around 5pm on the water, after starting our day at 9am, so we headed to the marina, and after a bit of learning on docking, made safe for the evening.  After shuttling people back and forth to the original marina, we went home knowing that Grace was safe and sound in her new home.