I am not a woodworker, so most of my modifications to Jammy where design is involved has been to remove something made of wood, and somehow mount an instrument, device, or otherwise with some sort of industrial setup.
When I embarked upon re-doing my entire network on the boat to NMEA 2000, I made the choice to produce a better navigation station, including front panels.  After searching around, I found Front Panel Express online, which just happens to be a local Seattle company.  Several other folks had suggested them as well, although none of them had actually ordered anything from them.
The first step is to download their Front Panel Designer software, and then start designing your panel.  It's pretty intuitive and easy to use, and even allows you to click a button and see how much the panel is going to cost you.  I used a combination of manufacturer mounting templates and measurements to figure out how to get everything I wanted on my panel.  This included my Simrad NSS7 chart plotter, Vesper WatchMate 850 AIS unit, mic holder for my VHF radio, Fusion WR600 stereo remote, NMEA 2000 connector, and three BlueSea Systems switches.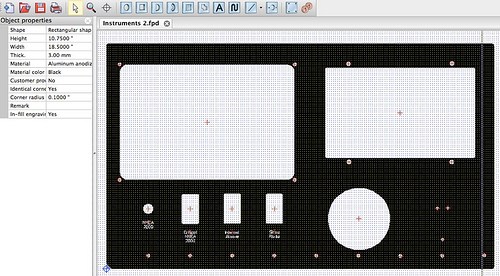 Once the design is fine tuned, you simply click on a button and start the ordering process, which takes just a few minutes, and you're done!  They have a decent online system to check your order as well, and you can see it move through the process:
I chose 3MM black anodized aluminum for my panel.  This is the first of three panels in the area, with the other two being far simpler.  I am very pleased with how it turned out.  The text is easy to read, everything fits perfectly and is held in securely.  I like the black as it makes the instruments sort of float on the panel, and the switches will look great when I get power to them.  It's also at a slight angle tilted back so that from the cockpit door, I can see the instruments without bending down too far.
I'll post some better photos in a few days – these are iPhone quality… sorry.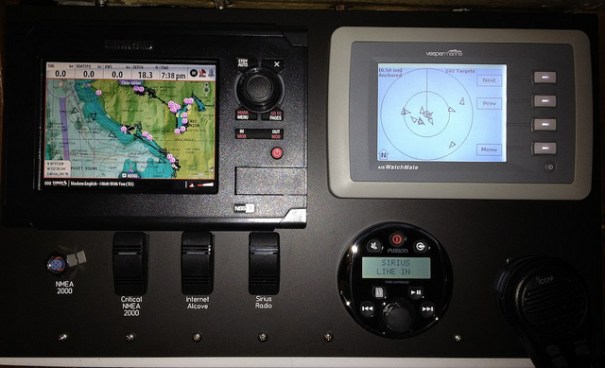 When building this panel, I took a cue from Steven Roberts of microship.com who has built panels and enclosures for his many adventures and systems, and always had a way to hinge them open for serviceability, something I am keen on as well.  I haven't completed the mechanism for holding the panel in quite yet, but in the picture below you can see it hinging open.  The cables inside are not completed yet either – I'm a bit of a fanatic about cable ties and neatness.  I used a stainless steel marine hinge on the bottom with holes 2″ on center.  It was extremely flat, and allows for the panel to hinge out for access.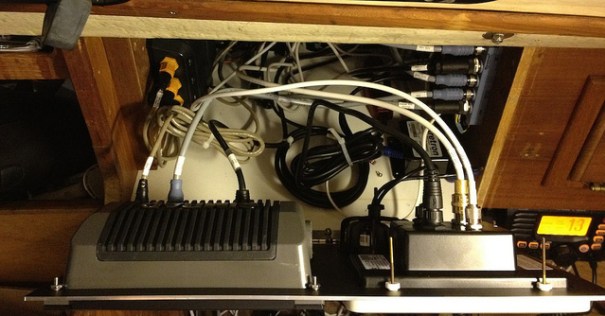 The panel is extremely strong, looks great, and fits all of my components perfectly.  I highly recommend Front Panel Express for this sort of work.  A few tips, though:
DO NOT rely on manufacturer measurements or templates.  Always start with their recommendations, and measure the real device.  Several of mine were dead wrong.
The designer is absolute down to sub-millimeter accuracy – add some slack for components that are harder to get in and out.  Although you can use appropriate tools to shave off a bit, it's messy and can also mess up your anodization.
I have a few other places, including my cockpit navigation pod, that need new panels, and will be using Front Panel Express to create those as well.  Now back to the NMEA 2000 network final tasks and wiring…