I admit, I'm a bit OCD, and hang out with other folks who are as well. We like the boat as clean as possible when we're at anchor or at the dock. While we're underway, we tend to make a mess – food being prepped below, things going back and forth, and general use. Having a good quality vacuum is critical, and up until now, all of the options sucked, or rather, didn't suck enough.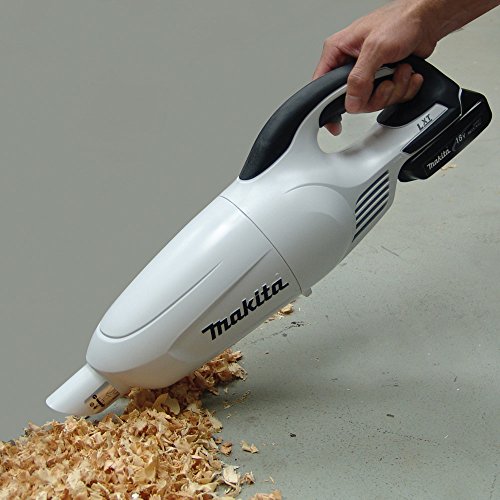 My long time favorite for a sailboat vacuum was made by Makita Tools and was compatible with the battery packs for my drill, light, and saws which made it very convenient from a usability perspective. We always had extra battery packs, chargers, and could swap things around. But it just never had enough suction, and attachments were terrible.
I used this model for years on Jammy and more recently on Grace and had good luck with it, but was never happy. Prior to that, I used a mix of corded and cordless vacuums that all had something not quite right. The corded ones were always irritating because of the cord getting caught, and weren't usable while on anchor or away from the dock.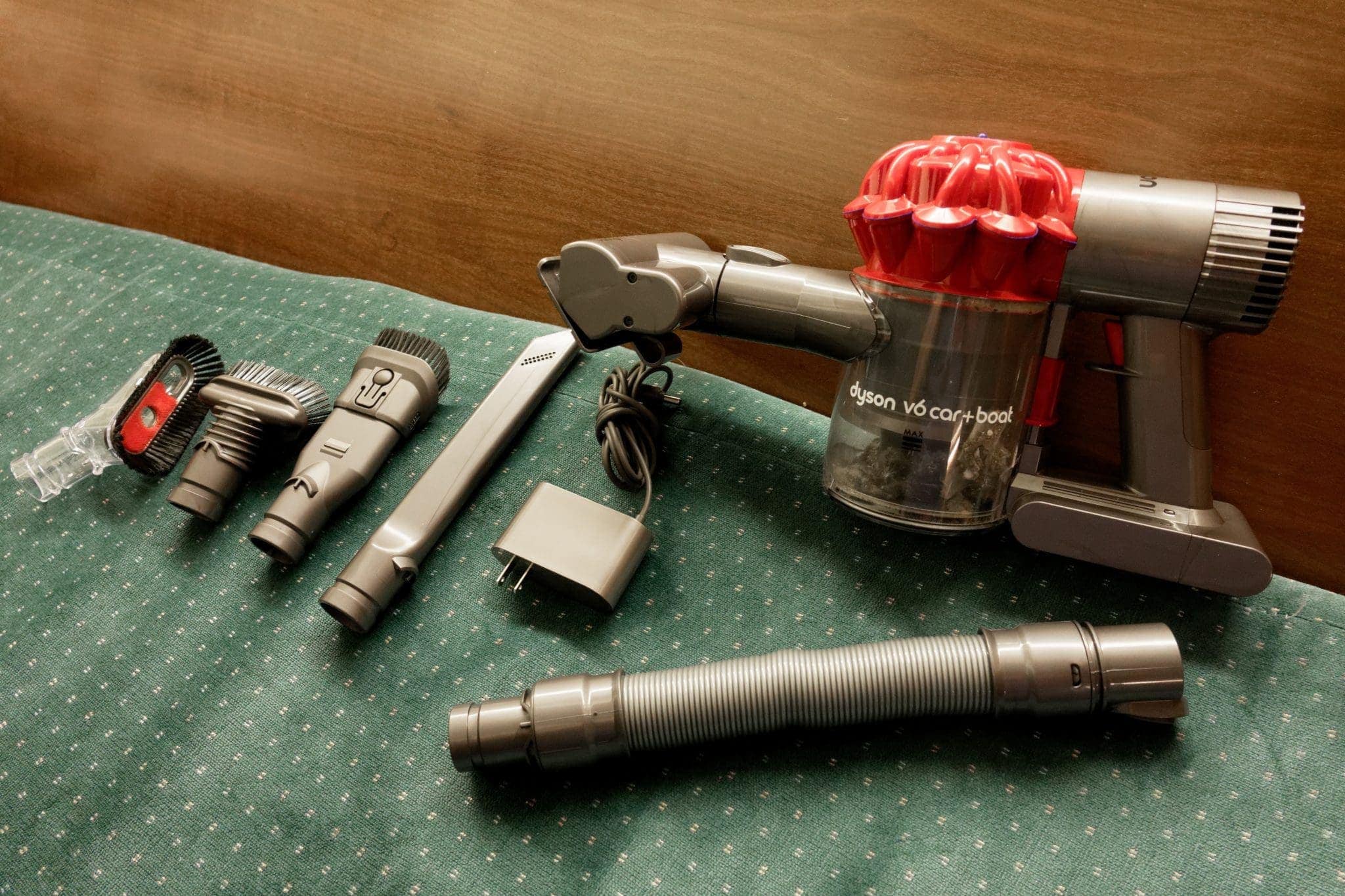 A few months ago I came across an ad somewhere for a new Dyson product called the Dyson V6 Car Boat Handheld Vacuum and was intrigued. The v6 car+boat is based on the other v6 products in their line including the Absolute, Animal, and others. I had looked at these in the past, but they had lots of accessories I didn't need, and a big charging dock I didn't want on the sailboat. This version seemed to be better suited for a boat.
I own Dyson products at home – vacuums at two locations, and fans in the bedroom. They have been 100% reliable, and always operate higher/better than other brands. Are they worth the premium price that Dyson charges? I think so after beating the crap out of a couple of them that are still running, while competitors products had failed in much shorter time frames. Their suction power is also far better than I've found elsewhere.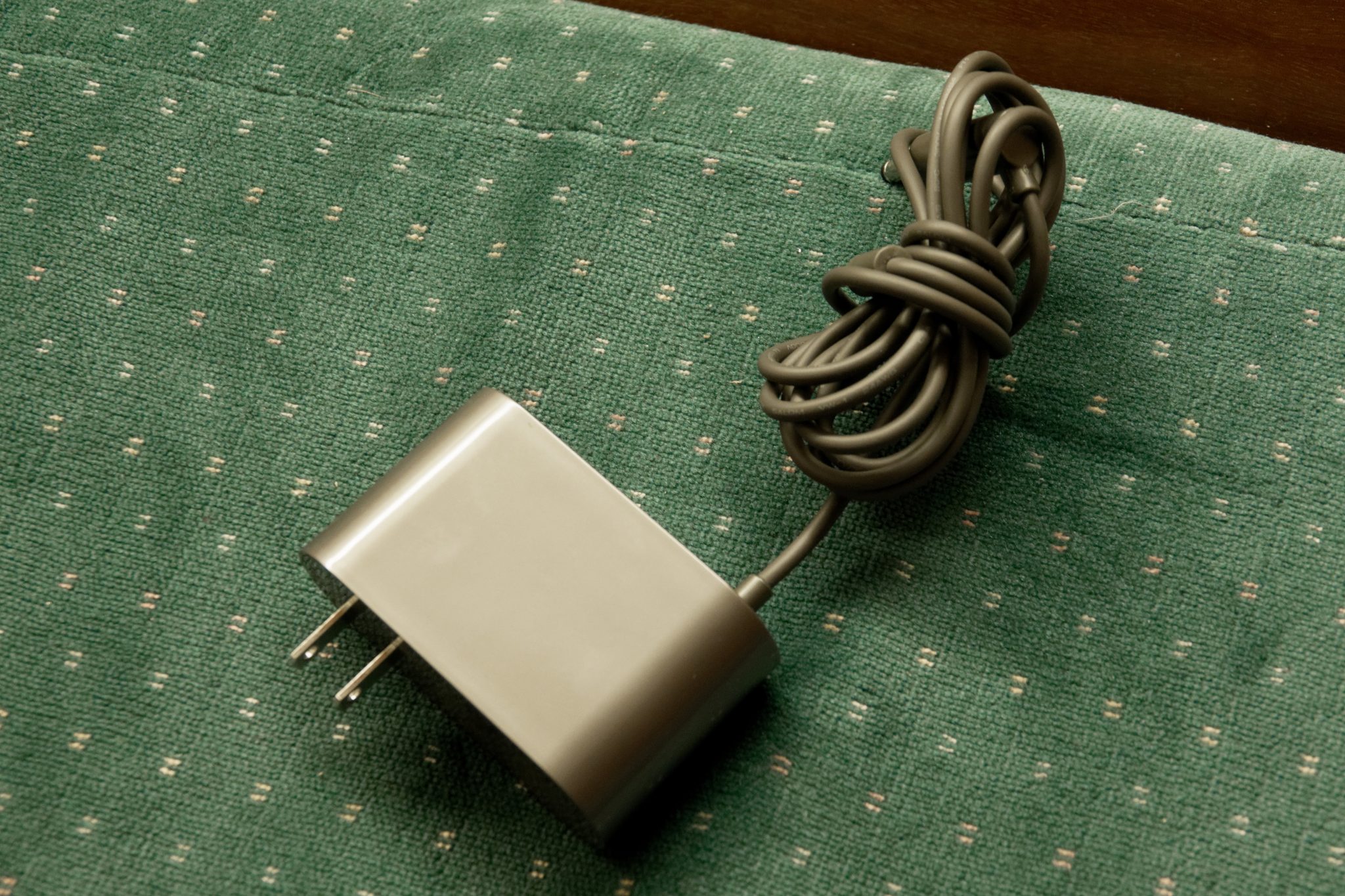 The v6 car+boat has a simple wall-wart charger with a decent length cable. Perfect for the sailboat – charge up when needed, and then tucked away when done. This was one of the things I found irritating with Dyson's website and reviews online – finding out everything that was included with the product, and how big it all was. I ended up having to download the users manual and stumble through it figuring it all out.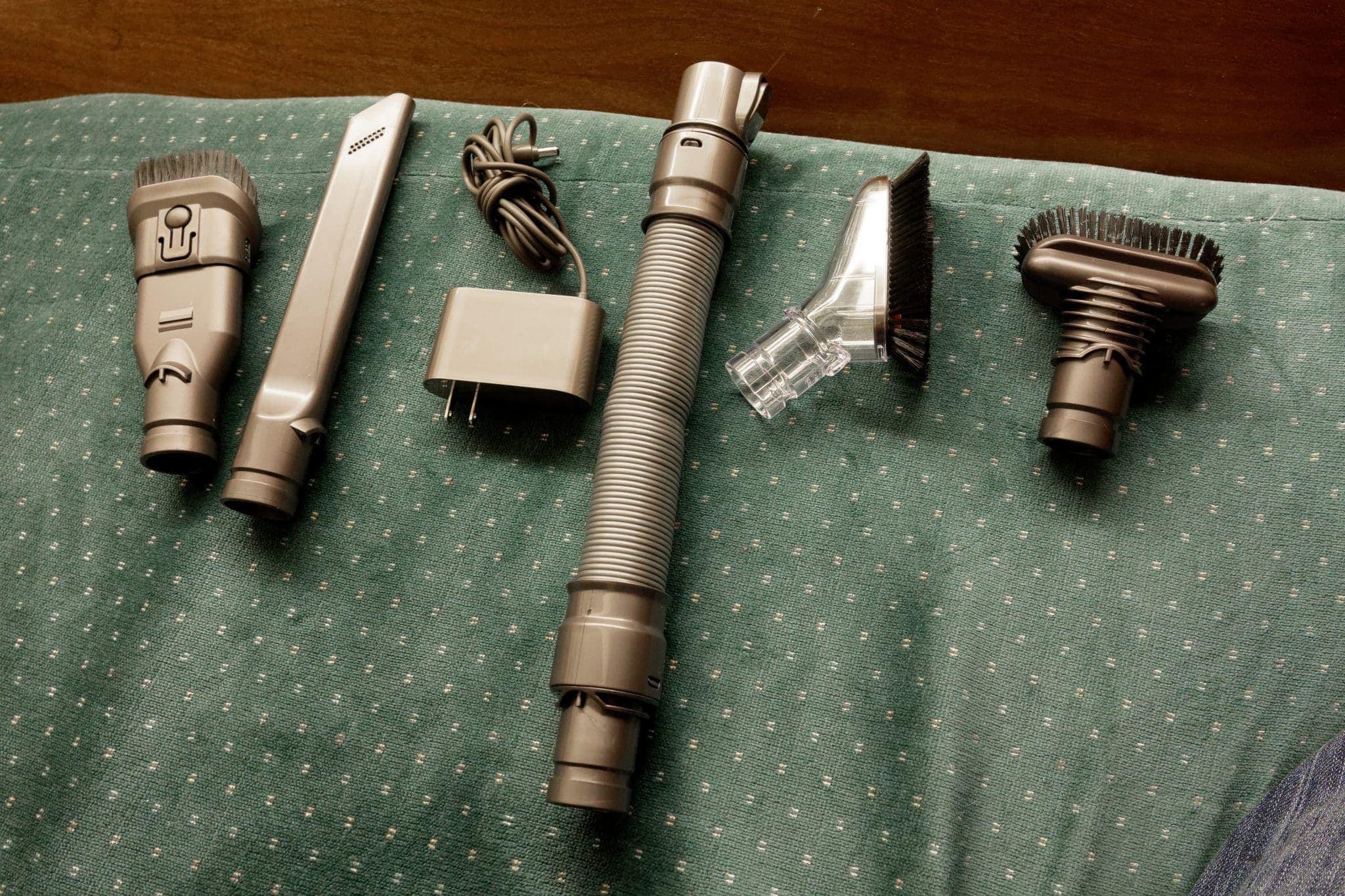 The included accessories are somewhat car-focused, but work out OK on the boat as well. From left to right are a universal brush that slides back and forth to reduce the brush length, crevice tool, charger, flexible extension hose, electronics brush, and standard brush tool. The electronics brush has been useful to keep all of the gadgets clean on Grace while doing messy projects nearby (wood cutting, etc.).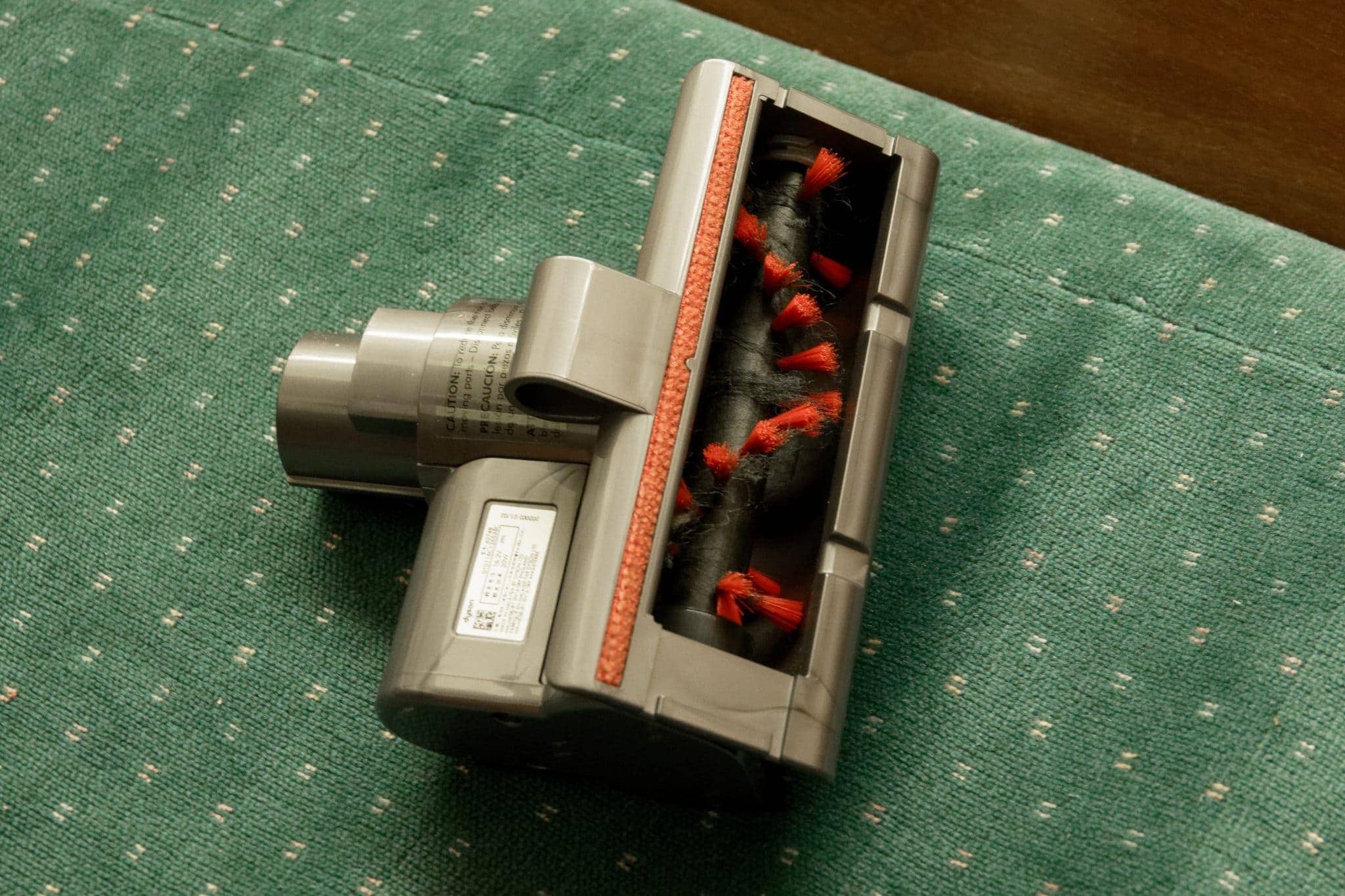 The other accessory is the power head, which has a spinning brush that gets power from the vacuum through a series of connections. The flexible hose attachment doesn't provide that ability, so you have to use it directly connected, or via an approved extension with the correct hardware/connections. Beware this accessory on nice sole wood floors – the edges of the tool will scratch the floor. I use it primarily on carpets and rugs, and it does an amazing job of getting deep into the pile.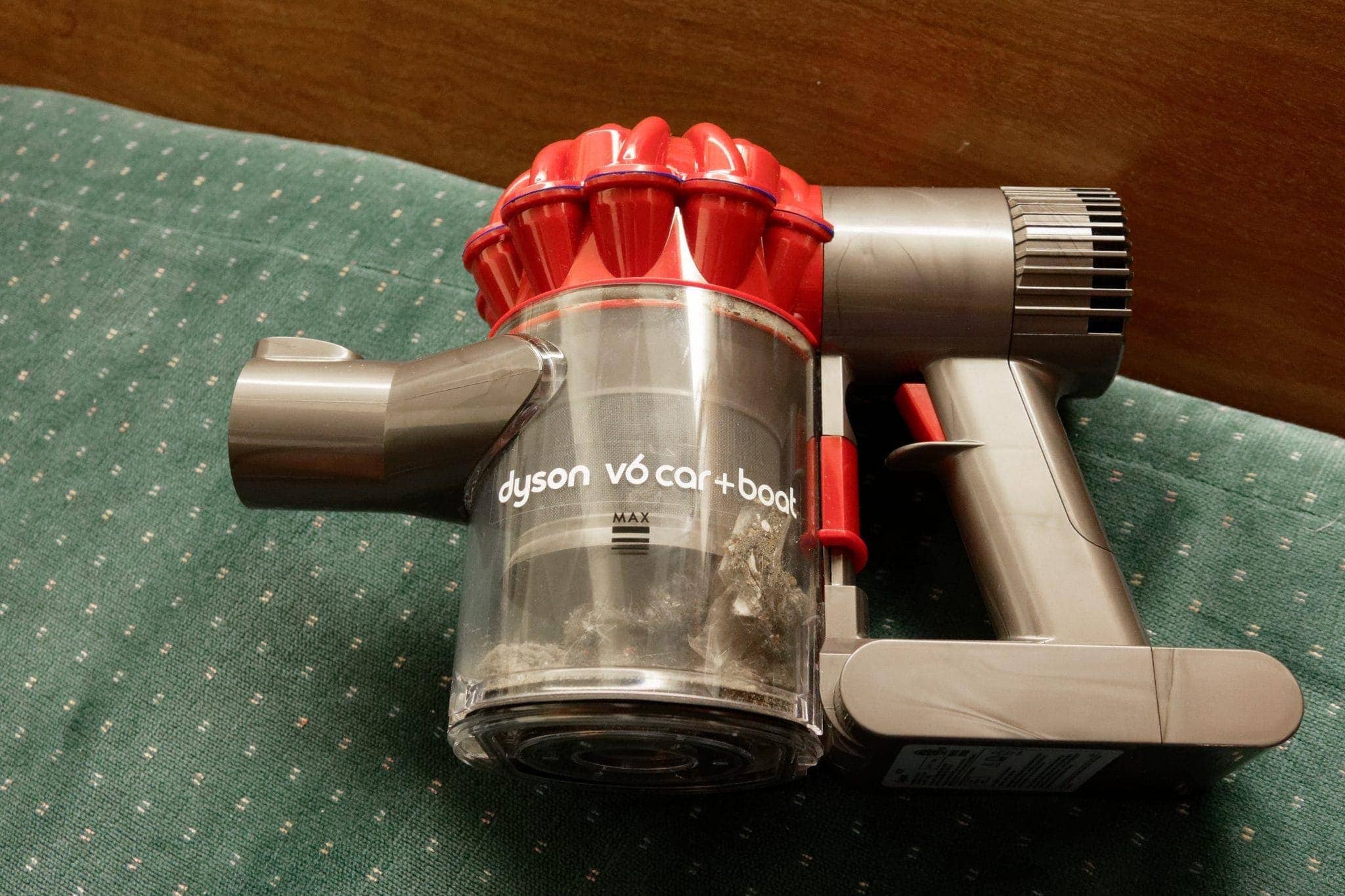 The vacuum itself is very powerful, far more than any one I've had on the boat. I swear it sucked stuff up out of the rugs that has been down there for years! It is not as mind-numbingly loud as traditional vacuums on normal mode, and is very well designed ergonomically – balances well in the hand and doesn't cause too much strain.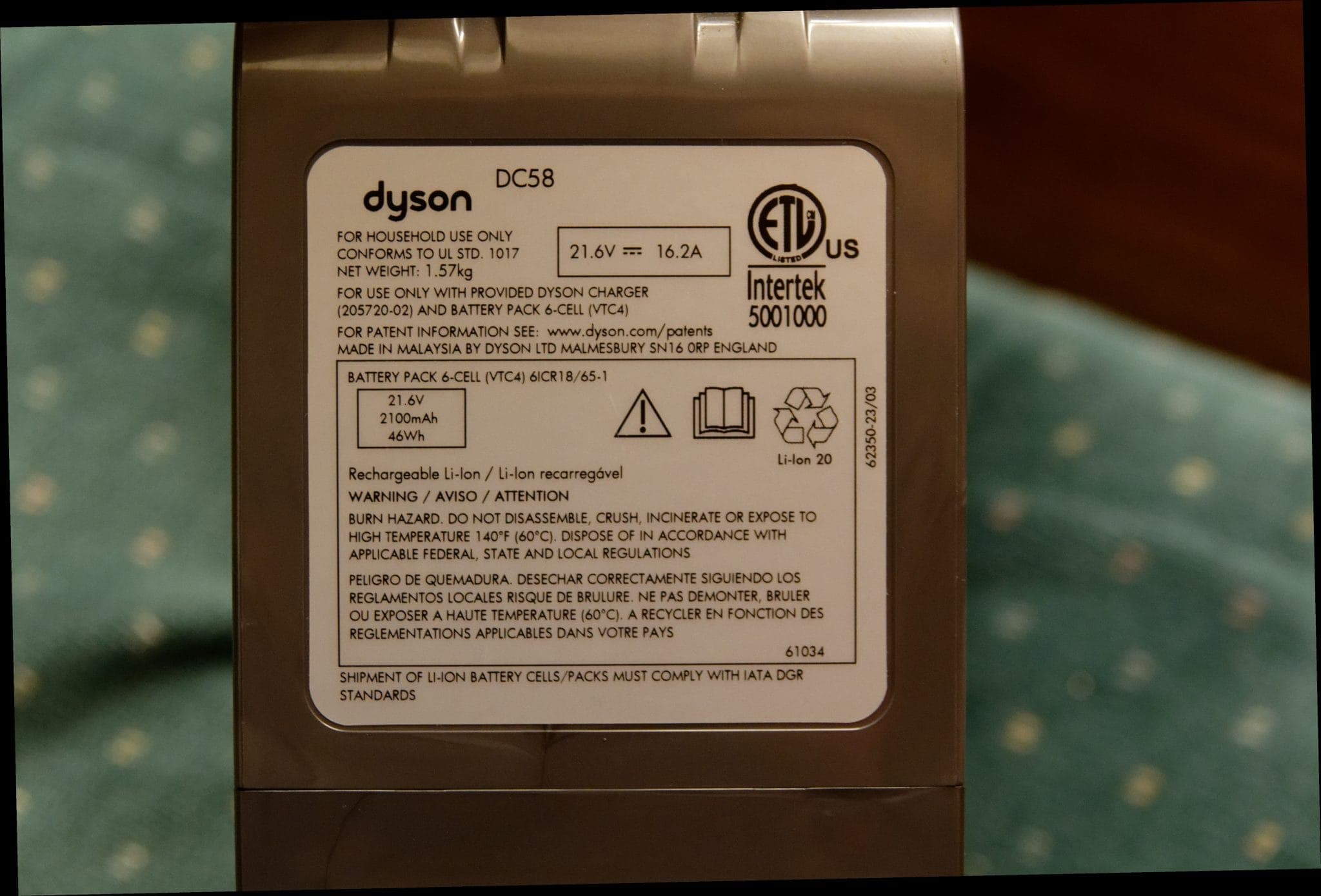 The battery lasts about 20-30 minutes depending on how much junk I'm sucking up, how frequently I stop and start, and if I'm using the Max feature (see below). I also like that it is a trigger based device – I can quickly suck something up, and then move to another space while letting things spin down so I'm not just running it constantly. It does take 2-3 hours to charge back up, and requires AC power via the wall wart. There's a good indicator light that shows when things are done.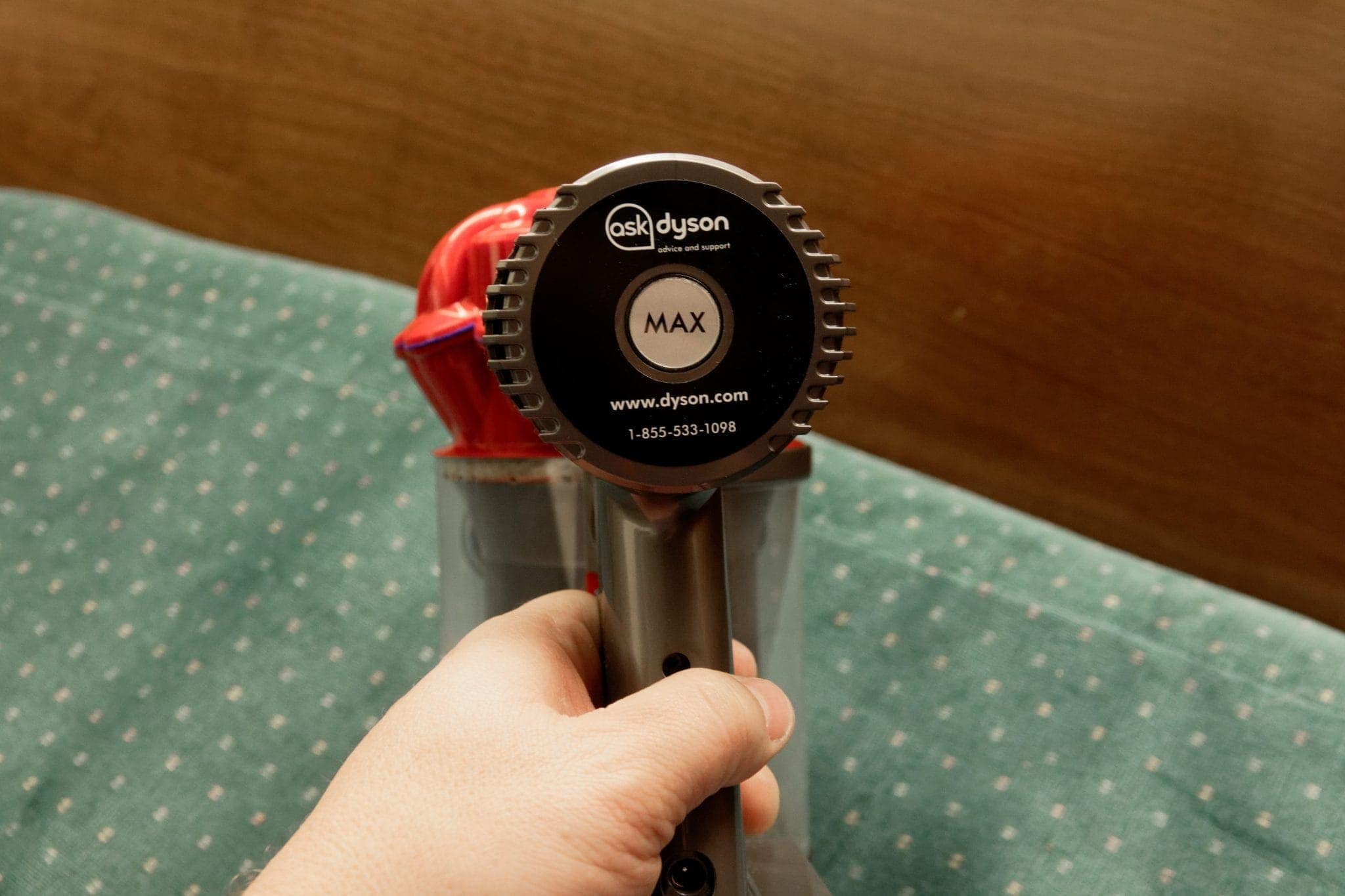 If you have a really dirty area or need more power, you can cut your battery life in half and press the MAX button on the back of the unit. Immediately the unit stops, then restarts in MAX mode, which means double the volume, and a scary amount of suction. I can't stand running it at this level for long without getting a headache, but it is useful if you need some extra power.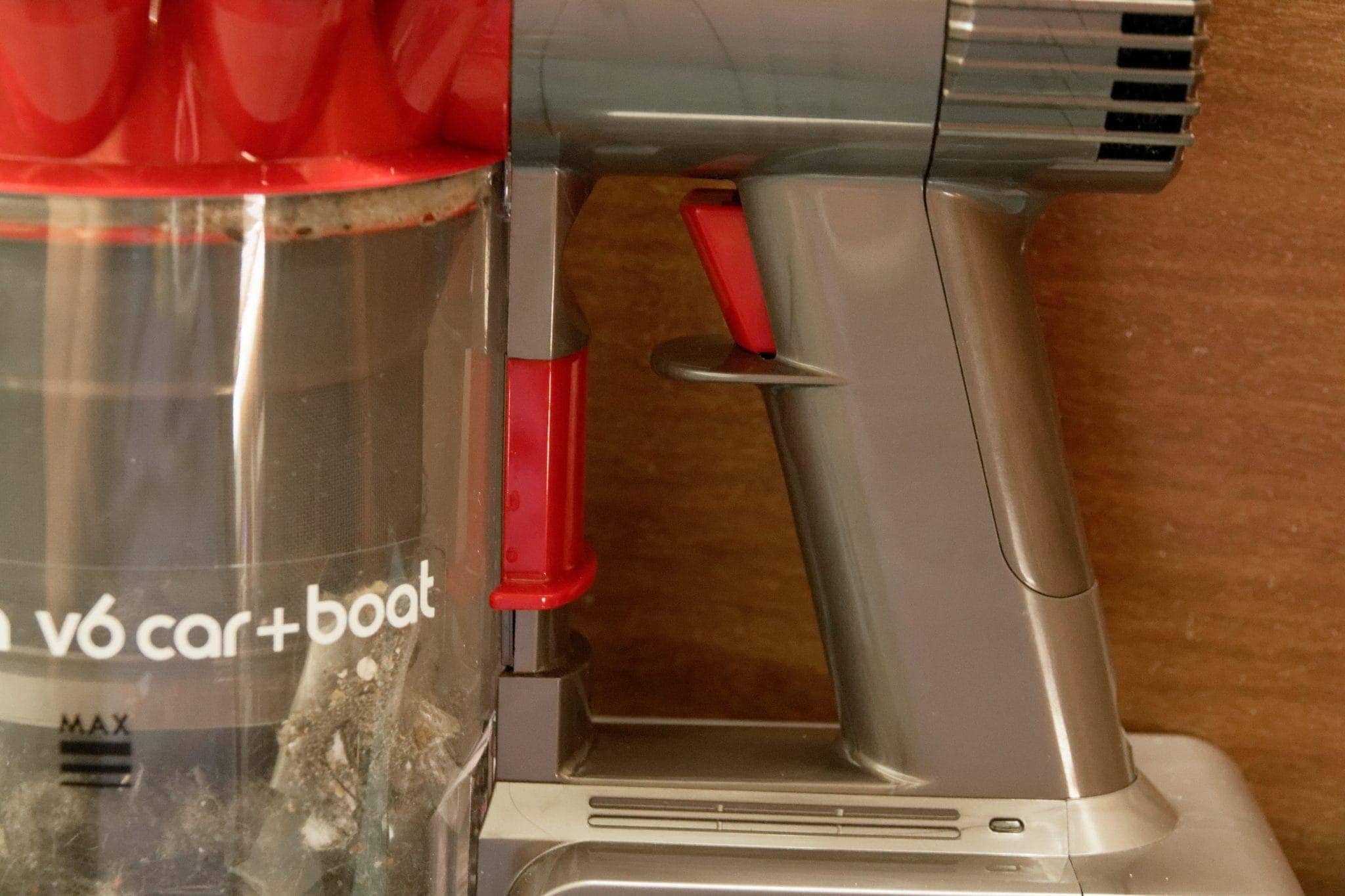 One of the irritating things with the v6 car+boat is the way you empty it. The red slider you see in the picture above is too close to the trigger, and several times I've accidentally hit it while using the vacuum, and dumped the entire canister of sucked up junk back on the floor. The seal around the bottom is also somewhat problematic – you have to make sure it is clean and clear of any debris, or it won't close up completely, and will open again at an inopportune time.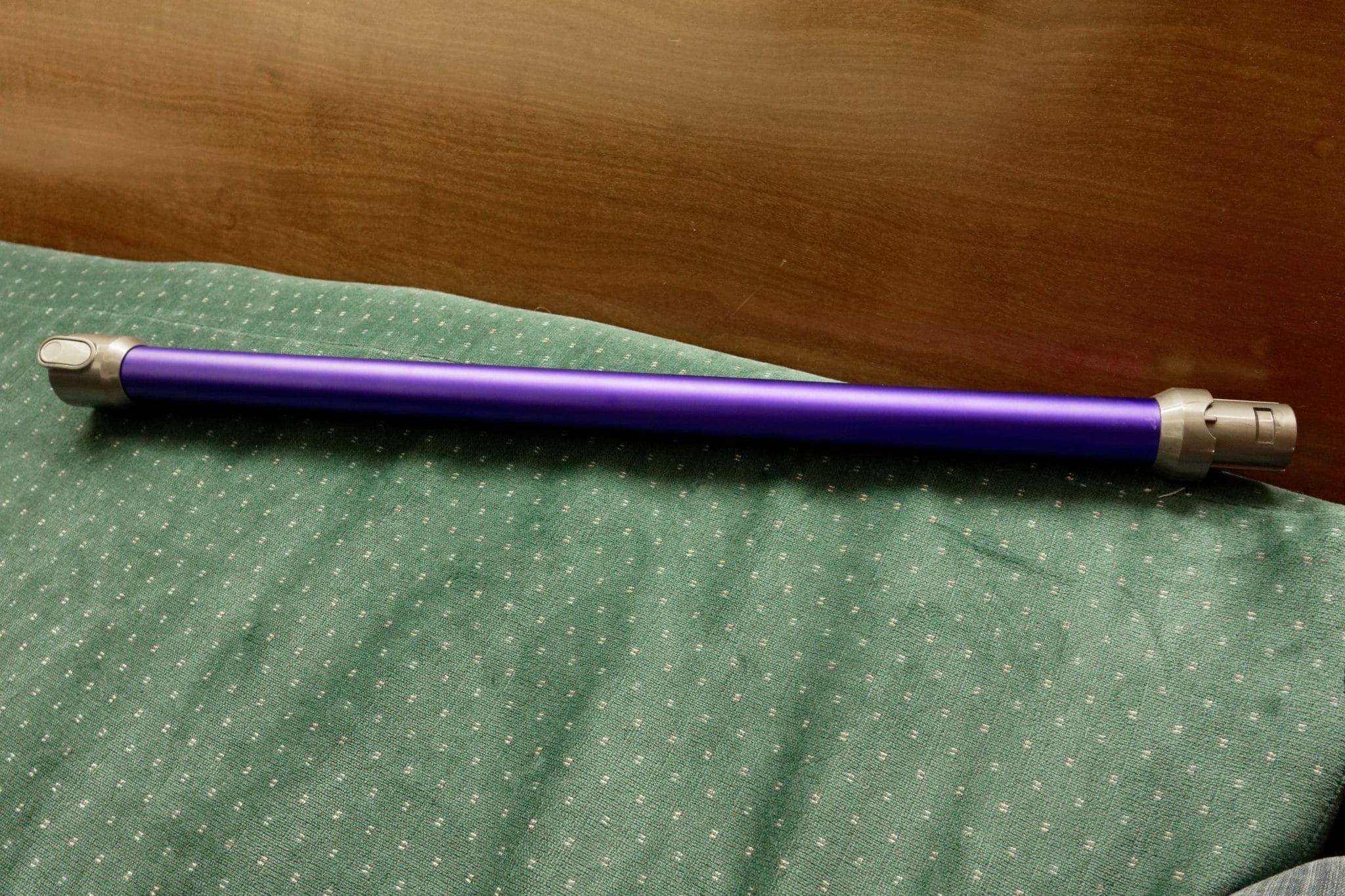 The other weird thing is that the v6 car+boat does not come with an extension pole. This means you have to bend over to clean, use the bendy hose (not practical) or find an extension. I bought an aftermarket, non-Dyson extension which works OK, but does not accommodate the power head as it does not have the necessary wiring/connections inside. At the time I could not find out how to get a Dyson-authorized extension pole through Amazon – you had to order it from Dyson direct, and I didn't want to deal with the hassle.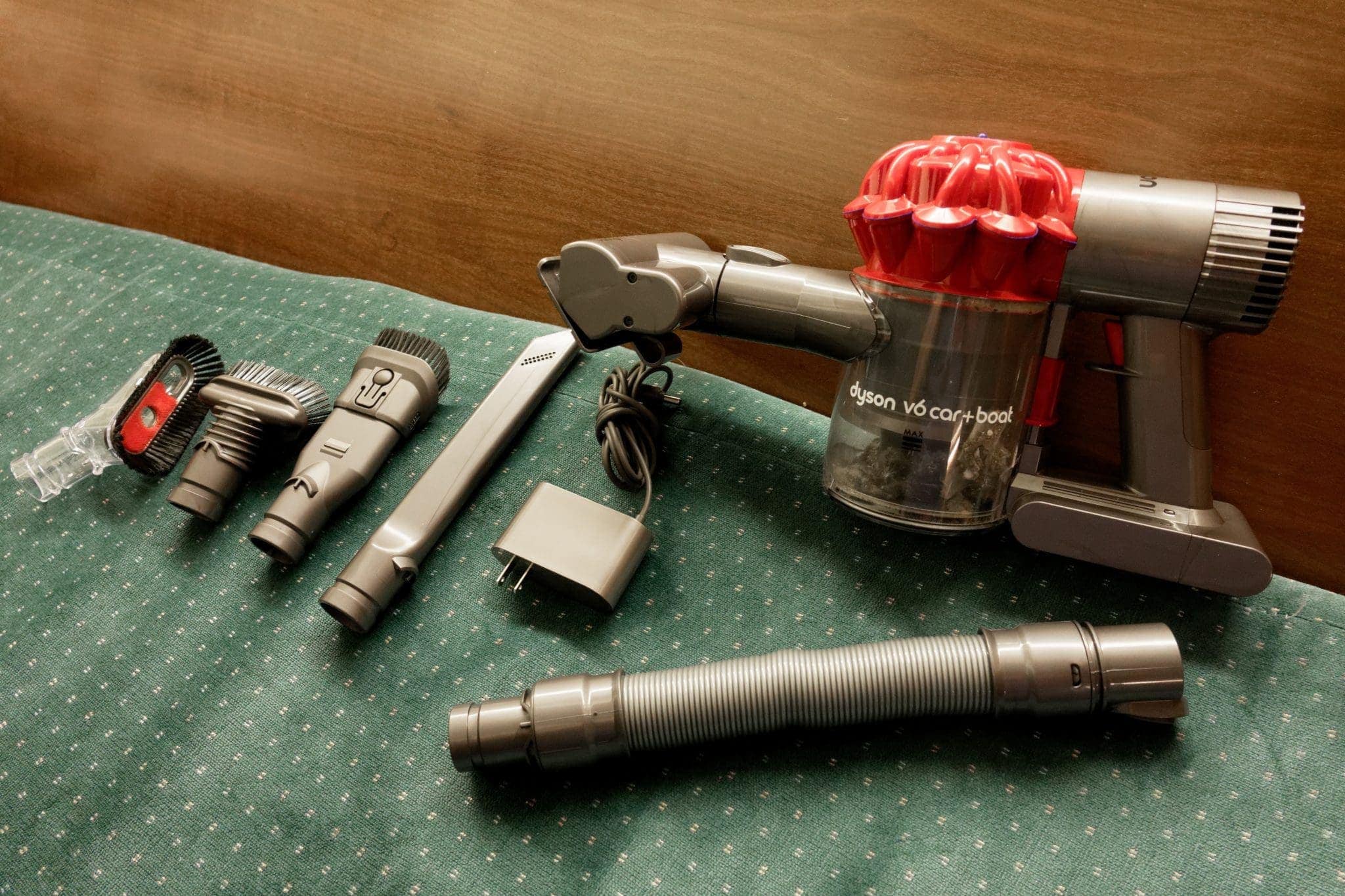 Dyson DC58 Boat + Car Vacuum
Overall, I'd say this is the best vacuum I've ever owned on a boat. I've even used it in the car and love it there too. Powerful, easy to use, lasts a long time on one battery, and has a ton of options to make sure you get things clean.
The cons include the emptying bin, lack of included extension, and that it is a traditional vacuum – you can start sucking up water or other nasty things like a shop vac.
Even with those small challenges, the crew seems to love it, as all of our OCD tendencies can be met much faster, and the boat kept clean!