In today's world of always-connected systems, I am surprised that there are not more vendors in the space of vessel monitoring.  In 2008 I installed a system from Boat Sense Solutions which failed multiple times, was generally unreliable, and the company has since gone out of business.  Since then there have been some new players in the market including Siren Marine & Boat Command.
My previous sailboat had a significant NMEA 2000 network which included monitoring of batteries, shore power, and more. Through a Linux system on board, I was able to use command line tools to monitor the system, as well as a Maretron SMS gateway which allowed for proactive alerts and some communication.  But it still had problems responding reliably, and it was difficult configure, and all SMS/text based.
Recently with the purchase of Grace, my new Beneteau 311 sailboat, I've been wanting to have some sort of remote monitoring to ensure my investment is safe, but installing Maretron products everywhere would be thousands of dollars. I have a Peplink Max BR1 LTE router on board which allows me to connect remotely via the Internet, but that device is not designed to monitor boat systems.
This time around I've chosen Boat Command 's Boat Connect product, and added a shore power adapter, temperature sensor, and motion sensor.  Total cost was about $400 for the whole package, which is very reasonable. You can find it on Amazon.
The main unit is well made and sealed.  It has a connector on the left where a large pigtail connects and allows you to wire to a number of different things into it's monitoring system, as well as control items remotely as through it's relays.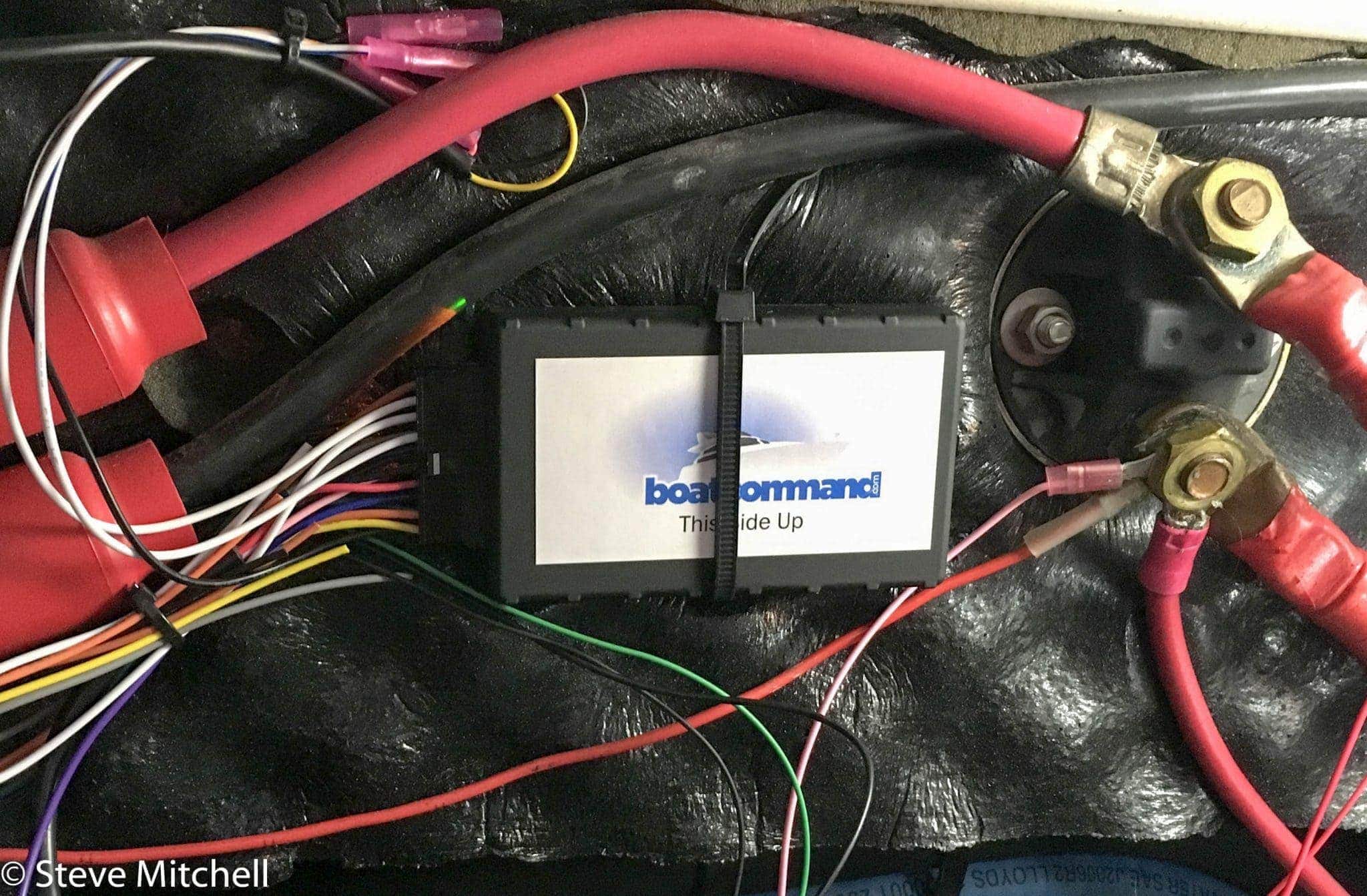 The install was rather quick, having done this before with other similar devices.  I suspect it may take the average user a bit longer as you need to plan where the device should go so you can reach all the relevant items you want to monitor.  For me, the engine room is the best spot since I can get to the two battery banks main switches, route temp and security sensors, and get to shore power (eventually – haven't installed that yet).
Make sure before you install the unit that you test it in it's final spot.  Remember, this unit uses the cellular network to communicate, and GPS for location, so if there's something blocking either of those, the unit won't be much use.  You also will need the code off the back of the unit to get started.
After following the setup process online and creating an account, I added my unit, and chose a subscription plan.  After a few minutes, I was greeted with a whole host of data coming from my boat!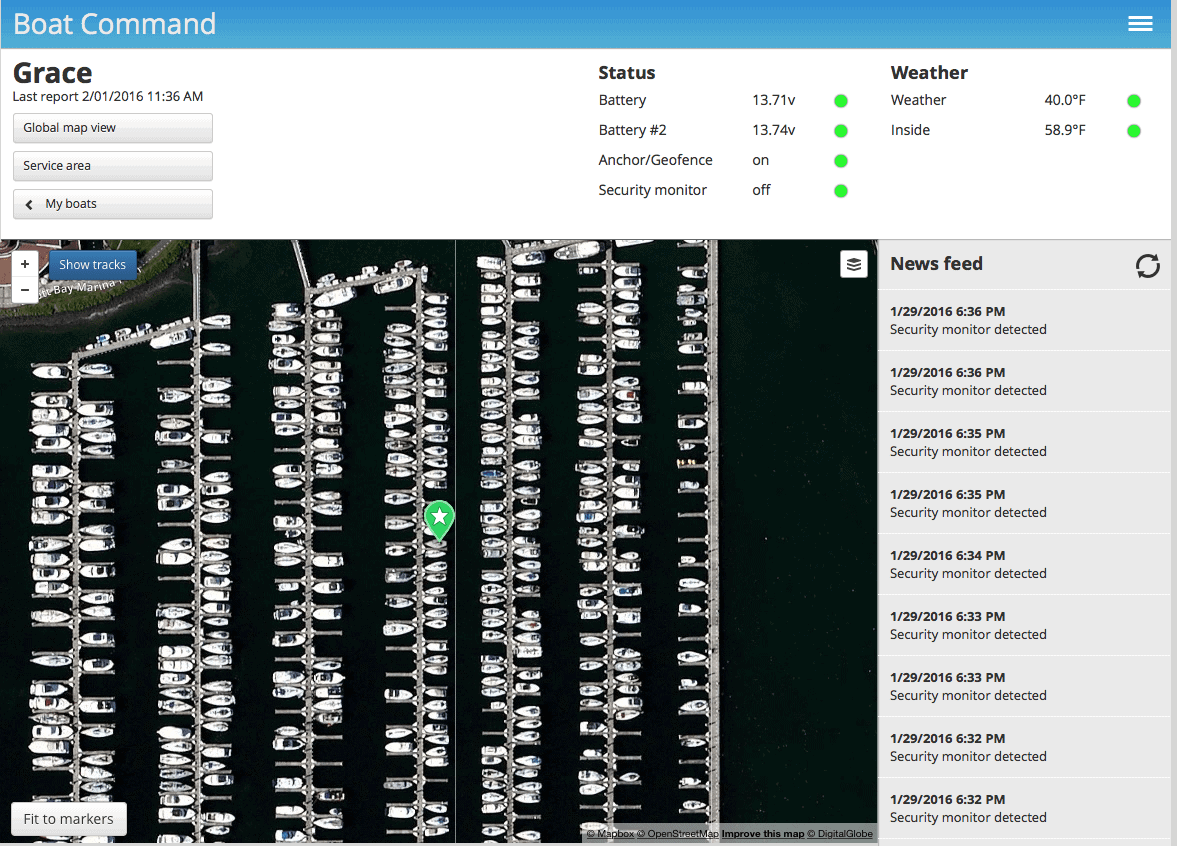 You can see in the screen shot above the GPS location of my boat, two battery bank voltages, options for geofencing and security, and the weather both inside and outside.  On the right hand, a real-time news feed of things happening on the boat shows up.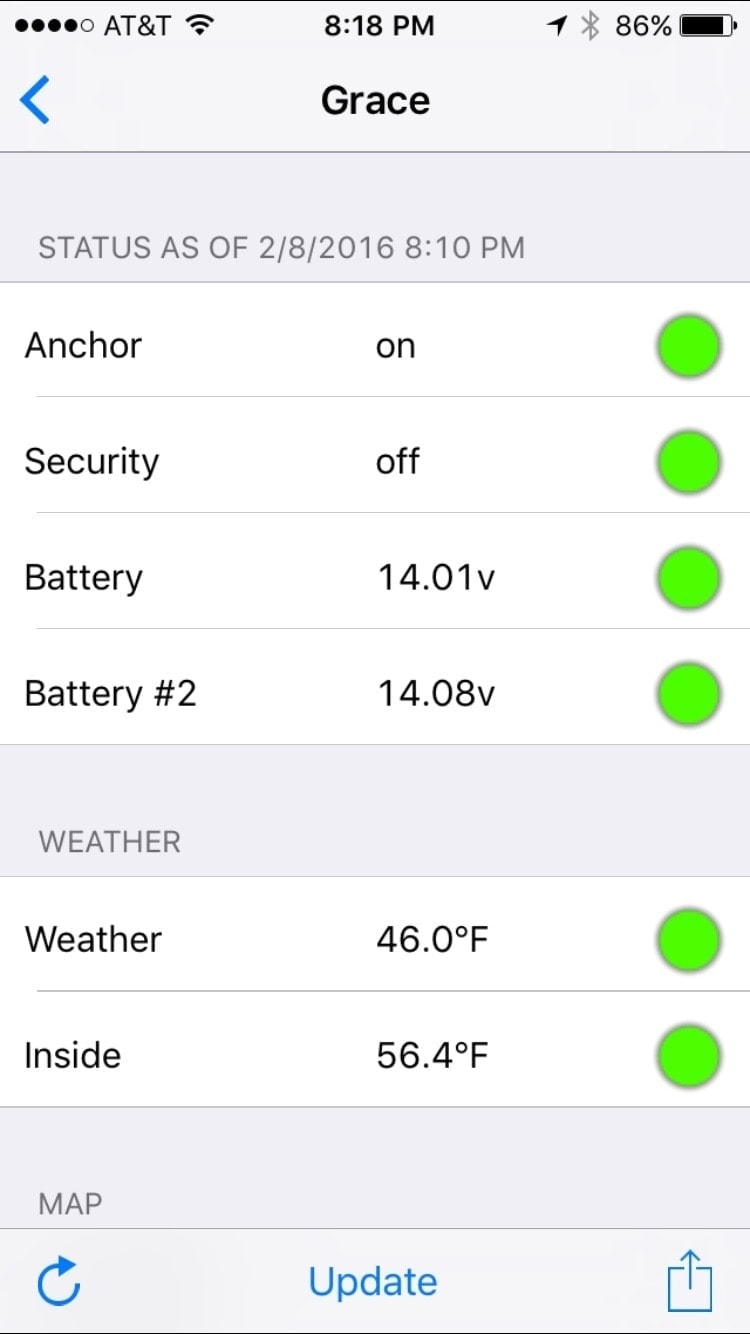 In addition to the web app, there is a mobile app which has most of the same functionality.  It has worked really well during all of my initial use, and is a great way to check on your boat quickly every day.
There are detail pages in the mobile app as well which I have some screen shots of below.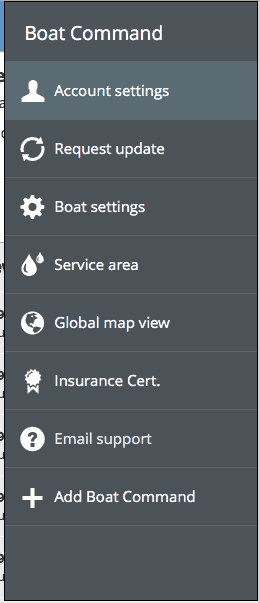 Within the web app, there are a number of menus and options available to configure you boat, account, and other info.  You can see in the screen shot to the right that there are also areas to setup things like service records, add an insurance certificate, and force an update from the unit (Request Update) when you want fresh data.
Configuring text and email alerts is under your account settings, and everything else important is in the Boat Settings menu, including details about your vessel which can be helpful to record.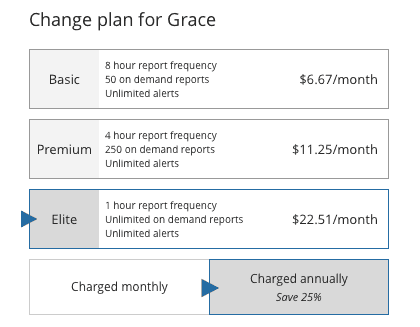 One thing that is important to note is your subscription level.  There are various different levels depending on the frequency of data collected from the system.  I chose the most granular, as I felt that gathering data every hour was far more important to me than only every 4 or 8 hours, which in today's always on world, seems like an eternity.  Note that alerts and alarms don't wait for that timeframe and are as real-time as possible.
Once everything is installed, and the system has started reporting data, you'll be able to see more details under each sub area.  In the example below, you can see details on setting alarm levels for voltage being less than a particular amount, alert history, and then a log of the voltage as it's reported every hour.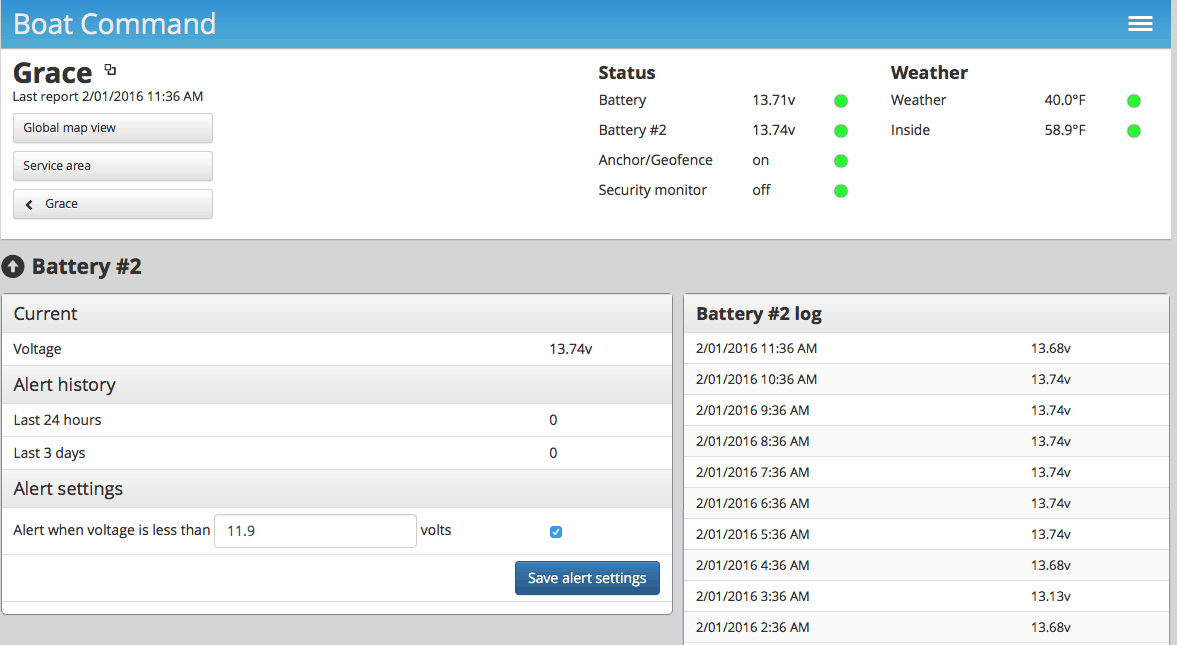 You can see the same information in the mobile app, and even adjust your alert levels via the app as well.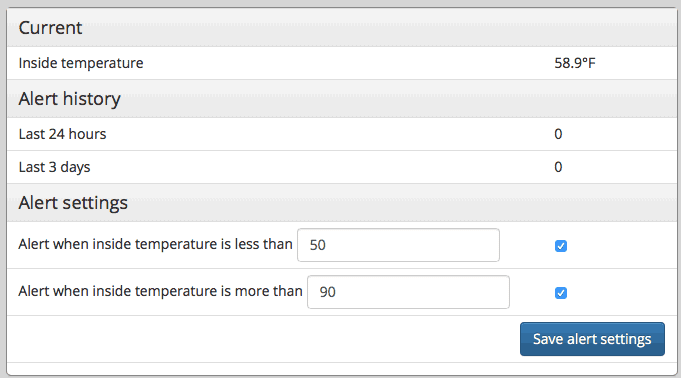 Alerts and thresholds are configurable based on the type of sensor.  In the screen shot above, there are two settings for both a high and low temperature.  For battery sensors, there's only a low voltage setting.  For security it's an on/off setting, and same with geofence, although there's a range/distance setting for that item as well.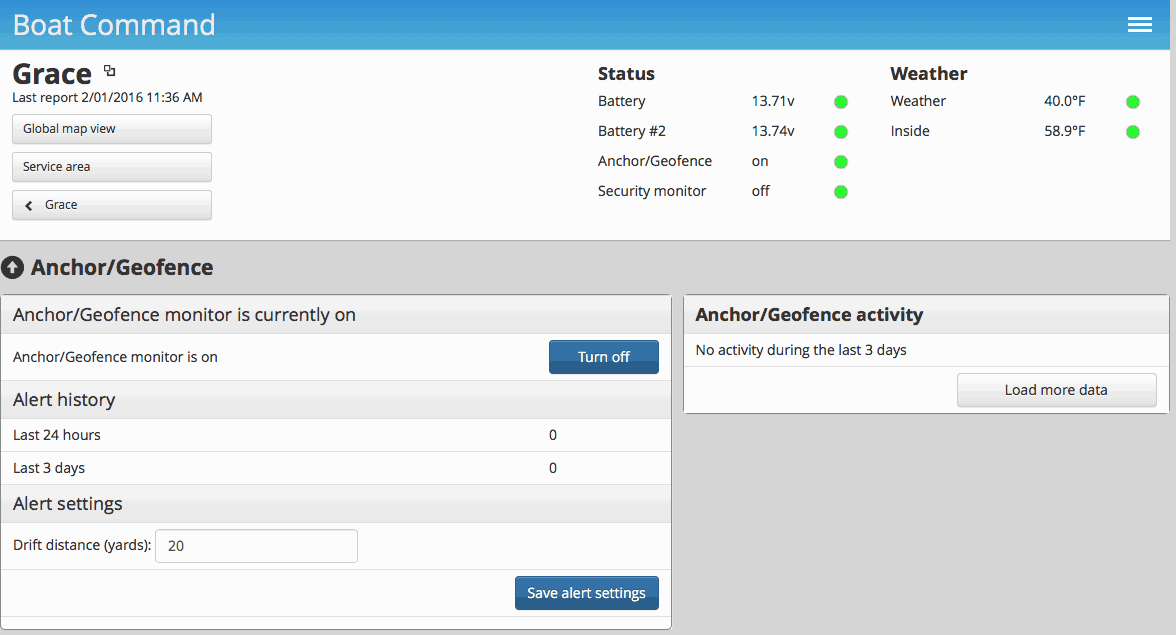 One of the nice features beyond standard monitoring is the ability to set geofence and security monitoring.  This will be useful when anchoring and leaving the boat, or just for general security.
One big advantage that BoatCommand has over the other solutions is such a rich web and mobile app.  All of the other systems I've used are 100% text based, which is easy to use from any phone, but very limiting in terms of historical data, and how you interact with it.  Trying to remember the random short codes to ask for battery voltage, or to change things remotely, is pretty difficult.  Everything nowadays has a web or app for it, so it makes sense that folks should be doing the same for monitoring your boat.
I've had the BoatCommand system in place for almost 2 years, and have had no major issues or problems with it – very easy to setup.  It reliably reports the condition of my boat, and I have been alerted to several things remotely that I would not have known without it.