SeaBits News
Marine electronics reviews, internet boating, trips, and technology projects on the water.
I have been testing a lot of new antennas and LTE routers as of late, and just finished using the GL.iNet GL-X1200 Amarok (whew!) dual LTE router. It's an industrial router with some pretty beefy hardware and a lot of features that runs a custom version of OpenWRT.


It has dual LTE radios, dual band WiFi, a switch, and a number of other features - all for about $400. There are a few drawbacks with the software, and some other smaller challenges, but if you're looking for an alternative to some of the bigger vendors, and you're interested in command line or other automation, this might be the perfect router for you.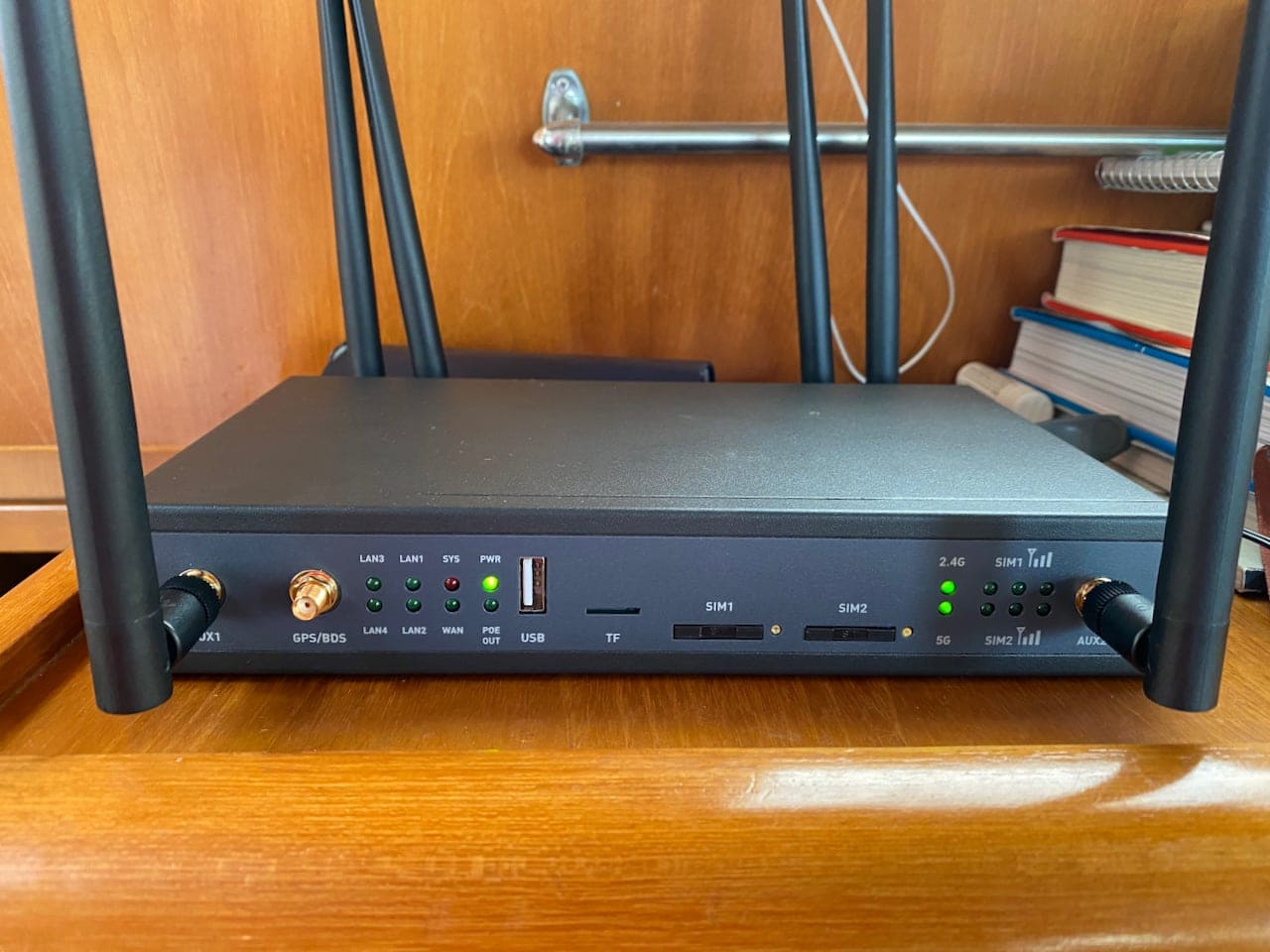 The GL.iNet GL-X1200 Amarok router is a great dual-LTE device with lots of hardware, dual-band WiFi, and OpenWRT-inspired software.
Cabling is very important
Lately, with so many folks stuck at home or on their boats working remotely, I have had a huge increase in people asking questions about how to improve their network performance, particularly with LTE antennas. The two most important things to get right with any antenna is placement and cabling. Placement is it's own blog post, as is cabling probably, but the basics I cover below.


Cabling needs to be carefully planned to go the shortest distance possible, not past large sources of interference, and to be the highest quality and diameter you can afford / get in the space.
In the picture above, you can see standard sized cabling on the left for an LTE antenna, and LMR-400 UltraFlex on the right. I use LMR-400 UltraFlex for everything that I possibly can. LMR-400 (non UltraFlex) used to be my default, but it is very large and about as flexible as warm steel. Trying to drag that through bendy corners in boats was a recipe for a lot of swear words. UltraFlex is as it sounds - it flexes a lot easier, yet still retains as much of the LMR-400 pedigree as possible.


Make sure you plan your cable routes carefully. Too long of a cable can result in negating the entire benefit of your antenna. Running it near the DC cables that your engine uses to charge the house bank can make LTE underway unusable, and fine at anchor. Moving your router as close as possible to the cables might seem like a hassle, but it can provide a much better long term solution for you.
In Case You Missed It....
There has been a lot going on lately, and I wanted to provide an update on what I am working on and testing. My primary focus has been on internet connectivity aboard which has become even more important with the current world situation. I have spent a lot of time helping folks get better connected, and stay connected in more remote places which has caused some delays in my writing.
Getting real-time weather data from the boat is now possible using SignalK and some plugins, plus beautiful dashboards in Grafana, with the data stored in Influx
What's Next?
I'm working on a few things that I hope you will be interested in:

Internet getting started guide
4" displays
My Furuno system
If you'd like to request something specific, please reply and let me know!
Thank you!
Thank you very much for subscribing and reading my newsletter. If you ever have a question or comment, please reply to this email and it will go directly to my inbox. I read and reply to every email I get!