SeaBits News
Marine electronics reviews, internet boating, trips, and technology projects on the water.
Docking cameras seem to be a bigger interest, and that subject seems to be about as personal as the best anchor, best engine, etc. Still, I decided I'd at least document my personal choice and the reasons behind it.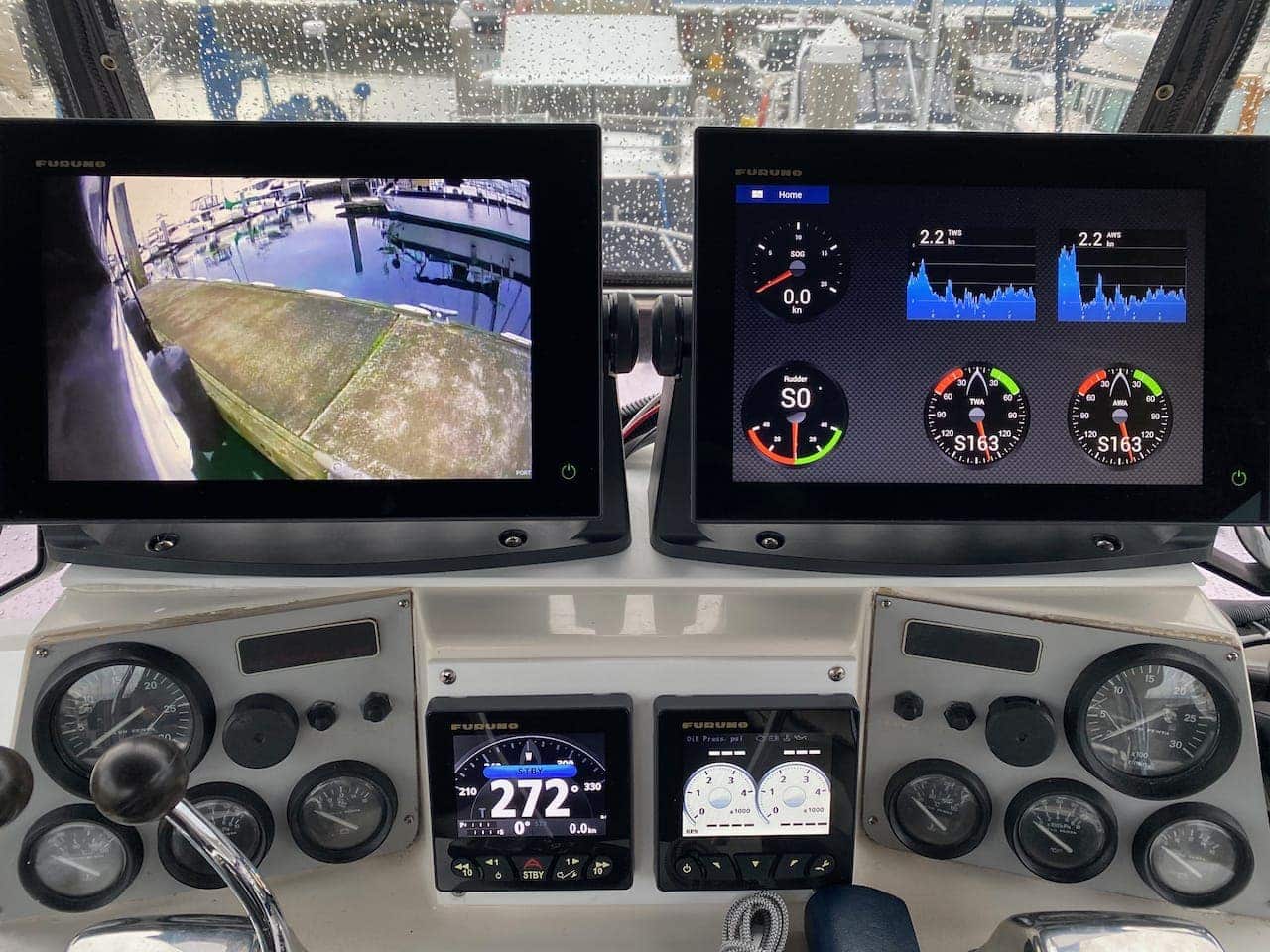 Docking my boat is much easier with a camera looking at the dock, and visible from all driving locations. Finding one proved to be easier than I thought.
Diesel heater woes
In May 2019 my Webasto heater failed after having been on the boat for at least 10+ years. Sure Marine, the local Webasto experts, found an issue with the heat exchanger which was dangerous, as well as what caused the failure - dead electronics and control board. It would cost a lot to repair, so I decided to just buy the updated version of the unit - the Webasto AirTop 55.
Sure Marine are great, and have a fantastic SureWire panel that goes along with the heater. They are always very thorough and patient, and do great work. I was able to drop the AirTop 55 in easily and had heat again.


While on my recent trip to Friday Harbor, when I couldn't get around well after injuring my back, the thing started failing. Around 700 hours showed on the SureWire board. After a couple days of fighting it, and talking to Sure over the phone, it refused to even start up, leaving me relying on electric wall heaters, and even running the generator to keep warm on a 34F night while at Port Ludlow on the way back.


After a week of Sure looking at it they found nothing wrong other than it threw errors for overheating. I found one of the poorly installed heat delivery pipes that could have caused some short cycling and overheat issues, but the fact that put the unit in a state I couldn't get out of worried me.


Sure thought 700 hours in year was a lot. Doesn't seem like an excessive amount to me.... None of the Webasto units I've used have ever impressed me, and always seem like a constant thing you have to manage.


I had a Wallas heater on Grace, and put far more than 700 hours a year on it, and never had any issues. Oh, and it didn't sound like a 747 taking off. Also, its thermostat was very accurate, and knew when the sun was shining on it, and in general just seems like a better product for a boat.


I had considered replacing the first broken Webasto on Rendezvous with the new Spartan Wallas heater, but it has a lower BTU rating than the Air Top 55, which is a concern. Now I am beginning to think the slightly lower BTU would have been worth it for something quieter, with a proper thermostat, and much higher reliability.


I've also looked at hydronic, and all of the benefits that come with that, but holy major surgery that is a huge project.


If you've used the Wallas Spartan or even their Viking or older model on a power boat, I'd love to hear your feedback, or any other suggestions on diesel heaters. I think this may be a project in my near future....
In Case You Missed It....
WiFiRanger has been around a long time providing connectivity solutions for RVs and boats. Their new platform is called Converge, and is a mix of different components that can provide a whole solution for internet aboard.
The Wakespeed WS-500 regulator is super programmable, has a ton of features, and can be used for dual engine, LiFePO4 banks, and smaller engines very effectively.
What's Next?
I'm working on a few things that I hope you will be interested in:

Getting Started guide for Internet on your boat
My favorite 4" instruments
Why I chose Furuno…my Furuno/TimeZero system
If you'd like to request something specific, please reply and let me know!
Thank you!
Thank you very much for subscribing and reading my newsletter. If you ever have a question or comment, please reply to this email and it will go directly to my inbox. I read and reply to every email I get!